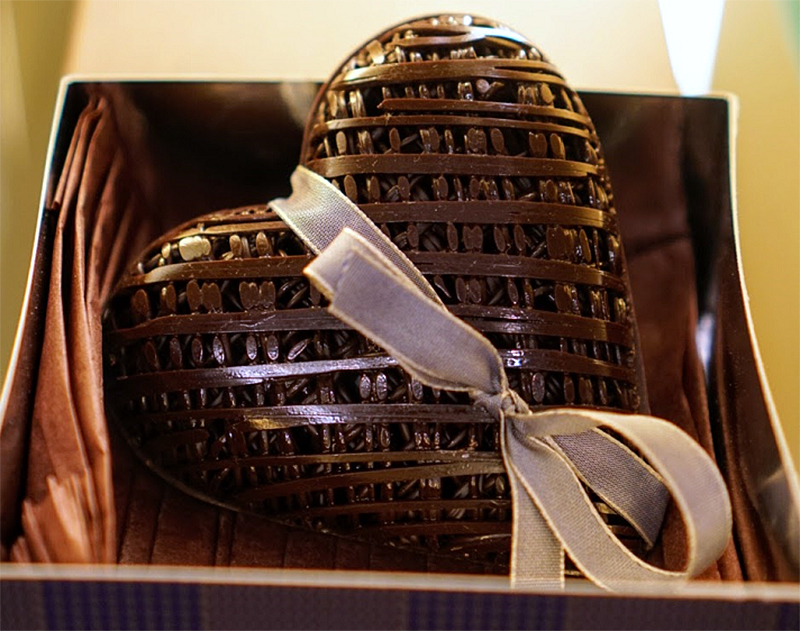 Paris is a place for love, and it's certainly a place for chocolate lovers.
With hundreds of chocolate shops, factories, bakeries, pastry shops, and Michelin-star chefs creating mouthwatering chocolate masterpieces, this city has a chocolate confection to satisfy your sweet tooth in any of its diverse neighborhoods.
Some of my favorite neighborhoods for chocolate tasting and shopping are St Germain de Prés, the Marais, Bastille, and Opera. You'll find a good concentration of both chain and artisanal shops in the main streets of these neighborhoods — often with a pretty park nearby for an impromptu chocolate themed picnic. The high-end shopping street Rue Saint-Honoré is also a one-stop destination for single origin and other artisanal chocolatiers.
In this article, I'll share just a few of my favorite places around the City of Love to indulge in chocolatey bliss. If you're a true chocolate lover, this one's for you.
Chocolate in Paris: A Sweet History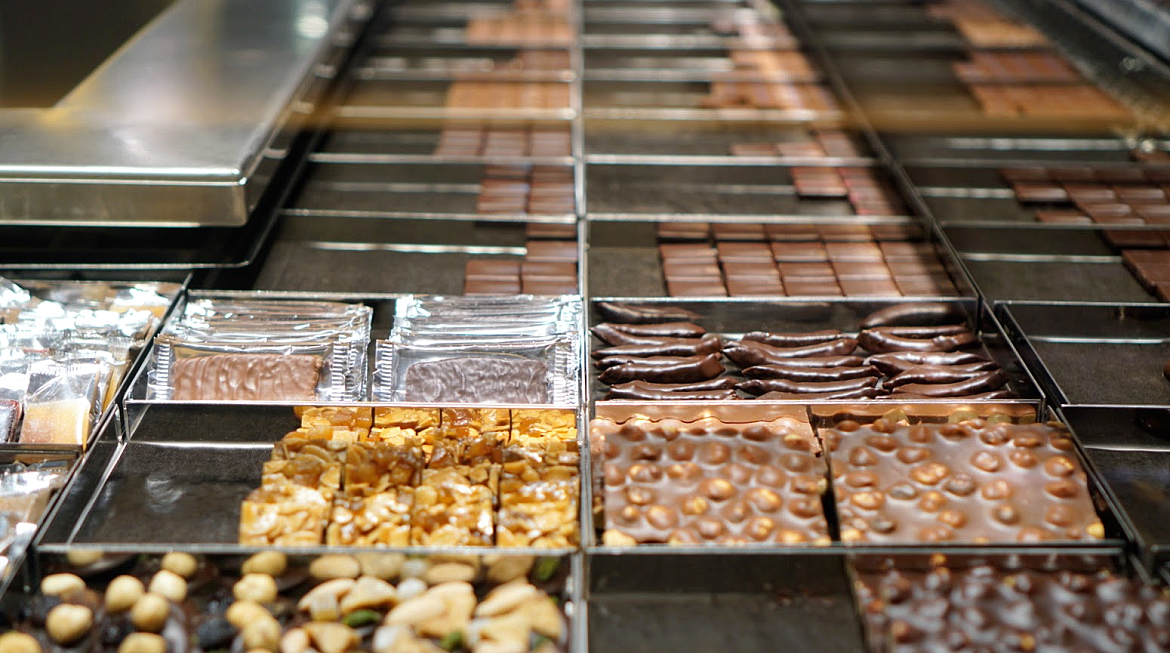 Paris has a long and fascinating love affair with chocolate.
Although chocolate was first introduced in Europe by Spanish conquistadors in the 1500s, historians say the French court discovered cocoa-based treats in 1615. It was during the wedding of Bourbon King Louis XIII to Anne of Austria. Anne introduced hot chocolate to French aristocracy, and it was a hit. The drink later became popular under the reign of Louis XIV — who also had a chocolate-loving Austrian wife.
Back then, chocolate was considered a luxury product that only the well-to-do could afford. The development of chocolate workshops and eventually factories in the mountainous Pyrenees region happened when Jewish merchants were expelled from Spain during the Inquisition. It wasn't until the French and Industrial revolutions in the 18th century that chocolate became more widely available.
What makes French chocolate unique?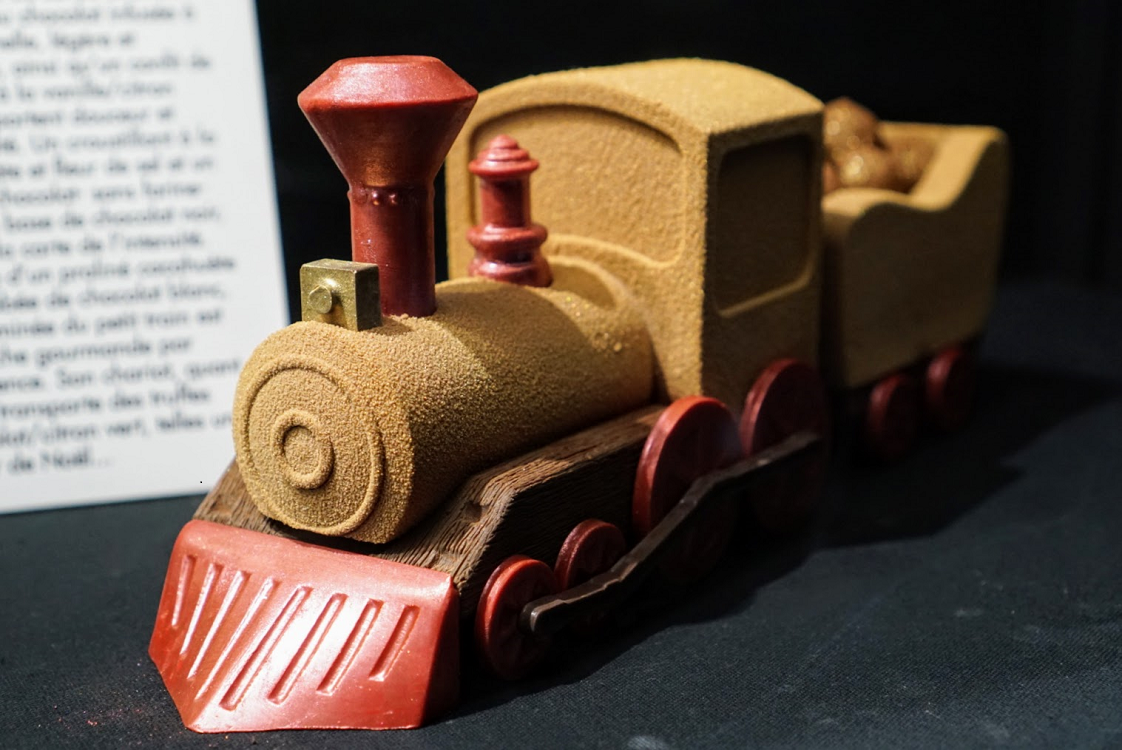 When it comes to food, the French vigorously promote classification systems to ensure quality — the "grand cru" designation for high quality extends from champagne to chocolate as well.
Also, did you know that French dark chocolate is the least sweetened in the world, with cocoa content ranging from 62%-86% or more? You can indulge without feeling guilty since French dark chocolate contains less fat than similar products produced elsewhere.
Understanding the distinction between a chocolate maker (one who buys raw cacao beans to roast and grind into chocolate) and a chocolatier (one focused on the artistic side of chocolate creation that often includes adding tasty fillings and embellishments) will help guide your itinerary as well.
If that all sounds complicated, don't worry. I'll guide you to the best spots in the list below.
1. Start your day with a French classic: pain au chocolat.

For chocolate lovers, a freshly baked and flaky pain au chocolat — a pastry which combines my two favorite French ingredients, chocolate and butter — is the perfect way to start your day. This dish literally translates to "bread of chocolate."
Fun fact: The French take their baked goods just as seriously as their holidays. Most Parisians have a favorite neighborhood bakery (boulangerie), and these bakeries coordinate among themselves to ensure that at least one is open in each neighborhood during holiday periods.
This highly lauded but unpretentious bakery is a good way to kick off your chocolate tour. The owner Fabrice Le Bordat left his career as head pastry chef at the Michelin-starred Le Bristol Paris to start his own bakery, where he sells seasonal chocolate confections in addition to traditional pastries.
Blé Sucré offers a decadent white chocolate pain au chocolat that will satisfy even the most intense chocolate craving. It also has some outdoor seating and faces a small park where you can enjoy a sweet start to your day.
I can also attest to the chocolate pastries at the charming La Boulangerie Invalides, where you can find almond croissants with chocolate and views overlooking the golden-domed Invalides museum.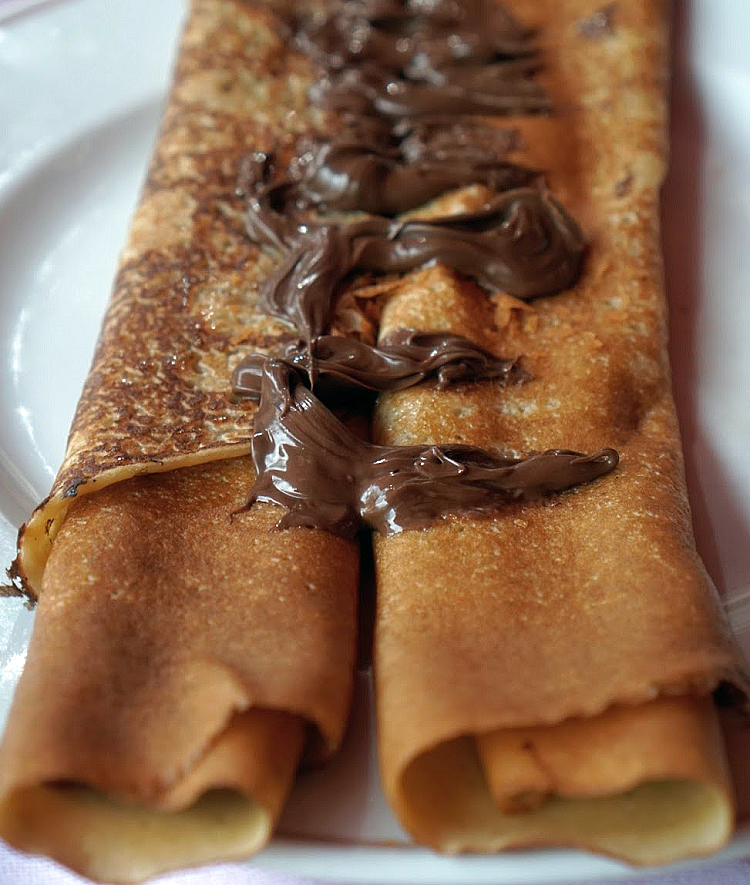 Or grab an early morning crepe with Nutella at my favorite outdoor market at the Bastille (Sunday and Thursday mornings). It's an ideal place to fill your lunch picnic basket with baguettes, French cheese, and fruit, too.
2. Learn about the oldest chocolatier in Paris.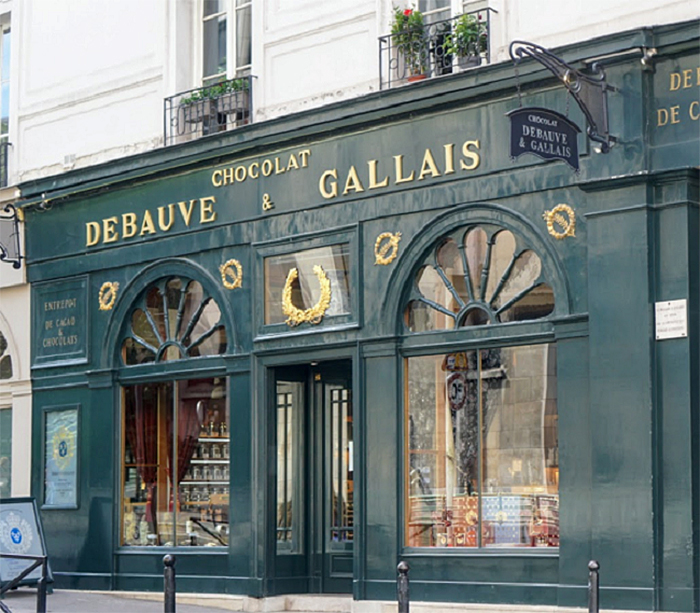 Located in the historic Rue Saint Pères in Saint Germain de Prés, Debauve and Gallais have links to French royalty dating back to the court of the ill-fated Louis XVI. At Debauve and Gallais, you can sample chocolates as they were originally produced for Marie Antoinette — yet another chocolate-obsessed, Austrian-born French queen.
Here's the story: Back in the day, Sulpice Debauve served as the royal pharmacist at Versailles. He created a trend by adding Marie Antoinette's medicine to his mendiants (disk-shaped chocolate) to mask the medicine's bitter taste. This proved so popular that Debauve expanded his business and opened a shop that still stands in the same location in Paris.
Debauve's other historic clients included French literacy giants Balzac and Proust. You can still buy a regal box of Marie Antoinette's favorite chocolate, or sample other ganache-filled treats at the shop.
Pro tip: Can't make it to Paris? You can order this famous chocolate online from around the world.
3. See chocolate production at Alain Ducasse's workshop.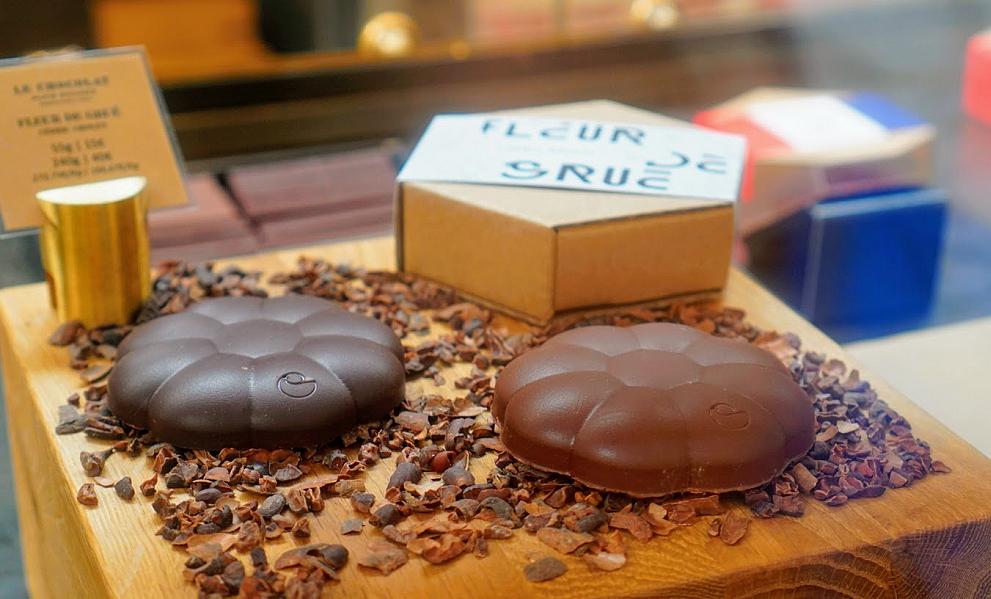 When celebrity chef Alain Ducasse decided to venture into the chocolate-making business, he fittingly chose the former industrial Rue de la Roquette in the trendy Bastille neighborhood to open his Le Chocolate Manufacture workshop.
Ducasse, former chef of the Jules Verne restaurant at the Eiffel Tower, was exposed to master French chocolatiers early in his career. He opened the workshop to create his own chocolates to serve throughout his global restaurant empire.
And they're good.
Although the workshop doesn't conduct group tours, you can still learn about the chocolate-making process starting with the first step of sourcing the cocoa bean to creating the final confection all while observing the vintage machines at work.
Then pick up a souvenir: collaborative creations such as the "cocoa nibs flower" — a crispy hazelnut and praline flower coated with chocolate that has been roasted then crushed. It was developed in collaboration with La Pâtisserie du Meurice's executive pastry chef Cédric Grolet.
4. Try the fusion chocolate s'more at the Ritz pastry shop.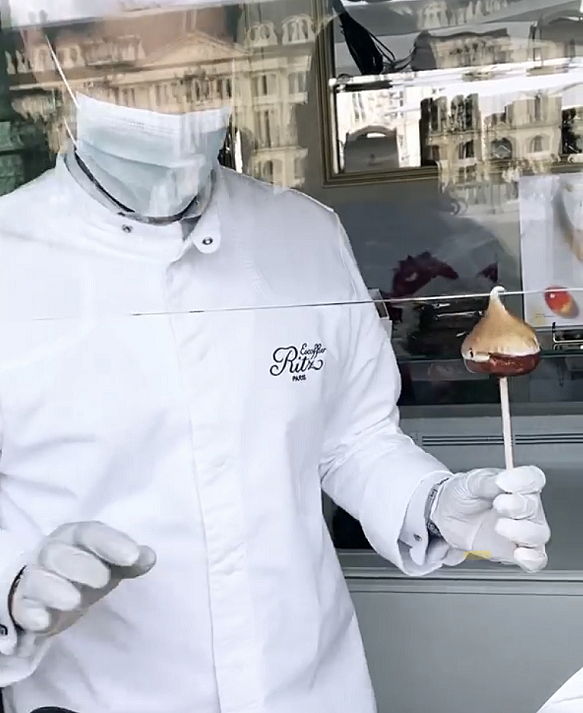 The Ritz Paris award-winning pastry chef Francois Perret is grabbing headlines with his new Netflix show "Chef in a Truck," which chronicles Perret's journey through Los Angeles in a food truck.
For a limited time, you can try one of his fusion or classic desserts at the Ritz pop-up pastry window on Place Vendôme. There is usually a long line on weekends to try the s'more on a stick, a choux pastry filled with chocolate ice cream and marshmallows that is roasted upon order.
Insider tip: Perret is often spotted mingling with clients and ready to sign copies of his pasty book or pose for a selfie.
5. Gift a Jean Paul Hévin artistic creation.

Head to Jean Paul Hevin if you're looking to find unique gifts for your favorite chocolate enthusiast — though I personally would have a hard time parting with his sculpted chocolate Eiffel Tower.
Hévin's chocolates are made from pure "grand cru" chocolate and include some unusual pairings, such as chocolate and carrot. During the summer season, you will also find exotic ice cream flavors dipped in Hévin's gourmet chocolate.

There are several boutiques in Paris, including one on Avenue de la Motte-Picquet that is a short walk to the Champ de Mars.
Pro tip: The sculpted chocolate heart would make the perfect addition to a romantic picnic or proposal with Eiffel Tower views at the Champ de Mars.
6. Sample master Belgian chocolatier Piere Marcolini's macarons.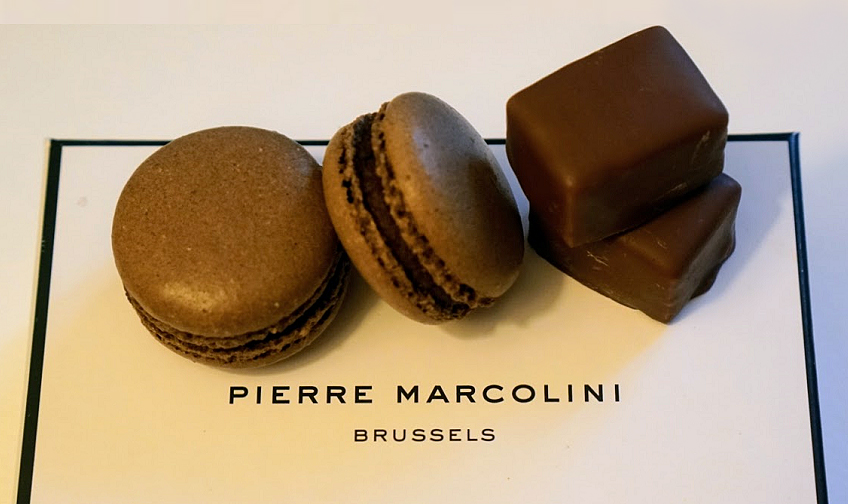 Although Laduree is synonymous with French macaroons, my favorites are from master Belgian chocolatier Piere Marcolini.
Marcoloni also offers an extensive select collection of chocolate bars, tablets, and truffles sourced sustainably from his personal network of plantations. That means when you visit it's possible to taste all the grand crus from around the world.
The macaroons are made fresh daily. The Pierre Marcolini flavor is made with in-house chocolate elevated with a note of vanilla. The chuao flavor, also excellent, is made with grand cru dark chocolate from Venezuela.
Good luck choosing just one. It's next to impossible.
7. Take photos at Pierre Hermé's Insta-worthy teahouse.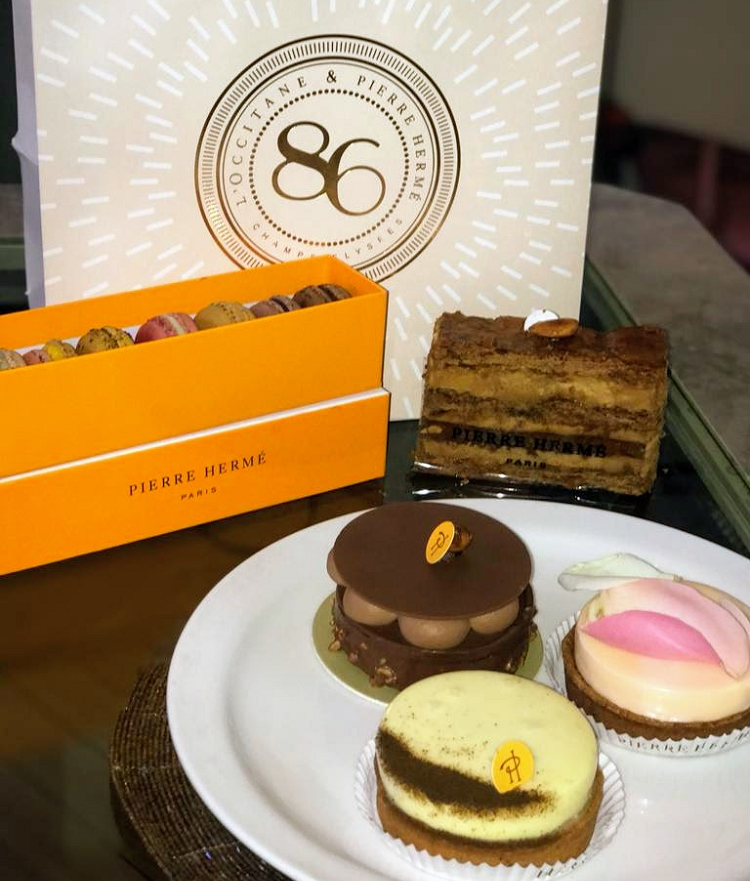 Another popular chocolatier and pastry chef is Pierre Hermé, who launched an Instagram-worthy teahouse, 86 Champs Élysées, in collaboration with retailer L'Occitane en Provence in 2018.
Hermes is known for mixing unique flavors like his signature Ispahan (litchi, rose, and raspberry) and Mogador (milk or dark chocolate with passion fruit). The teahouse has both outdoor, terraced, and indoor seating, complete with a vintage soda-shop-style beverage station decorated with a thousand blown-glass fixtures.
Seasonal photo booths are set up, encouraging clients to get creative with their Instagram poses in the Provence-inspired concept shop. A passion-fruit-infused hot chocolate and "plaisir sucré" (chocolate and praline mini cake) makes for a decadent break between snapping photos.
8. Indulge in Popelini's blissful cream puffs.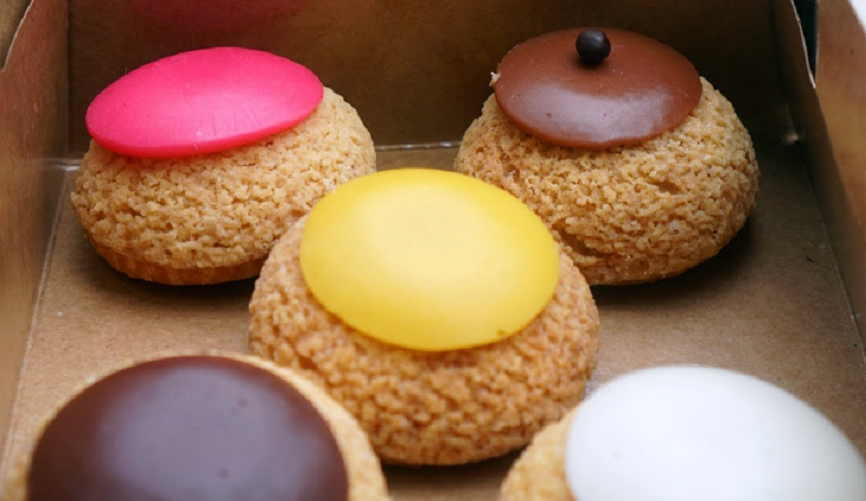 One of my favorite discoveries since moving back to Paris is Popelini, a tiny pastry shop in the Marais district just next to the Place Vosges garden.
The founder, Lauren Koumetz, named the shop after infamous Queen Catherine de Medici's pastry chef, the original developer of choux pastry.
The cream puffs at Popelini taste like a cross between macarons and cream-filled choux pastry — crunchy on the outside and filled with creamy goodness that strikes just the right balance of sweetness.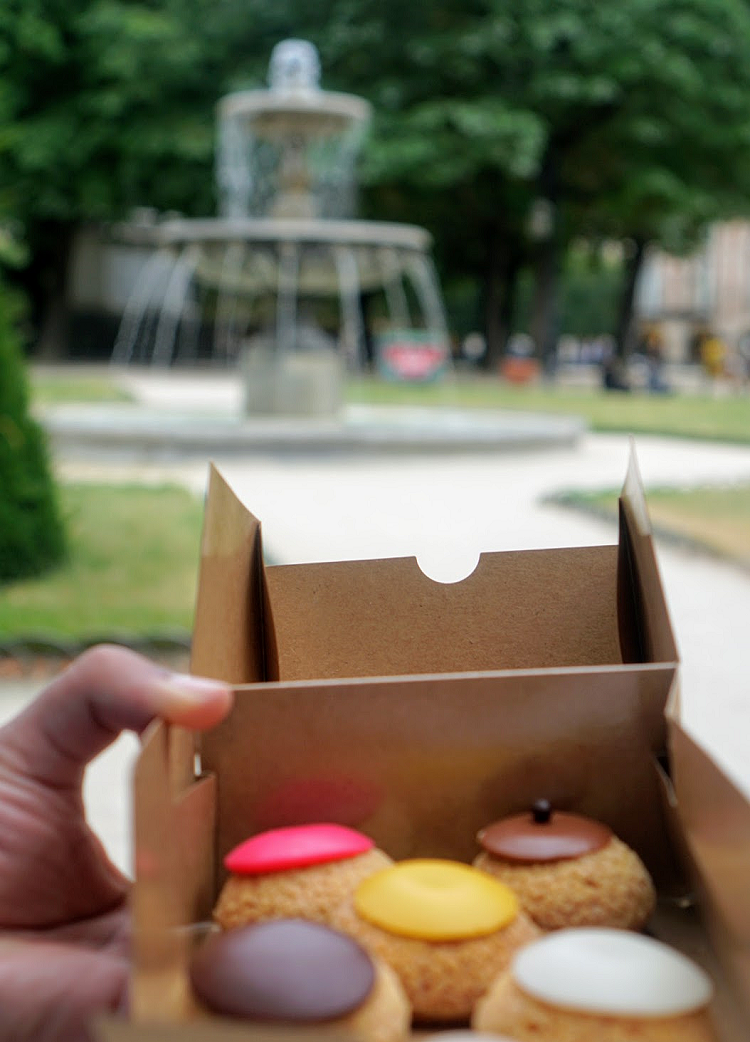 As a former luxury jewelry marketing specialist, Koumetz nails the aesthetics for pastry packaging as well. You can special order personalized cream puffs with a logo, initial, or other message. In addition to staple dark and milk chocolate flavors, seasonal options include the gianduja nougat (milk chocolate, praline, and nougat) and the over-the-top Like a Black Forest (dark chocolate, amaretto cherry topped with whipped cream and chocolate shavings).
9. Watch chocolate blend with art and fashion at the Chocolate Salon.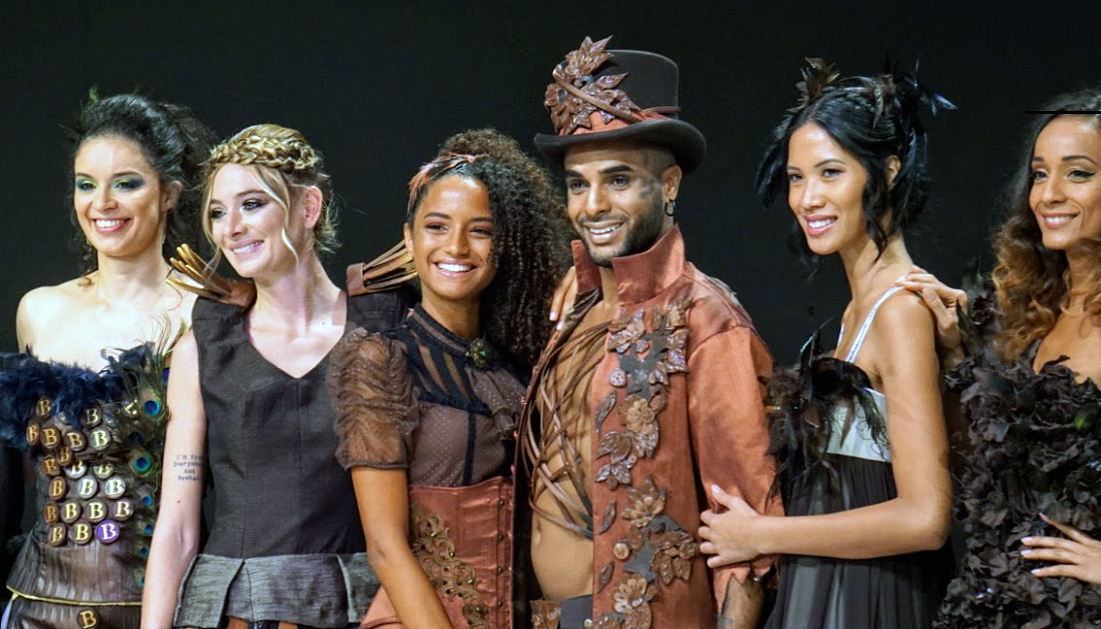 If you are a chocolate fanatic, then you must put the Salon du Chocolat — the premier global chocolate trade show — on your calendar.
At the salon, you will find everything from mini workshops and chocolate-making demonstrations to fashions shows with sculpted chocolate wear and chocolate art on display. And if you didn't realize chocolate champagne existed, you can stock up for your next special occasion.
Insider tip: The annual show is a huge event, and the number of stalls can be overwhelming. I would recommend reviewing the daily program on the website in advance to prioritize the stalls or events to target. Opening night usually has the most interesting events, and it's best to avoid the midday crowds on weekends.
The Salon du Chocolat is held annually in the fall at the Porte de Versailles Expo Center (Metro line 12 or bus 80 from the city center).
10. Experience a Julia Child moment at a Cordon Bleu workshop.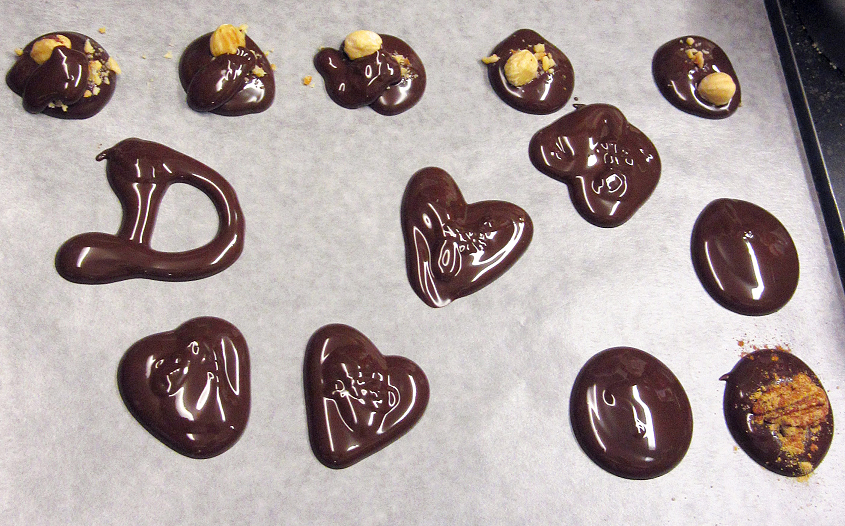 Even if you don't have the luxury of spending a year at the Cordon Bleu perfecting your culinary skills, you can still follow in Julia Child's footsteps and learn about the art of French chocolate.
The famed culinary school offers a Secrets of Chocolate workshop where you can learn tips and tricks for making chocolate in small groups. Depending on the date you select, you will learn how to make a French chocolate pastry or chocolate bars and mendiants with your favorite toppings. Other pastry courses, such as the Secrets of Eclairs, often come with chocolate themes. The courses are presented in French with English translations.
Browse the Cordon Bleu calendar of workshops to find a class that works for you.
11. Discover Fruttini by Mo's next-level elaborate ice cream creations.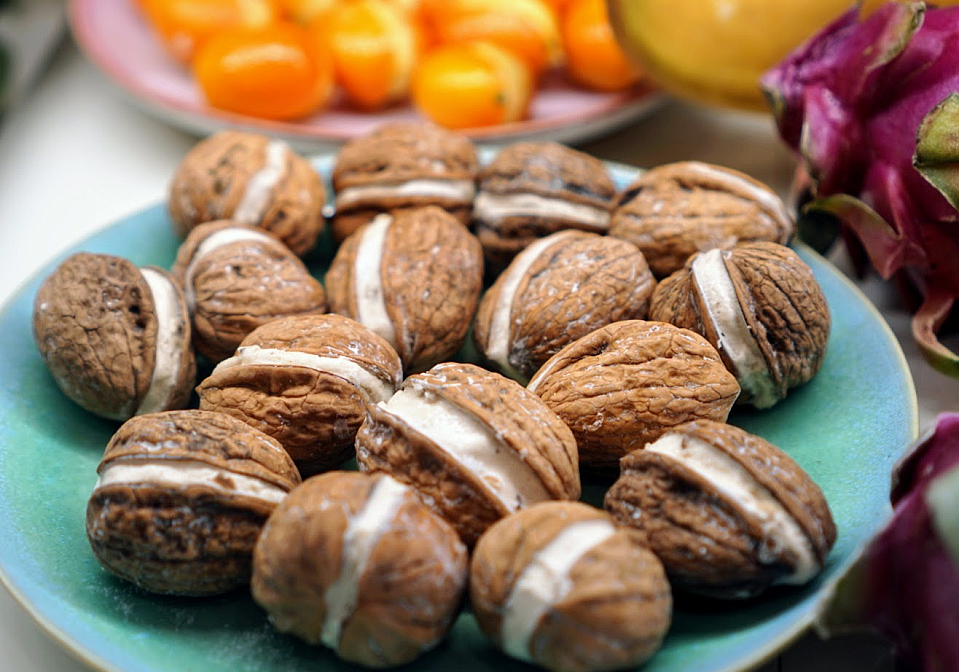 I discovered Fruttini by Mo on Instagram and was immediately drawn to the creativity behind the concept of fruit-based ice cream pastries.
Fruttini reconstructs whole fruits after making sorbets from the pulp of the fruit. You will find everything from exotic dates to giant shareable cacao pods for chocolate enthusiasts. The boutique is decorated in a classic Parisian Haussmannian style with elaborate carved moulding and has some limited indoor or outdoor seating.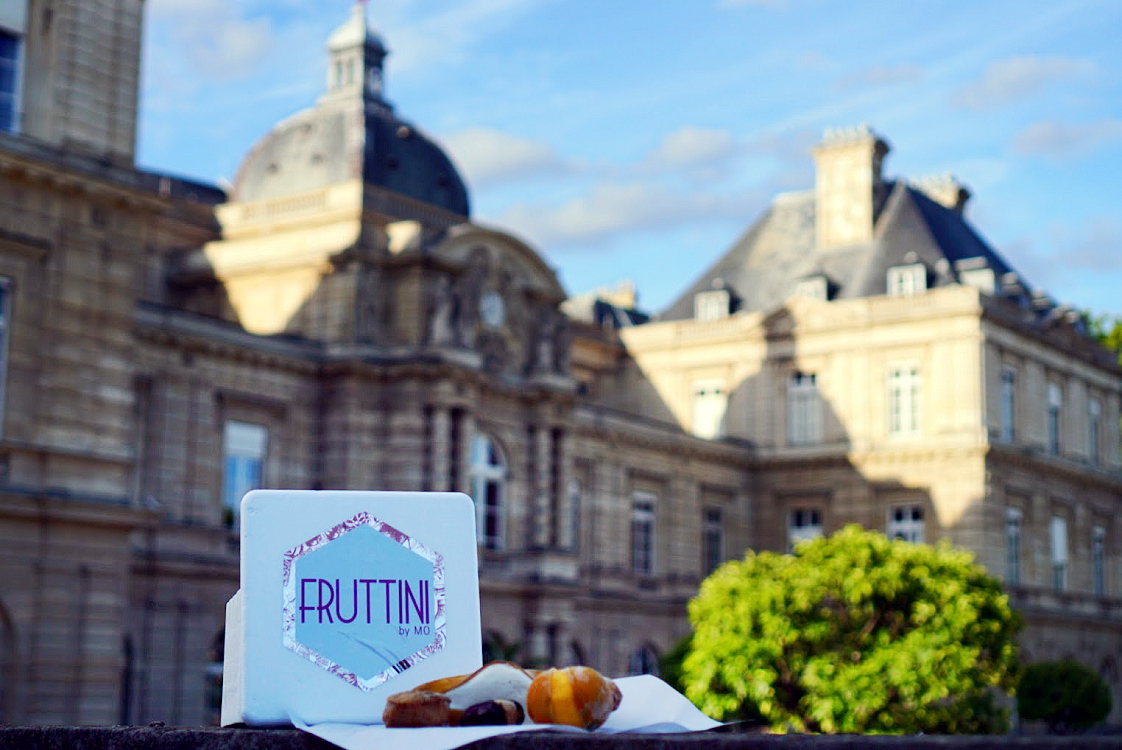 Seasonal tip: For holidays, Fruttini creates limited edition fruits and baskets that can be filled with chocolate or edible flowers. They also offer treats in insulated packaging to go if you want to savor the ice cream at the nearby Luxembourg Gardens.
12. Take a chocolate break at a historic cafe in the Left Bank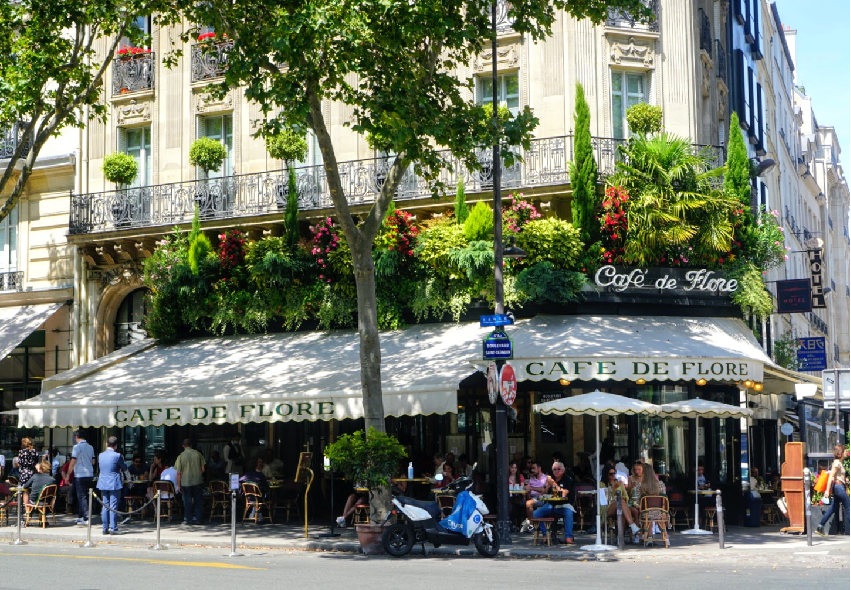 As a student, I walked past the famous Les Deux Magots and Café de Flore in Saint Germain de Pres on a daily basis. These Left Bank cafes near the Latin Quarter were once frequented by post-war literary elite such as Hemingway and founders of existentialism.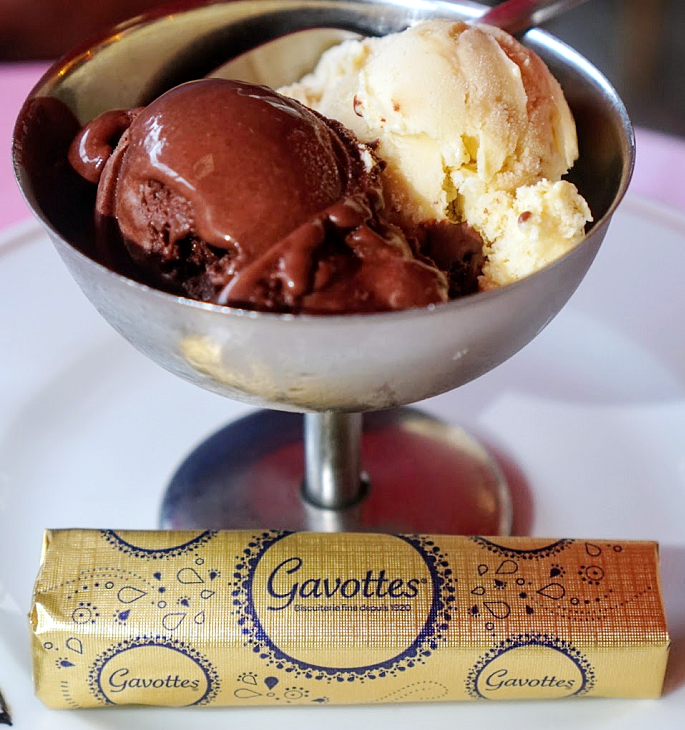 Les Deux Magots' outdoor terrace overlooking the neighborhood's sixth century Romanesque church is an idyllic location to take a gourmet break. You can enjoy the cafe's signature "old-style hot chocolate" or a cool drink accompanied by an impressive selection of desserts ranging from Pierre Hermé pastries to Berthillon ice cream and house-made chocolate mousse.
13. Order a box of buttery magic from La Fabrique Cookies.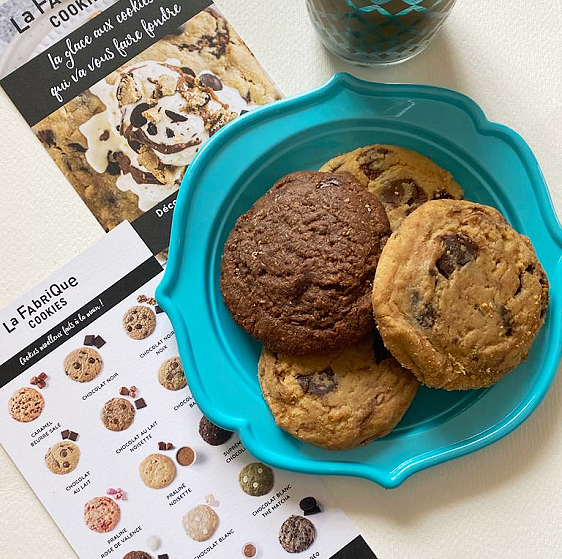 I stumbled upon La Fabrique Cookies at an event last year and later discovered that you can order a box of their butter-rich cookies through Deliveroo or the company's website.
The soft-baked cookies are made with butter sourced from Normandy, so eating one is a true French experience. There are multiple shops and kiosks throughout Paris, or you can order a box of preselected or customized assortments of cookies along with the ingredients and recipes to bake your own.
There are about a dozen chocolate flavor pairings. Here are some of the best:
Matcha tea and white chocolate
White chocolate and strawberries
Oreo
14. Enjoy chocolate cake with Notre Dame views at Comme Chai Toi.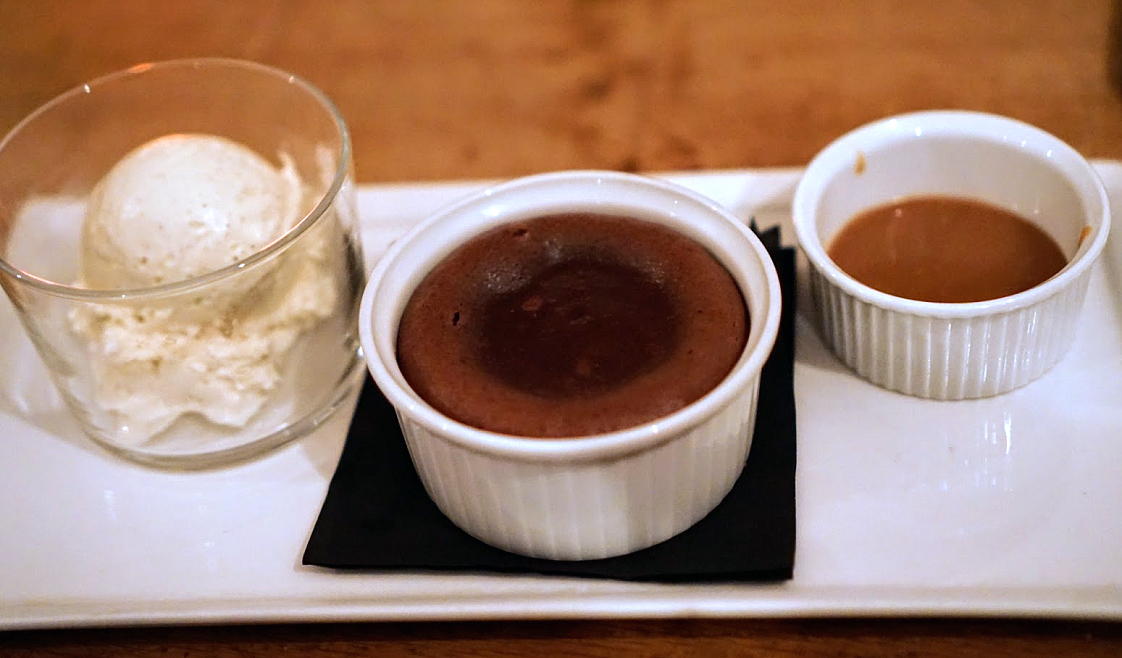 A local friend recommended Comme Chai Toi for its simple French cuisine and views overlooking the Notre Dame de Paris cathedral, and now I'm passing this tip along to you. Their molten chocolate cake paired with French vanilla ice cream is simply divine: rich and satisfying, just as a chocolate lover's cake should be.
Though the view has changed some — the 850-year-old Gothic cathedral is partially sectioned off following the devastating fire last year — some of the scaffolding is starting to come off as restoration work commences, so the main facade is still visible from the cosy front tables of Comme Chai Toi. These tables are popular, so be sure to request one of them when making reservations.
Insider tip: This restaurant is also a good place to explore classic French dishes such as snails drenched in butter.
15. Hunt for the best gourmet chocolate gifts at one of the "grand magasins."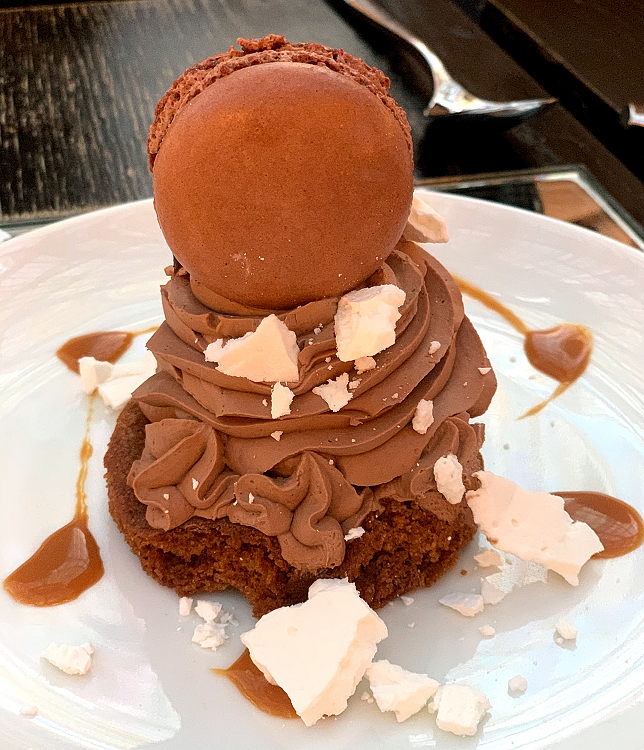 If you're ready for a shopping marathon, then Parisian "grand magasins," or department stores, will not disappoint.
The Galeries Lafayette, Printemps, and Le Bon Marché all have mini specialty shops and extensive chocolate selections that include gift boxes from famous chocolate producers such as Fauchon.
Galeries Lafayette opened a new concept store in the Champs Élysées that has an entire floor devoted to a luxury food court, while the Bon Marché's Grand Épicerie (with outlets now on both sides of the Seine) is a multi-level foodie delight that includes tasting stations and mini-restaurants.
16. Bonus: Add a chocolate pause to your Versailles day trip.

OK, so it's technically outside Paris, but since many first-time visitors to Paris take a day trip to the nearby Palace of Versailles, this one is worth a mention. Plus, this place is the former home of the Austrian queen who introduced the chocolate trend to France.
If you take a Paris day trip to Versailles (and you should), you can visit the Waldorf Astoria Versailles Petit Trianon Palace hotel for high tea. They serve it daily — 2-6 p.m. on weekdays and 3-7 p.m. on weekends — and the gourmet chocolate drink on the menu, made from grand cru Valrhona chocolate, is divine. It's chocolate cake in a cup.
The hotel is located just outside the Versailles gardens.

On the estate, you'll find Angelina's tea shop, where you can sample its famous hot chocolate with whipped cream on the side. Alain Ducasse's Oré, another restaurant at the palace, serves afternoon tea or hot chocolate (sourced from his Parisian workshop) with classic French desserts including a chocolate souffle.
Insider tip: Oré has a skip-the-line add-on deal that allows you to enter the palace directly after your meal.
Chocolate Dreams of Paris
What would you think if I told you that's not all? There are plenty more chocolate adventures to find in Paris. Wander into almost any French pastry shop, and you'll see a few chocolate-infused confections on display.
If you're ready for something savory after all this sweetness, check out our guide to eight restaurants for a culinary tour of France, all located in its foodie-friendly capital.