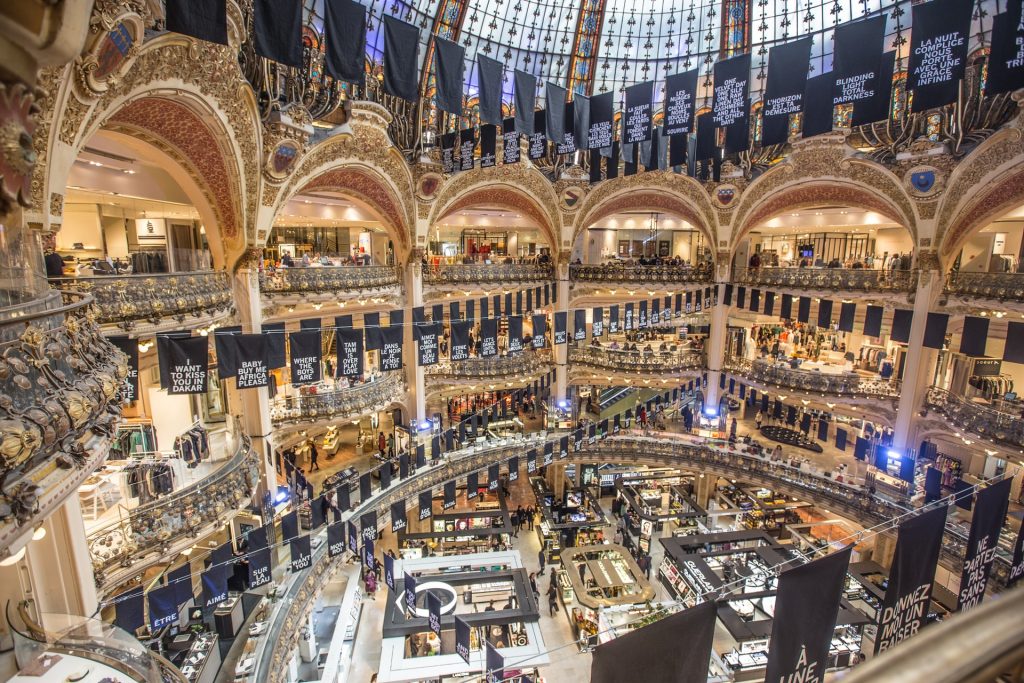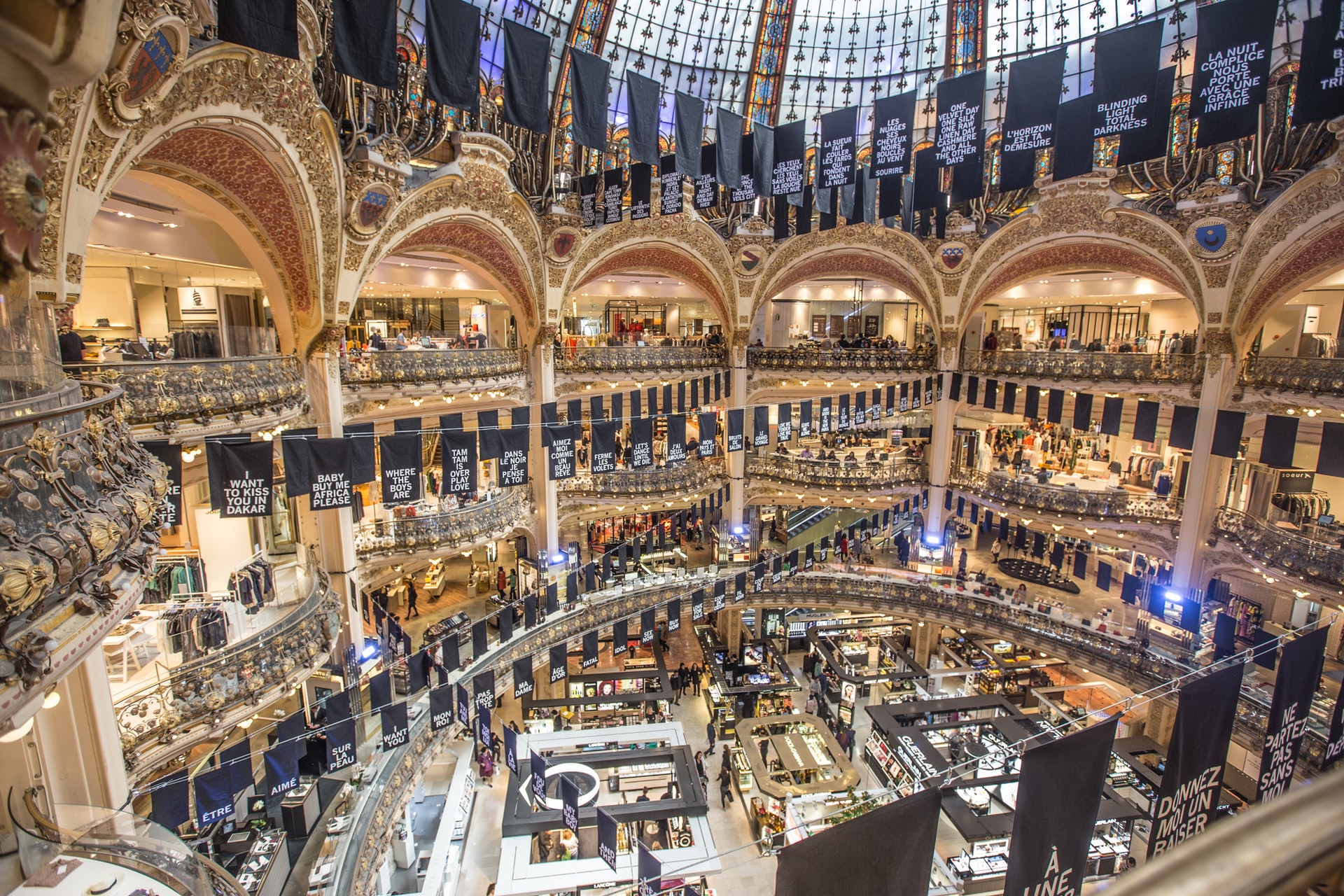 Paris is arguably the fashion capital of the world. And for the past 125 years, one particular shopping center (more like shopping experience) has helped cement this idea. Welcome to the Galeries Lafayette on Boulevard Haussman.
This isn't your average Paris department store. It's been a figurehead in the City of Lights since two cousins from Alsace opened what started out as a "sundries shop" in 1894. By 1912, the shop had a complete makeover and was presented to the public as a luxury bazaar. Since then, the brand has expanded throughout the globe. But it all started in Paris.
You can find their network of 65 stores around the world (from Berlin to Beijing), but their flagship store is on the Boulevard Haussman in Paris. The store is no longer just a shopping center, but a tourist destination in its own right. There are three buildings: one for house products and food products, one for men's fashion, and the main "Coupole" building, featuring the famous Art Nouveau dome and the rooftop view. The main building houses eight stories, more than 2,000 brands and a number of cafés, bars, and restaurants.
Sound like a lot? Don't worry. I explored this beloved mall to find out what makes it so special. Here's a floor-by-floor guide to the Galeries Lafayette in Paris.
Basement, Ground Floor, and Luxury Brands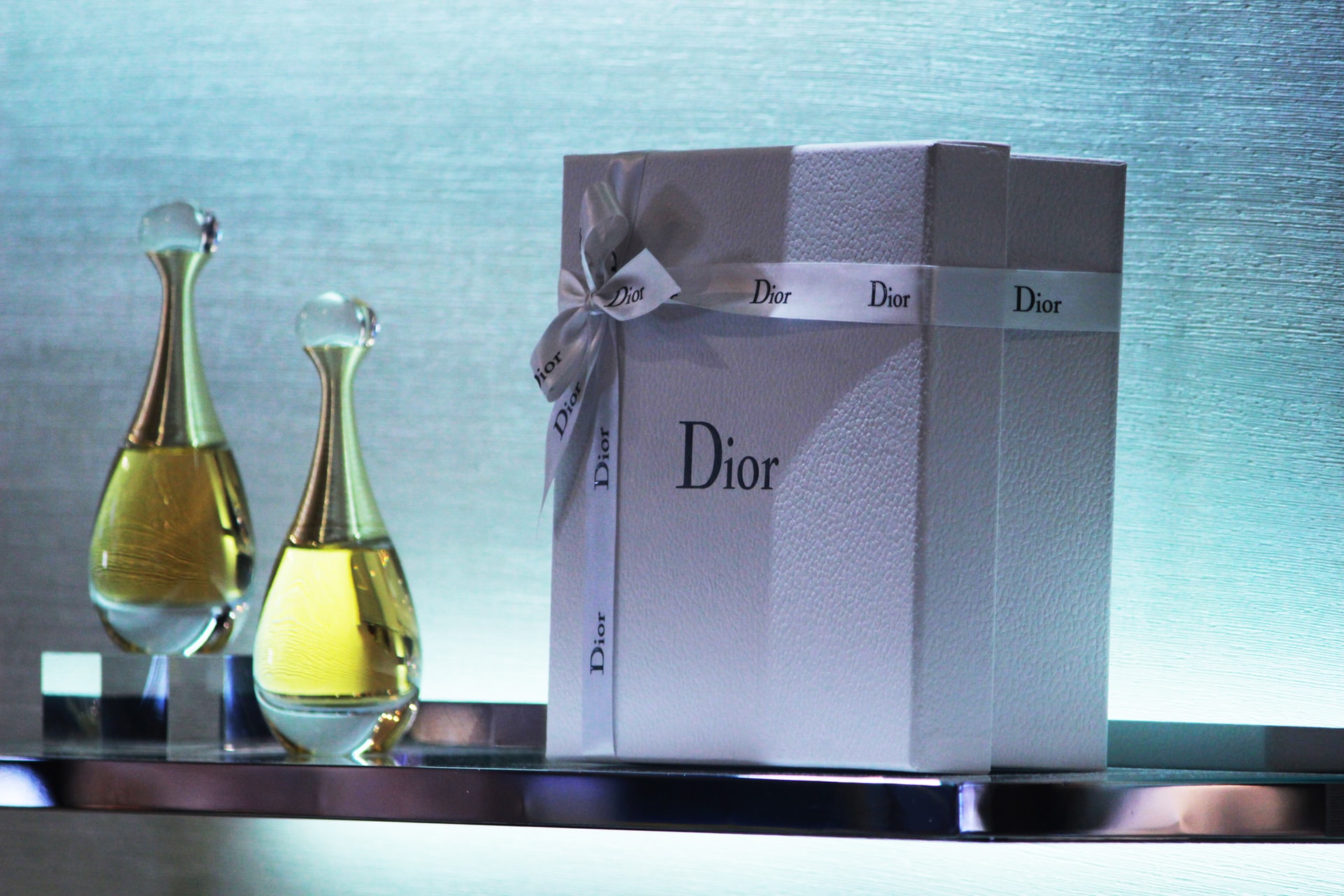 Once you walk into Galeries Lafayette, it's very clear you're entering a different type of mall. Upon entry, you'll be greeted by security guards wearing sharp suits. Yes, everything is fashionable, right down to the employees. It's one of the first things you'll notice — everything is shiny and everyone is dressed nicely.
The ground floor is known as the "Espace Luxe," or Luxury Space. Another thing you might notice is that there are no "stores" in the traditional shopping mall sense. It's more of an open space with each brand claiming a different section. It reminds me of an indoor farmers market, but for fancy luxury brands. Guess bags hang on display, Swarovski jewelry glitters under protective cases, Dior displays perfume nearby, and you can't miss the neon red Gucci sign.
If shoes are your weakness, head to the basement. That's where you'll find everything from stylish pumps to sleek sandals. And there's also a Pierre Hermé, the high-end Parisian pastry shop known for its macarons.
Level 1 of the Galeries Lafayette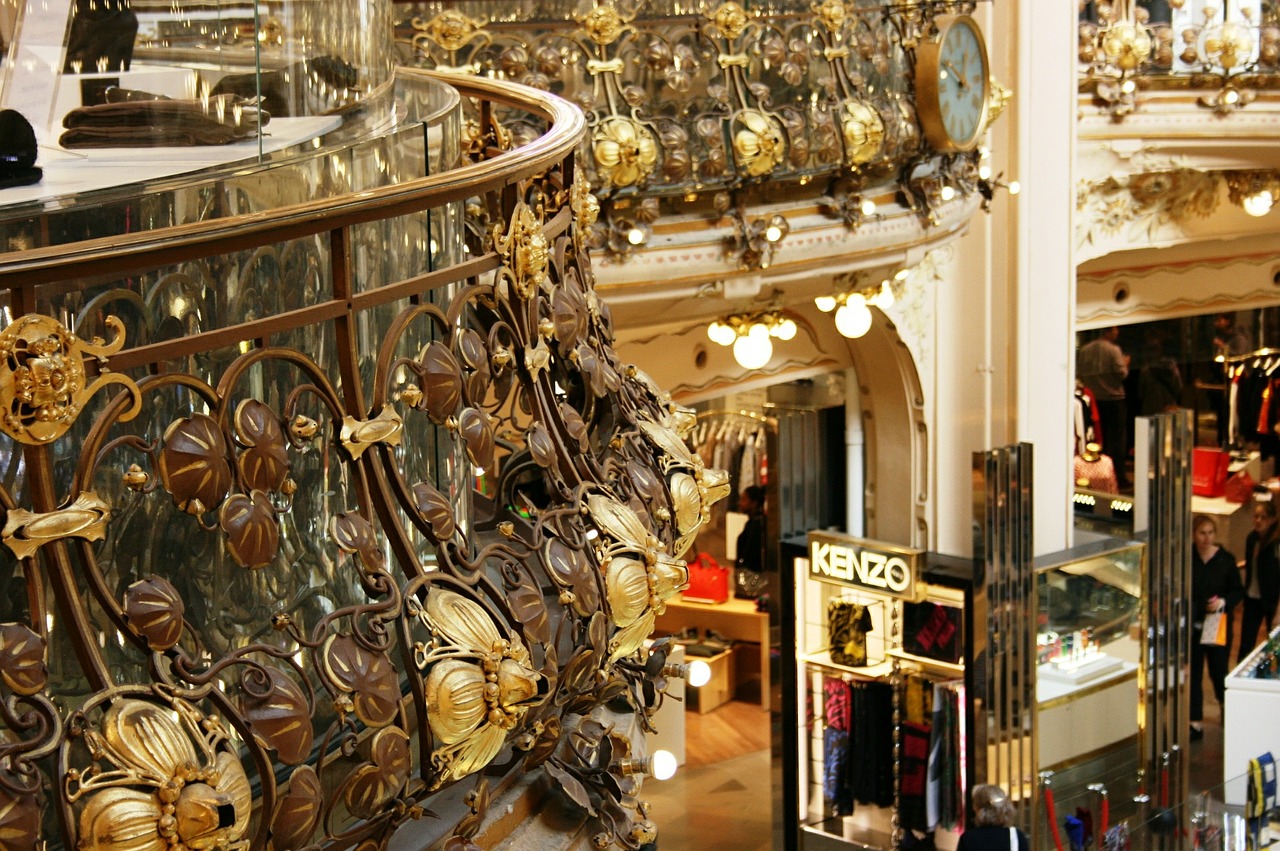 Your shopping trip has just begun. Now, on to the first floor.
Cultural tip: In France, the bottom floor isn't called the first floor. Instead, it's the "rez-de-chaussée," or ground floor. What Americans consider the second floor is actually what the French consider the first floor. Confused? Just think of floors as anything it might take a set of stairs to reach. After your first set of stairs, you reach the first floor, then the second, and so on.
Level 1 is dedicated to women's fashion. Yves-Saint Laurent and Burberry are among the brands featured here. Oh, yeah, there's also a caviar bar. Yes, a caviar bar. The Kaspia bar carries a selection of fine caviars and Champagne (that's Champagne with a capital C because it's from the French region of Champagne), among other delicacies. Again, this is not your average mall.
To travel between each level, there are escalators and elevators, but if you don't mind a little hike, I recommend the stairs. They're wood-paneled with gold colored railings, just in case you weren't already overwhelmed by all the splendor.
Levels 2-3 and the Art Nouveau Dome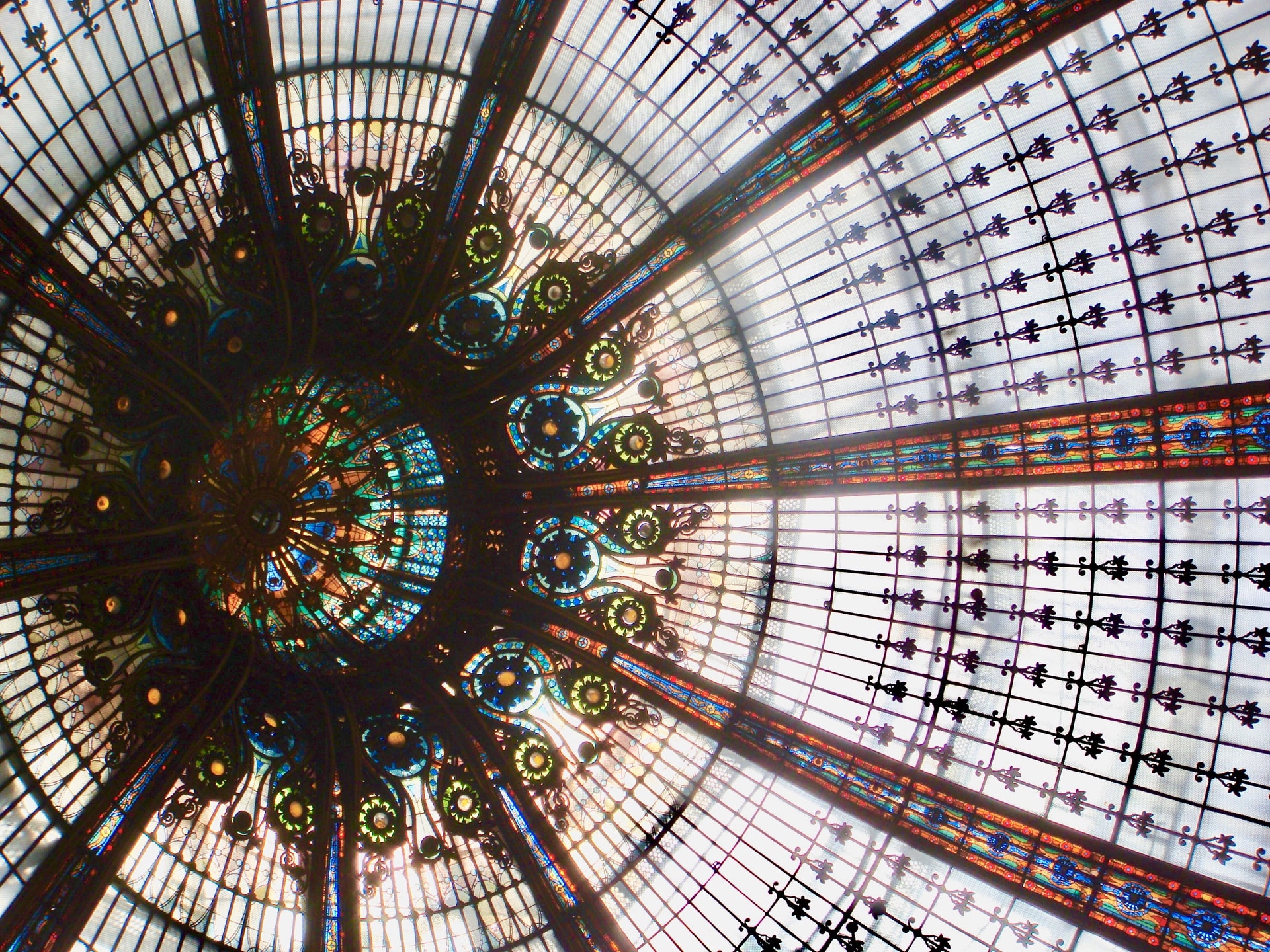 Once you reach the second floor, you'll be greeted with the smell of coffee roasting. That would be from Joe and The Juice, an international coffee shop and juice bar.
The second floor is your spot for lingerie.. Levi's and Urban Outfitters are among the big brands here. On the third floor, you'll run into more fashion, including products from Ralph Lauren and Hugo Boss. For an eco-friendly choice, look for the bright pink neon sign from Le Good Spot, which specializes in sustainable fashion.
Once you reach the second and third floors, you'll have a better glimpse of the spectacular design of the Art Nouveau dome.
The stained glass dome sparkles a variety of colors, complemented by rose-colored vaults. A French artisan designed the stained glass windows in the early 20th century in the Neo-byzantine style. The 141-foot dome became the symbol of Galeries Lafayette Paris Haussmann, and this large — and free — sight is definitely one for your bucket list.
Levels 4-6: Fashion Show, Kids Section, and Souvenirs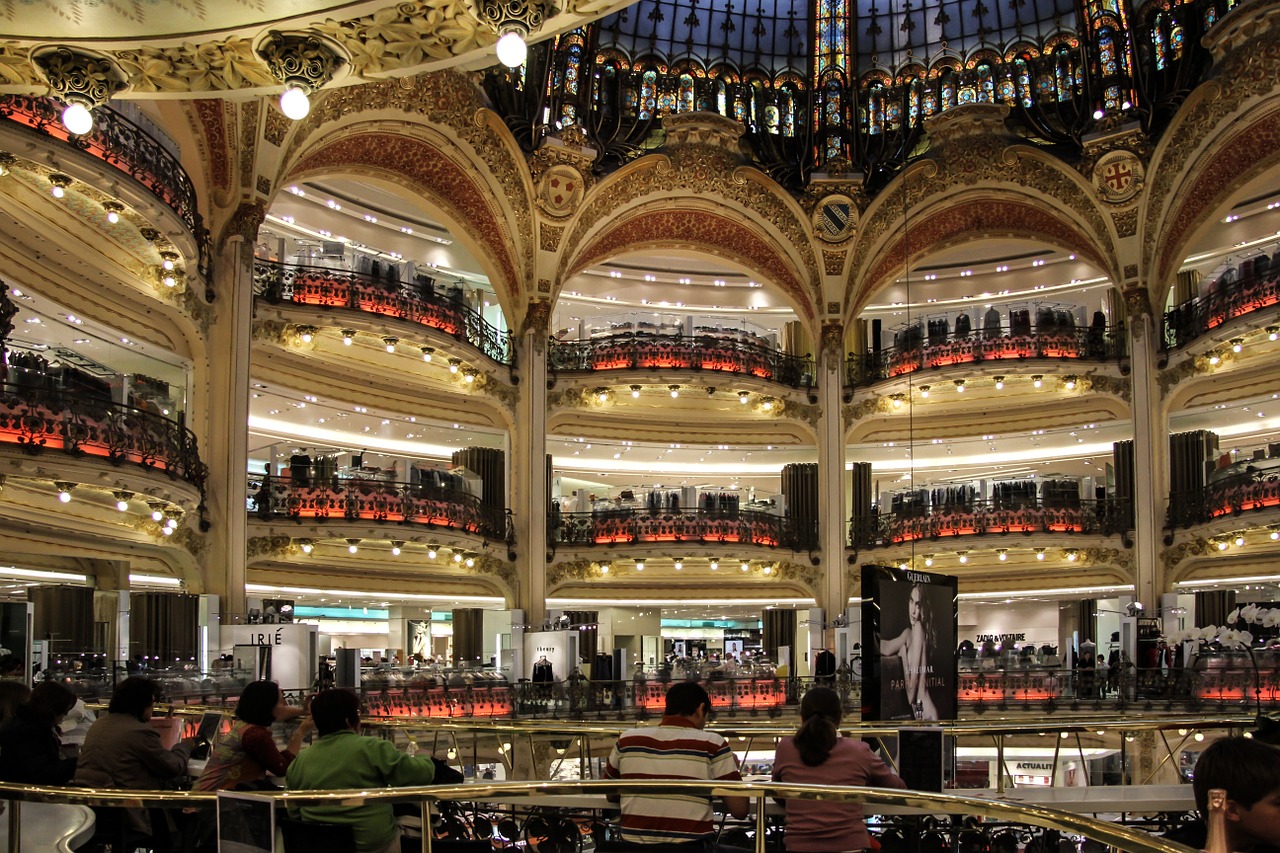 Level 4 features bath items and more lingerie products. A level above that is the floor for special events and kid's fashion. It houses the Salon Opera, an event space that hosts everything from workshops and meetings to the mall's famous (and formerly free) fashion shows. Keep an eye on their website to look for their next events. You can discover the latest trends or just be able to say "I went to a fashion show in Paris," which is also pretty cool.
The sixth floor is a nice spot for picking up Paris souvenirs, especially tasty ones. I spotted cookies from Les Sablés de la Mère Poulard. But I would recommend some of the Valrhona chocolates — they're absolutely delicious. Speaking of food, there are a number of restaurants on Level 6 if you want to have a sit-down meal.
Free Rooftop Views at the Galeries Lafayette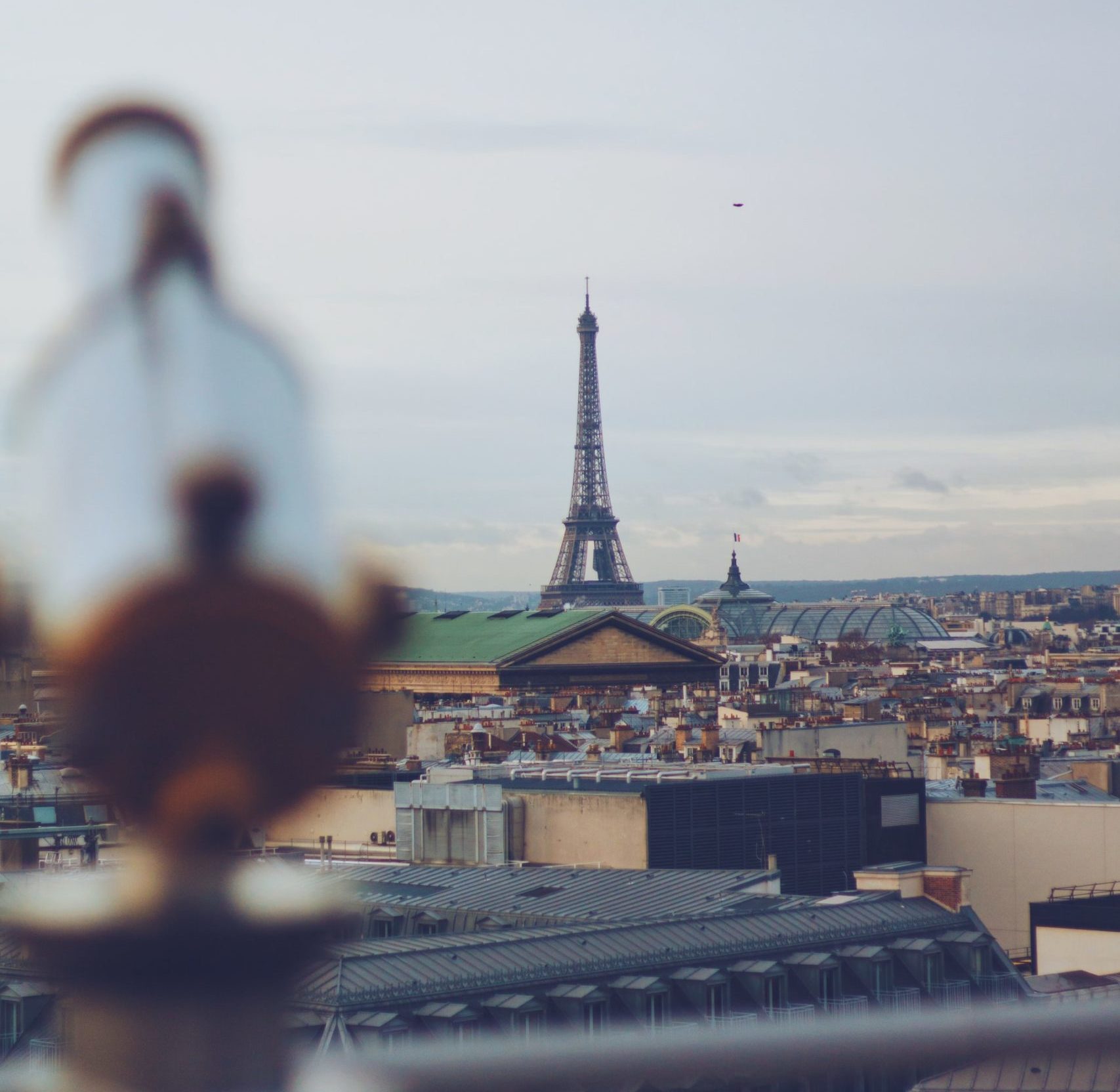 There are elevators and escalators on the other floors. But to get to the rooftop, you have to take the stairs from the sixth floor. It's a short flight of stairs and immediately worth it. Once you reach outside, you'll enjoy a free 180-degree panorama of the city, complete with a view of the Eiffel Tower. And thanks to the transparent barrier on the edge of the building, your photos of the view won't include a bulky fence.
There are two restaurants at the top where you can eat and drink while you admire the view. Whether you visit the rooftop in summer or winter, you can't go wrong. In summer, you're met with a beautiful cloudless view of city monuments. But in winter, there's an open air ice rink for the holidays. Either way, try to make it there in time for sunset.
Holiday at the Galeries Lafayette on Boulevard Haussmann: Window Displays, Lights, and More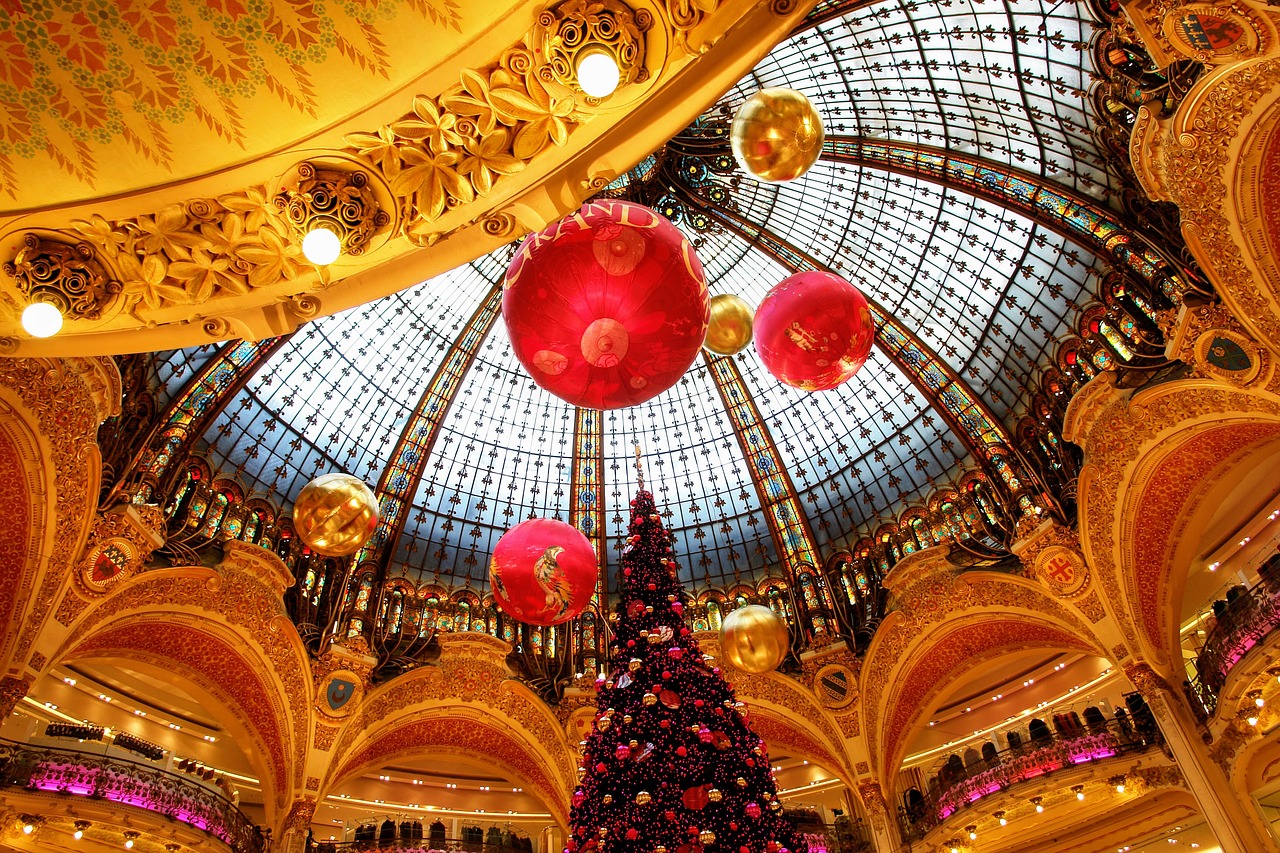 The holiday season draws tourists not only to the Galeries Lafayette but also to Boulevard Haussmann in general. As you might expect, leading up to Christmas, the mall is packed with people shopping for gifts.
Instead of joining the crowd, I recommend strolling down Boulevard Haussmann to look at the Christmas lights and holiday displays in the storefront windows. You'll see puppets, dolls, art, you name it. Then, of course, there's the Christmas tree inside. Every year, a huge glittering evergreen tries to out-do the previous year's design. In 2014, they even managed an upside-down Christmas tree.
Answers to Your Questions About the Galeries Lafayette Paris Haussmann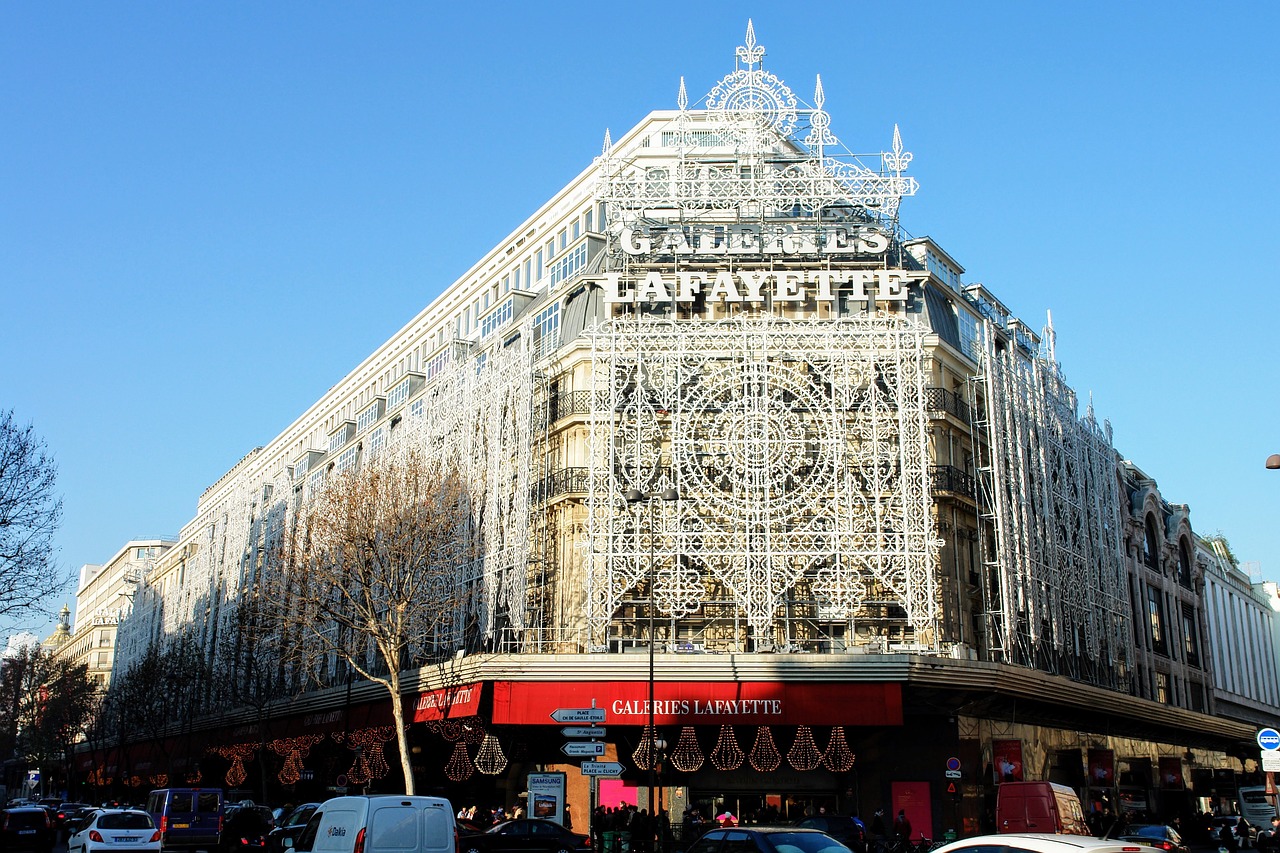 How do I get to Galeries Lafayette?
Galeries Lafayette is right in front of the Chaussée d'Antin – La Fayette station, on Metro Lines 7 and 9. It is also easily accessible from the Trinité station on Metro Line 12 or the Opéra station on lines 3, 7, or 8. The RER A train can also take you there from the Auber station and the RER E will get you there from Haussmann St. Lazare.
Parking is available 24/7 if you're driving. The entrance is located at the corner of Boulevard Haussmann and Rue de Mogador. You can't miss it.
How far is Galeries Lafayette from the Eiffel Tower?
Galeries Lafayette is around a 50-minute walk from the Eiffel Tower. But it's a 25-minute ride taking the Metro Line 8 from Opéra to École Militaire. Or the Metro Line 9 from Chaussée d'Antin to Alma Marceau. But there are still sights to see around Galeries Lafayette.
The Paris Opera House at the lovely Garnier Palace is an excellent place to start, and a mere five-minute walk away. I once had the chance to see a rendition of "L'École de Femmes" or "The School for Wives" at the famous opera house and highly recommend you visit. For a look at more Parisian history, visit the Great Synagogue of Paris built in 1874. It's just a few blocks away, and the major headquarters of France's chief rabbi.
How long does it take to see the Galeries Lafayette?
To really take in every one of the three buildings you would need hours. The main Coupole building, which I covered here, could easily take an hour or more alone (especially if you stop for a photoshoot on the rooftop or a meal at one of the many eateries). If you really like shopping, go ahead and block off your whole afternoon.
When is the best time to visit the Galeries Lafayette?
I'd advise you to visit Galeries Lafayette during winter. Their Christmastime decorations drop you right into a winter wonderland of fairy tales.
After the holidays, it's a great time to catch French sales. The sales season typically starts in January. Keep an eye out for signs that say "soldes." With these pricey brands, you'll be grateful for discounts.
The best time of day depends on what you're looking for. To avoid crowds, try to go as early as possible right when it opens around 11 a.m. But for a nice view of the sunset, go in the early evening, enjoy a drink on the rooftop, and then head over to the Opéra Garnier to catch one of their shows.
Galeries Lafayette for French Fashion and Lifestyle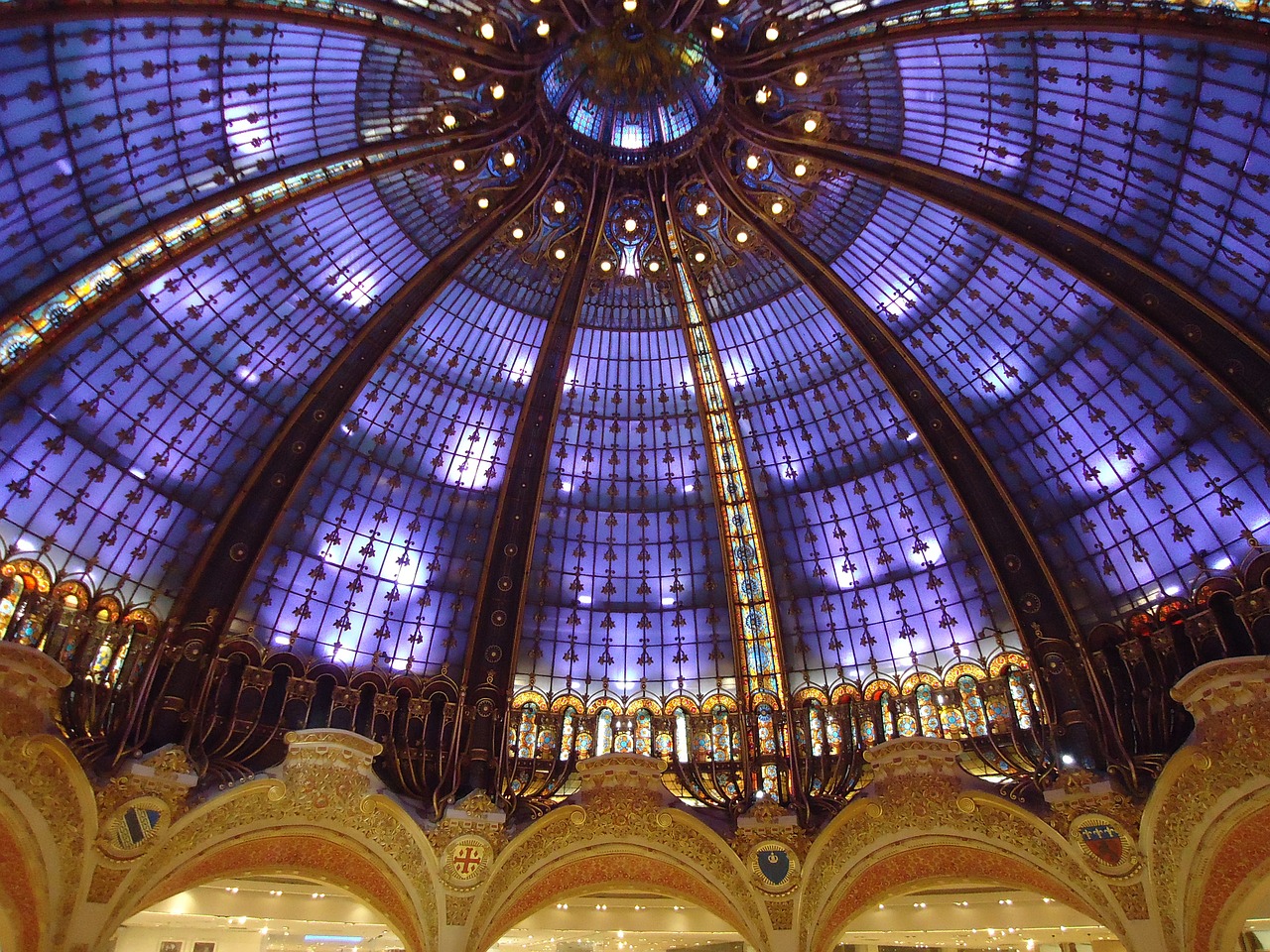 The flagship Galeries Lafayette Paris Haussmann store is not just about selling luxury goods. It's about selling what the chain likes to call "the art of living."
From the beautiful dome and fashion shows to the rooftop views and gourmet restaurants, the Paris Haussmann store is like none other. You can take cooking classes, you can play the popular French game pétanque on the roof, you can see stained glass worthy of a cathedral — the list goes on.
In the end, the store is for creatives and about creation. If you ever wondered why Paris is the fashion capital of the world, a walk through Galeries Lafayette makes it all clear.