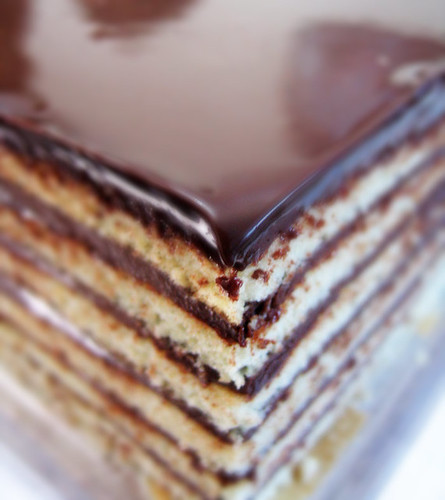 Here is a delicious recommendation and guide to the tastiest, most essential pastries to devour and where to find them the moment your plane lands in Paris:
Croissant
The famous croissant, which is puff pastry meticulously folded and curved into the perfect crescent shape. Try not to say 'crescent,' though! You won't fail to find this. It is an absolute staple in France.
Pain au Chocolat
Also known as the chocolate croissant. Luckily these are ubiquitous in every bakery found in France so in many cases, the bakers will have different chocolatey versions for exception in taste, like using Milka instead of not name brand.
Palmier
Bizarrely known as a "pig's ear," "palm heart," or "elephant's ear," the palmier is a French patisserie made from folding multiple layers of puff pastry, the same used for croissants, and covering them in sugar. This can be found in every single boulangerie you can fine.
Opéra cake
Welcome to the spectacular little layer cake that has been soaked in coffee and covered in chocolate ganache and frosting. You can find this in pretty much any bakery.
Macaron
The macaron is an absolute classic in Paris and a quick, simple enough desire to satisfy. Find the mouth-watering delicacies in Ladurée.
Choux à la Crème
A pastry round golden on the edges, filled with creamy fillings of many different flavors? Yes, please. You can find the very best at Odette.
Merveilleux
This meringue with chocolate whipped cream coated with dark chocolate shavings is an absolute guilty pleasure of the entire city of Paris, with lines out the door of Merveilleux de Fred.
Plaisirs Sucré
At Pierre Hermé, you can find the crunchy hazelnut biscuit cake with milk chocolate wafers and ganache and cream filling balance.
Saint Honoré
A caramelized cream puff topping on puff pastry with a swirl of Saint Honoré cream spells out the deliciousness of this pastry, which can be found in most bakeries.
Mont Blanc
Last, but certainly not least, the famous Mont Blanc, which pairs nicely with 'l'Africain' hot chocolate made at Angelina, is a meringue and cream covered with strings of chestnut cream for a mix of texture and visual of a bird's nest.