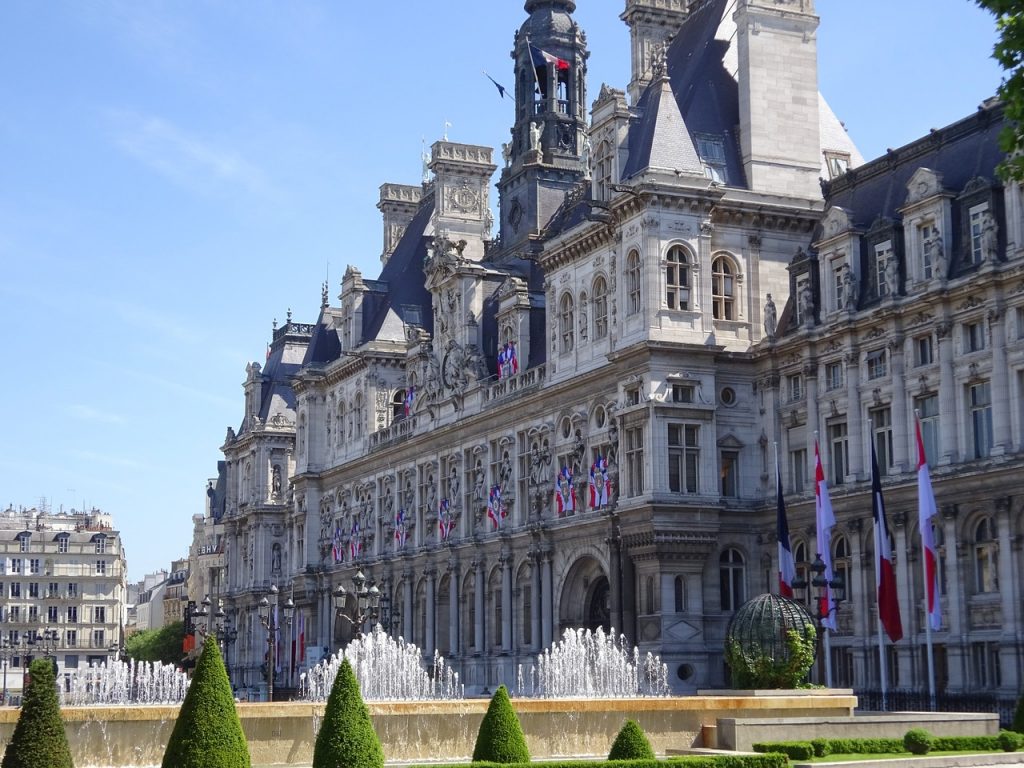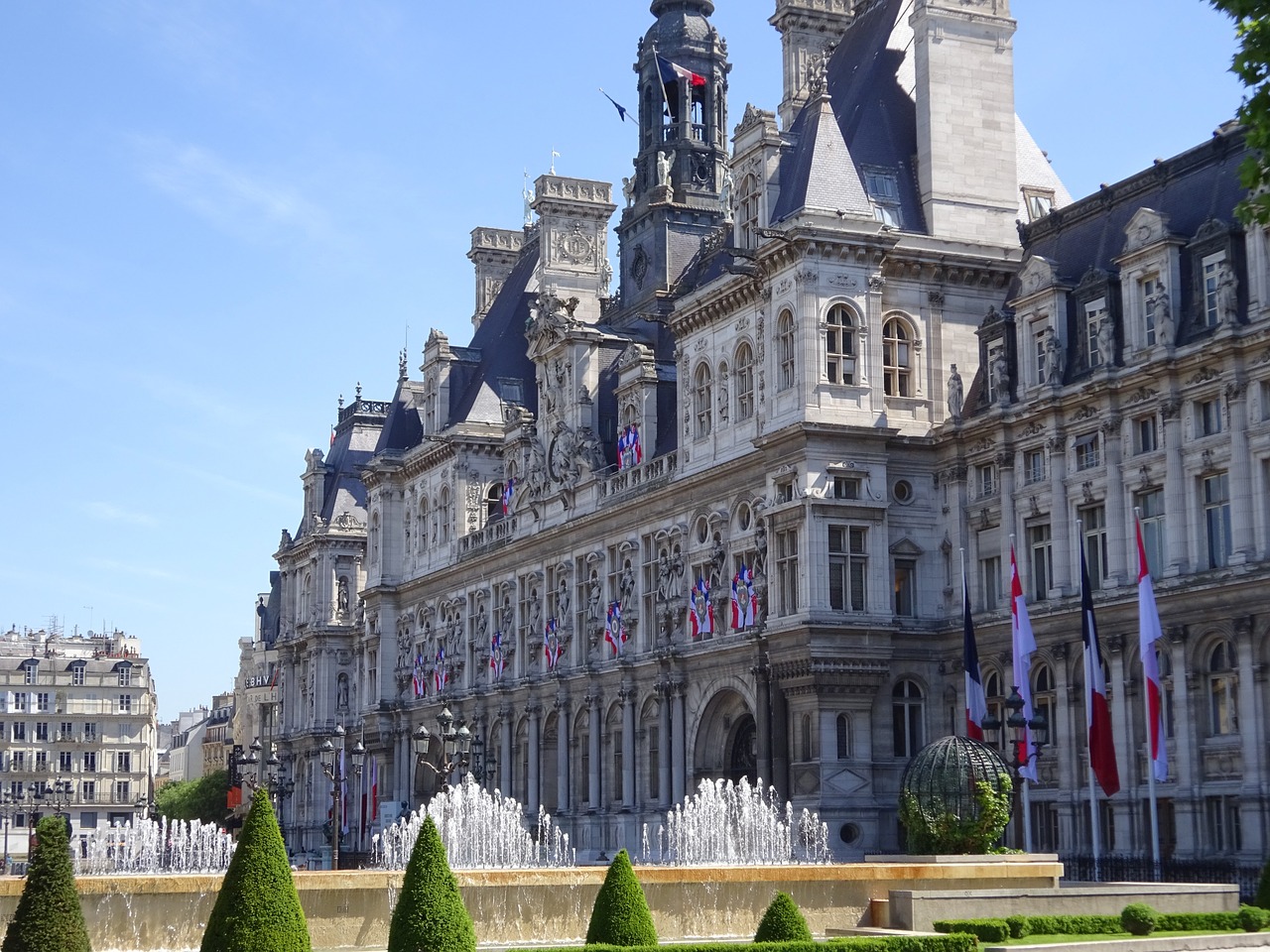 The Marais neighborhood in Paris is welcoming for all. It's popular among locals, expats, and millennials. It has a vibrant LGBTQ+ culture. And word has it, you'll find the best falafel in France here.
The central location is convenient — it's on the right bank of the Seine in the 3rd arrondissement. It even serves as the city's municipal center, housing the Hôtel de Ville, Paris's City Hall, the imposing building show in the photo above. Everything from mansions and museums to boutiques and bookstores line cobblestone streets in "Le Marais" neighborhood. The area is often described as trendy and always attracts a crowd. It's a neighborhood you can spend the whole day in. Follow this itinerary to make the most of your time in the Marais neighborhood.
First: Waking Up With Coffee in the Marais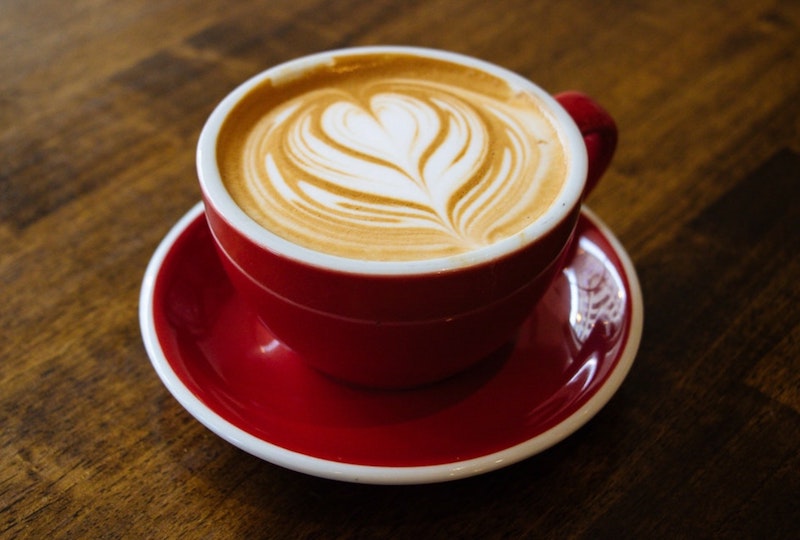 Start your day off in the Marais with a nice cup of coffee. I recommend you head to Boulevard Beaumarchais. Neighbours Coffee is right between the Saint-Sébastien Froissart and Chemin Vert Metro stations on Line 8. I enjoyed one of their creamy café au laits just the other day.
If you also have a sweet tooth, walk further down Boulevard Beaumarchais to Alma the Chimney Cake Factory, not far from the Bréguet Sabin Metro station on Line 5. Their warm chimney cakes come in both sweet and savory flavors. I tried their cinnamon flavor and it remains one of my favorite Parisian pastries to this day.
Your Morning Itinerary: Museums in the Marais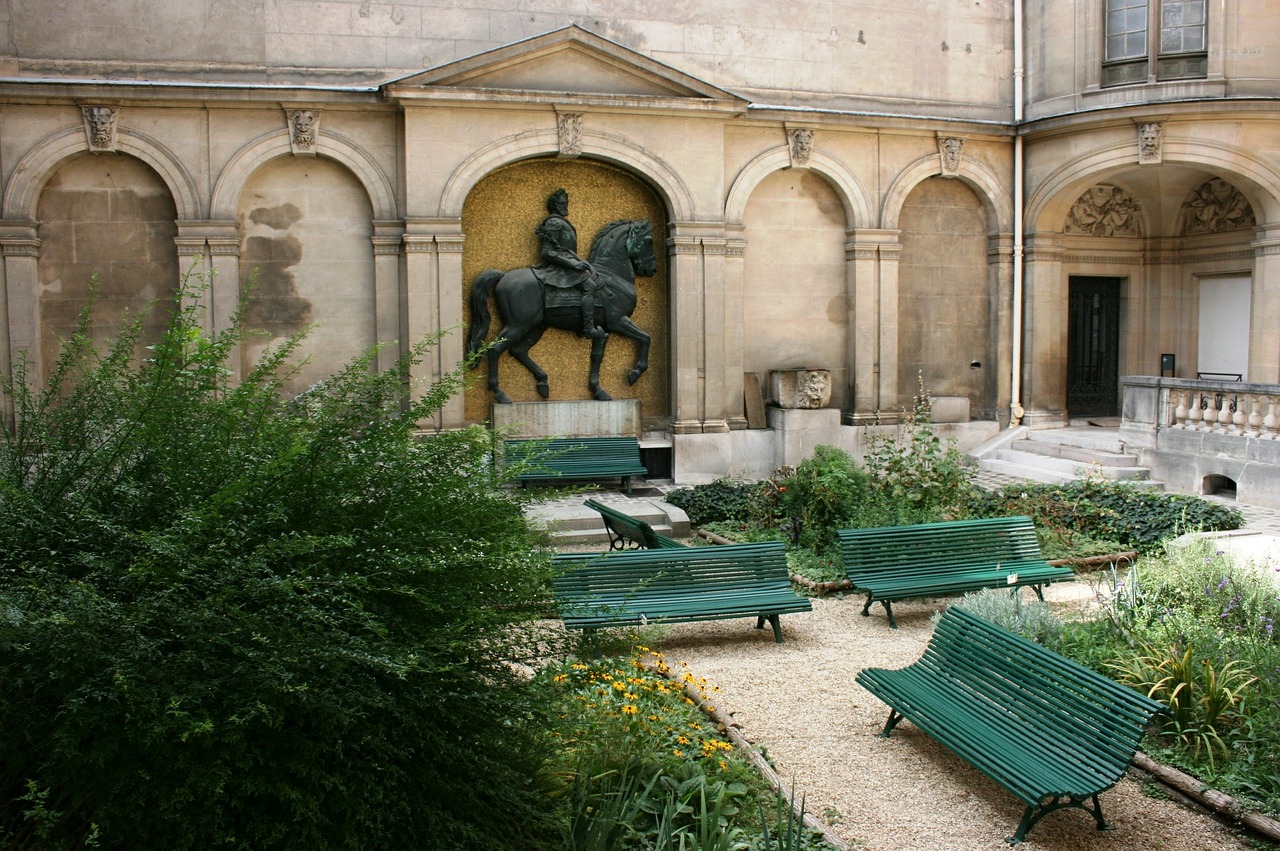 Once you've filled up on coffee and pastries, you're a short walk away from some interesting and offbeat museums.
Picasso Museum
If you're a fan of art, the Picasso Museum (Musée Picasso) is tucked away on Rue de Thorigny. The museum itself is a work of art — an elegant 17th-century Baroque palace known as Hôtel Salé, designed by French architect Roland Simounet.
When I visited the museum, I was blown away by the breadth of their collection. They carry more than 5,000 works from Picasso, ranging from paintings to figurines. And they never seem to run out of artwork to display. There's constantly a new exposition in the works. I got to see the "Tableaux Magique," or "Magical Paintings," winter collection.
Museum of Hunting and Nature
If you want to go for something a little more funky and delightfully strange, check out the Museum of Hunting and Nature ("Musée de la Chasse et de la Nature"), just off of Rue des Quatre-Fils. I can best describe the place as a commemoration to taxidermy. I went once with a friend to check it out just for fun, and we found ourselves intrigued by their collection of oddities. You can find everything from dog portraits and ancient rifles to narwhal teeth and polar bear taxidermy.
Musée Carnavalet
But the best museum to check out to learn about the city is without a doubt the Musée Carnavalet. The museum is dedicated to the history of Paris. From archeology and sculpture to relics of the Middle Ages and photographs, you're in for an immersive Paris history lesson. It's on Rue des Francs Bourgeois, a short walk from the Chemin Vert Metro stop on Line 8.
You should probably pick one of these — two at the most — for your morning. I say start with the Picasso Museum then choose your second destination after. The Carnavalet and hunting museums are both a short five-minute walk away from the Picasso Museum, but they're about a 10-minute walk away from each other.
Lunchtime: Get the falafel
I won't be the first or the last person to recommend the falafel in the Marais. It's the go-to lunch option and the street food the neighborhood is known for.
The Marais is a historic Jewish quarter, and you'll still find glimpses of the neighborhood's roots when you see the synagogues and falafel restaurants down Rue des Rosiers. The must-try falafel spot is L'As du Fallafel. Day or night, there's always a line outside (except during Passover, when it's closed). L'As offers great falafel sandwiches and other Middle Eastern dishes, but the fries are great, too.
There are other falafel options if you don't want to wait in line. I always feel a bit bad for Mi-Va-Mi, the falafel place directly across the street from L'As. The employees sometimes try to coax customers inside as they wait outside L'As. I haven't tried Mi-Va-Mi, but I can confirm the falafel at another nearby restaurant Chez Marianne is tasty. No need to wait if you're short on time (or just hungry).
An Afternoon Stroll at Place des Vosges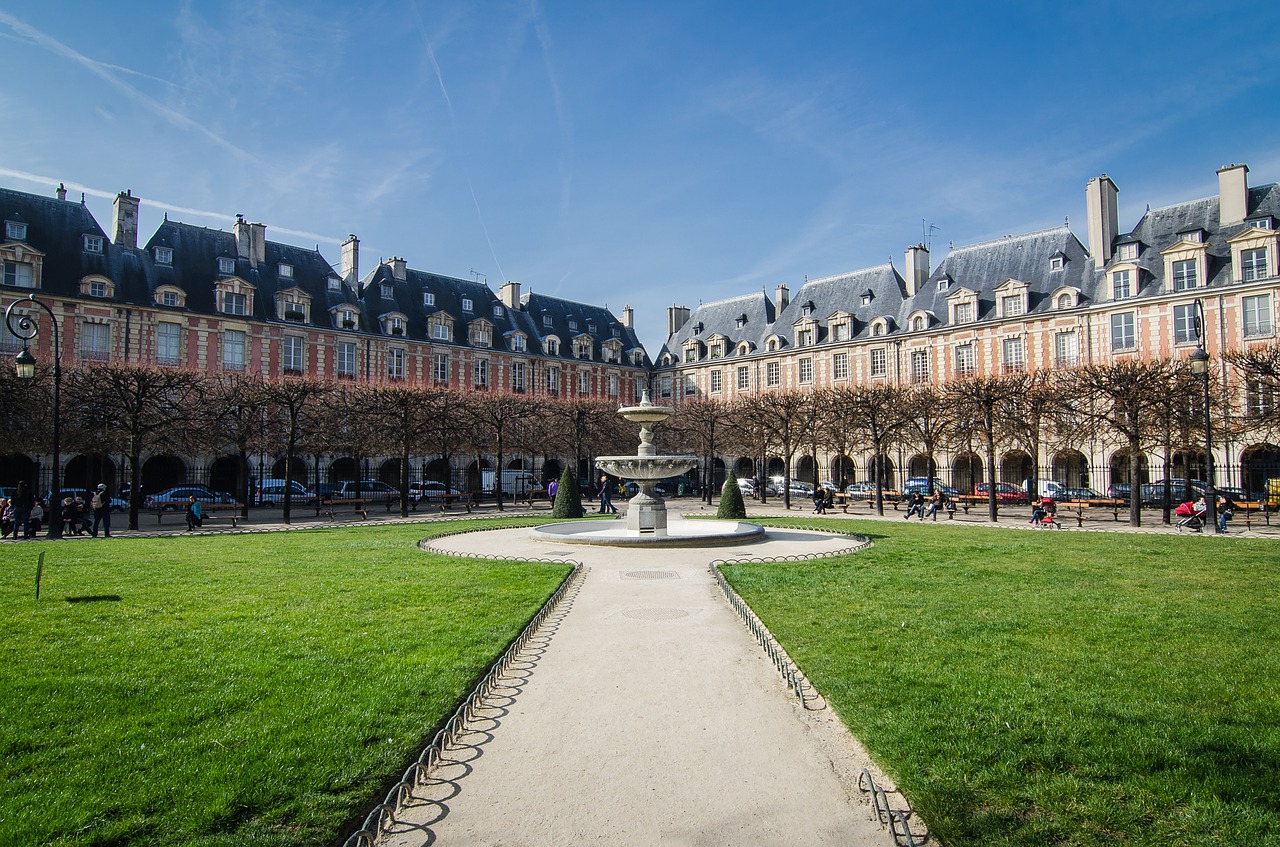 After lunch, you can walk off all of that falafel at Place des Vosges. The picturesque plaza is an official historic monument in Paris, and it's right at the heart of the neighborhood. Square Louis XIII lies at the center of the plaza, complete with a statue of the ruler and four fountains. The best way to get there is from Chemin-Vert on Metro Line 8 or Saint-Paul on Metro Line 1.
One of the main draws of Place des Vosges is the Maison de Victor Hugo, meaning the house of Victor Hugo. The museum dedicated to the author of "The Hunchback of Notre Dame" was indeed his actual home. While the first floor presents the author's life and literature, the second floor includes a recreation of Hugo's old living quarters. The author lived on the second floor in the 1830s and '40s, where he worked on the novel "Les Misérables."
Still Time for Shopping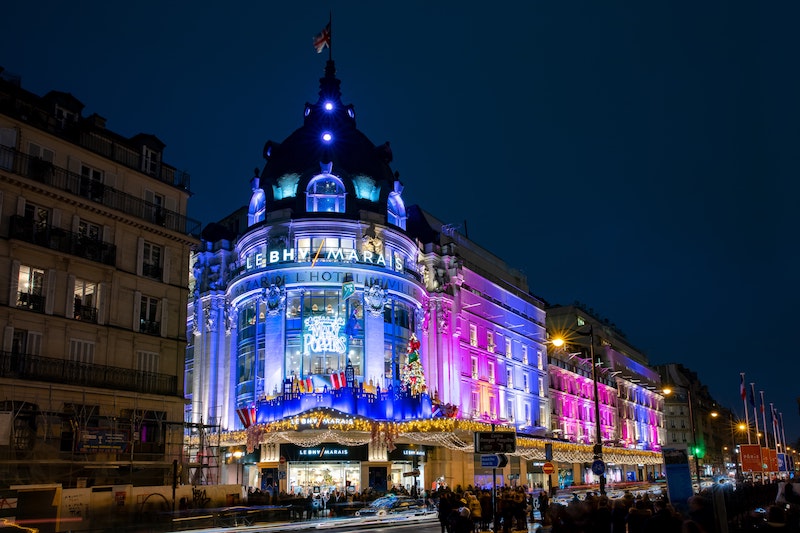 The Marais is known for attracting the "hip crowd" with its fashion scene and luring creatives with its art galleries. From high-end fashion boutiques like Merci to trendy thrift stores, the area is a great place to shop. A major shopping attraction, the BHV department store is right across from the Hôtel de Ville on Rue de Rivoli.
Some of the best streets for shopping include Rue Vieille du Temple, Rue des Francs Bourgeois and Rue de Turenne. And it's not just clothes shopping, either. The Marché des Enfants Rouges is in the Marais, known for being the oldest covered market in the city. It's been selling fresh produce since 1615, and you can still find it off Rue de Bretagne. As for art, you can browse many galleries near the heart of the Marais, including the Modus and Symbol galleries at Place des Vosges.
Winding Down Your Day With Dinner and Drinks
For a simple brasserie meal in the Marais, try out Le Voltigeur on Rue des Francs Bourgeois. I tried their cheesecakes, and they're absolutely delicious.
To end your day, you can opt for wine or beer. For a beer, I would recommend the craft beer at BrewDog, a bar close to the Picasso Museum on Rue de Thorigny. Their Elvis Juice is by far my favorite.
If you want to go the wine route, go right across the street from BrewDog to Divvino Marais. This classy wine cellar is filled with warm and welcoming staff who will guide you to the right wine for your palette.
This area of the city has a great nightlife as well and is fun to explore after sunset. Whether you've brought your dancing shoes or your camera, your perfect day in "le Marais" can easily extend into the night if you want.
Answers to Your Questions About the Marais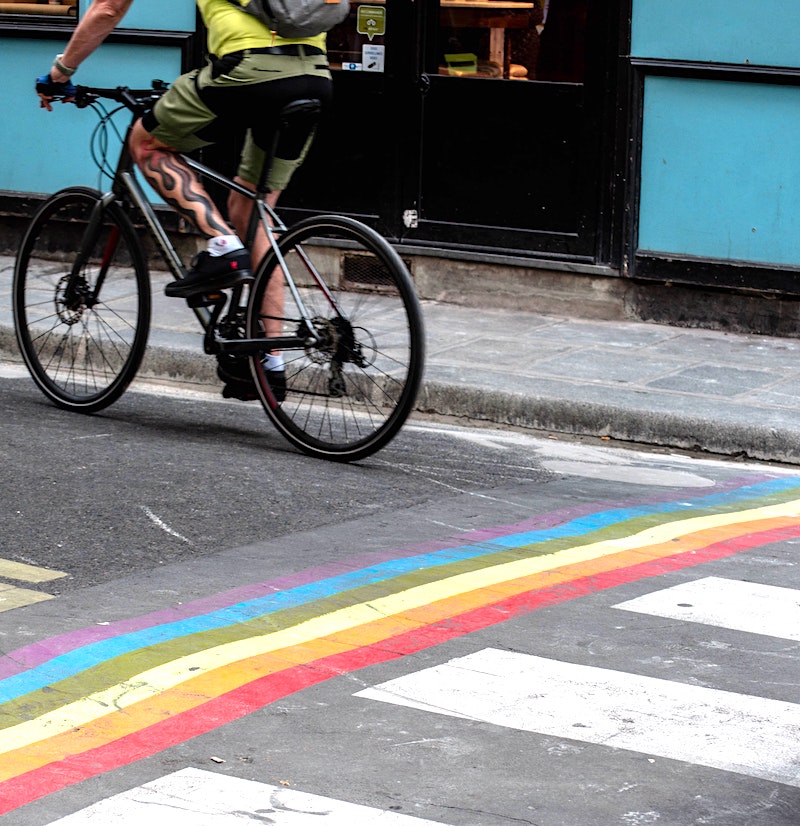 What is the Marais neighborhood known for?
Possibly the biggest claims to fame of the Marais neighborhood — sometimes called Paris's best gayborhood — is its LGBTQ-friendly scene. Its streets include photo-worthy rainbow-colored crosswalks that you can find around Rue des Archives and Rue du Temple. There are a number of gay-friendly bars to choose from. I'll never forget what happened when I tried to check out the gay bar Raidd on Rue du Temple. The bouncer took one look at my friends and I and wouldn't let us in. "Trop de filles," he explained — "too many girls."
Is the Marais area of Paris safe?
You will be completely fine here. But that doesn't mean you shouldn't keep an eye on your belongings. Paris is a big city, so it's always a good idea to be aware of your surroundings.
Is the Marais a good area to stay in Paris?
It can be a little pricey to stay here, but if that's not a concern, the Marais is a great option for lodgings in Paris. The area's central location, LGBTQ-friendly scene and local vibes all make it an excellent choice.
Where can I walk in Le Marais?
Rue des Rosiers is a popular pedestrian street in the neighborhood with a numbers of restaurants, bars and shops. You can also walk around the beautiful Place des Vosges.
Make the Most of the Marais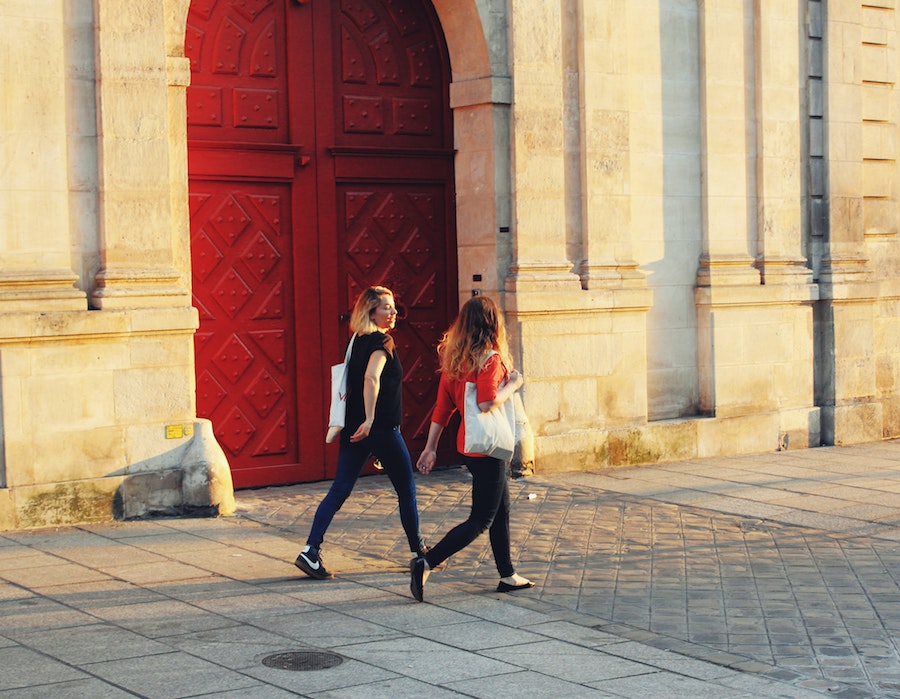 At the end of the day, the Marais neighborhood really does have something for everyone: art to admire, shops to browse, and fabulous food and drinks. You could argue that one day in the Marais is hardly enough to capture all it has to offer. If you have the time on your tour of Paris, be sure to visit this chic and welcoming neighborhood.