Pique-nique Parfait
Parisians picnic right. And they picnic often. They are true picnic perfectionists, of course with the usual easy-breezy, laissez-faire attitude most Parisians seem born with. Never too fancy but with a variety of yummy goodies, it makes eating al fresco in a park, plaza or by the river a lovely social or solo event.
Weather in Paris can be a little wacky during the shoulder seasons and when there is any hint of sunlight peeking through the gray clouds of spring, T-shirts become tank tops, cardigans somehow turn into halter tops and pant legs begin a gradual roll up the legs. This happens simultaneously with corks popping, baguettes being ripped and slathered with rillettes and ripe cheese and the crunching of *strangely popular* carrottes rapees. 
A pervasive picnic culture means that the offerings at markets, food shops and grocery stores are packed with the selections just right for packing. Don't forget to bring your own bag, or practice how to say "j'ai besoin d'acheter un sac s'il vous plait" so you can buy a bag at the register.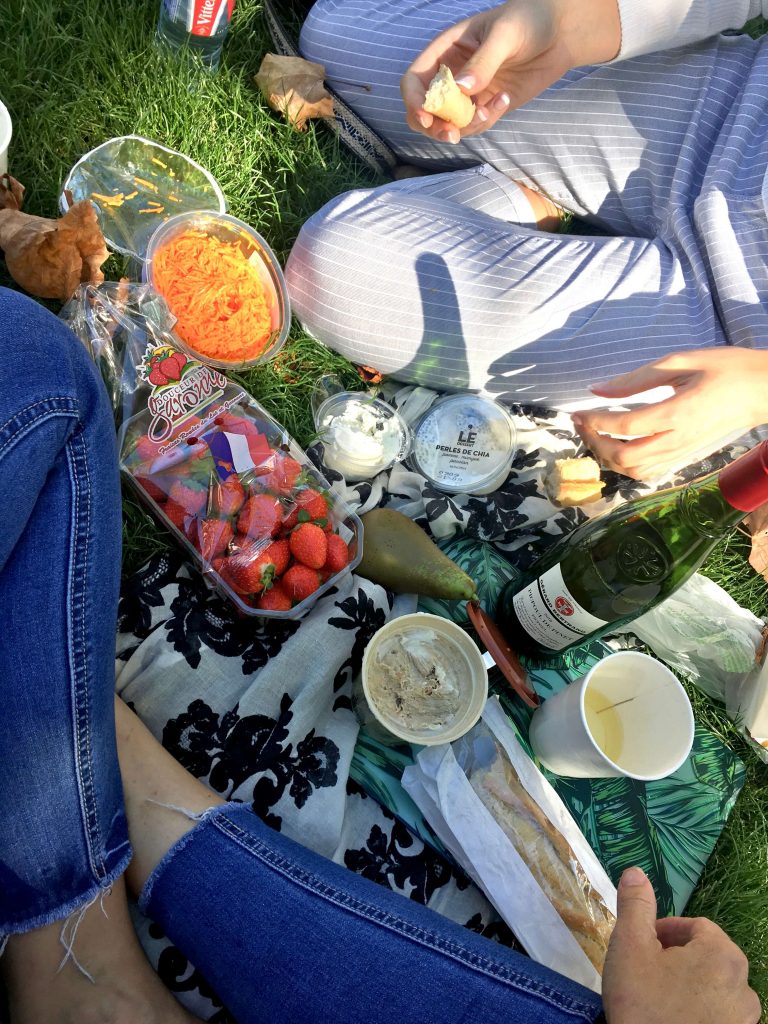 Here's a shortlist of some items for picking and packing;
Pain (bread) – a baguette is the go-to, but you won't go wrong with most any bread offering and buying from a boulangerie is always best
Fromage (cheese) – think of trying something other than the usual brie or gouda
Individual tarts/quiches – the best ones, ready to go, are at boulangeries and the bakery counter at bio (organic) markets
Charcuterie (cured/deli meats) – sausage, salami, rillettes, foie grass, pâté,  jambon (ham) – very likely there will be an entire refrigerator wall of every type imaginable
Carottes râpées – found in every grocery store. Not sure why exactly it's so popular, but it tastes good and is a nice, fresh picnic dish
Fruits/veg – apples, ripe pears, organic berries, cherry tomatoes, cucumbers
Cornichons – tiny, sweet-n-sour French pickles. Delicious with charcuterie
Condiments* – get creative on this one. There are a plethora of mustards, confits, preserves, relishes, etc. Some great choices are onion confit, tapenade and ratatouille
Wine, Cidre – bien sûr. Don't forget the wine opener, unless you get a bottle with a screw-off cap. Cidre has a cork that pops right out no mechanical opener needed
Utensils – no need to bring the whole flatware drawer; a knife or two, fork and spoon…the rest is hands-on; just no licking the fingers or double-dipping s'il vous plaît
Napkins – the French have impeccable table manners even on a picnic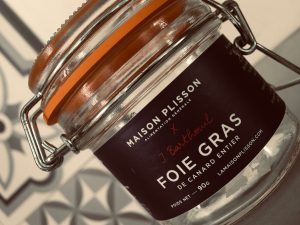 *Most Parisians do not put condiments on their good cheese. It would be an insult. Save it for the cheap-stuff or use it for the charcuterie.