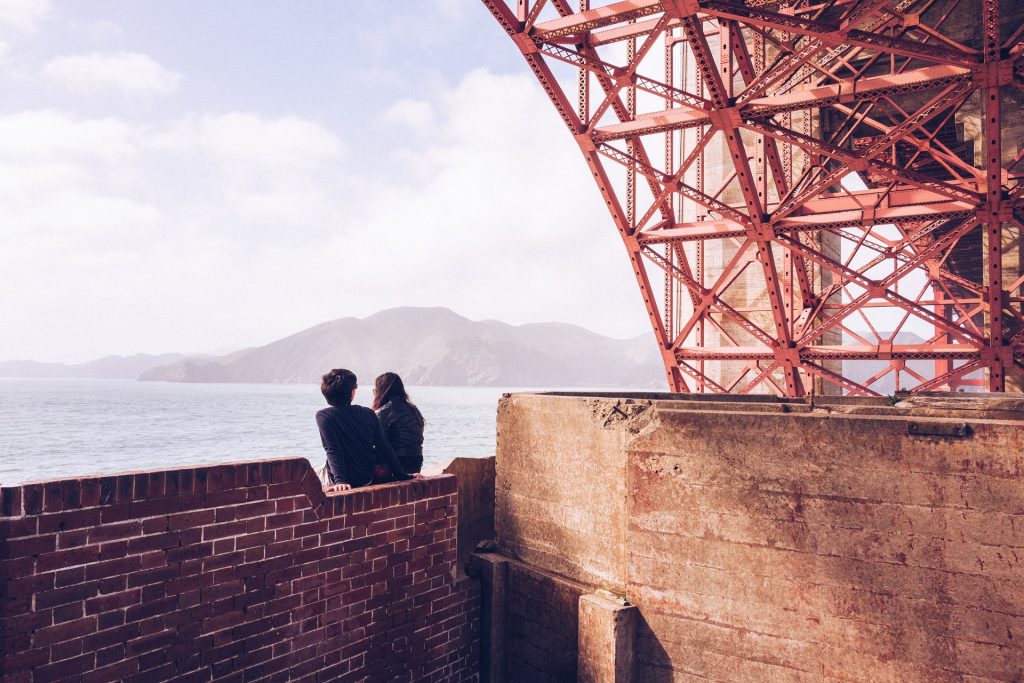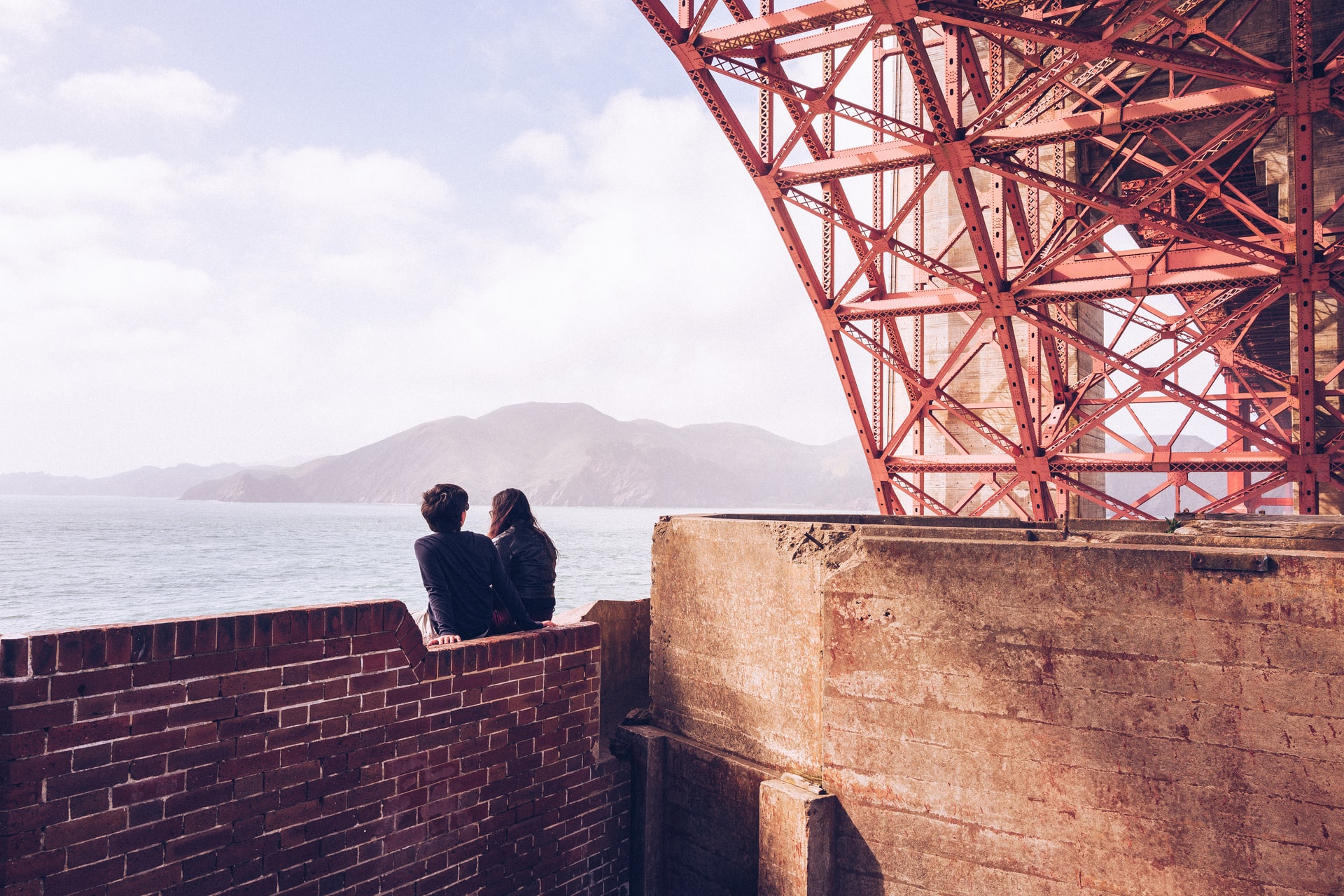 With its rolling hills, endless views, and architectural wonders, San Francisco is undoubtedly one of America's most romantic cities. And there are plenty of ways to make this Valentine's Day — or any day — even more special in the City by the Bay.
Social-distancing remains the norm, though it's also cause to up the creativity, whether that means "hunting" for Honey Bears in SF's Mission District or escaping onto the waters of Golden Gate Park's Stow Lake.
Here are eight romantic things to do to help make this Valentine's Day in San Francisco one that's truly memorable.
1. Watch the sunset from a panoramic perch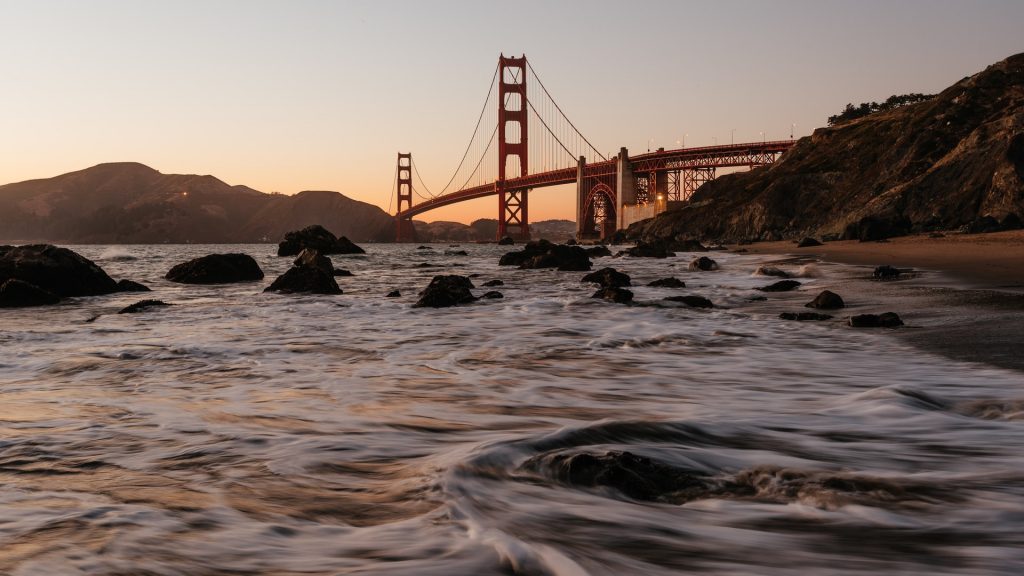 San Francisco has no shortage of spots to catch the sunset, whether it's watching the sun sink below the sea at Ocean Beach or taking in the sky's changing array of pinks, purples, and yellows with the Golden Gate Bridge as your backdrop.
For the ideal romantic setting, bring your date to Pioneer Park at the base of 210-foot-tall Coit Tower. Situated at the top of Telegraph Hill, this 4.89-acre expanse offers 360-degree views of the city, including San Francisco Bay. If it's you're after an environment that's a little more low-key, head to the peak of Bernal Heights Park, the crowning jewel of SF's own urban village.
2. Go boating in Golden Gate Park's Stow Lake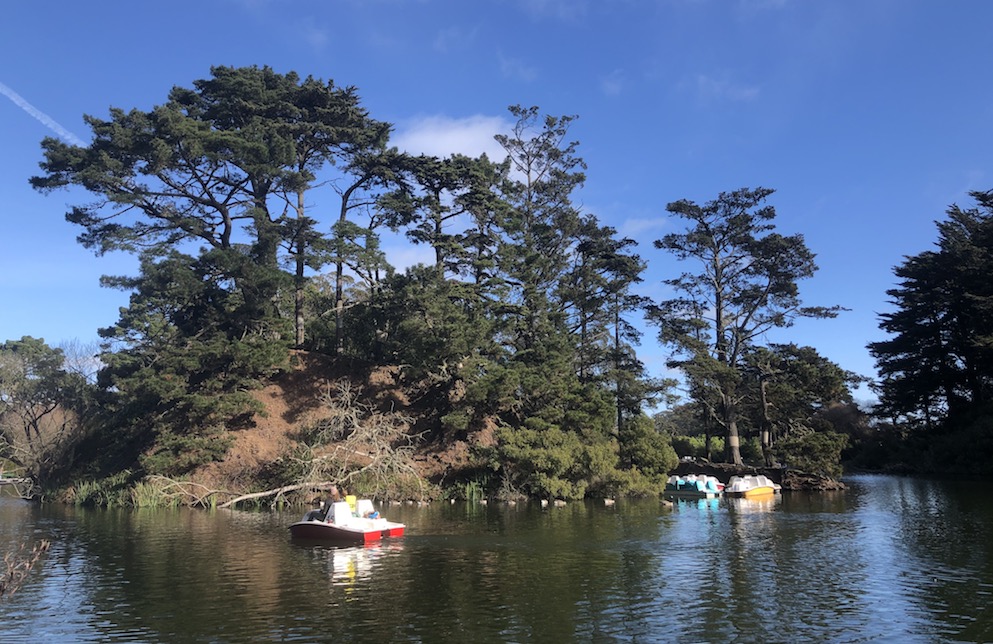 Boats are available on a first-come, first-served basis at this man-made lake in the middle of Golden Gate Park and can be rented by the hour.
With Strawberry Hill at its center, Stow Lake is a natural oasis: one brimming with ducks and turtles and the occasional great blue heron or two.
Both rowboats and pedal boats are available for a leisurely excursion beneath the lake's stone bridge, past its gushing waterfall, and alongside its bright red Chinese pagoda. Afterward, you and your date can grab some wine and paninis at the on-site cafe, and then watch the boats from a lakeside bench while you dine.
3. Bask in the beauty of "Entwined"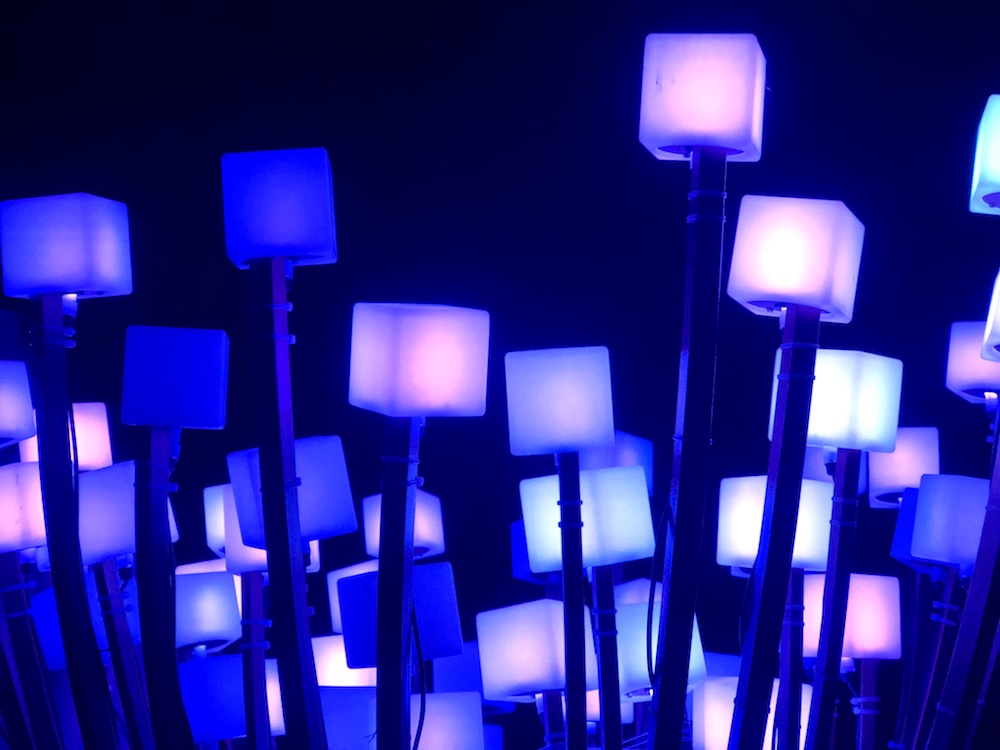 Once the sun goes down, head out to Golden Gate Park's Peacock Meadow and take in the whimsical LED wonderland, "Entwined."
This free-to-experience light installation is the work of local artist Charles Gadeken and is made up of sculptural metal trees with canopies that spread up to 30 feet in length, as well as smaller flora-inspired clusters that erupt in colorful displays of greens, yellows, reds, and more.
Take a stroll through the one-acre display with your camera at the ready, or settle down on the grass for a full view of this incredible pixelated forest, which illuminates skies until 8:30 p.m. nightly.
4. Hunt for honey bears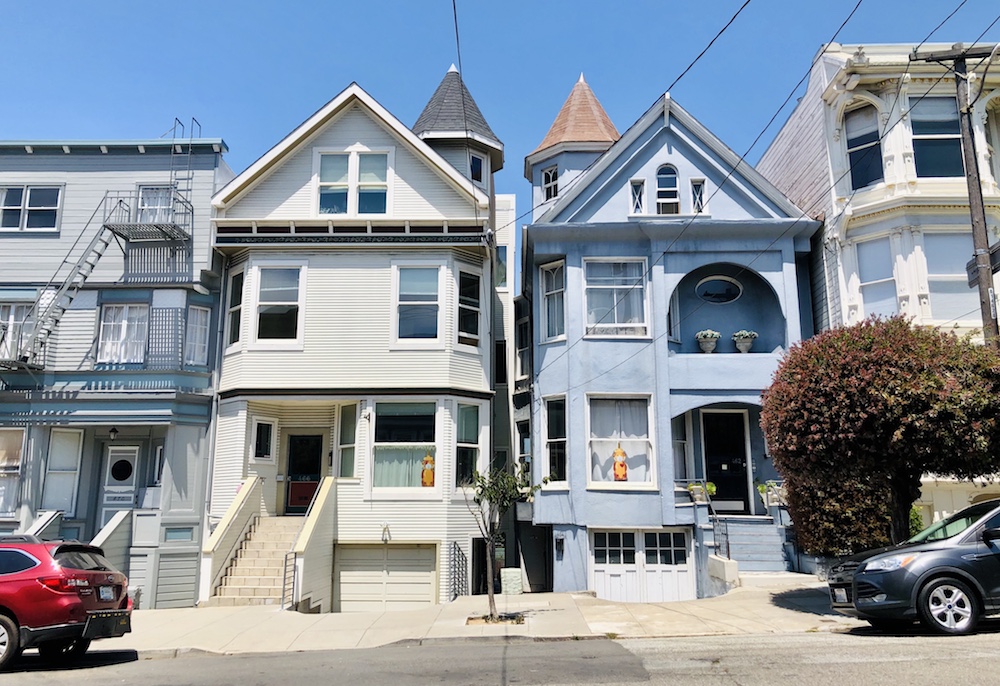 While the honey bears of local SF street artist Fnnch have been appearing on garage doors and building exteriors for years, they're now peeking out from residences citywide.
This is because just a couple of months into the pandemic, Fnnch began selling 22-inch-tall paper honey bears for people to tape on their front doors and in their windows, making them easy for others to find.
There are now hundreds of honey bears displayed from homes throughout San Francisco, most notably in neighborhoods like the Haight, the Mission District, and Alamo Square. Some are shaped like soap dispensers, others are wearing face-masks or holding ice cream. Spend an afternoon seeing how many you can spot.
5. Get cocktails to go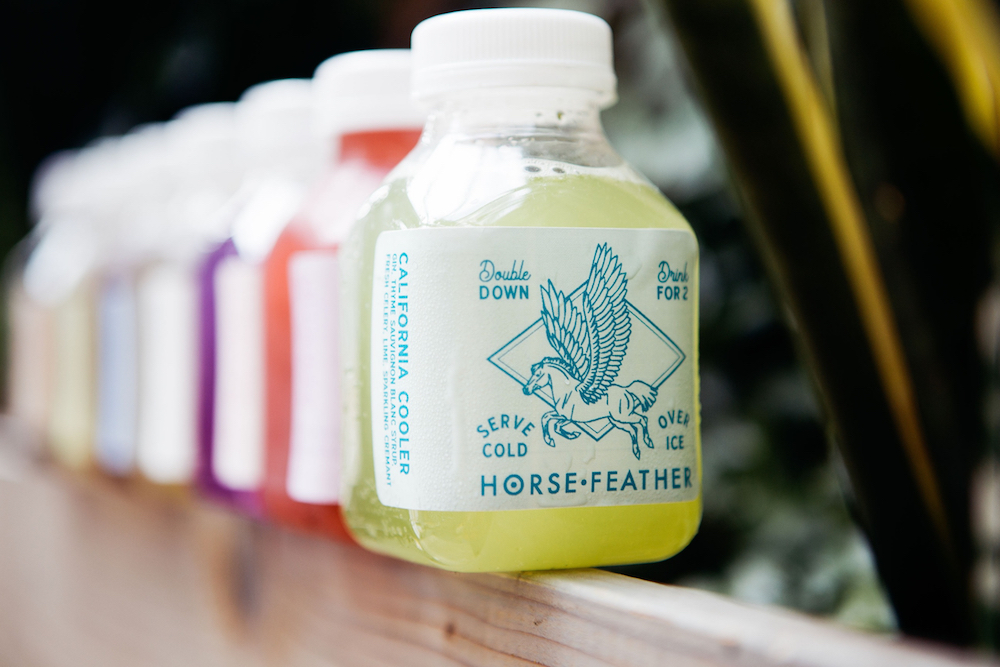 While cozying up in SF's bars and lounges is still very much off-limits these days, many of San Francisco's boozy establishments are whipping up cocktails-to-go, and some are even open for outdoor seating.
In the city's Hayes Valley neighborhood, you can pick up tiki-inspired drinks like the rum- and pisco-based Fog Cutter from Smuggler's Cove (advanced-day orders are recommended), or settle onto the back patio of Birba wine bar with a plate of cheeses and a glass of brut champagne.
Over in NOPA, Horsefeather's take-away imbibing options range from a brandy-spiked hot chocolate to a Low Rider made with mezcal, agave, and fresh lime juice.
For gin-and-tonics served in reusable jars, not to mention some of the most welcoming outdoor décor in the city, swing by The Page on the corner of Divisadero and Page streets. Your date will thank you.
6. "Revel" around the city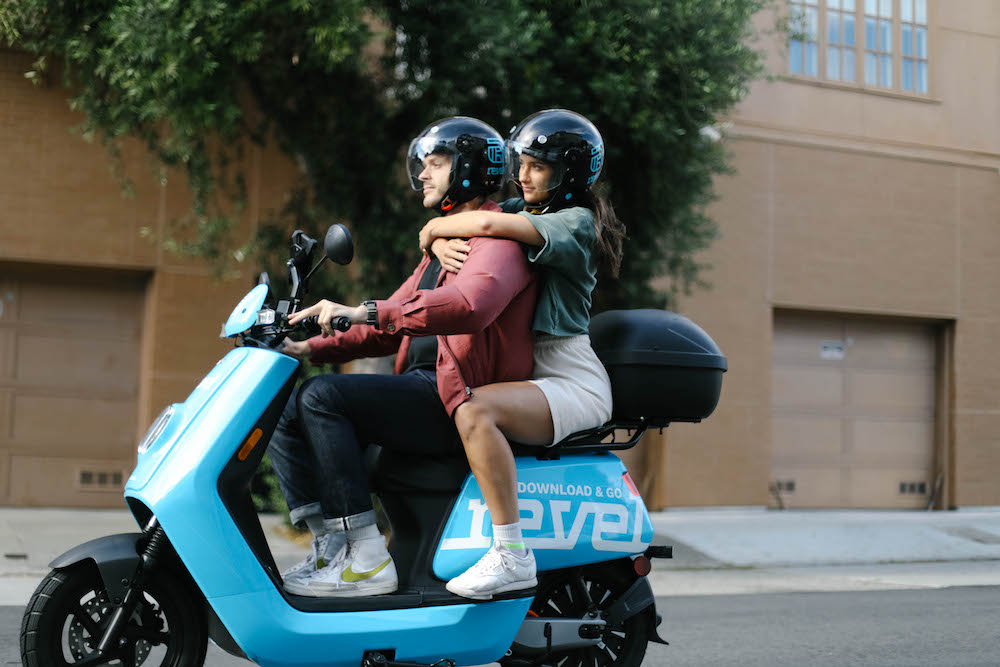 One of the most romantic ways to experience the streets of San Francisco is on the back of an electric moped. Dockless Revel mopeds are available citywide, and renting one is as easy as downloading the Revel app.
Once the app is on your phone, you can use it to find and unlock available Revel mopeds, and then voila: you and your date can be winding your way through the Presidio or enjoying a romantic ride along the Embarcadero Waterfront.
Each vehicle includes two helmets for (mandatory) use, which are stored in a locked box that can also be used to hold a blanket or snacks while you ride. To rent a Revel, all you need in an active driver's license and clean driving record.
7. Picnic in a botanical garden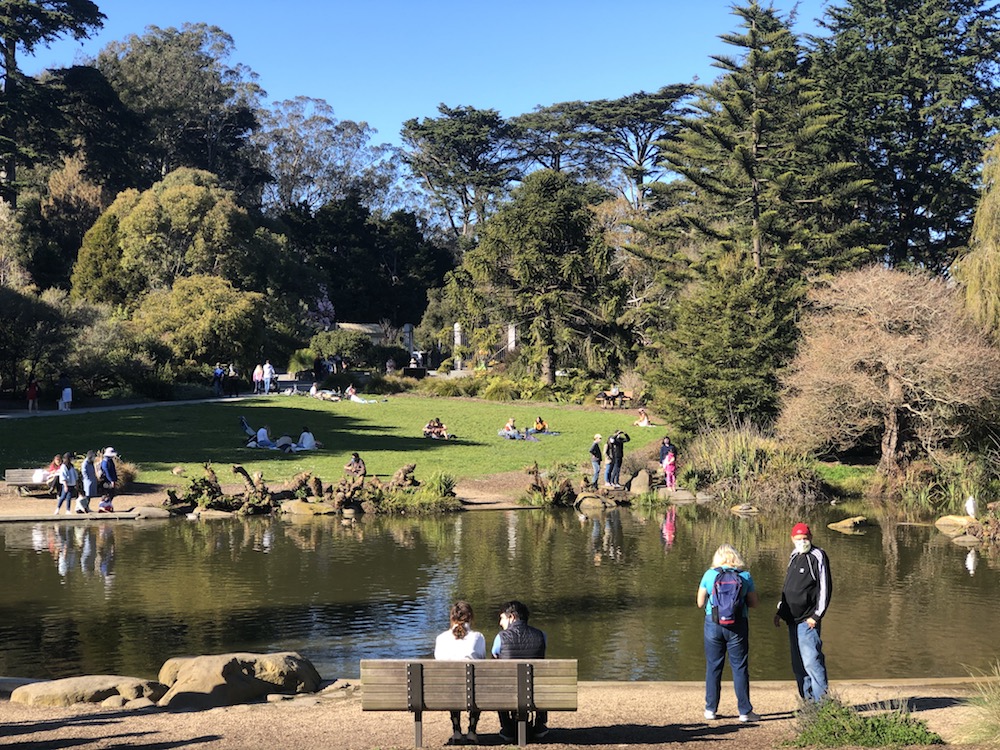 An urban paradise brimming with more than 8,000 plants, including colorful Asian rhododendrons, Andean wax palms, and giant spear lilies from Australia, the San Francisco Botanical Garden in Golden Gate Park is the perfect place to tuck away for an afternoon escape.
Marvel at the towering trees in the garden's century-old redwood grove, or pack along a picnic and settle down in the Great Meadow for a relaxing meal before testing out your olfactory skills in the Garden of Fragrance.
Local tip: The botanical garden is free for SF residents (just bring along your ID or a proof of address).
8. Embark on an urban hike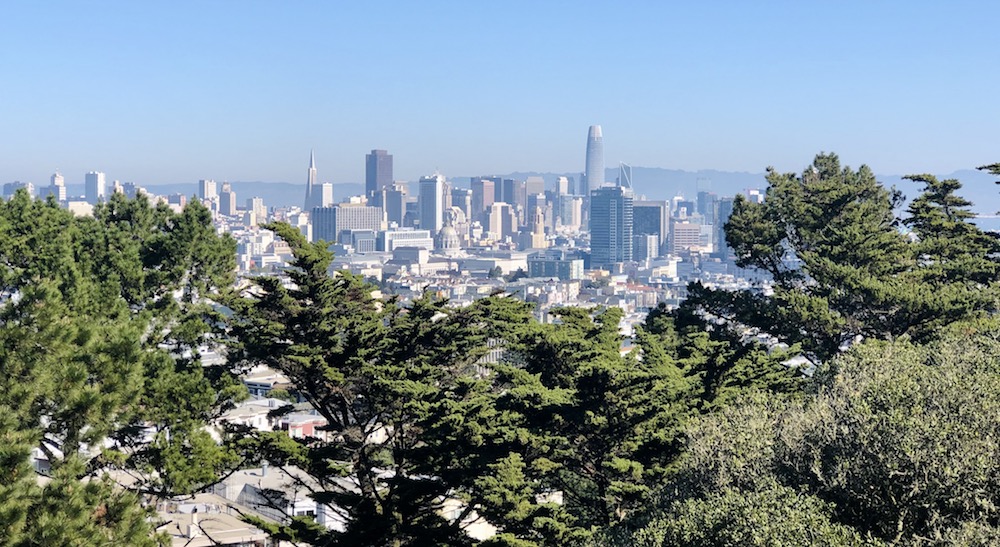 It could be setting out along the coastal 3.4-mile Lands End trail lining the cliffs on San Francisco's windswept western edge. Or maybe it's climbing a mosaic stairway in the city's Sunset neighborhood for unbeatable views from the well-named Grandview Park. And don't forget Twin Peaks.
However you look at it, SF is an urban hiker's dream — not to mention one that's oozing with romance.
Filled with lush greenery that includes soaring eucalyptus trees, Mount Sutro Forest (on the edge of the city's Cole Valley neighborhood) is especially magical when the fog rolls in. On a clear day, consider the rocky perch of Corona Heights, pictured above, which stands 520 feet above sea level and presides over the San Francisco cityscape like it's nature's own throne.
More to love in romantic San Francisco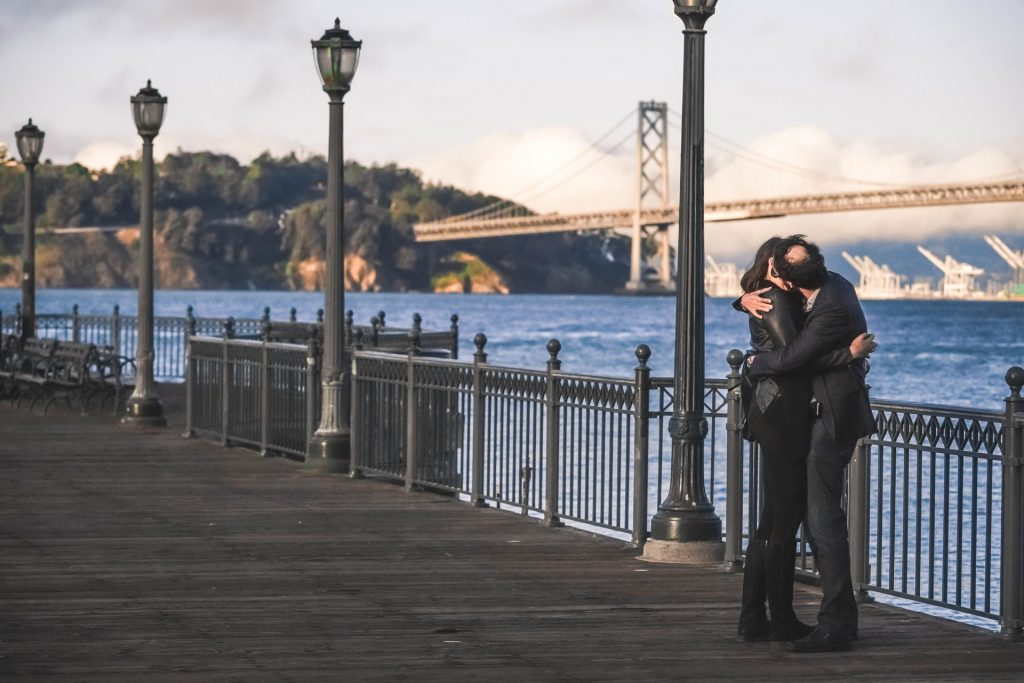 Romance and San Francisco go hand-in-hand. This is simply a start for discovering the many romantic activities couples can enjoy in San Francisco.
From the energy of Fisherman's Wharf to the charm of picturesque Victorian homes, it's no wonder people leave their hearts here.