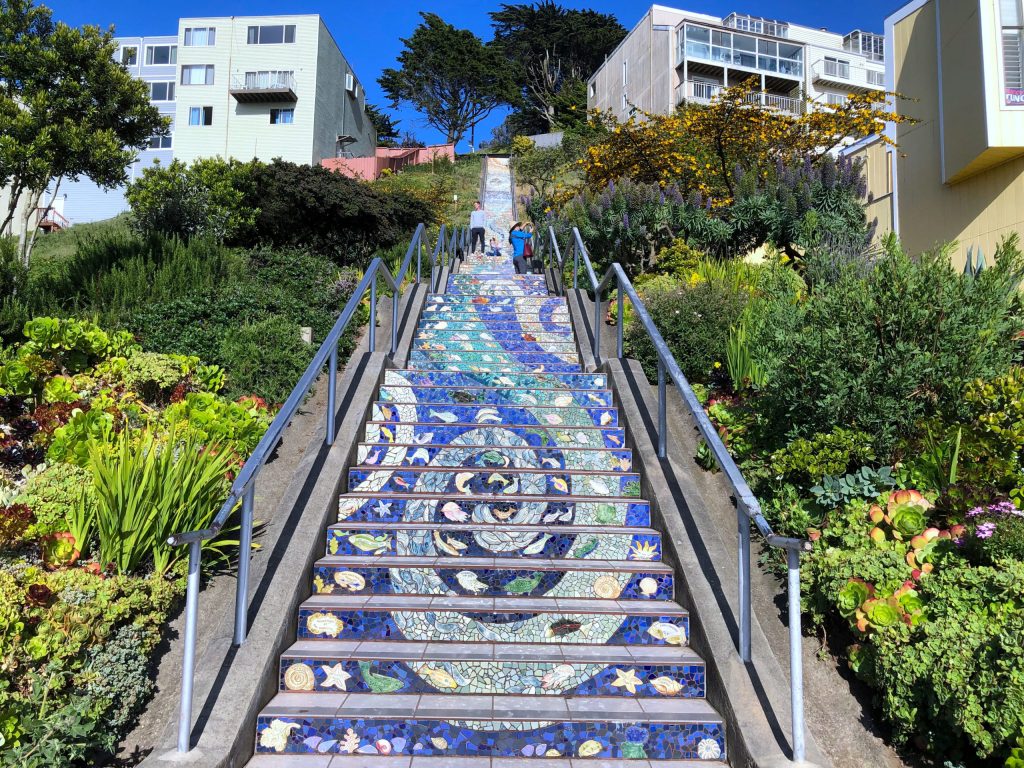 Up in the hills of a quiet residential neighborhood in San Francisco's Golden Gate Heights, you'll find the most incredible series of tiled mosaic steps. Say hello to the 16th Avenue Tiled Steps.
Seemingly out of nowhere, these 163 colorful steps appear sudden and dramatic, flowing from sea to sky. When the sun sets, they shimmer.
Sound gorgeous? It is! These steps serve the neighborhood both for exercise and art. While long kept as a secret only locals knew about, the stairs are gaining popularity and have become a hotspot for Instagrammers.
But here's the thing — there's a second set of nearby steps that visitors don't know about. Well cat's outta the bag now because I'm about to tell you where they are plus everything you need to know about visiting the beautiful 16th Avenue Tiled Steps.
How San Francisco Got Its Steep Steps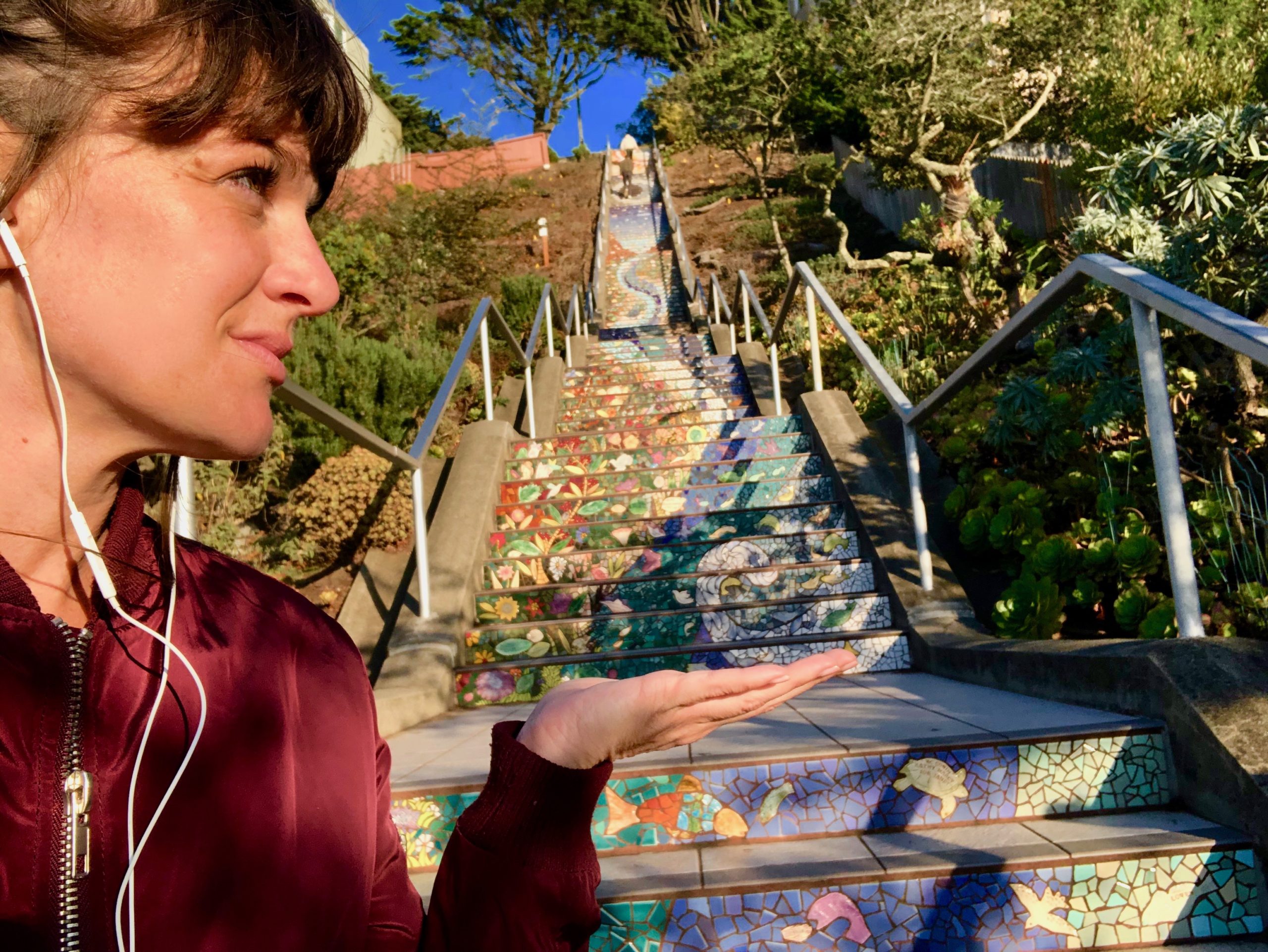 San Francisco has a series of steep public stairways that were originally placed near streetcar stops to help residents get from the bottom of the street up to their hillside home.
Now that the streetcar is long gone, these staircases seem sort of out of place, maybe even an eyesore. At least, that's what the residents of Golden Gate Heights thought anyway.
For several years, graffiti artists would come and tag up these concrete staircases, using them as a blank canvas and frustrating residents who would be stuck cleaning them up.
Then at a neighborhood association meeting, someone had a bright idea — what if we turned the stairs into art? There's a code of honor among artists (including graffitists) that they'll respect other art and won't tag over it.
Long story short, it worked!
The Art of the 16th Avenue Tiled Steps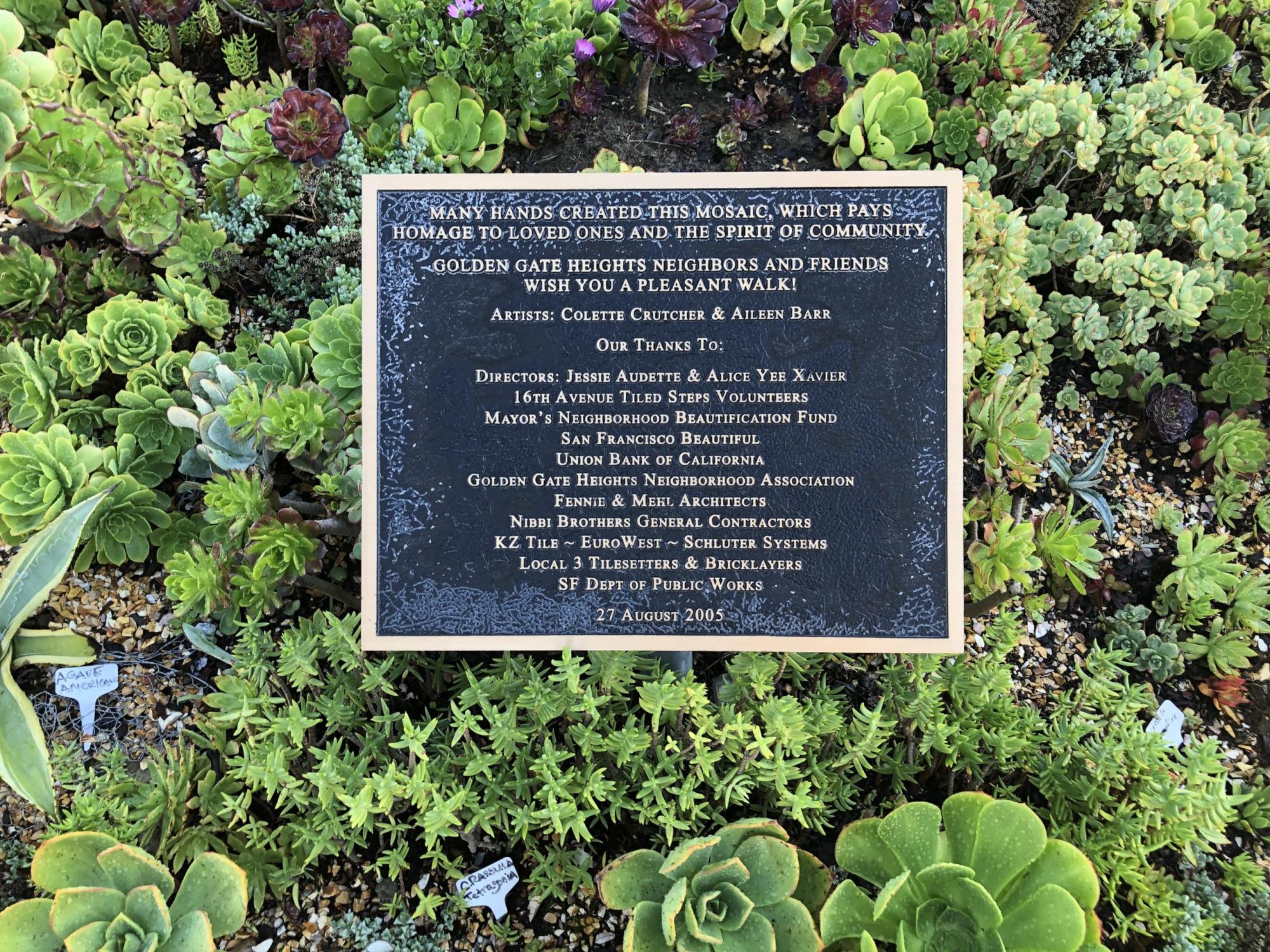 Formed by a handful of neighbors in 2003, the 16th Avenue Tiled Steps Project was spearheaded by residents Jessie Audette and Alice Yee Xavier. They brought on two local artists, Aileen Barr and Colette Crutcher, to create the design.
Number of steps: 163
What it shows: fish, shells, and other sea creatures
What makes it special: Each mosaic panel is unique and hand-cut.
Something to look for when you visit, you'll find the names of people and businesses that purchased a tile etched delicately into each piece.
The tiles and installation took hundreds of hours of labor and officially opened to the public in the summer of 2005 to a very warm reception.
The Hidden Second Set of Stairs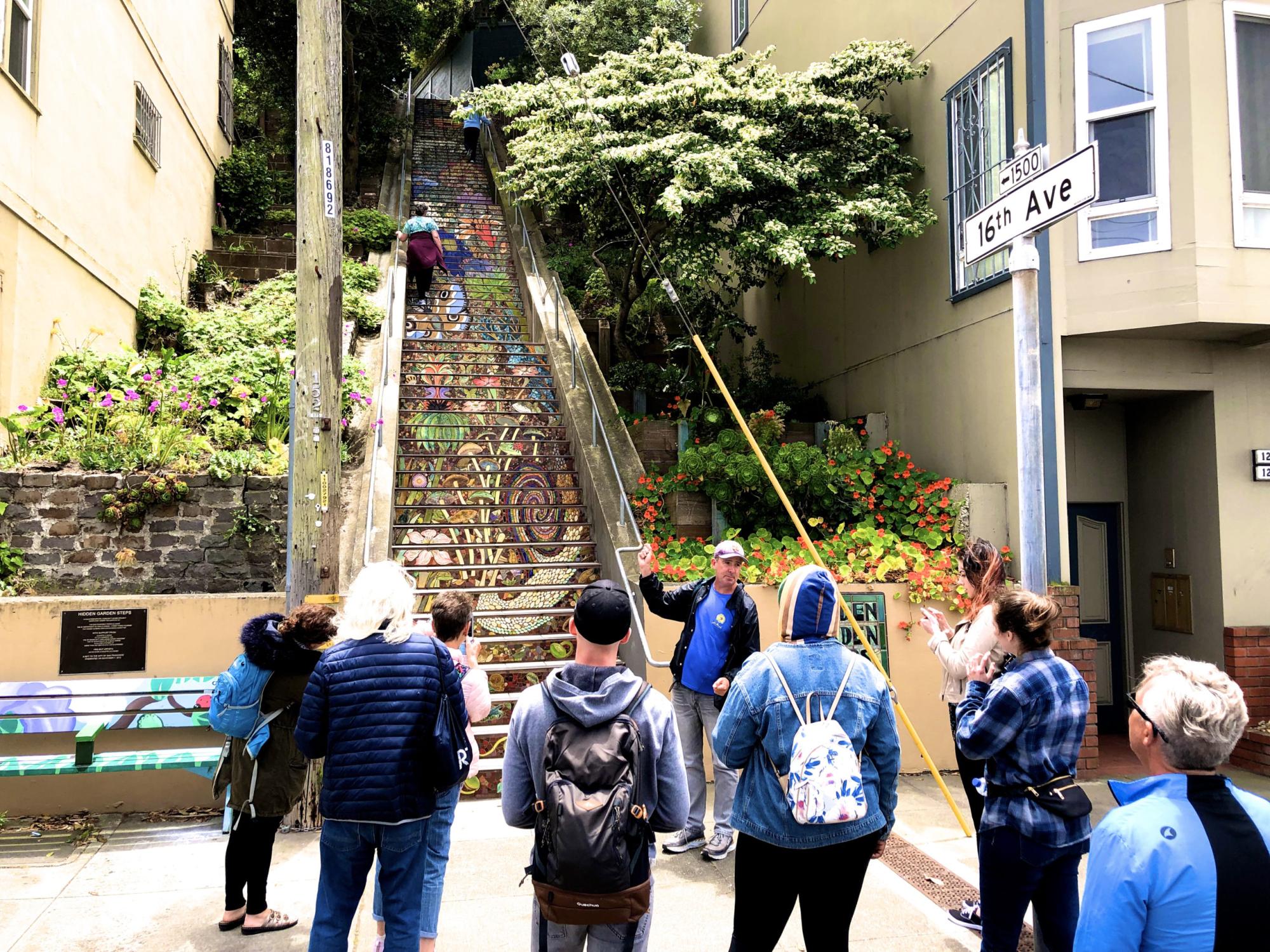 So where is this hidden set of stairs that so few people know about?
The original 16th Avenue Tiled Steps described above are located at 16th Avenue and Moraga.
But due to the success and popularity of the first set, the neighborhood petitioned to extend the art project to the steps located further down the hill. The response was overwhelmingly positive this time and the whole city, not just the neighborhood, came together to support the project.
So in late 2013 the 148 steps on 16th Avenue between Kirkham and Lawton were transformed into a native California wildlife scene with tiles covered in flowers, plants, dragonflies, salamanders, butterflies, and snails.
Guide tip: Don't skip this portion of the 16th Avenue Tiled Steps! It's truly stunning and still — years after its opening — is overlooked by visitors searching for the more famous set. Part of me feels bad exposing them here but something this beautiful should be shared.
You'll often hear these steps called the Hidden Gardens Steps. And they really are still something of a hidden gem, with lots of greenery to complement the art.
The Best Time to Visit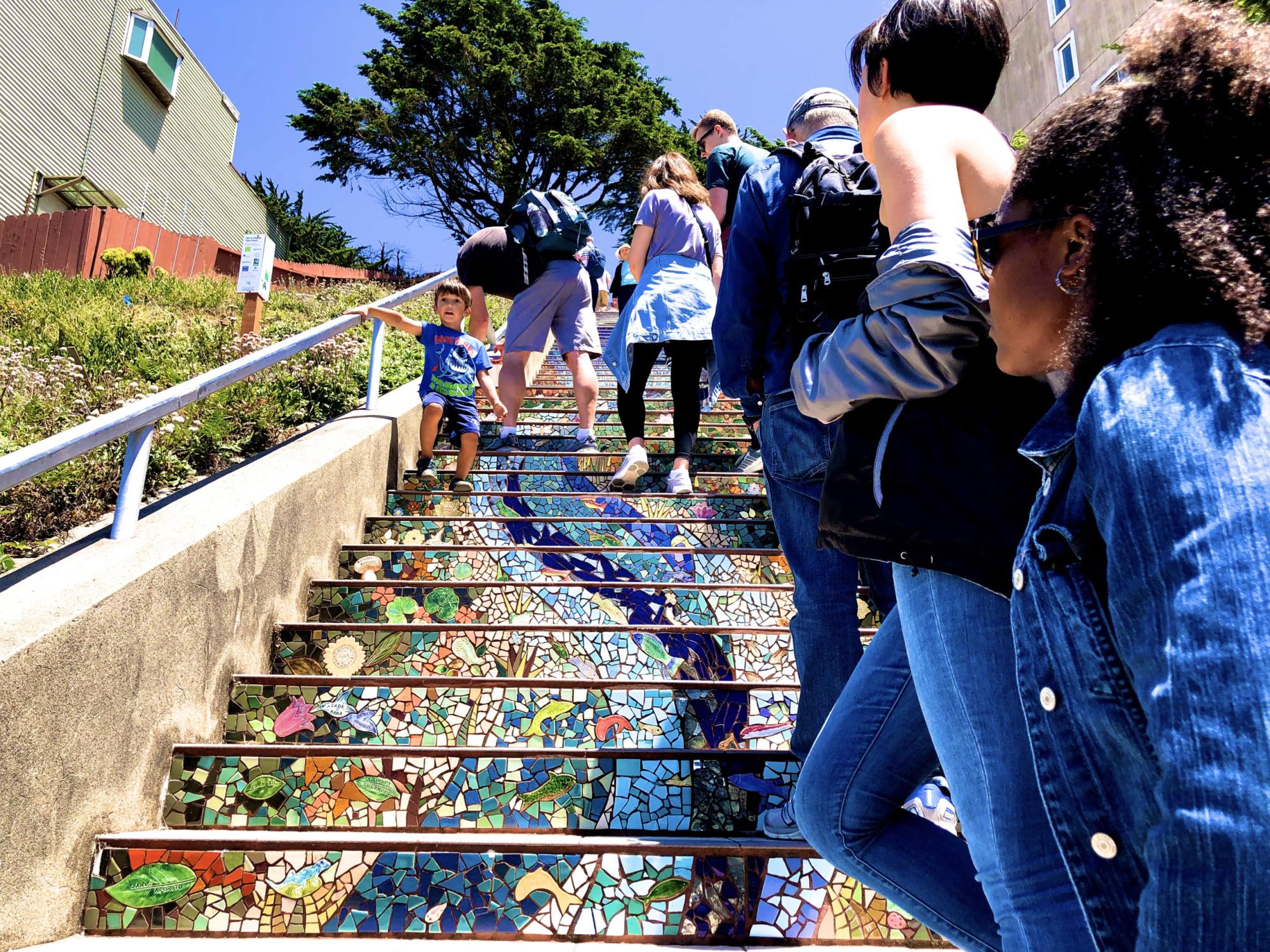 The 16th Avenue Tiled Steps are popular for good reason, so this area gets crowded. If you think you'll be able to sprawl across the stairs for an extended uninterrupted photoshoot, think again.
The 16th Avenue steps at Moraga are now one of the most photographed locations in San Francisco and it's rare to find them empty. But if you want some quiet, here's what I suggest.
Go early. I recommend sunrise if you're looking for some solo stair time… and I am not a fan of waking up that early. It's worth it, though, as you'll have the stairs mostly to yourself, except for the locals who use the stairs to exercise (ugh, how do they do it?).
Enjoy the late morning. If you're not up for getting there are dawn, no worries. We hike the 16th Avenue Tiled Steps just before noon, which is another great time to visit. You'll miss most of the morning stair-stepping joggers, but the afternoon rush hasn't started yet. We call it an urban hike because you'll want to bring your walking shoes. The payoff, though, is great views over the city!
Try sunset. If crowds don't bother you, sunset can be the best time to visit. The tiles shimmer in the light and you can catch some beautiful colors off in the horizon as the sun sets into the ocean.
Getting There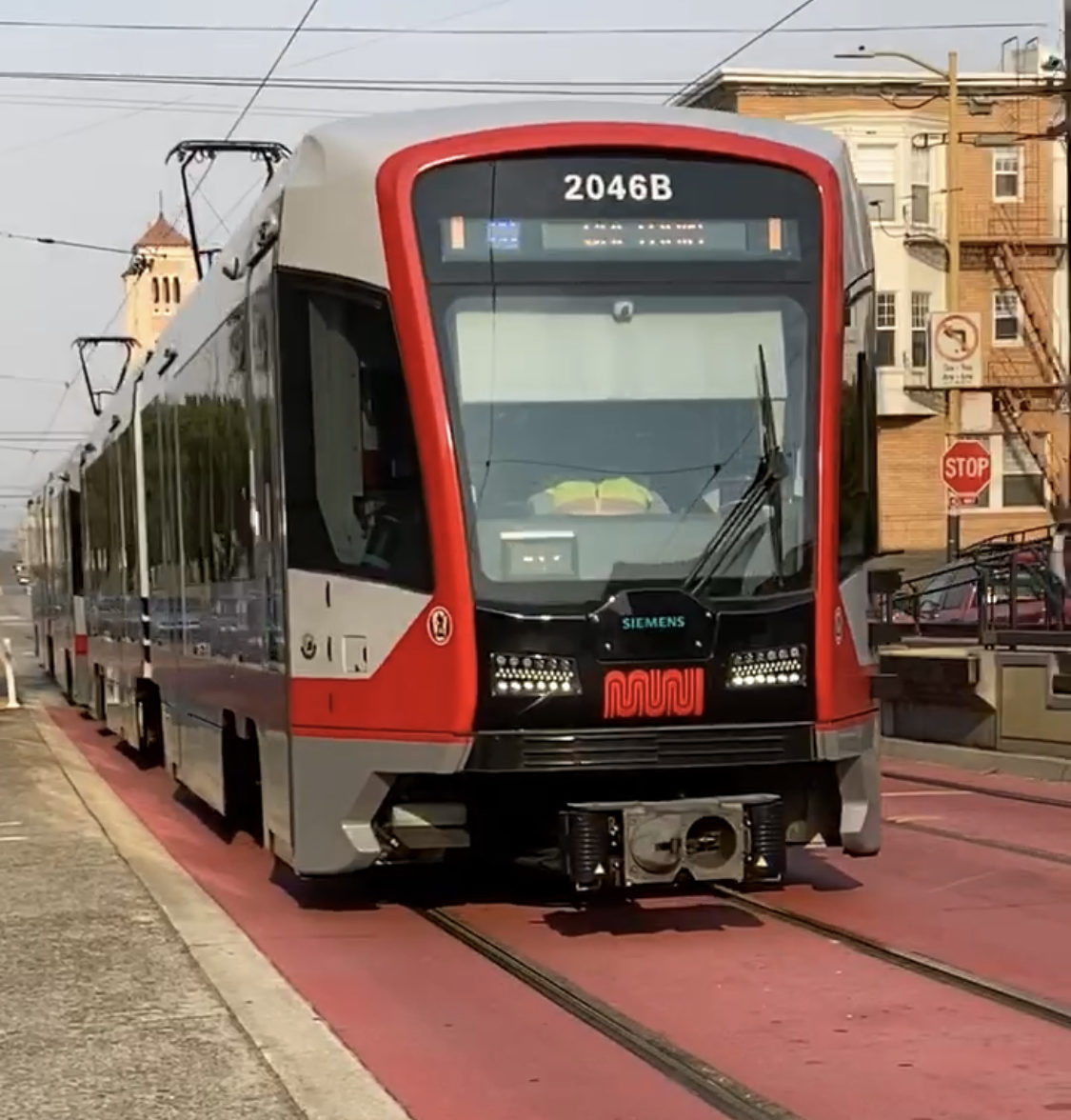 The best way to get here is on the N-Judah Muni light rail. This line runs all the way from downtown to Ocean Beach and is the easiest way to get here from Union Square. Exit at 16th Avenue and Judah and then walk up 16th Avenue. You'll come to the base of the Hidden Garden Steps, climb up them, and continue to the remaining (and more popular) 16th Avenue Tiled Steps on Moraga.
Time: The walk from the Muni stop to the first set of stairs takes about 20 minutes. It's only half a mile, but it's uphill, so be prepared!
Parking: There's plenty of parking in the area if you prefer to drive yourself, but you should be aware that due the popularity of these stairs, parked cars can be targets for break-ins. Better to leave your car safely parked at your hotel and take public transit or rideshare to get here.
Hidden Gardens 16th Avenue Tiled Steps FAQs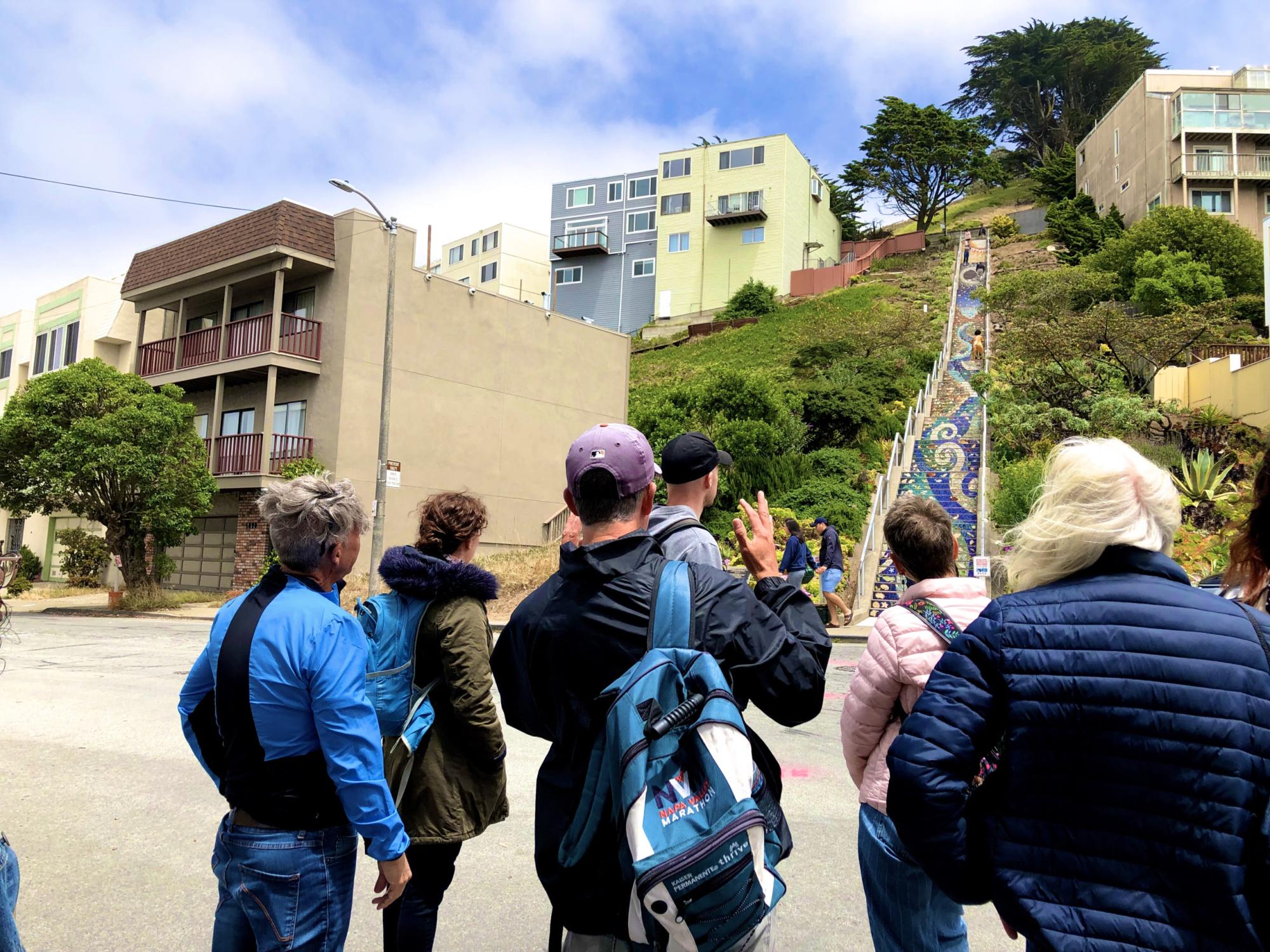 Is there an admission fee?
No. These are public stairs open to anyone year-round to enjoy.
What else is nearby?
It might seem like a quiet area, but there's so much nearby. Within walking distance, there's the 9th Avenue and Irving Street restaurants and shops, Golden Gate Park, loads of museums, and the recently opened SkyStar Observation Wheel that offers unparalleled views of the city. Make a day of it!
Are there other colorful mosaic staircases in SF?
Yes. Another one of my faves is the Lincoln Park Steps located on the eastern side of Lands End. Definitely worth checking out if you have the extra time.
Stairway to Heaven: SF Edition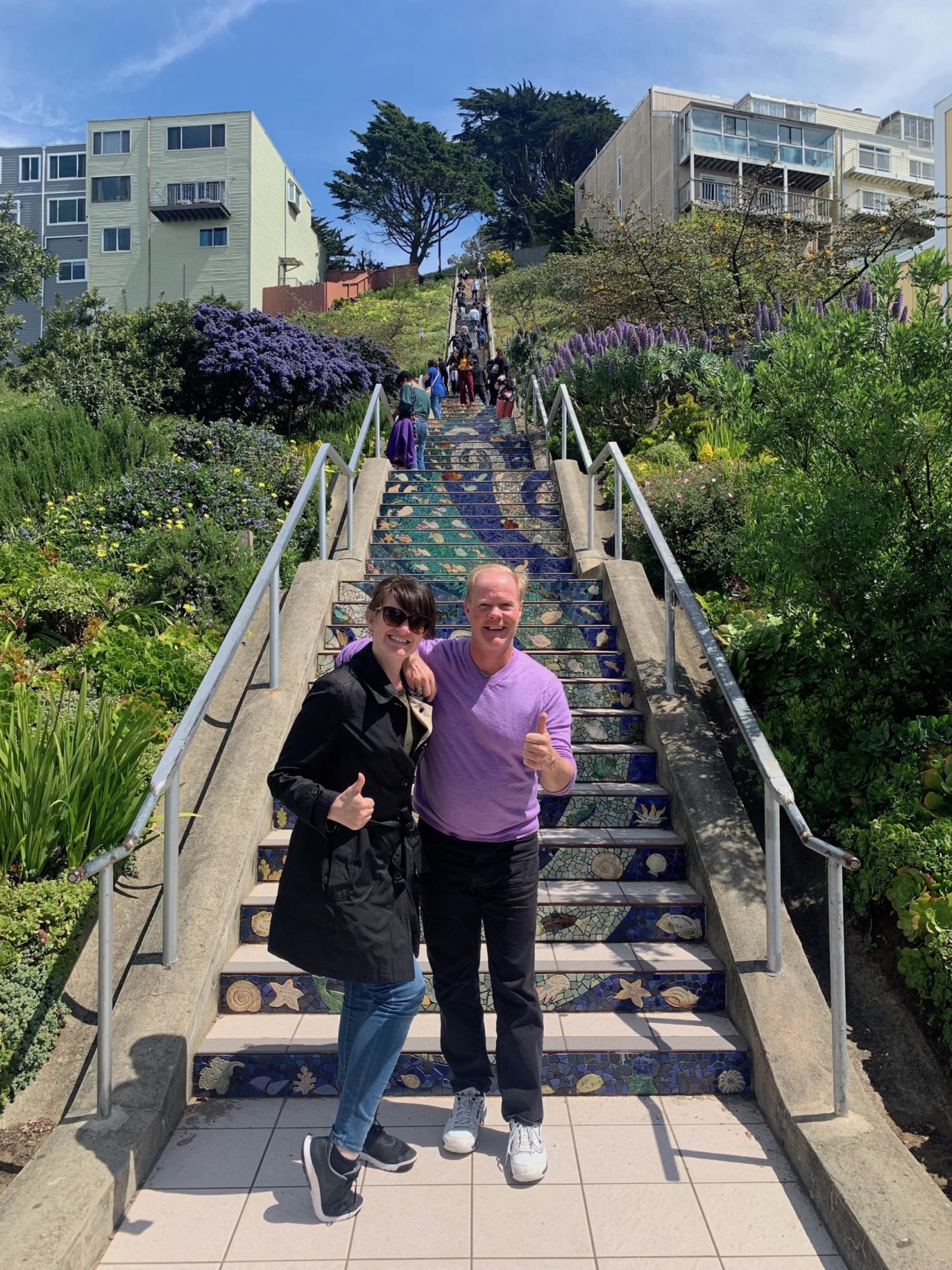 I feel incredibly lucky to live within walking distance to this amazing location. When I need to clear my head or get some fresh air, I know I can take a short stroll from my front steps and be surrounded by so much beauty. Even if you live in San Francisco and aren't within walking distance, it's well worth the Muni trip out here.
Of course, as a first time traveler to SF, it's practically mandatory to visit Fisherman's Wharf and Alcatraz Island before coming to the lesser-known spots like this one. (And we love those places — really — our Fisherman's Wharf Walking Tour is our most popular.) But so much of the beauty you find in a new city are in the hidden gems, the little pockets in neighborhoods that highlight the culture and community of an area.
I find it really special that this 16th Avenue Tiled Steps project was able to use this set of pre-automobile stairways and repurpose them into something meaningful. It brings people together and most importantly shows off the unique personality that is San Francisco.