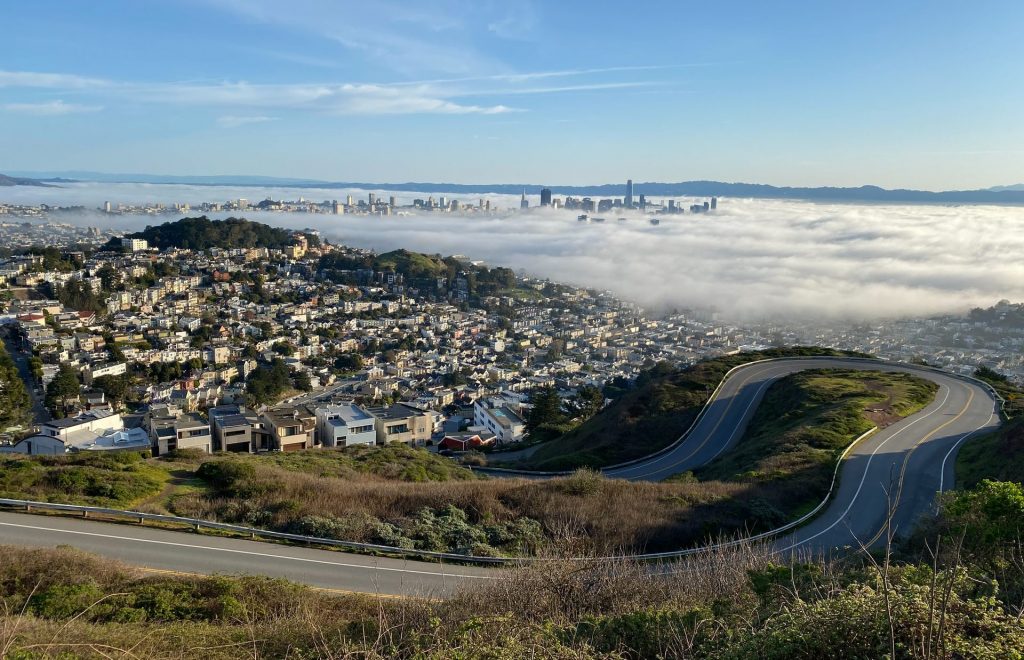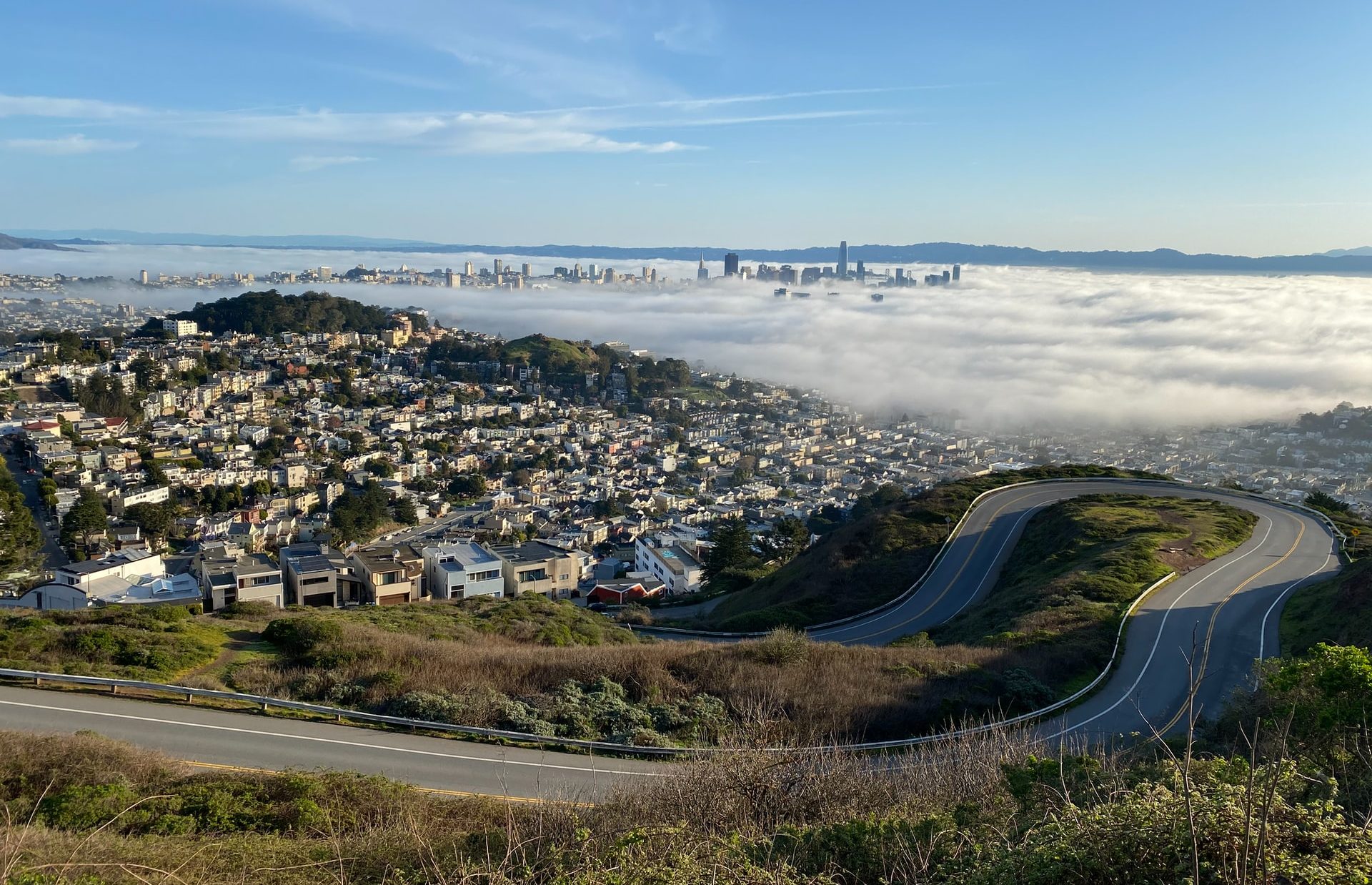 The pair of hills in San Francisco known as Twin Peaks may only be the second tallest points in the city, but they sure are more popular than the taller Mt. Davidson. The sweeping views of the Bay Area, central location, and convenient accessibility make this a go-to destination for tourists and locals alike.
In this article we'll explore more about this San Francisco landmark, including how to get to the top by car and on foot.
Getting to Know San Francisco's Twin Peaks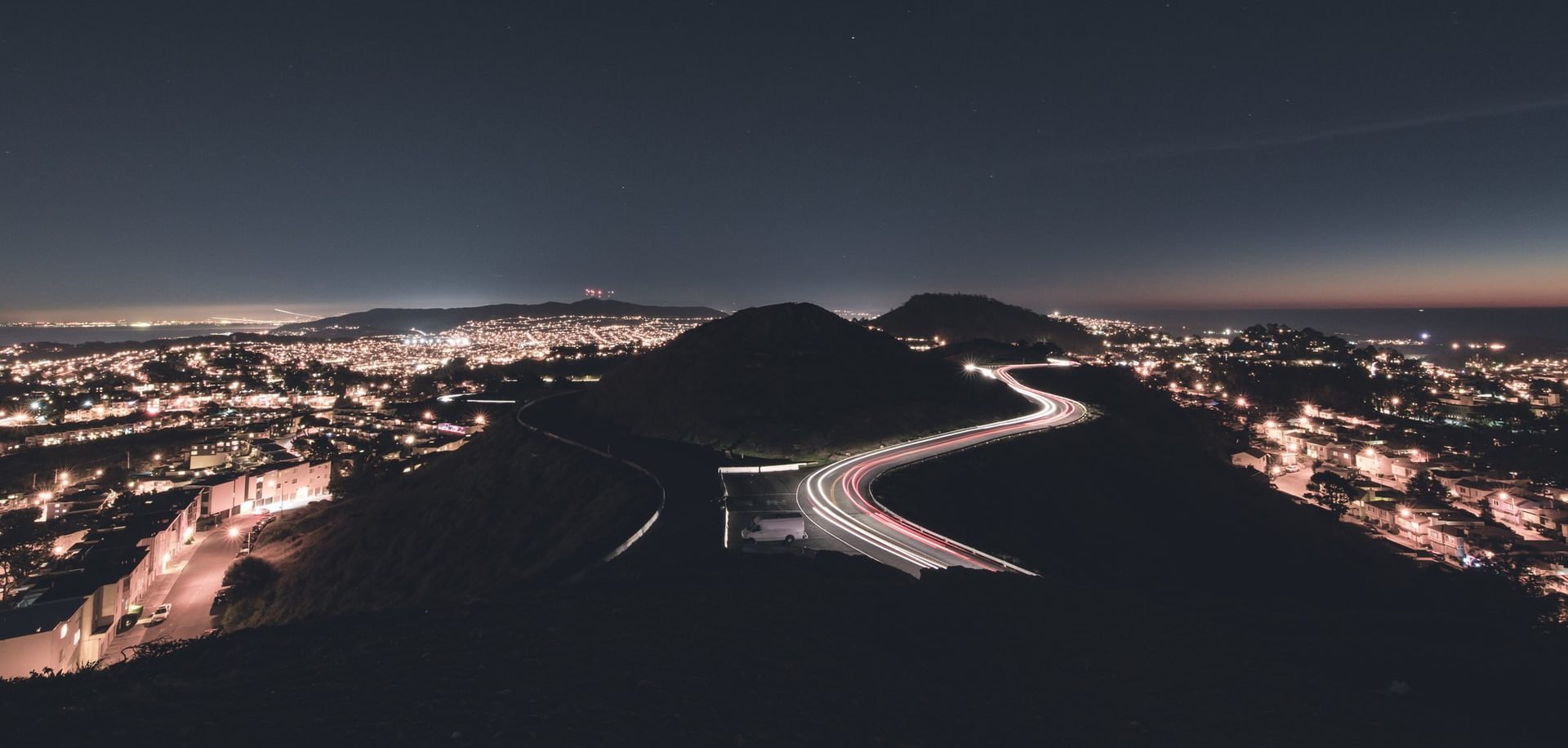 Twin Peaks is a pair of neighboring hills located in the middle of San Francisco, just southwest of The Castro, a popular neighborhood famous for its buzzing nightlife scene and LGBTQ culture. The two peaks are about 925 feet tall and sit about 660 feet away from each other. And they're surrounded by 64 acres of natural area that offers city dwellers a green space to explore.
The Twin Peaks are easy to access if you're visiting San Francisco. There's a "figure 8" shaped roadway around the two hills. In 2016, though, the city's transportation agency reduced car access to just the western side of the peaks. The eastern side is reserved for bicyclists and pedestrians.
Here are a few fun facts about the Twin Peaks you might not have known before.
They offer natural habitat for a rare blue butterfly.
The area is also home to the Mission Blue Butterfly, a butterfly native to the Bay Area that is now endangered. Your best chance to spot these rare butterflies is from late March to early July.
They have individual names.
The North Peak is called Eureka Peak and overlooks Eureka Valley (which includes the Castro neighborhood). The South Peak is called Noe Peak and overlooks Noe Valley.
Early Spanish settlers originally called the two hills "Los Pechos de la Chola," which translates to "Breasts of the Indian Maiden."
[mailchimp_newsletter img_url="https://www.exp1.com/blog/wp-content/uploads/sites/7/2020/09/Twin-Peaks-at-Night-e1599744799244-1536×733.jpg"]
You can see for miles from the top.
You can climb up to both peaks and enjoy 360-degree views of the city, the bay, and the ocean beyond that when the weather is fine. On a clear day, you might even catch a glimpse of the top of the Golden Gate Bridge.
Scaling the Twin Peaks (by Car)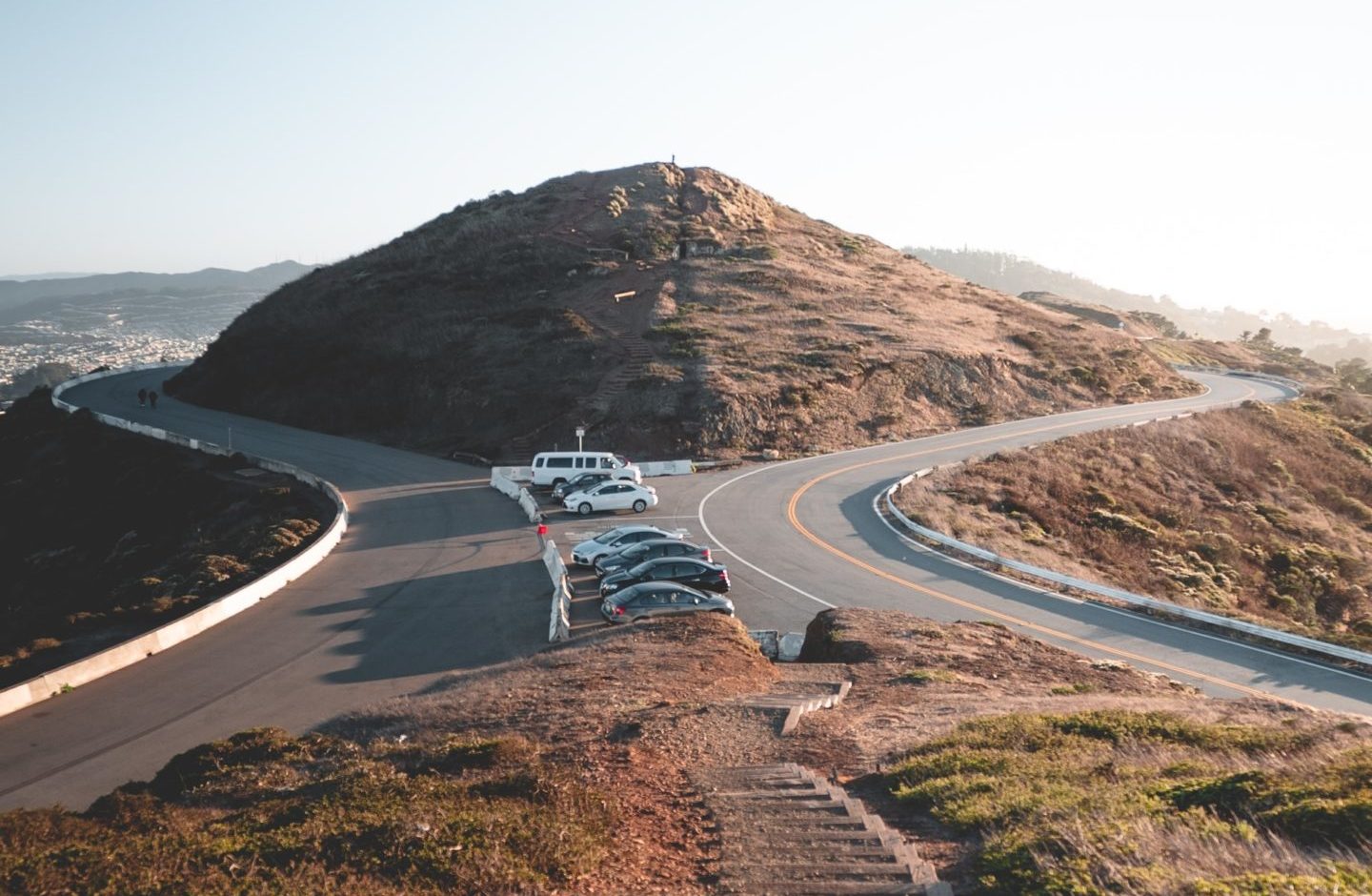 Part of the reason the Twin Peaks are so popular is because you can easily drive up one of them for some of the best views in the city.
For most people, a visit to Twin Peaks means a drive to a lookout known as Christmas Tree Point. Some say this spot got its name because early settlers cut down trees here, though it seems that the real reason is due to a promotional Christmas tree lighting in the 1920s.
Christmas Tree Point is an outcropping on the North Peak and provides a panoramic view of the city and San Francisco Bay. Parking is limited, so come early or you may have to wait around until a spot opens up.
Local tip: If you want to go farther up, from Christmas Tree Point you can scale the stairs to one or both peaks. Be warned that it can get quite windy up there. Bring layers!
Hiking Twin Peaks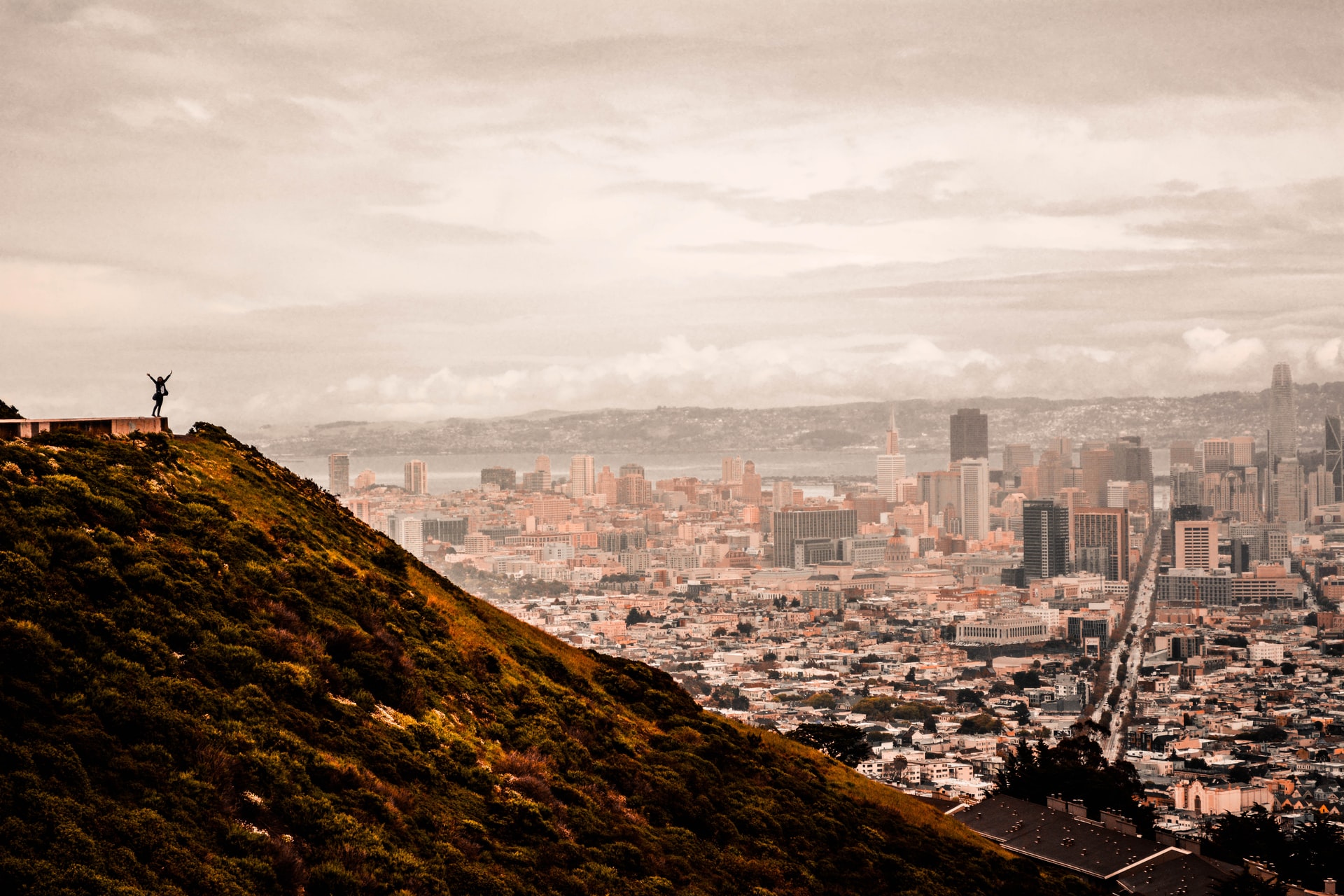 For a workout and a breath of fresh air, you may want to consider hiking up to Twin Peaks instead of driving. There are a few different trails that you can take to the summit.
The Creeks to Peaks hike is 1.8 miles (one way) and takes you from Glen Canyon's Islais Creek — one of the few remaining creeks in San Francisco — to the top of Twin Peaks. Along the way, you'll hike through scenic grasslands.
You can also reach Christmas Tree Point via a couple of trails (and you can extend your hike to the two peaks from there). If you're coming from the southern end of Twin Peaks, there's a 0.9-mile one-way trail from Portola Drive. From the northern side, you can climb up the stairs from Burnett Avenue.
FAQs Before You Drive or Hike Twin Peaks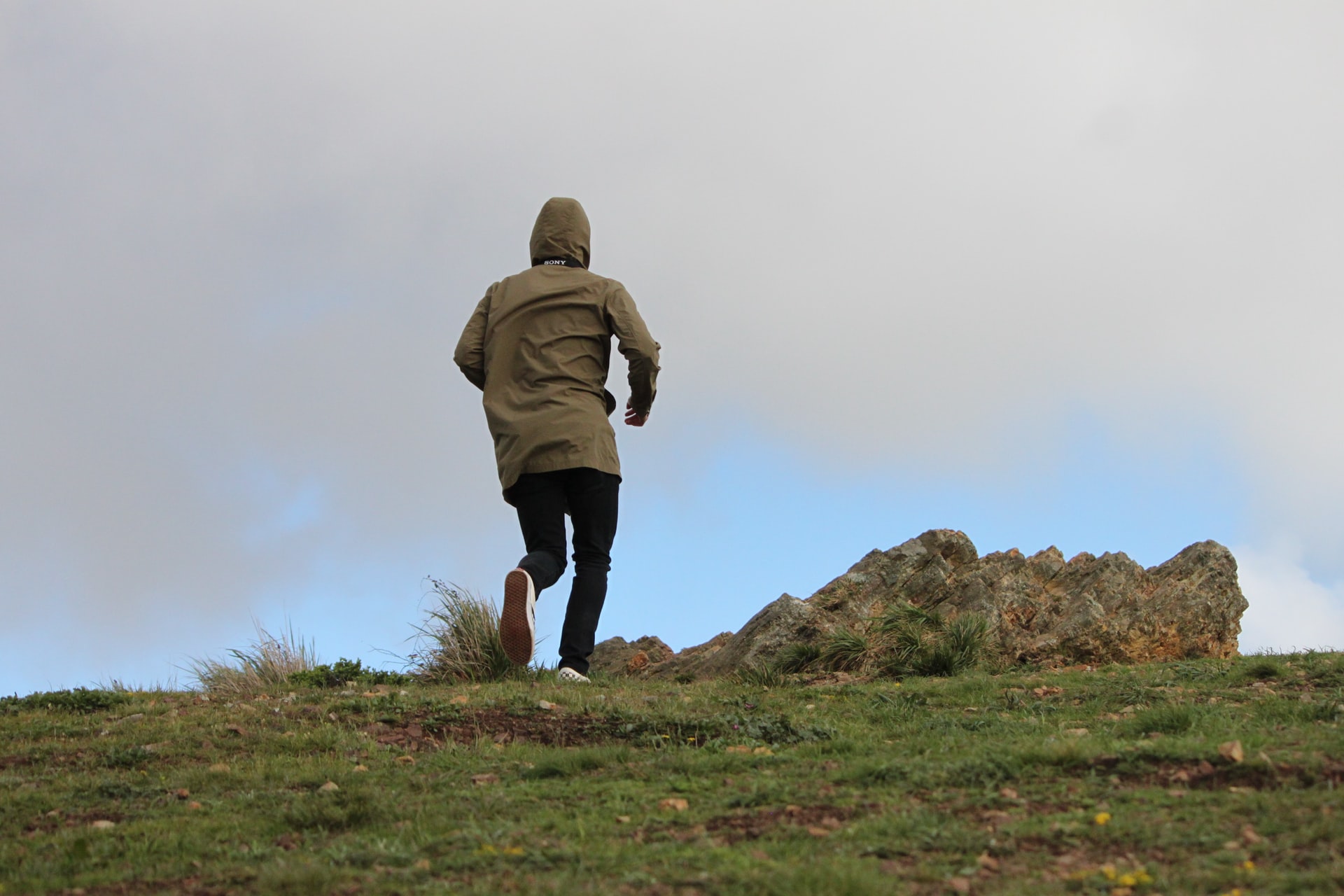 Here are some helpful tips to know so you can plan your trip to Twin Peaks. (That photo above of the jogger at Twin Peaks isn't just here to look good — you really should bring a jacket.)
Can you bring dogs to Twin Peaks?
Yes, Twin Peaks is pet-friendly, but dogs must be kept on a leash at all times. The Creeks to Peaks trail, in particular, is a dog-friendly hiking trail locals love.
How do you get to Twin Peaks?
The easiest way is to drive up to the vista point on North Peak, but if you don't have a car during your trip, there are also some options for public transit — and of course, ridesharing is readily available in the city.
The public transportation option that takes you closest to the top is the 37 Corbett bus line to the 74 Crestline stop, which is across the street to a pathway up to Twin Peaks. You'd still have to climb up, but it's not bad. The 37 bus can be infrequent, though. Buses 48 and 52 stop on Portola Drive and are slightly more reliable. You can hike up from there as well. It's a longer hike but still enjoyable.
When is the best time to go to Twin Peaks?
Going early is the most hassle-free if you're driving up, due to the limited parking.
However, for the views going around sunset is definitely prime time. Not only will you be able to see stunning landscapes during the day, you can catch a beautiful sunset and then watch as the city lights up underneath you.
Be sure to bring a jacket, though, since it can get chilly after sundown.
The lights at night also make this a popular spot for dates. Traveling with your significant other? Surprise them with a romantic nighttime view from Twin Peaks!
Nature in the Heart of the City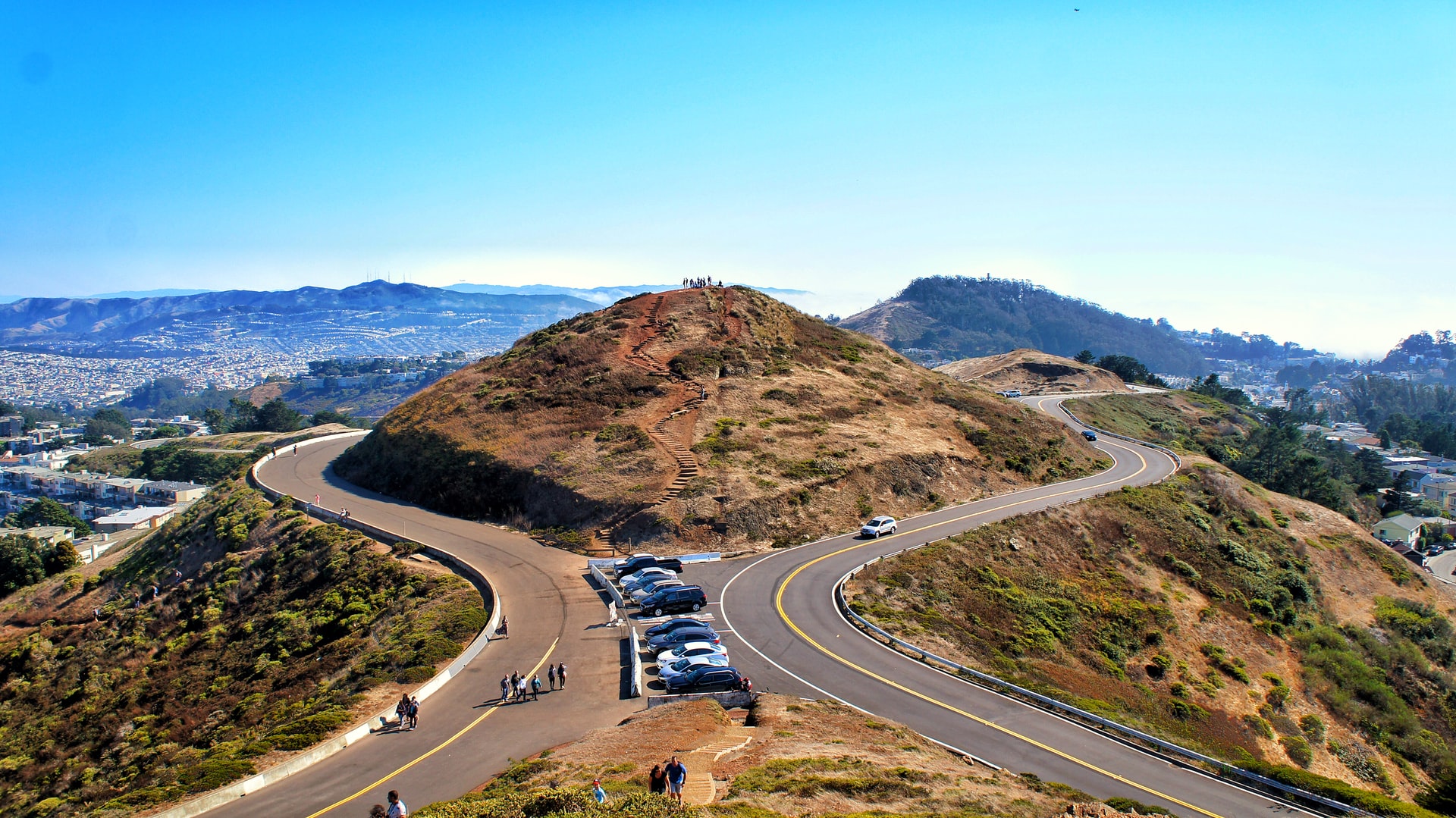 Whether you're heading up for a quick drive and photo op or setting aside a larger chunk of your day to hike, Twin Peaks delivers with amazing views of San Francisco. It's a great way to wrap up your tour of San Francisco since you can spot local landmarks and all the places you've visited.
For more escapes from urban life in San Francisco, check out our list of outdoor adventures near San Francisco.
Of course, you don't have to leave the city to enjoy more nature. Our guided urban hike isn't quite as daunting as scaling Twin Peaks, but it still gives you views of the city, hidden gardens, art, and more from the famous 16th Avenue Tiled Steps.