 Welcome to the enchanting world of Palatine Hill in Rome! Nestled on one of the seven hills of the eternal city, Palatine Hill stands as a majestic testament to the splendor of ancient Rome. With its panoramic views, sprawling ruins, and a rich history that spans centuries, this archaeological complex is a must-visit destination for any traveler.
In this blog post, we'll take you on a virtual journey through the wonders of Palatine Hill. From its lavish palaces and elegant villas to its serene gardens and captivating stories, we'll uncover the treasures that lie within this historic site.
Whether you're a history enthusiast, art lover, or simply want to experience the classic tourist spots on your Rome vacation, this travel guide aims to satisfy your curiosity and provide you with all the information you need to make the most of your visit.
So grab your virtual passport and let's embark on an unforgettable adventure together. Join me as we delve into the captivating tales and remarkable sights of Palatine Hill in Rome. Get ready to be transported back in time and discover the awe-inspiring wonders that await you. Let's dive in and unravel the mysteries of this remarkable ancient landmark.
A brief history of Palatine Hill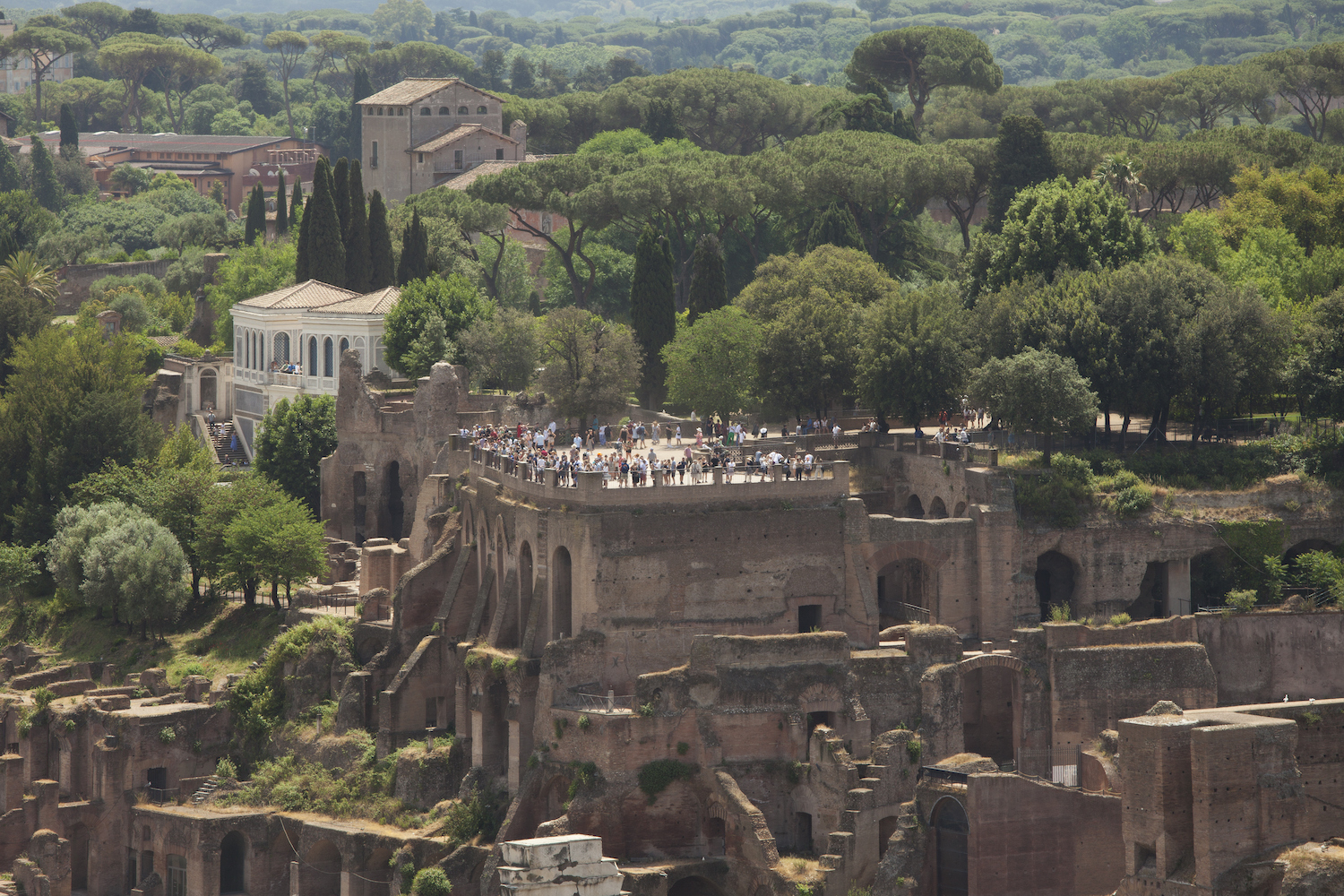 When talking about Palatine Hill history, fact and legend blur. This is ancient Rome, after all.
The hill holds a significant place in Roman mythology, dating back thousands of years. According to legend, it was on Palatine Hill that Romulus, founder of Rome, established the city in 753 B.C.
Over centuries, Palatine Hill became a desirable neighborhood in Rome. It's where rich and influential Romans built magnificent palaces and villas with lavish gardens. Emperors and other Roman elites showcased their wealth and power on its slopes.
But the hill itself outlived the Roman Empire. As time went on, the stately villas on Palatine Hill fell into ruins, leaving behind a fascinating archaeological site. Today, visitors can explore the ancient ruins, walk among the remnants of imperial palaces, and gain insights into the lives of Roman royalty and nobility.
How to visit Palatine Hill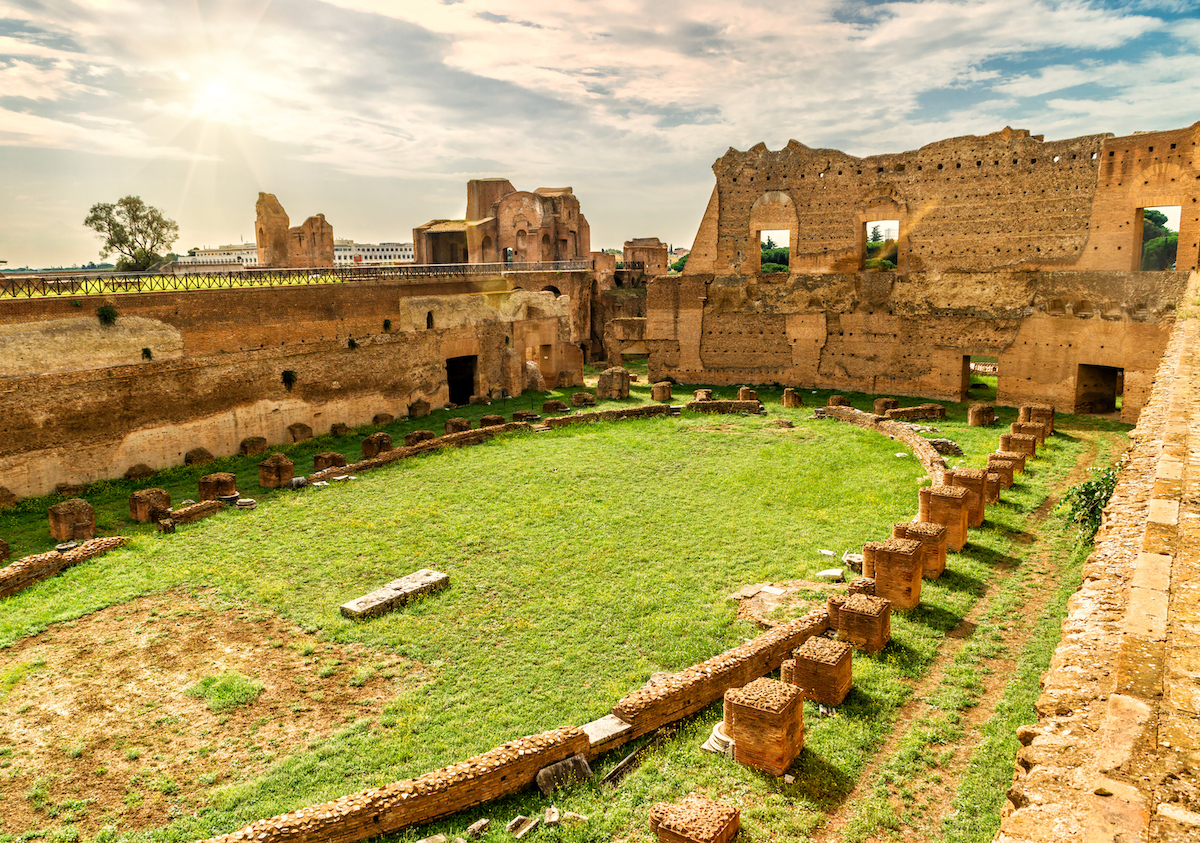 Looking to escape from the crowded streets of Rome? A visit to Palatine Hill is a must.
When visiting Palatine Hill in Rome, you'll have the opportunity to explore so many captivating sights. Make sure you save enough time for everything. A thorough visit can easily take a couple hours, although some travelers will breeze through the highlights — and that's OK!
Here are a few of the sights you don't want to miss.
Palaces: Or at least, all that's left of them. There's the impressive Domus Augustana, Domus Flavia, and Domus Severiana, once once opulent residences of Roman emperors, still featuring intricate architectural details and stunning frescoes.
Farnese Gardens: Enjoy the tranquil beauty of these terraced gardens on the northern side of the hill that overlook the Roman Forum and Circus Maximus.
Stadium of Domitian: This former athletic arena once hosted various competitions and is known as one of the best-preserved Roman stadiums in the world.
House of Livia: This villa was once home to the wife of Emperor Augustus. You can still admire the frescoes showing gardens and nature scenes.
Palatine Museum: There are two floors to this museum, housing a collection of artifacts found on Palatine Hill and nearby, including sculptures, pottery, and mosaics.
Hut of Romulus (Casa Romuli): This is a reconstruction, but it shows where Romulus, mythical founder of Rome, was raised by a she-wolf.
Views: You're on a hill — look around! Rome may have seven famous hills, but each has a different view. This one offers brilliant panoramas with the Roman Forum, Circus Maximus, and the modern city of Rome.
These are just a sample of what awaits you on Palatine Hill. As you wander through the archaeological site, you'll encounter countless other ruins, pathways, and remnants of ancient Rome, creating an immersive experience that transports you back in time.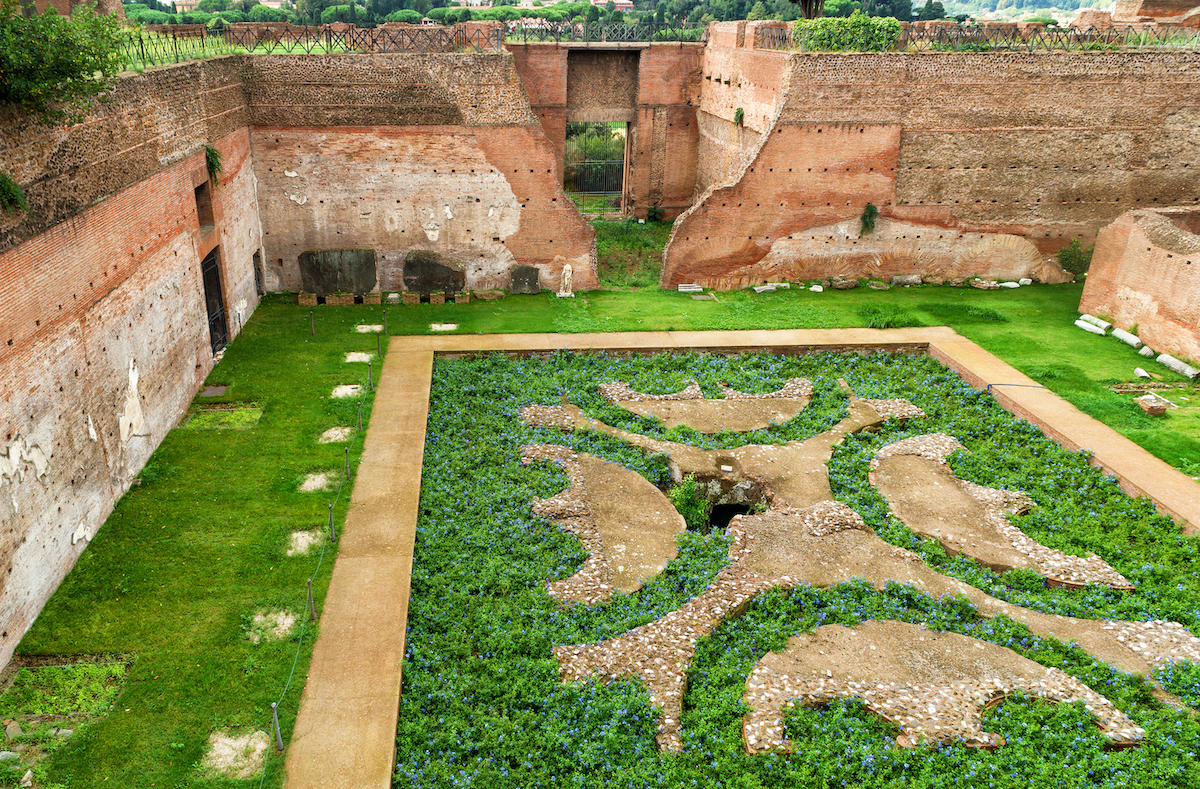 Admission to Palatine Hill, including the Palatine Museum, is included in our Colosseum and Roman Forum Guided Tour. No need to purchase tickets separately. We've got you covered.
Palatine Hill opens at 9 a.m. every day and closes at different times based on the season with the last entry always an hour prior to closure.
I recommend going in spring or summer if you can when the flowers are blooming. The site is open until at least 7 p.m. from April through September, which also gives you plenty of time to explore and enjoy those sunset views.
More to do near Palatine Hill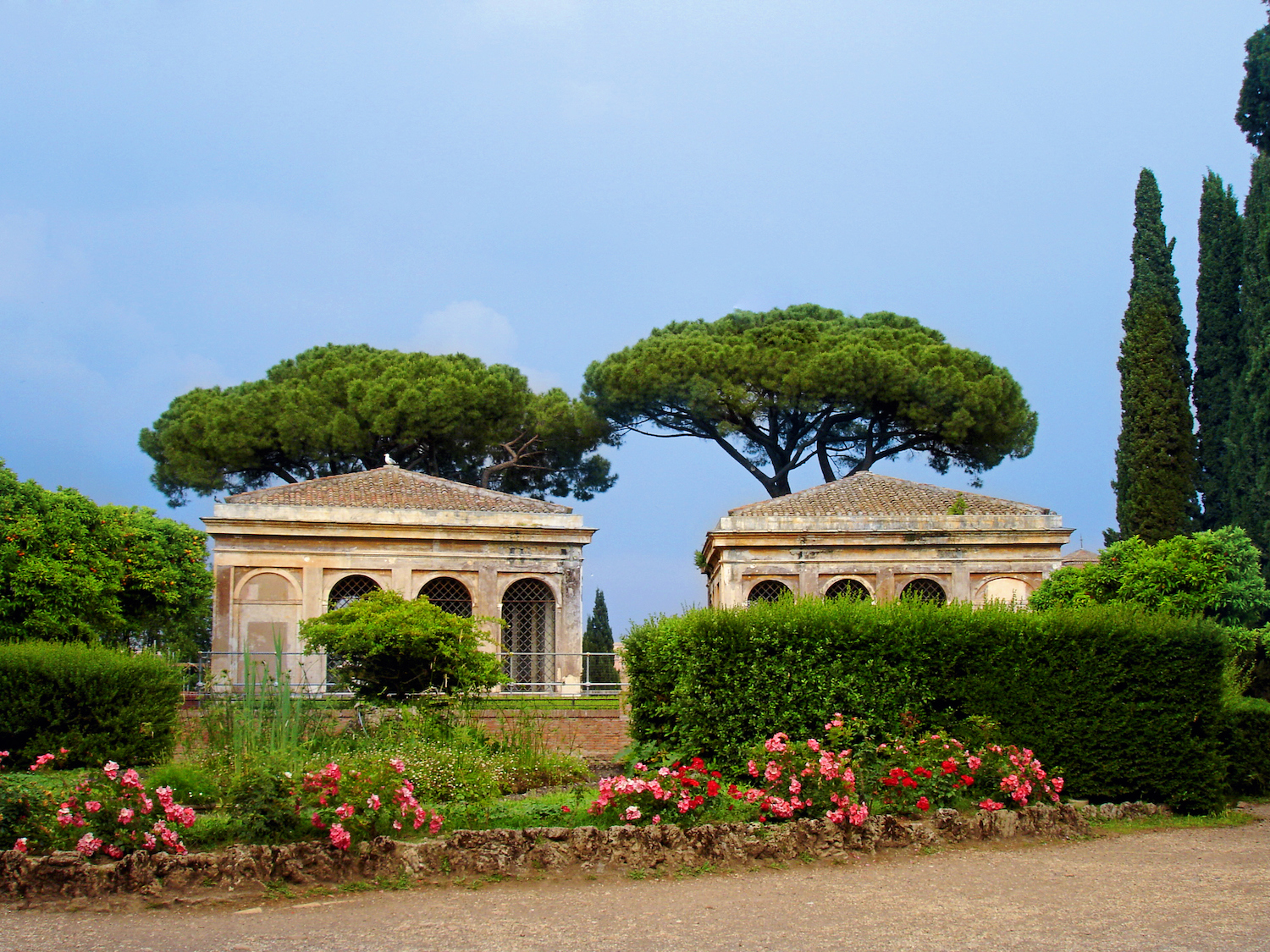 This is a great location in Rome to spend a little more time. You can grab pizza by the slice at Pizzeria di Sforza Piero off Via Celimontana, 17. Still hungry? Take a self-guided culinary tour of the most classic Roman foods. These are some of the best places to eat near the Colosseum, which is close to Palatine Hill.
Of course, the Colosseum itself is worth a visit as is the Roman Forum and Circus Maximus. And there are many archaeological sites in and around these areas.
For something a little different from food and ancient ruins, check out the rose garden behind the Circo Massimo, especially if it's in season (May or June). The garden is free to wander, and you'll be sure to fill up your camera roll with photos.
Lastly, beyond gardens, ruins, and food, the other must-do for Rome is churches. There are lots of churches near Palatine Hill of historial, religious, or architectural significance. It's hard to pick the best one. Instead, I'll recommend one close by, the Basilica di Santa Maria in Domnica alla Navicella. It dates to the fifth century and has lovely mosaics inside. Despite being close to the Colosseum, it's not crowded, and it's a nice place to step inside for some quiet.
Visit Rome's grand ruins with a guide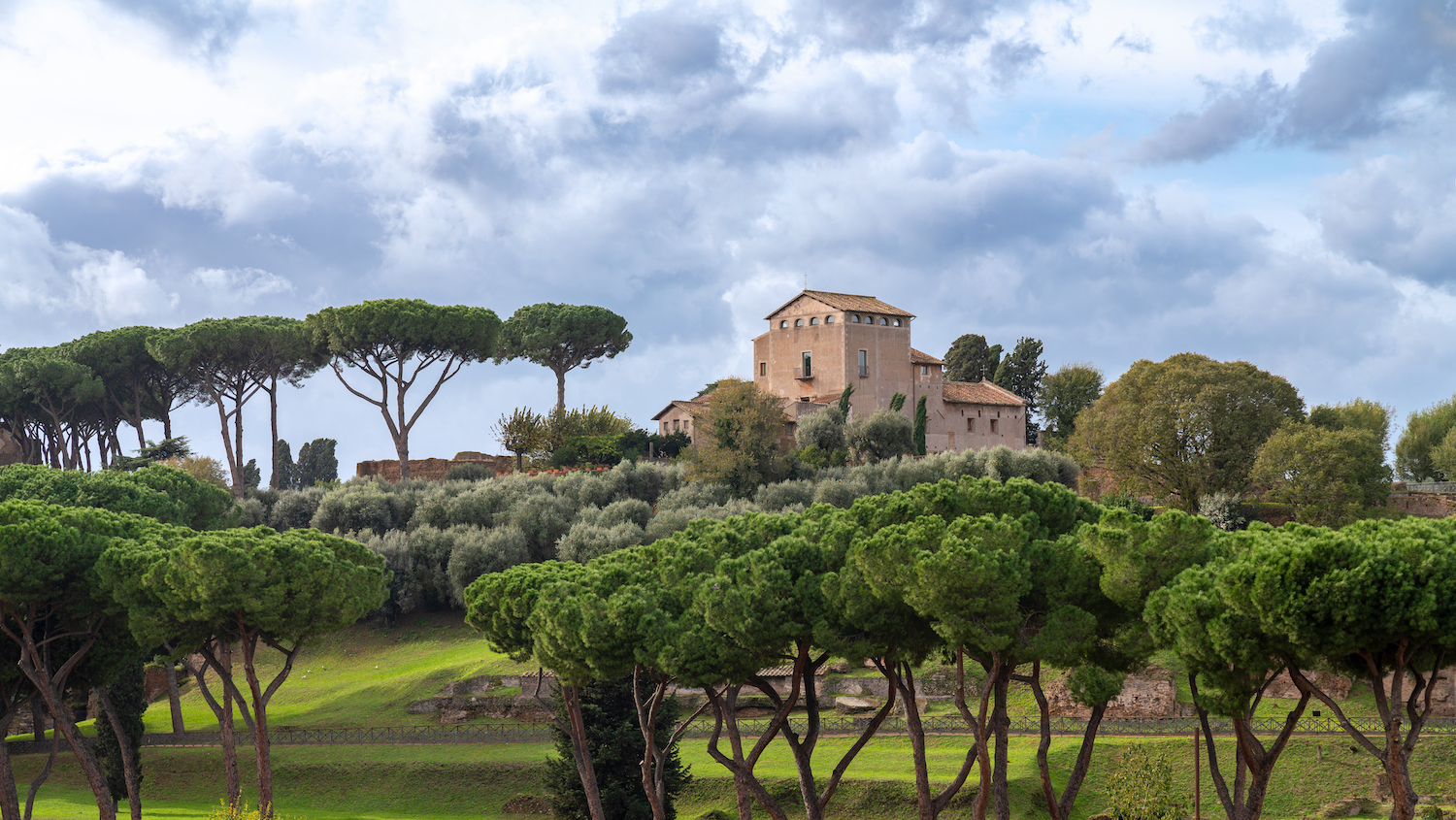 As we bring our exploration of Palatine Hill to a close, we hope this virtual journey has ignited your curiosity and sparked a desire to experience this ancient wonder firsthand. Visiting Palatine Hill in Rome is truly a captivating experience that allows you to immerse yourself in the era of the Roman Empire.
From the grandeur of the imperial palaces to the tranquil beauty of the Farnese Gardens, every corner of Palatine Hill holds surprises and delights. The panoramic views from its slopes offer a breathtaking glimpse into the ancient heart of Rome, where the bustling Roman Forum and the vast Circus Maximus once thrived.
Ruins might make you think of something ruined, but somehow these buildings are even more majestic in their decay from centuries as we peel back the layers of history to see what's beneath.
Walking amid the remnants of ancient Rome with a local leading the way, you can't help but feel a profound connection to the past. Your guide will make the stories of emperors, nobles, and the rise and fall of a civilization that left an indelible mark on the world come alive in a way that you miss when exploring on your own.
We hope you can join us on one of our guided walking tours in Rome on your next visit here. The timeliness magic of the Eternal City awaits!