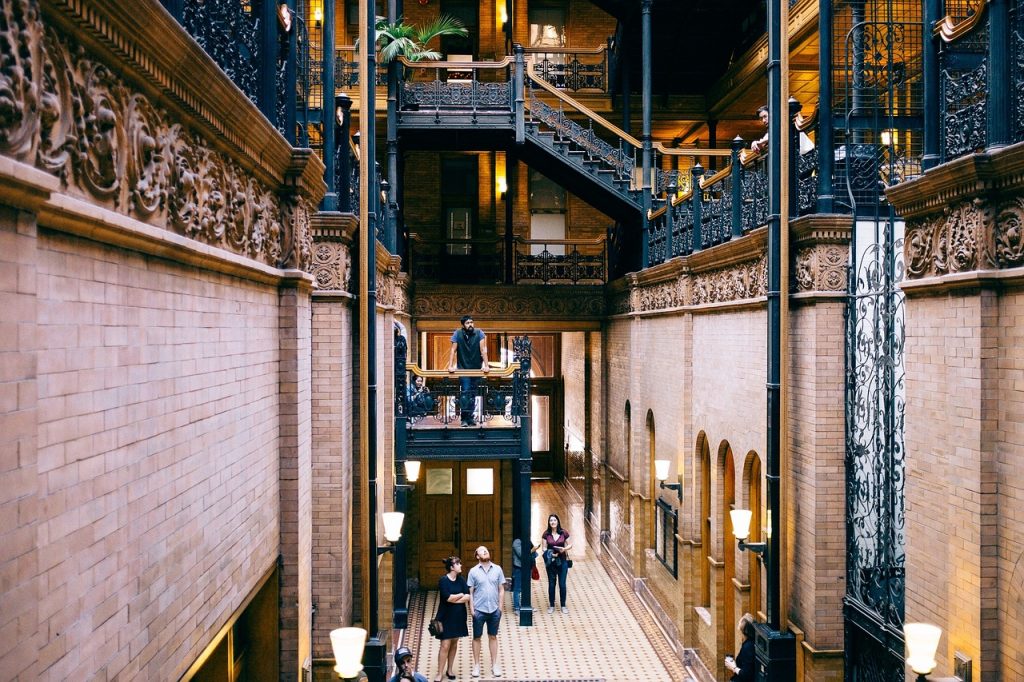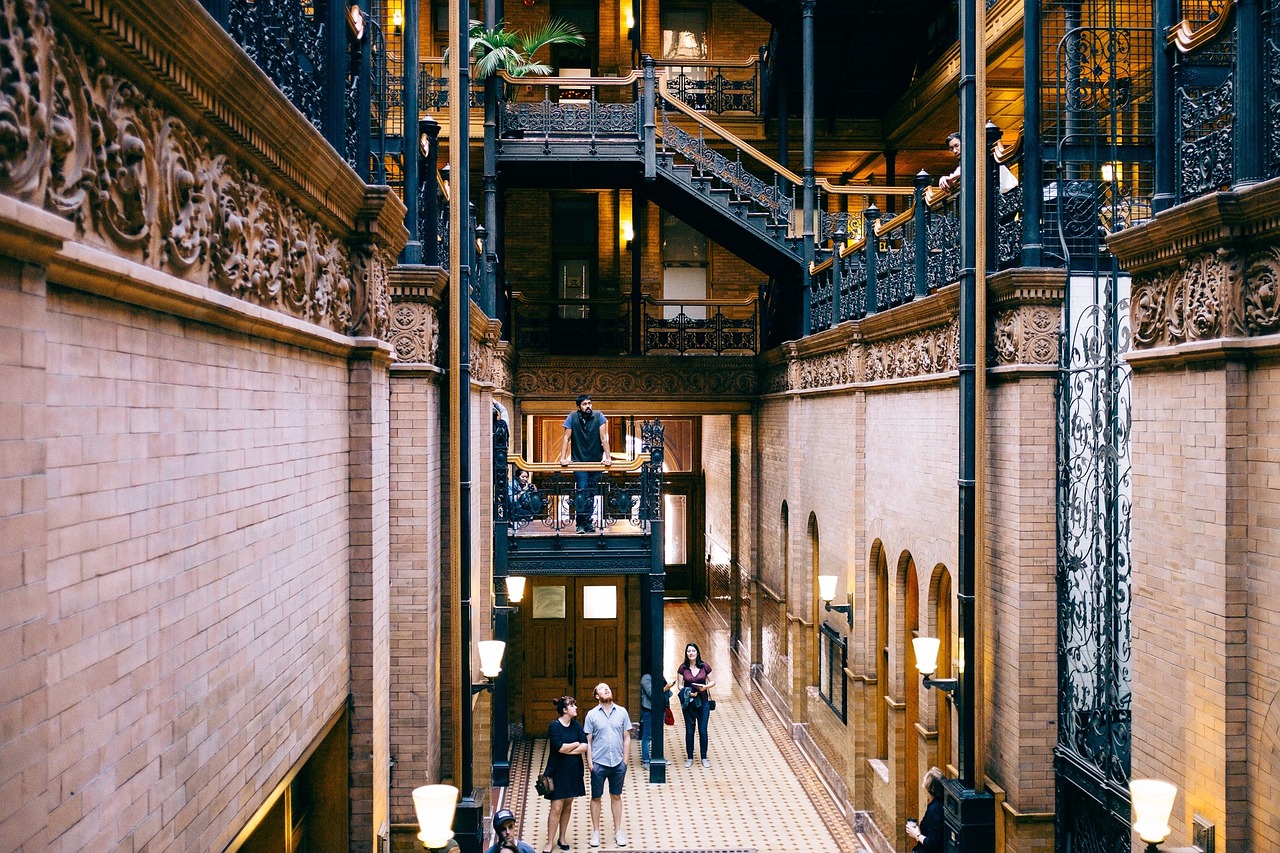 The Bradbury Building is the oldest commercial building in downtown Los Angeles, and it's got a bit of an unusual history, which I'll dig into below. But what's even better — and the reason why I'm talking about it here — is that it's also one of the most beautiful buildings in the city.
Not surprisingly, the Bradbury Building has been featured in a number of movies and has a wealth of history within its walls. And thanks to its convenient location, it's a quick one to visit while you're in the area.
Below I'll share a little about the history and architecture of the building, what you need to know before visiting, and how to include it in your exploration of downtown LA — or DTLA as we like to call it here.
Bradbury Building History: The Making of a National Historic Landmark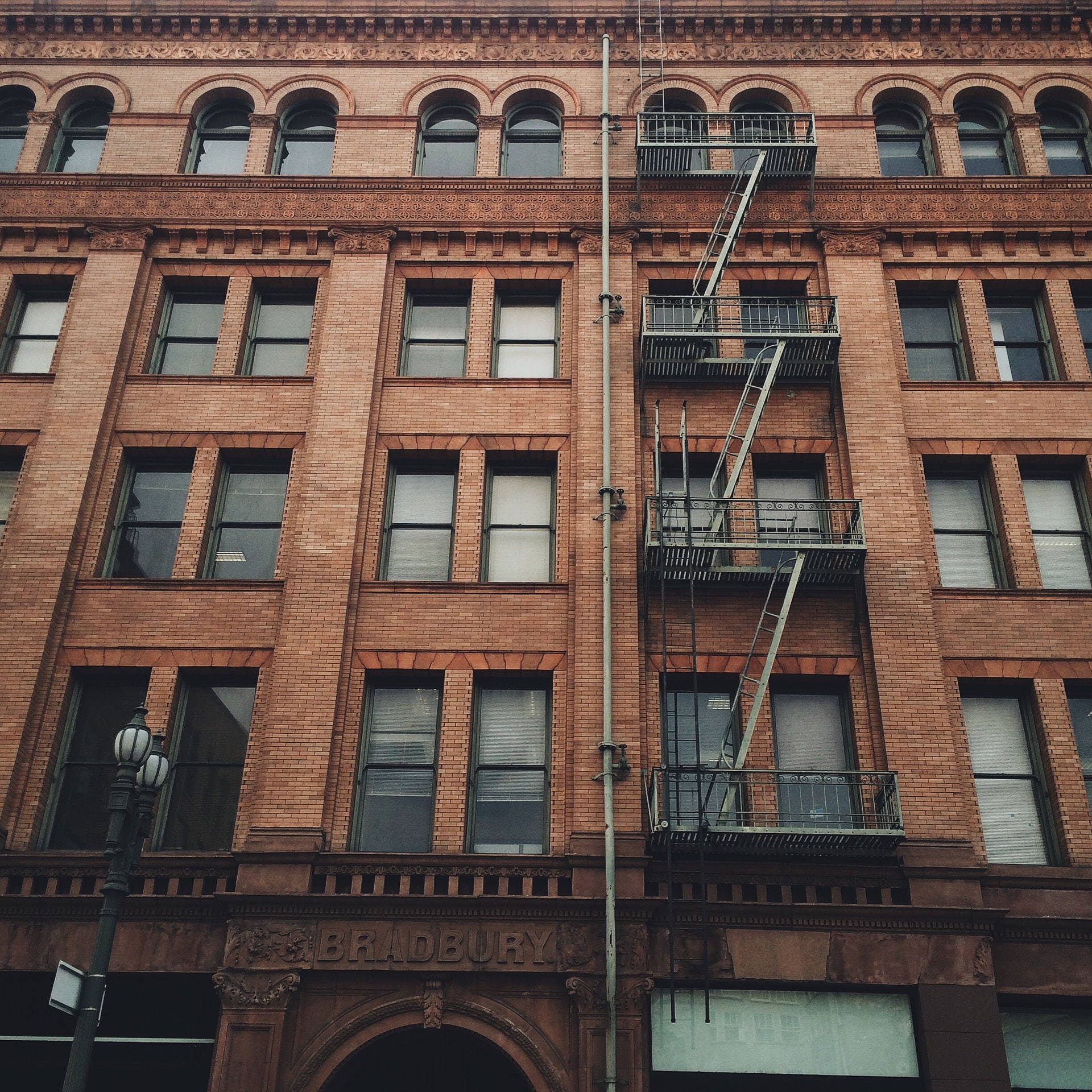 The Bradbury Building has received a few honors over the years. It was added to the National Register of Historic Places in 1971, and since then it's been designated a landmark by the Los Angeles Cultural Heritage Commission and a National Historic Landmark by the National Park Service.
A five-story office building built in 1893, the Bradbury Building was commissioned by Lewis L. Bradbury who had made his fortune from the gold mines. Bradbury originally hired a local architect to design the building but later replaced him with one of the architect's young employees, a draftsman named George Wyman who had hardly any experience.
Supposedly, Bradbury was inspired in his choice by sketches Wyman had been working on. As for Wyman, he had to accept the commission in place of his boss, which must have been awkward. Local lore has it that he consulted an occult tool called a planchette (think of a Ouija board) to figure out if he should take the job or not. Spoiler: He took it.
It's still unclear today how much of the building's design can be credited to Wyman directly since he picked up where his boss left off, but regardless, the results were spectacular.
Architecture to Admire at the Bradbury Building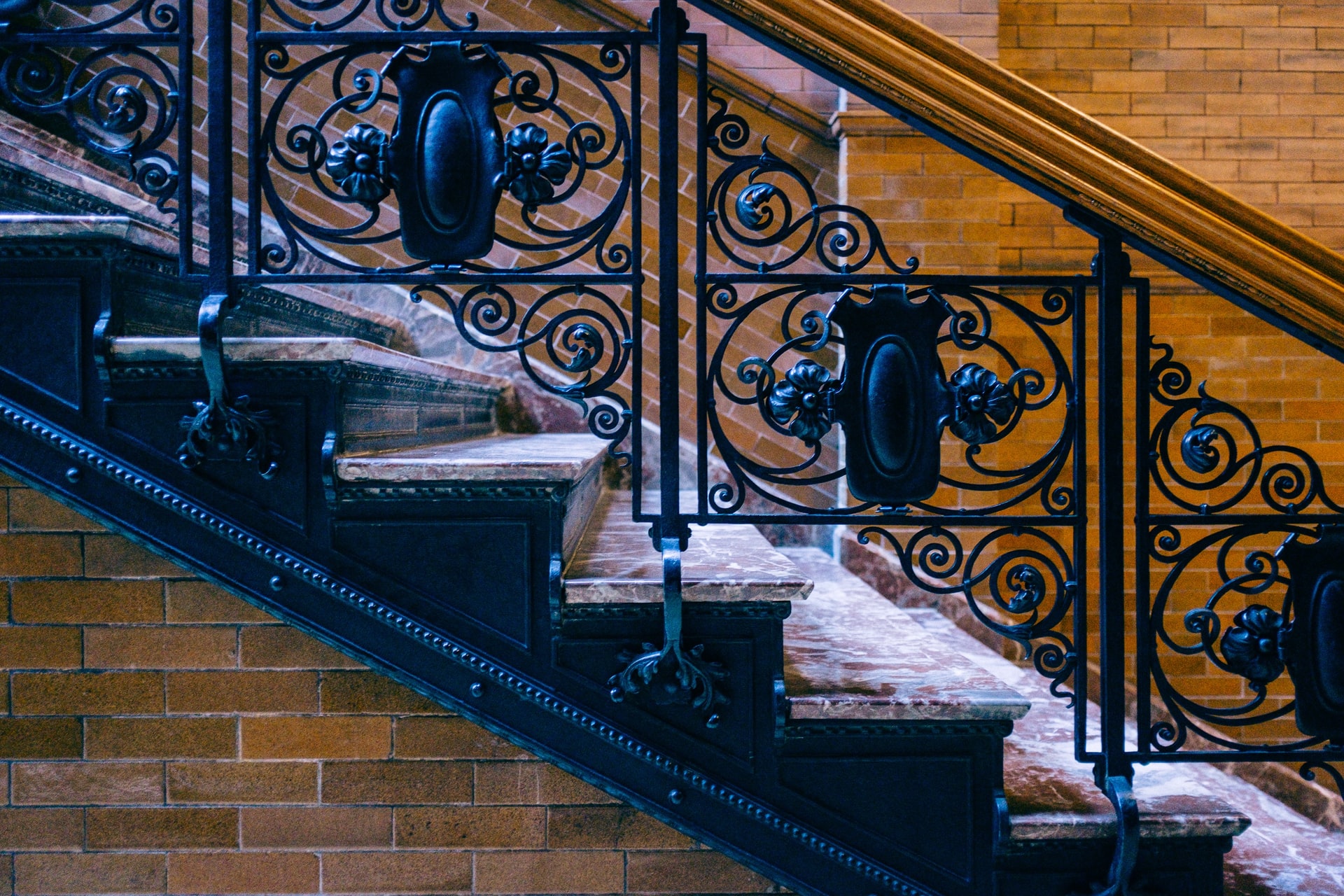 The Bradbury Building doesn't look like much from the outside — a brown brick and sandstone building with some terracotta detailing and a Blue Bottle Coffee shop at the street level. Walk inside, though, and it's a whole other world, best seen during daylight.
The lobby of the building is a Victorian-style central court that rises almost 50 feet to the glass ceiling where the sunlight comes through. The staircases are made of Italian marble with elaborate French wrought-iron railings in the art nouveau style. It has almost a steampunk vibe to it, which won't surprise you when you learn more about the design (below).
Fun fact: A blast from the past, there are two open-case hydraulic elevators on opposing sides of the lobby that are still operated by human conductors.
The Bradbury Building and its Role in Science Fiction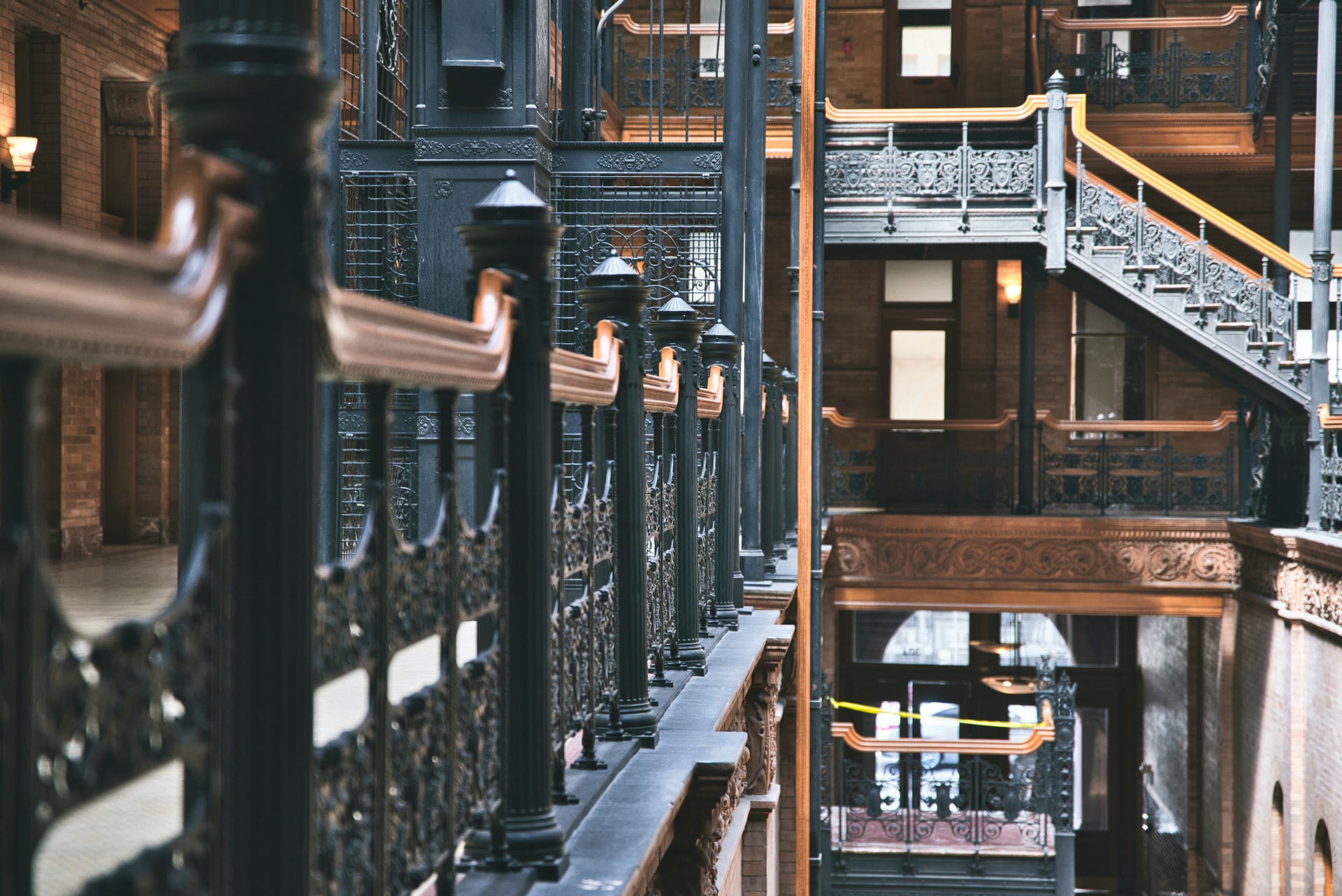 As I mentioned, the Bradbury Building has been featured in film several times, but it seems to be particularly popular with science fiction. This isn't surprising, perhaps, since George Wyman was allegedly inspired by a science fiction novel — Edward Bellamy's "Looking Backward" — when he designed the building.
There is a particular line in the novel that really seems to describe the Bradbury Building:
I was in a vast hall full of light, received not alone from the windows on all sides, but from the dome, the point of which was a hundred feet above.
When you enter the light-filled atrium of The Bradbury, you'll understand.
Back to the sci-fi movies. The Bradbury is most famously known for its appearance in the 1982 movie "Blade Runner" as the home of toymaker Sebastian. In the film, you see Harrison Ford's character climb up the staircases with their gorgeous ironwork.
The Bradbury has also featured in sci-fi TV series, including "The Outer Limits" and "Quantum Leap." One non-sci-fi appearance on the silver screen is "500 Days of Summer," where the protagonist awaits his job interview in the final scene.
Adding the Historic Bradbury Building to Other DTLA Attractions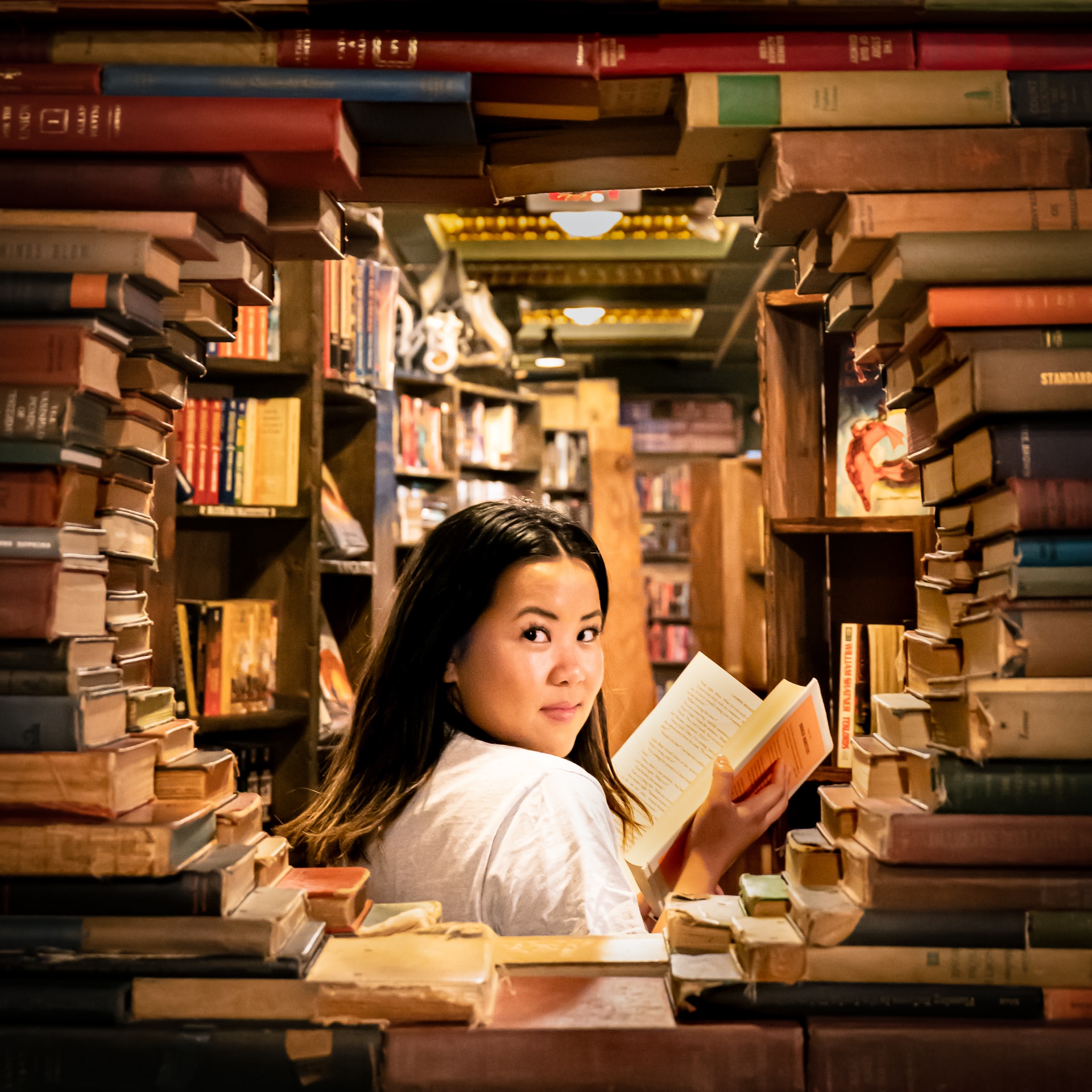 The Bradbury is a historic landmark you have to see in person to really appreciate. It's a quick one to check off your list, and the best way to do it is to combine it with other downtown attractions.
How should you do that?
One way is to follow along with the itinerary of our downtown LA food and culture tour. After you exit the Bradbury, you can continue to Grand Central Market and then ride up the Angels Flight Railway. For more art and architecture, stop by The Broad, Union Station, and the Walt Disney Concert Hall. And don't forget The Last Bookstore. Its window of books is a favorite photo op.
If you have time for more food before or after visiting Grand Central Market, I recommend the Spring Arcade Building just three blocks down the road, another destination with great variety for foodies.
Know Before You Go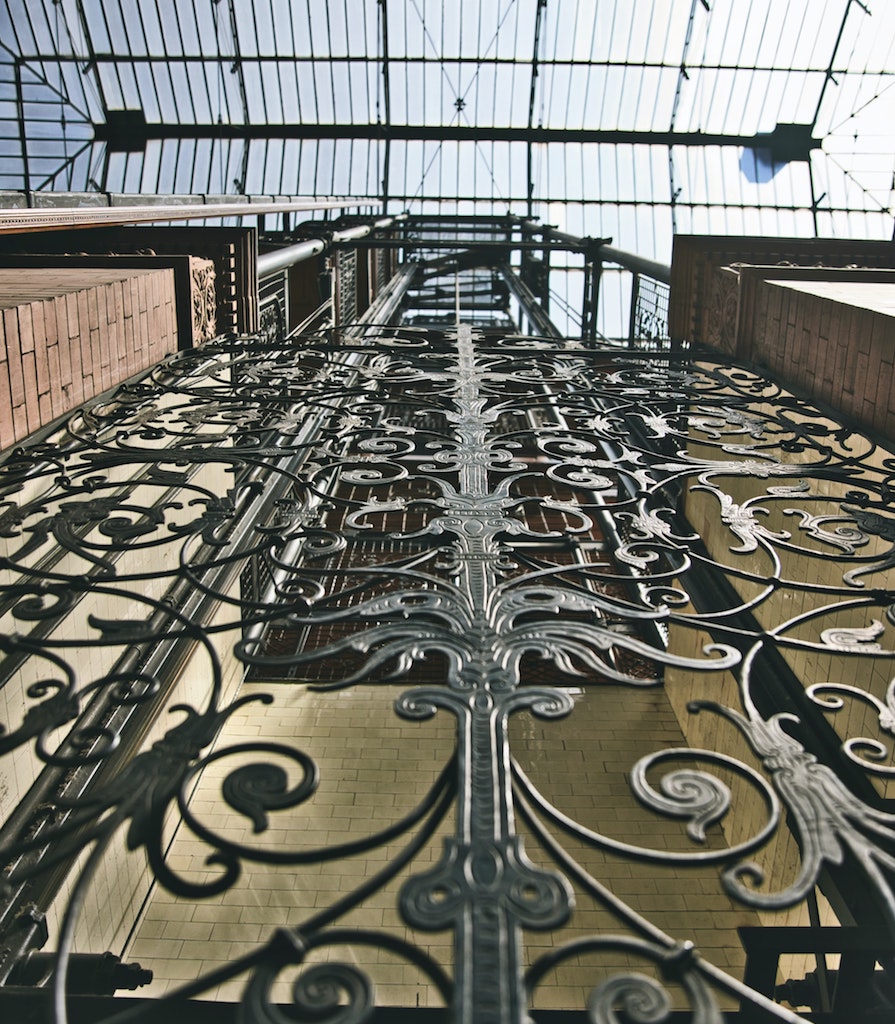 I hope you're convinced that you need to see the interior of The Bradbury yourself. Since visiting downtown requires some planning, here's all you need to know before you head over.
Is Bradbury Building free to visit?
Yes, the Bradbury Building is free to visit from 9 a.m. to 6 p.m. on weekdays and 10 a.m. to 5 p.m. on weekends. You're welcome to snap photos around the atrium as long as it's not for a commercial purpose.
Can you go upstairs at The Bradbury Building?
Unfortunately, even though The Bradbury is free to visit, outside visitors can only go up to the first landing of the stairs. Only tenants are allowed to go upstairs, and there is a security guard so don't try to sneak up. While there tends to be quite a few people on the weekends taking photos, the surroundings and the security guard keep the place quiet and peaceful.
Where is the best place to park?
Parking in DTLA is never easy. If you plan on spending a good part of the day walking around downtown and it's a weekend, I recommend parking at the Pershing Square garage for a $9 flat rate. That way, you can spend all day and not worry about rushing back.
If you just want to take a quick peek at The Bradbury and combine that with grubbing at Grand Central Market, right across the street, then you can park at the market's garage which is cheap ($3) for the first 90 minutes. Just make sure you don't go over.
The Historic Bradbury Building: A Must for DTLA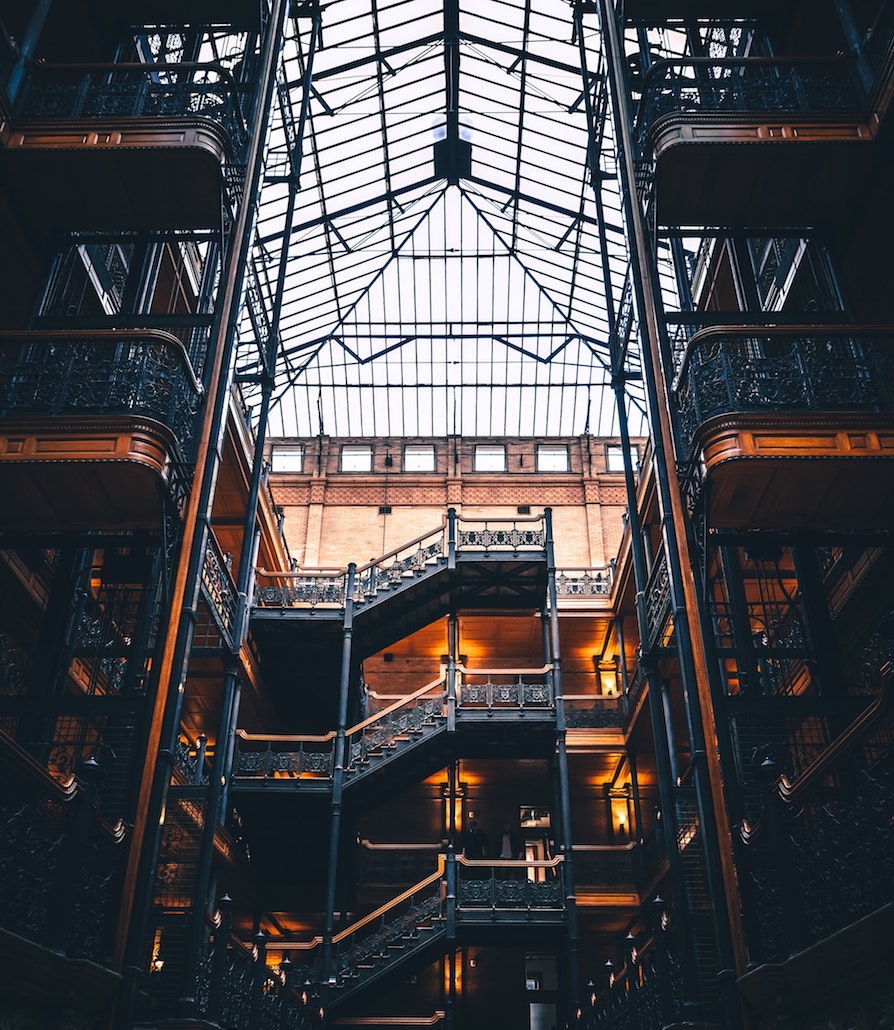 Long story short, if you're in downtown LA, there's no reason not to pop into the beautiful Bradbury Building. It's free to visit and truly something you can only see here in Los Angeles. Bring your camera, and don't be too shy to take a selfie. This old building looks good for its age.
Want more free attractions? Try these four LA museums where admission won't cost you a dime.