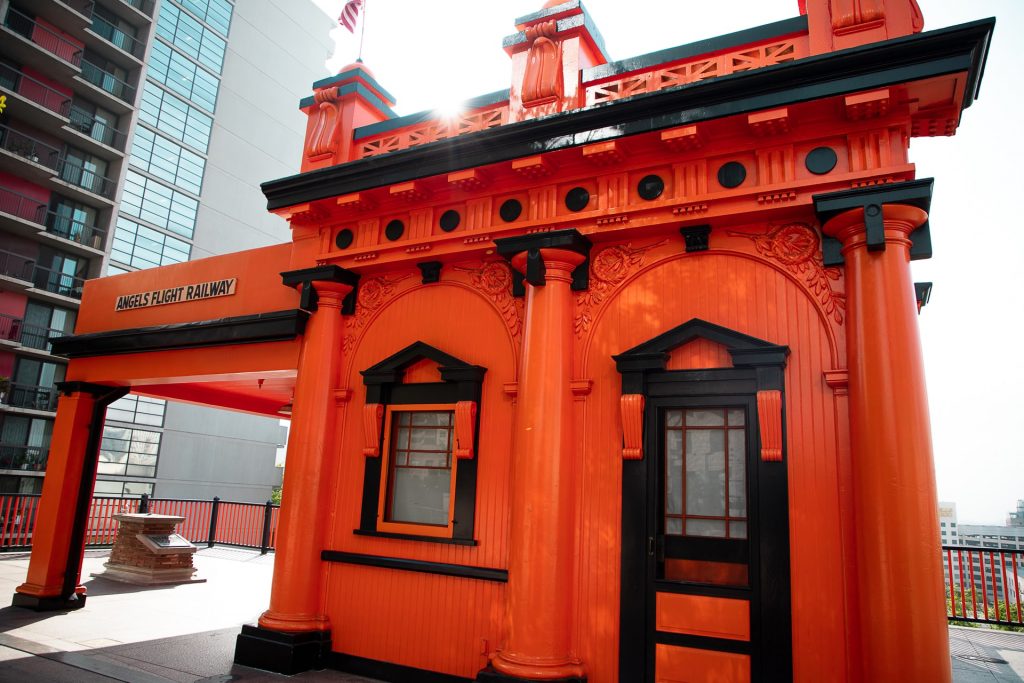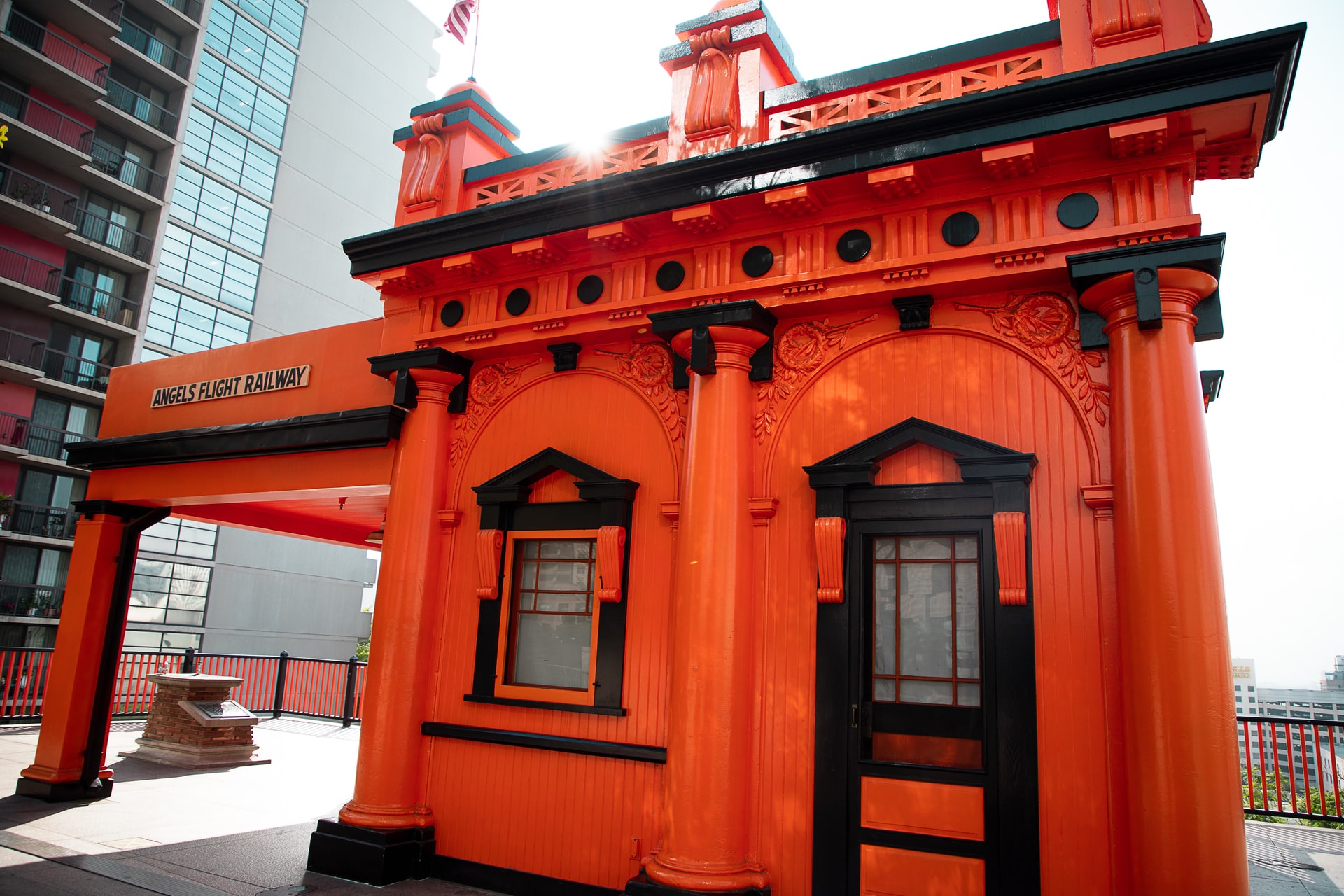 Yes, the world's shortest railway is tucked in the middle of downtown Los Angeles, a city not exactly known for its trains and rails. Angels Flight Railway is a historic funicular that goes up (and down) one of downtown's steepest hills in an area of the city called Bunker Hill.
In this article, I'll cover all you need to know about the railway, from its history and claims to fame to what it's like to ride and fun things to do nearby.
The World's Shortest Railway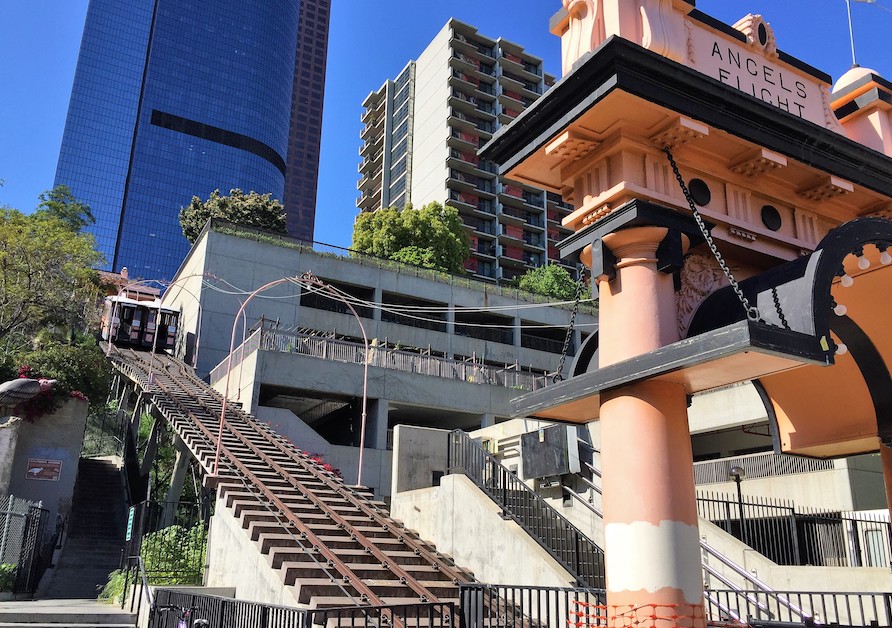 Angels Flight Railway may be short, running just shy of 300 feet (298 feet, to be exact) on an incline, but it's got a long history and a bit of a film career, too. It's also been placed on the National Register of Historic Places.
Here's a little more Angels Flight history, including a few pop culture appearances.
Angels Flight Through the Years
Designated a Los Angeles Historic-Cultural Monument, Angels Flight Railway was originally built in 1901. But it was actually at another location half a block away, connecting Hill Street and Olive Street in Bunker Hill, a high-end residential neighborhood at the time. The railway operated there until 1969 when the site was cleared for redevelopment.
The current site, which connects Hill Street and California Plaza, opened in 1996. It has the original tracks and cars, which were restored and upgraded after sitting in a warehouse for 27 years. It's mainly a tourist attraction, although it's also used by some downtown workers. The railway reopened again, rather recently in 2017, after some added safety enhancements.
A Famous Railway
Angels Flight's film cameos started back in 1920 with a one-reel show. Since then, it's been used in classics such as Fritz Lang's "M" and even "The Muppets." The fourth season of "Bosch" is based on Michael Connelly's book, "Angels Flight," and of course, also features this railway.
Perhaps most famously, Angels Flight was featured in the 2016 Oscar-winning movie, "La La Land." The railway was closed at the time and not supposed to be used for any filming. But in true LA-style, the secret filming brought some Hollywood fame to the railway and helped its reopening the following year.
What It's Like to Ride Angels Flight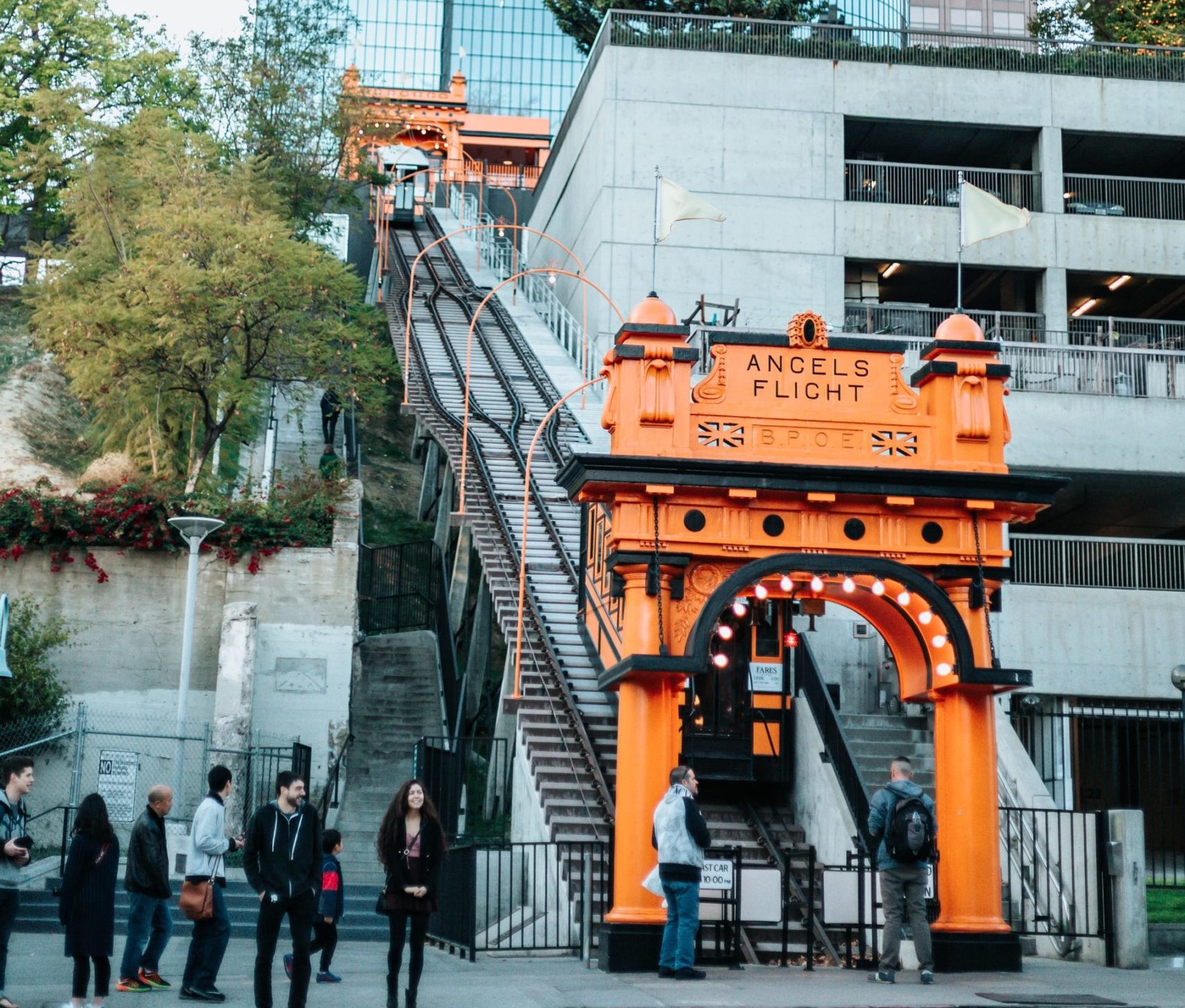 First off, you need to understand how the ride works. Angels Flight is a funicular, which means that it uses two counterbalanced cars attached to two ends of a cable — like a pulley.
In this case, the two cars have names: Olivet and Sinai. They're named after mountains in the Bible — keeping with the angel theme. They're orange and black wooden cars with 16 seats in each car. The car is slanted to fit onto the steep tracks, so the seats are built into different levels, like stairs, so everyone can still sit straight. Grab the bottom seats to get the best view down the hill as you ride up. The cars travel continuously and each one-way ride lasts less than a minute, so you just need to wait for them to gather passengers to get on the next ride.
While the whole system has been refurbished and upgraded for safety, the cars still look mostly like they did more than a century ago with their wooden interiors. The ride can be a little bumpy and noisy — it's an old railway, after all — but it's short, fun, and an easy landmark to check off your LA bucket list.
Angels Flight FAQs for Your Ride and Visit
Angels Flight Railway may be a short trip, but there's plenty in the area to bookend your ride with. Here's what you need to know to plan your exploration.
What restaurants are near Angels Flight Railway?
The closest restaurants are the eateries at Grand Central Market right across the street from the railway entrance, where you have a slew of choices from Thai food to tacos to Filipino food (Sari Sari Store, pictured above, has a great Filipino happy hour as well).
Even if you're not eating, the market is worth taking a stroll through — you can also grab coffee from G&B Coffee inside the market and watch the funicular go up and down. Some of LA's best restaurants are nearby in downtown as well.
For a fancier California farm-to-table meal, there's Otium right next to The Broad. There are other options down the hill, including Tex-Mex from Bar Amá or casual Italian at Maccheroni Republic.
How much does Angels Flight cost?
A ride on the Angels Flight costs $1 one way, but if you have a Metro TAP Card, you'll get a discount of $0.50 (you can find out all about the Metro and taking public transit in our LA transportation guide). It's a cheap and quick attraction to add to your day in downtown.
Pro tip: If you splurge on a $2 round-trip ticket, you can take home a souvenir that looks like the tickets they had back in the 1920s.
What attractions are near Angels Flight Railway?
Angels Flight is centrally located to many downtown attractions. Start down the hill with the highly Instagrammable The Last Bookstore, which has a great used book collection and a little art gallery on the second floor.
Then take a peek inside the Bradbury Building. The interior of Bradbury Building was the shooting location of the original "Blade Runner." Then stroll around Grand Central Market before heading to Angels Flight across the street. Take the railway up (or walk up the hill) and make your way to The Broad for some modern art and take in the architecture of Walt Disney Concert Hall.
A Flight into LA's Past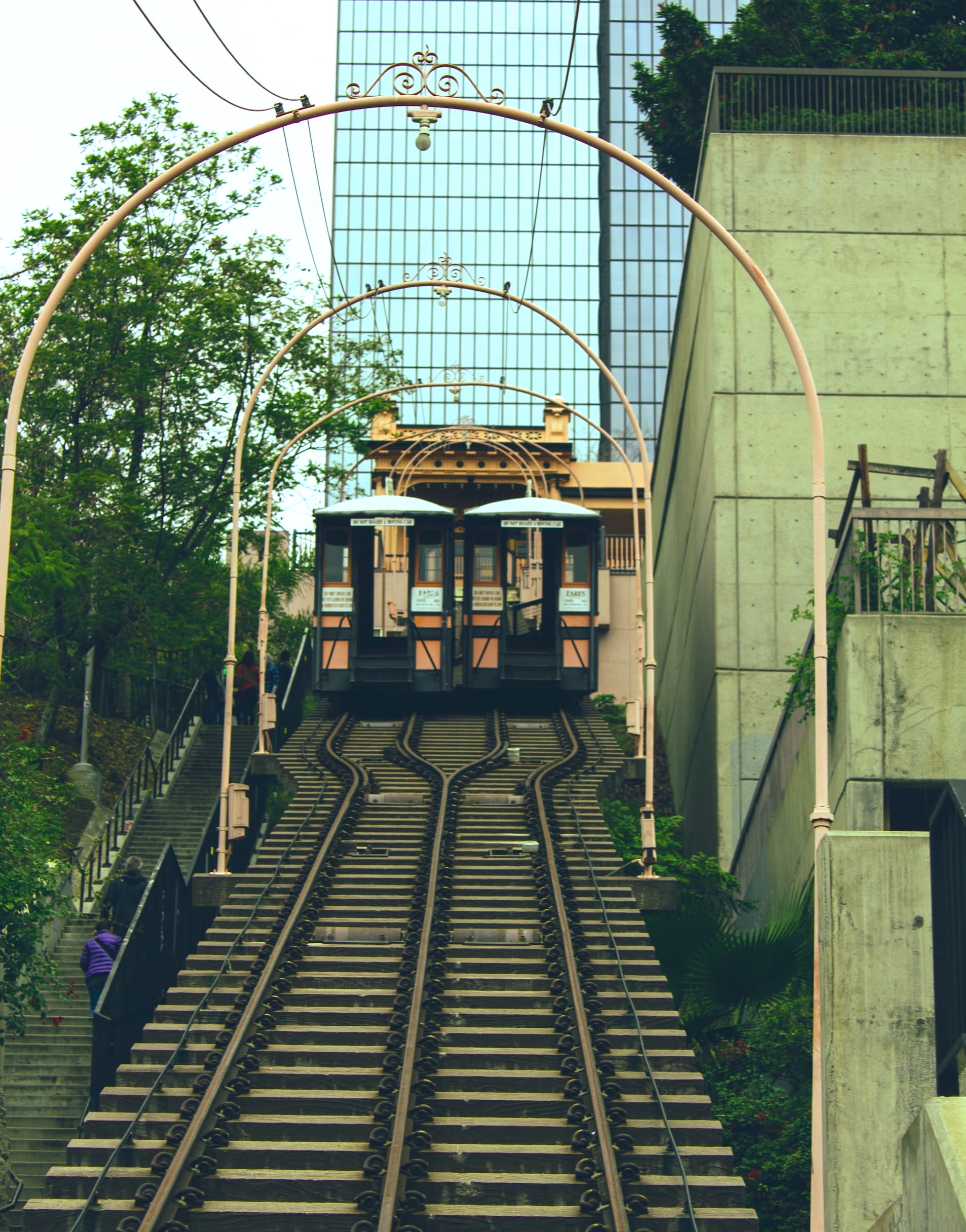 Sure, you can walk up the steep hill on your own or take the stairs behind the funicular, but for only $1, why not take the short ride on Angels Flight Railway and step into a piece of Los Angeles history? On our downtown LA food and culture tour, riding Angels Flight Railway is always a hit with guests (though maybe that's because we're eating a lot of good LA food and don't want to hike up the hill — but that's another story).
Save your energy to explore the other attractions both down and up the hill. You can park in Pershing Square, hit up the Bradbury Building and Grand Central Market, and then ride up Angels Flight to The Broad. Downtown LA is rich in food, art, and culture, and riding this historic railway is just part of the experience.