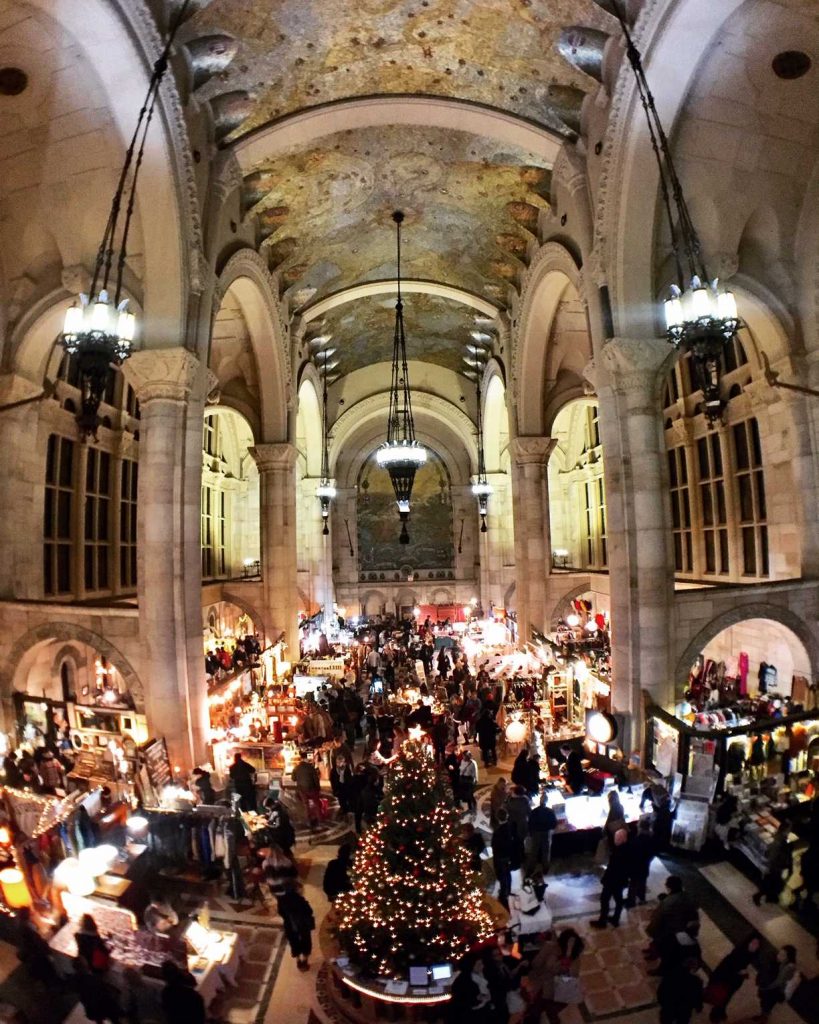 From gorgeous window displays to festive lights and decoration to humongous Christmas trees, New York knows how to do Christmas! The city comes alive with outdoor holiday markets from Mid November to end of December. Even if you don't want to shop, these beautiful markets have the most festive ambiance with hot food, hot chocolate and so much more. So bundle up, brave the cold and make your way to one of the outdoor holiday markets. If cold is just not your thing, there are some indoor markets too. Here is a list of the best winter markets to visit this holiday season!
The magical looking Bryant Park's Winter Village:
Bryant park can be called New York's winter wonderland with New York's only free admission ice skating rink as its centerpiece. There are over 150 vendors at this market and what makes this market unique is that the vendors are from different parts of the world. You will find the most unique gift items and a food court at this market. Don't miss the Tree Lighting Skate-tacular which is Bryant Park's biggest celebration.
Open from October 27 to January 2, 2019:
– Daily from 11 am to 8 pm,
– Saturday and Sunday from 10 am to 8 pm.
The energetic Union Square Holiday Market:
When I think of Union Square holiday market, the first thing that comes to mind is 'No Chewing Allowed' hot chocolate. This is not an advertisement, I swear. It's really really that good. Go to this market just for the hot chocolate and it'll still be worth your time. Apart from the best vendors in the Northeast for shopping, this year the Union Square Holiday market is coming with an upgraded look. They are adding exciting new sections like Little Brooklyn and Urbanspace Provisions, a Warming Station and Lounge Presented by Citi and a Kid's Arts Studio.
Open from November 15, 2018 through December 24 (closed on Thanksgiving):
– Monday through Friday from 11 am to 8 pm,
– Saturday from 10 am to 8 pm,
– Sunday from 11 am to 7 pm.
The small and cozy Columbus Circle Holiday Market.
Location Location Location! The Columbus Circle Holiday market is located right next to central park and is one of the busiest markets during holiday time. You will find food, jewelry, art, household products and local goods from local designers at this market. A little bird told us, "no chewing allowed" will be serving hot chocolate at this market too. Go grab your hug in a mug!
Open from November 28 through December 24, 2018, everyday from 11 am to 8 pm
The hip and happening Brooklyn flea
You will not believe your eyes when you enter this market. This indoor market is an a gorgeous building with limestone and marble interior and stunning mosaics. The Brooklyn Winter Flea + Holiday Market features around 75 vendors selling vintage, antique, handmade, and food, in a modern setting. The market is open every week in winter, rain or shine, and is dog-friendly. The market features 25 of New York's favorite Smorgasburg vendors so it's the perfect way to kill time on a weekend.
Open every Saturday and Sundays from November 3rd through Spring 2019.
The warm and rich Grand Central Terminal Holiday Fair
It is one of the biggest winter markets in New York City. It's also super busy as this is an indoor market. The vendors here are highly selective as the organizers prefer that the vendors sell products that are handmade, made in America using local ingredients or are socially conscious. They spend the entire year looking for the best vendors and this year they promise to be New York's grandest market. Being one of the oldest winter markers, the experience itself is a holiday gift!
Open daily from November 12 through December 24, 2018:
– Weekdays from 10 am to 8 pm,
– Saturday from 11 am to 7 pm,
– Sunday from 11 am to 6 pm.