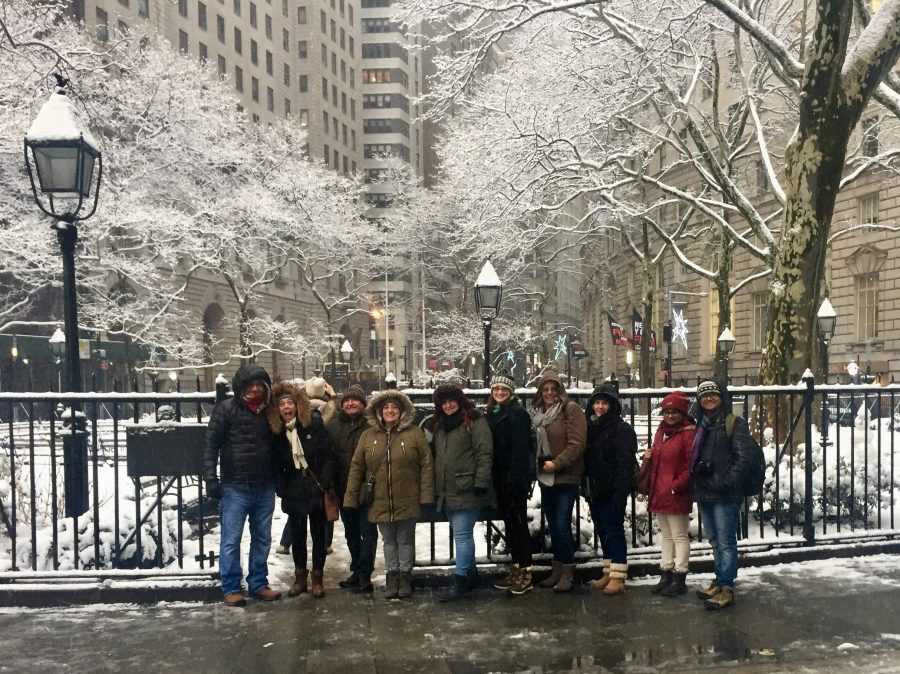 Whether you celebrate the holiday or not, Christmas Eve and Christmas Day are both great times to be in New York City. While many other towns across the country may take a bit of a break, New York is never in holiday shut-down mode, but rather brimming with a variety of fun and festive activities for you to enjoy.
1. Rockefeller Center
Always the heart of the holiday season, Rockefeller Center is among the best sites to really enjoy Christmas. Located between 5th and 6th Avenue and 49th and 50th street, the area has lots to see and do to help you celebrate. Admire the massive, beautifully lit Christmas tree and extensive decorations. Walk along the shops at 5th Avenue in awe of the beautiful displays. Or strap on some skates and join in on one of New York's most classic holiday traditions- ice skating in Rockefeller Center. The rink is open various hours throughout the day allowing you plenty of time to join in on the action. Visit Rockefeller Center and you will see why no other city in the world celebrates Christmas like New York.
2. See A Show
There are numerous holiday shows in New York throughout the season, and luckily, many of them even have tickets for Christmas Eve and Christmas Day. For a fun, colorful, family friendly experience go see The Radio City Christmas Spectacular featuring the world renowned Rockettes. Perfect for those of you spending the day at Rockefeller, just around the corner is one of the most beautiful performance spaces New York City has to offer- Radio City Music Hall. Featuring music, dancing, beautiful costumes and a visit from Santa Claus himself, this is a holiday celebration you will always remember. Tickets are available both Christmas Eve and Christmas Day. If you're interested in something super classic and traditional, perhaps take a trip up to Lincoln Center for a performance of George Balanchine's The Nutcracker. This stunning and remarkable production features the full New York City Ballet Company as well as School of American Ballet students. Experience the magic on Christmas Eve with shows at both 1:00 and 5:00 to kick off the Christmas celebration.
3. The Movies
Looking to do something a little more relaxing this Christmas? Go check out a holiday flick! Theaters all over the city will be open, but some will even have very special holiday events! With multiple showings both Christmas Eve and Christmas Day, IFC Center in Greenwich Village will be showing screenings of It's A Wonderful Life. Not only a continuing holiday favorite, but also one of the most cherished American films, you'll be guaranteed a wonderful time and a stress free couple of hours. If you'd like something a little more grandiose, checkout Nitehawk Cinema. This dine-in theater will be showing It's a Wonderful Life and Scrooged, accompanied by meals and cocktails. All part of their holiday series, both movies will have screenings on Christmas Eve morning. Escape the cold and the craziness for a few hours and relax with a feel good holiday film!
4. Dinner
One of the best things about holidays is the food, so it's imperative to find a great place to eat. There are a manner of various cuisines and dining options available to you both Christmas Eve and Christmas Day, it just depends on what you want to eat and how much you'd like to spend. Interested in something super casual, yet delicious, that won't break the bank? Head out to Brooklyn on either Christmas Eve or Christmas Day to a unique joint called Roberta's. Known as the unofficial hub of sustainable food, Roberta's features its' own outdoor tent with a warm, cozy fire and will be serving up mouth-watering specials to celebrate the holiday. For a Christmas Eve Dinner you will never forget, check out Hudson's at Pier 81. Housed on a 160 foot yacht, this dinner cruise will set sail at 6:30 pm. As you dine you will be treated to beautiful views of the Manhattan skyline and Lady Liberty, meanwhile enjoying a Mediterranean inspired 3-course dinner. If you're looking to really treat yourself, swing by the Plaza Hotel for their Christmas Grand Buffet. Served in the Palm Court on Christmas Day, this extravagant feast will feature traditional meats, desserts, soups, vegetables, and breads. All of which will be available for seconds, thirds and fourths- as much as you desire.
5. Christmas Caroling
Looking for something festive to do for Christmas Eve? Go Christmas Caroling! Open to the public for one night only, Gramercy Park invites all of New York to come out and join in the music. Usually tucked away and accessible only by exclusive entry, this park hosts a celebration that is open to everyone and kicks off on Christmas Eve at 6 pm. Join the Parish of Calvary St. George's for festive music, smiles and holiday cheer. Make sure to dress warm and bring any musical abilities you have, completely free of charge. Besides being a fun holiday tradition, its a chance to get a glimpse at one of New York's most restricted outdoor spaces.
6. Church
Perhaps the most traditional way to spend Christmas would be where the holiday is celebrated like no other. New York has many beautiful cathedrals, each celebrating the holiday in their own special way. The Cathedral of St. John the Divine is definitely worth the trek to experience its' soaring ceilings and beautiful stained glass windows. Their one and only liturgy is scheduled for 10:30 am Christmas morning. It will feature not just the elegance of the church architecture, but the magnificent sounds of the Cathedral Choir. St. Patrick's is the more famous of the two and is probably easier to get to given its' midtown location. The cathedral will feature a midnight Christmas Eve mass with Cardinal Timothy Dolan, followed by 8 different ceremonies throughout the day to choose from. For those wishing to spend the day in Rockefeller, it's definitely the more convenient of the two options.
7. Central Park
Spending Christmas in Central Park is the perfect way to celebrate the holiday, especially for families. If you're feeling up for it, take a quick trip to the Central Park Zoo, which is open until 4:30 both Christmas Eve and Christmas Day. Enjoy the holiday amongst sea lions and penguins. Or celebrate with beautiful views and ice skating at Wollman Rink, which is open all day and into Christmas night. Whether it be a white Christmas or an unusually warm, sunny day, skating at Wollman Rink is a wonderful New York tradition and a perfect compliment to your holiday plans. Afterwards, why not take a stroll through Central Park? Enjoy the scenery, the trees, maybe even the snow, and bask in the joy of the holidays.
8. Visit Santa
What Christmas is complete without a trip to see Santa? The good news is there are plenty of ways to do so, the bad news is that there are so many different options it can be hard to choose just one. Macy's Santaland is by far one of the most acclaimed holiday celebrations in the city, so its best to reserve a time slot beforehand to avoid waiting in any lines. The pop up is located on the 8th floor of the building and will be open until 4:00 pm Christmas Eve, when Santa's gotta head out to make some deliveries. Santa's Winter Wonderland at Brookfield Place is another great option, with much shorter wait times than Macy's. But there's so much more to do than just say hi to Santa. You can make your own ornaments, check out creative toys, even hang out on their new ice skating rink! Again, just make sure to stop by before 4:00. Finally, treat yourself to a more trendy and upscale Santa experience at the Plaza Hotel. Located in the concourse area, this unique look into Santa's workshop will be open until 6:00 Christmas Eve, leaving 2 extra hours to say hello before duty calls.