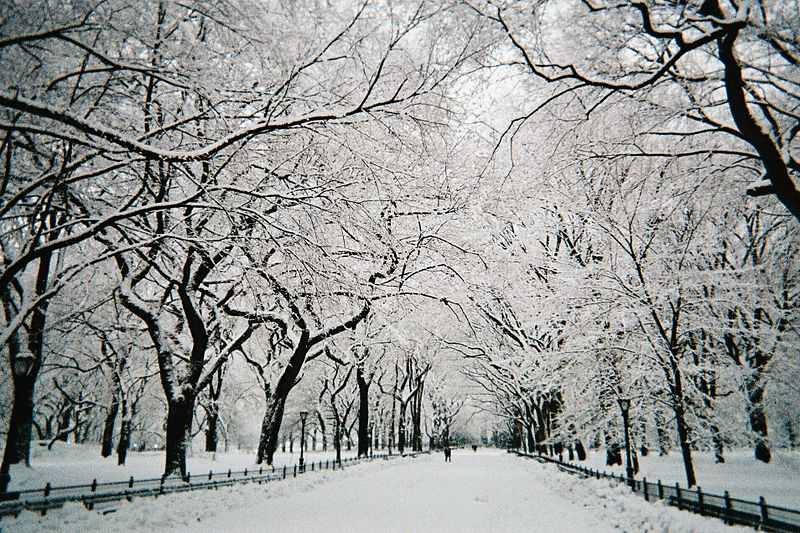 Whether you love it or hate it, winter is on its way! With the first snowfall of the season already occurring, New Yorkers everywhere are unpacking their warm coats, pulling out their snow boots and prepping themselves for the winter ahead. The cold might not be everybody's best friend, but just because of the drop in temperature, there is no shortage of fun activities and entertainment here in the city. So get ready to brave the cold and hit the streets, with these awesome NYC Winter Destinations!
1. Ice Skating
Ahh, one of the most classic NYC traditions- ice skating at Rockefeller Center. The tree, the lights, the crowds. It's no secret that Rockefeller is an amazing place to ice skate, and the area will most definitely get you in the holiday spirit, but there are many other options for ice skating in New York. Ones that maybe aren't as expensive or crowded. Just steps away from Times Square is Bryant Park- a beautiful park that really comes alive during the holidays. The Winter Village at Bryant Park features shops, food, and, of course, ice skating. There's music, lights and the best part, it's pretty cheap. For those who show up with their own skates, its entirely free. But even skate rental is only $20. Wollman Rink in Central Park is another great option! Also cheaper than Rockefeller, Wollman features beautiful views of the surrounding skyline and is convenient for a stroll in Central Park. Be prepared, the rink is cash only, and there aren't going to be any banks close by so ATM fees will be unavoidable. Finally, we have the Rink at Brookfield Place. Located in Lower Manhattan, this place has great views of the harbor and even the Statue of Liberty. The rink itself is huge! With a max capacity of 250 skaters, this is definitely the best option for those who don't want to wait in line.
2. Hot Chocolate
Nothing says winter like a warm, steamy cup of coco. Luckily, New York has no short supply of decadent, delicious options, you just have to know where to go. For those who prefer quick and on-the-go, City Bakery is the right choice for you. The bakery serves an array of sweet & savory food items, but their hot chocolate is the real winner. So much so that they even have an entire month every year dedicated to celebrating their hot chocolate. The drinks are velvety, thick, rich and topped off with one of their homemade marshmallows. Now, I'm sure all you chocolate lovers out there will be excited to see the words Jaques Torres. For those who aren't familiar, Jacques and his chocolate shop have made a huge impression on the chocolate scene here in New York and their hot chocolate is no exception. Their Wicked Hot Chocolate isn't just your average chocolate drink, it sets the bar high with allspice, cinnamon, ground chilies and smoked peppers. But don't let the heat intimidate you, it's very subtle and provides for a much more complex flavor that will pleasantly surprise you. Finally, for a more formal, sit-down option consider Mariebelle. A hidden gem tucked away in SoHo, Mariebelle will charm you with its' old fashioned decor and delicious treats. As for hot chocolate, you have the choice between almost twenty different flavors, all of which will knock your socks off. Samples are even offered for free for those who are afraid to commit.
3. Nature
One might not immediately think of nature when thinking about the winter. As the cold days seem to suck up any natural life that remains. However, there is something very beautiful about a crisp, cold, winter morning. Where the sun is shining, perhaps even glistening off the snowfall from an earlier day. Nowhere in New York is this vision more appropriate than in Central Park. It's true, there are many who avoid the park as the days get darker and colder, but spending a snowy day in Central Park is as magical an experience as you can have here in the city. Looking up at the trees whose branches have been coated in white, watching the snow trickle down onto the ground where it will remain in its peaceful state before being shlepped away by shovels and footprints. If you're fortunate enough to experience a snowfall from Central Park, you will truly be very lucky. Take a quiet afternoon stroll, go skating at Wollman Rink, or be even more adventurous and join the locals for some sledding at Pilgrim or Cedar Hill. Or, try venturing down to Brooklyn Botanic Garden. On the first Sunday of December, January, February and March the garden features fun, wintry events and programs for people of all ages. Go on a nature walk, admire the active mammals and birds, learn about all the different exotic plant species, all included with the price of admission.
4. Shopping
With winter comes the holiday season, and with the holiday season comes shopping! New York is always brimming with a plethora of shopping choices, but the number grows even higher during the holiday season with New York's multitude of holiday markets. The largest and most famous is The Winter Village at Bryant Park. As mentioned, this holiday extravaganza is only minutes from Times Square and features food and ice skating as well. The entire park transforms into a winter wonderland complete with lights, decoration and even special programs. Slightly smaller, but still just as active is the Union Square Holiday Market. Always a favorite amongst those looking to support local businesses, you'll find the most unique and varied shopping experience. Artwork, candles, jewelry, beauty products- many of them artisanal and made with recycled or vintage items. If you're looking for a break from the outdoors, or just want to escape the cold for a bit, visit Grand Central Terminal Holiday Fair. Located in Vanderbilt Hall, this indoor market features 40 shops ranging from hand-made art, to toys, to clothing and accessories. Finally, those wishing to travel further up north, or maybe wanting a little side trip while visiting Central Park, check out Columbus Circle Holiday Market. Now in its' 15th year, this market has almost 70 shops for you to choose from, almost guaranteeing you will find something you love.