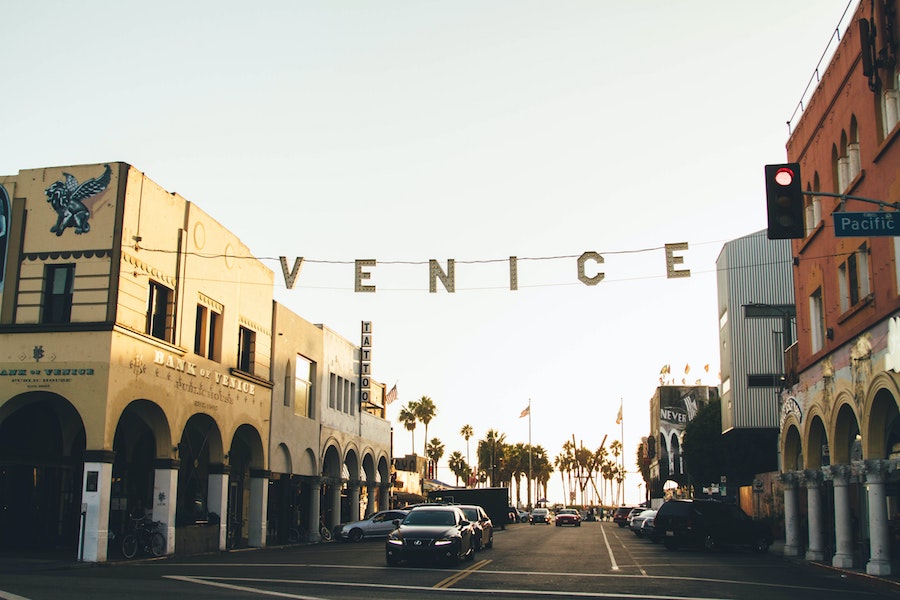 What is a trip to Los Angeles without a visit to the beach? And the most famous beach in LA is undoubtedly Venice Beach. It's not necessarily because it's the most beautiful beach in the area. It's because the lively atmosphere, great people-watching, and distinctive character are just a little different from what you'll find in other beach towns.
There's much more than the beach in California's Venice. Here's how you should spend a full day in this vibrant neighborhood.
Introducing Venice Beach
Venice Beach as we know it — artsy and edgy — didn't start out this way. Venice Beach was founded in the early 20th century by a tobacco millionaire from the East Coast, Abbot Kinney (more on him later). He envisioned it as a beach resort town modeled after his favorite canal-filled city in Italy. You can probably guess which one.
Initially, the place was filled with beach cottages, and the pier housed amusement park rides. Venice has gone through a few phases since then. The neighborhood was neglected for a while, and the lower rent attracted immigrants and artists. Now, it's experiencing both residential growth and commercial development. What you'll see now is a blend of all these influences, from charming beach cottages, counter-culture artists, and trendy eateries — all in one neighborhood.
Venice Boardwalk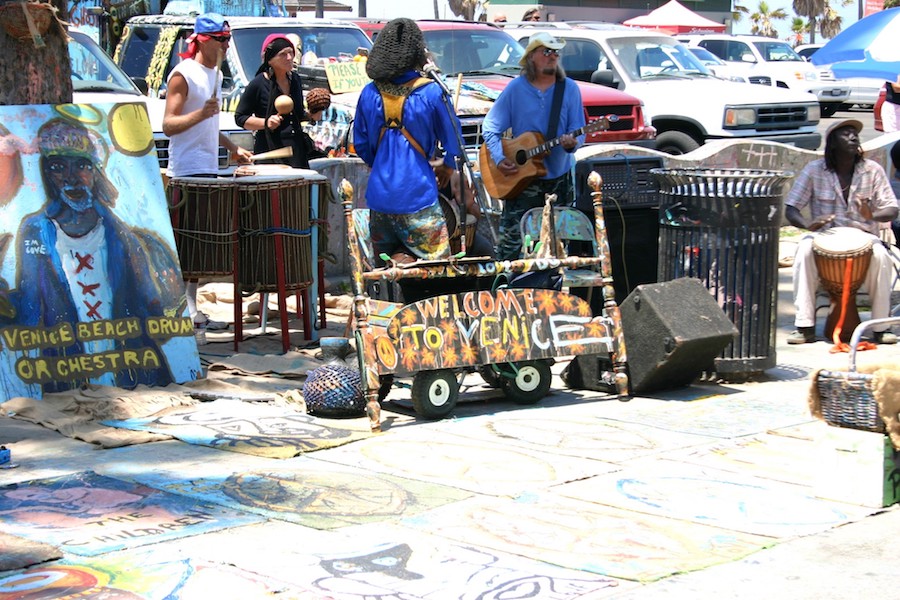 If you have a quintessential picture in your mind of what Venice Beach looks like, you're probably thinking of the boardwalk. The second most visited destination in Southern California, Venice Boardwalk is a great place to start your day. Also called Ocean Front Walk, this beachfront boardwalk is filled with street performers, a skate park, street vendors, an open-air body building gym, and shops touting tourist goods and bohemian trinkets. A few performers have gained local stardom over the years, such as the roller-skating electrical guitarist Harry Perry.
While you're in the area, snap a photo of the Venice sign (shown in the feature image), a replica of the original sign that hung here in 1905. You'll also want to save time to walk on the beach and check out the graffiti on Venice Art Walls, also known as "Graffiti Pit." The walls get repainted regularly, so you can expect something new on each visit.
Venice Beach Canals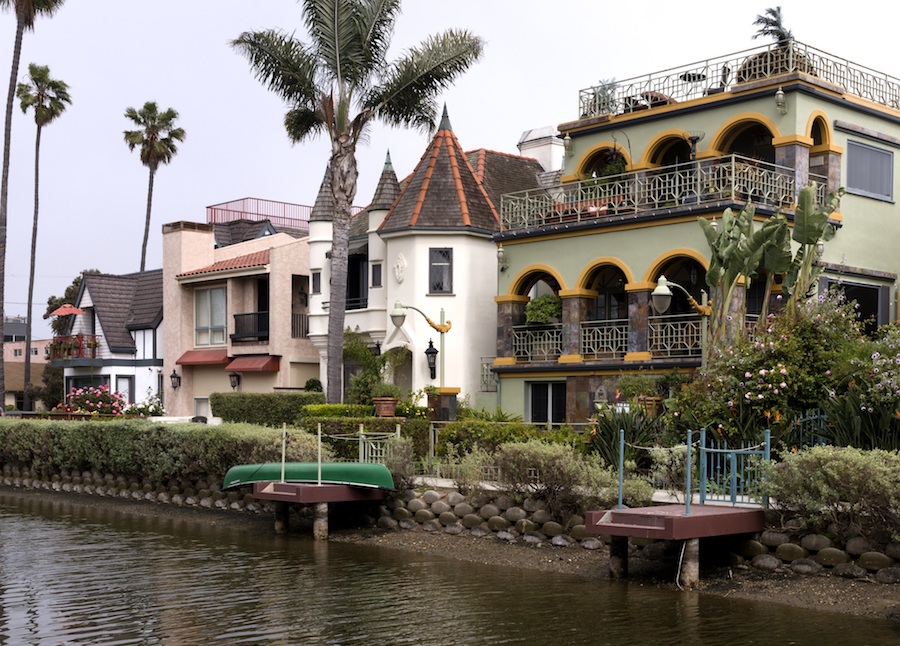 A few blocks south and an easy stroll from Venice Boardwalk, you'll find another famous Venice Beach attraction. Just like its namesake in Italy, California's Venice also has canals. There were originally seven canals, but some have been filled in to make way for public roads. (Here's a little history on how the Venice Beach Canals started.)
Now, there are four canals that sit a few blocks away from the beach, just south of S. Venice Boulevard. The canals are surrounded by an upscale residential neighborhood and make for a nice stroll.
Abbot Kinney Boulevard
Named after the millionaire who founded Venice Beach, Abbot Kinney Boulevard is probably closer to what Kinney had in mind compared to Venice Boardwalk. It's about a 10-minute walk in-land from the canals, making it a great spot to head next.
This mile-long road is a popular destination for locals thanks to its lineup of curated restaurants, boutique shops, and art galleries. Stores stay open late on the first Friday evening of each month, and the area draws crowds with food trucks and live music. An afternoon break here is always nice with the boulevard's hip coffee and ice cream shops.
The Essentials: Parking and Food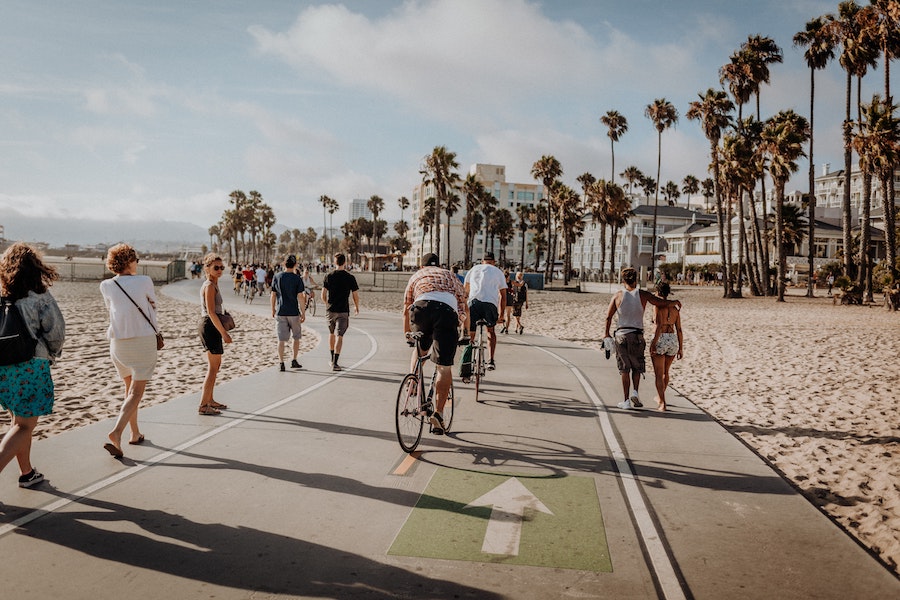 Venice Beach has a lot to offer, so it's good to familiarize yourself with the lay of the land to maximize your time. Here's what to know about parking and where to eat in the area.
Parking in Venice Beach
Parking near the popular destinations, including Venice Boardwalk and Abbot Kinney Boulevard, is difficult to come by, so come early if you want to score a street parking spot. Otherwise, there are paid lots available, though they will cost more.
Pro tip: If you like the exercise, rent a bike and ride on the bike path from Santa Monica to Venice Beach. The bike trail follows the shoreline and gives a great view of the beach and the ocean. It's actually part of a 22-mile bike trail that goes to Torrance, so if you're tempted to go further south, you can.
Where to Brunch in Venice Beach
You're most likely going to visit Venice Beach during the day, so brunch should be on your list of things to do. The colorful patio at Sunny Spot is the perfect place to enjoy Caribbean cuisine and cocktails with friends. Between its diverse menu and well-stocked pastry case, The Rose is always a crowd pleaser.
On Abbot Kinney Boulevard, Neighbor's back patio overlooks a lovely little garden and Yours Truly's Dutch baby pancake would fuel your day on the beach.
Where to Have Dinner in Venice Beach
Once you're done exploring the beach and its daytime attractions, there are a number of great options for dinner in the area. Felix Trattoria's handmade pasta makes for a great meal anytime — but be sure to make a reservation. Meanwhile, the Tasting Kitchen's Mediterranean fare and great cocktails put them at the top of many locals' favorite restaurant list
Where to Drink in Venice Beach
Where you should drink in Venice Beach depends entirely on the kind of experience you're looking for.
High Rooftop Lounge at Hotel Erwin is the only rooftop lounge in the area — surprisingly — and offers a nice sunset view with decent drinks. Looking for that craft beer bar vibe? Venice Ale House is right on the boardwalk and has a solid selection of mostly-California craft beers on tap. More of a craft cocktail person and have a deep wallet? The speakeasy Old Lightning boasts some of the best rare liquor selection in the country.
Pack Your Bags for Venice Beach
Venice Beach certainly should be on everyone's itinerary of LA neighborhoods to visit, whether you're looking for a beach vibe, quirky culture, or hitting the city's best food spots. When we talk about seeing the highlights of LA, Venice Beach is right up there at the top of the list, alongside Hollywood and Beverly Hills. Pack your sunscreen and bring your shades. This is one beach town you can't miss.