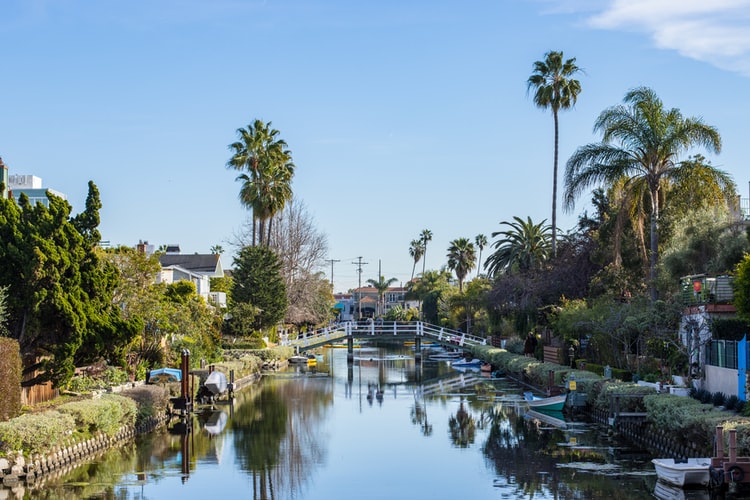 Venice Beach is known for its skate, surf, and beach culture. Think bodybuilders pumping iron at Muscle Beach, and the babes and bros of "Baywatch" running in slow motion near the shore.
But not everyone knows that Venice, California, was inspired by Venice, Italy — at least in its name. There isn't a lot that these two cities have in common, but there's one unusual feature both share: beautiful canals.
That's right. Venice has another water-filled attraction that isn't the beach. The canals are almost as old as the city itself and still offer a place for folks to admire the picturesque views.
In this article, I'll share why Venice Beach has these unusual canals and how you can experience them when you visit Los Angeles.
How Venice Beach Got Its Canals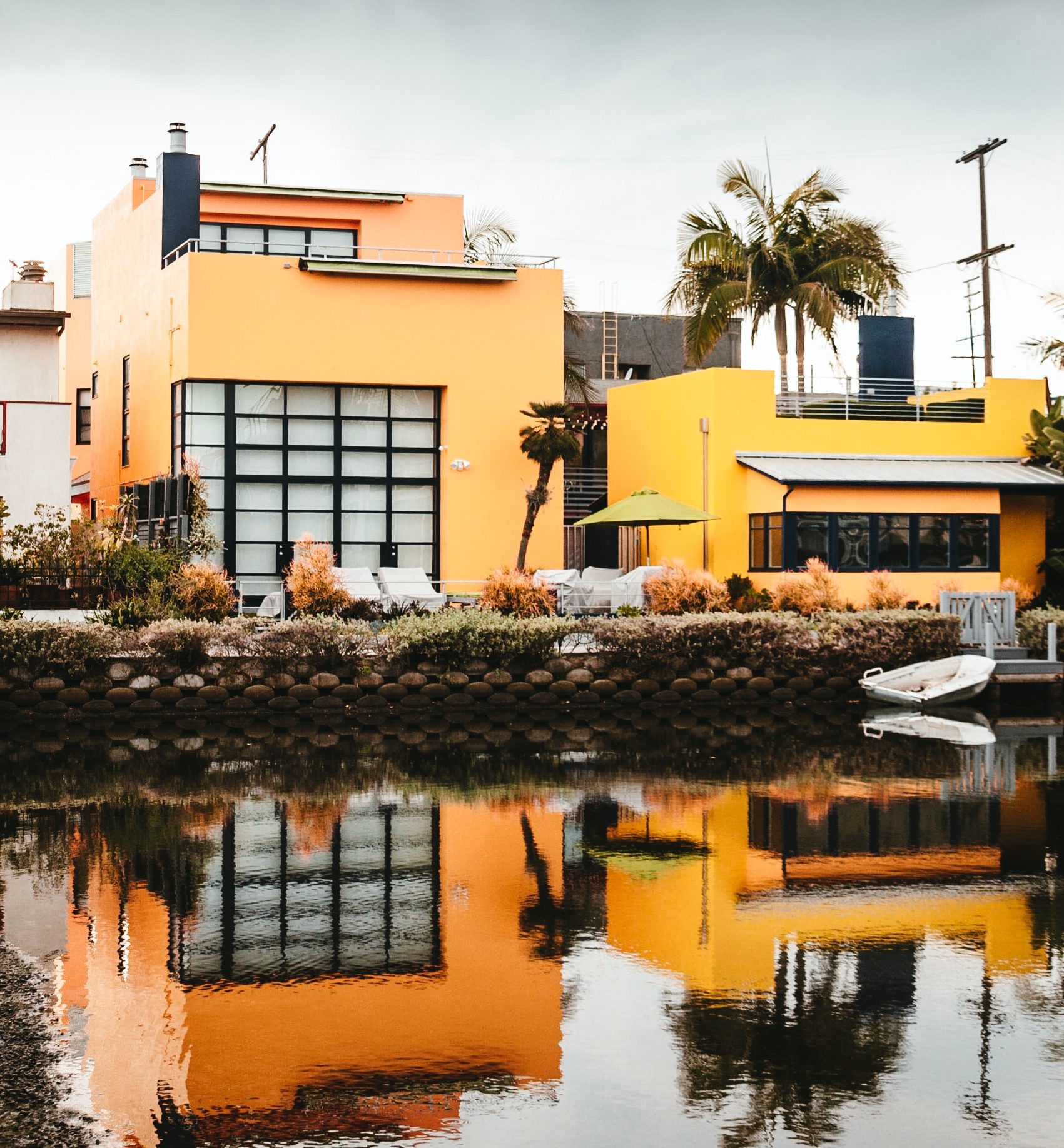 Today, six waterways flow through a neighborhood just a block away from the beach boardwalk. They're all that remain of a much more vast network of canals that brought in spectators from all over the U.S. in the early 20th century.
Here's how it happened. Venice was developed by a man named Abbot Kinney. After taking a walking tour of Venice, Italy, Kinney was determined to bring that level of grandeur to the States in the form of a resort destination.
He chose southern California because of its beauty and ideal climate — and who can blame him? He also liked it because his asthma didn't flare up here.
Along with building lavish hotels, restaurants, a boardwalk, and amusement pier, Kinney and his crew dug out nearly 16 miles worth of canals in order to mirror Venice's European counterpart.
It was an instant hit. Tourists from all over the country came to marvel at Venice of America.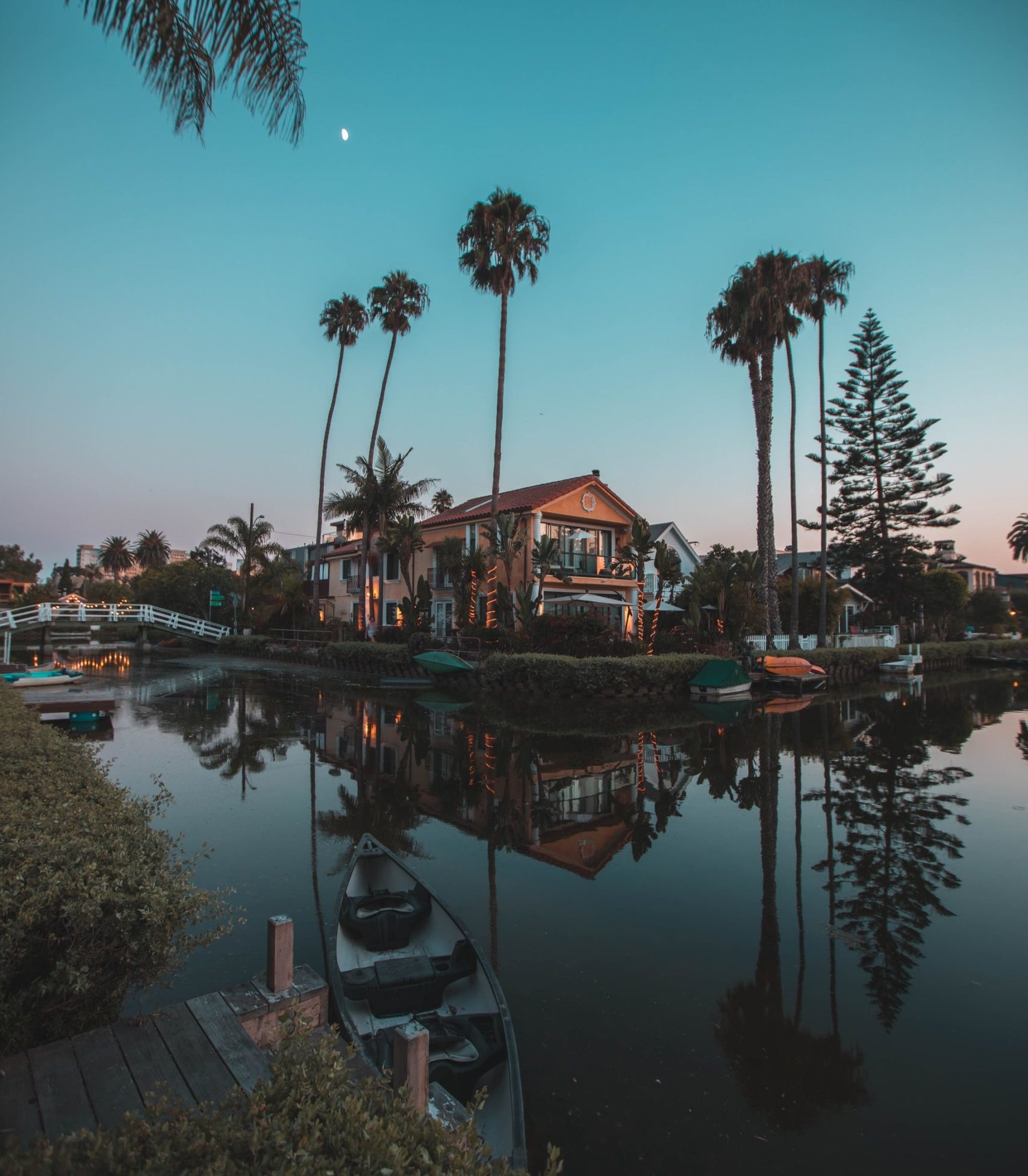 Unfortunately, by the late 1920s, most of the canals had been converted into streets due to the rise of LA car culture and a growing number of vehicles on the road. The remaining canals were saved not from a desire to preserve history but simply due to lack of funding to convert them.
In the long run, that benefited property owners here. The land value around the canals is some of the highest in Los Angeles, and it's easy to see why someone would pay top dollar to live there on the water.
Visiting the Canals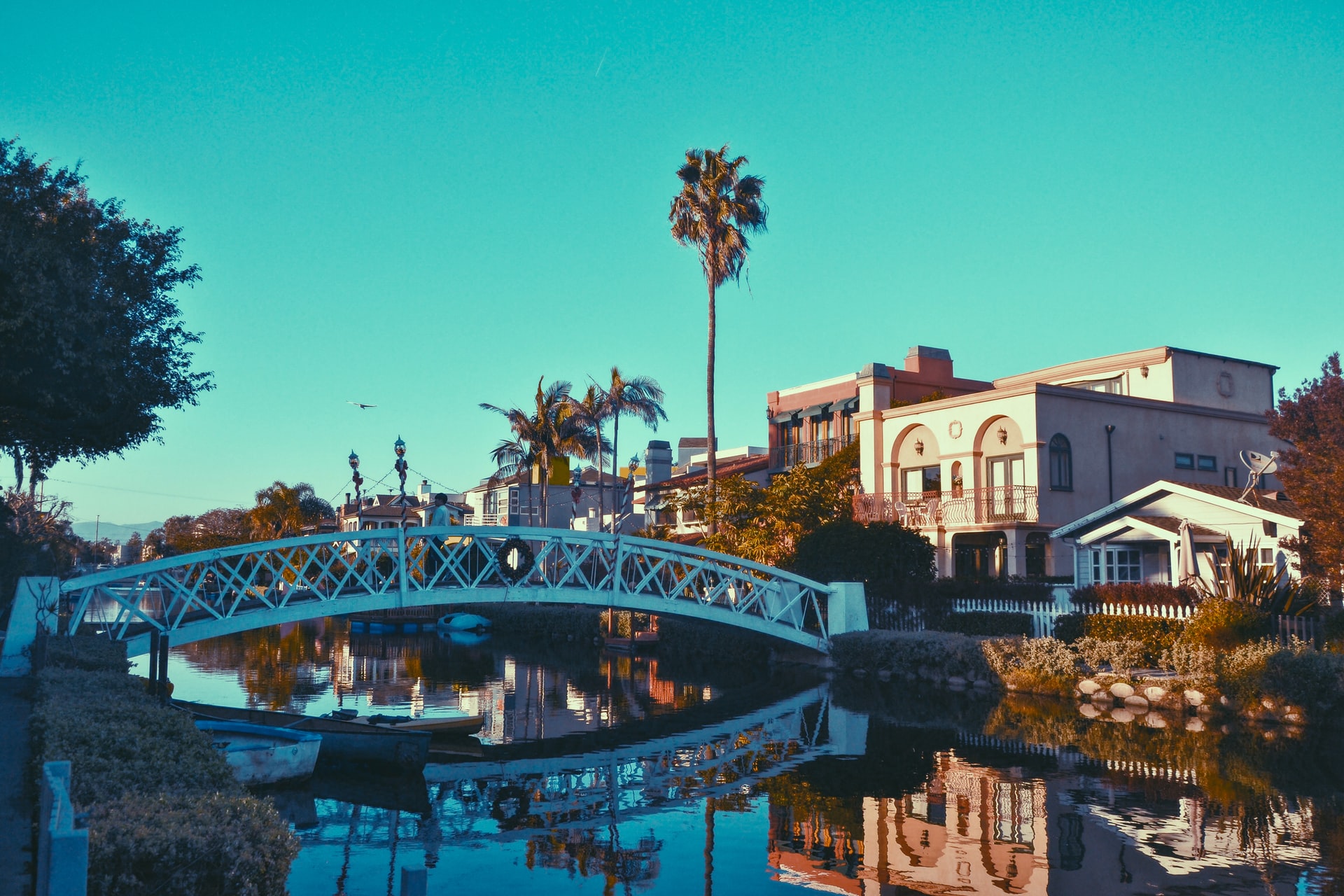 If you want to see the Venice Canals, I can tell you it's not your usual tourist destination, but that's OK. The canals form an upscale, quiet, residential area, and plenty of travelers make the trip just to see them.
In less than an hour, you can stroll among the scenic waterways, take Instagram-worthy pics on the many bridges, and admire the unique architecture of the homes along the water. The walkways around the canals are so close to the houses, I find you can't help but stop and say hello to the residents you'll pass sitting in their yards enjoying the sunny California weather.
What's unique about this neighborhood is that it is probably one of the quietest, most tranquil areas in all of Los Angeles. And yet the characters of Venice Beach and Muscle Beach are only a few blocks away.
Guide tip: If you fancy spending some more time in the area, or enjoying the tranquility of the canals at night (gorgeous), consider renting a property along the Venice Canals. Prices start as low as $199 a night, and it would definitely make for a unique LA experience.
Things to Do in the Area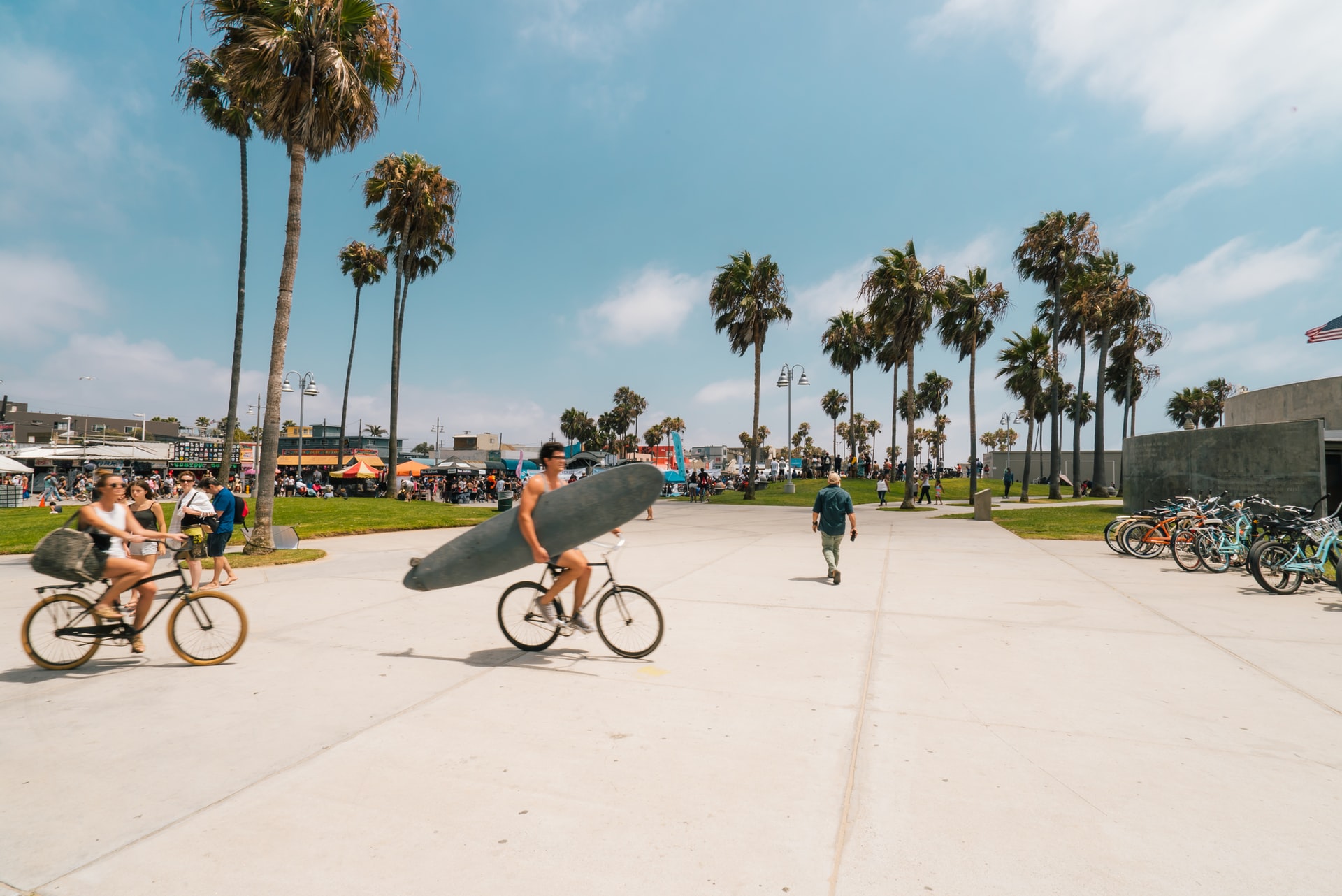 The Venice Canals benefit from being within walking distance of Venice Beach, Muscle Beach, and Marina del Rey. Venice Beach is just a 10-minute walk away. It's one of the most colorful, vibrant neighborhoods in all of Los Angeles. The boardwalk is lined with gift shops, bars, psychics, and bodybuilders showing off their skills and their muscles.
If you're feeling hungry, stop by The Venice Whaler for seafood, tacos, their famous burger (voted among the top 10 in LA) and incredible views of the ocean. The Venice Farmers' Market is also just a few short blocks away from the canals. Open every Friday from 7 a.m.-11 a.m., the market is teeming with stalls offering fresh produce, local California honey, fragrant lavender, and all sorts of fresh-cut flowers.
Answers to Your Questions About the Venice Canals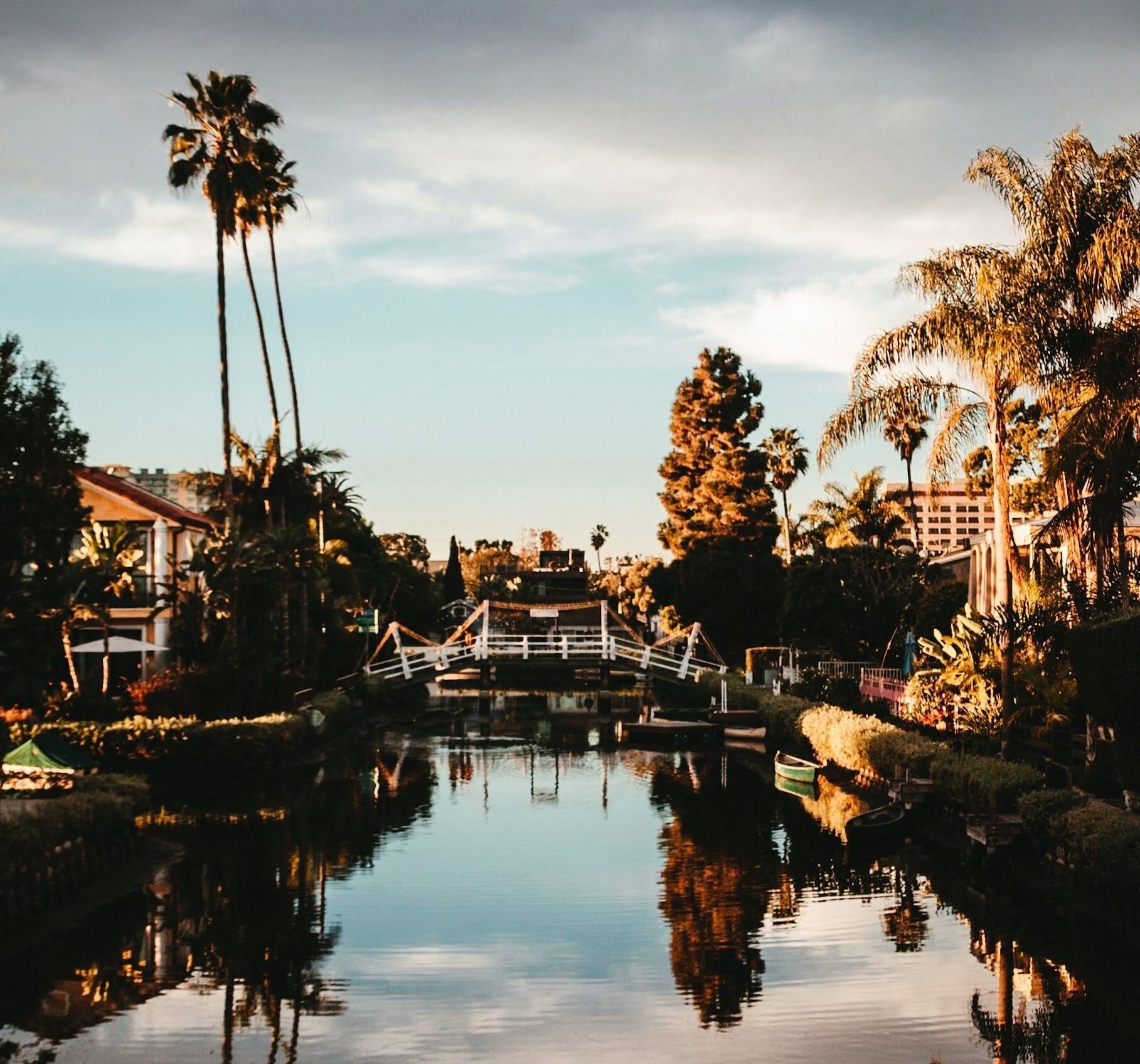 How do I get there?
Driving to the Venice Canals is the easiest way to get there. The canals are located immediately south of the westernmost end of Venice Boulevard, just west of the 405 Highway. There is street parking and paid parking throughout the area. You can also take the LA Metro Expo Line to the Santa Monica stop. The Venice Canals are a short Uber or Lyft ride from there.
Can I go at night?
Absolutely! I think the canals offer an even more romantic vibe at nighttime, with lights reflecting off the water and fewer tourists around you.
Am I allowed to take pictures?
Sure. Even though private homes are right up against the canals, photography is fine, though you might want to avoid photographing people in their yard out of politeness. After all, their lawn is private property. The most popular spots for photos are the many curved pedestrian bridges connecting the various canals.
Can you kayak in the Venice Canals?
There are no public boat or kayak rentals here due to it being a residential area not zoned for commercial activity. You may be able to bring in a kayak or canoe, but no motorized or large boats are allowed. But check Venice guidelines before trying this since you'd be subject to any permits or permissions of local authorities.
My preference? It's not a large area, and you can see everything easily on foot, so walking is the way to go.
The Venice Canals: A European Twist on LA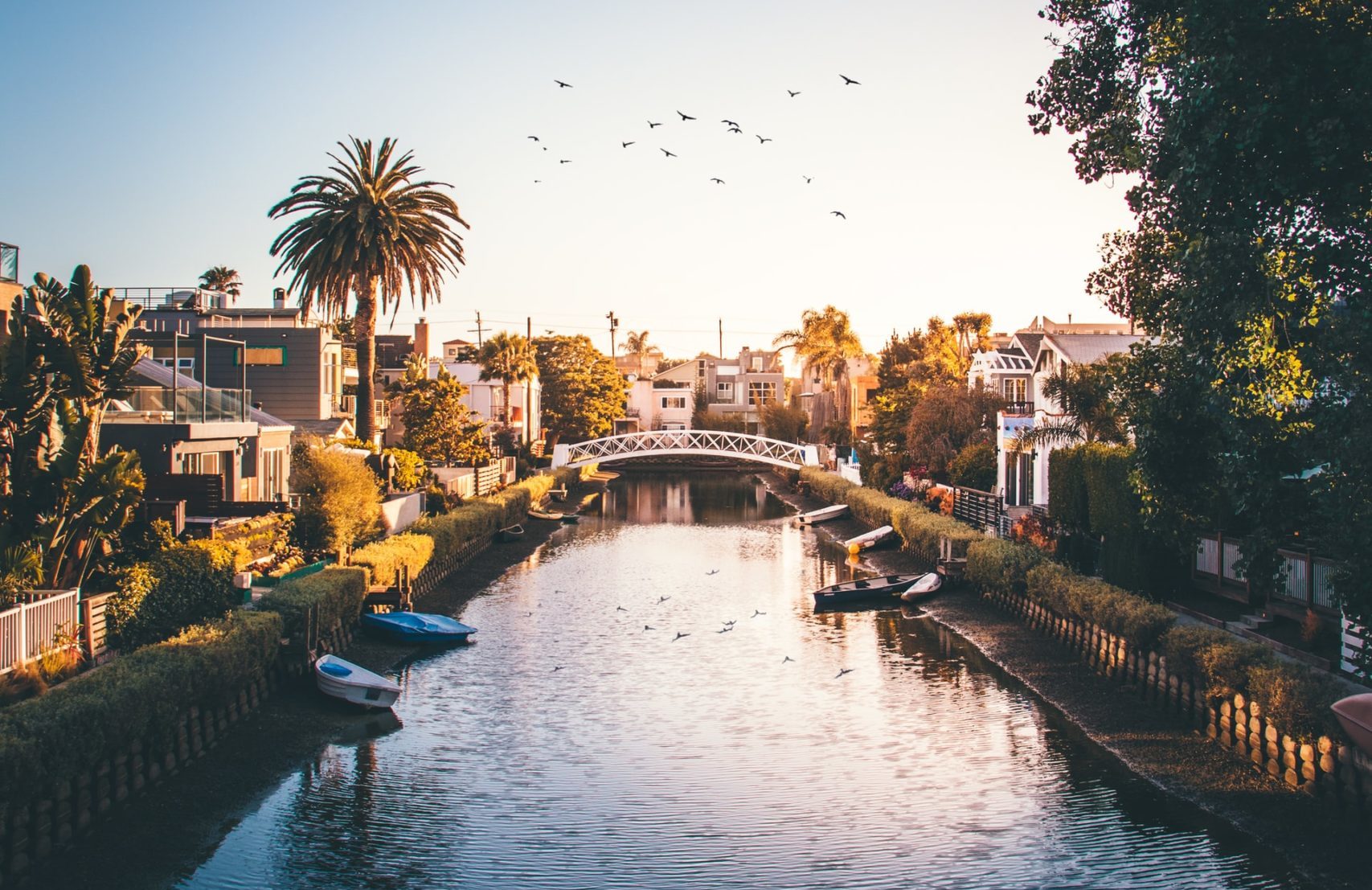 The Venice Canals are one of the most unique things about Los Angeles, and definitely worth the trip to the city's western edge. The atmosphere is unlike anything else in LA, and with so much within walking distance, you can easily spend an entire day in this corner of the city.
Looking for some more fun near the beach that isn't all about sand and surf? Check out our guide to the Santa Monica Pier and the history, fun, food, and more you'll find there.