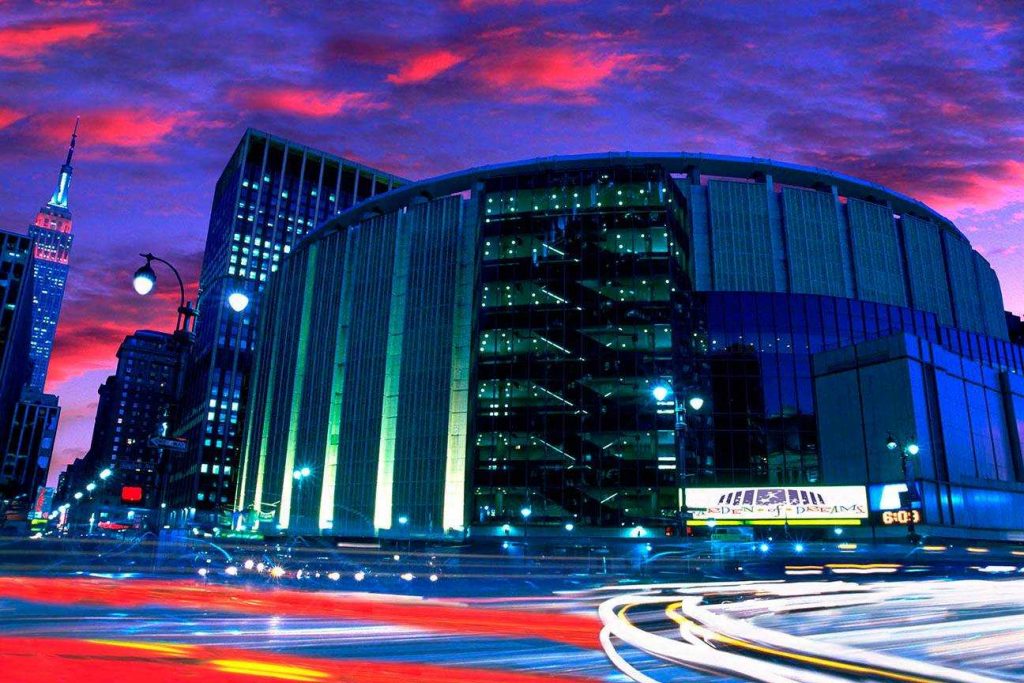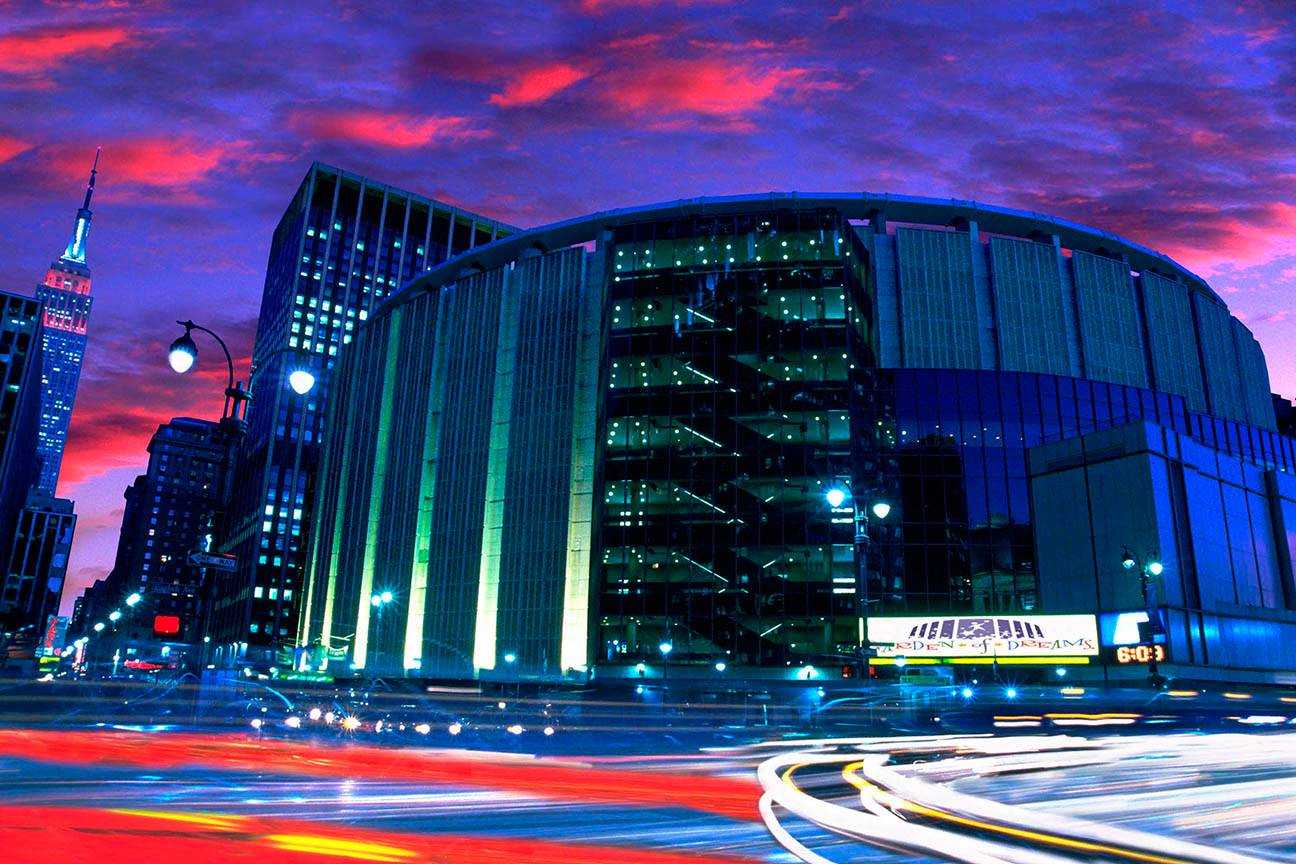 In the heart of Midtown Manhattan stands one of the world's most famous arenas. Atop the bustling platforms of Penn Station, Madison Square Garden has played host to sporting events, concerts, and performances since the 1960s. But it's far from the first venue to hold the name…
The history of Madison Square Garden is filled with creation and destruction, ambition and even murder. In a city where it's rare for a building to rise twice, this venue has been demolished and rebuilt four times, in three locations.
The Origins of a Legacy
The first Madison Square Garden was created in 1874 by renowned showman P.T. Barnum. Barnum had taken possession of the New York and Harlem Railroad Station. He converted the open air building, located at East 23rd and Madison, into an oval arena measuring 280 feet long. Barnum called his creation the "Great Roman Hippodrome" and hosted circuses, sporting events, and a popular bicycle race. Boxing matches, illegal at the time, were presented as "illustrated lectures."
The Garden passed hands several times until it came under the ownership of William Kissam Vanderbilt. Vanderbilt made two major contributions. He sold the drafty, open building to a syndicate with plans to replace it, but first he renamed the venue: Madison Square Garden.

A Beautiful Tragedy
The Madison Square Garden syndicate included such luminaries as J.P. Morgan, Andrew Carnegie, and W.W. Astor. The syndicate wanted a new New York centerpiece designed in the popular Beaux-Arts style of the time, and hired famed architect Stanford White to design it.
White's Madison Square Garden had a distinct old-world Moorish charm while still including modern features. The 32 story tower, capped by a minaret inspired by Spain's Giralda, boasted an 18 foot nude statue of the goddess Diana. This extravagant golden statue would play a tragic role in the fate of the architect.
Despite his friendly persona, Stanford White was a notorious seducer of young woman. One target of his unwelcome affection was Elizabeth Nesbit, a chorus girl and model. White and Nesbit met in 1901, when he was 42 and she just 16. Several months into thier acquaintance, White assaulted an unconscious Nesbit in his apartment on 24th Street.
Nesbit would go on to marry Harry Kendall Thaw, a mentally unstable heir to a coal fortune. Thaw's paranoia and jealousy concerning his wife's past pushed him over the edge. On the evening of June 25th, 1906, Thaw encountered White in the rooftop theater of Madison Square Garden. Incensed by the statue above, rumored to be inspired by Nesbit, Thaw pulled a pistol and shot White repeatedly in the face and chest. White died immediately, and Thaw would eventually stand for his crime in the "Trial of the Century." The court acquitted Thaw by reason of temporary insanity.
Despite becoming a New York centerpiece, Madison Square Garden II would never turn a profit. After repeated efforts, the building was demolished to make way for the New York Life Building.
Madison Square Rises Again, Somewhere Else
With the loss of Madison Square Garden, the city again found itself in need of a new arena. In 1925, over 25 blocks away, MSG III opened at 50th and 8th Avenue. In stark contrast to White's elaborate designs, the focus of this iteration of Madison Square Garden was utilization. The arena could seat over 18,000 fans, but most found their sight-lines blocked and the uncirculated air to be stuffy and hazy with cigarette smoke.
Despite these shortcomings, MSG III was a critical part of a rapidly growing city. Political rallies, title fights, and religious revivals would bring thousands of ticket holders nightly. Marilyn Monroe sang her memorable rendition of Happy Birthday to JFK in the arena.
After nearly 50 years, increasing customer expectations overwhelmed the aging building. It was time for a new, better Madison Square Garden.
A Modern Garden
Plans for the demolition of MSG III coincided with the search for a new address. The city had grown exponentially since the 1920s, and space was at an all time premium. Unfortunately, that put some of New York's most beautiful architecture in the crosshairs. Penn Station, a marble Beaux-Arts masterpiece, was torn down in favor of the new Madison Square Garden. This tragedy would eventually drive the citizens of New York to create the Landmarks Preservation Commission.
The modern Garden features a 20,000 seat arena and a smaller 5,000 seat theater. Events ranging from hockey and basketball to concerts and even a rodeo have drawn millions of fans over the years.
Yet the future of Madison Square Garden is again unclear. The city's desire to renovate and restore Penn Station conflict with the current location. Management is in ongoing talks with the city and neighborhood zoning panels, and current plans do look good for some, if not all, of MSG's current facilities.
Only time will tell if MSG is here to stay, or if another venue will once again become "the world's most famous arena." In the meantime, come explore Midtown Manhattan as part of New York Tour1's New York in a Day tour.