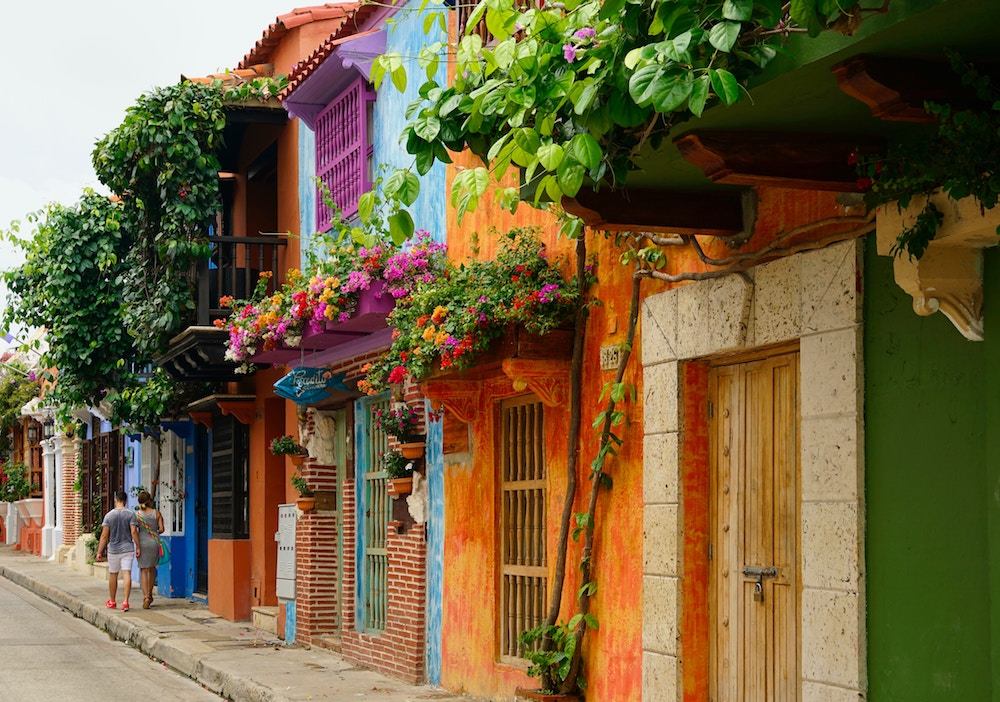 Note: This is a guest post from our friends at Aracanto, who are experts in Colombia travel. If you're looking for a few days away in Colombia, this itinerary will give you some inspiration on what to see and do in the country's most popular destination: Cartagena.
With this itinerary, we'll take you on our favorite journey to explore Cartagena, the colonial jewel of the Caribbean. Bathed in sunshine, culture, gastronomy, and dancing, Cartagena is one of the world's most romantic and fun cities. With its magical sunsets, intricate architecture, and mouthwatering cuisine, it's the perfect place for anyone who wants to experience authentic Colombian culture. To finish up your itinerary, stay in an island boutique hotel for a few days and enjoy the beach. After visiting this paradise, you won't want to leave!
Itinerary Details
Cost: mid-range, luxury
Travel type: groups, family, couple
Number of days: 5
Interests: culture, food, monuments, tours, beach, art, architecture, shopping, hidden gems
Transportation: shuttle, car, walking, boat
Season: year-round
Author type: expert
Day 1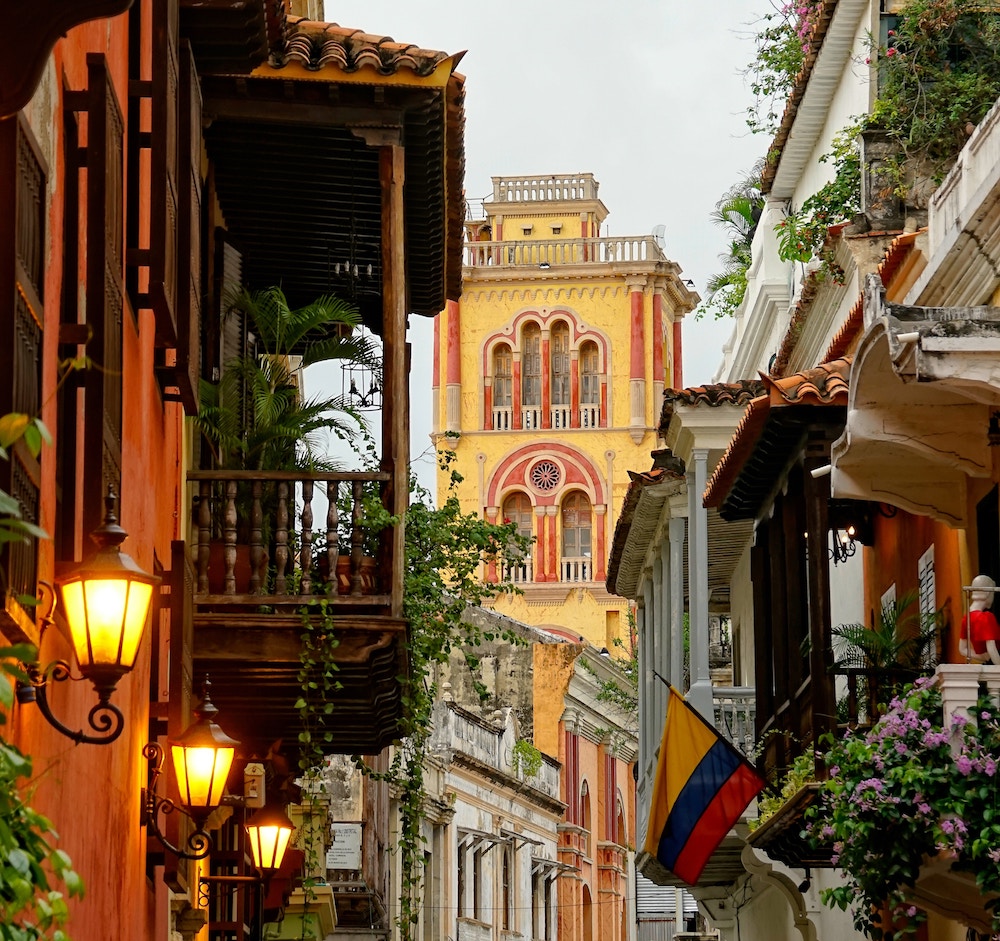 Airport Transfer
20 minutes
Welcome to Cartagena! We'll organize a private transfer from the airport to make your arrival as smooth as possible — your driver will be waiting for you with a sign with your name. You will head to your Cartagena hotel where you can leave your luggage and start enjoying your first day in the beautiful city of Cartagena.
City Tour
4 hours
A private bilingual guide (one of the best local guides in the city!) will pick you up for a four-hour tour. This tour will cover all of the main highlights of the city and you will also learn about the history of Cartagena through local stories shared by your guide. We love trying local food along the way, so we'll make sure your tour has a few stops at the best coffee houses and food stalls in the city. Make sure you bring comfortable shoes, water, hats, and sunscreen.
Here's what you'll cover on the tour:
Start with La Popa Monastery, where you can appreciate the best views of Cartagena de Indias. This is a top spot for pictures.
From there, you'll head to the fort of San Felipe de Barajas, an architectural wonder that shows the strength and power the Spanish had in Latin America.
Your next stop will be the Walled City, where you will see the Bóvedas, another example of military architecture and fascinating history. At Las Bovedas, you can buy local art and crafts by local artisans. This is also a great place to find souvenirs to take back home.
You will continue by walking through the old city and discovering the magical streets of Cartagena. There you will see beautiful houses, squares, and churches.
You will also visit the San Pedro Claver church, the patron saint of slaves in Colombia and African Americans.
The tour continues by car to the modern part of the city, with a panoramic view of Bocagrande, the beach area, and the island of Tierra Bomba.
After four hours, you'll definitely have a better understanding of the city. Plus, you'll have lots of fun along the way. The city tour includes private transportation, a bilingual local guide, and admission to San Felipe Castle and La Popa Monastery. We always like to do this tour either the first or second day after arriving in Cartagena since it's such a great intro to the city.
Dinner Reservation at Candé
2 hours
At the end of the day, dine at Candé. This restaurant offers great food and a live performance of local dances. We love to include this as one of your first culinary experiences so you can learn about Colombian folklore as you fill up on Caribbean food and drinks.
Day 2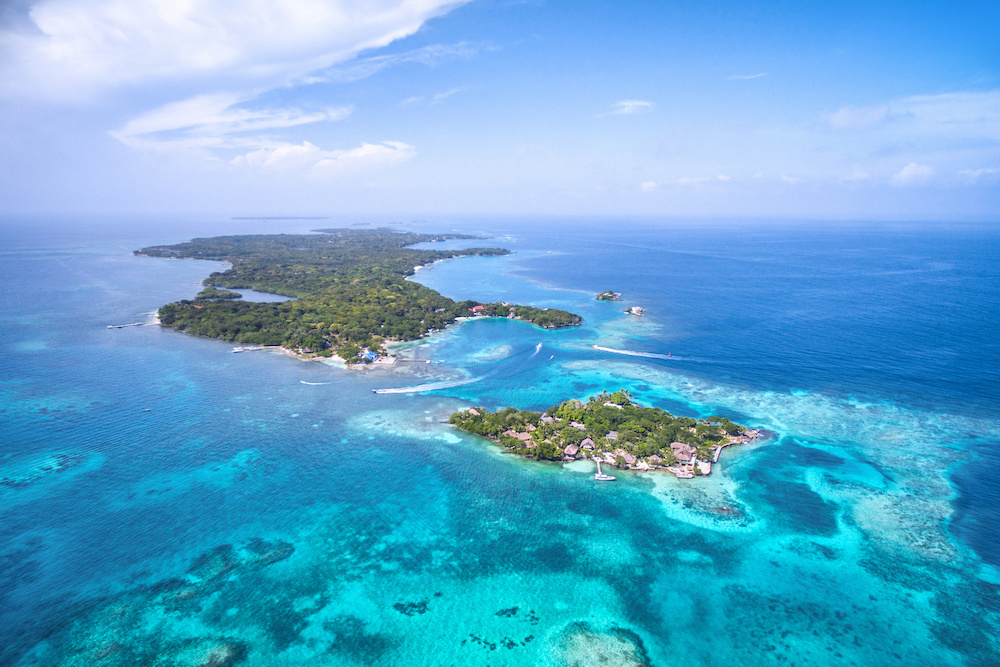 Day Pass at the Islands
6 hours
Get excited because today you will visit the islands of Cartagena! This is your chance to relax and enjoy a day at the beach. A private driver will pick you up from your hotel and take you to Port Muelle de la Bodeguita. From there, you'll take a boat to the islands.
What are the islands?
The Archipelago of the National and Natural Corales del Rosario and San Bernardo National Park are known as the Rosario Islands. This is where you'll find the San Pedro de Majagua Hotel, about 45 kilometers southwest of the city of Cartagena de Indias on the northern coast of Colombia. These islands are really an archipelago formed by coral reefs. Their crystal waters and small coralline beaches are great for recreation and relaxation — perfect if you're traveling with a family or group since there's something for everyone.
You can snorkel or dive, go swimming, enjoy the sea and the waves, tan under the Caribbean sun, practice kayaking, relax and enjoy nature, or take a local tour to see more of the island by bike or on foot. If you have time and want to, you can even get a massage at the spa.
In the early afternoon, you will take a boat back to Cartagena where a driver will be waiting to pick you up at Port Muelle de la Bodeguita. Welcome back to Cartagena! Get settled into your hotel and then head out to explore the evening.
Dinner Reservation at Mistura
2 hours
Before dinner, we'll make a reservation for you at one of our favorite rooftops in the city where you can watch the sunset while you dine. There's live music, too!
Day 3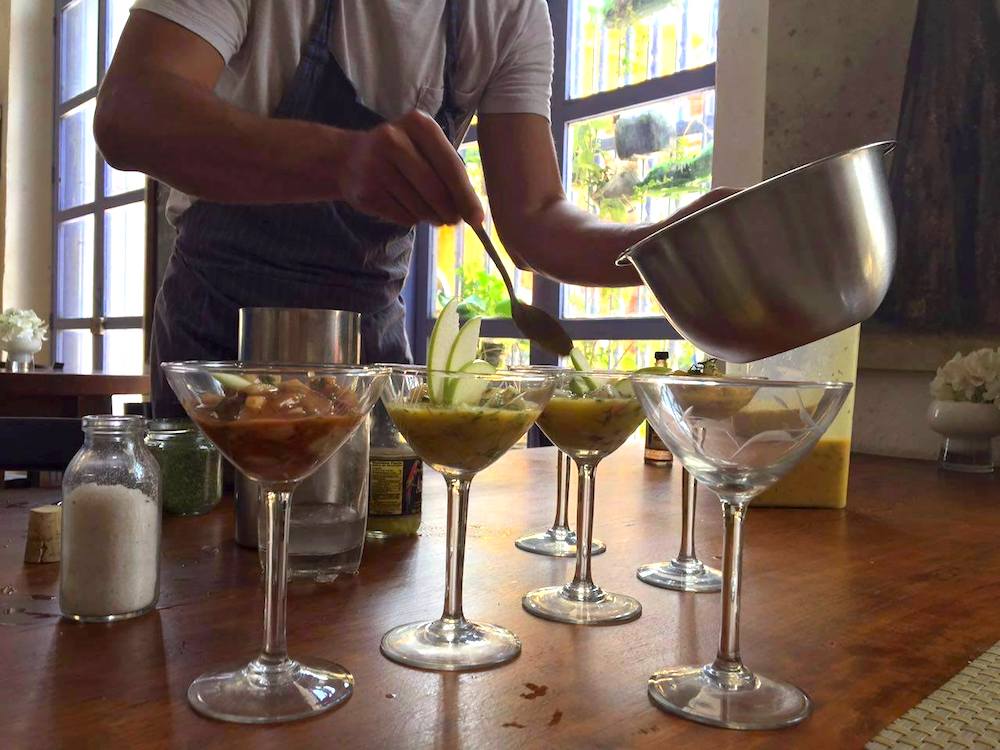 Local Gourmet Cooking Class
3 hours
Enjoy a gourmet cooking class at one of the best restaurants in Cartagena, and learn to cook Colombian food with one of Latin America's best chefs. You'll prepare exotic drinks as well and be welcomed with a refreshing Caribbean cocktail.
We highly recommend this unique cooking class for groups with foodies. You'll have the chance to interact with the chefs and learn about the aromas, recipes, ingredients, and local flavors that create delicious Colombian dishes.
Afterward, you'll sit down to enjoy a three-course lunch and drinks prepared by you and your group. This is a private, personalised experience, so we will make sure that the menu is customised to meet any food requirements or preferences. This is a must in Colombia, and an experience you'll never forget.
Colombian Coffee Tasting
1 hour
We invite you to taste Colombian coffee at its source. This short Colombian coffee experience awakens the senses with one of the best coffee shops in the country. You will learn to appreciate the particular attributes of specialty coffee through a delicious sensory exploration. Learn about coffee production in Colombia, and enjoy the different flavors and aromas of some of the best Colombian coffees. We also recommend adding a rum pairing or a local honey pairing, and combining the flavors of coffee with other aromas and flavors.
Dinner Reservation at Cuzco
2 hours
Tonight, enjoy a delicious dinner at Cuzco, one of the most popular restaurants in Cartagena. Experience the best of Colombian and Peruvian food as you listen to live Latin American music.
Day 4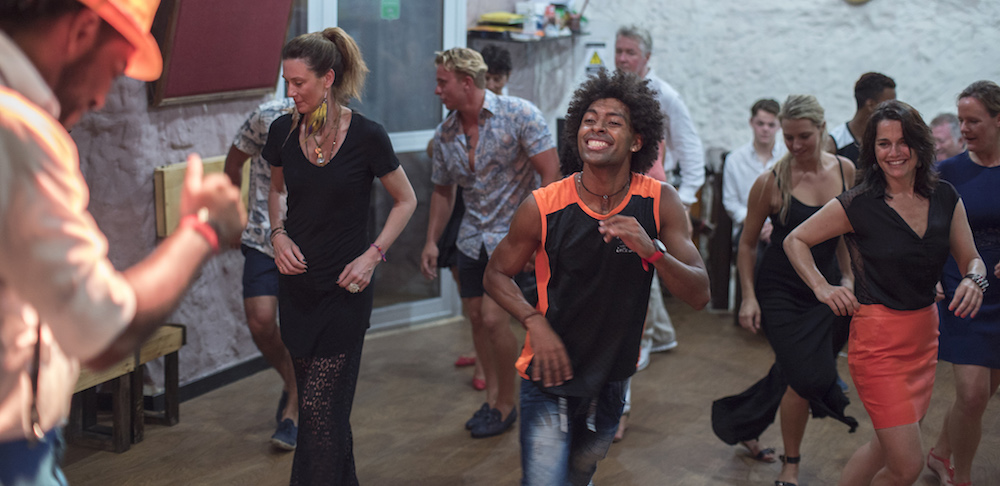 Latin Dance Class
1 hour
Lace up your dancing shoes for an exclusive private dance lesson for you and your group, taught by some of the country's best instructors. Practice your moves and learn different local rhythms such as salsa, merengue, reggaeton, and bachata. Dance to the rhythm of Colombians and experience the vibrant culture of Cartagena with this fun dance class!
We love this activity so much that we often schedule two or even three dancing classes during our visits to Cartagena. You will fall in love with Latin music, and learn from some of the best dance instructors. Go back home having learned how to move your hips and dance like a Colombian!
Rum and Chocolate Tasting
2 hours
This is a great Caribbean experience.
Colombia produces some of the best rums and, in this activity, you'll learn that firsthand. Taste some of the best Colombian and Caribbean rums paired with Colombian chocolate and small food platters. Each grade of rum and chocolate are carefully selected and paired to give you a unique sensory experience. The spectrum of rum and chocolate spans the coastal and mountainous regions of Colombia, from the smallest artisanal houses to the largest producers.
We recommend scheduling this activity in the afternoon, and buying some Latin American rum to take back home at the end of the experience.
Sunset Drinks Reservation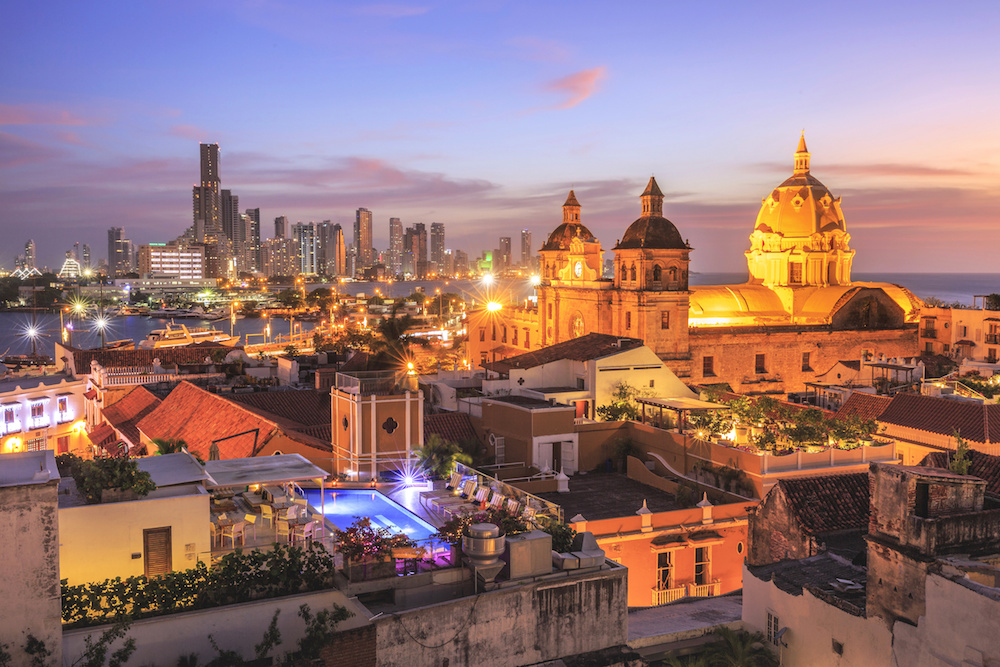 2 hours
It's time to enjoy dinner with a view of Cartagena. Watch the sunset, and enjoy drinks and food from one of the best viewpoints in the city.
We'll make reservations for you here so you get a table with the best view. Get ready to take some of the best pictures of your trip and enjoy local drinks like a piña colada or an aguardiente shot, a clear anise-flavored alcohol Colombians love.
Day 5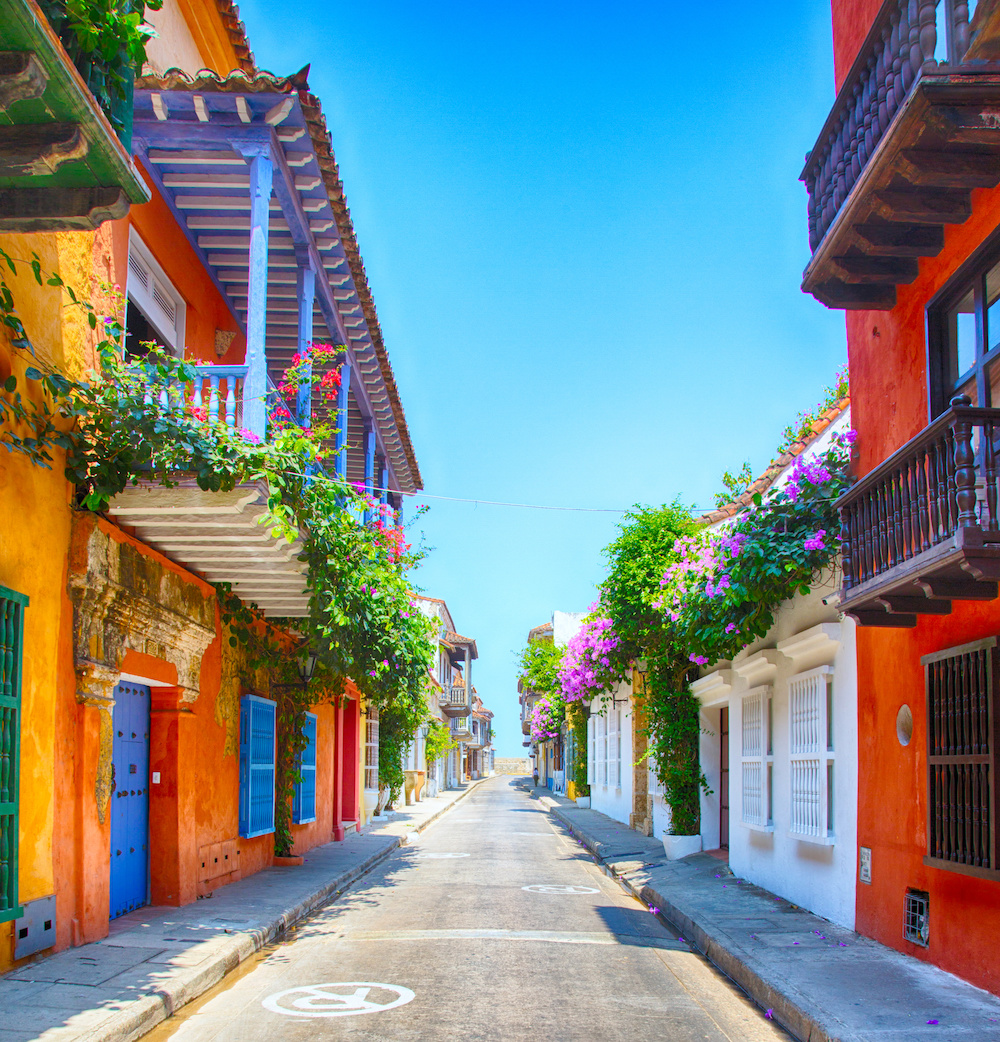 Mangrove Tour with Local Fisherman
2 hours
This is a fantastic way to spend the morning and connect with nature. Head to the old village of La Boquilla where you'll make your way by canoe into the ancient, foliage-covered tunnels of the mangrove forest. In fact, you'll be heading down the route taken by the Spanish in the 17th century.
Let yourself be amazed by the hundreds of species of birds who make their homes in Cartagena's mangroves. There's a lot of wildlife here to admire. This experience lets you learn how locals live and truly immerse yourself in Colombian culture.
Airport Transfer
20 minutes
A private driver will pick you up from your hotel and take you to the airport on time for your international flight back home.
We hope you enjoyed Cartagena and hope you come back to Colombia soon!
Ready to go?

If you're ready to book this itinerary, get in touch with Aracanto at info@aracanto.com. You can discover amazing places like Cartagena's charming old city, the renowned Colombian coffee region, the famous city of Medellin, the Amazon jungle, the thriving capital Bogota, and more. Experiences vary from diving excursions and spotting pink dolphins to salsa dancing, exotic drinks, and getting lost in the jungle. There's so much to do in Colombia.
Visit Aracanto to learn more about travel itineraries like this one.