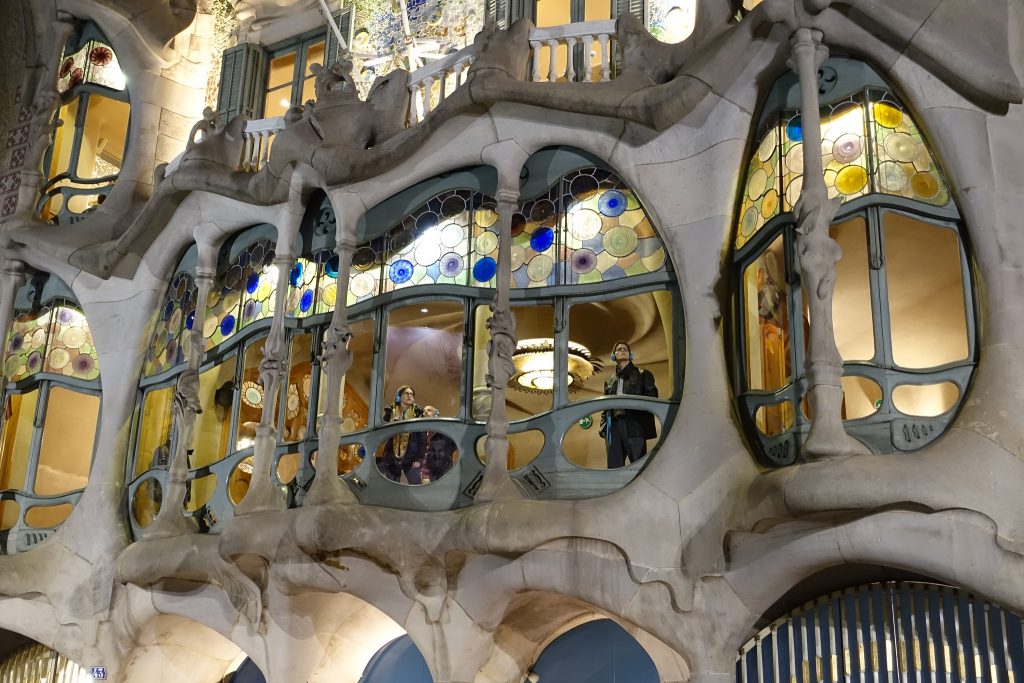 If you're planning a visit to Barcelona, you've probably heard about its incredible modernist architecture.
Catalan modernism, also called "modernisme," is an architectural style that dominated Barcelona at the end of the 19th century. But it was more than just an architectural style — it was a cultural movement based on artistic expression focused on beauty and nature. And you can't really get to know Barcelona without knowing a bit about this transformative period in the city's cultural history.
In this post, I'll share where to see the best modernist buildings in Barcelona today. Whether you're an architecture lover or a casual tourist, these are the places in Barcelona you can't miss.
1. Casa Milá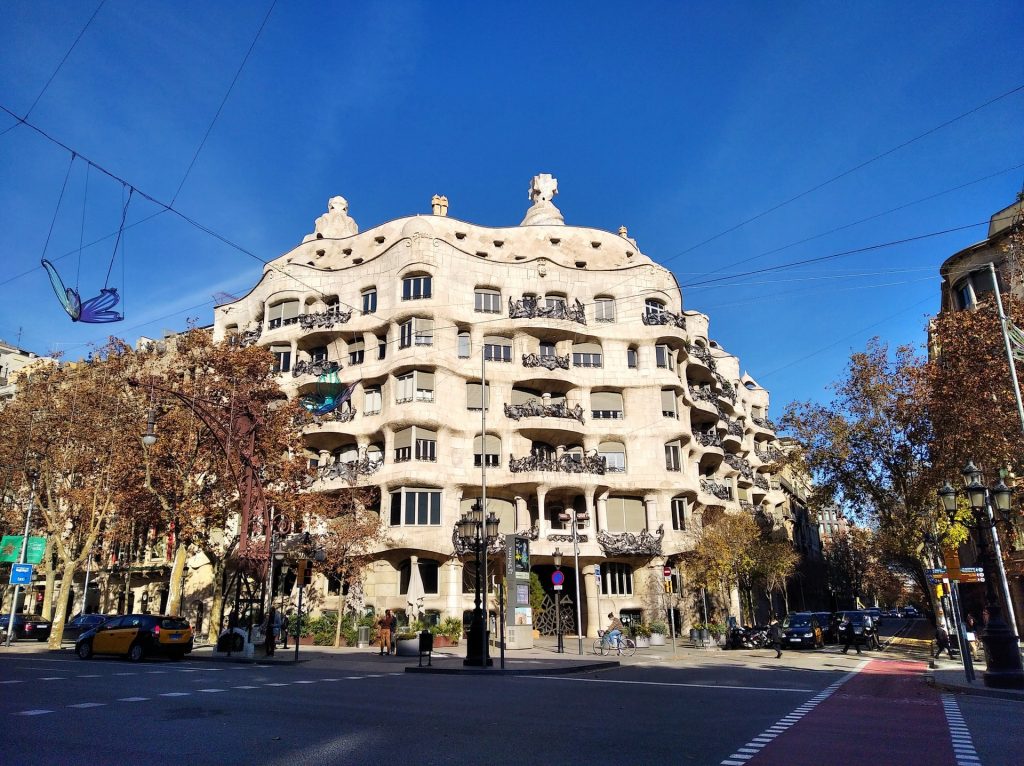 Casa Milà was designed by Antoni Gaudí and commissioned by the Milà family who occupied the main floor of the building while renting out the rest of the apartments. The locals gave it the name La Pedrera because it looked like a stone quarry.
Casa Milà stands out because of its sinuous façade reminiscent of cliffs and a dreamy sea below. But the most striking characteristic of Casa Milà is the undulating roof with its ventilation towers and the iconic chimneys surmounted by unique stylized figures who act as guardians that observe the city from above.
This house is open daily from 9 a.m. to 6:30 p.m., and from 8:40 p.m. to 10 p.m. There are several tour options, including a nighttime experience, on their website.
2. Casa Batlló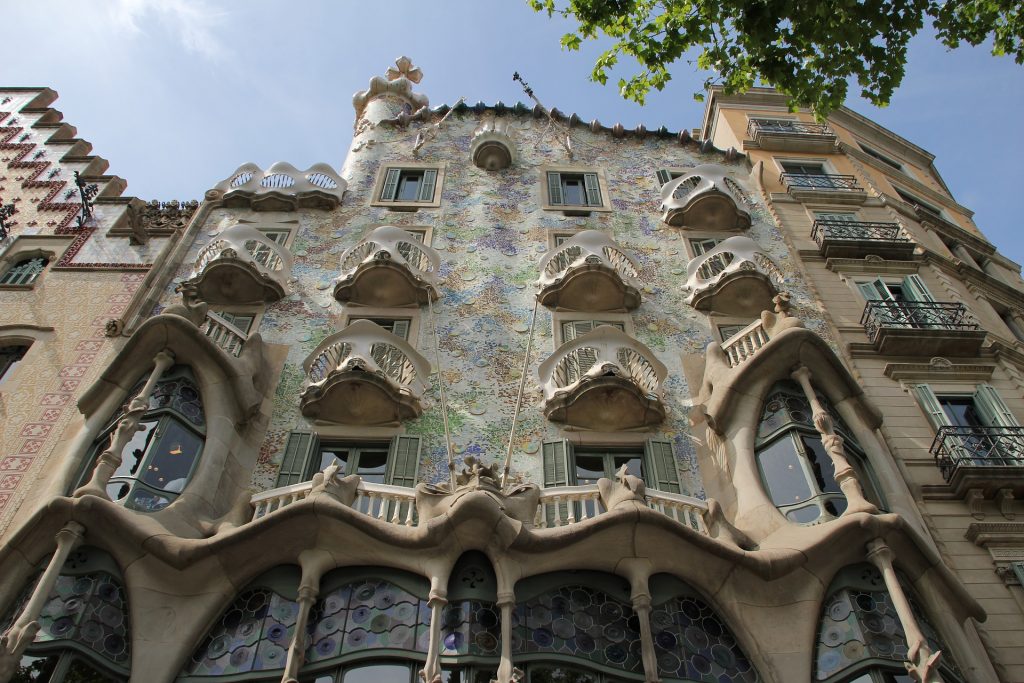 Right down the street from Casa Milá and also designed by Gaudí is the enchanting Casa Batlló.
The external part of this building has colorful waves of mosaics, ceramics and glass along with oversized windows supported by columns that look like gigantic bones. Those columns earned the building the nickname "La Casa dels Ossos," the House of Bones.
Inside Casa Batlló, you can admire the genius of Gaudí and his love for curved lines, which is reflected in every detail from the doors to the windows and even the handrails. As with other works of Gaudí, natural light plays an important role. Because of the main skylight and the various sizes of the windows, Gaudí was able to equally distribute light through the different floors.
The fun doesn't end with the interior of the building, make your way to the whimsical roof with its bright trencadís chimneys where you enjoy "Magic Nights" musical performances during the summer.
Casa Batlló is a UNESCO World Heritage Site and can be visited every day from 9:00 am to 6:30 pm.
3. Casa Amatller
Next to Casa Batlló is the Casa Amatller by Puig i Cadafalch. Although it was originally built in 1875, in 1898, the chocolate magnate Antoni Amatller commissioned an update.
From the outside, this house features characteristics of homes found in the Netherlands and Germany, and on the inside, it boasts stained glass windows and skylights.
And for all you chocolate lovers out there, at the end of your visit, you get a tasting cup of Amatller Chocolate.
This house museum is open daily from 10 a.m. to 6:30 p.m.
4. Casa Lleó i Morera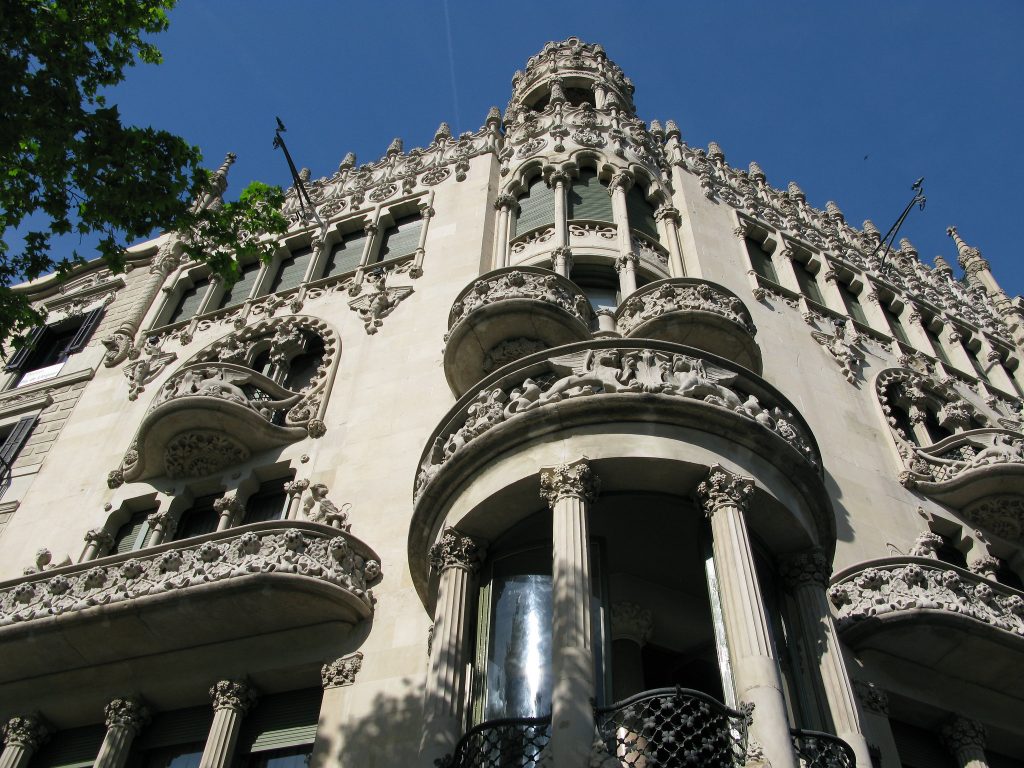 Continuing our tour of modernist house museums, let's stop at the Casa Lleó i Morera. Like the house museums mentioned above, this casa is on one of Barcelona's most famous streets, known as "The Block of Discord."
Fun fact: The street got its name because of the striking architecture that broke the conservative rules of the time and was rejected by much of Barcelona's high society.
The ornate exterior of the Casa Lleó i Morera is noted for its "tempietto," which seems to be crowning the house. Inside, you'll be mesmerised by the stained glass, woodwork, marble sculptures and ceramic decor.
5. Recinte Modernista Sant Pau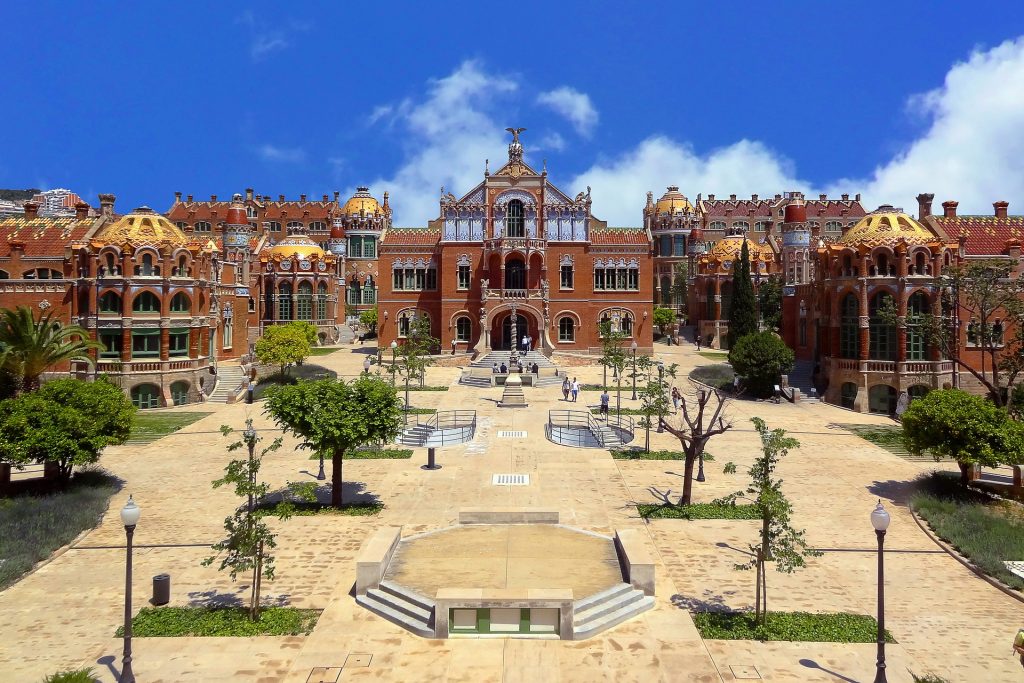 This sprawling hospital built between 1902 and 1930 is the largest modernist complex in Europe.
Lluís Domènech i Montaner envisioned this hospital as a modernist village equipped with everything — streets, pavilions, a church, convent, and garden. The various pavilions are connected by underground passages so they don't disturb the aesthetic harmony of the intricately designed structure.
This is truly a hospital like no other, with stained glass windows, colorful tiled walls, arched ceilings, curvilinear staircases and ornamental accents throughout.
Declared a UNESCO World Heritage Site in 1997, the Recinte Modernista Sant Pau is a must-see on your Catalan modernism tour of Barcelona.
6. Casa Vicens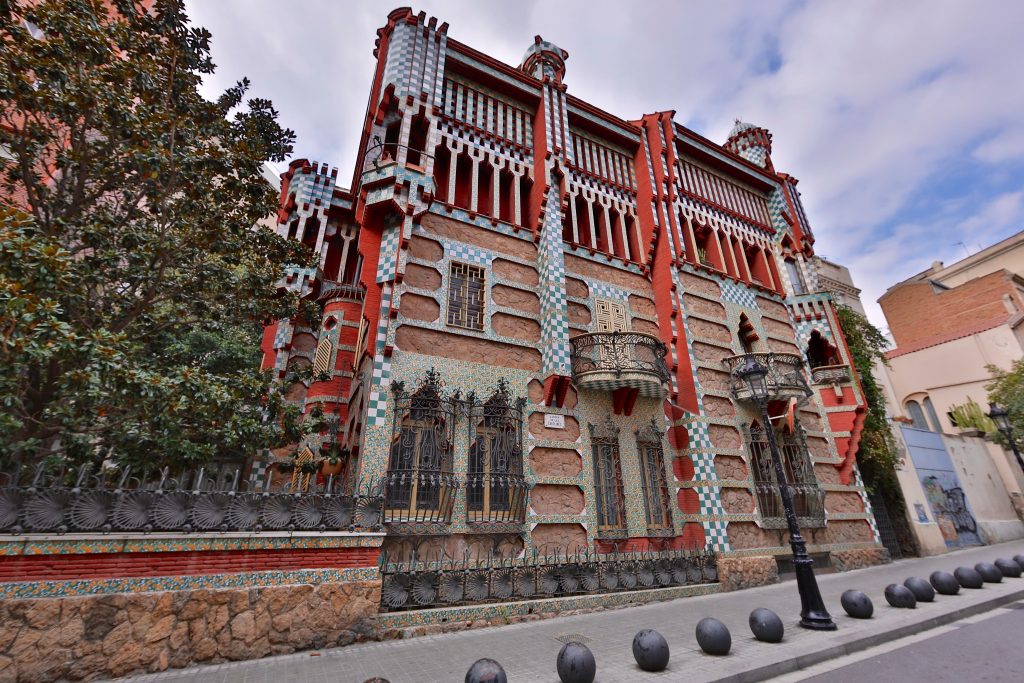 This was the first house designed by Antonio Gaudí.
Some people say it looks like a jewelry box decorated with colorful glass, iron and ceramic. It's also a UNESCO World Heritage Site and was only opened to the public in 2017.
There are no corridors in this house as hexagonal distributors were used instead to create a flow of natural light between rooms.
Here's another bit of trivia for you. The façade has three inscriptions in Catalan:
"Oh! The shadow of summer"
"Sun, little sun, come and see me."
"From the hearth, the fire of love lives."
The Casa Vicens is currently open every day from 10 a.m. to 8 p.m., but check their website as opening times change.
7. Sagrada Família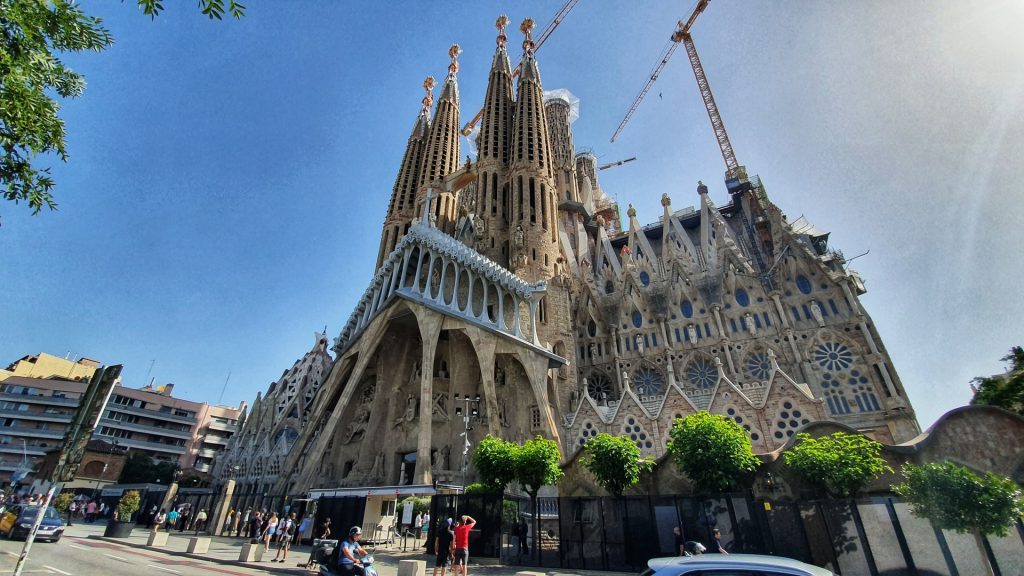 This majestic church is justifiably at the top of many Barcelona bucket lists.
Designed by Gaudì, the Sagrada Famílía is still unfinished, yet both the exteriors and the interiors will leave you speechless. By combining neo-Gothic characteristics with Catalan modernism, Gaudì created a structure to inspire all who visit.
For more info on this amazing building, have a look at our post here.
8. Casa Les Punxes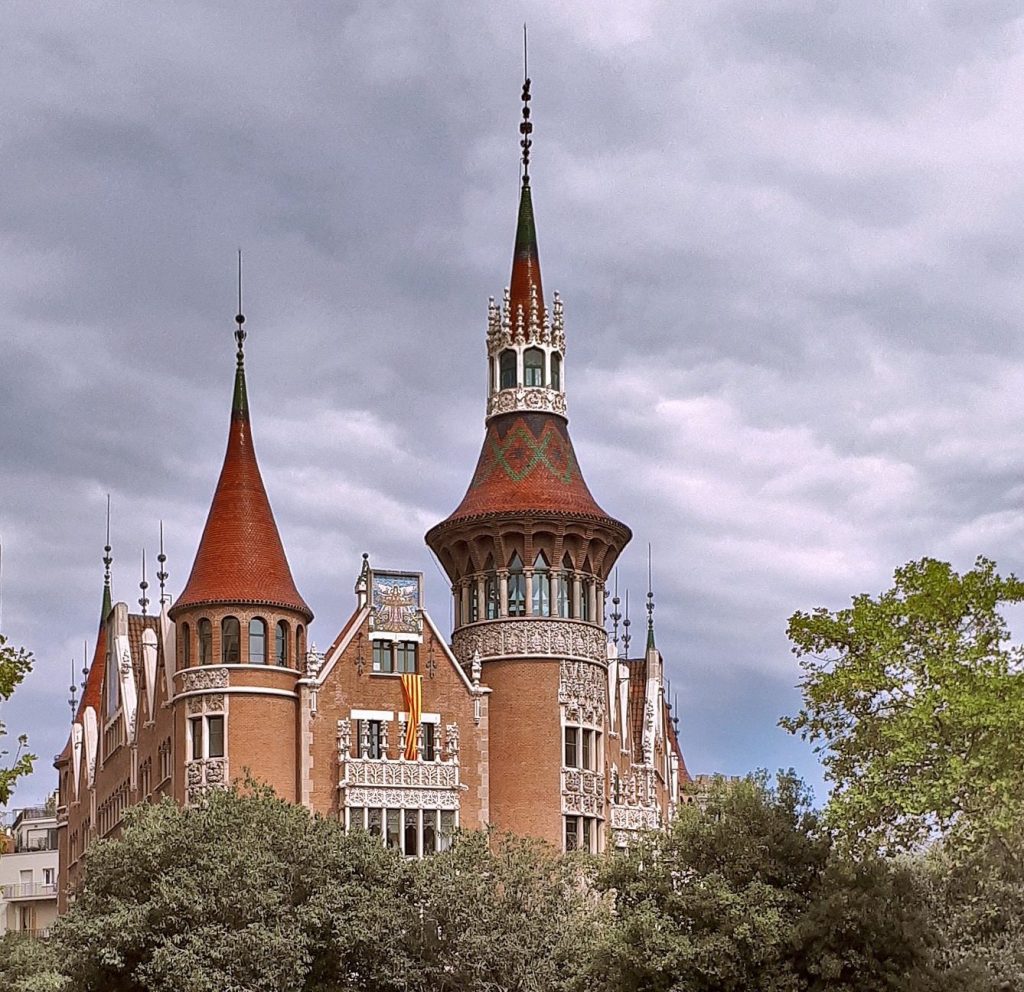 Sometimes called Casa Terradas, this fairytale-like building was designed by Josep Puig i Cadafalch, who was commissioned to link three existing buildings into one large development. He created this complex to resemble the medieval castles found throughout Europe. And it does.
In fact, the building got its name, the Casa Les Punxes (House of Spikes), because of its many cone-shaped towers and spires.
With the tourism lag during COVID-19, Casa Les Punxes decided to convert the space into a co-working area. What a place for your next Zoom call!
9. Palau Güel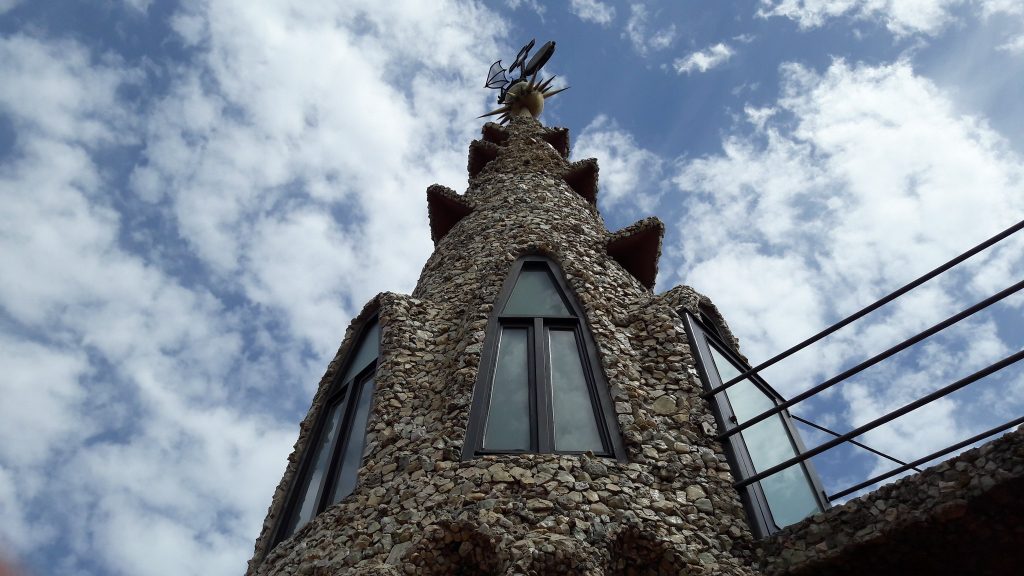 Palau Güell was built between 1886 and 1890 by Antoni Gaudí and commissioned by Eusebi Güell. If the name rings a bell, it's because this is the same Güell, an entrepreneurial aristocrat and friend of Gaudí, who later commissioned the Parc Güell.
The façade of the Palau Güell has the feel of a Florentine palace and, as all Gaudí works, is ornately decorative. One highlight is its rooftop terrace with 20 chimneys that are brightly colored with glass, ceramic and marble.
Take a peek in the video below.
Fun fact: The building was designed with a window system that let residents look outside without being seen.
Summer hours (April through September) are 10 a.m. to 2:30 p.m. and 3:30 p.m. to 8 p.m.
Winter hours (October through March) are 10 a.m. to 1:30 p.m. and 2:30 p.m. to 6 p.m.
10. Casa Macaya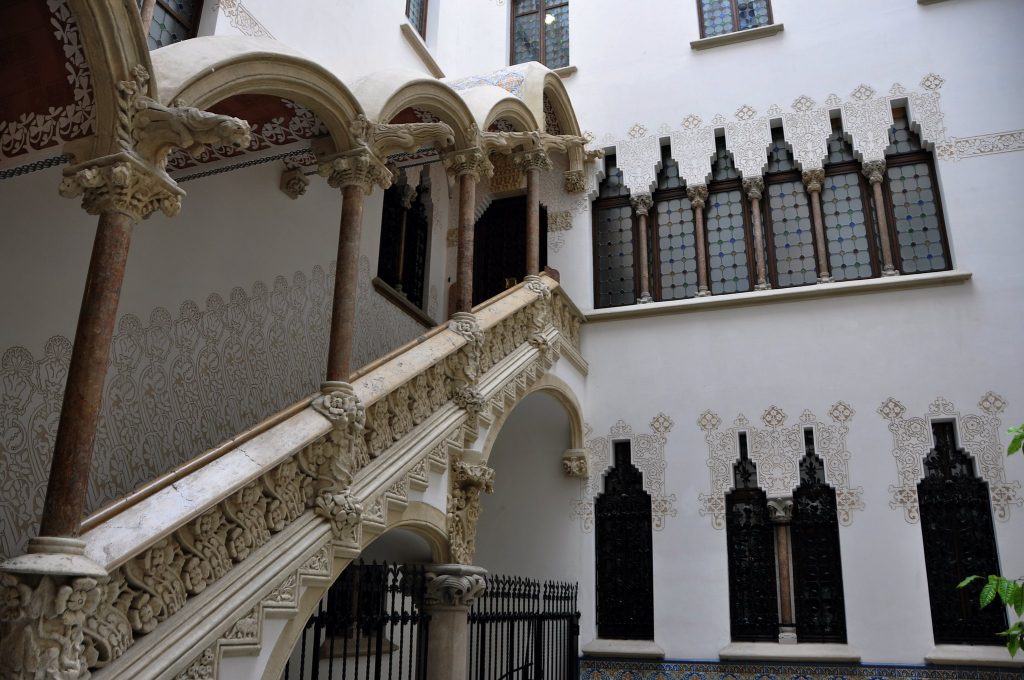 Here's another house designed by Josep Puig i Cadafalch. It's sometimes called the Palau Macaya (Macaya Palace) because it looks more like a palace than a home.
Its bright, white stucco exterior with floral motifs carved from stone makes for a striking sight on the beautiful tree-lined boulevard.
11. Palau de la Música Catalana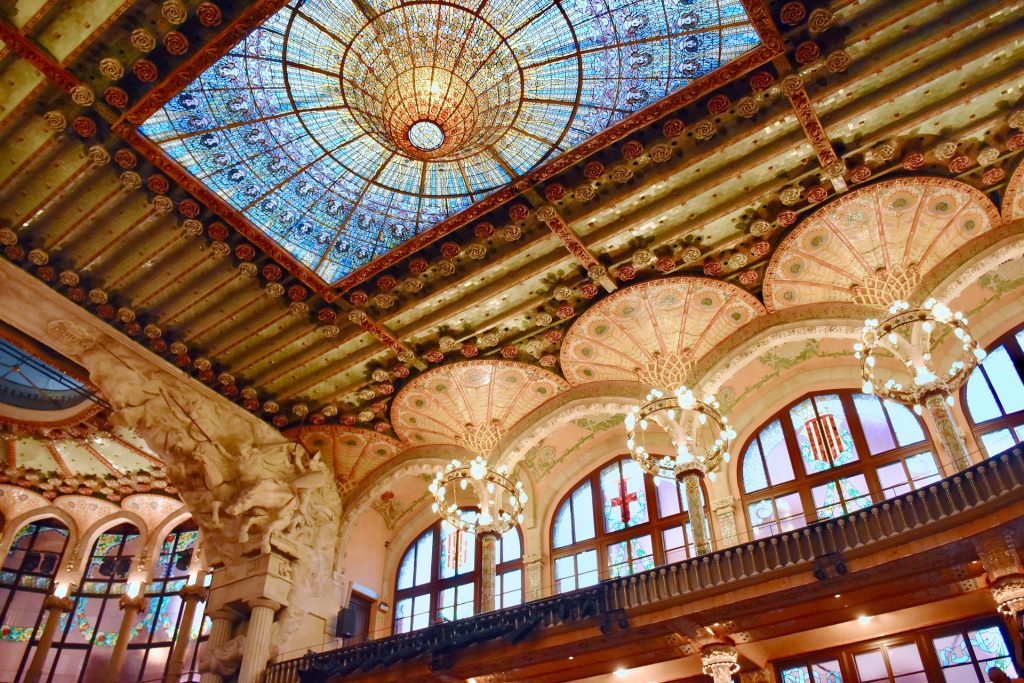 A place where music, light and colors all come together, this opulent concert hall was built between 1905 and 1908 by Lluís Domènech i Montaner. It's a brilliant example of Catalan modernism, emphasizing the importance of nature while using decorative elements full of color.
The Palau de la Música Catalana is yet another UNESCO World Heritage Site. You can visit for a guided tour or, better yet, experience it as it was intended by catching a live musical performance. Get the full schedule for upcoming concerts on their website.
Touring Catalan Modernism in Barcelona
This list was just an intro to the architectural wonders found in Barcelona. If you want to learn more, why not visit with a local expert? Check out our Barcelona architecture walking tour and step into the colorful world of Catalan modernism, Gaudì's genius and a cultural movement that will dazzle you.