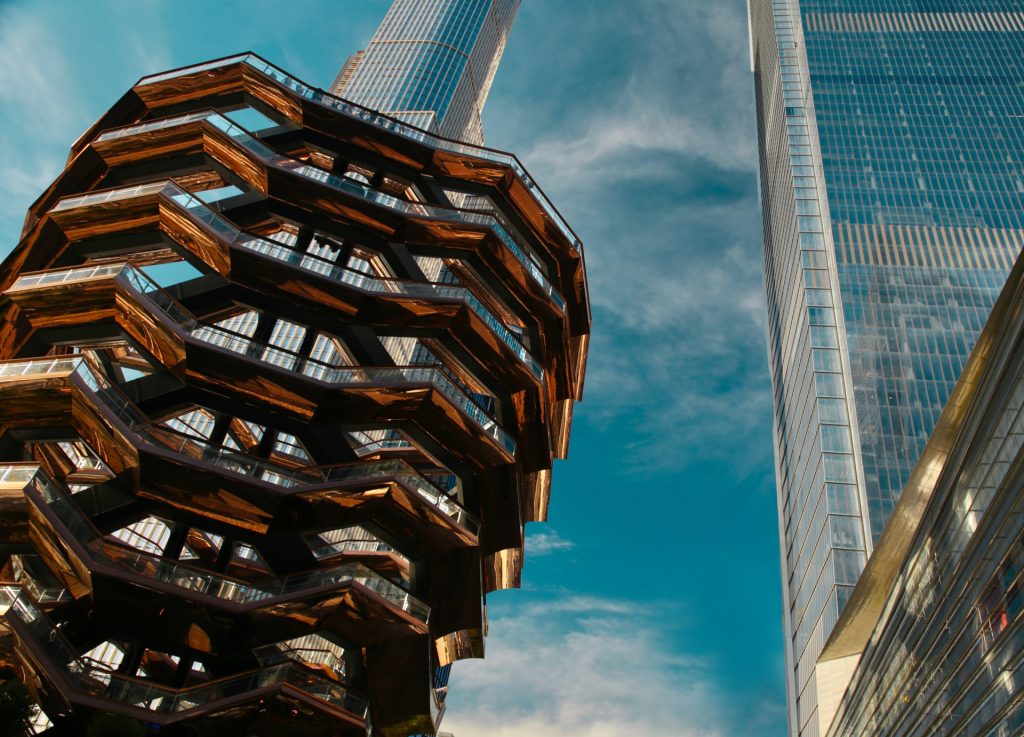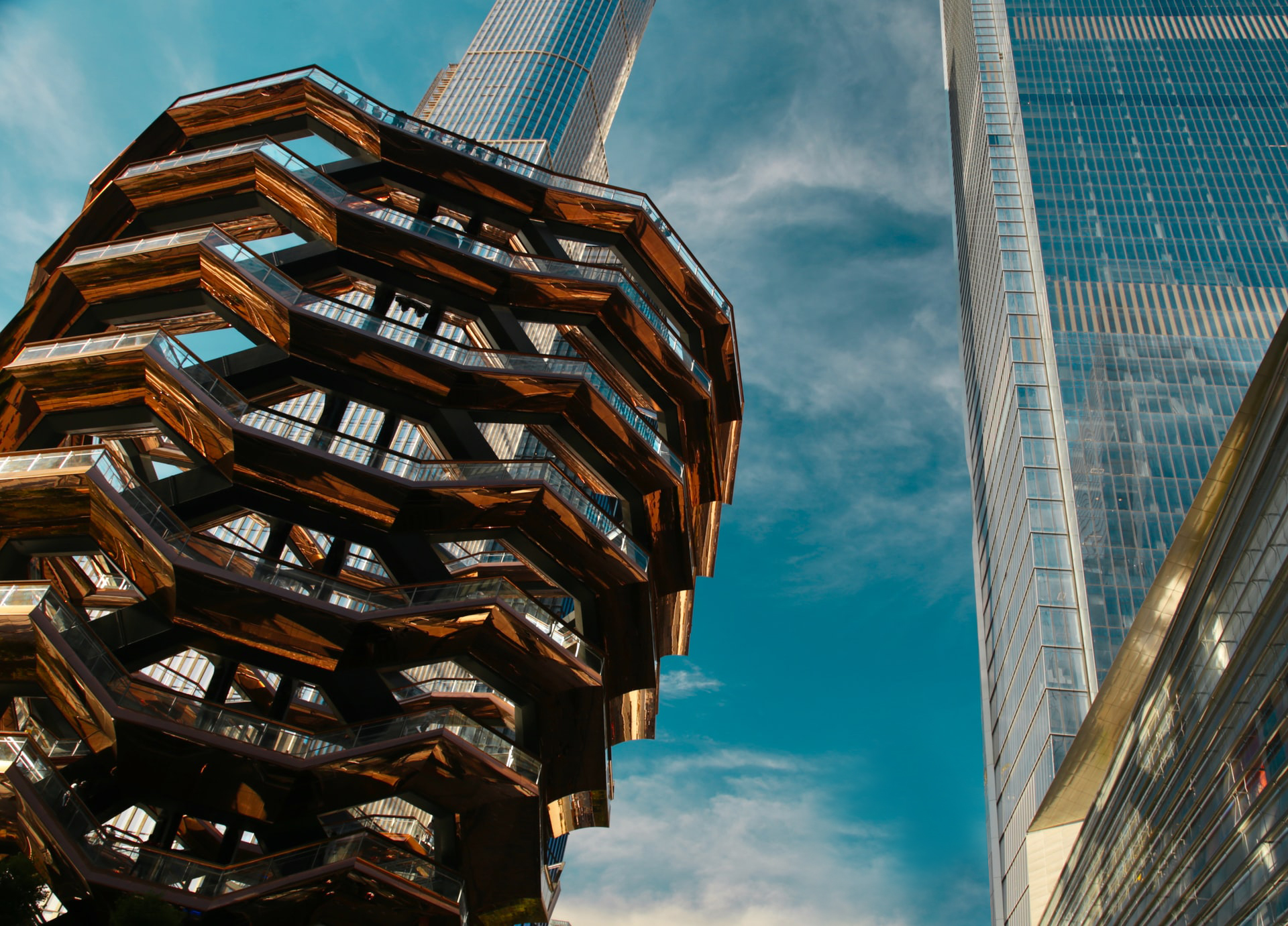 For years the western edge of midtown Manhattan, known as Hudson Yards, was considered one of the city's least interesting neighborhoods. That all changed in 2015 with the extension of the 7 Train over to 11th Avenue and 34th Street. The easy access to the area suddenly made it more desirable. More and more people wanted to visit.
This skyrocketed after the development of the Hudson Yards complex, featuring shops, residential buildings, public green space and the towering architectural sculpture known as Vessel. What seems like a simple structure from the outside is actually a labyrinth of stairways and platforms, giving visitors some of the best and most picturesque views in the city. It's now one of the most popular up-and-coming attractions in New York.
In this post, I'll share with you everything there is to know about Vessel and how to go about planning a visit.
How to get to Vessel
If you're coming by subway, there are two options:
Take the 7 Train to 34th Street/Hudson Yards
Take the A, C, or E Train to 34th Street and walk over from 8th Avenue. (It takes about 10-15 minutes.)
Taking a cab? Tell the driver to drop you off at 10th Avenue and 33rd Street, near the Hudson River. The structure is located in the center of Hudson Yards.
Vessel's history and creation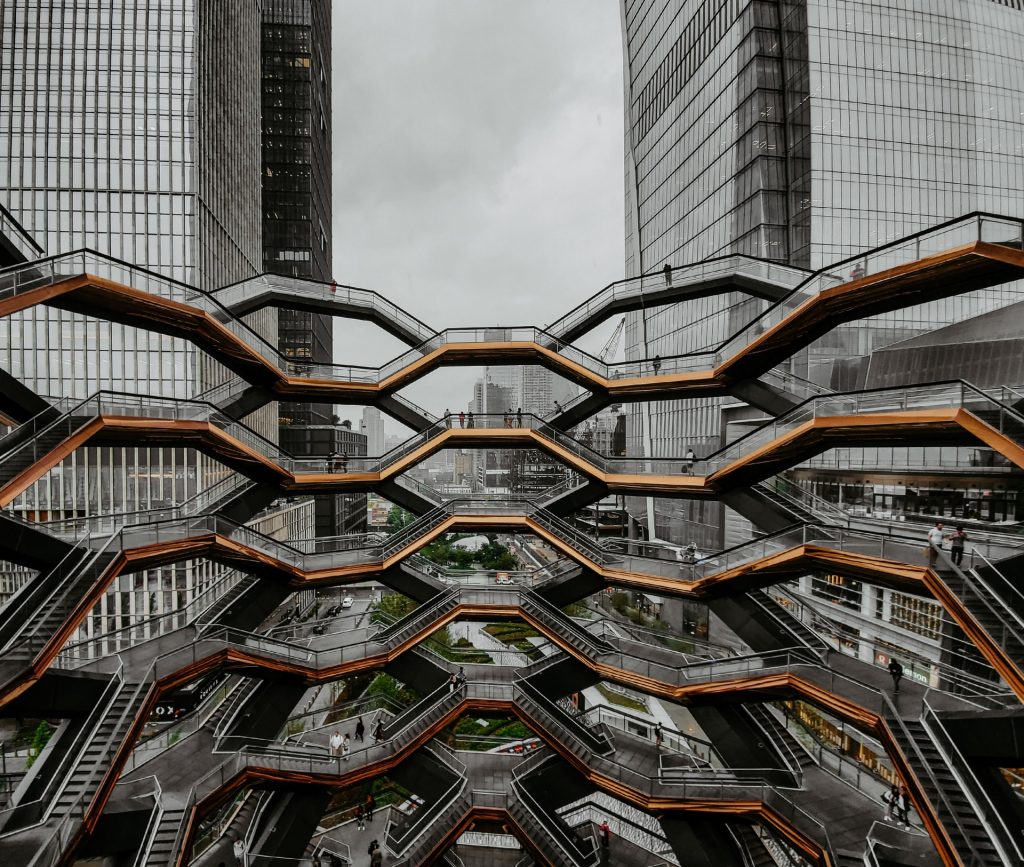 As mentioned earlier, the creation of Vessel started with the building up of Hudson Yards — a 28-acre planned neighborhood with 16 different structures.
The main focal point of the area is Vessel, which officially opened in March of 2019. It's modeled after Indian step wells, arranged like a giant jungle gym. The honeycomb design was created by British architect Thomas Heatherwick, with a final cost of a mere $200 million.
It's both an art sculpture and a functional structure, a combination of both attractiveness and practicality. The body is made of concrete and bronzed steel.
Here's a look at the numbers for Vessel:
150 feet tall
16 stories
154 interconnecting flights of stairs
1 mile of vertical climbing
80 landings
Over 2,000 steps total
All of this makes for dozens of viewpoints for photos and multiple perspectives of the city and the Hudson River.
What to do near Vessel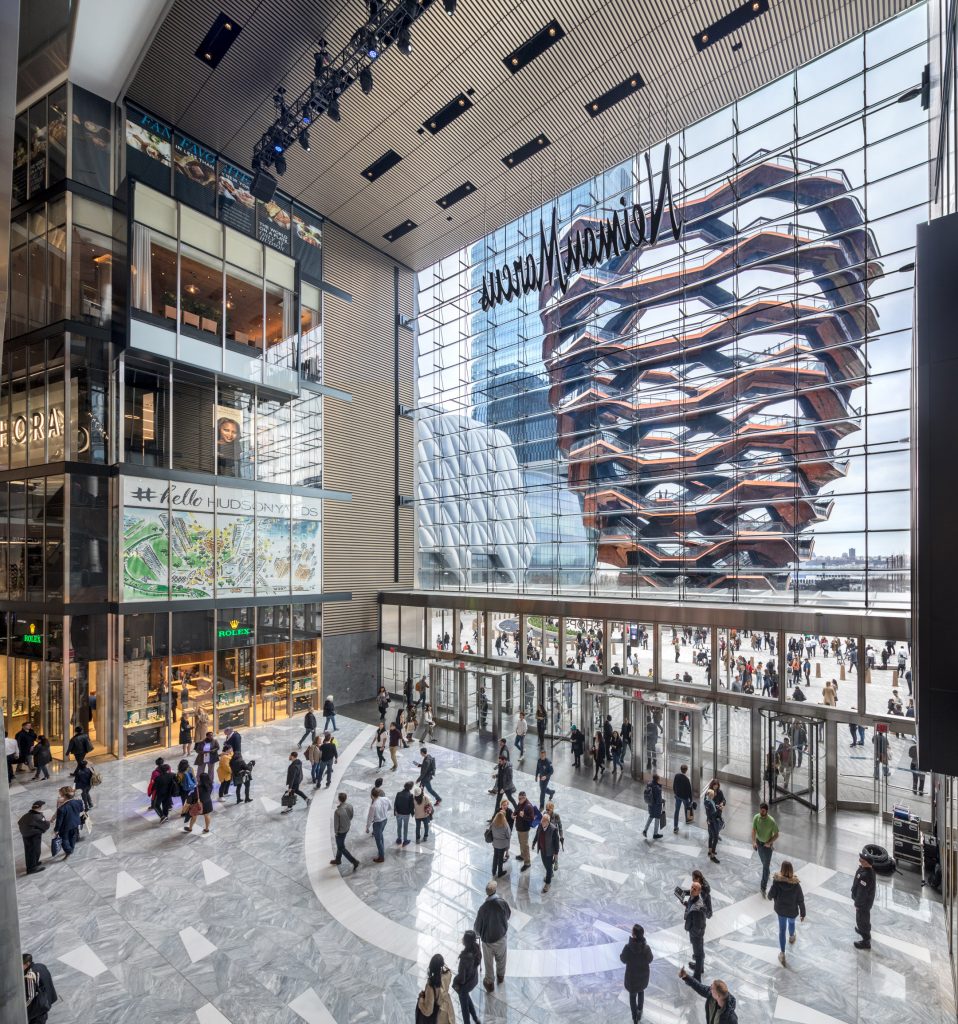 That area of midtown Manhattan has numerous other sites and cool places to see. You definitely shouldn't miss Vessel, but there are lots of other stops you can make before or after your climb.
The High Line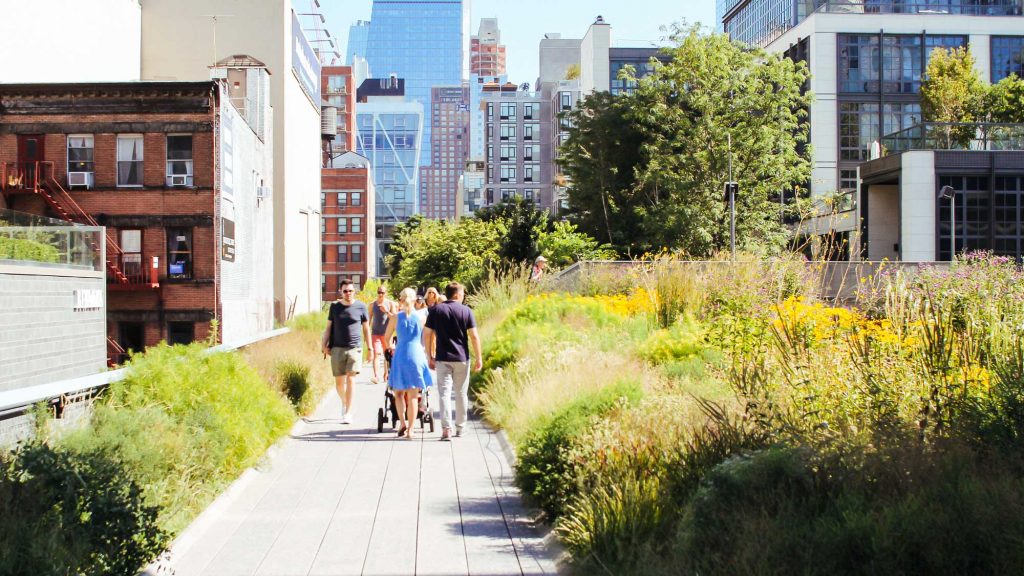 The High Line is a three-mile elevated railroad transformed into a peaceful oasis floating above 10th Avenue. You can enter the park right from Hudson Yards and walk all the way down to Gansevoort Street in the Meatpacking District. It's a wonderful way to spend an afternoon after visiting the Vessel.
High Line and Chelsea Walking Tour
A hidden park and historic food hall in two trendy NYC neighborhoods. When
https://www.exp1.com/new-york-tours/high-line-and-chelsea-walking-tour/
Circle Line Sightseeing Cruises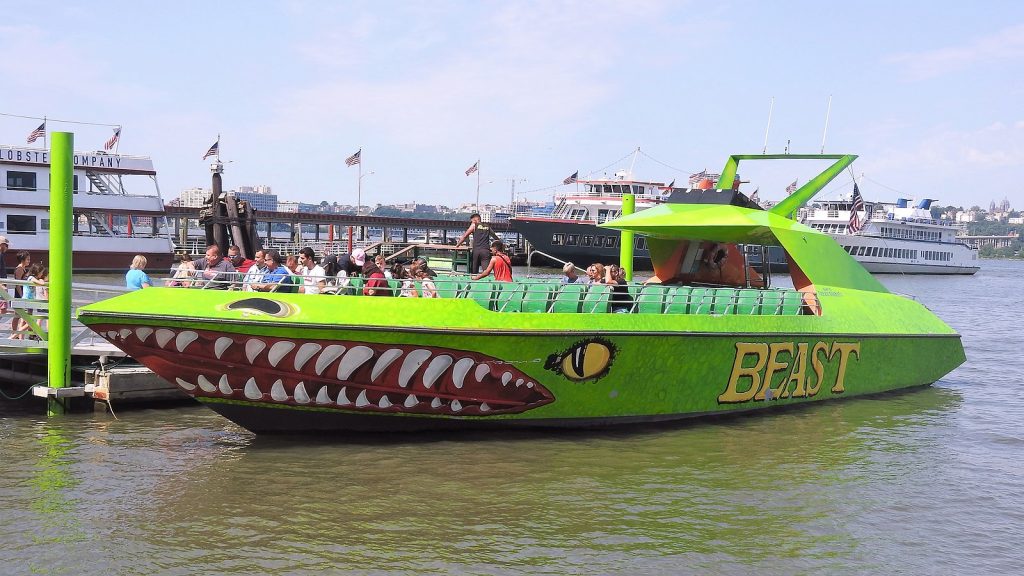 Have tickets for a Statue of Liberty or New York Harbor Cruise? Well the boarding dock (Pier 83) is just a 5-10 minute walk from Hudson Yards — right between 42nd and 43rd streets.
There's not much to do in that area otherwise, so it's a great idea to plan your visit to the Vessel around any cruise tickets you may have.
Hudson River Park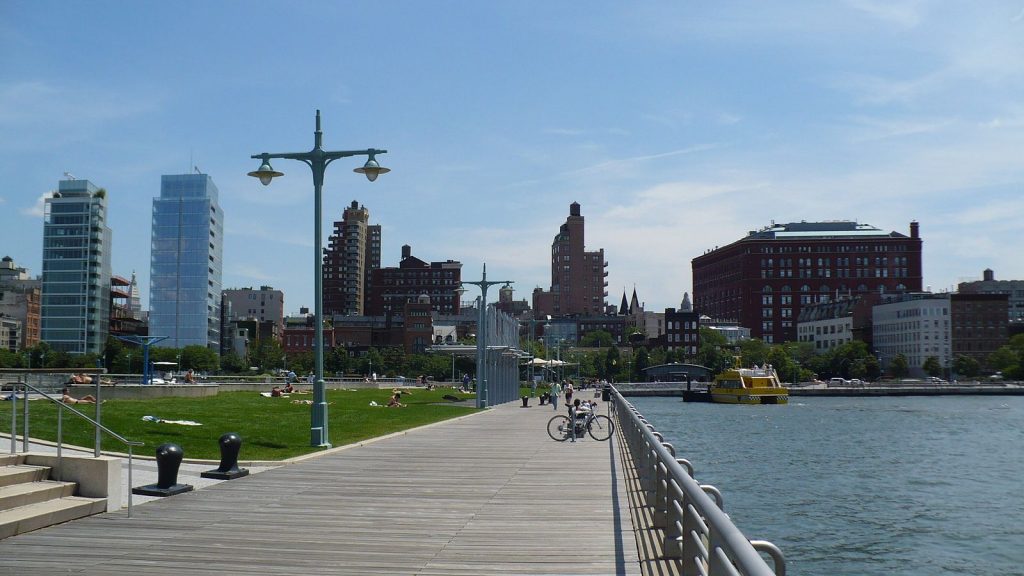 Hudson River Park stretches four miles along the western shore of Manhattan, from Tribeca all the way to Hell's Kitchen. There's eateries, dog parks, bike paths and rentals, even mini-golf!
This is a great place to come after a long morning of exploring the city. Relax in the grass and enjoy the view of New Jersey.
The Shed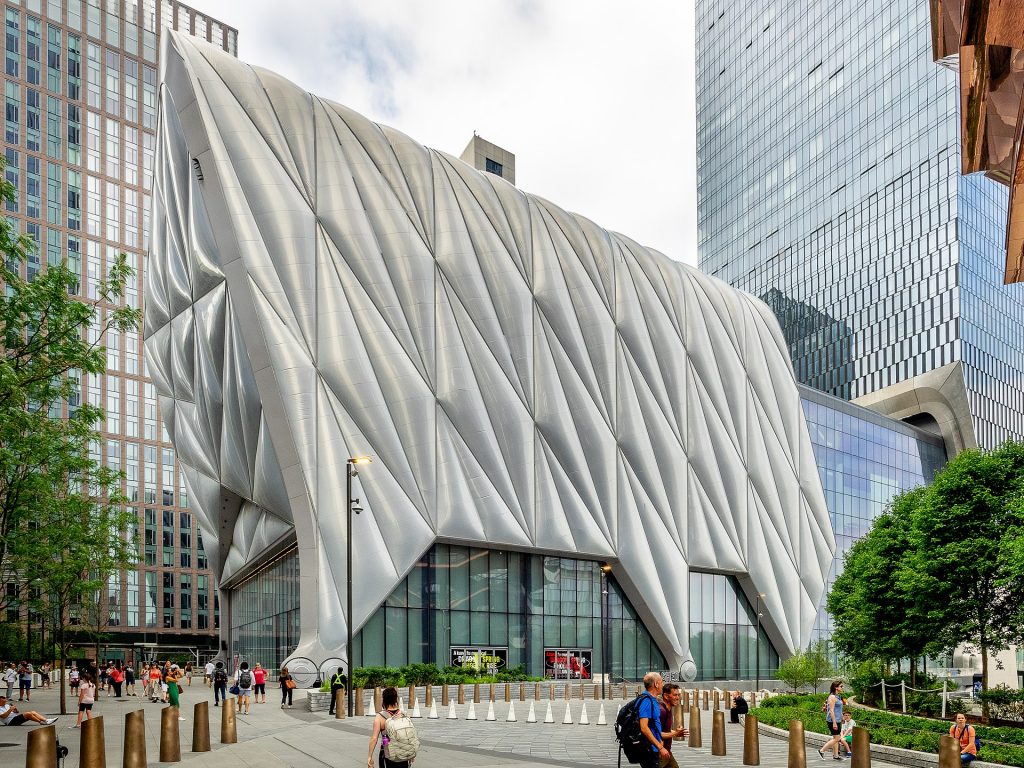 This cultural center and performing arts space sits right at the base of Vessel. A wide range of art is showcased here– visual, performance, traditional, modern.
Many of their exhibitions and performances are free and open throughout the day.
Guide tip: If you're interested, make sure to check online for their upcoming schedule and tickets.
Shops & Restaurants at Hudson Yards
Right across from the Vessel sculpture is a sprawling retail space that includes over 100 shops and restaurants. You'll find classics and well-known brands like Banana Republic, H&M, Coach and Levi's. If you're looking for a sweet treat or something to eat, try Dylan's Candy Bar, Shake Shack or Hudson Yards Grill. There's plenty of other options as well.
This is a great option if you're trying to escape some intense rain, cold or heat.
Frequently Asked Questions About Vessel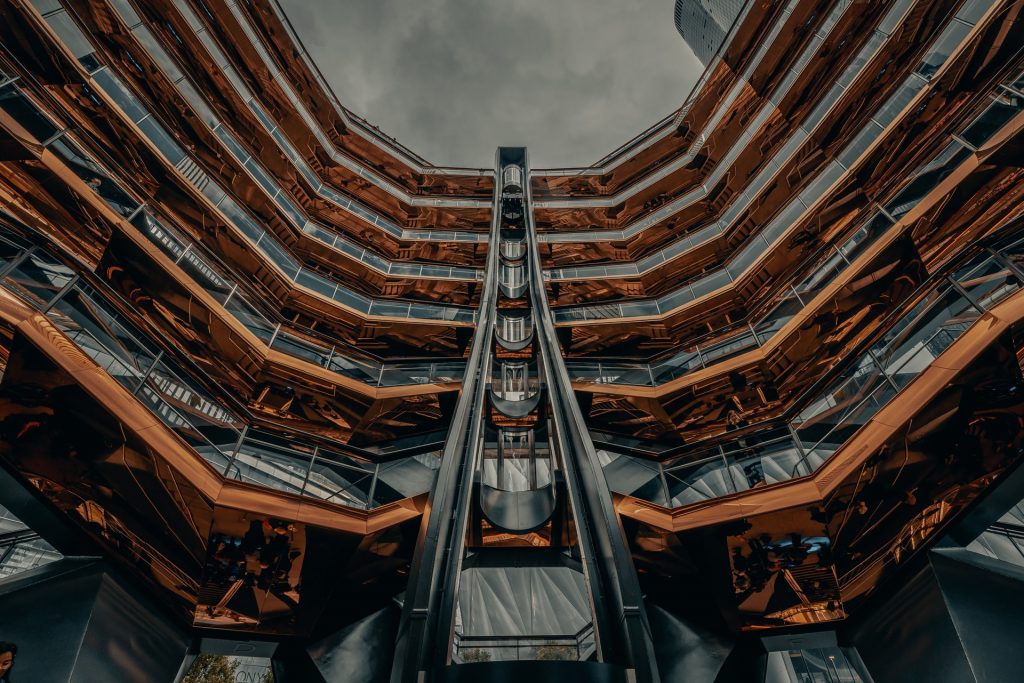 Is Vessel free?
Yes and no. You can enter free of charge but you'd have to reserve a free ticket first. There's a very limited amount of free tickets available for the first hour of each day, so make sure to book way in advance. When they're sold out, the free tickets are gone for good.
If you miss out on the free tickets, you can purchase a ticket for $10 each. Children under 5 are always free.
Keep in mind, the Vessel's policy only allows reservations of two or more so you must book with at least one other person. Or you can select a "Come With Us" ticket and join in with a group of other solo visitors.
Sounds complicated? We take care of the logistics with our Climb the Vessel Tour plus a local New Yorker will tell you all about this incredible art piece and where to get the best photos.
How do I get tickets?
Tickets can be reserved online at the Hudson Yards website. You will be asked to choose a date and one-hour time frame for entry. If you're making reservations for a group, one ticket must be reserved for each member of your party, with a maximum of 14 tickets.
You can print your ticket if you'd like but it's not required. Mobile tickets are also accepted.
When is the Vessel attraction open?
The hours are 10 a.m.-8 p.m. daily.
Keep in mind, it's entirely outdoors and will remain open during all normal weather conditions. Only in the event of a closure due to extreme weather can tickets can be exchanged.
Is there an elevator?
Yes, the Vessel does have an elevator. Priority service is offered to individuals with disabilities every 15 minutes to floors 5, 7 and 8.
How long should I spend there?
Vessel can fit over 1,000 people so there's no time limit on your visit. You can stay as long as you want. I recommend at least 30-40 minutes.
Is there anything I can't bring with me?
There's a few different items prohibited on the Vessel:
Food and drink (other than a non-glass water bottle)
Large bags or luggage
Bikes, scooters, and skateboards
Strollers
A must-see attraction in a new NYC neighborhood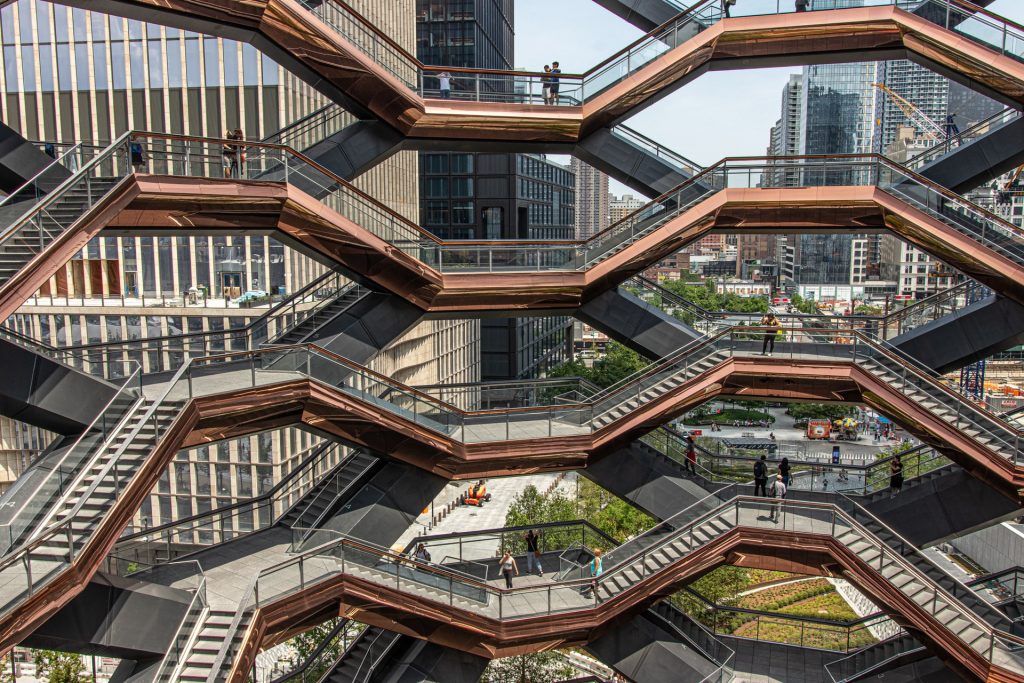 The Vessel and Hudson Yards have both completely transformed the west side of Manhattan. What was once an industrial rail yard and tourism dead zone is now one of the city's most talked about destinations.
Check it out for yourself on our Hudson Yards or Climb the Vessel tour!