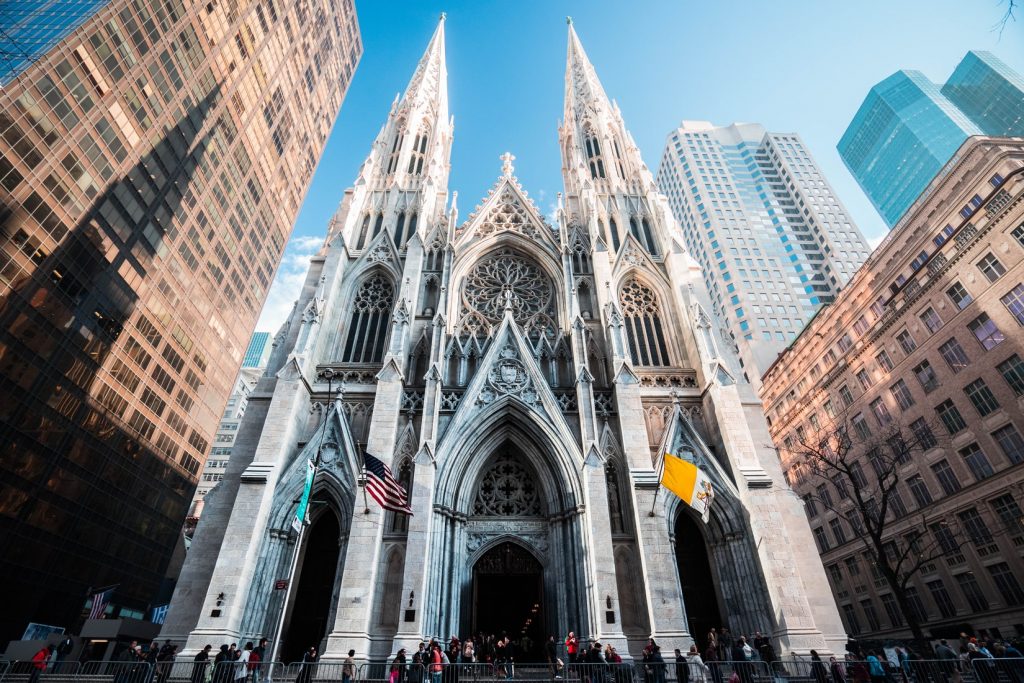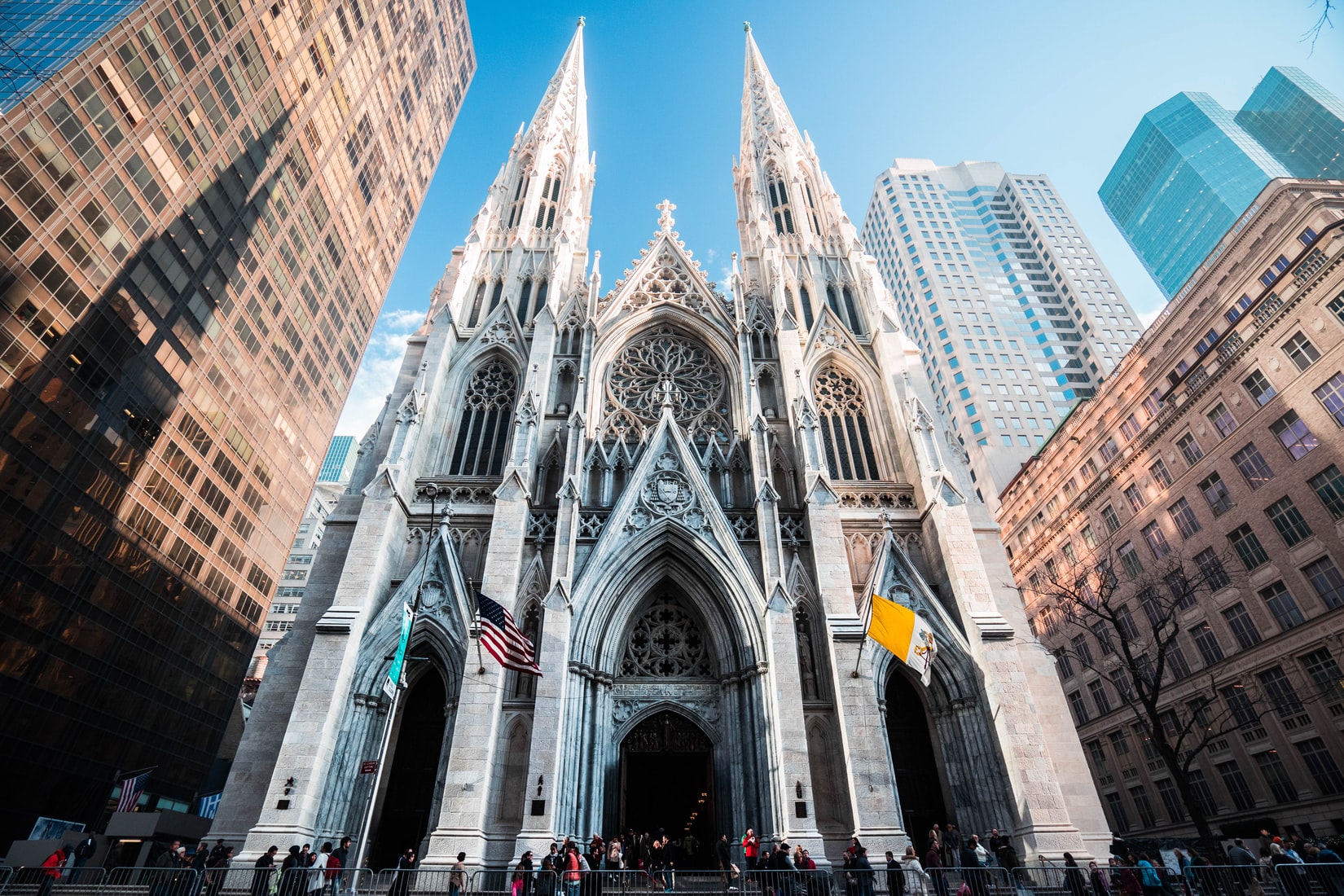 St Patrick's Cathedral, also known as "America's Parish Church," is one of the largest cathedrals in the country. By "large," I mean it takes up an entire city block of Midtown Manhattan. That's 50th and 51st streets and 5th and Madison avenues.
Today, St Patrick's Cathedral is an international historic landmark that welcomes more than 5 million visitors each year. Are you going to be one of them? Here's why you should be, what to see when you're there, and a few helpful facts for your visit.
Why You Need to Visit St Patrick's Cathedral
St Patrick's is visually stunning. You have to see it to understand. It's renowned for its titanic bronze doors, gorgeous high altar, and rich Neo-Gothic architecture, including thousands of stained glass windows.
From a historical perspective, it's the final resting place of some of New York's most legendary humanitarians and clergymen. It's also the place where memorial Masses for several very famous American celebrities were held. It even has a place in pop culture, thanks to the 1960s hit song "California Dreamin'," which it inspired — the church mentioned in the song is none other than St Patrick's Cathedral.
The History of New York's Great Cathedral
With an ever-increasing number of Catholics arriving in New York City in the mid 19th century, the Archbishop John Hughes suggested building a new cathedral to accommodate them. Construction began in 1858, funded by contributions from New York Catholics, both wealthy and poor, and was completed in 1879. Today, the cathedral serves as the headquarters of the archbishop of the Roman Catholic Archdiocese of New York.
Over the years, the cathedral has been a site of worship for many as well as an attraction for tourists to admire.
Sometimes St Patrick's Cathedral is confused with The Basilica of Saint Patrick's Old Cathedral, also known as Old St. Patrick's. Old St. Patrick's is located on Mulberry street in NoLita (North of Little Italy). It was the largest Catholic church in New York at the time it was built. It also served as a filming location for the baptism scene in the famous American crime drama, The Godfather. It's worth a visit in its own right, but it's not the St. Patrick's Cathedral, which tends to rank on more tourist itineraries.
How people use the cathedral has changed over the years to some degree. It's become a popular venue for weddings, though they're not as free as touring! If you want to say "I do" here, expect to pay upwards of $14,000 to rent the venue for a weekend. Fun fact: The Great Gatsby author F. Scott Fitzgerald married his wife Zelda Sayre here in 1920.
The Cathedral has also held ceremonies to pay tribute to some of New York's top celebrities by holding requiem Masses for them. These include:
Babe Ruth, Roger Maris, and Billy Martin of the New York Yankees
The "Queen of Salsa" Celia Cruz
Legendary football coach Vince Lombardi
New York Senator Robert F. Kennedy
Buried in the Crypt of St Patrick's Cathedral
Underneath the high altar of St. Patrick's Cathedral is the final resting place of the past nine Archbishops of New York. The only layman to join them is the Venerable Pierre Toussaint.
Why the exception for Toussaint?
Toussaint was a New York philanthropist active in the 1800s, considered by many to be the father of Catholic charities in New York. He's got an interesting backstory: born into slavery in Saint-Domingue (now Haiti) and brought to New York, where he was freed and dedicated the rest of his life to helping people in need. He was originally buried at Old St. Patrick's Cathedral, but his resting place was moved to St Patrick's Cathedral in honor of his legacy. In 1996, Pope John Paul II declared him "Venerable," another step towards achieving sainthood in the Catholic Church.
Art Inside St Patrick's Cathedral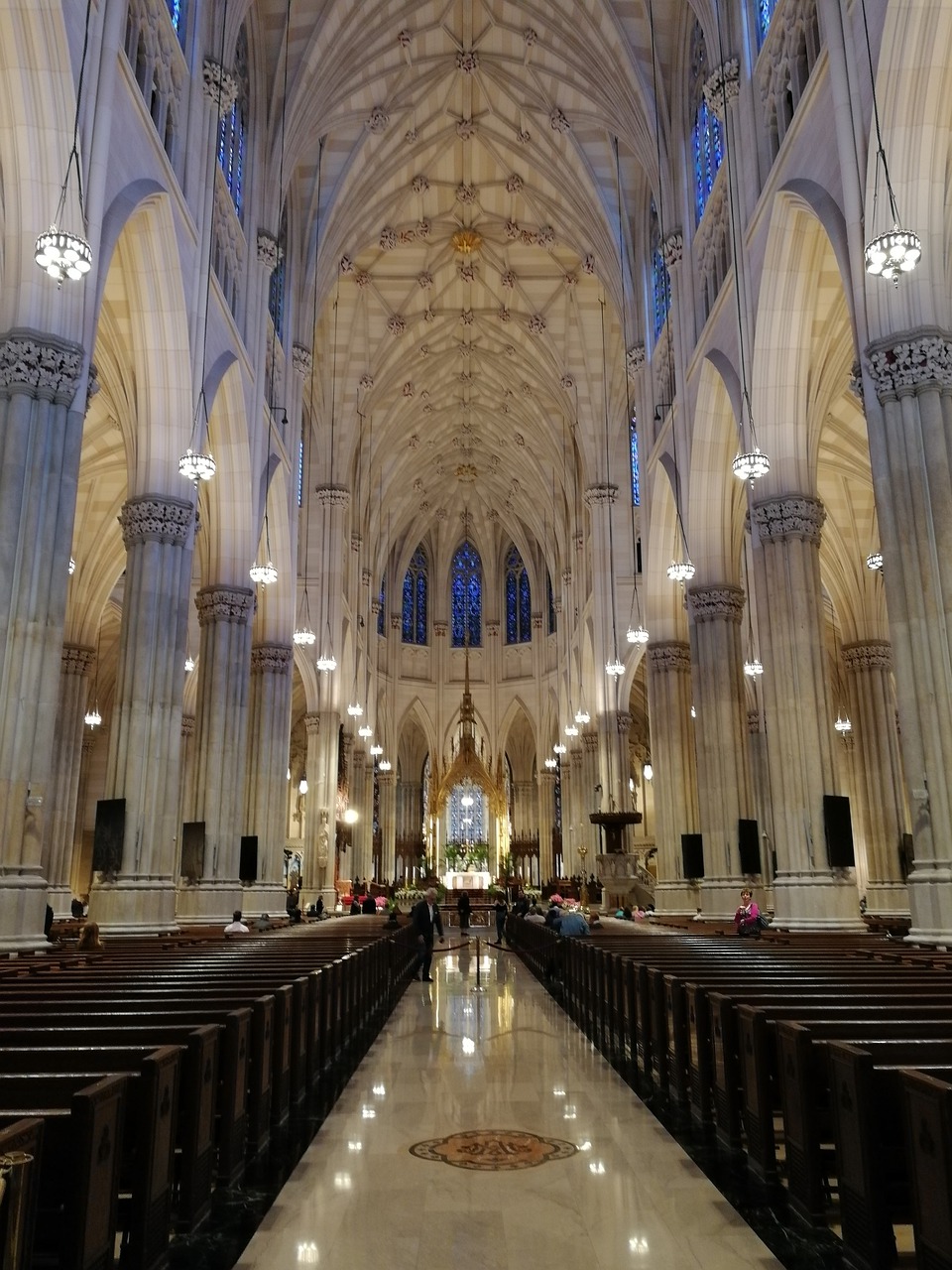 The bronze doors that welcome you into the cathedral are hefty. They weigh over 9,000 pounds but are designed to be opened with one hand. (Don't worry — they're easy to open.)
But don't breeze past them too quickly. There's a lot to see here. The doors depict a number of saints, including:
St. Frances X Cabrini, called the "mother of the immigrant," who founded an organization for Italians immigrants in the late 1800s
St. Kateri Tekakwitha, the "lily of the Mohawks," the first Native American woman to be canonized by the Catholic Church
Mother Elizabeth Seton, "daughter of New York," the first native-born U.S. citizen to be canonized by the Catholic Church
Inside, the High Altar will catch your eye. Its 57-foot bronze canopy, called a baldachino, glitters gold against the white marble arches and contrasts with the elaborate stained glass windows behind. You'll feel like you've been teleported out of gritty New York into a pristine realm of the divine.
St Patrick's Cathedral is also known for its Pietà sculpture created in 1906 by William Ordway Partridge. Pietà depicts the Virgin Mary mourning the body of Jesus. It is located slightly behind and to the right of the main altar. Partridge's sculpture is three times as large as Michaelangelo's work of the same name.
Two Things About the Cathedral You Probably Didn't Know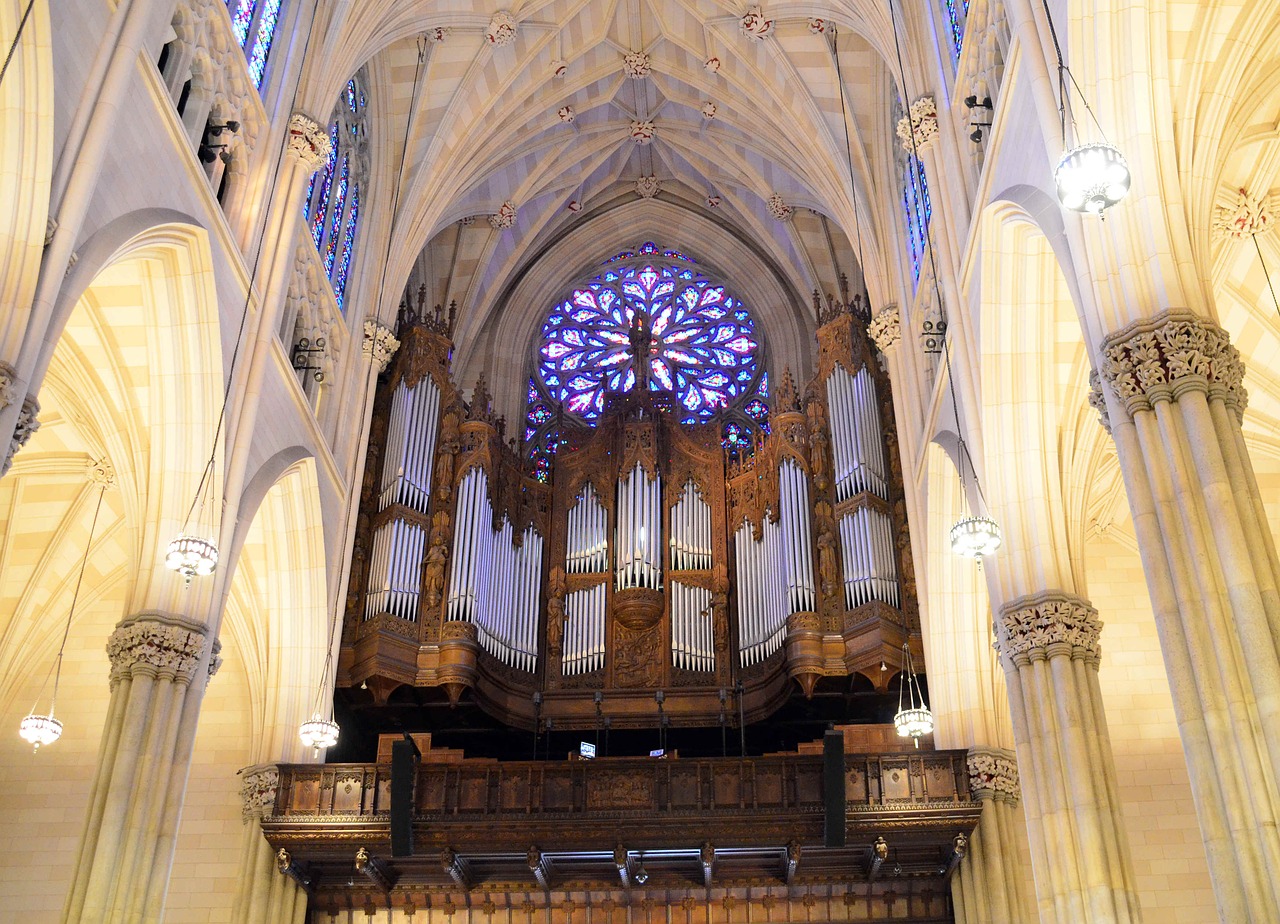 Don't forget the music. There are 19 bells in St Patrick's Cathedral, each named after saints. Originally, there were iron rods attached to clappers that would ring the bells, but since 1952, the bells have been electrified and can now be played from a keyboard in the gallery.
What else? Here's something you shouldn't look for: There's a hidden window in the cathedral. It's in keeping with Gothic cathedral tradition that glory is to be given to God, who sees things in secret that humans can't.
Questions and Answers to Help You Plan
Here are a few of the questions tourists usually want to know before visiting this landmark. Take a quick look so you can plan your trip.
Is St Patrick's Cathedral free?
Yes, it's free to enter St Patrick's Cathedral whenever the doors are open and you don't need a ticket. There are donation boxes for those who would like to contribute, but entry and Mass services are free and open to the public.
Can anyone go to Mass at St Patrick's Cathedral?
Yes, everyone is welcome to attend Mass, a sacred Catholic worship ritual that's been happening here for nearly 150 years. To be respectful during Mass, be sure to silence cell phones and other devices. It is customary to dress respectfully and remove hats when entering the building. The pews are open seating, and those with small children tend to keep towards the back. You will know when to stand or kneel by following the crowd.
Non-Catholics are welcome to join and participate in Mass, but receiving communion is a ritual reserved only for Catholics. Instead of receiving the communion wafer, non-Catholics may cross their arms over their chest to receive a blessing. The entire ceremony typically lasts about 45 minutes.
When should you visit?
Special Masses and holidays can affect the hours, but generally speaking, it's less crowded earlier in the day. And you're pretty much guaranteed to beat the tourists if you arrive when the doors open at 6:30 a.m.
Don't Miss St Patrick's Cathedral on Your NYC Trip
Given its location in Midtown, it's hard to miss at least seeing St Patrick's Cathedral from the outside, and it's easy to schedule in time to visit it right before or after exploring the theater district.
Whether you're interested in its remarkable architecture, rich history or just getting to know a true NYC landmark, you won't be disappointed with a stop at St Patrick's Cathedral.