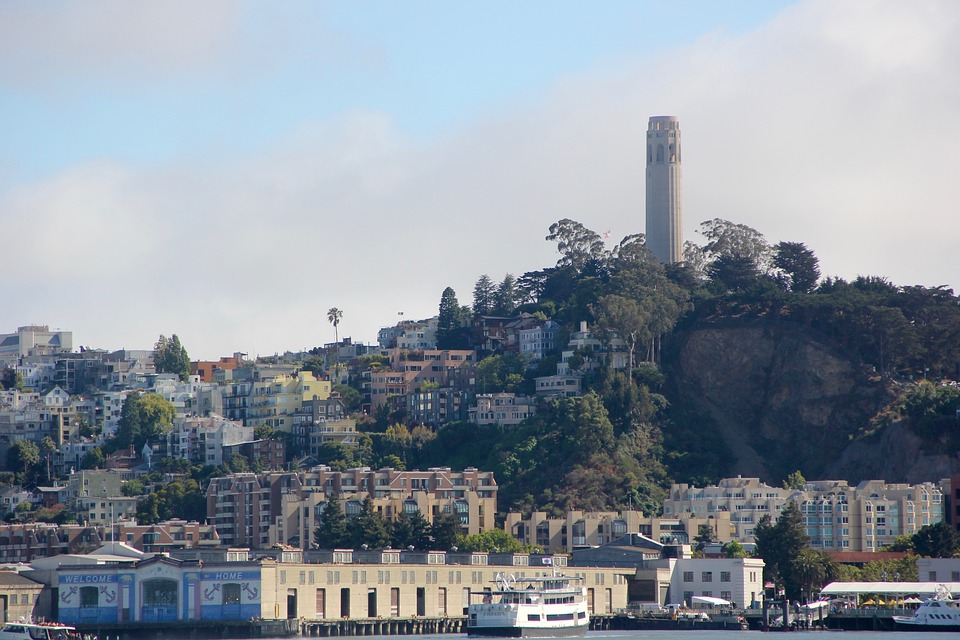 Coit Tower is a staple of any trip to San Francisco. It offers some of the most panoramic views of the bay and is a cultural monument of the city. It has stood on Telegraph Hill for nearly a century now and is a registered historical landmark by the National Register of Historic Places.
As a guide, I love every sight in our city, but I consider Coit Tower a true must-see for tourists. Why? In this article, I'll share some history of the tower, the things to look for when you visit, and some local tips to get up to the tower, beat the traffic, and see hidden parts of this magical city.
A Brief History on Coit Tower
Coit Tower was built in 1933. It's named after a wealthy San Francisco socialite named Lillie Hitchcock Coit. She inherited her fortune from her father, a (very) successful physician.
Like many San Franciscans of yore, especially rich ones, Lillie was a bit eccentric for her day. She was known to smoke cigars, drink, and crash male-only gambling halls by dressing like a man in the then-rough-and-tumble North Beach neighborhood.
Born in New York in 1843, Lillie's family moved to San Francisco in 1851. People she grew up with said she was a "tomboy" and wore men's trousers long before it was socially acceptable for women to do so. She earned the nickname "Firebelle Lil," partly due to her fiery disposition — and also because she was fascinated with firefighting.
The Story of Firebelle Lil
The story goes that at the age of 15, she witnessed the Knickerbocker Engine Co. #5 attempting to respond to a fire call in Telegraph Hill. The firemen were short-handed and in need of assistance when she stepped in and helped them get up the hill, thanks to her local knowledge of the area. She thereafter became the "mascot" of the company. She would ride in the engine during parades, attend to firefighters who were ill, and was made an honorary member in 1863.
Lillie died in 1929, leaving a third of her vast wealth to San Francisco with the express purpose of making it more beautiful. And the tower does just that.
The tower was built by Arthur Brown JR and Henry Howard, who designed many other buildings throughout the city and state and finished in 1933. The city used some of those funds to construct Coit Tower. Contrary to popular belief, the tower isn't designed to look like a fire hose nozzle, though it is a monument to volunteer firefighters.
Guide tip: Want to see another firefighters monument? There's one in Washington Square Park, built by the same architect using funds from Lillie's estate.
Visiting Coit Tower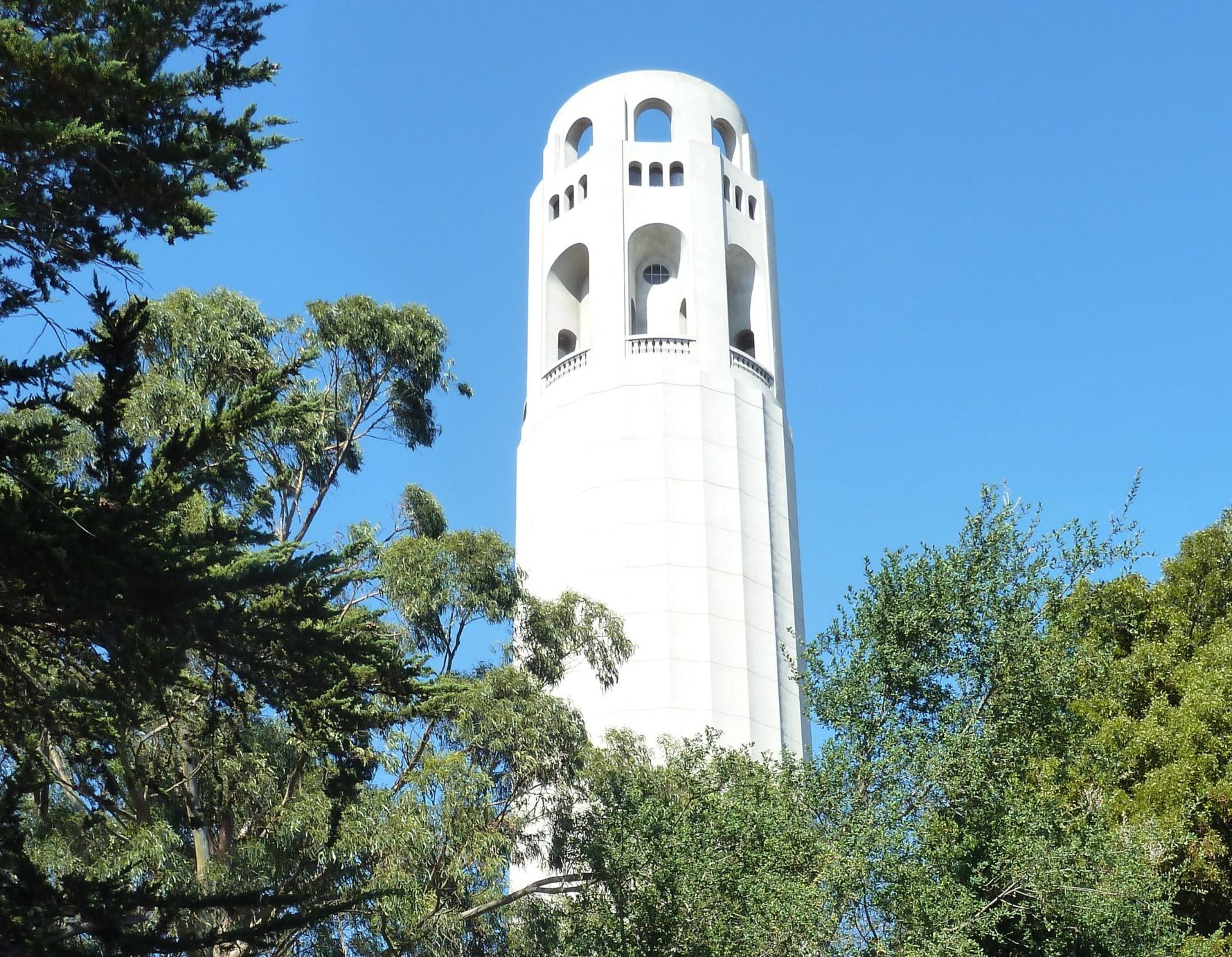 Coit Tower sits atop Telegraph Hill, one of San Francisco's original "Seven Hills" (there are actually 44 officially recognized hills now).
The park surrounding it is Pioneer Park, and Coit Tower is its most notable feature. For one, it's large. The tower stands 210 feet tall, built in an art deco style from unpainted reinforced concrete. The interior of the tower hosts several fresco style murals painted by nearly 25 different artists. The murals themselves are historic, too, commissioned in the 1930s as one of the first public art projects that came from the Great New Deal. The murals depict various scenes of life in California, particularly during the Great Depression.
Some of the original murals, those depicting controversial and "radical" images, are lost to history. Authorities briefly had to padlock the tower to keep people from defacing the works, and a few murals were even painted over to ease tensions.
Really take some time to look at these paintings. I find that I notice new details every time I return.
Reaching the Top of Coit Tower
Of course, the main reason people visit Coit Tower isn't for the murals or the quaint park that surrounds it.
The main attraction is the short elevator ride that takes you up the 210 feet to the observation deck at the top of the tower. From here you get a panoramic view of the city and the bay. It's a great way to take in some of the iconic sights of the city's North Side.
If the tower were built today, I'm sure the observation deck would be made of glass for a complete panoramic view. Keeping with the art deco style, the windows form circular panes of glass as you can see in the photo above. Despite the unusual windows, nothing takes away from the breathtaking scenery of this perch on a clear day.
Guide tip: Landmarks to look for are the Bay Bridge, Ferry Building, Transamerica Pyramid, Alcatraz, Lombard Street, the Golden Gate Bridge and many others.
Getting to Telegraph Hill
Telegraph Hill is located on the northeast end of San Francisco. Thanks to its prime location, the tower is convenient to several other attractions in the city so you can certainly make a day of it.
Fisherman's Wharf with its sea lions on Pier 39 and scenic waterfront is about a 20-minute walk away. The North Beach neighborhood is about a 10-minute walk, home to San Francisco's Little Italy and some of the most delicious Italian food in the city.
If you're traveling with the family, the Exploratorium at Pier 15 is one of the best kid-friendly science museums around. It has a ton of interactive exhibits and is fun for all ages. It's now located at the Embarcadero (it used to be at the Palace of Fine Arts).
If you're up for a challenge, take the Filbert Steps up — or down — to Coit Tower. Along the 400 steps, you'll see historic houses and the beautiful plant life in the neighborhood. Keep your eyes peeled for the wild parrots of Telegraph Hill that live here. Bring your camera. These cherry-headed conures are quite colorful and a famous part of Telegraph Hill.
Fun fact: Brooklyn in New York City, if you're heading up that way, has some green parrots, too.
Coit Tower FAQ

How much does Coit Tower cost and how long will I spend there?
Coit Tower costs $9 for adults and $6 for seniors and children. Tickets can be purchased online, but there's a small processing fee so you may want to get a ticket at the door.
You can spend upwards of two hours at Coit Tower depending on how long you want to take in the details or enjoy Pioneer Park. You could also knock it out in 30-45 minutes if you're looking to spend more time at one of the attractions nearby, such as Fisherman's Wharf.
How busy will Coit Tower be when I visit?
This really depends on the time of year you go. Peak hours can get quite busy, especially if you're driving to the top of the hill. Parking on Telegraph Hill is limited so if you're driving, prepare for a long line of cars during the heavy travel season such as spring and summer. You can take the #39 Coit bus but I recommend taking the stairs if you're able. They are an attraction in and of themselves, and you won't have to deal with traffic.
Guide tip: Summer in San Francisco can be surprisingly chilly. I recommend checking the local forecast and dressing in layers.
What are the hours I can access Coit Tower?
The tower is open from 10 am. to 6 p.m. April through October and 10 a.m. to 5 p.m. November through March. The last tickets are sold at 5:30 and 4:30 p.m. respectively.
Coit Tower: A San Francisco Landmark for Your Bucket List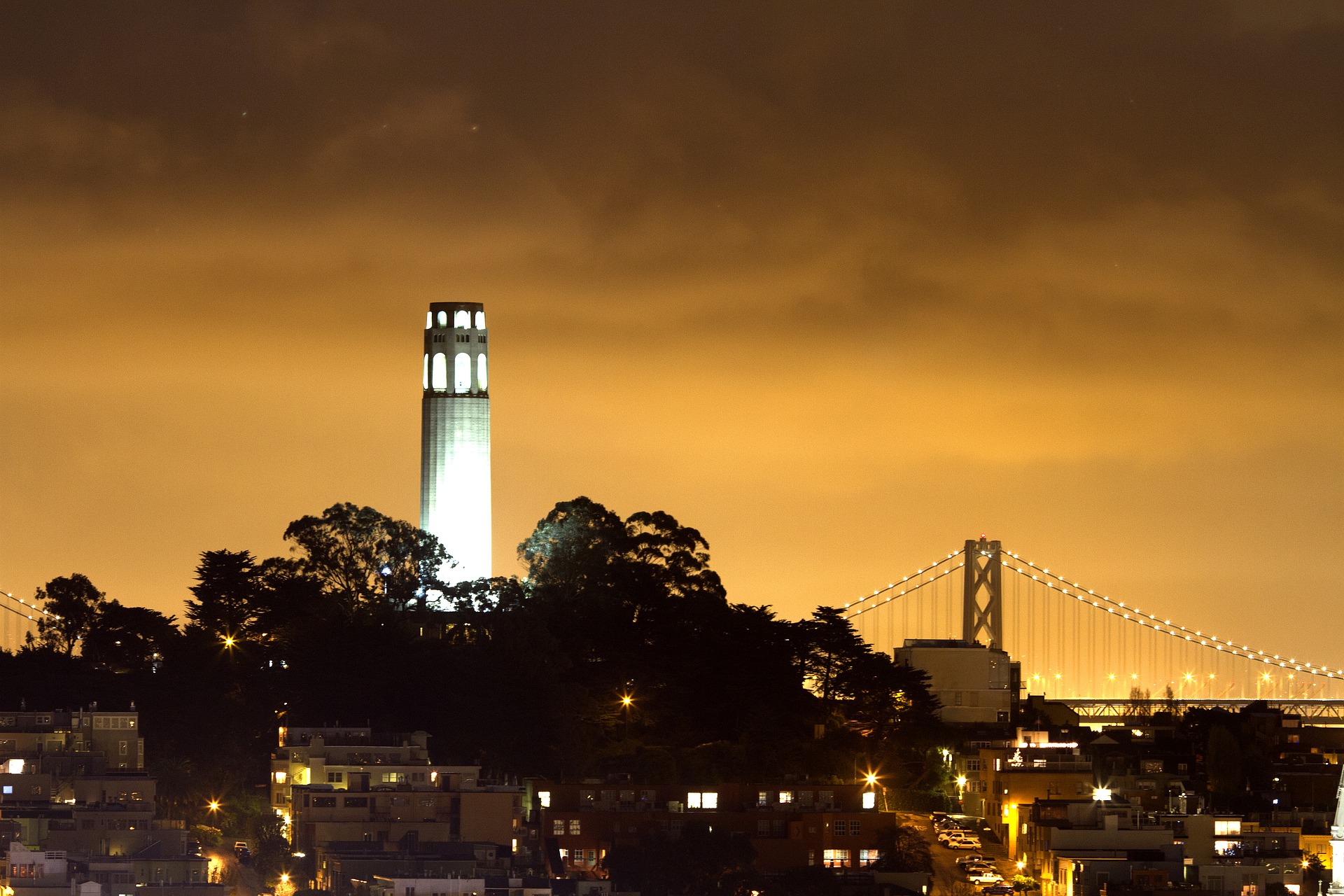 I would highly encourage you not to miss Coit Tower on any trip to San Francisco. It isn't the biggest attraction — like Alcatraz, the Golden Gate Bridge, or Lombard Street — but it's unusual and unique to San Francisco.
If you ride up the elevator to the top, you'll get a beautiful view of the city, take in some early 20th century art and see a national historic landmark, all in one trip. Be sure to spare a moment to remember all the men and women who fight fires and save lives. It's what Lillian Coit would want.
When the fog rolls in towards the end of the day, the tower is often one of the most prominent structures visible, a fitting image for a monument dedicated to those who look after us.