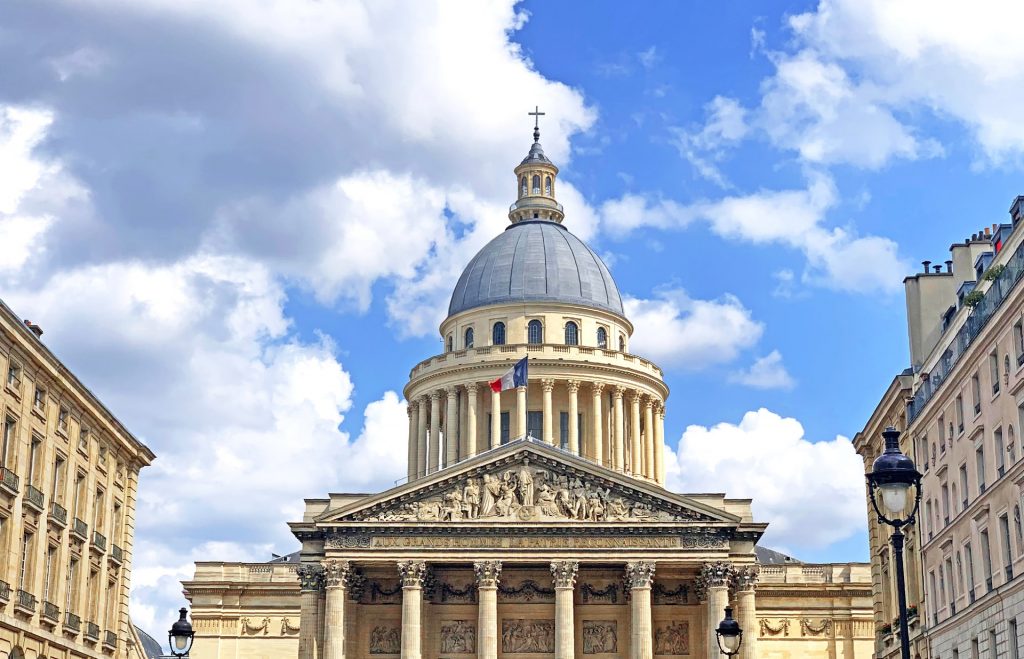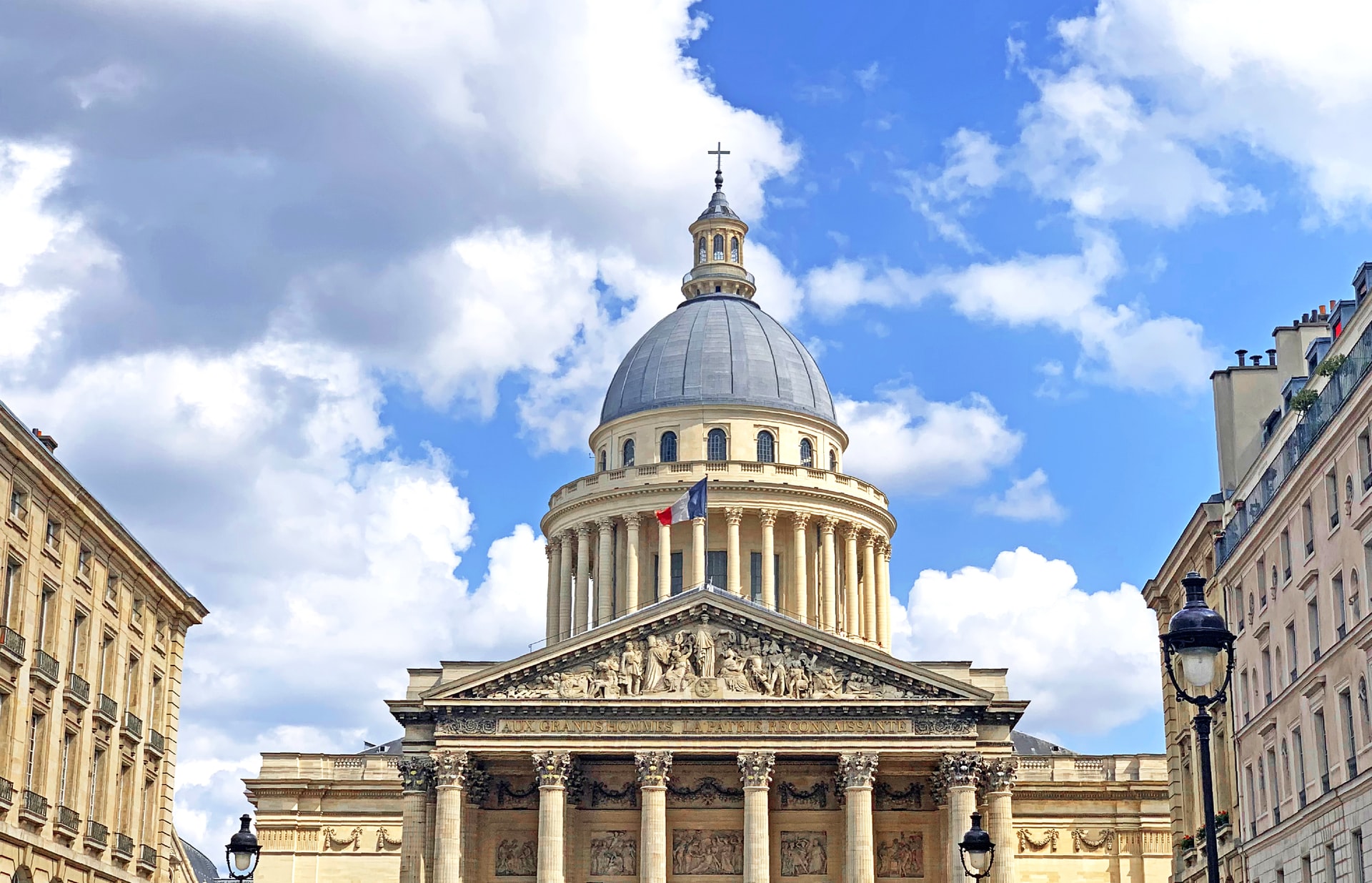 Yes, there's a Pantheon in Paris.
Somehow despite being located near major tourist hotspots like the Luxembourg Gardens and Cluny Museum, the Panthéon tends to fly under the radar when it comes to Paris attractions.
Yet it's a beautiful monument, worth exploring inside and out if you have the time on your tour of Paris. In this guide, I'll share a little about this monument's history, what you can see inside and out at the Panthéon, and tips to help you prepare for your visit.
The Paris Panthéon: Visiting the "Other" Pantheon of Europe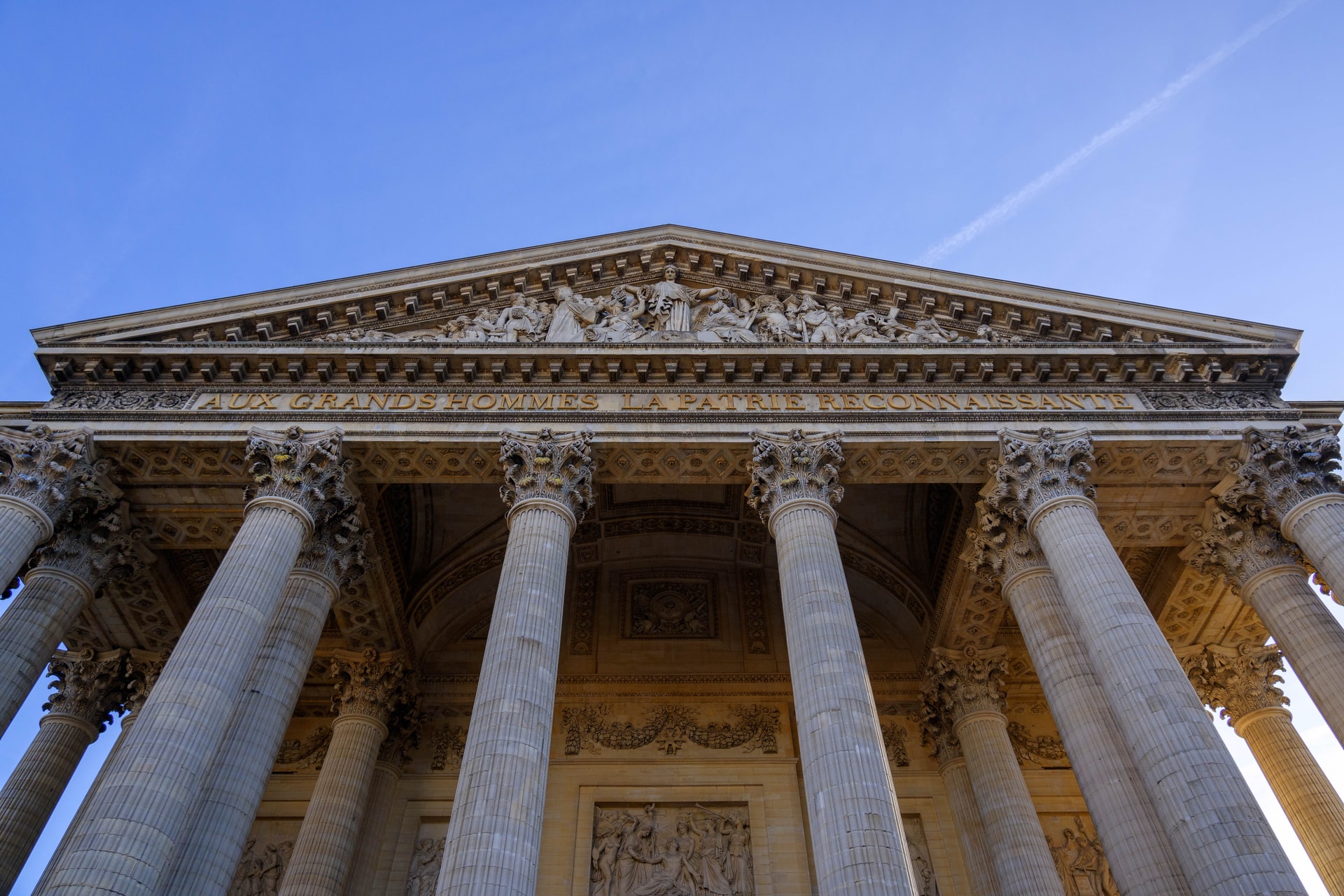 When starry-eyed travelers talk about seeing the Pantheon and being awed by its grandeur, they're probably talking about the one in Rome. That's not to say the Panthéon in Paris isn't just as grand, but the Italian version is arguably the more famous of the two.
They share some similarities. Both were built for a religious purpose originally and have since become well-known tourist attractions. Their look is similar from the outside, too, featuring columns, a dome, and a triangular pediment. And that's no accident — the one in Paris was modeled on the original in Rome.
The Paris Panthéon, however, doesn't date to the 2nd century. It's much more modern, built in the 1700s. The style of architecture is called neoclassical precisely because it draws from the classical motifs of antiquity, revived (made new, or "neo") several centuries later.
Why Paris Has a Panthéon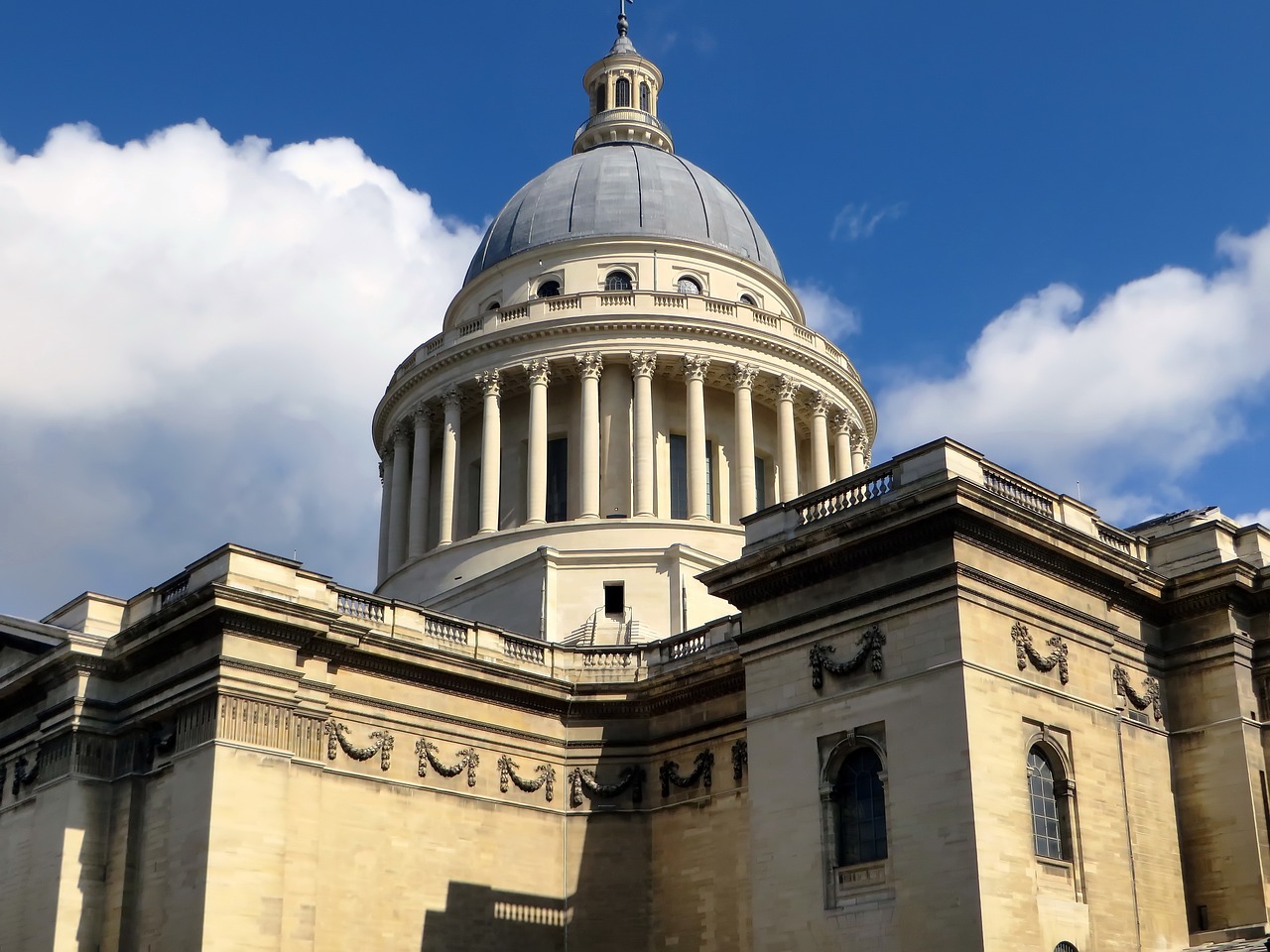 It all started in the mid 1700s when King Louis XV got sick. When he survived, he was so grateful, he built a church dedicated to St. Genevieve, who had an abbey on the site where the Panthéon now stands. Louis' plan was for the new church to be far grander than the older abbey.
Construction was a slow process. It took over three decades to finish, from 1758 to 1790, partially because Louis was quite the spendthrift and the project kept running out of funds.
The timing of completion turned out to be awkward. It was within months of the beginning of the French Revolution, and Louis had already died (back in the '70s). So instead of being a temple for the patron saint of Paris, the Panthéon was repurposed as a temple for liberty and the great French scientists, philosophers, and others who upheld its cause.
Famous Folks Buried at the Panthéon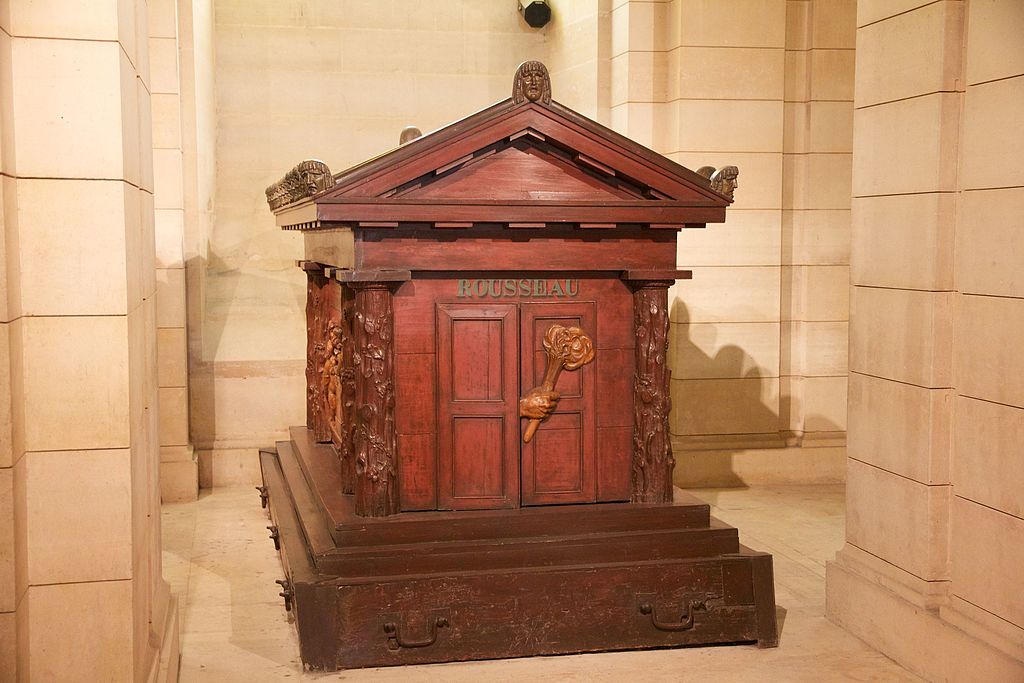 With its new purpose, the Panthéon became a mausoleum for famous French citizens. Over 70 souls are buried here, but a few are better known than others.
Here are some graves you may want to visit when you go.
Victor Hugo: The poet and novelist has a simple tomb with the dates of his life (1802-1885) inscribed on it.
Marie Curie: The famous chemist was the first woman to be buried at the Panthéon. Her husband, Pierre, is here as well.
Voltaire: His ashes were among the first added to the crypt, and a statue of the French Enlightenment writer stands in front of his tomb, holding a paper and quill as though he's still writing.
Louis Braille: You can find the marble tomb of this famous inventor with a wreath laying against it to honor his memory.
Simone Veil: A champion of women's rights and a noted French politician, Simone is one of the few women honored in the Panthéon, interred here in 2018.
Alexandre Dumas: The author of "The Three Musketeers" was relocated to the Panthéon in 2002 by order of President Jacques Chirac.
Jean-Jacques Rousseau: The philosopher has two inscriptions on his tomb, one which reads in part that "he enlarged the human mind and taught it that it must be free."
What to See at the Panthéon in Paris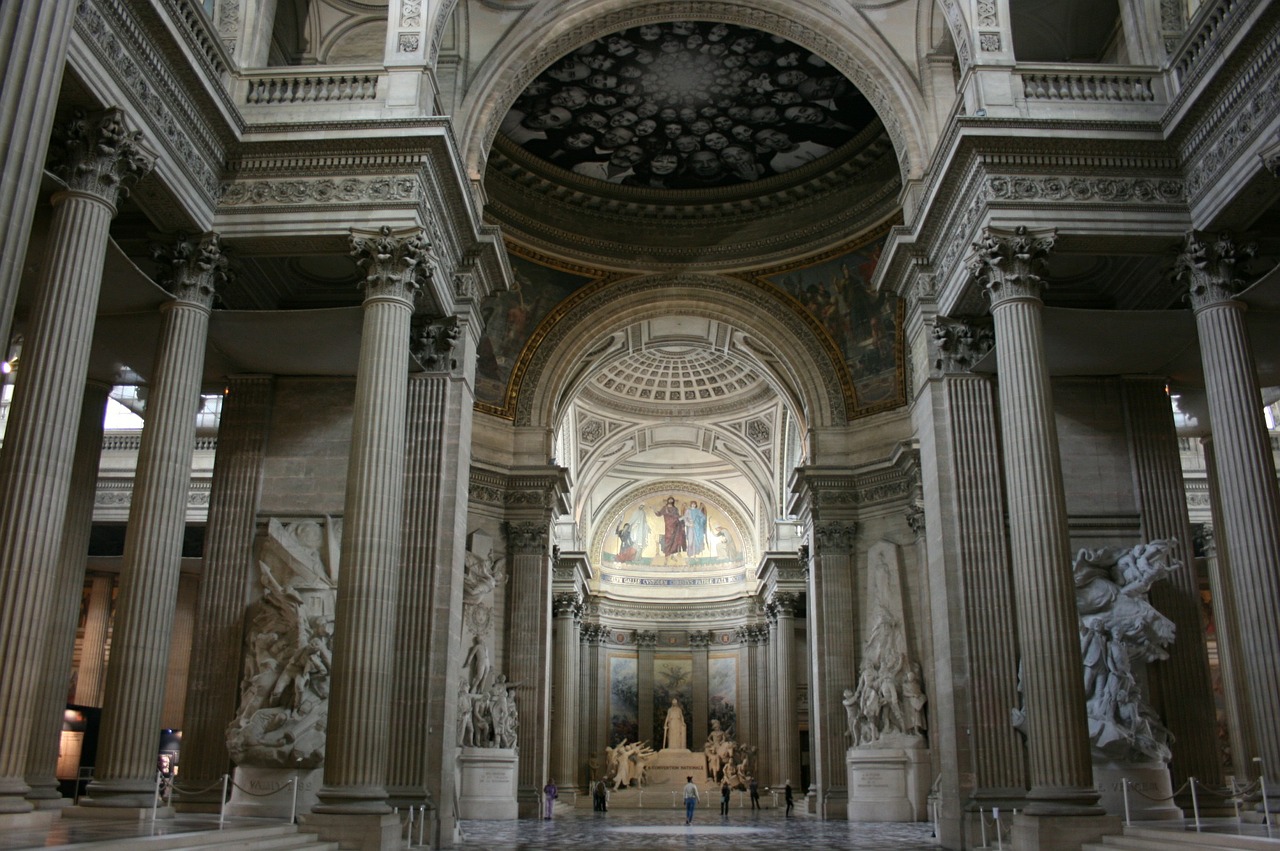 Even if you don't want to splurge on a ticket to go inside, touring the exterior of the Panthéon is certainly a good photo op. The neoclassical architecture is imposing and pleasingly symmetrical.
It's also built on the highest point in the 5th arrondissement, not quite as tall as Montmartre, but a nice viewpoint nevertheless. You can glimpse the dome from the Luxembourg Gardens, the scenic grounds of the Palais de Luxembourg, which are nearby.
Inside, the building looks like the church it was designed to be: lofty arches, lavish frescoes, columns everywhere. The dome when viewed from inside and glowing with sunlight is particularly beautiful.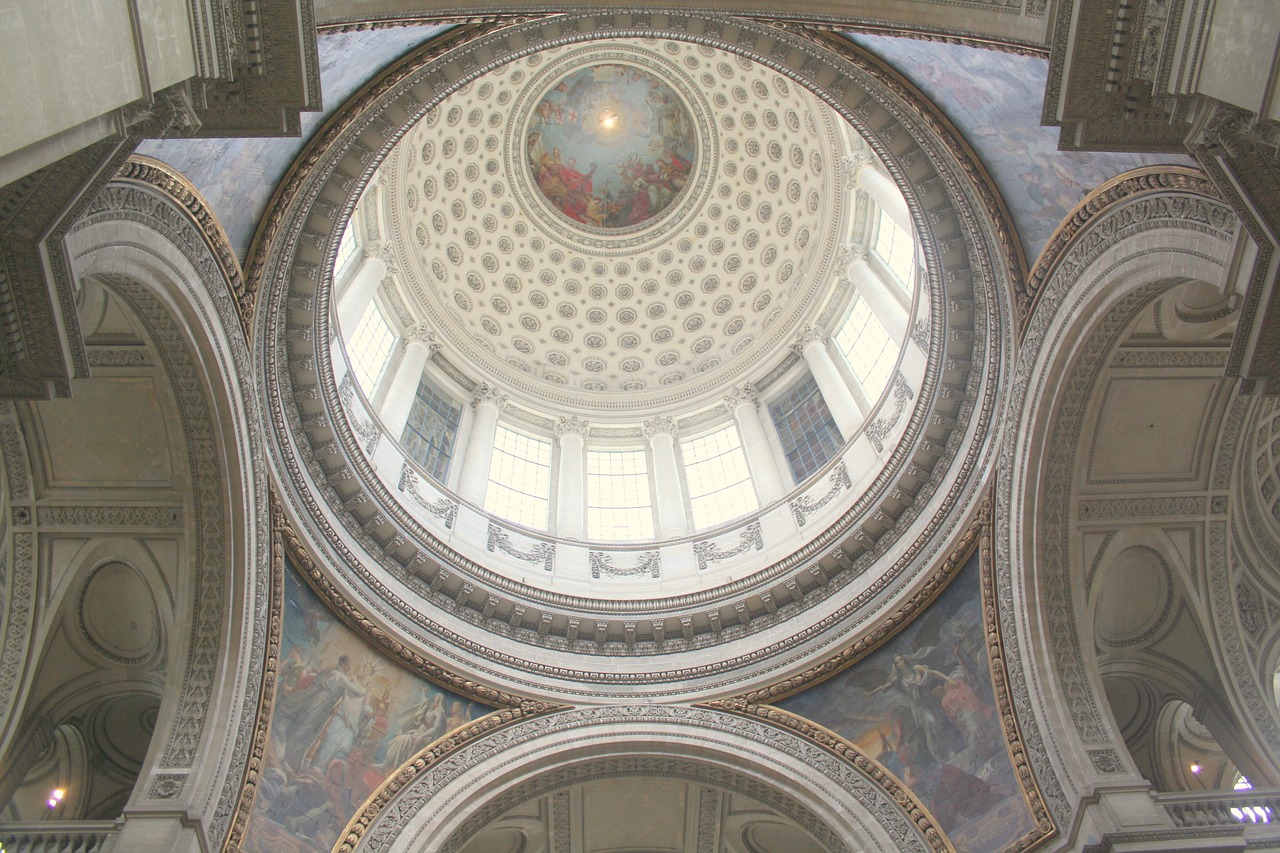 The artwork includes marble sculptures and paintings, an interesting blend of secularism and religion that reflects the building's dual purpose throughout history. One of the paintings shows Saint Genevieve herself, the patron saint of Paris.
In place of the altar, you can see a giant Foucault pendulum, a device invented by a Frenchman in the mid-1800s that proves Earth's rotation. It was revolutionary at a time when people believed the sun and planets revolved around the Earth.
Along with the art, architecture, and science, you'll want to visit the various graves, particularly those of famous French citizens listed above. Then, after touring the mausoleum, ascend to the balcony via more than 270 steps. From the dome you can enjoy one of the best views of Paris. Capacity is limited, so you won't be fighting crowds either.
Timing Your Visit: Panthéon Exhibits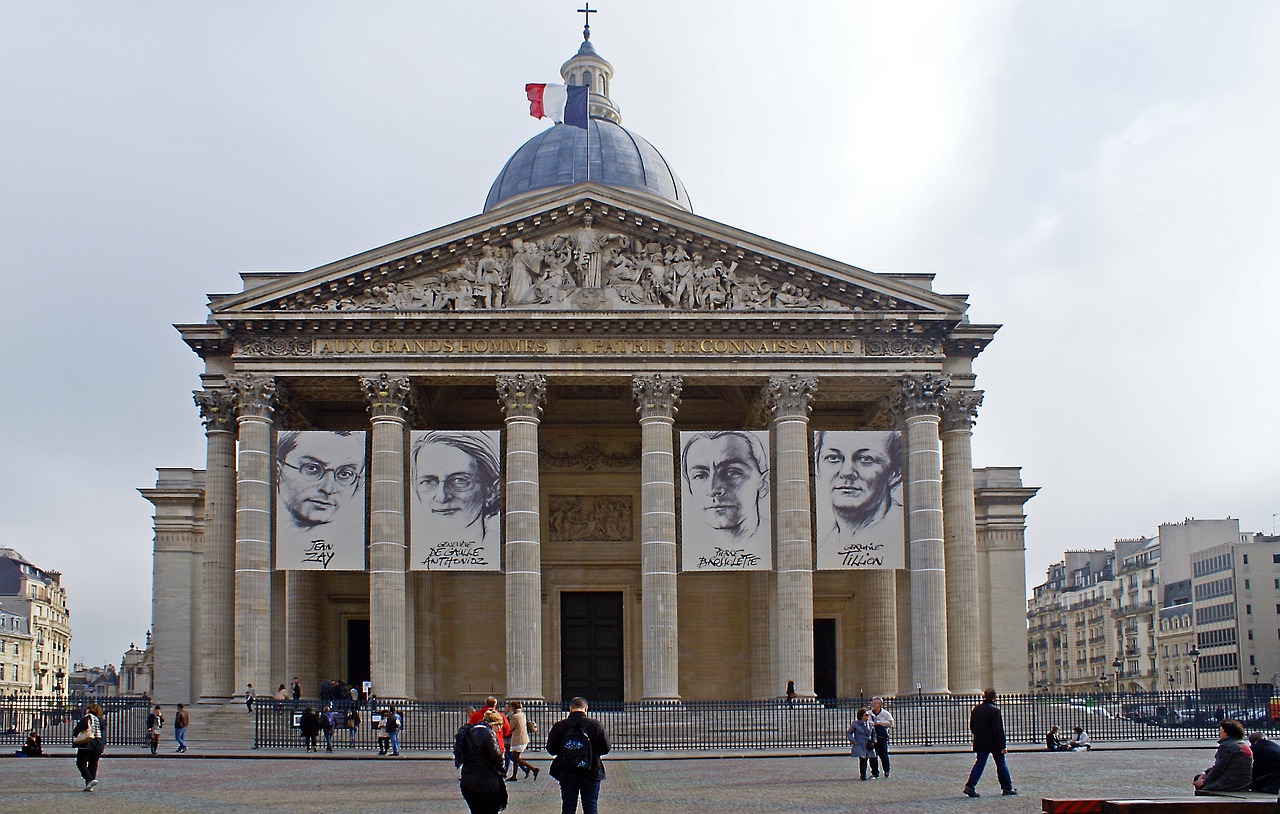 Check ahead of your visit to see what exhibits the Pantheon will have on display. These range from simple artwork to multimedia expositions that blend a variety of disciplines.
The next exhibit, titled "Victor Hugo, La Liberté au Panthéon" runs from Dec. 4 through March 14, 2021. The exhibit takes you back in time to the poet's national funeral in 1885 and the solemn procession from the Arc de Triomphe to the Pantheon where he was interred. History comes alive with paintings, newspaper clippings, drawings, memorabilia, unpublished documents, and more.
"Victor Hugo, La Liberté au Panthéon" has a number of complementary events. One of these is a series of concerts planned for January and February inspired by Hugo's work and life. Unlike the main exhibit which is included with your admission, the hour-long show has a separate ticket (€8 for kids and €13 for adults).
Practical Tips for Your Panthéon Visit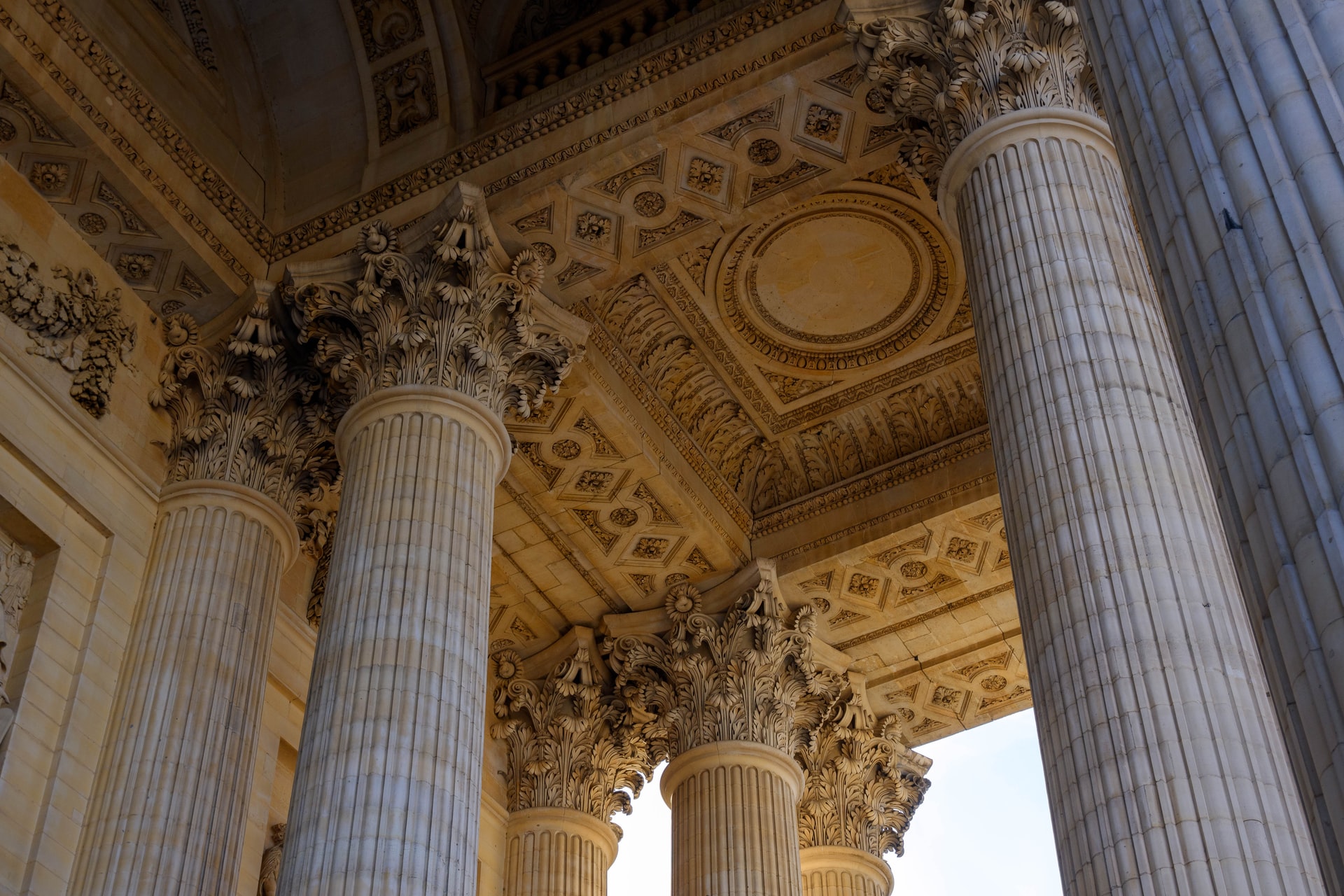 Audio guides are available in several languages, including English, so you can learn about what you're seeing as you explore. They even have a free activity book you can download for kids to keep them entertained and help them learn more about the monument.
You'll find the church-turned-crypt at the center of a large square, appropriately called the Place du Panthéon.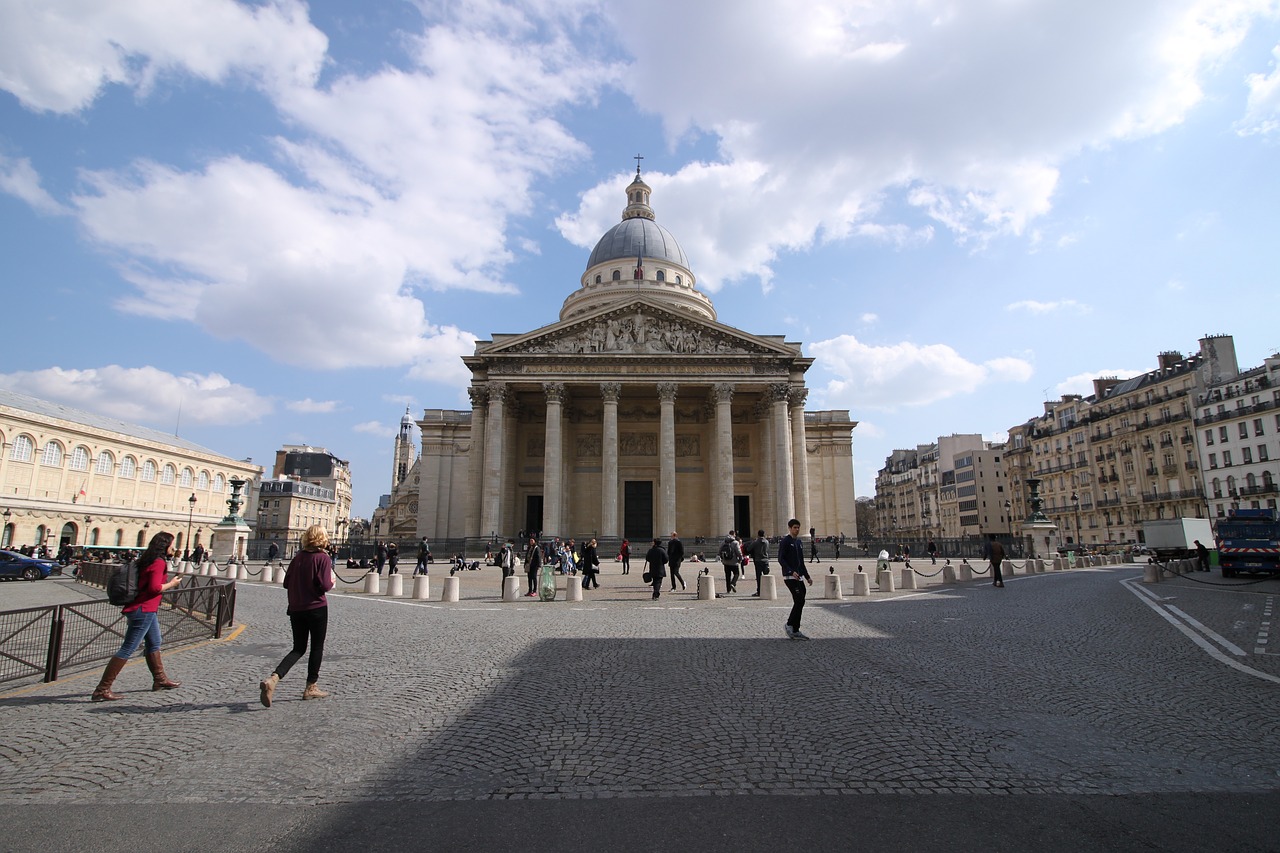 Thanks to its central location, there are plenty of options when it comes to arriving here by public transit. You can take the Metro (line 10) the RER B or one of several bus lines (21, 27, 38, 82, 84, 85, 89). I recommend opting for the Metro since it's fast and easy to use. Waiting for buses in Paris isn't how most people want to spend their vacation, and reading the time tables can take some getting used to for first-timers.
Tip: You can't bring luggage inside here, so be sure to leave large bags at your hotel.
Frequently Asked Questions about the Panthéon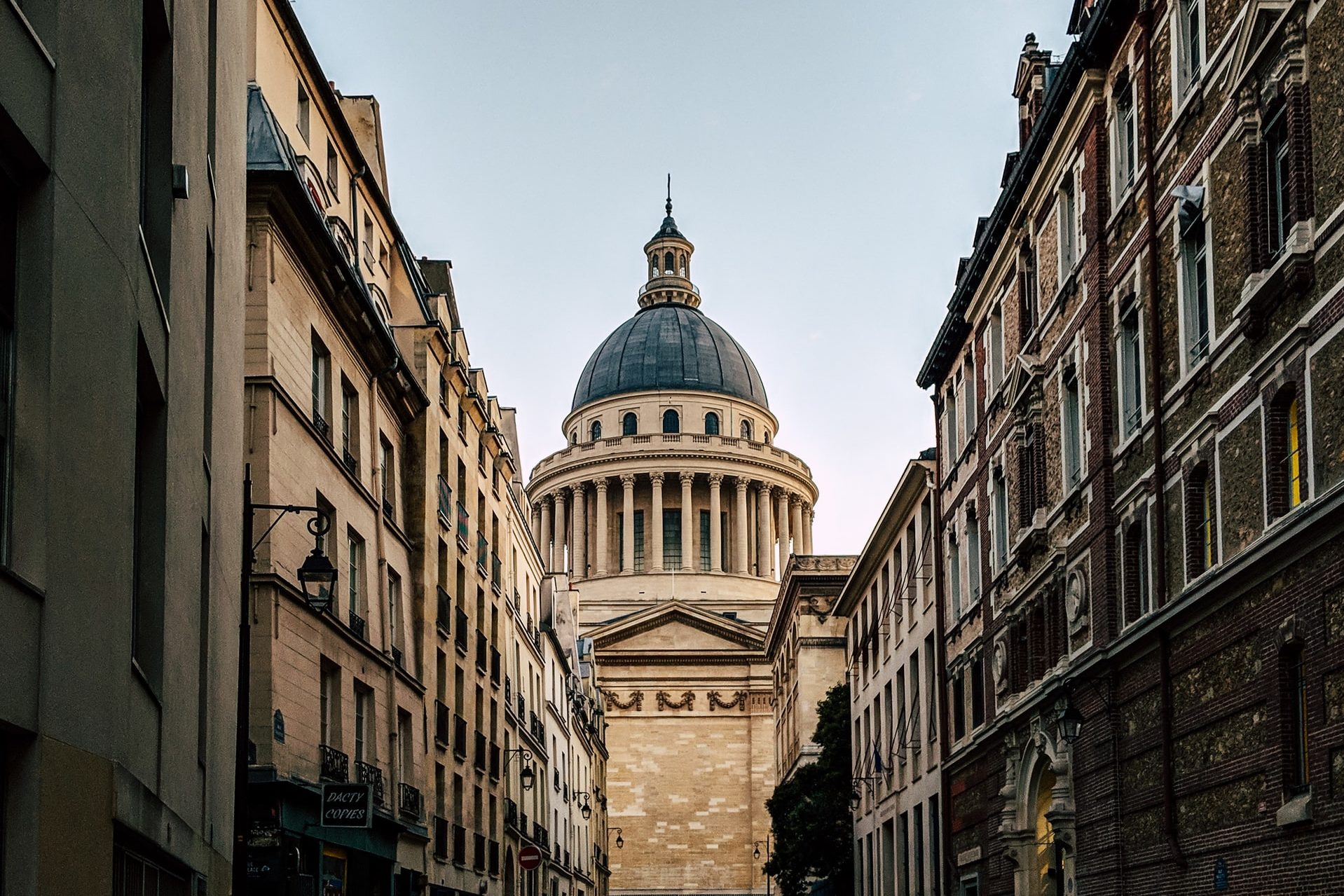 Here are answers to a few questions travelers want to know, but if you have others, always feel free to reach out on Facebook. We love connecting with fellow globe-trotters.
Is the Panthéon in Paris free?
Alas, no. Like many monuments in Paris, you need a ticket for admission. The price is typically €11.50, but there are some exceptions. If you register with a group of 20 or more, for example, you can get a discounted rate of just €9 per person.
Admission to the Panthéon is also free for individuals who fall into one of the following categories:
Children under 18
Disabled veterans and their accompanying guest
European Union citizens under 26
Job-seekers registered with the French government as unemployed
Anyone receiving French state benefits job-seekers
If this select list doesn't sound like you, there's another opportunity for free admission to the Panthéon in Paris. Go on the first Sunday of the month between Nov. 1 and March 31. Many monuments offer free admission on this day, so expect more crowds than usual taking advantage of the fee-free day.
When is the Panthéon open?
Hours vary by season. The Panthéon is currently open 10:45 a.m. to 7 p.m. through Sept. 30. For Oct. 1 through March 31, the schedule shifts to 10 a.m. to 6 p.m., and then April through June, it's 10 a.m. to 6:30 p.m.
The monument is closed for a few holidays, including the obvious ones to a few that a non-French citizen might not know. Here's the full list:
New Year's Day (Jan. 1)
International Workers Day (May 1)
All Saints' Day (Nov. 1)
Armistice Day (Nov. 11)
Christmas (Dec. 25)
Can you take photos inside the Panthéon?
Yes, personal photography is allowed. Taking photos for profit is prohibited.
Adding the Panthéon to Your Paris Itinerary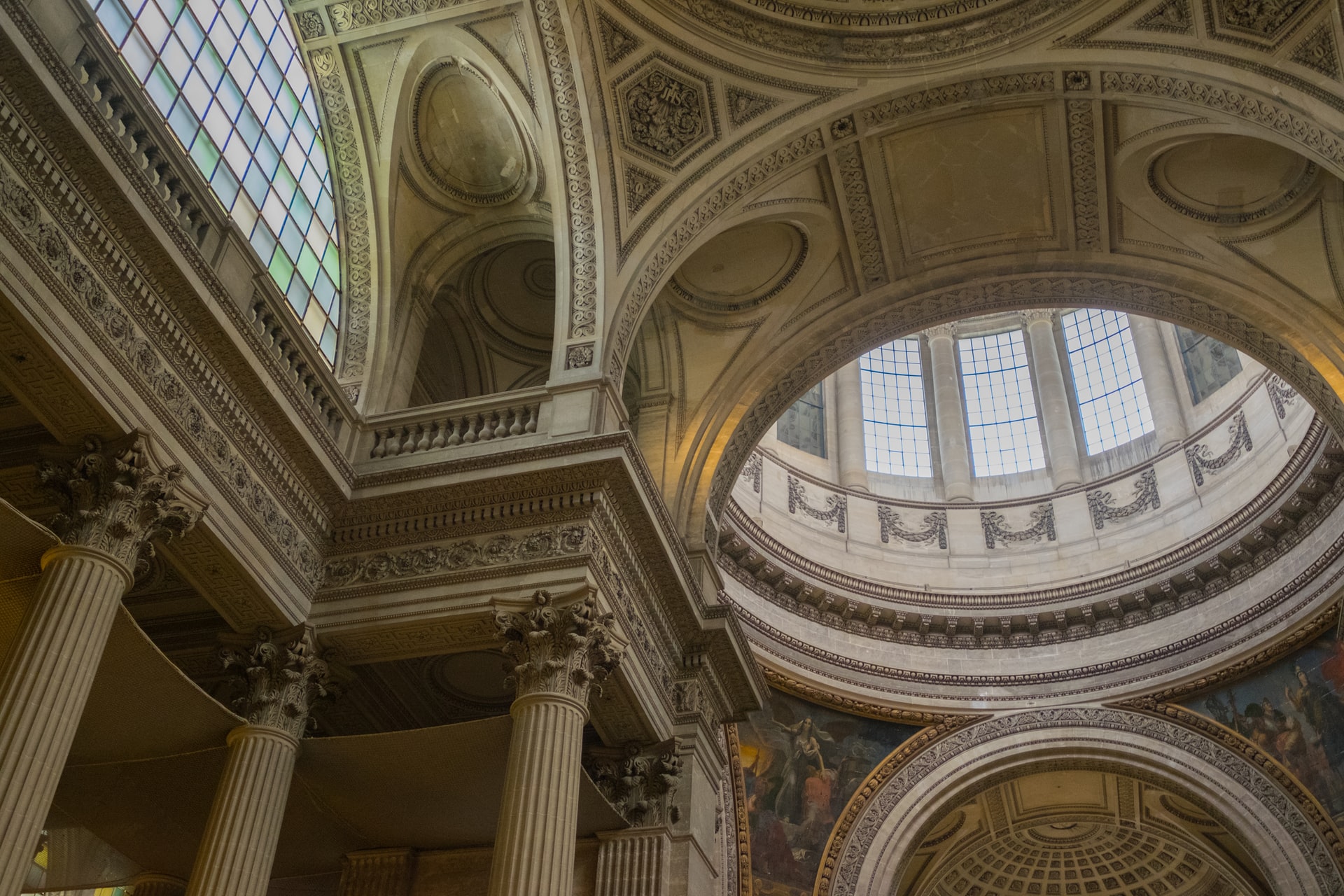 For most tourists, this monument isn't quite the bucket-list item that climbing the Eiffel Tower is, but it's still a fascinating relic of French history.
I recommend including it in one of your walks around the city if you have a little extra time to spend discovering the Left Bank of the Seine. Here's a helpful guide for what to see in the Latin Quarter, so you can visit the Panthéon and the many incredible sights nearby.
Happy exploring!