Instagrammable Spots
Looking for the best spots to post up at? This guide will point you to all the best corners and crevices of New York City!  
Town: SoHo
Greene St and Spring St
(Enter Photo here)
Walk up and down this luxurious Cobblestone Street where all the high end stores are located. Stand at the corner of Green Street and Spring Street for the best shot where you can see all the stores behind you as well as the beautiful buildings and fire escapes. Find the exact location here.
Marc Jacobs Store Front
(Enter Photo Here)
Visit the bright and unforgettable Marc Jacobs pink store front, it's a perfect location to take fashionable photos. You can stand in any angle that you want as long as you get that bright pink background along with it. Find the exact location here.
Town: Little Italy 
Little Italy Sign
(Enter Photo Here)
How can you come to Little Italy and not take a picture in front of the most iconic Little Italy sign you will ever see? Since this sign is so popular sometimes it can be hard to capture a unique photo. Get creative with it, take a photo from behind the sign for a different style. Maybe try to make it look like you're holding the sign yourself. Whatever you do, you will always capture the fun memory. Find the exact location here.
Puglia Restaurant Store Front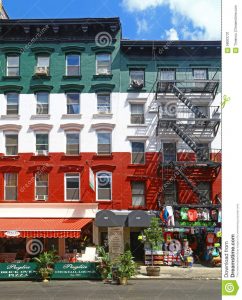 Just down the street from the iconic Little Italy sign you will find a restaurant that is obviously proud of it's colors. You can't miss Puglia restaurant where their whole building is painted to resemble the Italian flag. Make sure you stand on the street opposite of the building so that you can get the whole thing in there. Find the exact location here.
Town: Chinatown
Doyers Street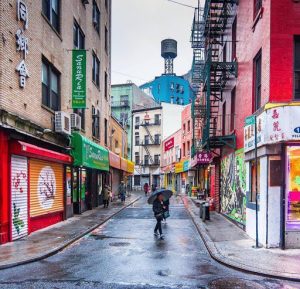 What was once known as the "Bloody Angle" for being the most dangerous street in NYC in the early 1900s is now known to be one of the least busiest streets in Chinatown. That makes it perfect for taking great photos! This angled street is filled with colorful store fronts and the famous Nom Wah tea parlor (NYC's first ever dumpling spot.) Find the exact location here.
Pell Street and Mott street
Walk up the bloody angle of Doyers Street and you run into Pell St. At the corner of Pell and Mott St. you will be able to see signs sticking out into the air. All signs are different shapes, sizes, colors, you name it. The best shot is looking down Pell Street and if you're lucky you can catch the horse that's on Pell St. in your photo. Find the exact location here.