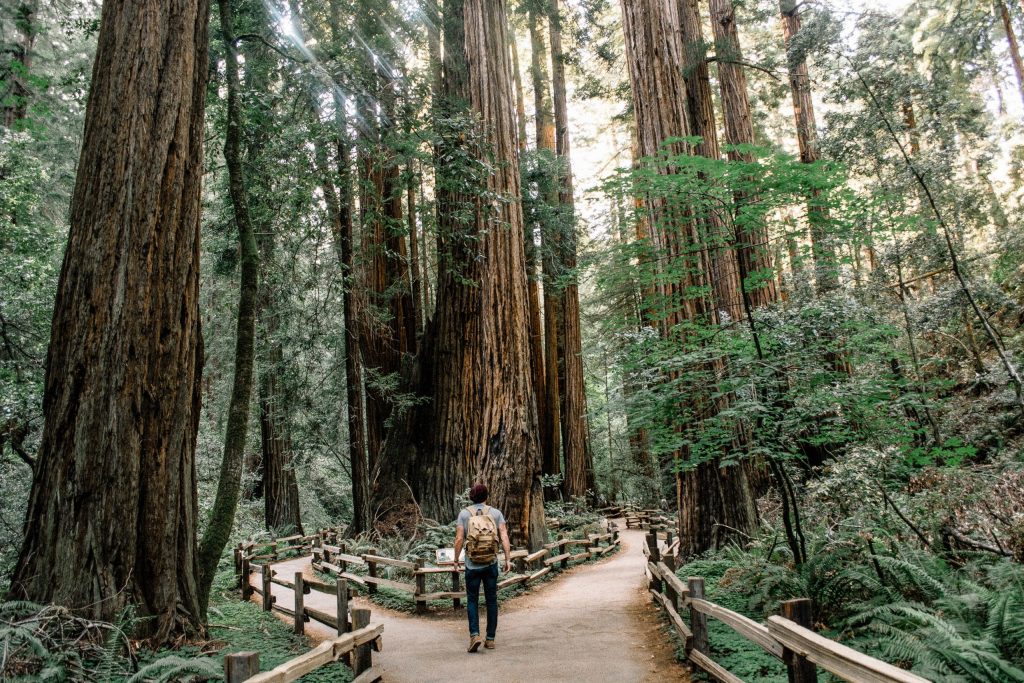 Muir Woods, once named Redwood Canyon, is a national monument just north of San Francisco created to preserve the old redwood trees found there.
Many of these old redwoods trees were chopped down for lumber, but thankfully some of them have been preserved through conservation, including the ones at Muir Woods, most of which are over 600 years old.
I just got back from a trip to Muir Woods, and I was amazed by the ancient towering trees that have survived for so long. Today, I want to share a little bit of that wonder with you. In this article, I'll cover what Muir Woods is all about, what you can do when you visit, and, of course, all the logistical info you need to plan your trip.
The Tallest Trees in the World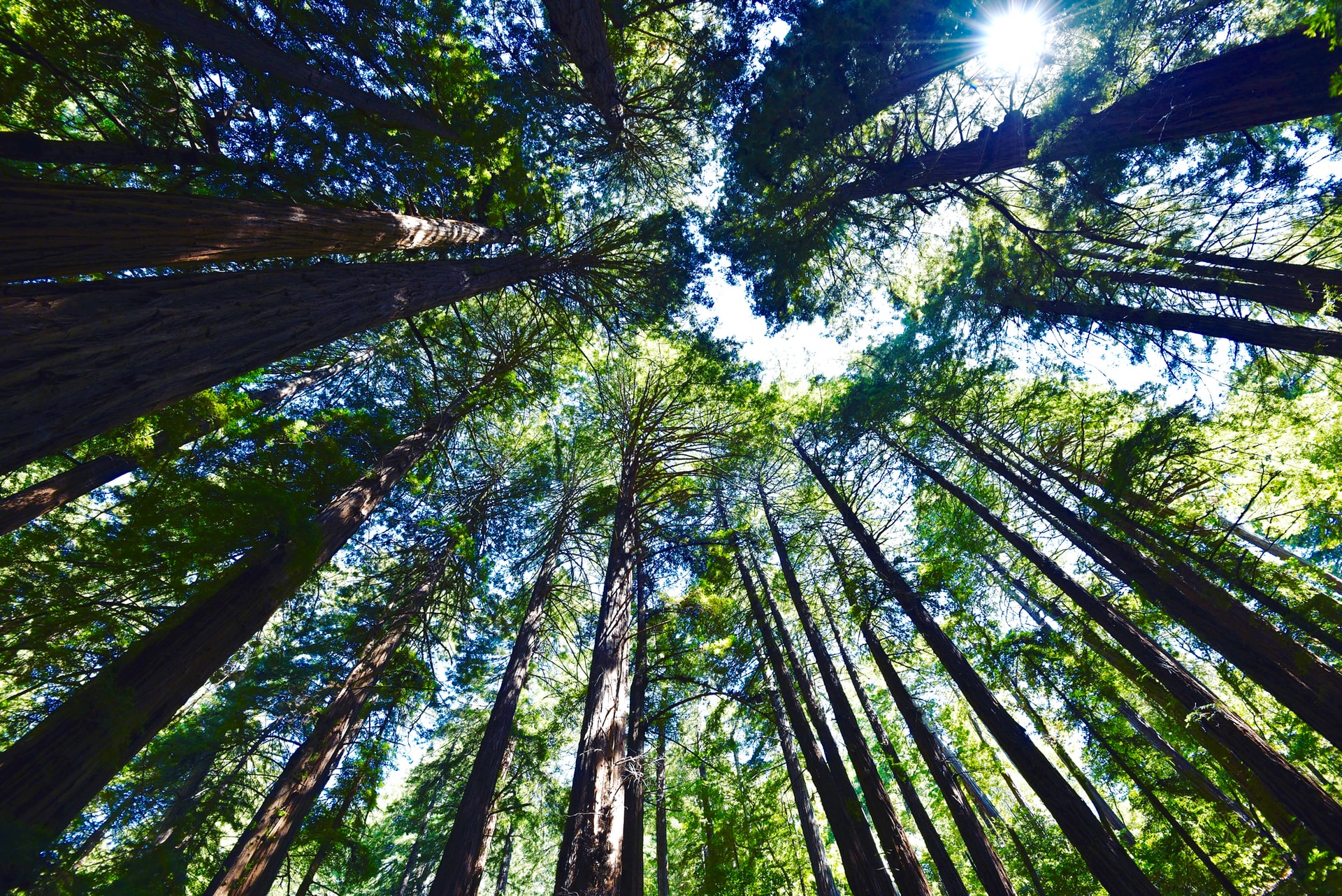 Don't confuse the redwood trees of Muir Woods with the other redwoods you probably know as giant sequoias. They're related since they're both sequoia trees, but these redwoods are coastal redwoods.
The trunk of the coastal redwoods isn't quite as large as the giant sequoias, which grow more inland at places like Yosemite, Sequoia and Kings Canyon national parks. But what they lack in trunk size, they make up in height. The coastal redwoods can grow much taller than their giant sequoia cousins — in fact, they're the tallest trees in the world.
There are some coastal redwoods that are a bit taller — you'll find them further north at Redwood National Park in Mendocino — but the redwoods at Muir Woods are still impressive at over 250 feet tall. The tallest redwood tree at Muir Woods is 258 feet tall. Experts estimate that it's more than 700 years old.
What to Do in Muir Woods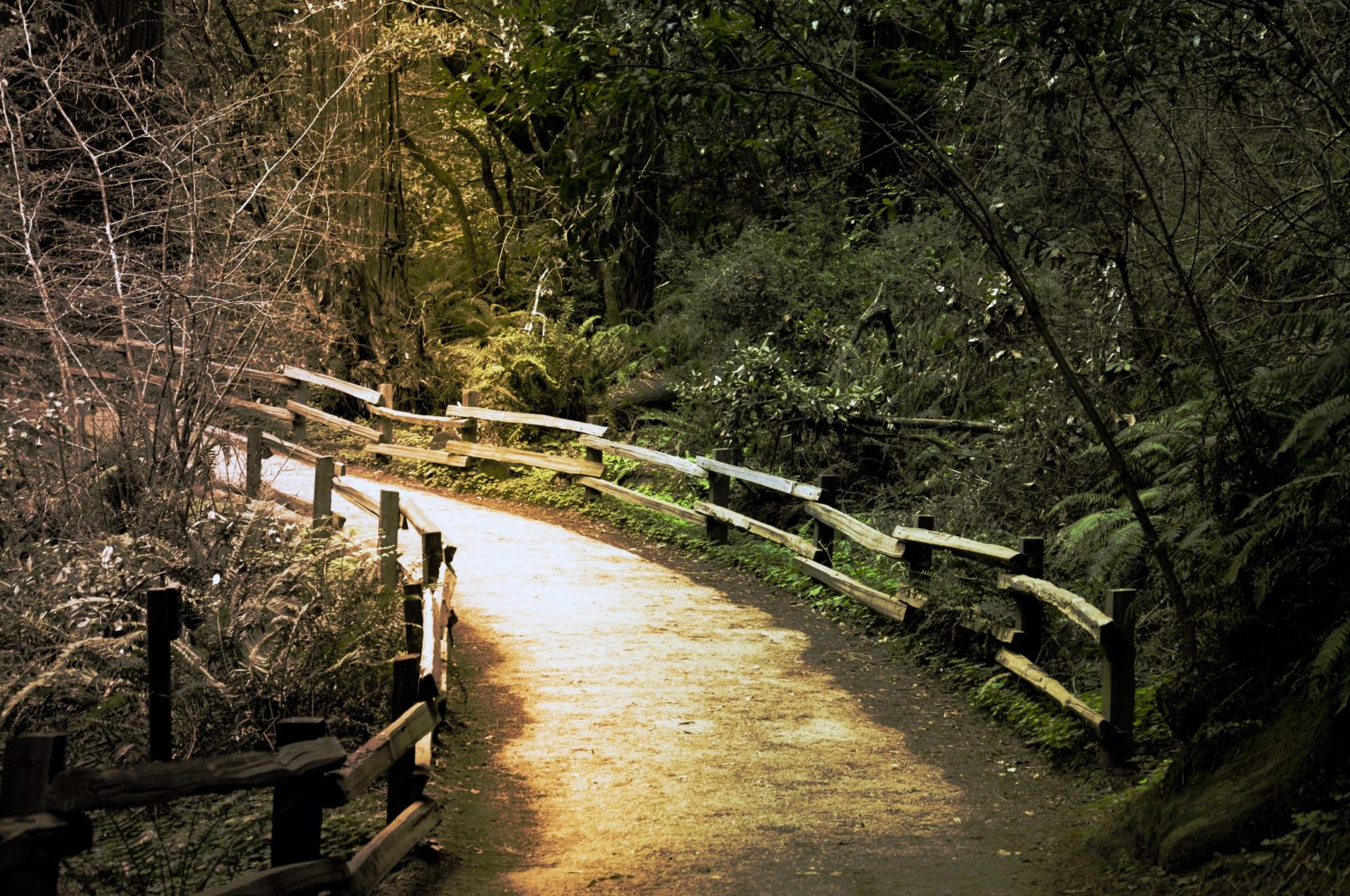 The main thing to do in Muir Woods, of course, is to go on a hike and appreciate the majestically tall redwood trees.
There are a total of six miles of hiking trails within Muir Woods itself. However, this national monument is surrounded by Mount Tamalpais State Park, so some of the trails actually connect to the state parks for longer hikes.
Here are some of the things to do in Muir Woods, from activities to trails to tours.
Redwood Creek Trail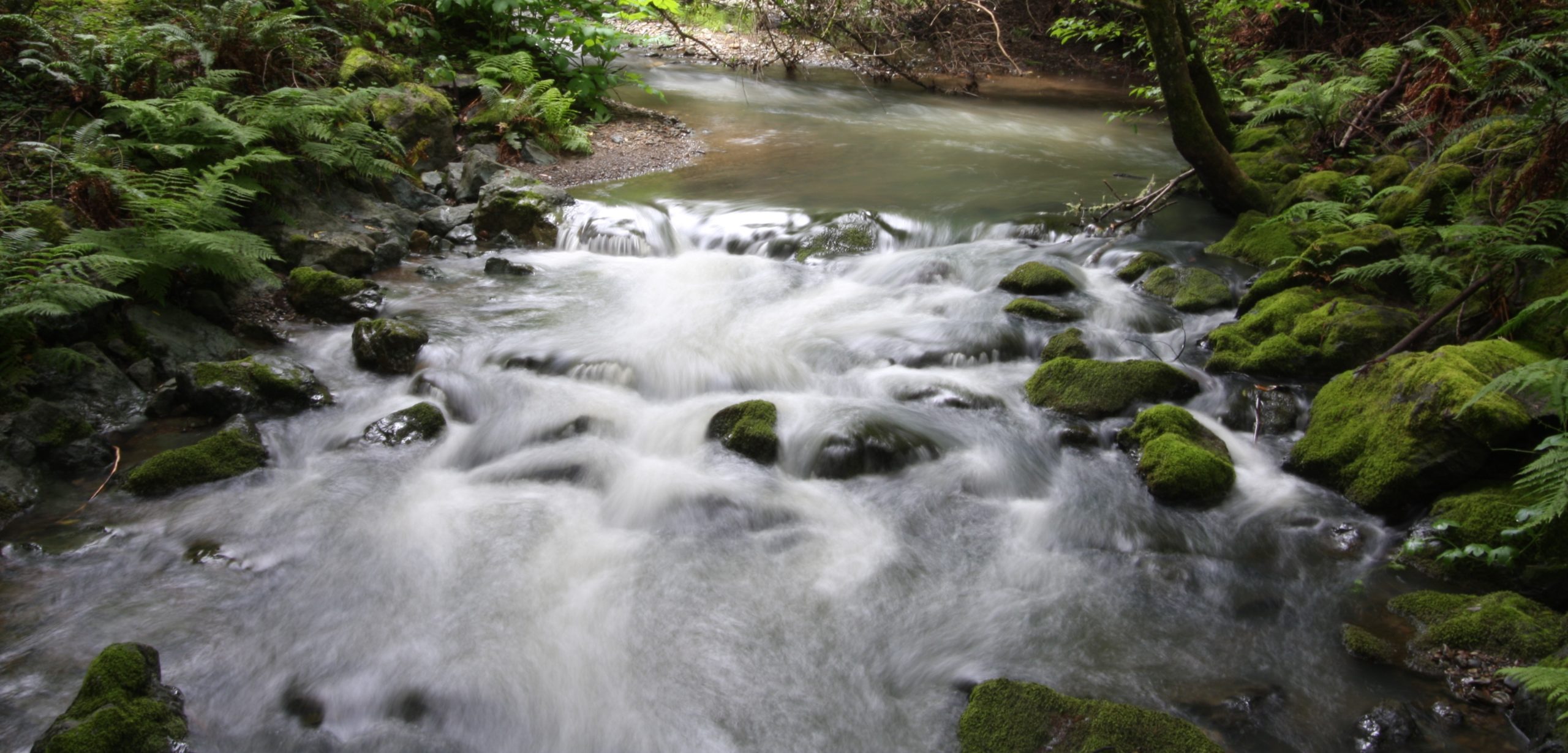 On the main trail (AKA Redwood Creek Trail), you can take three different loops that follow the banks of Redwood Creek stream. Choose your trail based on how long you want to spend: a half hour, one hour, or two hours. There are four bridges that connect the sides across from Redwood Creek stream to create the three loops.
The main trail hits three groves: Founders Grove, Bohemian Grove, and Cathedral Grove. If you take the milelong loop with Bridge 3 crossing, you can actually hit all three groves in under an hour. Both the short and medium loops are conveniently on a boardwalk accessible to strollers and wheelchairs.
Fun fact: Bohemian Grove got its name because the spot was once used by the Bohemian Club for its annual midsummer festivities back in 1892. The Bohemian Club is a private club, founded in San Francisco by journalists, artists, actors and musicians. (They also accept entrepreneurs and business folks, nowadays).
The fourth bridge for the longer loop takes you to the Hillside Trail. This one is no longer a walk in the park, so to speak. It involves unpaved incline, stairs, and some narrow openings, all of which are unsuitable for wheelchairs. But this trail allows you to see the redwoods from higher up, so I highly recommend taking this loop if you're up for it.
Guided Tours and Interpretive Displays Inside Muir Woods
For those who can't get enough of these tall trees and want some expert insight, there are 15-minute "tree talks" and guided one-hour tours of Muir Woods. There's no set schedule for the talks and tours, which are offered whenever the park has enough staff on hand for them, so you'll have to check the program board at the park entrance for that day's events.
But even if you can't catch a guided talk or tour, you can still learn a lot from the signs and exhibits throughout the park. For example, a cross-section of one fallen redwood shows the rings of the tree that tell its ages — turns out, it's pretty old, dating back to around 909 A.D.
Longer Hikes in Muir Woods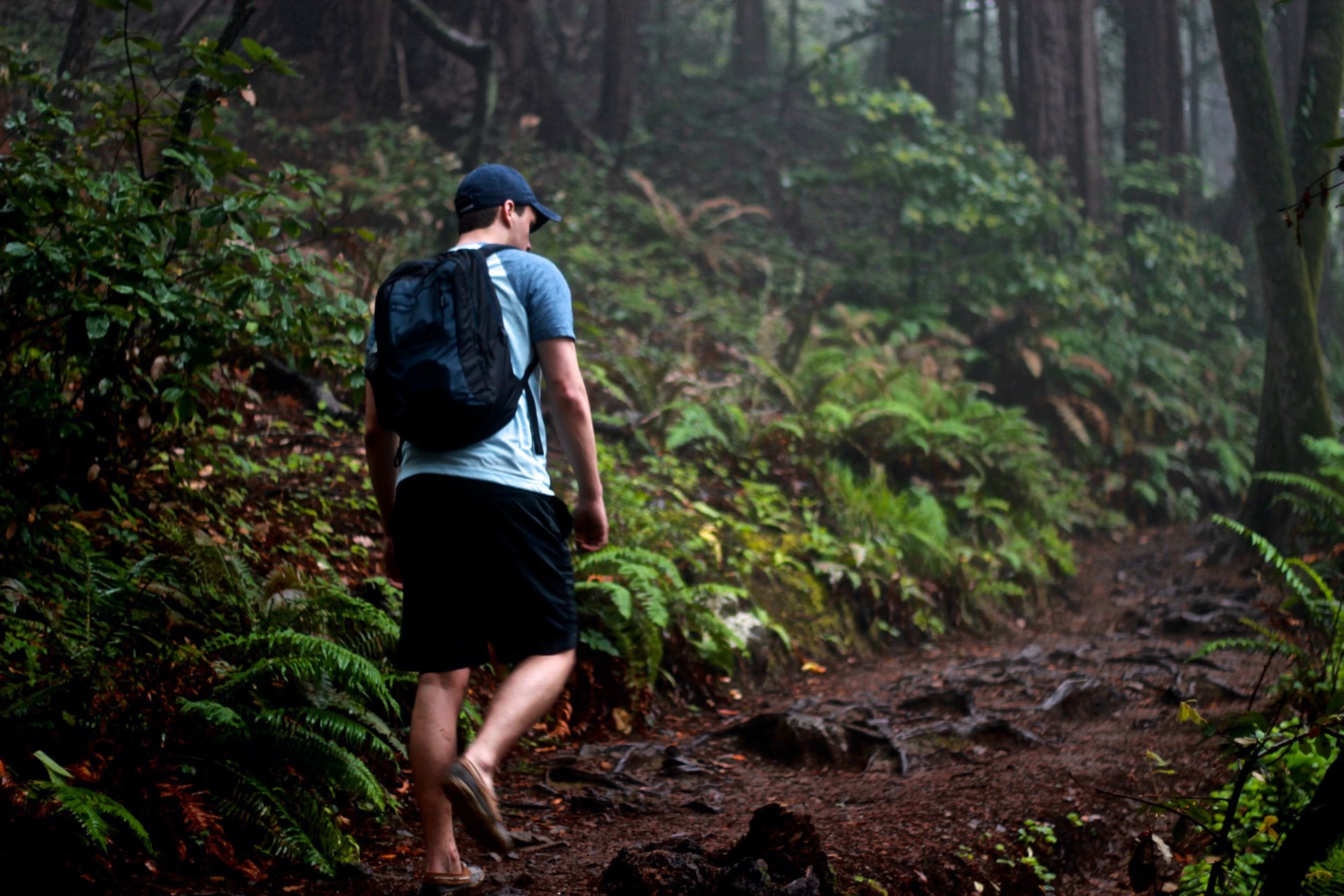 Beyond the main trail, you can also plan for longer hikes. The main trail showcases the redwood groves, but it can get crowded with visitors on weekends. The Canopy View and the Fern Creek trails offer a hike through a quieter part of the forest.
Some of the longer hikes combine Mount Tamalpais State Park and the national park. For example, you can hike from Muir Woods to Muir Beach for a 6-mile hike, or turn onto the Dipsea Trail for a 10-mile hike to Stinson Beach.
Bring your camera (it's gorgeous), and definitely pack plenty of water.
Just for Kids
Traveling to Muir Woods with kids? The park is a great outing for families. The paved main trail is flat and easy for kids to hike. Plus, they can earn a Junior Ranger badge by completing the activities in the Junior Ranger booklet.
The booklet has different instructions depending on the age of your children, so they only need to complete certain pages to earn the coveted title of Junior Ranger.
Ages 4-7: 5 designated pages
Ages 8-10: 8 pages of your choice
Ages 11 and up: All pages
You can download your own copy of the Junior Ranger Book for free. Not only does it keep the kids engaged, it also teaches them about the environment and how to protect it.
How to Get to Muir Woods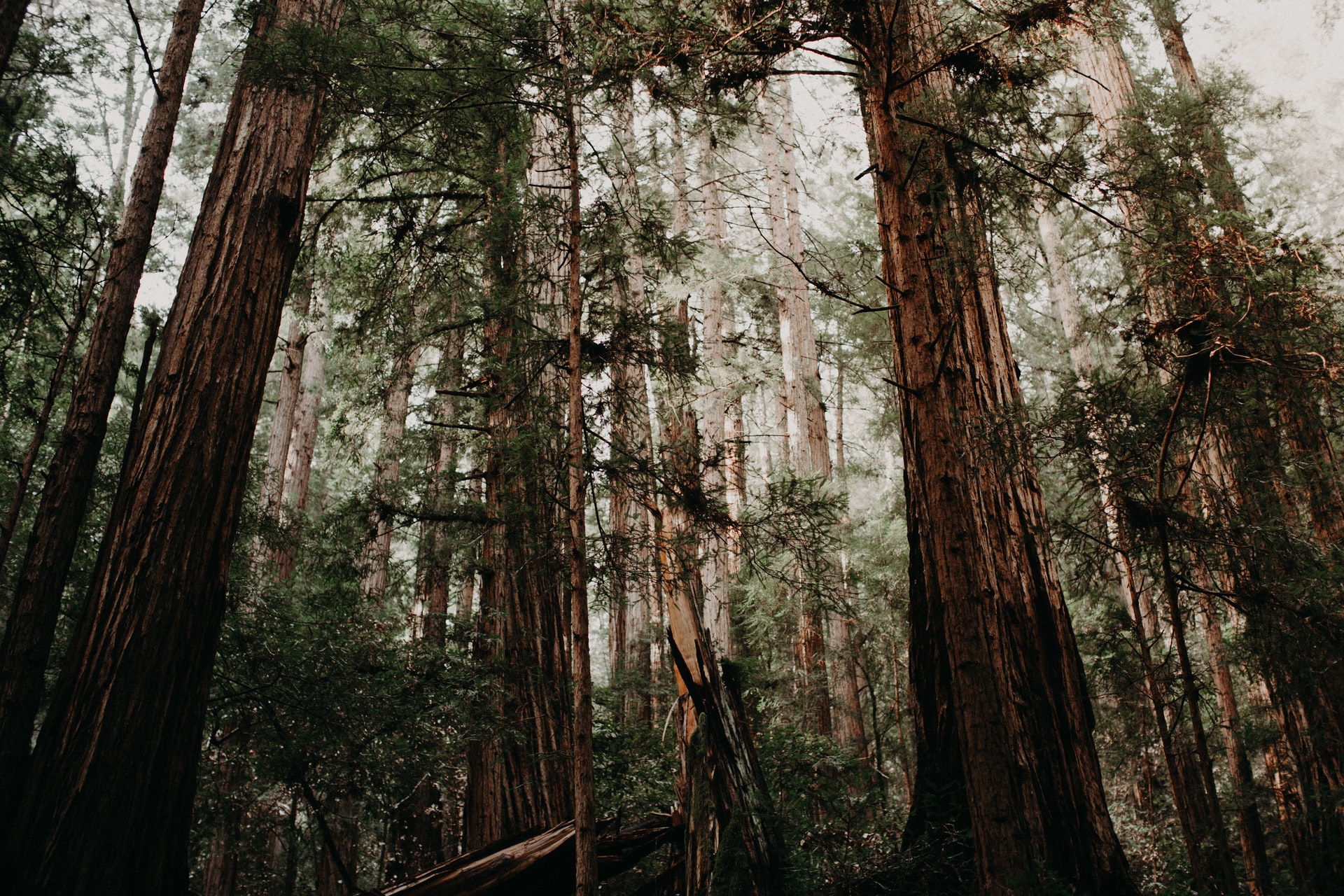 There are a few different ways to get to Muir Woods, but here's the most important thing to know: You absolutely need a reservation or you will be turned away.
You can either drive to Muir Woods and park or take a shuttle there, but either way, reservations are required.
If you drive:
Parking currently costs $8.50 per car, and entry times are booked for a 30-minute window. Even with your reservation, depending on when you arrive, you may have to park in the overflow parking lot, about a quarter-mile from the entrance.
Note the parking fee doesn't include your entrance fee, which is $15 per person, unless you have a National Park annual pass, in which case you get in free.
By shuttle:
There are also shuttles that take you to Muir Woods from Mill Valley, Sausalito, and Marin City. All shuttle pickup stops have public transportation connections from different parts of the Bay Area, and as an added bonus, the Mill Valley location also has free parking.
Just like the parking, you need to reserve your shuttle rides to Muir Woods in advance online.
Pro tip: There's no cell phone service or Wi-Fi in the park, so be sure to download your reservation barcode and any directions you may need ahead of time.
Muir Woods, San Francisco's Old-Growth Treasure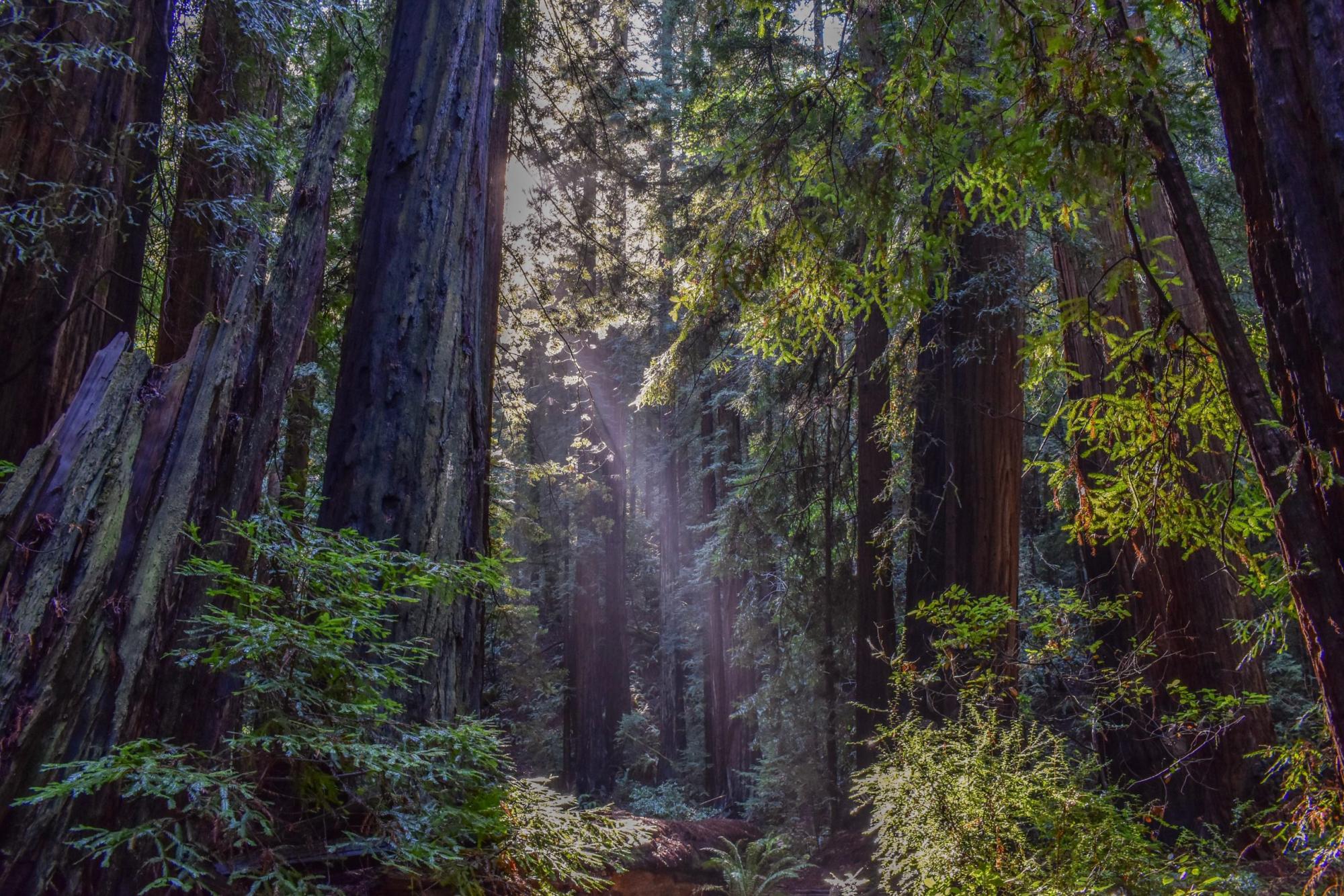 Only 15 miles north of San Francisco, Muir Woods offers an easy day trip for those who want to escape to nature. Its old-growth forest is a rarity today with many trees cut down for lumber over the years.
Take a couple hours in this park along the main trail or spend the day. You can enjoy the fresh air, tranquility, and a chance to appreciate some of the tallest trees in the world.
Want to enjoy more nature in the Bay Area? Check out our list of six outdoor adventures near San Francisco.