Hard Hat Tour of Ellis Island's Hospital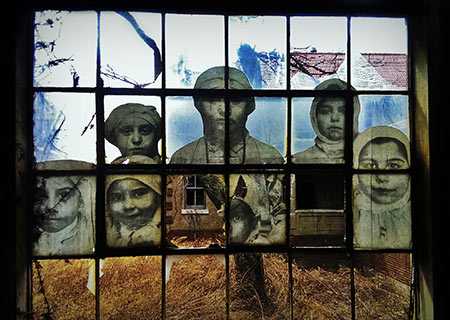 The General Hospital on Ellis Island was one of the most prestigious in the country at the time.  Quarantine wards, a morgue, operating rooms, and staff housing made up the complex. Some staff, such as top doctors, lived there as well. The hospital treated an "incredible range of diseases including tuberculosis, cholera, trachoma, and diphtheria, to tropical diseases imported from the opposite side of the earth. (Wikipedia)"
Over 12 million immigrants passed through Ellis Island. Arriving in a less-than-ideal state of health, physically or mentally, meant being subject to potential deportation. Some described this as a "fate worse than death"- imagine having saved money for years, leaving your former life behind, being at sea for weeks, and actually seeing the buildings of Manhattan across the harbor, only to be denied entry into the country. This was the scenario for less than 2% of all immigrants who arrived. Tens of thousands were marked with chalk by doctors as a sign of insufficient good health and directed to the hospital. Too unhealthy to enter America, they would be treated, or sent back to their home county. Fortunately, being sick didn't automatically mean being denied entry. On the other end of Ellis Island, on a relatively new constructed patch of land spanning several acres, was the General Hospital. How did someone get admitted to Ellis Island's hospital? On-the-spot medical exams took place for all incoming immigrants in the Registry Room of the main building across the channel.
This was arguably the most stressful part of the process, both for immigrants as well as the doctors. For immigrants- they faced potentially being turned away, back to where they came from. For doctors- time was of the essence in medical screenings to ensure maximum number of immigrants getting screened each day.  After having his or her immigration paperwork inspected, a person would step up before a doctor. And in just 10 seconds, a doctor would inspect them for any one of sixty different diseases. To speed up the process even more, doctors and nurses looked down the lines and watched for anyone who was limping, coughing, sneezing, or talking to themselves. If such signs were spotted, one would be marked with a piece of chalk on their clothing with what the doctor thought was wrong with them. For example, "TB" for tuberculosis and an "X" for crazy, or a  Ⓧ for very crazy. Most of these immigrants were from very rural, isolated places throughout Europe. Most had likely never seen a doctor, or know what one was. Imagine arriving in a new country, not knowing the language, and all of a sudden there's a strange man in a white coat poking you with a stethoscope, flipping your eyelids inside-out, and potentially making marks on your clothes with a piece of chalk…it would've felt crazy.
Many of these immigrants came with little more than some cash and the belongings on their backs. So why were the poor, who were not yet even US citizens, being treated with the best medical care available in the US at the time? The Federal Government knew that when populating a country, the physical and mental health of its population is critical. For this, Ellis Island was was designed with the best practices, equipment, and technology available.
In addition to medicine, the latest medical practices were implemented here such as X-ray technology and wards designed with ventilation to minimize airborne infections. Conversely, now discounted practices such as eugenics and the belief that germs cannot travel across water were supported. Immigrants deamed unfit to immediately pass through the main immigration center were detained and treated, as well as politicans and wealthy inviduals.
In the 1980's, long after the General Hospital had gone out of commision and sat neglected for years, money was raised with the goal of refurbishing the Statue of Liberty and Ellis Island. Lee Iacocca, the former head of Chrysler, was one of the main fundraisers for the effort; his parents had come through Ellis Island. Although, his plans were to demolish the buildings on Ellis Island altogether and replace it with a convention center and hotel, save for the museum. The government landmarked the island, thus stopping these plans to become reality.
Today, the Historically Landmarked buildings can not be torn down, yet there is no money for restoration and repairs. The goal of the Save Ellis Island Foundation, in part by running the Hard Hat Tour, is to raise this money for these preservation efforts.
Left neglected for several decades, the buildings on the southern end are finally accessible via a private Ellis Island hospital tour. You'll walk around the hospitals, morgues, infectious disease wards, and staff housing that at one point in the early 20th century represented the best health care America had to offer.
The facilities have sat neglected since 1954. These photos were made possible by New York Tour1 in partnership with the Save Ellis Island organization which offers exclusive "Hard-Hat" tours. In 2014, the organization commissioned a street-artist named JR who pasted enlarged archival photos of actual patients and staff throughout the hospital.