Guide to NY Public Library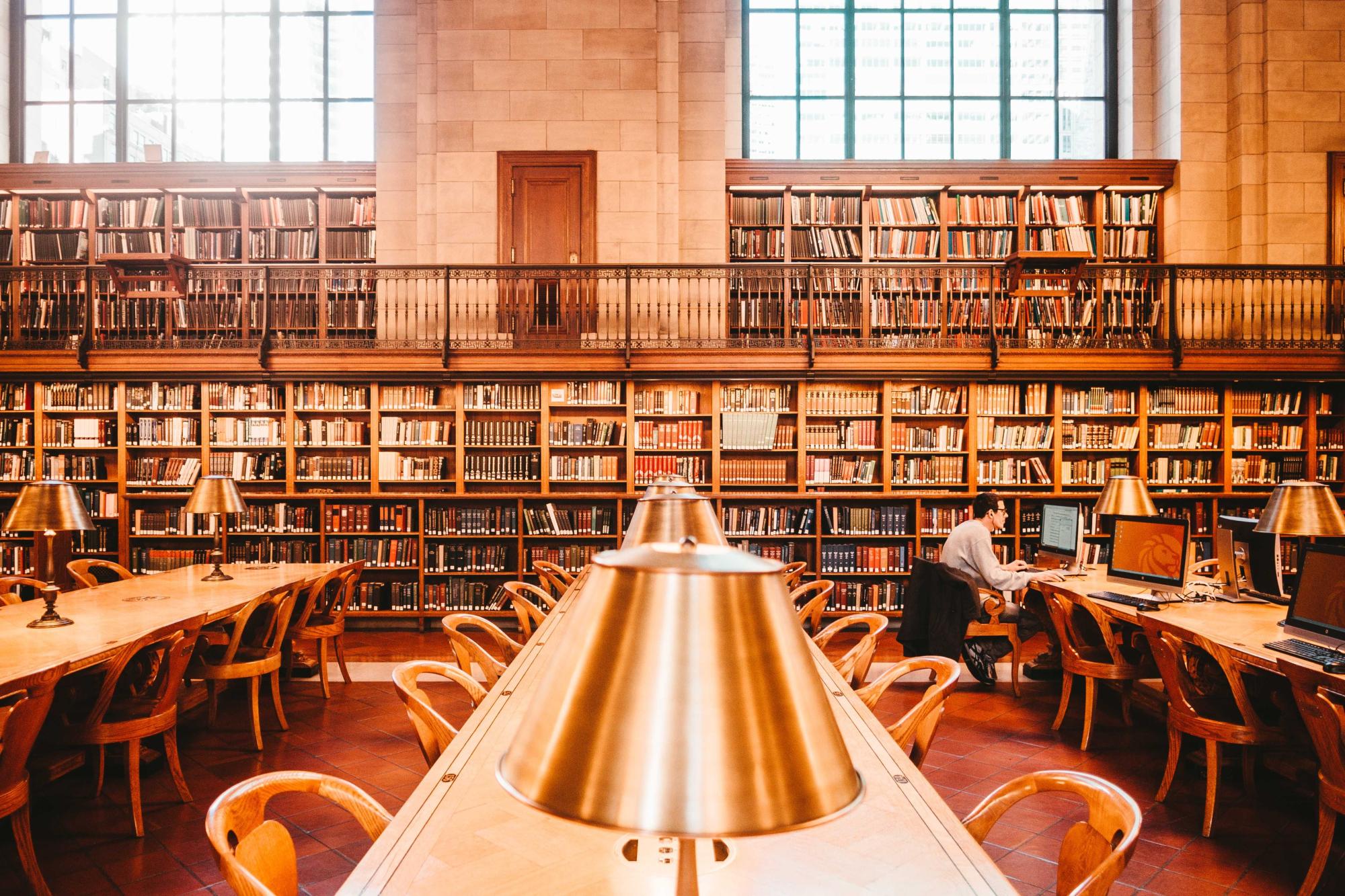 When most people go on vacation, visiting the public library probably isn't on most people's travel itineraries. However, in NYC, The NY Public Library is one of the city's most popular attractions.
It's the second largest public library in the United States (behind the Library of Congress) and offers a vast array of art, collections and history to attract millions of visitors every year. I've provided a guide to give you everything you need to know about how to plan your visit and what you must see here.
---
Stephen A. Schwarzman Building
The New York Public Library is also known as the Main Branch or the Stephen A. Schwarzman Building, renamed after a wealthy philanthropist who donated over $100 million dollars in 2008 to help restore it.
---
How to Get to NY Public Library
Be sure to check out our post Ways to Travel New York City to learn how to make your way around this crazy city.
Also, How to Buy and Choose Your Metrocard will be crucial during your visit in NYC as well.
---
The NY Public Library is located at 476 5th Ave on the intersection of 5th Ave and East 41st street  in Midtown Manhattan, very close to popular landmarks like Times Square and Grand Central Terminal. Bryant Park is conveniently behind the museum as well.
The easiest way to get here is by taking the 7 train and getting off at 5th Ave. or the orange line trains B, D, F or M and getting off at 42nd street.
We recommend following this map to make your way to the NY Public Library.
It's one of our stops on our 1 Day 6hr Tour. Check out our One Day NYC Tour Itinerary right here.
---
Hours
Sunday 1pm – 5pm
Monday 10am – 6pm
Tues 10am – 8pm
Wed 10am – 8pm
Thurs 10am – 6pm
Fri 10am – 6pm
Sat 10am – 6pm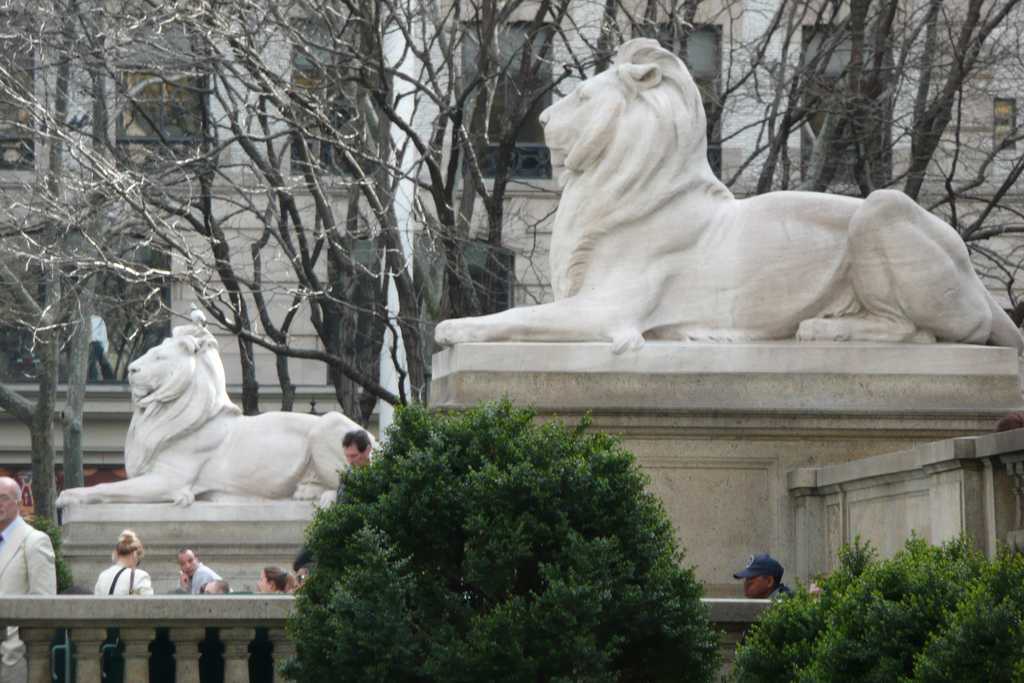 Entrance
The library has two entrances, but I suggest coming through the one on 5th avenue up the grand marble staircase. As you walk up the steps, the first thing you'll encounter are the two stone lions to your right and left. They are a trademark of the NY Public Library and have become its logo. In the 1930's, the lions were nicknamed Patience and Fortitude, by then Mayor Fiorello LaGuardia because he felt citizens would need those two qualities to survive through the Great Depression.
To the right and left of the main entrance you will find 2 alcoves with statues sitting on top of a fountain, named Beauty and Truth. Also, above the entrance you'll notice 6 statue figures. They represent Life and Painting and Sculpture.
---
First Floor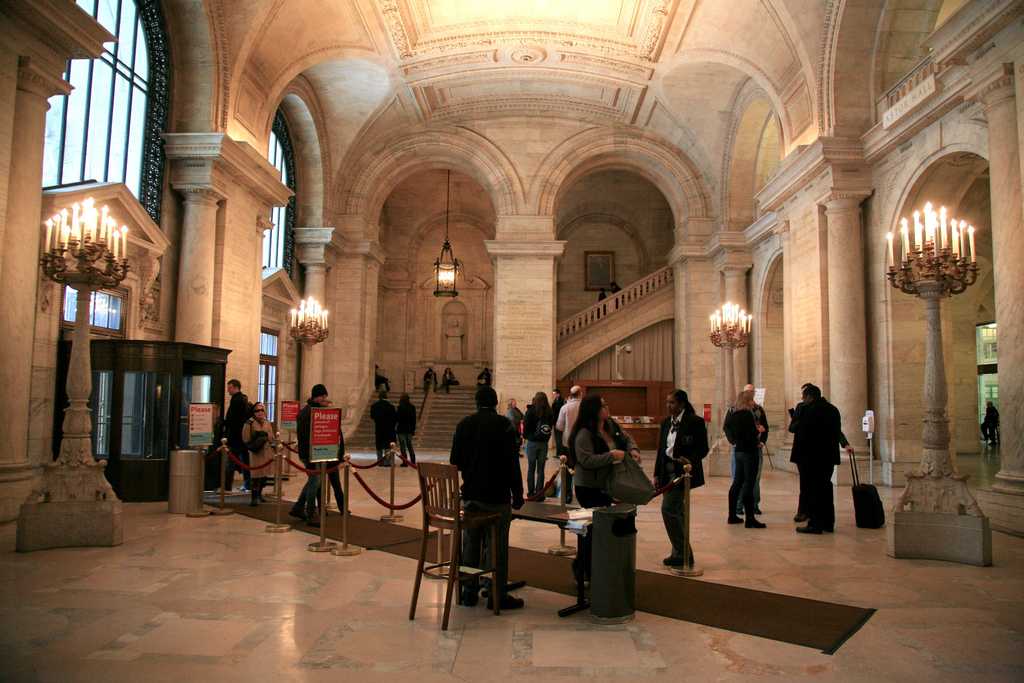 After you walk through the main doors, you'll immediately enter Astor Hall, the main lobby on the first floor. You'll encounter some security and need to have any bags with you checked. The entirety of the space is made of stone and the ceiling of the hall is semi-cylindrical in appearance with arch openings alongs its sides.
Two grand marble staircases mirror one another and both lead up to the second floor. The names of major donors are inscribed on the columns and busts of well known NYC architects are found at the bottom of the staircases.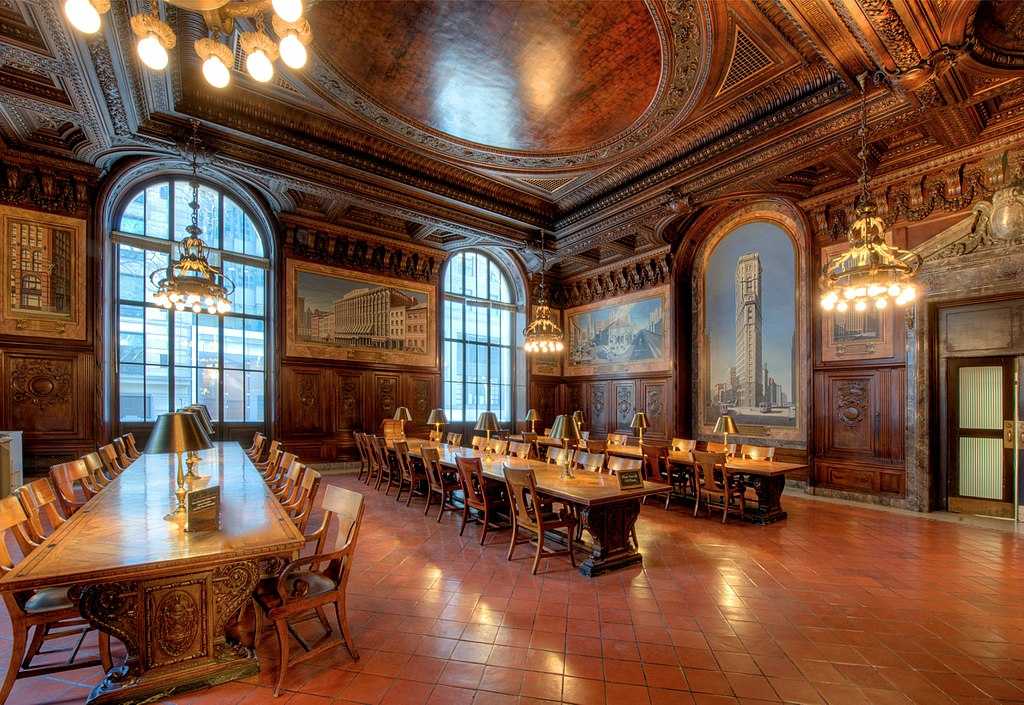 Dewitt Wallace Periodical Room
Before heading upstairs, you'll want to take a look in one of the most beautiful rooms in the library. Elegant chandeliers, richly paneled walls and striking murals make this room irresistible to miss.
Pop in for a few minutes and take a quick look around, but be very quiet, it's not a large room and there's usually people reading here. If you have some time, keep up with current events by checking out the dozens of magazines and newspapers they bring here on a regular basis.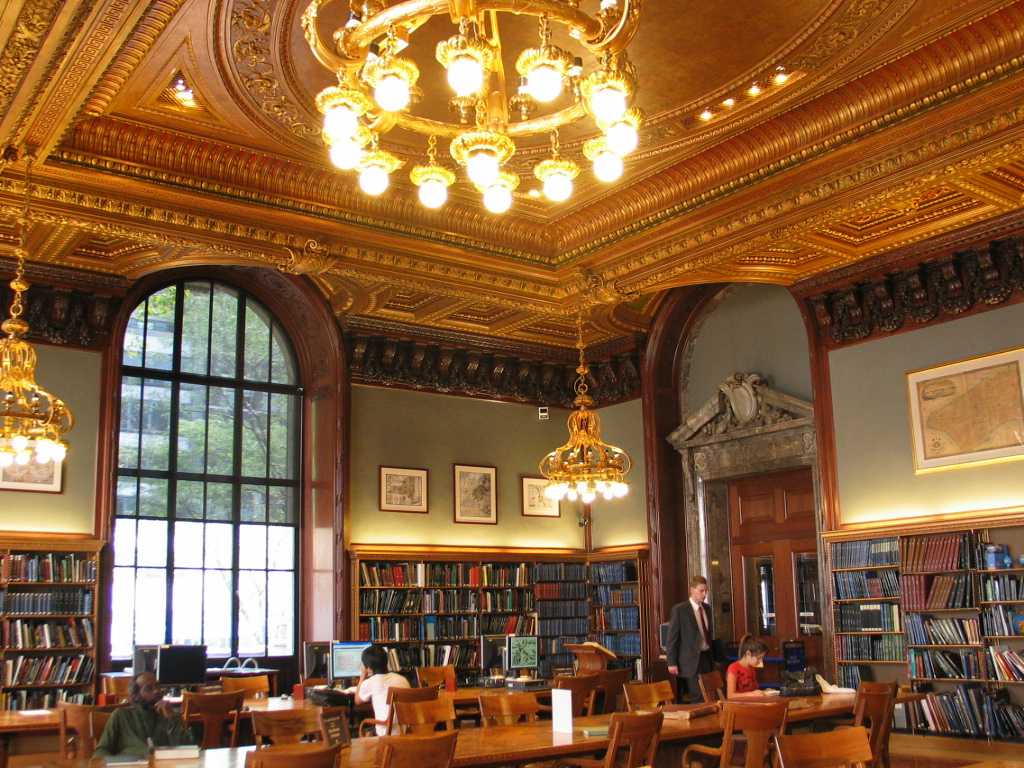 Located near the bottom of the northern staircase on the first floor is this remarkable room, home to one of the largest map collections in the world, including more than 10,000 maps of NYC alone.
The Bartos Education Center, also located on the first floor, has a visitor theater that offers a video series that displays behind the scenes footage of the library, its history and special collections. These videos will help you uncover the library's civil war maps, genealogical records, handwritten manuscripts of classic novels and a lot more.
Just before you enter Bartos Education Center, you'll see a tiny gallery that displays historical artworks and artifacts. This exhibition is always changing and is always free and open to the public during library hours.
---
Second Floor
Make your way up to the second floor from the Astor Hall staircase. You'll immediately come across the Rose Gallery. This is an ongoing exhibition featuring the library's history and vast array of collections, services and users displayed on large panel walls with pictures, texts, objects and videos.
---
Third Floor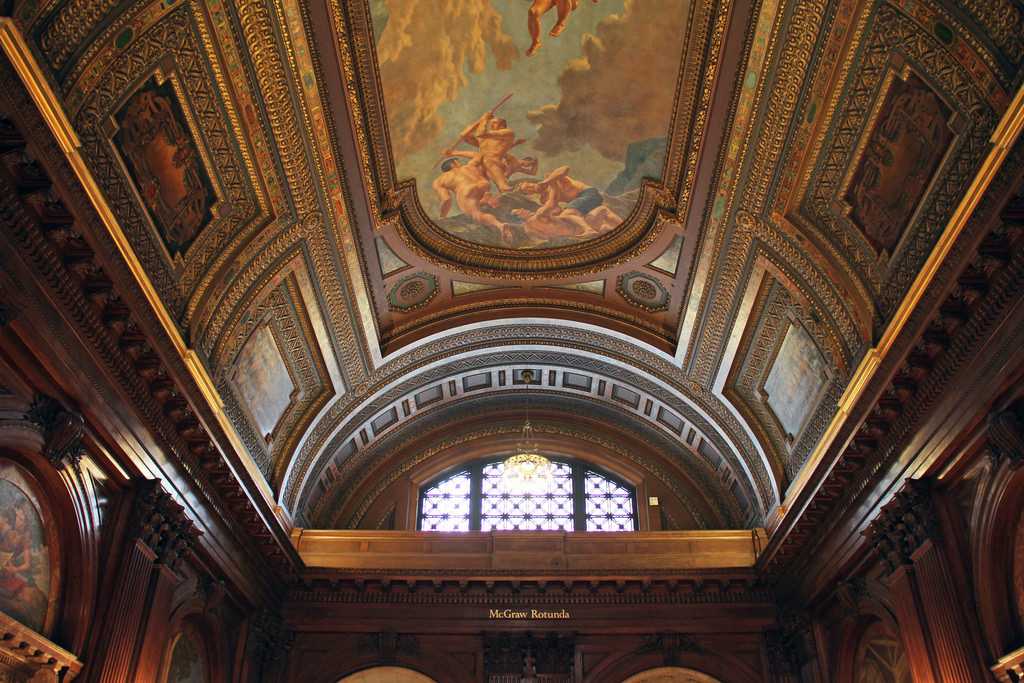 Rectangular shaped space on the wall and arch shaped ceiling with dazzling murals painted on them make this a sight to behold. There are 4 paintings in total and they depict the history of the recorded word.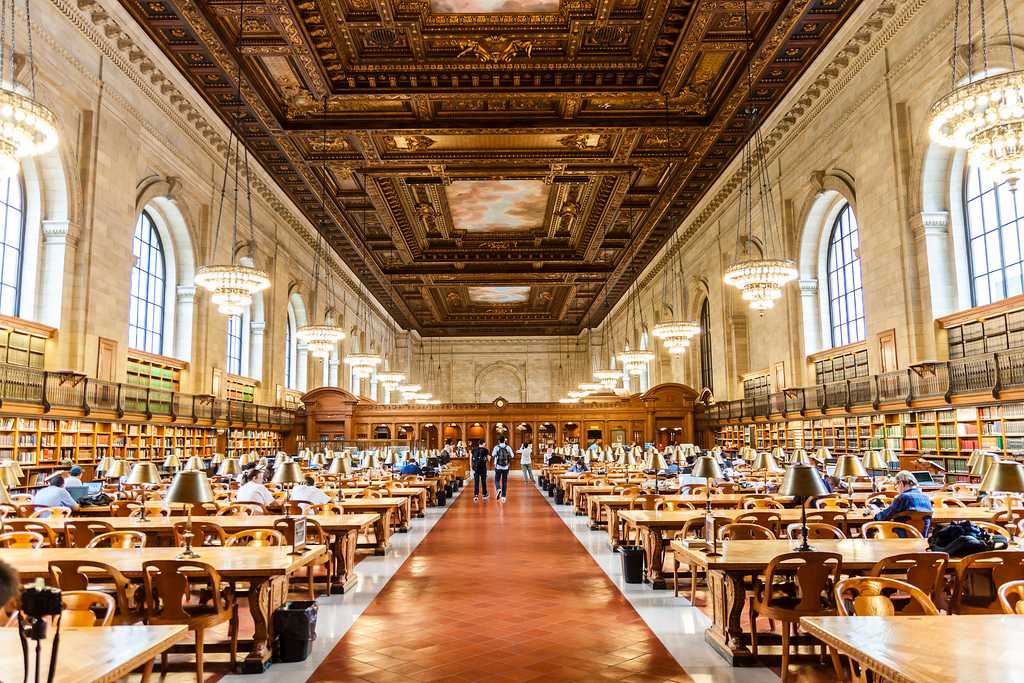 Nearly the length of a football field, this monumental space is split up into two sections, picture taking is only allowed in the south hall, although both sections looks virtually the same. Massive windows and grand chandeliers illuminate the space. The floors are composed of red tiles and you can notice intricate detail on some of the room's small metalwork, such as doorknobs and hinges.
The murals painted on the ceiling depicts clouds and sky. Unfortunately, these are not the original murals, which had to be renovated and completions were finally made in 2016. This room is the highlight attraction and if you come to the library for any reason, this cannot be missed.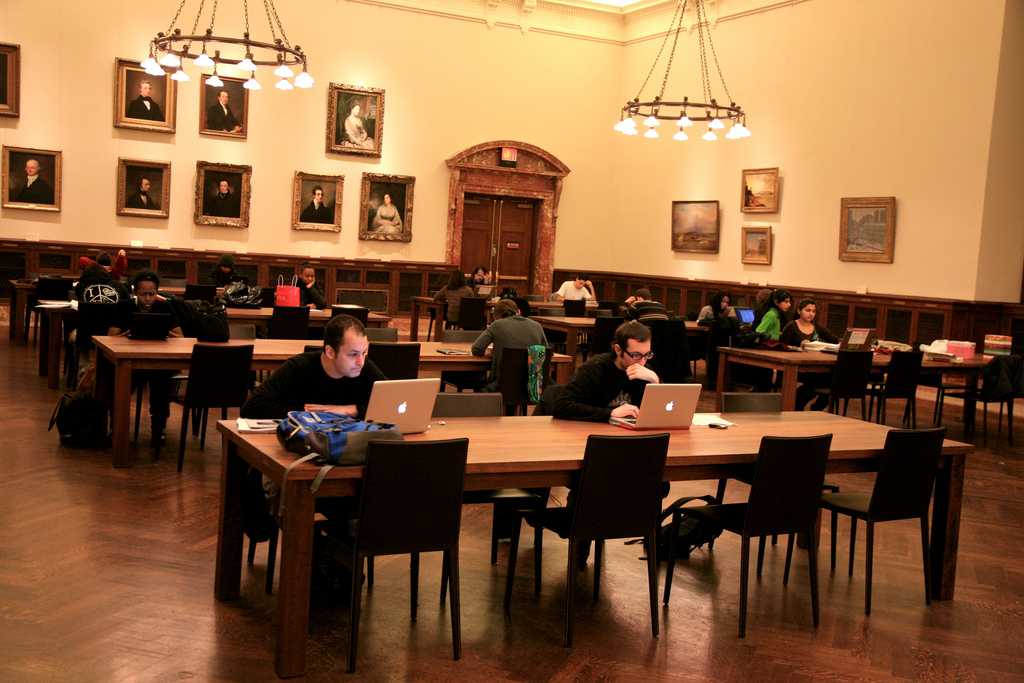 Often used as an event space, it has held wedding receptions, black tie events, formal dinners and corporate parties. When it's not converted into an event space, it is used as a wireless internet reading and study room and picture gallery with oil paintings hanging on its walls.
---
Ground Floor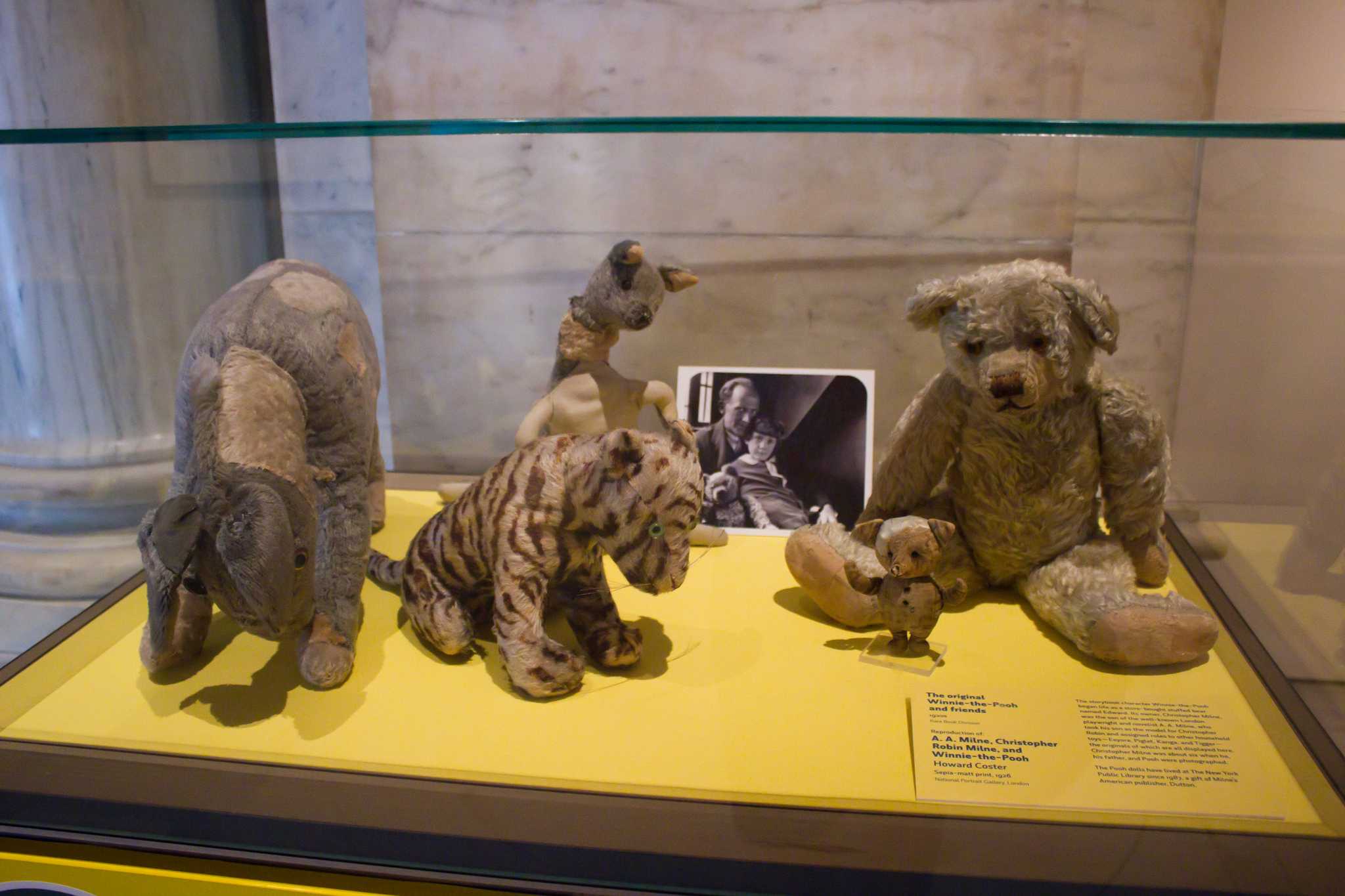 The ground floor is located under the first floor. You can exit the library from this floor and get off on 42nd street. However, if you have children, you might want to check out the children center, where you'll not only see a large collection of children's books, but also discover real stuffed animals that inspired the beloved Winnie the Pooh stories.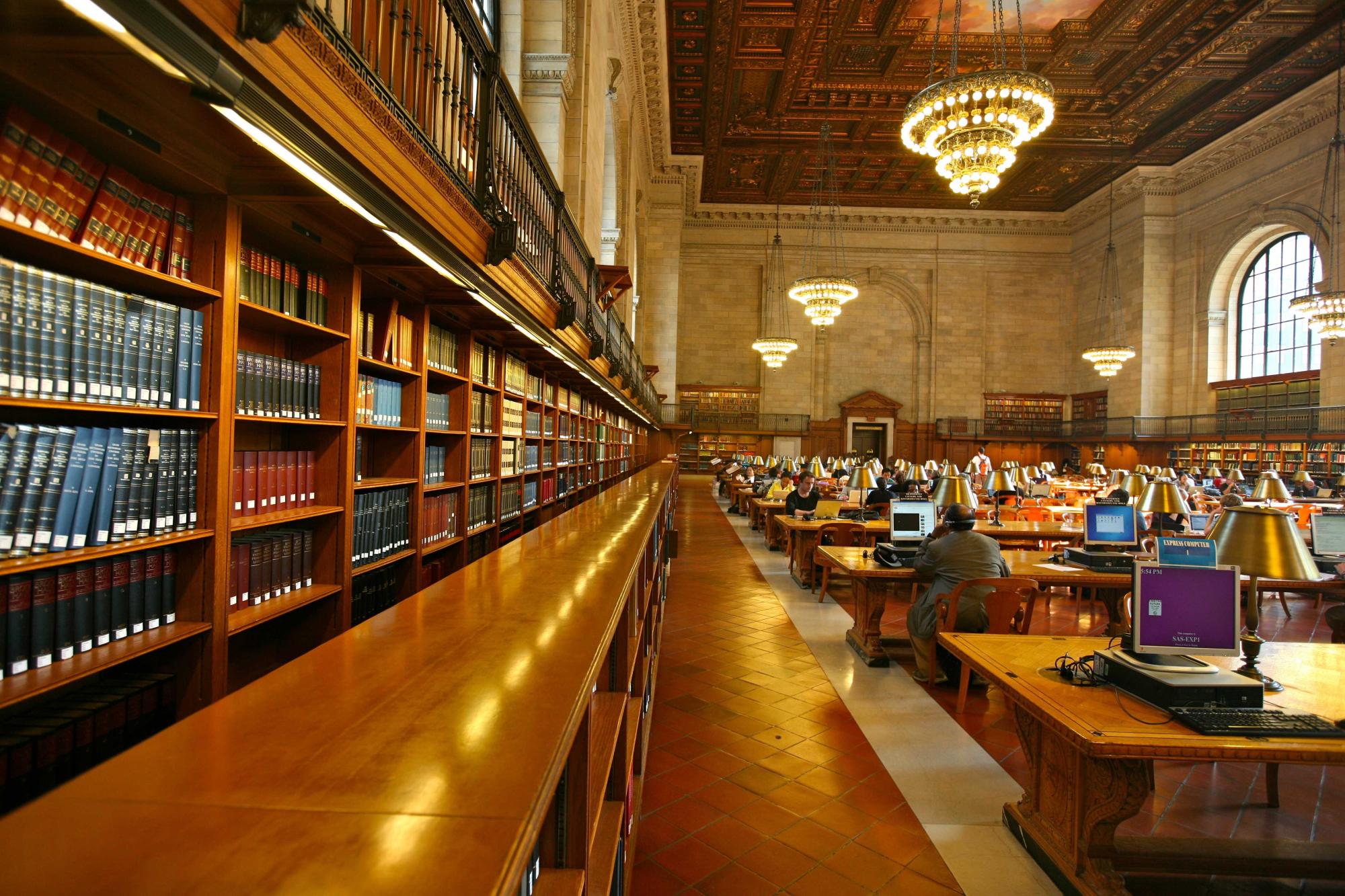 ---
Tips:
---
Read more about History of the Infamous New York Public Library to get an in-depth look at how the library came to be.
---
The NY Public Library is a great attraction to visit during your stay in NYC and in a city that is known for being so expensive, it's one of the best places to go that is completely free. They even offer free one-hour tours everyday at certain hours up to 25 people on a first come first serve basis.
Your visit here can easily be done in under an hour if you're only interested in taking pictures and checking out the rooms I highlighted above. If you want to invest more time, there's plenty of books everywhere at your disposal.