 There is something so completely magical about Christmas in Chicago that I can hardly contain my glee each year as Halloween passes and November ticks over the calendar. The lights start going up. The displays in windows start popping in. The possibility of snow lingers in the air as I click on my own solar lights for the holiday.
But even if you're not like me, flicking on the lights and cranking up the carols on Nov. 1 each year, you can't deny that there's something utterly amazing about the way Chicago does Christmas. Our light displays, ceremonies, celebrations, artisan markets, fireworks, and, well, everything you could ask for — even rooftop igloos! — light up the night and add sparkle to the world.
Whether you're visiting Chicago for the holidays or spend Christmas here every year, there's so much seasonal fun to experience. In this guide, I'll share what to see and do at the Christkindlmarket Chicago (our big yuletide event) and everything else you'll want to check out this season.
So here you are — the best things to do in Chicago for the holidays.
Christkindlmarket Chicago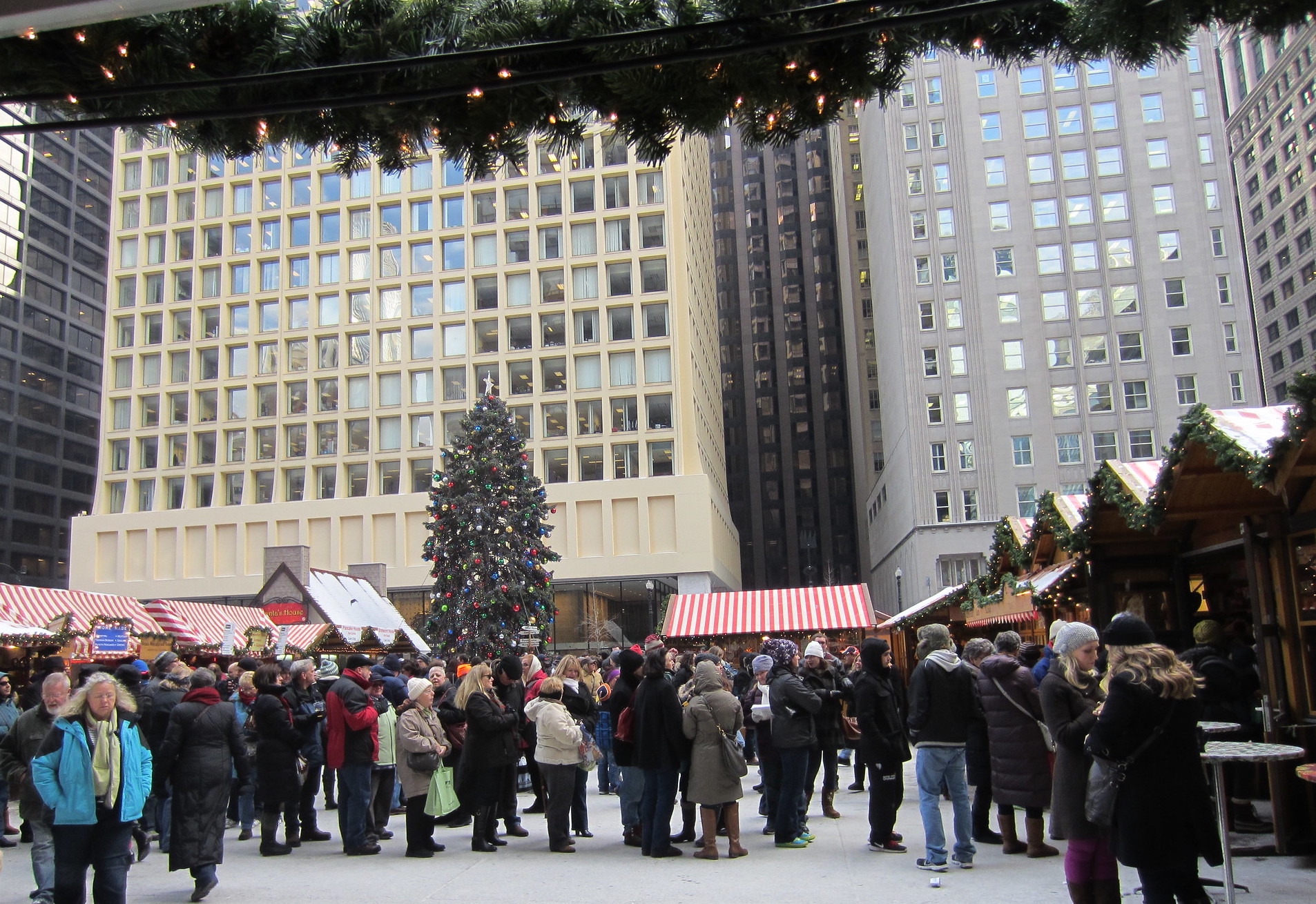 Every year, one of my absolute favorite things to do in Chicago for Christmas is head to the Christkindlmarket. There are three locations, but the biggest is down on Daley Plaza, where all of Chicago sparks ablaze with Christmas lights, beautiful trees. 
So what is the Christkindlmarket Chicago? If you've ever gone to a Christkindl market anywhere and you noticed a distinctly German vibe, there's a reason for that. The practice of holding Christkindl markets has been around for a good long while in both Germany and other sites in Europe, with a more recent influx in popular quarters in the past several decades.
The inspiration comes from the 16th-century Christkindlmarkt in Nuremberg, Germany, one of the first outdoor markets of its kind. Each of the markets, many held around the world during the holidays, feature high-end food, gifts, and festive fun for anyone able to visit. Chicago's Christkindlmarkets are no different!
The market is typically held from mid-November through to Christmas Eve, and it's a must if you'll be in town during the holiday season.
When: Nov. 17-Dec. 24, 2023
What to buy at Christkindlmarket Chicago
There's a long-standing tradition at the market of making annual mugs. Most of the ones I've seen look like decorated boots with handles and images from the market's theme that year. Each is dated for the year of purchase.
You'll find some 150 stalls from various artisans, primarily focused on German and Germanic Christmas goods. I recommend bringing cash for easier shopping, as some of the vendors may still not take credit cards.
As to what to buy, I love getting the annual mug and then focusing on German holiday ornaments like mushrooms. My parents were stationed in Heidelberg for a few years, so I grew up with mushroom ornaments and fine glass ornaments. So I may be biased.
Otherwise, I suggest exploring "Christmas around the world" in a sense through the various artisan pieces you'll find. I've seen practically every kind of European representation there, from Sweden to Poland, Ukraine, and even the occasional British Isles.
I've found the market is both a great place for gifts for family members and friends and for my own holiday decor collection.
Locations and costs for Christkindlmarket Chicago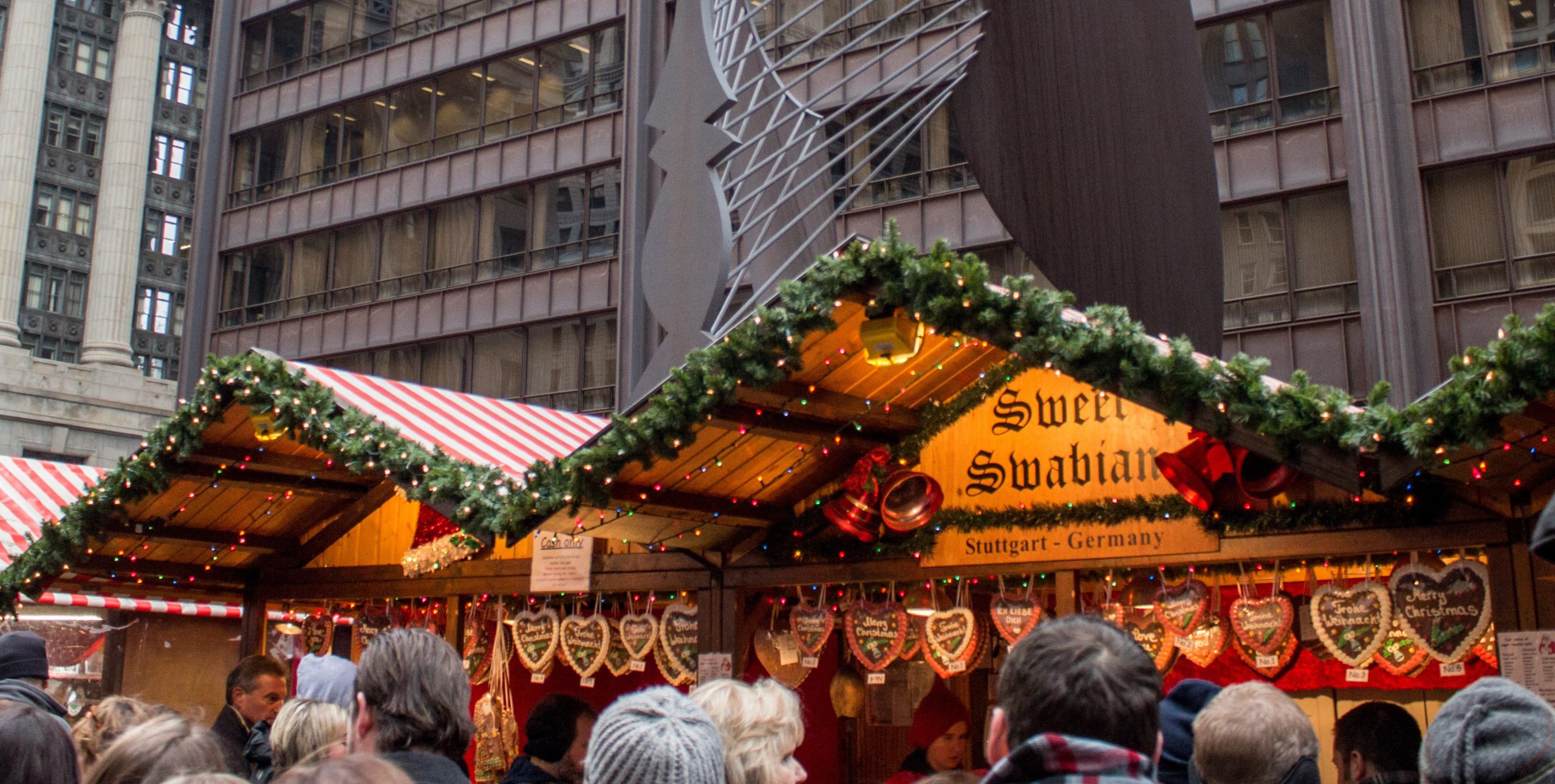 In Chicago, we don't have just one Christkindlmarket. We have three! Here are the three locations you can visit:
Daley Plaza, which is the most well-known
Wrigleyville, part of the Winterland at Gallagher Way
Aurora, Illinois, about 1.5 hours from the city but the easiest in terms of parking
Admission is free for all locations. What you spend is strictly on gifts, food, and any other experiences that catch your eye. If you're headed there on weekends, though, particularly at the Daley Plaza location, I'd recommend getting their fast pass entry, though, as it allows you to skip the long lines at each of the booths. That will set you back $25.
When is the best time to go to Christkindlmarket Chicago?
If you don't want to pay for the fast pass but still want to avoid crowds, visit the Christmas market locations during standard business hours on weekdays.
There are still a bunch of tourists out there with you, but you won't have most of Chicago peering over your shoulder, trying to urge you to move faster. I like to go as soon as the Christkindlmarket opens when the crowds aren't as likely to be awake. And I always avoid going right before it closes as lots of people rush in for last-minute purchases and food vendors are starting to run low on supplies.
If possible, it's better to go earlier in the season, in November, to skip the even longer lines that grow after Thanksgiving as Christmas approaches.
You can also time your visit for one of their special events. They have dance performances, an annual lantern parade, a Christmas outfit contest, and more.
What to do in Chicago for Christmas
As you can tell, Christkindlmarket Chicago is one of the top things to do in Chicago for Christmas. But there are many more festive experiences. Here are some of my favorites and the favorites of friends.
Visit Macy's traditional Christmas windows
While you're out and about in Chicago, be sure to head to Macy's Christmas windows at the old Marshall Field's building on State Street. The displays have been running each year from early November to New Year's since the 1870s.
There's no need to go inside, either. I've always enjoyed the displays from outdoors as I wander State Street. Each window is carefully curated each year with new themes and ideas demonstrating the store's sheer love of the joyful holiday.
Meet Santa in Chicago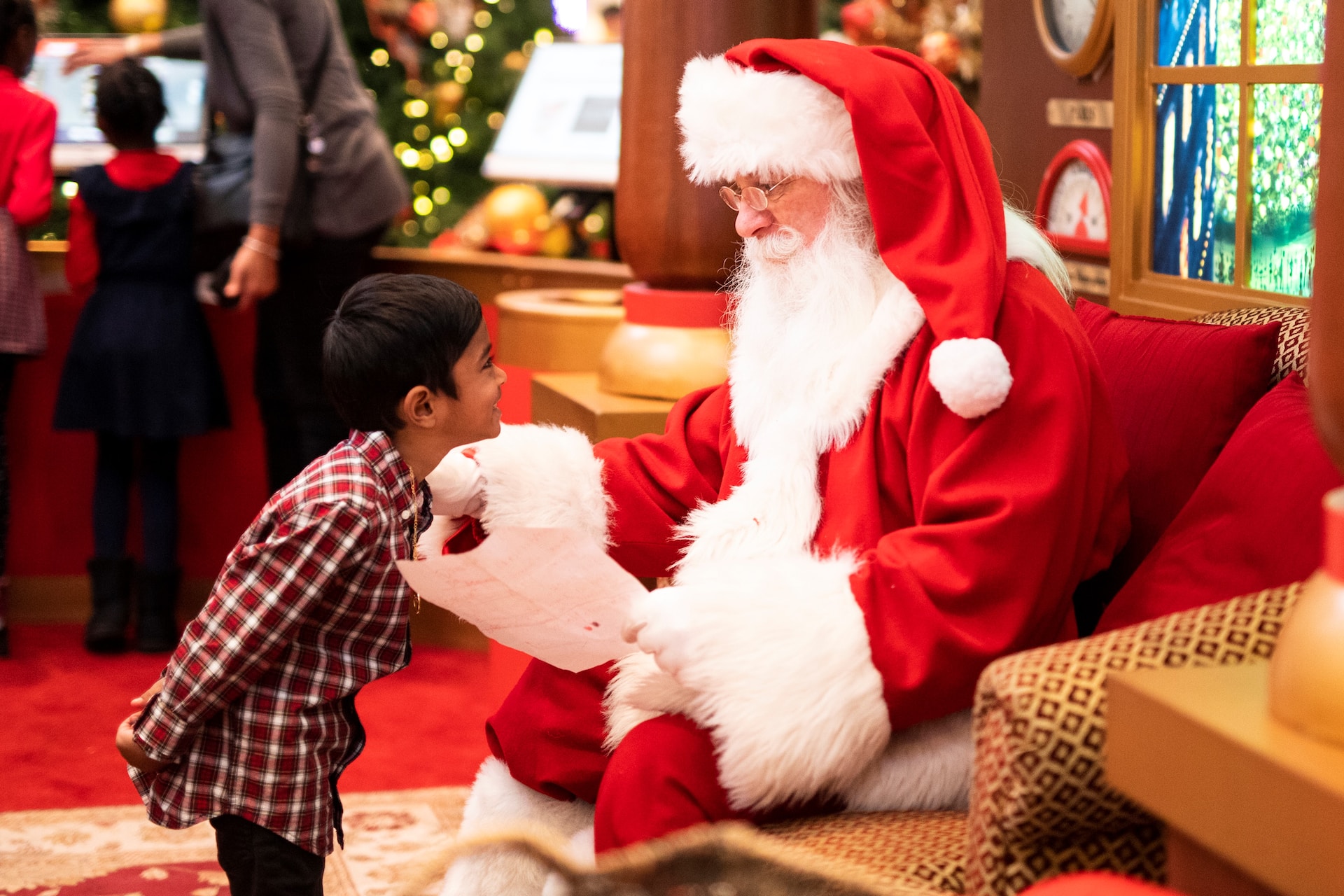 While at Macy's on State Street enjoying the displays, drop indoors to visit Santaland and see Santa in person and enjoy the massive Macy's Christmas tree.
Most years, you can visit the village from early November through Christmas years (dates are always announced on their website). You'll need a reservation to see Santa, though, so be sure to book as early as five days in advance.
You can also meet Santa at the 900 Shops and Lincoln Park ZooLights (held, of course, at the incredible Lincoln Park Zoo).
When: Nov. 4-Dec. 24, 2023
Watch the St. Lucia Parade at the Swedish American Museum
Tucked into Andersonville, lots of Swedish roots show themselves all year. But the St. Lucia celebration and parade from the Swedish American Museum really brings this to light.
Walk along the parade route as girls in white dresses lead with candles aflame. Follow them back to the museum or other local venue for a cultural ceremony full of carols and beautiful, heart-warming wishes.
When: 4:45 p.m. Dec. 13, 2023
Run the Chicago Santa Hustle
If you feel like pulling on some running kicks or love supporting the athletes out there, join in on the magical fun of the Chicago Santa Hustle. Help pass out goodies, watch along the route, or run the 5K course yourself.
Learn about Kwanzaa at DuSable Black History Museum
Ever wanted to learn more about the African-American holiday of Kwanzaa? Head to the DuSable Black History Museum to participate in the educational programs, performances, and more.
Delight in the New Year's Eve fireworks at Navy Pier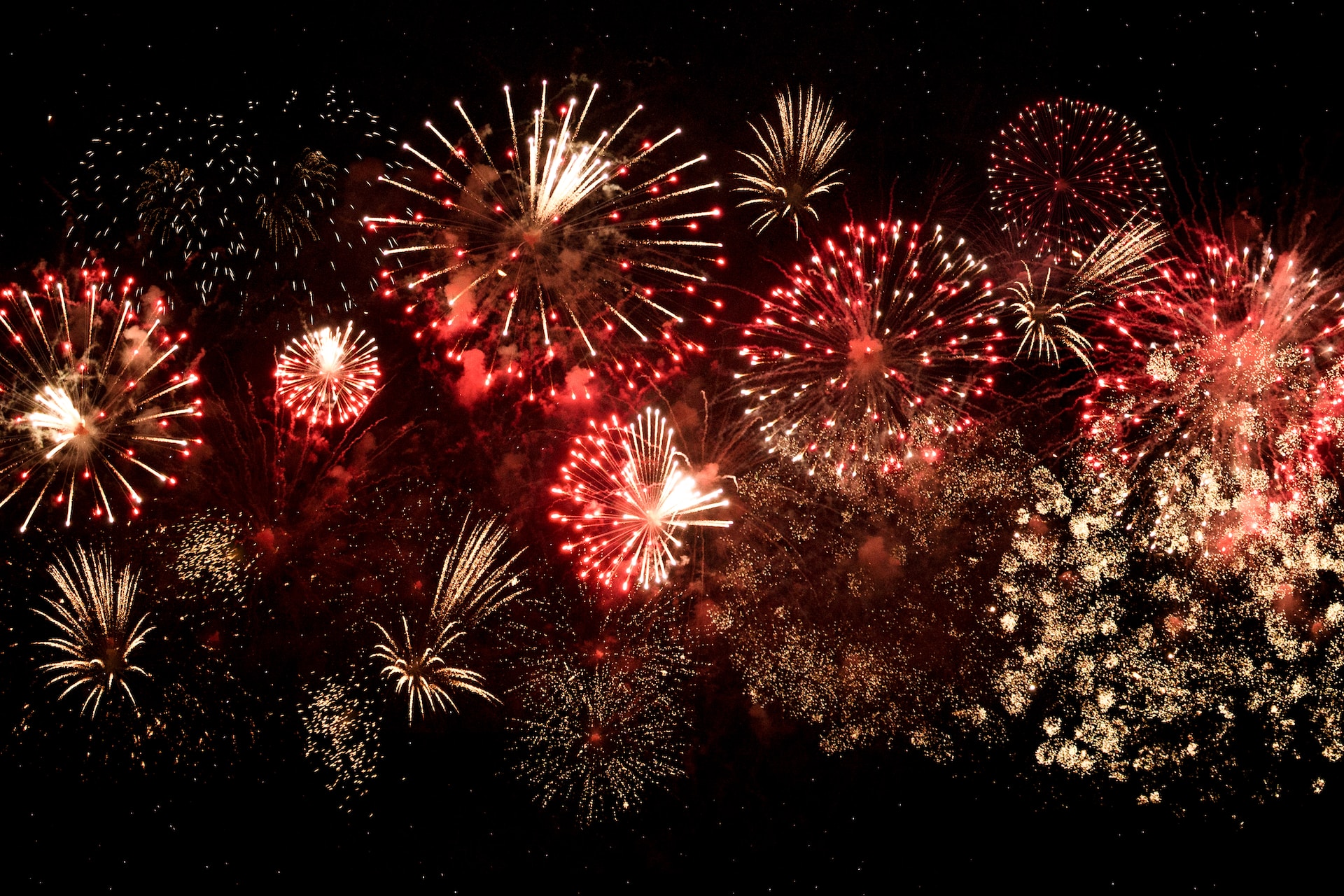 After the buzz of Christmas fades, the New Year rises up at Navy Pier with the gorgeous, massive fireworks display. Bring the family along for a jolly time or join the party inside for this family-friendly event. Bonus — the fireworks are free!
Looking for more to do at the pier? Read our guide to everything to do at Navy Pier, including the fireworks shows!
Attend the Chicago Botanic Garden's Hanukkah concert
For those seeking a bit of the Hanukkah experience, head to the Chicago Botanic Garden for their amazing Hanukkah concert.
Walk around beforehand enjoying the stunning gardens. Then head to the Alsdorf Auditorium for the concert. Don't forget to find the Wonderland Express exhibition for the kiddies! Finally, enjoy their illuminated trail, Lightscape Chicago, to finish up your magical evening..
Enjoy a five-course feast at The Peninsula
Spending Christmas Eve or Christmas in Chicago but nowhere to dine? Head over to The Peninsula for one of the finest dining experiences of your life.
Indulge on caviar, scallops, beef Wellington, sea bass, and a decadent dessert buffet on Christmas Eve. Make sure you snag reservations ahead of time, though.
Or try their Christmas Day luxury brunch, featuring poached lobster, carving station, truffle station, bouillabaisse, caviar, cheese and charcuterie, and much more.
Dine and make gingerbread houses at the Colonial Room
For a less pricey option, head to the Colonial Room at the Drake in Oak Brook.
Here you'll not only find a Christmas Eve dinner available and Brunch with Santa and Mrs. Clause during December, but you'll find the scrumptious Dickens Dinner, a gingerbread house workshop, and other delights the whole family can enjoy.
Shop along the Magnificent Mile on Michigan Avenue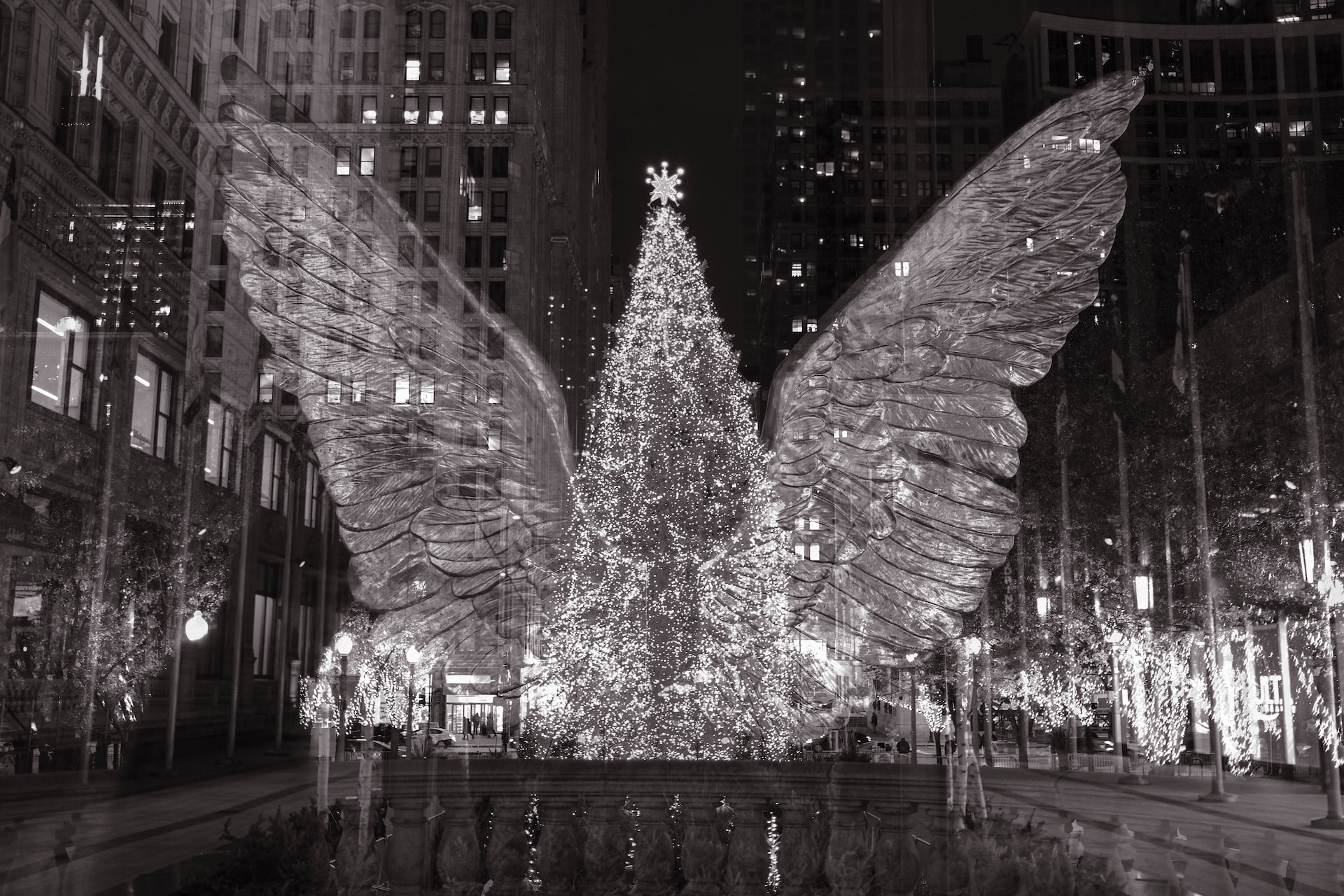 Of course, no shopping in Chicago could be complete without a stroll down the Magnificent Mile and ventures into the lovely stores along the way. You'll find the sparkling lights (literally millions of Christmas lights!) adds that extra Christmas vibe as you go along.
Standards like American Girl Place, Michael Kors, Gucci, and other high-end stores are here, of course. You'll also find pop-up shops just for the holidays, plus tiny, Chicago-only boutiques strewn down the road.
Local tip: Be sure to pop into 900 North Michigan Shops, the Shops at Northbridge, and Water Tower Place for all the mall shopping you could want.
Hit up the Renegade Craft Fair
Enjoy an array of artisan wares and designs from over 170 makers at the Renegade Craft Fair. The holiday market offers unique clothing, accessories, one-of-a-kind jewelry, stationery, and much more.
Just put Morgan Manufacturing, 401 North Morgan, Chicago, into your GPS. It's easy to find.
When: 11 a.m.-5 p.m. Dec. 16-17, 2023
Go ice-skating in Millennium Park
A long-standing tradition I've always loved since being a poor college kid in downtown Chicago, has been ice skating at Millennium Park. If you have your own skates, it's free. Otherwise, rent a pair for a reasonable fee. Plus, on weekends, they offer free ice-skating lessons! Check it out on the official website.
Try ice-skating in Maggie Daley Park
A more recent addition is the ice-skating rink nearby in Maggie Daley Park.
The flow of skating goes along the ribbon figure-8 all winter long each year. It's a little lesser-known than Millennium Park ice skating so just a shade less busy, which can be nice.
Head to the Lincoln Park ZooLights
One of the most celebrated, long-time Christmas events in Chicago I do my best to make each year is the Lincoln Park ZooLights. The incredible light displays bathe the animals in Christmas lights, allowing you to see some of them that normally don't hang outside much in daytime.
It should be noted that in the past, the light display entry was free, but starting in 2020, the zoo started charging a minimal entry price. Monday night admission is still free.
When: Every night Nov. 17-Dec. 31, 2023, except Thanksgiving Day, Christmas Eve, and Christmas Day.
Play in the I|O Godfrey igloos
Get your bookings now for the Winter Wonderland igloos on top of the Godfrey Hotel! The rooftop Christmas scene is absolutely amazing with beautiful lighted igloos to keep you warm against the cold while you sip and dine on your favorite things this Christmas.
Bookings typically go live in October each year for seatings through the end of January.
See Christmas around the world at the science museum
In my opinion, one of the best light shows in Chicago is the Christmas Around the World and Holidays of Light at the Museum of Science and Industry.
The annual exhibition celebrates the holiday in many cultures with beautiful displays, with more than 50 trees decked out in the beautiful, unique displays. The display runs every year from mid-November to early January.
Watch the Joffrey Ballet's "Nutcracker"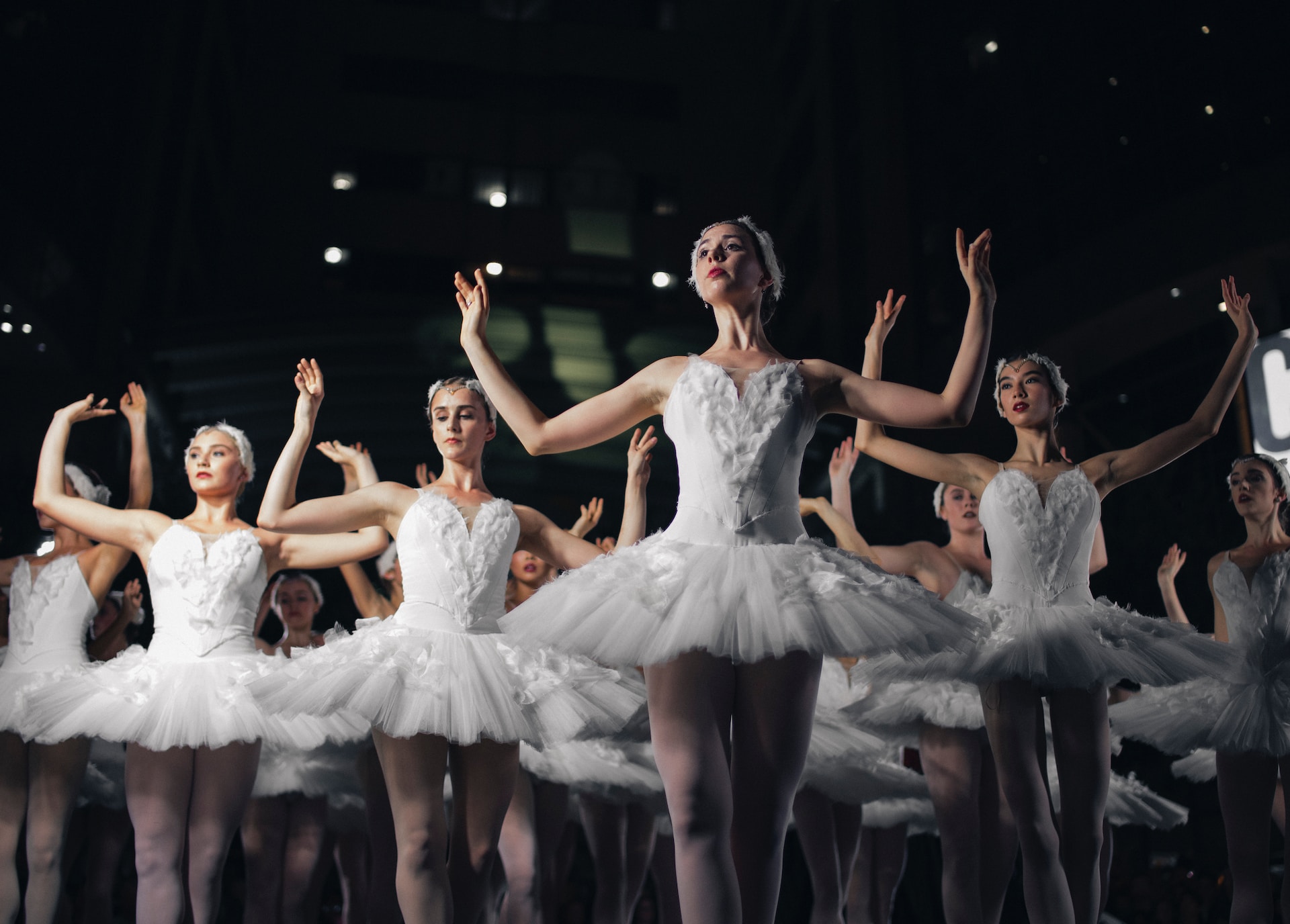 Christmas tradition in Chicago always involves at least one performance of "The Nutcracker."
For most Chicagoans, it's always the Joffrey Ballet's version of the beautiful dance and music suite by Tchaikovsky. Each year, the story seems to change up a bit, giving a little bit different flavor and keeping the holiday classic special and fresh each year.
When: Dec. 2-27, 2023
Attend "A Christmas Carol" at the Goodman Theater
Another holiday classic we enjoy every year is the Dickens classic "A Christmas Carol" at the Goodman Theater. I have some friends who've been going every single December for over 30 years!
The show is always wonderful and heartwarming and well worth the ticket price.
Ride the CTA Holiday Train
When I lived a block from the Red Line of the CTA, I wistfully watched as the CTA Holiday Train roared at night all season long.
This beautiful holiday train is decked out in more than 60,000 Christmas lights, tinsel, and the jolly man himself! Come grab some photos, take a ride through the city, and be prepared to meet Santa along the journey.
When: Nov. 24-Dec. 18, 2023
Shop at Space 519 at the 900 Shops on Michigan Avenue
If you make it to Streeterville, the shopping at Space 519 is well worth your time.
You'll find a gorgeous, high-end general store with artworks, collections, accessories, books, furniture, clothing and more. You'll also find numerous boutiques and casual shops full of unique gifts for the whole family.
The best Chicago Christmas yet
So there you have it! I hope the list above gives you some ideas for where and how to spend the holidays in Chicago. You've got ice skating, lights, Christmas trees, the chance to see Santa, and cultural celebrations where you can learn how others mark this time of year.
It's too much to see and do in one holiday season, so you'll just have to return next year. We can't wait to show you around Chicago!
Feature photo credit: David Wilson / CC BY 2.0 DEED