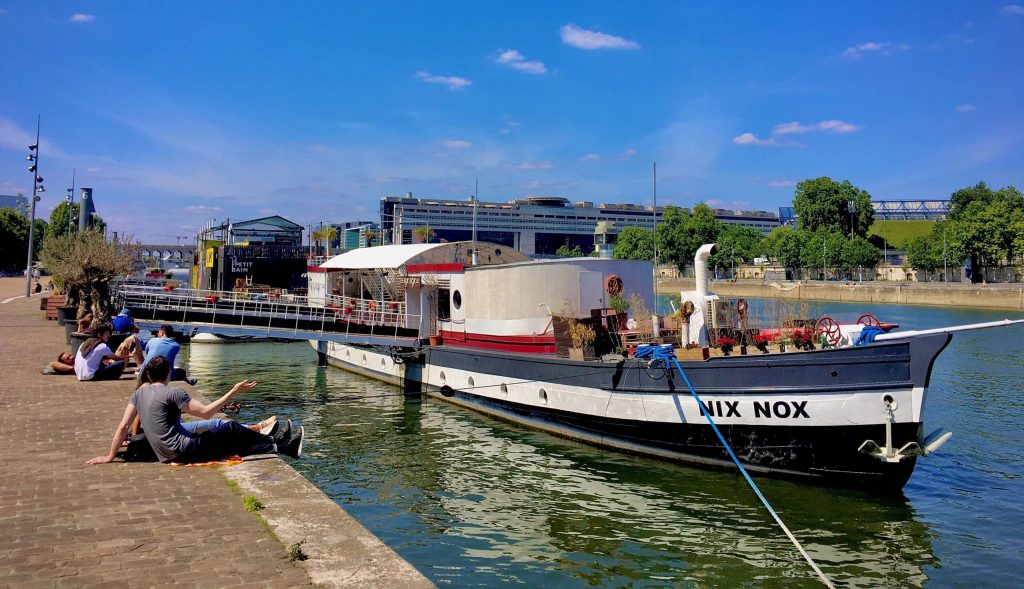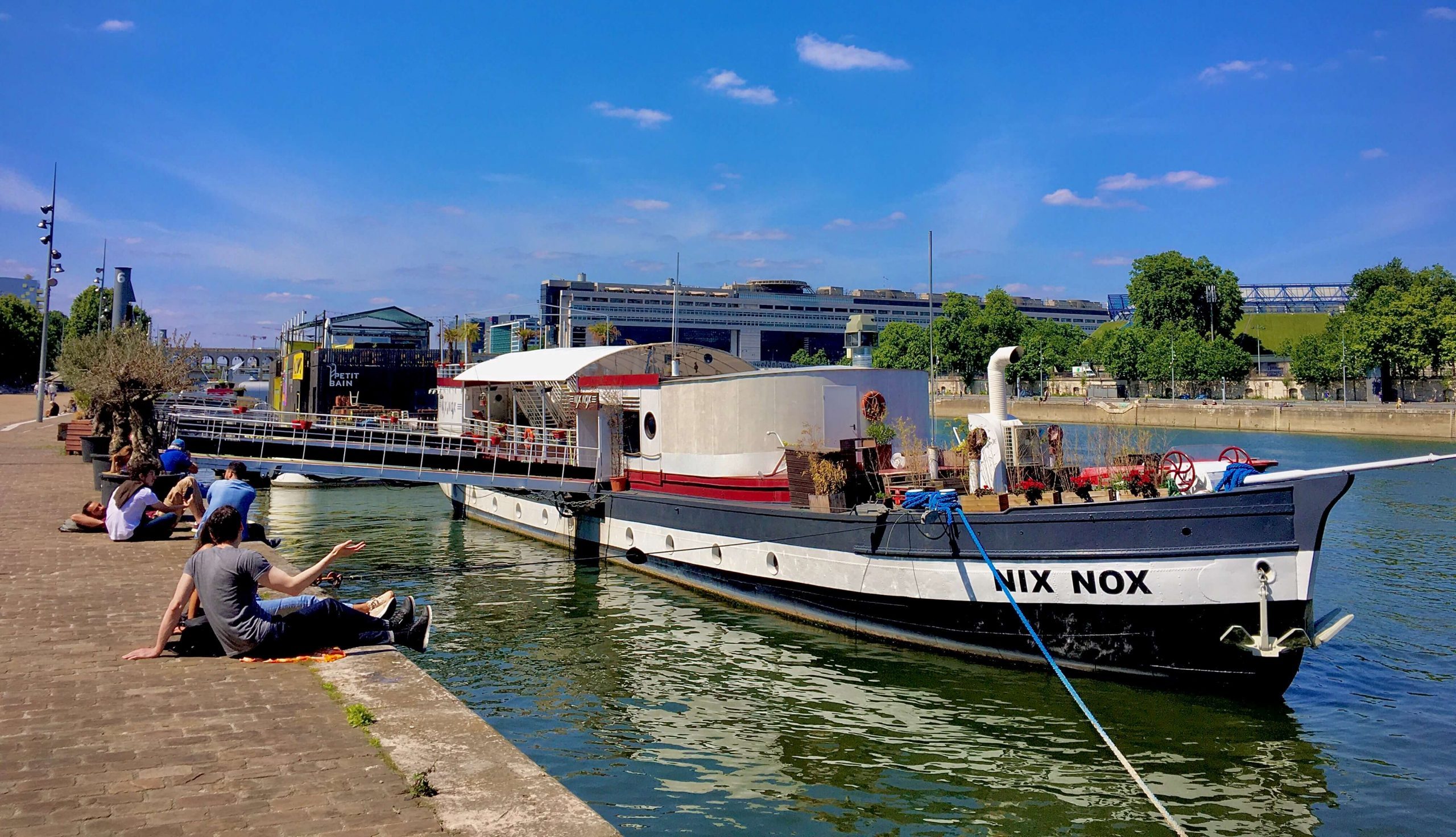 Paris Party Boats, Fun Afloat
In case you didn't know, Parisians love to party. When the weather cooperates, they love to do it on a Péniche à Paris — a Parisian Party Barge.
Parisians are quite civilized in their revelry for the most part. They don't usually get raucous to the point of being obscene or vulgar, but they definitely rate about a 7.8 on the hoot-n-holler scale. The music scene is spirited in Paris with live shows at small venues dotted throughout all arrondissements, intimate jazz clubs, EDM events any day of the week and street musicians busking here, there and everywhere, often to responsive crowds of both locals and tourists alike.
Birthdays, anniversaries, graduations, marriages — everything deserves a fête (that's French for "party") and where better to celebrate something than on one of the most famous rivers in the world with some of the most magically extravagant views imaginable.
Party boats in Paris are not to be confused with Bateaux Mouches, the sightseeing boats that cruise the Seine as a guided tour and also offer dinner cruises, champagne cruises, etc., Paris party boats are individually owned for the most part and offer a variety of types of events. These include musical shows, stand-up comedy acts, happy hours parties and often more exclusive private events.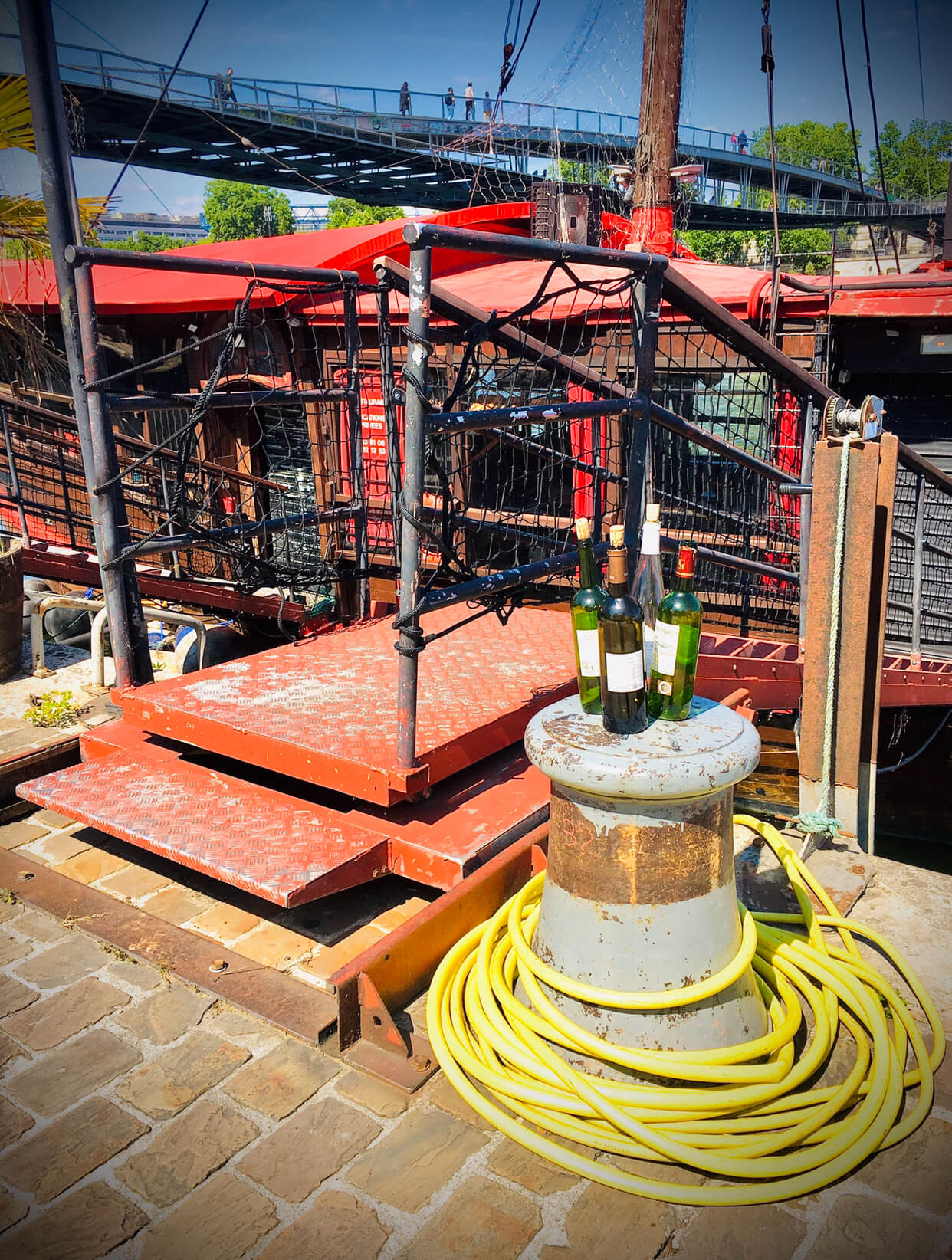 Each Boat Has Its Own Personality
Some boats stay moored for events while others can set sail and cruise the river to catch views of the Eiffel Tower, Notre Dame, Ponte Alexandre III and many other Paris faves. These boats are quirky and each one has its own unique personality.
Many of them are painted in bright colors and have evocative or fantastical names. They are moored all along the docks of the Seine, alongside many residential boats, work barges, floating art gallery boats and transportation vessels. The more casual péniches are usually docked on the outer edges of where the Seine curves through Paris proper. The "classier" party boats do their business in the more touristy section of the river where the major city monuments are.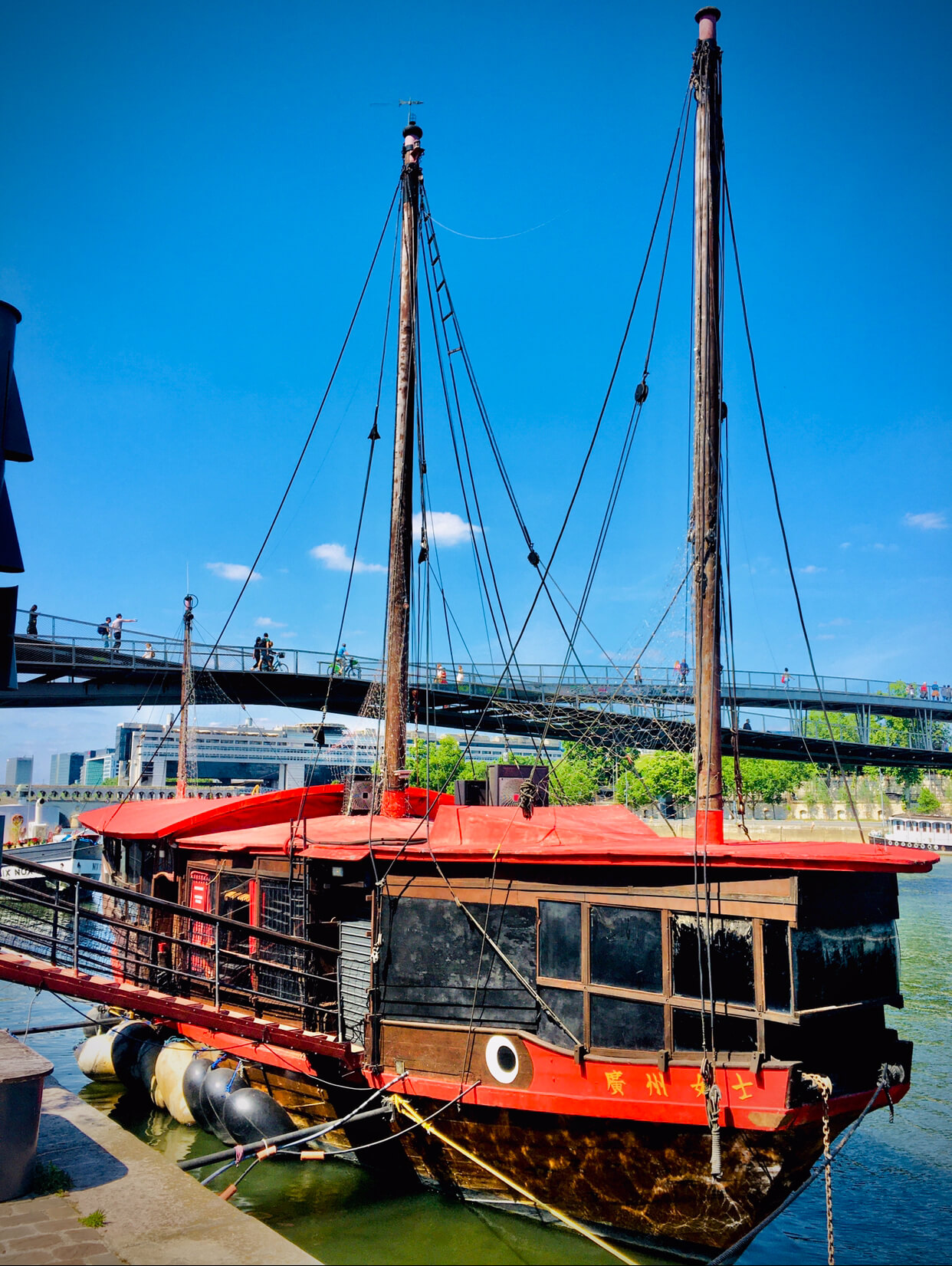 Space is at a premium in the city, so Parisians are quite creative with all the available places to set up shop. Not only can you eat, drink and dance aboard, you can also check-in for a night's slumber at a floating hotel.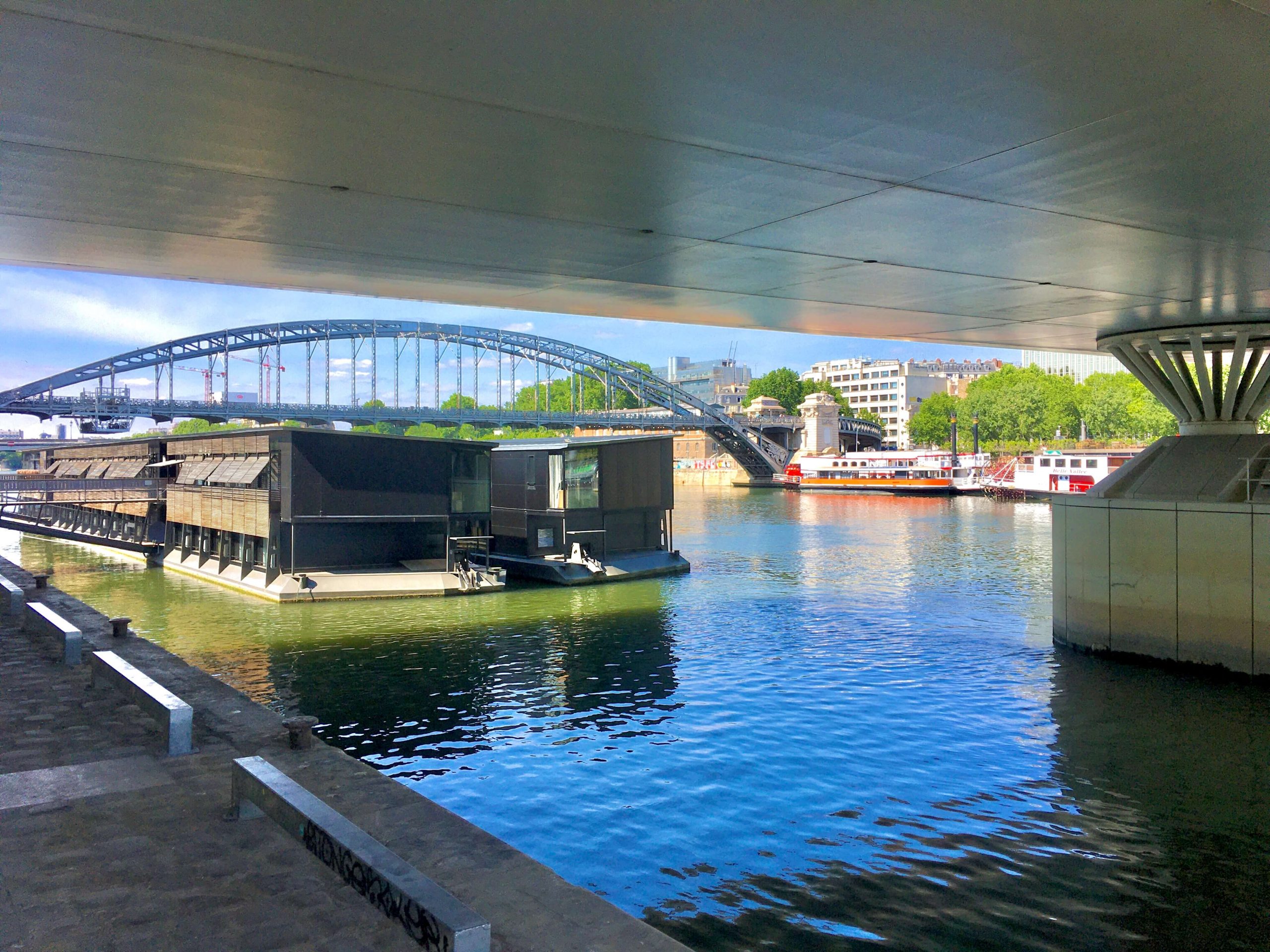 What Happens on a Party Boat?
Wine and cocktails are a must when getting your party on — on a boat. These moveable party platforms often have lots of greenery, mood lighting, and many intimate spaces for gathering.
Some boats are simply low-key spots for a few friends to gather while others offer a full-on event experience. Many are open for impromptu boarding and offer snacks and cafe-style menu selections and specialty drinks. You can also enjoy areas on the boat to try your hand at some karaoke or board games or get your groove on when the intimate dance floor's disco-light show begins. Open mic nights and small-scale live entertainment — think a friend with a guitar — happen pretty frequently.
On some of the larger boats with more room for accommodating revelers, the party opps increase to include more extravagant menus, fully-stocked bars, small bands or a DJ set-up. I found that stand-up comedy is quite a popular draw on many of the péniches, which was a little surprising. French-language comedy is entertaining even when you don't speak French so don't be afraid to buy a ticket — it's usually pretty inexpensive, and often even free.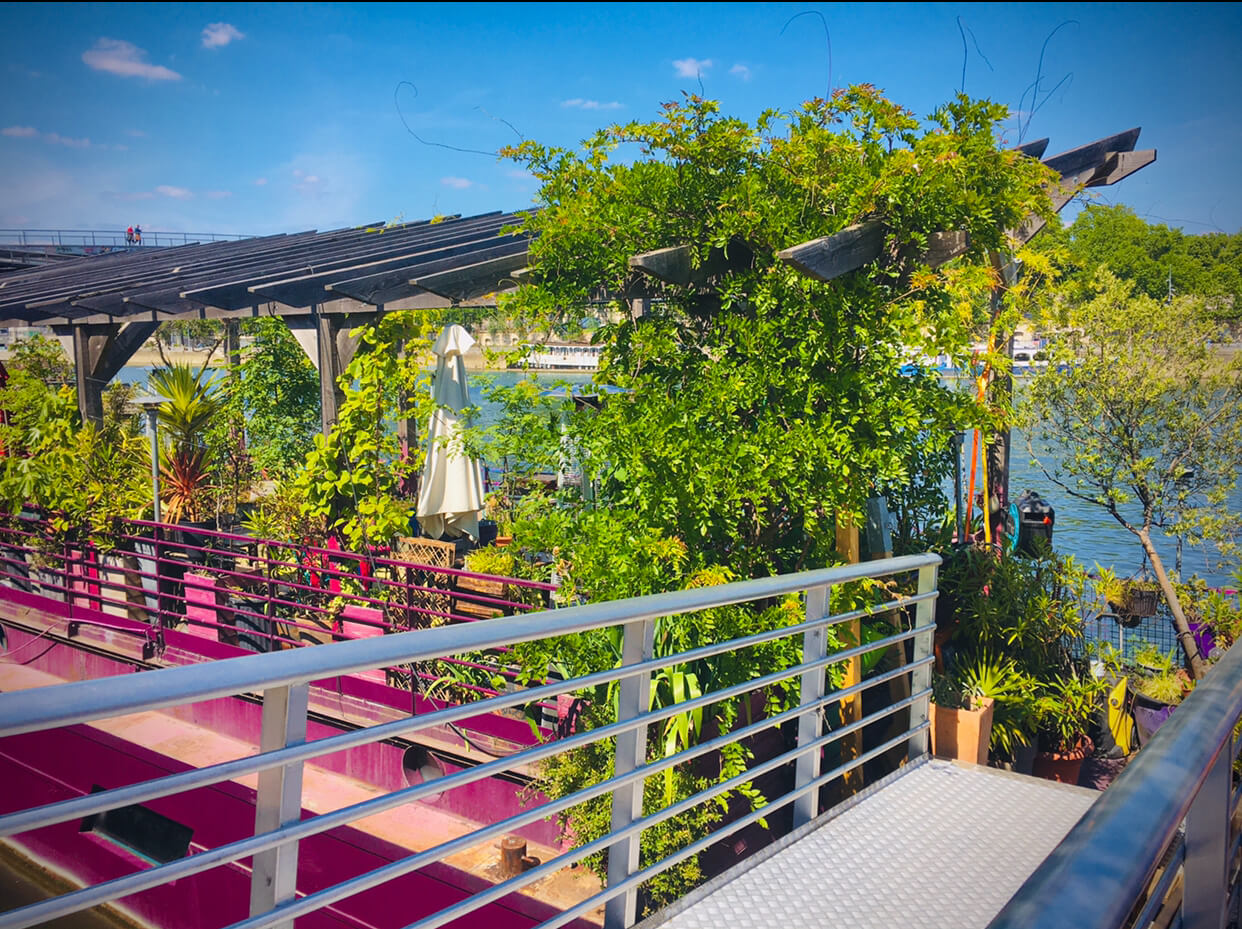 Aboard the Jardin Sauvage
Paris may be the City of Lights, but Parisians love to create green scapes wherever they can. Many of the party boats have a green theme. Some boats feature lush settings with vines and wide-frond palms spilling over, while others have been landscaped with agave, cacti and desert oasis types of flora.
On a particularly delightful recent Saturday evening, we boarded the Jardin Sauvage and were greeted by a friendly host. She seated us on the top level, with a 360° view — frankly, every view from the deck of the boat was a 360° view so how could we go wrong? We were planning a sunset picnic a bit later at the Places des Vosges so we weren't in the market for eating, but the offerings looked decent and ran the gamut from light breakfast to brunch to tapas and light dinner items.
We chose a glass of white wine — simple but drinkable for around $5 — and a specialty cocktail that was good enough for $12. I'd recommend the wine, especially on a sweet, sunny day. The music on rotation was a cross-section of contemporary urban tracks and I could tell that once the sun set, the dancing would begin.
We really loved sitting and sipping in the Jardin Sauvage and can't wait to go back to enjoy some comedy and a few bites.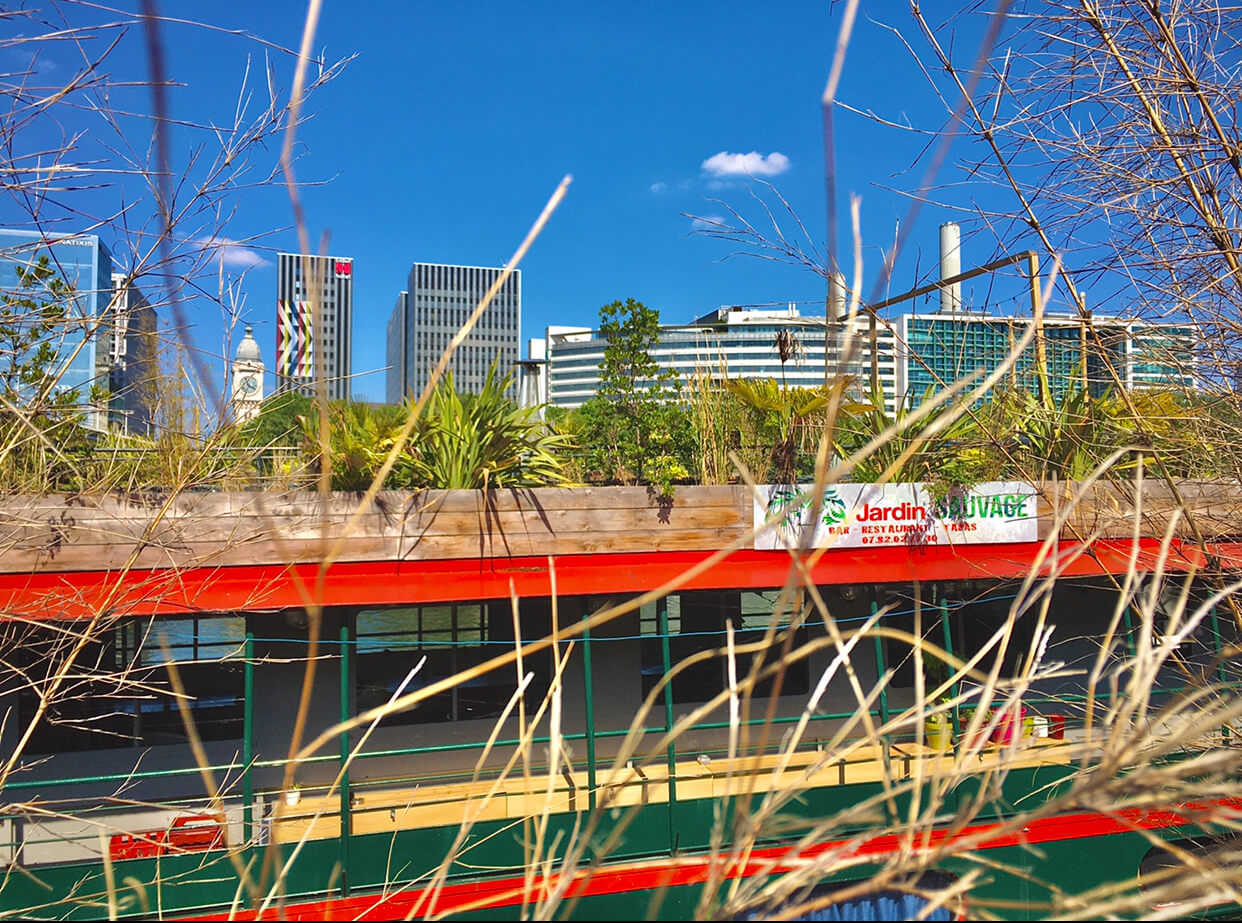 Enjoy a Day-Long Péniche Crawl
If you find yourself at the Seine with some free-time, sample a few of the boats and curate a personalized péniche tour. Enjoy petit-déjeuner — French for breakfast — or brunch on one of the garden boats, then walk it off with little stroll before a quick lunch bite, then hop on over to one of the art gallery boats. If you're Seine-side in the evening, start your crawl at a gallery barge, then grab l'apéro and a glass of wine at a neighboring boat, enjoy a show, move along, savor a sit-down dinner, then dance the evening away under the Parisian night sky.
As the Jardin Sauvage website says —
Come and discover this breathtaking view of Paris and humor shows associated with quality gastronomy, in the sweetness of this floating paradise in the urban jungle.
I couldn't have said it better myself.