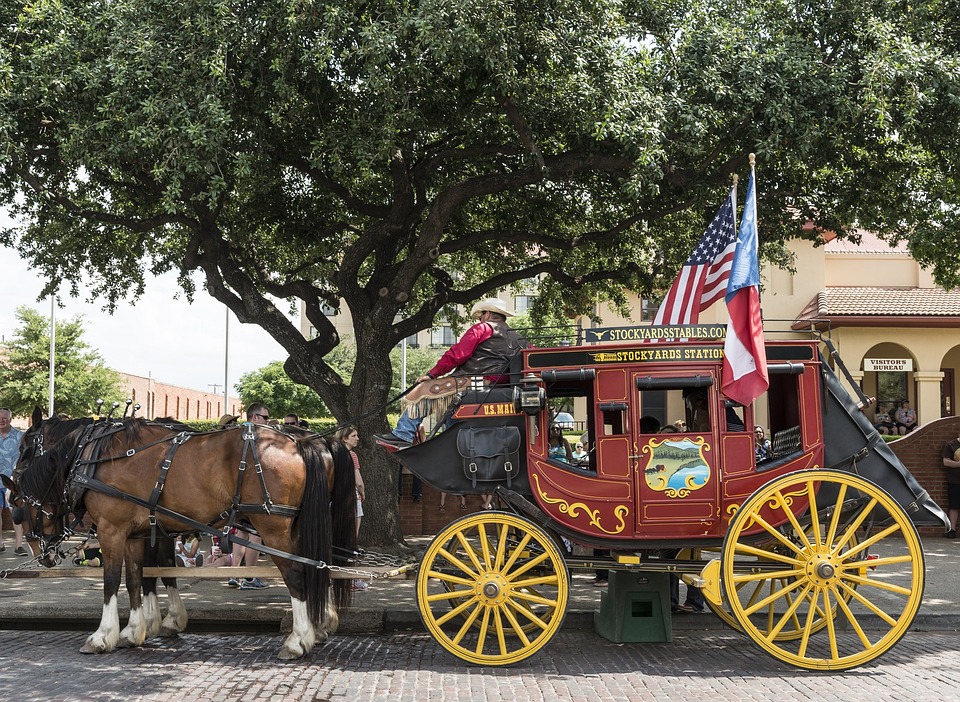 If you only have a single day in Fort Worth, Texas, I know exactly where you should go. Head on over to the Fort Worth Stockyards. This isn't just any stockyard — it's the stockyard that made Fort Worth famous.
While visiting this historic district, you can get to know what it's like to experience the wild, wild West. With its twice-daily cattle drives from the Fort Worth Longhorn herd and old-fashioned gun-fight shows, you can easily spend a day at this well-known "Cowtown." As they say, Fort Worth is "where the West begins."
How the Stockyards Got Here: Last Stop in Time
What is a stockyard, you might ask? A stockyard is a large yard created to contain livestock and typically near a slaughterhouse. Back in the late 1800s, the Fort Worth Stockyard was the last stop to rest and get supplies before crossing the Red River. After that, the Chisholm Trail led to Native American territory. The Chisholm Trail is where the cattle came up from South Texas before being driven on towards San Antonio and then straight north past Waco and Fort Worth.
More than 4 million head of cattle have passed through this last stop. Thanks to so many people coming through, by the end of the 19th century, Fort Worth's population was booming.
The fancy new railroad in 1876 helped spur growth further. The area became a major shipping point for livestock, so the Union Stockyards (the earlier name of the Fort Worth Stockyards) were built to hold cattle. In the decades that followed, meat-packing plants were built around the stockyards. A one-stop-shop, you might say — though different than its earlier last stop on the Chisholm Trail.
Visiting the Fort Worth Stockyards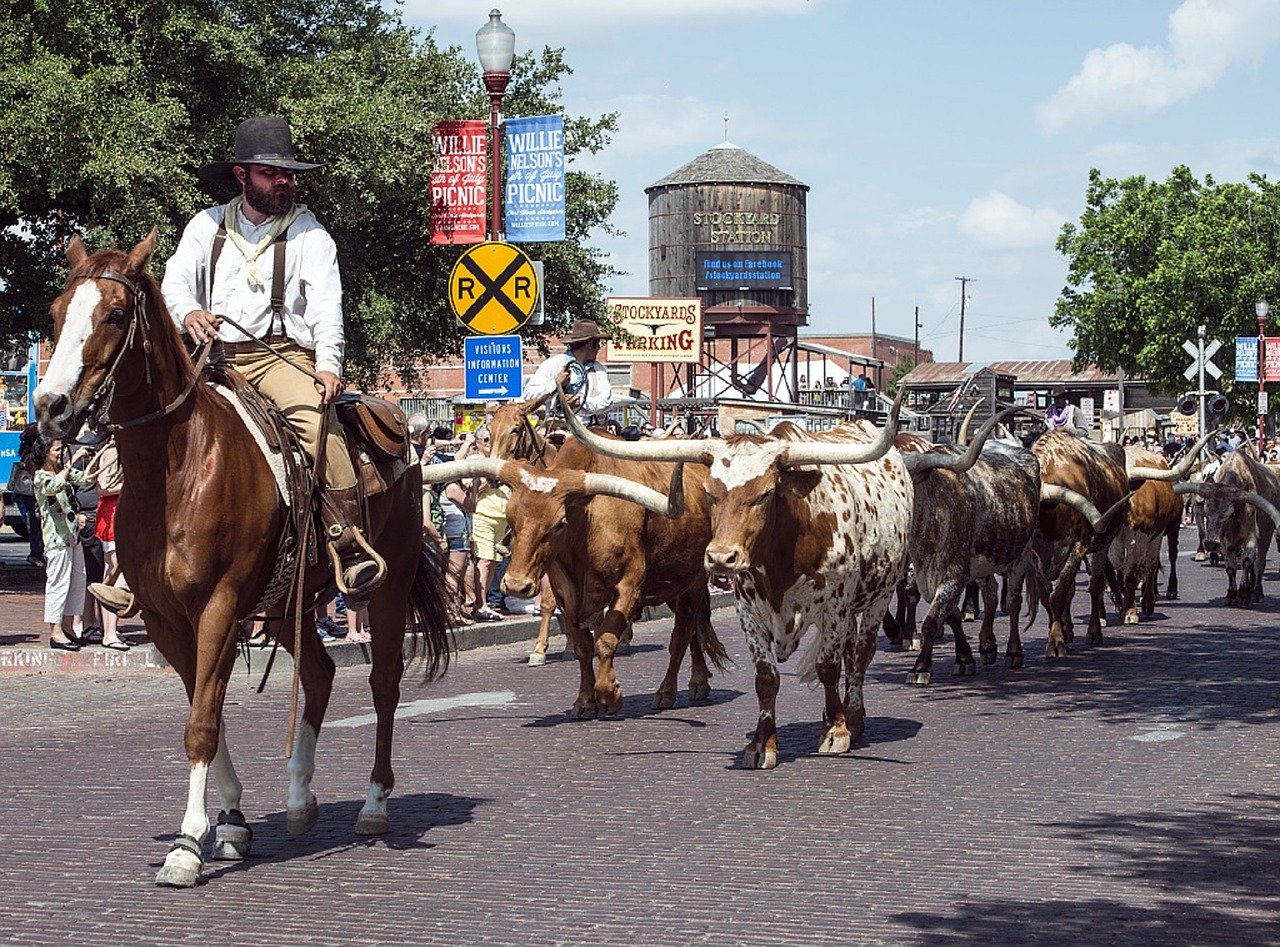 Today, the Fort Worth Stockyards are on the National Register of Historic Places. The historic district is home to famous boot-making companies, western-themed stores, stagecoaches, museums, cattle drives, rodeos, kid's activities, and cowboy cuisine — and that's just for starters. There are even bars and dance halls to get your boots kicking. That's a lot to see, sure. Here are my tips on how to make the most of your visit.
A True Texas Experience: How to See the Fort Worth Stockyards
Start your visit at the Stockyards Station, the heart of this historic neighborhood. From here, you can head to a stage to see lassoing and shooting demonstrations, hear cowboy poetry, or watch the latest youth fiddling contest. You'll witness talented cowboys who show off their riding, roping, and racing skills in the Cowtown Coliseum.
And if you're really hankering for a visit to a rodeo, it doesn't get much better than the Championship Rodeo. Usually held on Friday and Saturday nights, the rodeo begins at 8 p.m.
If you have kids with you, take them for a twirl through the Cowtown Cattlepen Maze or a ride on the Grapevine Vintage Railroad. From day to day, they put on a variety of events, so be sure to check their calendar.
The Main Event: Texas Longhorn Cattle Ride
For the main event, you will find drovers (animal drivers) and the enormous Texas longhorns on East Exchange Avenue. Remember, everything is bigger in Texas!
They host Longhorn cattle drives every day, once in the morning and once in the afternoon on the cobblestone streets, except during holidays and bad weather. And you get to be standing right on the sidelines for the event. It's the world's only twice-daily cattle drive. Head to the Livestock Exchange Building, if you want to view the steers before or after the cattle drives.
Museums and Exhibits
The Wild West it may be, but there's indoor entertainment, too. Visit the Stockyard Museum for a tour of Texas history. The museum houses an extensive collection of artifacts and documents from the "Old West" era.
Meanwhile, the Texas Cowboy Hall of Fame and Texas Trail of Fame, with its free walking tour of bronze markers are close by and will also offer insights into Fort Worth's most notable citizens.
Places to Eat When You Visit the Fort Worth Stockyards
After all that entertainment, you will certainly be hungry. I recommend lunch at Cooper's Old Time Pit Bar-B-Que for a nice brisket. By supper, there are plenty of choices. Have a drink and cozy on up to the bar at Filthy McNasty Saloon (don't let the name deter you). Then head to The White Elephant Saloon for authentic country music and dinner.
Afterward, you can test your dancing skills at Billy Bob's Texas Honky Tonk. It is a 3-acre establishment, complete with a mechanical bull, that will have you hootin' and hollerin'. Known as the world's largest honky-tonk — in other words, a rowdy bar with entertainment — Billy Bob's is classic stockyards experience. It doesn't get much better than this.
Fort Worth Stockyard FAQs
How do I get to the Fort Worth Stockyards?
The Fort Worth Stockyards about 3 miles northwest of downtown Fort Worth. I drove there in my car, but you can get there by the "T" bus No. 12, 14, and 15. Fort Worth and its historic stockyards are an easy day trip to add to your visit to Dallas.
What is there to do at the Fort Worth Stockyards?
One of the great things about this attraction is that there's so much to do. You can sit back and just watch the fanfare: the demonstrations and that twice-daily cattle drive. You can learn about the history and admire the exhibits. Or you can eat, drink, dance, and let loose in Western-style. There really is something for everyone.
How long does the Fort Worth cattle drive last?
The herd experience with the Texas Longhorns takes approximately 15 minutes. If you miss it in the morning at 11, just make sure to get there early for one at 4:30 p.m.
Are the Fort Worth Stockyards free?
Admission to the Fort Worth Stockyards is free. However, many of the individual attractions do charge admission fees and have their own hours of operation. For example, the Wild Herd Experience is free with a reservation, but the Stockyard Museum, the Championship Rodeo, and the Pawnee Wild West Show will cost additional dollars to see. Prices range from $2 for the Stockyard Museum to up to $40 for the Championship Rodeo.
Good Ole Country Fun
Now you may be thinking all this big Texas amusement sounds like a tourist trap, but I can guarantee that you will find out more about Texas, Old West culture, the longhorns, cowboys, and country Western dancing and singing than you ever thought possible. In a lot of ways, the Fort Worth Stockyards is the perfect complement to a big-city tour of Dallas.