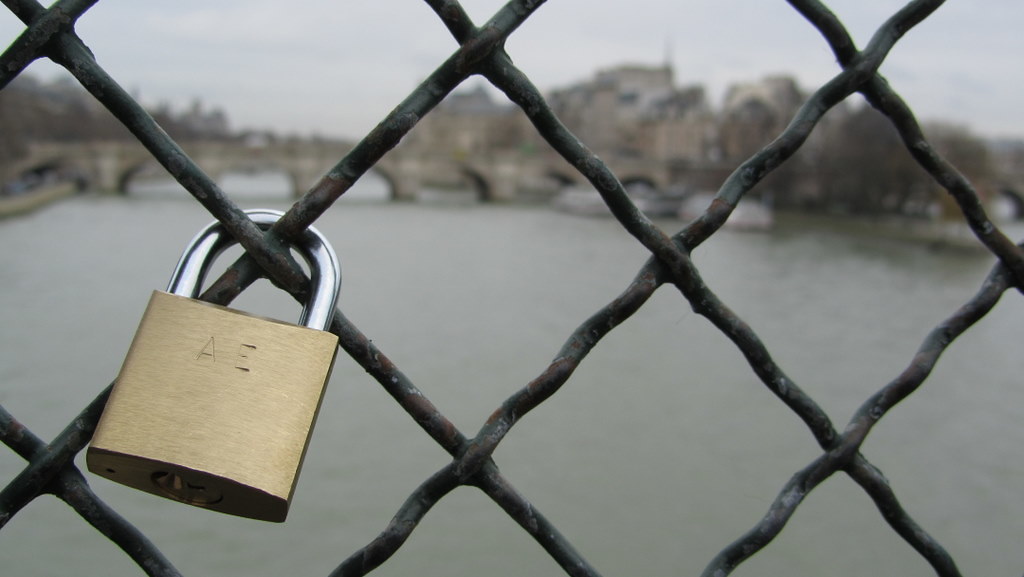 Many of you are already aware of the romantic Love Lock tradition in Paris. Couples from around the world to leave their mark by locking engraved padlocks (Les Cadenas d'amour in French) on Parisian bridge railings and throwing away the key afterwards in order to symbolize and fix their love to the city forever.
However, the romantic gesture is far from romantic in reality. Although you can still see remnants of love locks from tourists who won't ever let go of the tradition, the city of Paris has actually had major destruction caused from this very seemingly innocent act.
In 2014, nearly 3 meters of the Pont des Arts bridge fell into the Seine, which then lead to the city having to fully take down the love locks in 2015. The Paris administration never wanted to stigmatize or discourage couples from showing their love in the city that gains its reputation from romance. However, in 2014 after counting the love locks there were over 1 million, weighing around 45 tons. Paris began a 'No Love Locks Paris' campaign to spread awareness for the damage caused by this tradition so today it is a much less seen phenomenon.
Here are some Paris romantic tradition alternatives to placing a love lock on a Parisian bridge:
Eat ice cream on Île Saint Louis
In quiet hours, you may even have this island to yourself if you're lucky. Berthillon has the most delicious ice cream you've ever tasted and is located here, as well.
Visit the Musée de la Vie Romantique
This mansion is a museum dedicated to the romantic life in Paris, from paintings portraying romantic Parisian literary salons to exploring the symbolism of the heart in contemporary art.
Visit the wall of "I love you" – Mur des Je t'aimes
Located in the Jehan Rictus garden square in Montmartre, this mirror wall has 'I love you,' in 250 different languages.
Watch the sunset at parc Buttes Chaumont
This beautiful park is the ideal spot for lovers at sunset because of the magnificent view.
Stay at Hotel Amour
At one point a 'love hotel,' this is now a cute place to stay and visit the restaurant in the greenhouse. Sit in the greenhouse or the garden on these red chairs for an intimate dining experience.