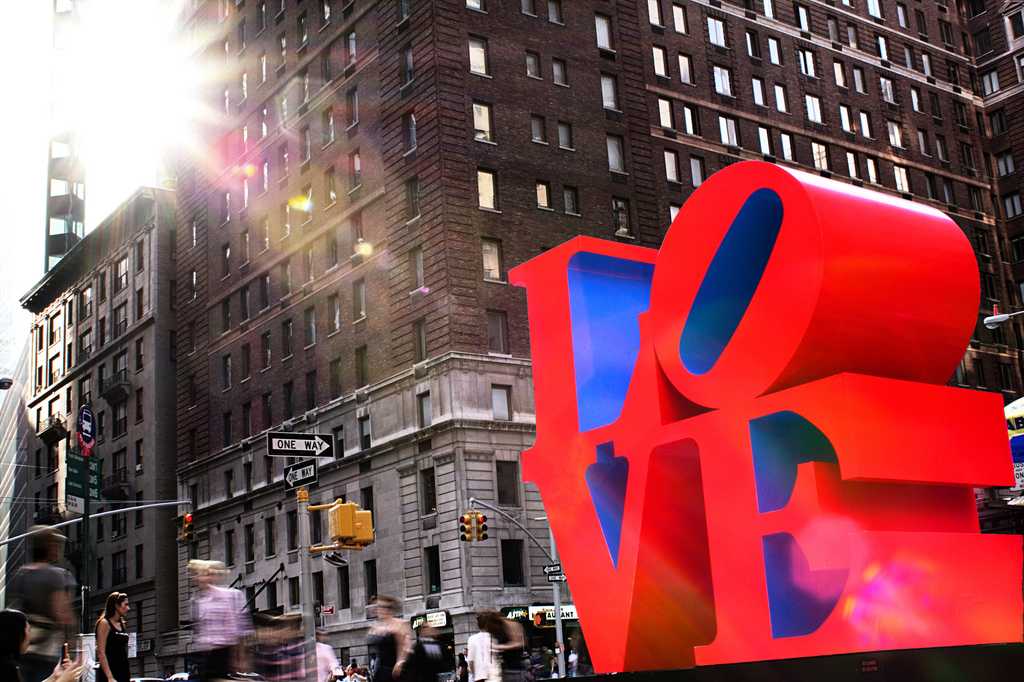 As Valentine's Day approaches, couples from around the world pilgrimage to New York City hoping to write their very own Manhattan love story. Here are 5 tips to make your romantic weekend getaway an affair to remember!
Play A Love Scene
New York City has served as the backdrop for countless romantic films. Spend a day of your romantic weekend getaway chasing the stars. Have a You've Got Mail-inspired coffee date at Cafe Lalo. Make funny voices at the Metropolitan Museum of Art like in When Harry Met Sally. Stage an impromptu musical number in Central Park like Amy Adams in Enchanted. Let the magic of these movie moments inspire you to write a love scene of your very own!
Bonus points if you can find the park in Sutton Place where Diane Keaton and Woody Allen spend the final moments of the movie Manhattan!
Feast Like A Foodie
They say the way to a man's/woman's heart is through the stomach. Spend another day of your romantic weekend getaway sampling the foods that put NYC on the map. Bagels and pizza are a must for any visitor, but why not sample a Ukrainian pierogi at Lower East Side favorite Veselka as well? For dessert, DŌ is bound to satisfy your sweet tooth with their safe-to-eat cookie dough scooped just like ice cream!
Forgo dinner by taking a cooking class such as Mozzarella Making at Murray's Cheese or Couples Pizza-Making at Pizza a Casa!
See A Show!
No romantic weekend getaway to New York would be complete without taking in some of the city's world-class entertainment. From big Broadway shows to intimate nightclubs and cabarets, there is truly something for everyone here. Broadway's The Phantom of the Opera has been enchanting audiences (and couples!) for over 25 years. If you haven't seen it yet, you should! If you're in the mood for something a little sexier, catch a burlesque show at Duane Park instead. Live jazz can be found at Birdland and singer-songwriters play the night away at Rockwood Musical Hall.
No matter what you see, it's bound to be a memorable experience! For last-minute tickets deals to the theater, check out downloadable app TodayTix!
"It's Quiet Uptown"
Speaking of Broadway, if you happen to be lucky enough to surprise your Valentine with tickets to Hamilton, you'll definitely be winning in the romance department! If not, never fear… You can still spend your romantic weekend getaway tracing the footsteps of one of America's first couples. From their final resting places at Trinity Church to their home in Harlem, the legacy of Alexander and Elizabeth Hamilton endures to this day. Let their timeless love story inspire your own!
Make time for dinner at Fraunces Tavern, a historic restaurant in lower Manhattan where the real Hamilton himself actually dined!
Get Outta Town! (Or Manhattan, At Least!)
Most visitors spend their entire trip to New York in Manhattan. Spice things up by spending a day taking a romantic adventure to one of the other four boroughs! Head uptown for a relaxing day at The Cloisters and the Bronx Zoo. Go east to Queens and explore Flushing Meadows-Corona Park. Perhaps a trip to Brooklyn is in order for trendy shopping in Williamsburg before getting lost in the Brooklyn Botanic Garden. If you're really adventurous, try venturing out to Staten Island's Historic Richmond Town.
Make the most of your romantic weekend getaway by hiring an expert licensed tour guide on one of our Custom Tours at New York Tour1.