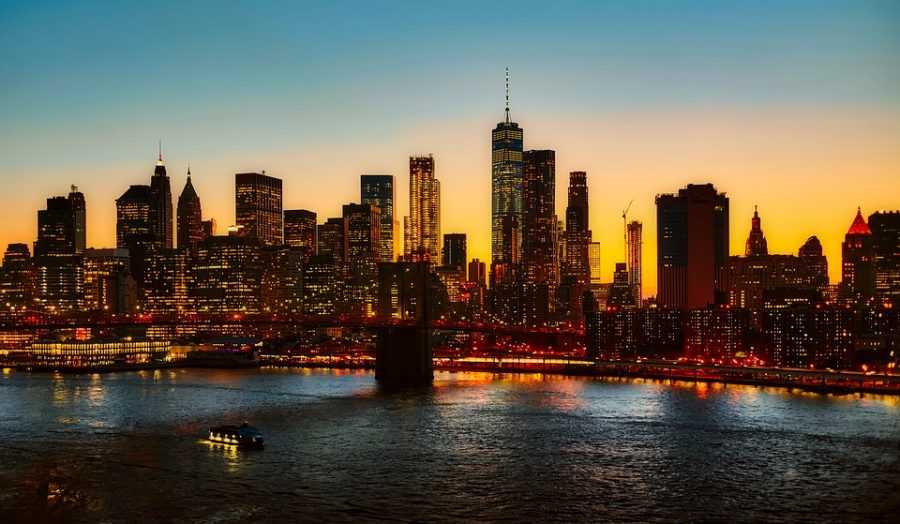 The amazing thing about New York is that each day is exciting in its own way. But what would make the perfect day in New York City? Obviously, the answer varies from person to person. But for me, the perfect New York day would include history, fun, good food and a lot of walking- made even better by sunshine and a blue sky. So follow along as I share with you the most ideal, fun, exciting, perfect day here in New York City:
Morning: Statue of Liberty & Ellis Island
To start off, bright and early, a trip to the Statue of Liberty and Ellis Island. Two of the most iconic symbols in America. It's definitely good to beat the crowds, so catching that first ferry is a great idea. On a clear morning, the views from the boat are amazing and the perfect start to the day. Once you get to Liberty Island, there's a bunch of options to choose from. You can go take some pictures with the statue, visit the museum, climb the pedestal. So make sure to leave plenty of time.
From there, the ferry will then drop off at Ellis Island- where you will see a historic and beautiful building that showcases the journey of millions of immigrants from all over the world and their journey to America. Again, there are many exhibits to see and lots of information to absorb, so be sure to not feel rushed.
Both of these monuments are worth seeing, as they're not only beautiful to look at, but are emblematic of New York as a whole. You will learn so much about the history of New York, and even the country, by taking the time to visit. From there, just hop the next boat back to Battery Park to continue your perfect day.
Afternoon: Financial District/Central Park
Conveniently located right near Battery Park is the Financial District, where you will find a delightful little block, tucked away amongst buildings and street corners, called Stone Street. This street has a series of buildings reminiscent of the Dutch architecture that once occupied Lower Manhattan. Today, the buildings are complimented with an array of varied eateries- the perfect place to grab a drink and relax after quite an active morning.
From there, take some time to check out Wall Street, Trinity Church, and maybe even fight the crowds to get a glimpse at the Charging Bull. There's a lot of hidden history in the neighborhood worth investigating.
After some exploring, catch the subway uptown to Central Park for a lovely mid-afternoon walk. It's nice to take some time to relax and enjoy a different, more peaceful side of New York. Sheep's Meadow is a perfect place to sit and soak up the sun, or stop by Belvedere Castle for great views of the park. The lower half of Central Park has a lot to see. There's Strawberry Fields, The Loeb Boathouse, Bethesda Fountain, the Bow Bridge, and even a zoo! Eventually, the sun will slowly start to set, which means it's time to head out and on to the next stop.
Evening: Dinner in Greenwich/Empire State Building
Greenwich Village is my favorite neighborhood in New York, and it really comes alive at night. There's restaurants, bars, nightclubs, comedy clubs and bunches of local New Yorkers coming out to enjoy a night of fun. Personally, I would head straight to MacDougal Street, which is clustered with diverse eateries, giving you a huge selection for dinner.
The area is great to walk around in and it's always fun to visit more local neighborhoods, maybe check out a vintage shop or two. Just be sure to save your energy for our final stop- the Empire State Building. Hop the train uptown to 34th and 5th and buy a ticket for one of the most amazing views in the world.
Many people don't realize, but the Empire State Building is open until 2 am every single day! So there's no rush to try and fit it in before the sun goes down. Some people prefer their views during the day, but as for me, there is nothing that really encapsulates New York like the city at night. Millions of different lights and colors, and even thousands of feet up where the air is quiet, you can still feel the energy of the city below you. Looking out, you can see from above what you explored below and reflect on the busy, entertaining, amazing day that you had.
Interested in seeing the best of New York in less than 24 hours? Click here for NYT1's One Day NYC Tour!