Paris is an iconic city that millions of people dream of visiting in their lifetime, with good reason – the glitz, the glamour, the romance… it is the perfect city and lends itself beautifully to the art and culture that abounds here. In fact, when featured on the "Big Screen", Paris itself becomes an additional character, because the film wouldn't be the same without this mesmerizing city as it's backdrop. In this list, I will breakdown a few of my favorites films that best exemplify the spirit of Movie Magic…
AMELIE – Le Fabuleux Destin d'Amélie Poulain is a truly magical film, and arguably the one movie that put Montmartre on the map. Released in 2001 Amelie, played by Audrey Tautou is a young waitress who just sees the world differently. Supported by the artistic frenzy that is

Montmartre, Amelie sets out on an adventure that takes her all along these winding, narrow streets, and along the way, she finds love, and herself. As a teenager watching this film, I couldn't wait for the day that I could move to Paris and live out my own fantasy life, looking for love and getting lost in the magical city that Amelie calls home. Well, I have Paris, all I'm looking for is a

Nino

(Amelie's love interest) of my own. 😉 Take a visit to Cafe des 2 Moulins, the restaurant where Amelie worked and then buy some fresh fruit or take loads of picture

with

the fruit at Au Marche de la Butte, the store where the me

an Monsieur Collignon worked. Finally, end your day at the Sacre Coeur Basilica and just take in the jaw dropping view of Paris that waits for you. This movie is so near and dear to my heart, that the first time I saw the Cafe des 2 Moulins in person, i literally cried. But don't worry, even if you're not as sappy as as I am, you'll still love the experience of exploring Montmartre through Amelie's lens.
Cafe des 2 Moulins – 15 Rue Lepic, 75018 Paris
Au Marché de la Butte – 56 Rue des Trois Frères, 75018 Paris
Sacre Coeur Basilica – 35 Rue du Chevalier de la Barre 75018 Paris
THE DEVIL WEAR PRADA – What can I say, Fab, FAB, FABULOUS! The Devil Wears Prada based on Lauren Weisberger 2003 novel of the same name, stars Meryl Streep as Miranda Priestly, a top fashion magazine editor, and Anne Hathaway as Andy Sachs, who lands a coveted job as Priestly's assistant. Stanley Tucci stares as art director Nigel (He's just darling!) The group comes to Paris and it is as chic as chic can be as they sashay around the 1st arrondissement, arguably the ritziest in Paris. The main landmark you'll want to visit, is Place de la Concorde, especially the fountain where Andy ditches her phone in the fountain and "finds herself!" while of course, dressed to the nines.
Place de la Concorde 75008 Paris
MIDNIGHT IN PARIS – A truly mind-bending film by Woody Allen, Midnight in Paris captures all of the things that make Paris a truly incredible city. Starring Owen Wilson as Gil Pender, and Rachel McAdams as Inez. This film is also dripping with historical figures as Girl runs into them at Midnight including Zelda and F. Scott Fitzgerald (Played by Alison Pill and Tom Hiddleston), Pablo Picasso (Marcial Di Fonzo Bo), Gertrude Stein (Kathy Bates), Salvador Dali (Adrien Brody), and Ernest Hemingway (Corey Stoll), to name a few. The film itself is a fantastical look into nostalgia and modernisme and Paris is the perfect city for this perfectly

drôle

film. The establishing montage at the very start of the film for example, let's just talk about that for a moment; I mean come on: it is awe inspiring. You know immediately that you are watching a love letter to Paris. In fact, If you have never been to Paris and it is your dream European city, then this montage will make you

melt

. And if it isn't on your list, this sequence will make you want to… melt!! It is THAT good! The picturesque shots of Paris are bookended with the most beautiful shots of The Eiffel Tower and you have ever seen, and you'll wish you could just jump into the film and just

be there

. The setting for the film itself is not just one Parisian neighborhood – it is all of them. Start off on the stairs where Gils adventure begins, and even shop at the flea market where Gil found himself wondering about throughout the film! But here a bonus tip, to borrow a famous line from the movie "

Paris is the most beautiful in the rain."

Well, make sure you grab an umbrella, and find out for yourself! 😉
Rue Mouffetard at Rue Edouard Quenu for the fantasy stair, and for some shopping, Le Marche Paul Bert. The Rodin Museum 79 Rue de Varenne, and Pont Alexandre along the banks of the Seine in Ile de la Cite.
MOULIN ROUGE – The teenage girl inside of me is screaming right now, this movie is just fabulous! Starring Nicole Kidmann as Satine, the beautiful courtisane who wins the heart of Christian played by Ewan McGregor. This film was a huge success and brought The Moulin Rouge back into popular culture. Every year millions of people visiting Paris make a point to stop at The Moulin Rouge, and even without buying a ticket to one of their spellbinding performances, you still have the opportunity to sample it's magic. Even with its fantastical tone, the film is historically accurate, set in the time period of La Belle Epoch (Paris' golden age) and yes, maybe real life had less singing and dancing, but we'll never know, will we? I mean, it's not like we were there…. But visit the Moulin Rouge right at the base of Montmartre and no one will fault you for breaking out into your own, very best rendition of

Come What May…
The Moulin Rouge – 82 Boulevard de Clichy 75018 Paris
THE PHANTOM OF THE OPERA – This list wouldn't be complete without mentioning Phantom of the Opera, I mean–hello! The Opera Garnier, where the Musical itself is set is so palatial, so magical, so grande that it is absolutely worth visiting. Released in 2004, The Phantom of The Opera stares Gerard Butler in the titular role of The Phantom, and Emmy Rossum as his stunning muse, Christine Dia. The film adaptation of the Longest Running Broadway Musical of all time, based on the 1910 novel by Gaston Leroux, is a beautiful escape into a world of song, wonder, and velvetine darkness. The Opera house itself is the perfect setting for Webber's musical as it beautifully encapsulates the world that Andrew Lloyd Webber created and a visit to this Grand Opera house will not disappoint. Completed in 1865, this Opera house seats 1979 patrons and is open 7 days a week, welcoming people who want to stroll through the theater and view its opulence in person. In fact, it is the most famous opera house in the world, and one of paris' most prized landmarks on par with The Louvre, Notre Dames, and The Sacre Coeur Basilica.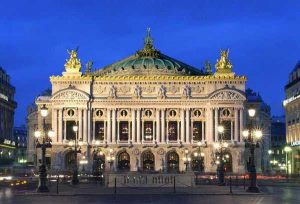 Palais Garnier – 8 Rue Scribe, 75009 Paris
*Just a note….
I just have to add a note about the most iconic landmark of them all: The Eiffel Tower. She is the embodiment of Paris herself, the symbol of this splendid city, and any film that is filmed in Paris, has her peeking out in the background. The Iron Lady is omnipresent. If you are planning a visit to Paris, you have to visit the Eiffel Tower "tout-suite!" as she's the most visited monument in the world, and and I'm just so jealous that she just has no bad angles!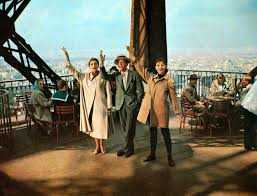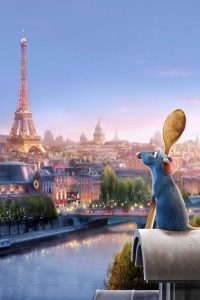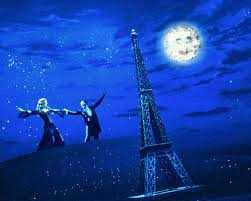 The Eiffel Tower 5 Avenue Anatole, 75007 Paris