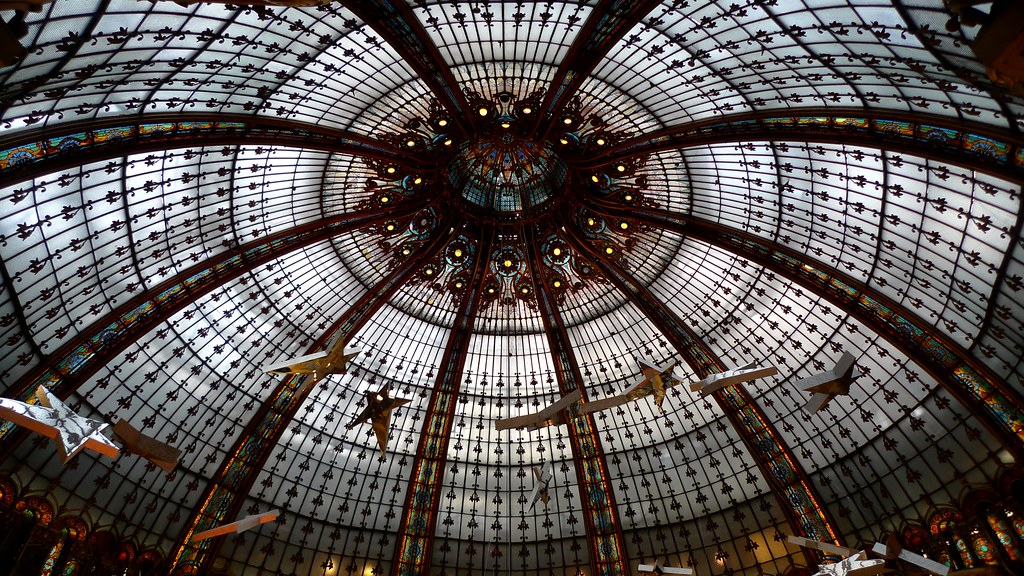 Out in Paris for the day with the goal of shopping until you drop? Here is the guide for you!
Shopping is a great past-time in the city known for its iconic fashion history and current street-style. Here is a list of some of the most well-known department stores, (or "grands magasins" as the French say):
Galeries Lafayette
This is one of the most exciting department stores purely for the layout of the building, with its ornately decorated glass ceiling and its annual decorations that hang from it. There are always architecturally exciting attractions found here, including a trampoline in the middle of the opening of all the floors once. Here, you can find lots of high-end, designer brands along-side more popular affordable ones, such as Top Shop. Make sure to go take in the view of Paris from the roof!
Printemps
Another major player on the Parisian department scene is Printemps, founded in 1865 and the first to use electricity in their store in 1888 after a fire burned them down in 1881. Today, the store focuses on fashion, beauty, accessories, and men's wear. In the winter, this store participates in exciting window designs, along with Galeries Lafayette and Bon Marché.
Bon Marché
Founded in 1838, this department store is located on Rive Gauche and a staple in the Parisian shopping experience. At its current location, the building you see there was constructed with the advice and consultation of Gustave Eiffel's engineering firm and was architecturally innovative for its time. Today, in addition to high-end products and fashions, there are tons of in-store services, like hair dressing and experienced stylists at your convenience.
Zara
As we all know, this fast-fashion queen of retail is huge in Europe, as the brand was created in Spain. Known for producing small inventory of certain looks and basing future designs off of sales analytics, this shop can be trusted for constantly updating. This shop is hugely popular among Parisians and tourists alike, so get in there and dress in the completely current styles.
Decathlon
This one is a bonus, because it's more of an athletic and camping based shopping experience, which will be really helpful for you if you're planning an outdoors excursion on your journey, but not so much a fashion one. Here you can buy a backpack for 8 euros along with more cheap finds.