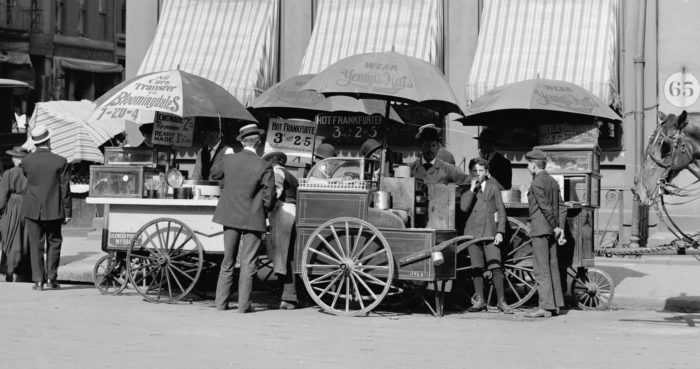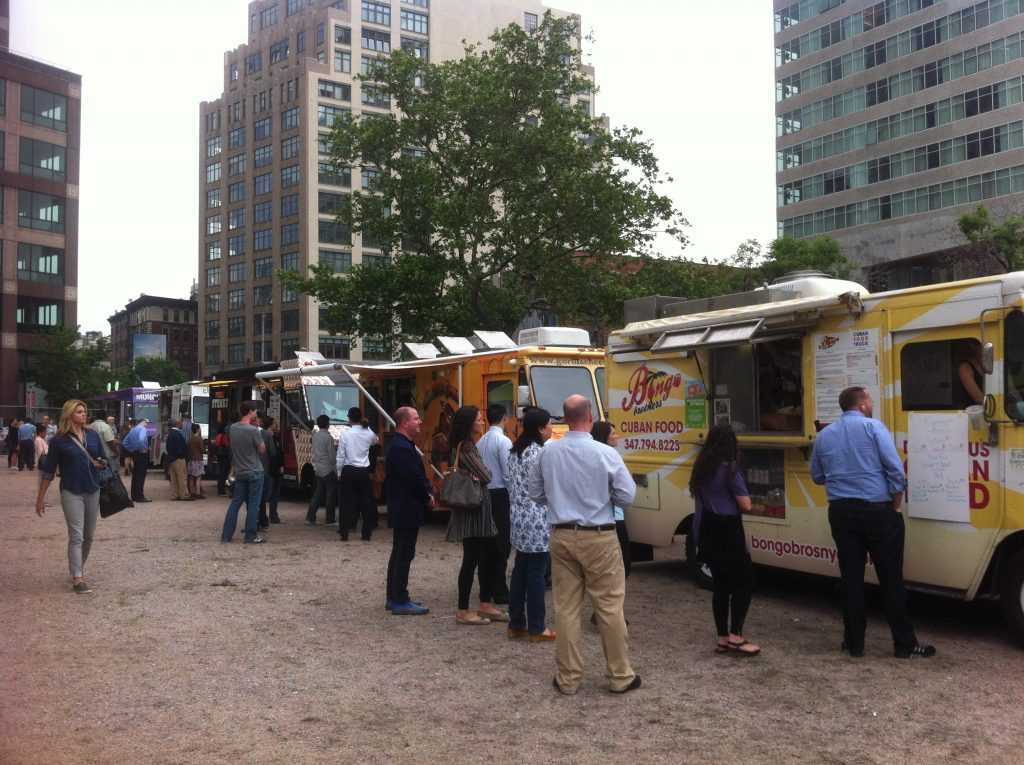 Locals know the best meals are sometimes found outside the restaurant. NYC Food Carts elevate the quick snack to an art form.
There's something special about the steel and chrome street carts that line NYC's sidewalks. These ubiquitous yellow and blue umbrellas embossed with the names of sausage makers might be a bit daunting for the newcomer. To help out, we've put together a list of 5 most excellent purveyors of street-meat in the big apple. Here are our picks for best of the NYC Food Carts.
Forsyth St & Division St
Best to start this list off with a traditional "meat on a stick" affair, albeit with a Chinese flair. Young Xinjiang BBQ has been slinging these perfectly grilled kabobs for years. The traditional lamb and beef skewers are accompanied by more exotic fare, like chicken gizzard and heart. Don't miss out on the secret spice rub.
6th Ave & W 3rd St
With Anton Yelyashkevich serving as both the namesake and the chef/owner, Anton's Dumplings features an homage to Russian cuisine through their small, handmade dumplings known as pelmeni. Customers can choose from a variety of traditional fillings- ground pork, beef, onions, chicken and smooth mashed potatoes. Combined with the not-so-traditional, but ultra flavorful toppings make for one of the most delicious and unique meals in the city.

Prince St. & Wooster St.
Named for a small town on the Mexico-California border, in a short ten years Calexico has expanded from a single cart to a small network of Mexican via New York cuisine. While the restaurants and their associated bars are quite excellent, it's the cart that has our attention today. Still on the same corner in SoHo, try anything with the "crack sauce".
Conveniently, their first restaurant location is located just minutes from the end of our private Brooklyn Walking Tour. Explore the hippest of NYC's boroughs before grabbing a unparalleled fish taco and house margarita.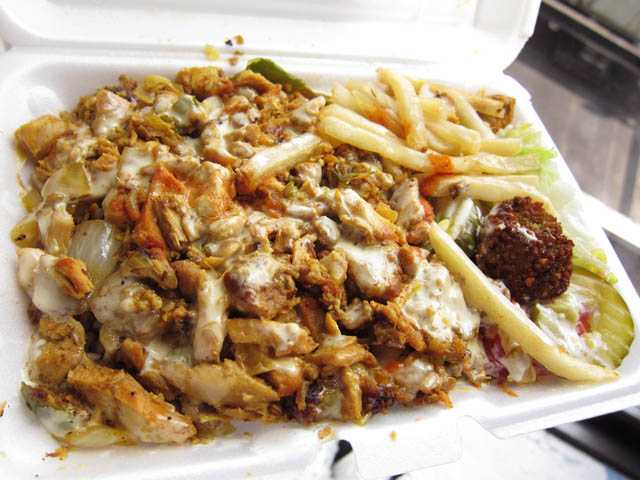 6th Ave & W 4th St.
Chicken and rice platters have replaced the dirty-water dog as the street cart staple, and we're all better for it. Not many can claim to serve up a better plate of dark-meat chicken and afghan style rice than Samiul Haque Noor. A longtime staple of Greenwich Village, Sammy's Halal is the best place to fuel up before exploring lower Manhattan.
Bay & Clinton Street- Brooklyn
Located just outside Red Hook Ball Fields, husband-and-wife duo Rafael and Reina serve a variety of Salvadorian classics including chorizo, tamales and the famous pupusas. These are the most authentic and traditional foods from El Salvador- stuffed round patties, similar to a thick tortilla, filled with queso, pork, beans or a mix of all three. As an added bonus, they are also 100% gluten free, meaning everyone can have a chance to enjoy them!