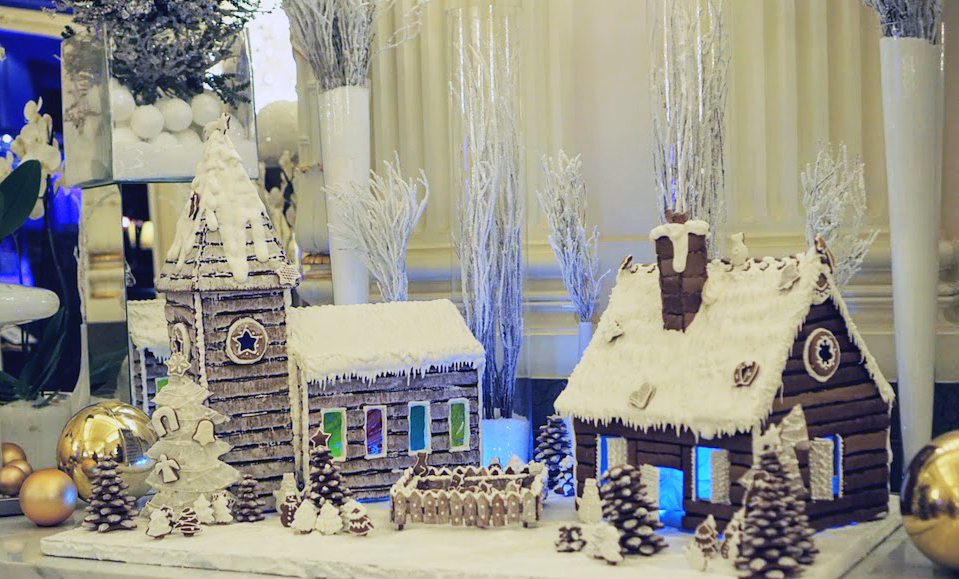 Although I live by Audrey Hepburn's motto that Paris is always a good idea, there is something magical about visiting Paris in December when the City of Lights is all decked out in holiday splendor. Maybe I'm biased since it's my birthday month and there are endless options to celebrate at pop-up winter terraces and indulge in decadent holiday desserts.
If you can't hop on a plane this year, binging on Netflix's "Emily in Paris" is the next best thing to satisfy your Paris wanderlust. Emily's adventures certainly have me feeling like I haven't taken advantage of every moment and every month in Paris. I can already imagine Emily celebrating the festive season in some of the following Parisian landmarks.
Here are the best things to do in Paris in December from my experience living here. I'll cover annual events plus fun activities and foodie finds perfect for the festive season.
What to Do in Paris in December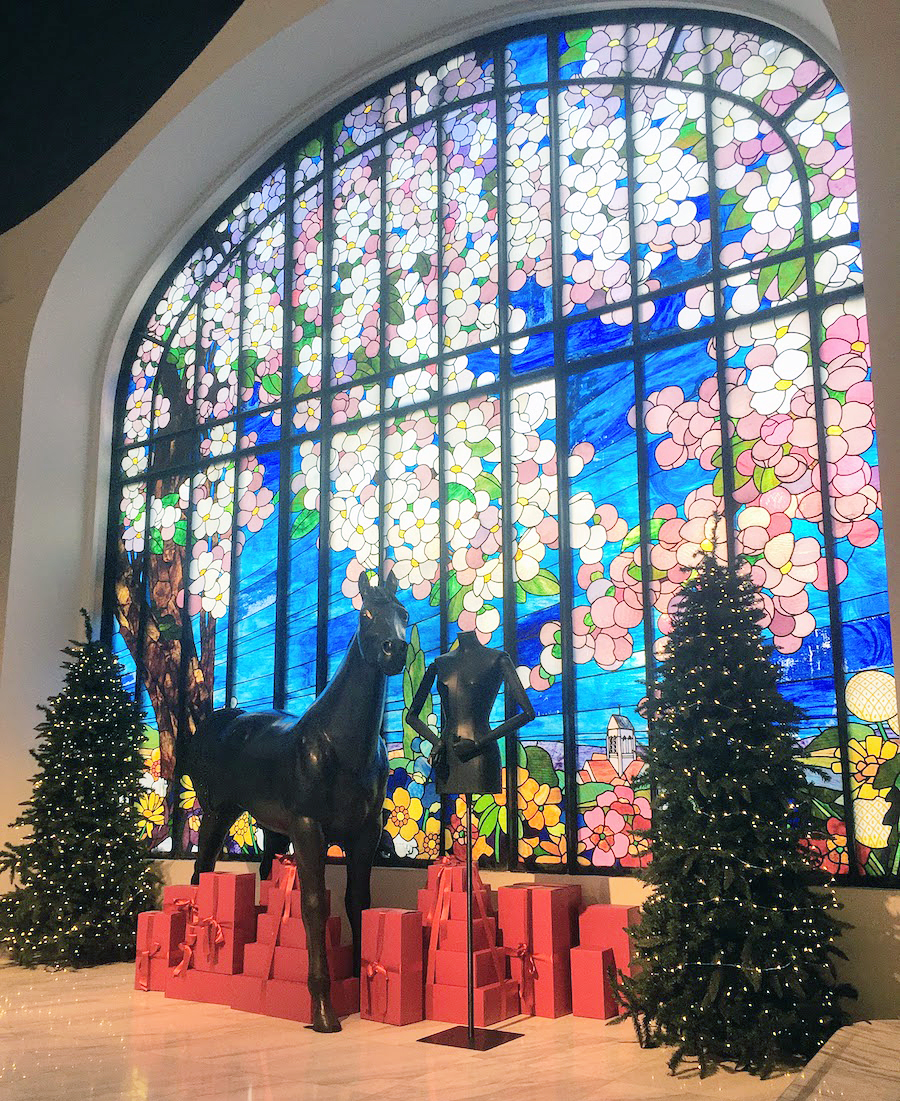 First off, if you're here for the holidays, you need to make the most of it. Christmas is a December-long celebration, and there's lots to do to get into the yuletide spirit.
Admire department store holiday windows.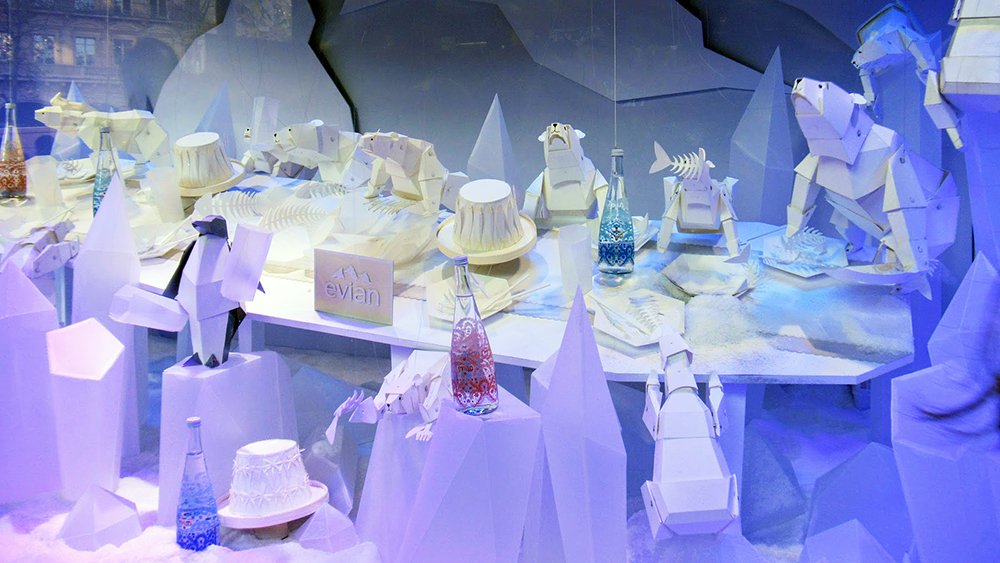 The "vitrines de Noël," or Christmas window displays, at the major Parisian department stores would put even the Grinch in a holiday mood. If you enjoy events like Macy's holiday parades in the U.S., then you will not want to miss the competition between the flagship Galeries Lafayette and Printemps stores located on the historic Boulevard Haussmann.
Since 1909, the competition to unveil the best holiday displays has been fierce between these retailers. The holiday display themes range from enchanted forests to motorized arctic winter wonderland workshops. These artistic displays are often inaugurated by fashion icons and include strong social messages as well.
Here are two recent examples:
2019: The bee-themed extravaganza at the Galeries Lafayette was dedicated to the role of bees and other pollinators in our ecosystem.
2020: For this year, the BHV department store in the Marais has selected an Italian theme: "from Medici's glory to Fellini's decadent baroque." BHV will collaborate with Eataly Marais to organize Italian cookie baking classes for little ones and a pop-up movie theatre.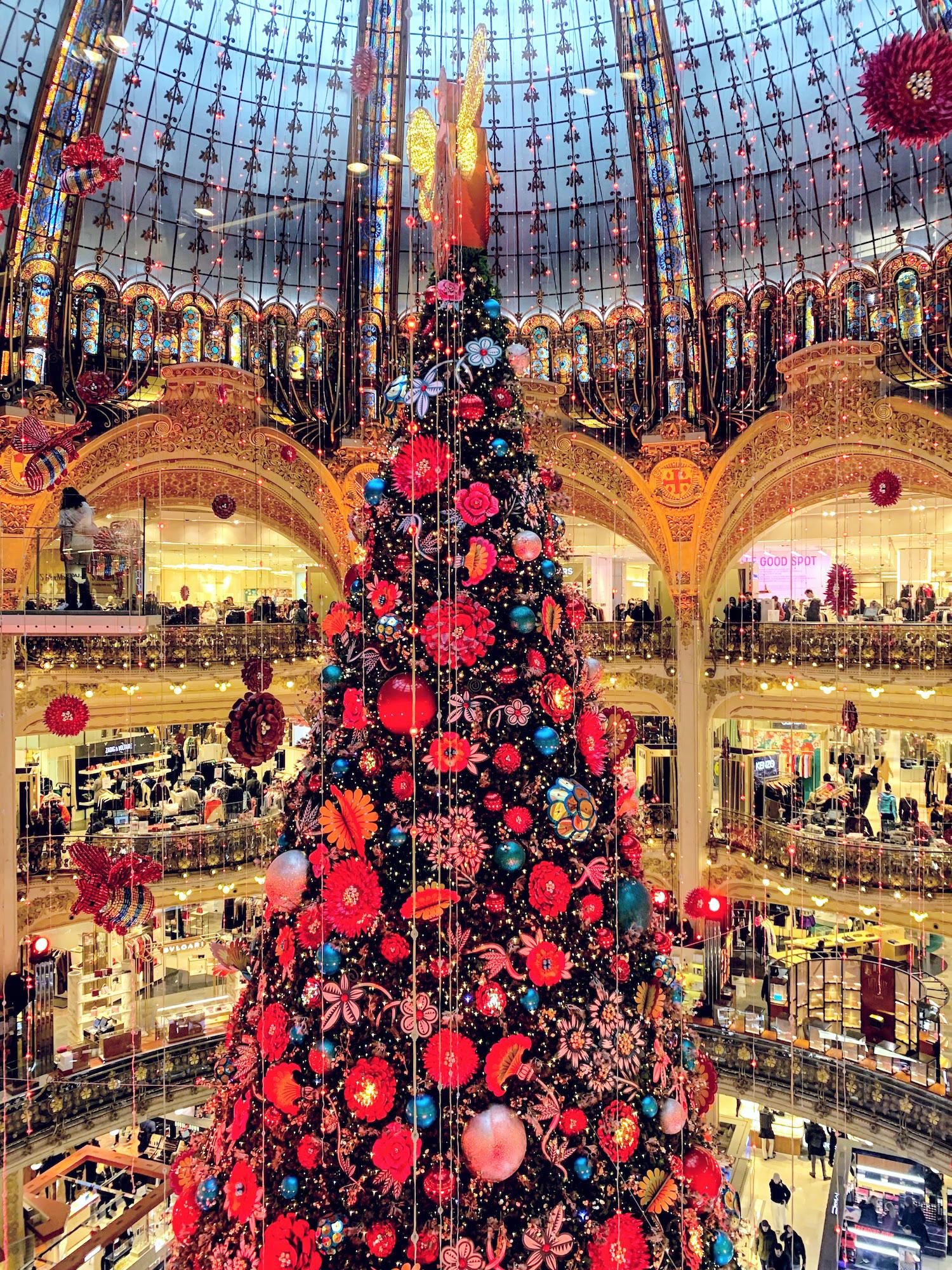 Le Bon Marché near the Latin Quarter puts on great displays, too. And you can always go inside the Galeries Lafayette to see the magnificent Christmas tree.
Local tip: If you're here with family, the Bercy Village shops are a child-friendly option with plenty of space for youngsters to run around.
Tour the historic Opera Garnier.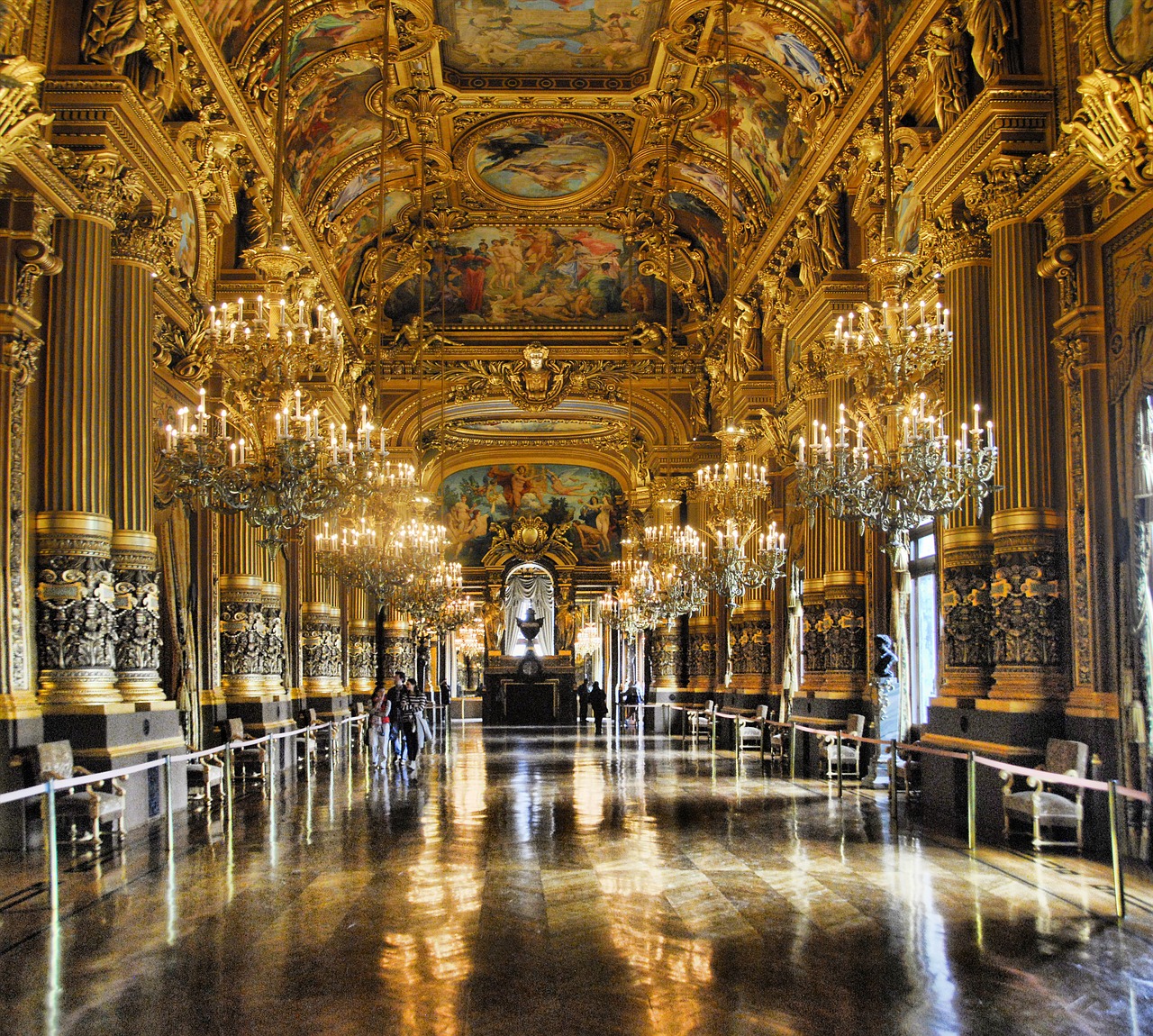 You don't have to star in a smash hit Netflix show to take a private tour of the 19th-century Baroque opera house located in the 9th arrondissement. Designed by architect Charles Garnier in 1874 under Emperor Napoleon III's sponsorship, the Palais Garnier served as the backdrop for the "Emily in Paris" Episode 6 Swan Lake outing.
In reality, Swan Lake is now performed at the modern opera in Bastille but you can still follow in Emily's footsteps and strike a pose at the Opera Garnier's gilded double staircase with its nearly 100-foot-high vaulted ceiling.
At the bottom of the stairs, two golden allegorical statues bearing torches welcome opera-goers. The UNESCO World Heritage site now offers individual and group tours to the public. Tickets cost €10-14 and can be booked online in advance. (Access to the opera house's auditorium may be restricted due to preparations for performances.)
Sip hot cocoa at Christmas markets.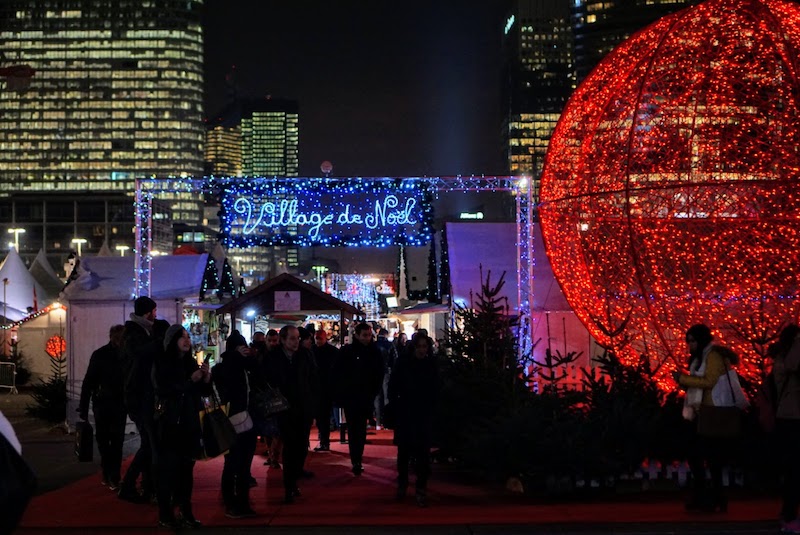 Like their medieval German counterparts, Christmas markets in Paris conjure up images of wooden chalets and freshly roasted chestnuts. These picturesque markets often open in late November during Advent weekend and run through the first week of January (Epiphany Day on January 6).
The largest market in the Paris region is the Christmas village in La Defense (Metro line 1), which boasts over 300 chalets selling artisanal goods, hand-knitted winter wear, and gourmet chocolate.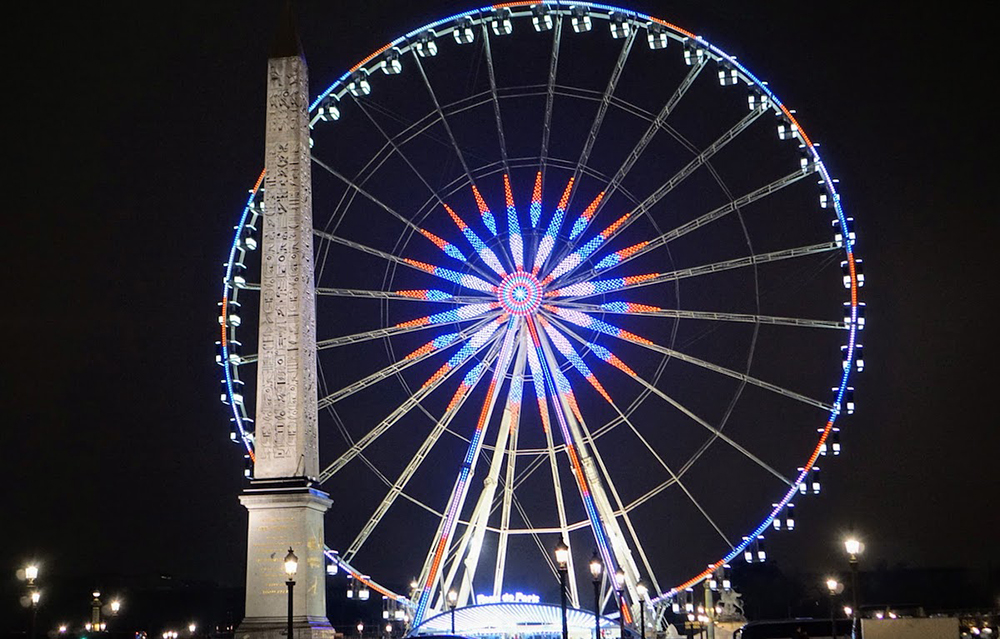 A close second is the market in the Jardin des Tuileries, which often includes a giant Ferris wheel with romantic Eiffel Tower views. The food options are also the most varied at this market. You can find everything from hot cocoa, mulled wine, and Christmas-themed street food to refined steak, cheese, and champagne in sophisticated pop-up winter-white dining bubbles.
Local tip: You'll find vintage carousels at most of the markets. These are fun for kids and the young at heart. They can also be a classic backdrop for a family photo or nostalgic date night. Think Emily's office party at the Musée des Arts Forains (a museum dedicated to restored merry-go-rounds and carousels).
My Favorite Christmas Market: Hotel de Ville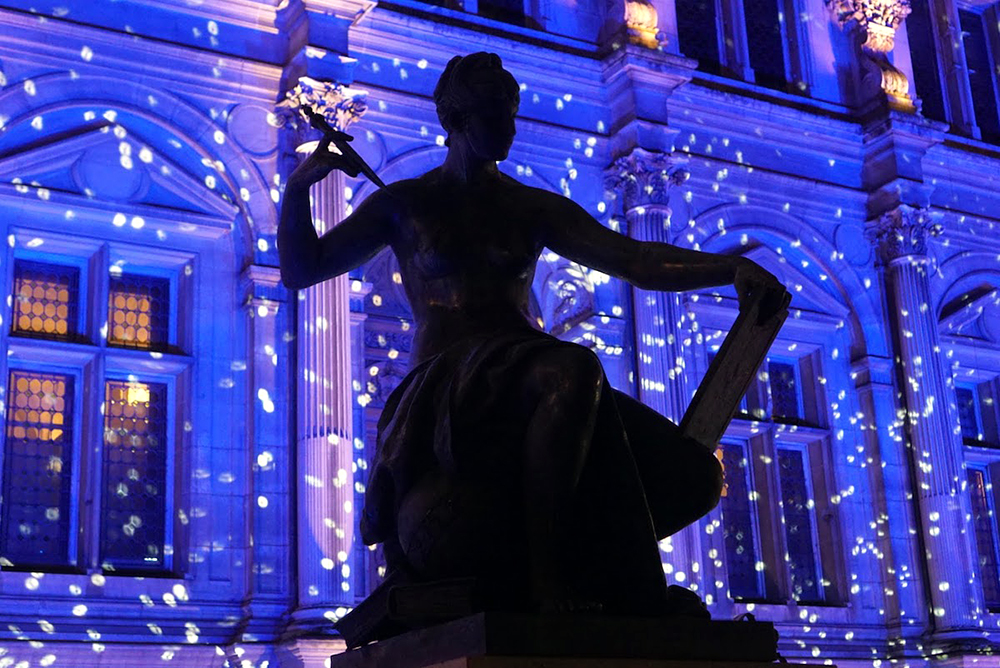 Personally, of all the markets, I'm partial to the Hotel de Ville market in the city center. It's not too big, and the light show features snowflakes against the backdrop of the blue-lit neo-Renaissance city hall.
The Holiday Market at Disneyland Paris
This year, the Disneyland Paris holiday market is expected to run from Dec. 19 to Jan. 10. There are also several daily snowflake shows on Main Street USA while fairy lights will guide the path to Sleeping Beauty's Castle.
Stroll among the festive lights at the Champs-Élysées.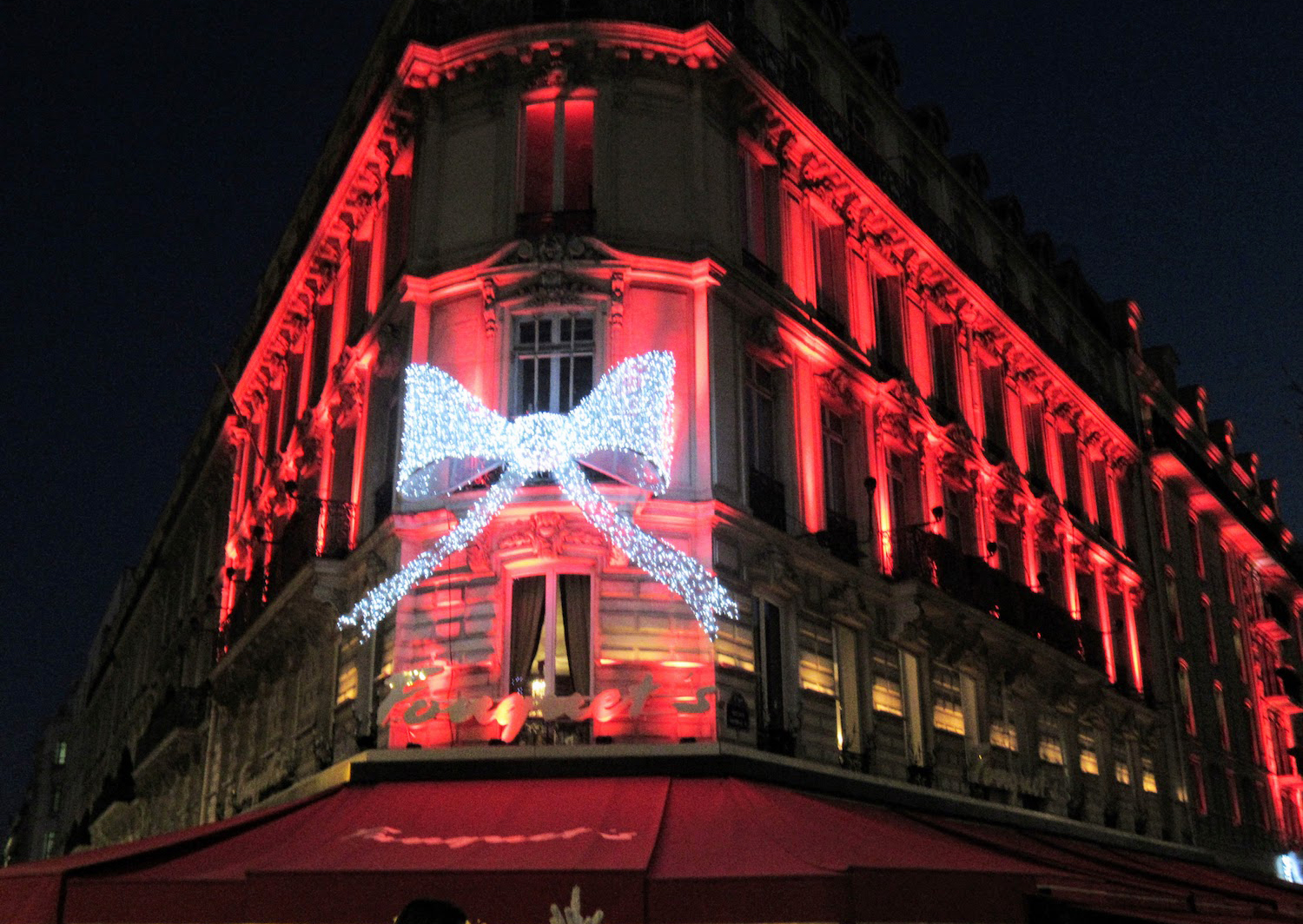 The crimson lights at the Champs Élysées are the undisputed stars of the Paris "illumination" holiday period. It boasts about a million lights that run from Place de la Concorde all the way to the Arc de Triomphe.
The illuminations are designed to be environmentally friendly (using a combination of LED and solar technology). This season, they'll run from 5 p.m. to 2 a.m. daily until Jan. 6. The lights are on all night on Dec. 25 and Jan. 1 in honor of Christmas and New Year's Day.
Enjoy a holiday drink while sitting under the lights in one the outdoor terraces lining the "world's most beautiful avenue." I recommend Pierre Hermes' 86 Champs Elysées teahouse for a decadent chocolate treat.
For a less crowded but equally sparkling stroll, you can turn right on Avenue Montaigne for some haute-couture window shopping. On the way, admire the golden lights leading to the Eiffel Tower.
The massive Christmas trees and ritzy decor at Place Vendôme in the arrondissement is also photo-worthy. Built on the orders of Louis XIV, the famous square served as a backdrop in Emily's influencer episode.
Enjoy a holiday concert at Sainte-Chapelle or the Eiffel Tower.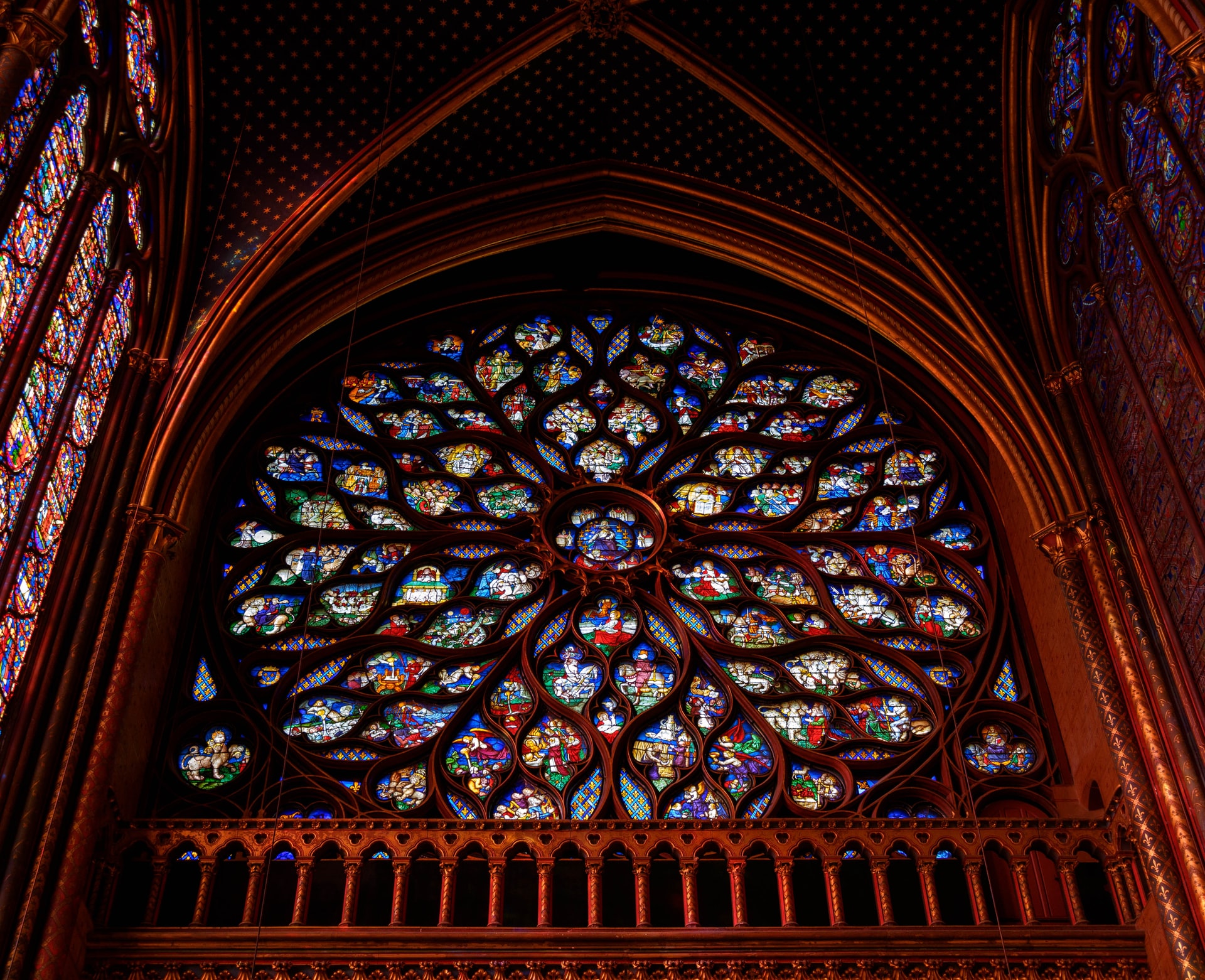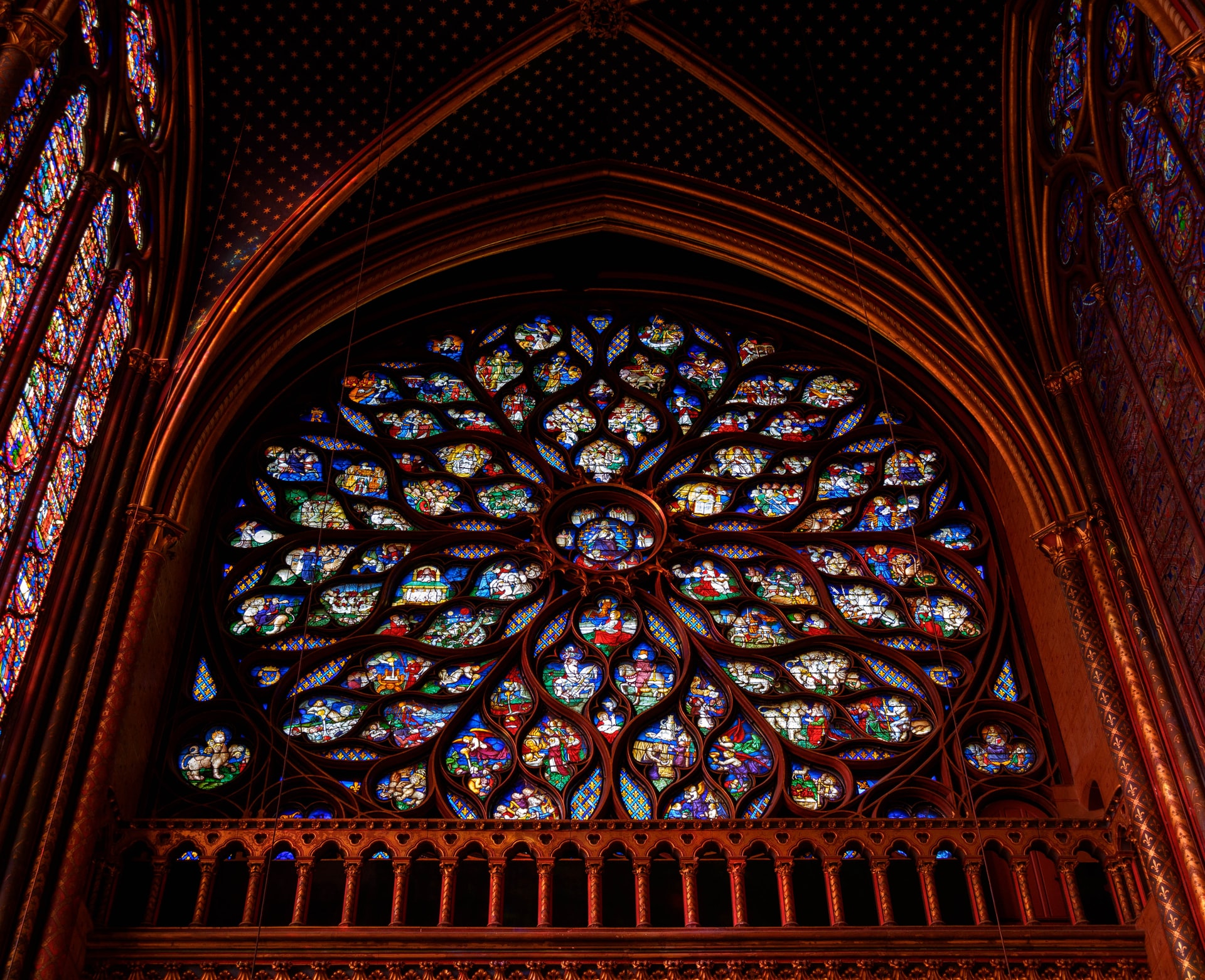 While Notre Dame cathedral is closed for renovations following a devastating fire in 2019, Paris has no shortage of historic Gothic venues to host special events in December.
Built to house religious relics acquired by Saint Louis during the Crusades, Sainte-Chapelle dazzles visitors with 1,113 stained glass windows. You can marvel at the scenes depicted in the stained glass while listening to a classical concert this December. Holiday concerts start on Dec. 19 and run through Dec. 27. Concert tickets must be purchased in advance.
For Hanukkah, a special first-night menorah lighting ceremony will take place on Dec. 22 at the base of the Eiffel Tower at the Champs de Mars. A traditional Jewish concert will kick off after the first candle on the giant 30-foot menorah is lit.
Celebrate the holidays on a château day trip.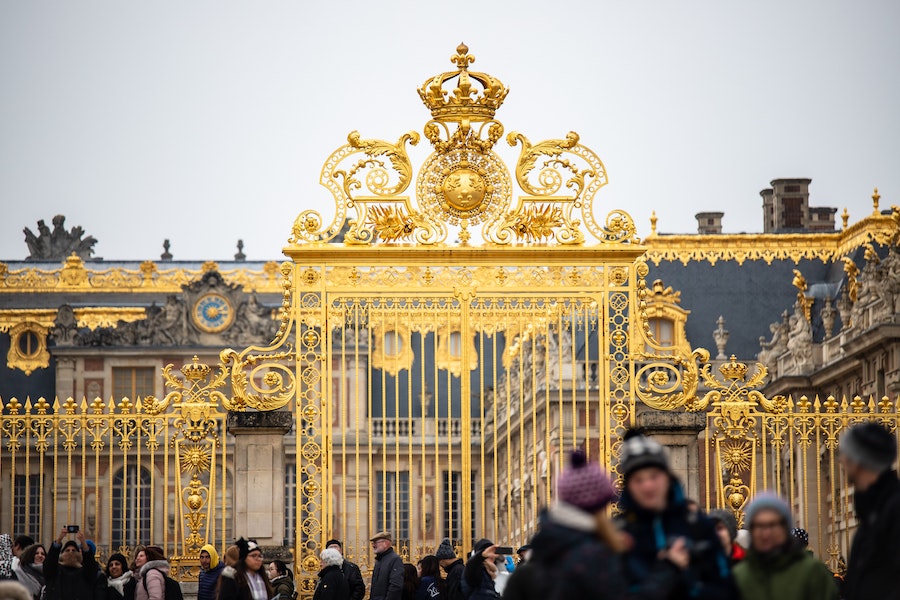 Fear not if you desire a château road trip à la Emily. December festivities are not limited to the city boundaries of Paris. Wisk yourself away on a day trip to nearby Versailles, Vaux-le-Vicomte, or Chantilly to experience holiday magic fit for royalty.
Versailles
Nothing outshines the palace of Versailles for a Paris day trip. It's regal any time of year, but during the Christmas season, you can often catch holiday shows. And the nearby village offers more fun with ice skating, a seasonal market, and festive decor.
One of our guides can even accompany you on the train ride over and handle all the tickets (including skip-the-line access to the estate), so all you need to do is show up. The palace and grounds are lovely even in winter, so don't skip this one on your December visit!
Local tip: If you need ideas for what to see and do plus logistics, check out our day trip guide to Versailles.
Vaux-le-Vicomte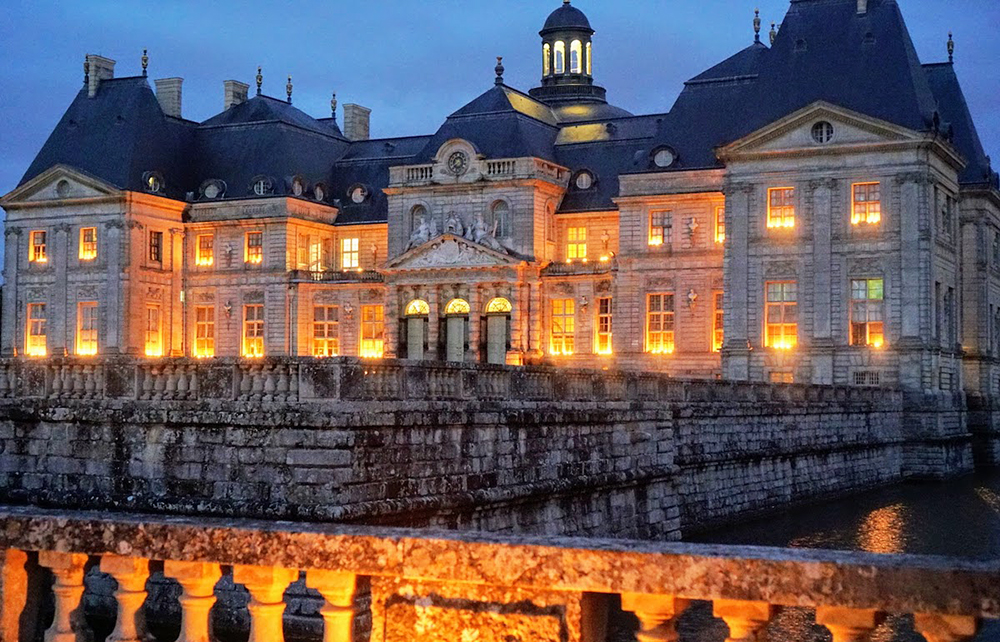 For the 12th edition of Vaux-le-Vicomte holiday celebrations this year, the château's ceremonial rooms will be adorned with gourmet decorations made of chocolate, candy canes, gingerbread, and other holiday treats.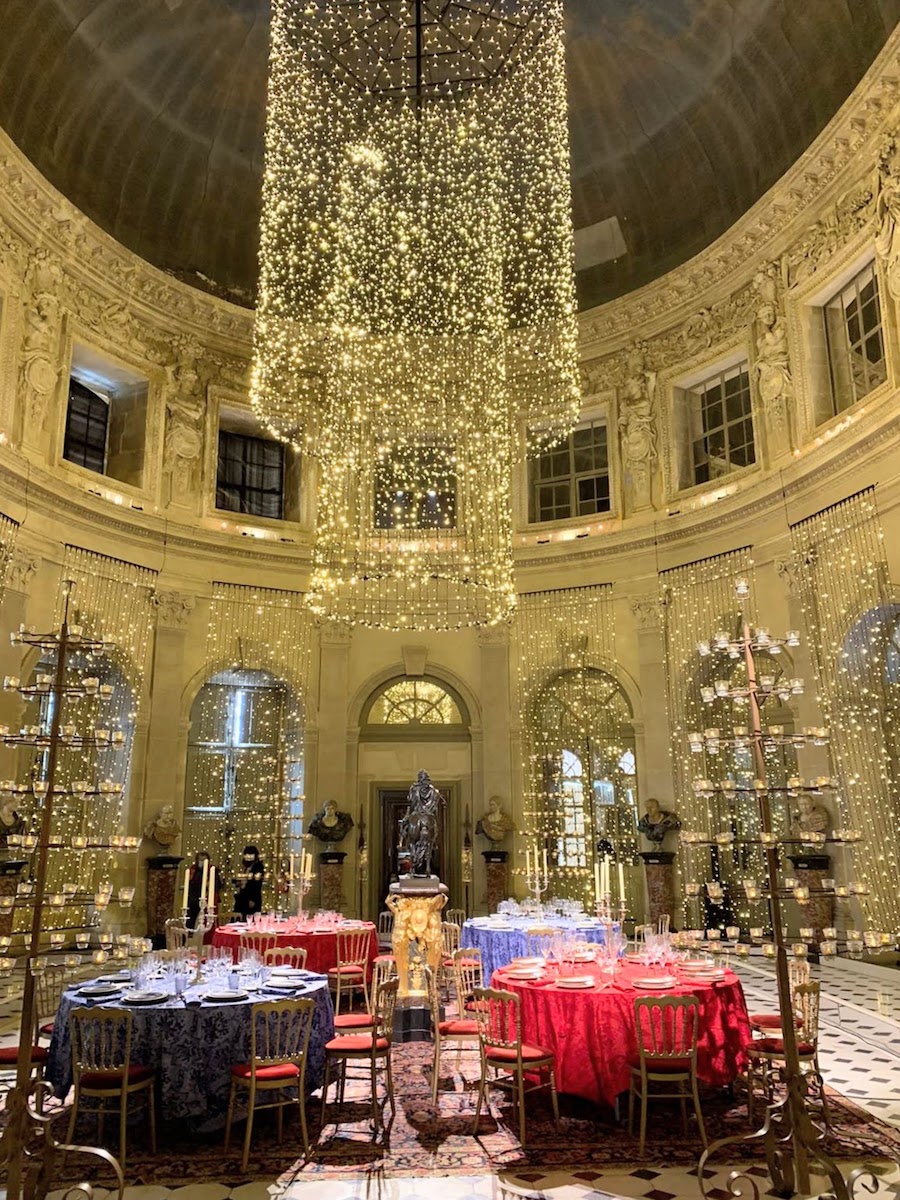 Known for its romantic candlelight evenings and on-site gourmet dining, the grounds of Vaux-le-Vicomte will be decked out in Christmas lights from Dec. 3-31. Visitors can enjoy holiday choirs and partake in horse-drawn carriage rides in the chateau grounds designed by famed French gardener André Le Nôtre.
Domaine de Chantilly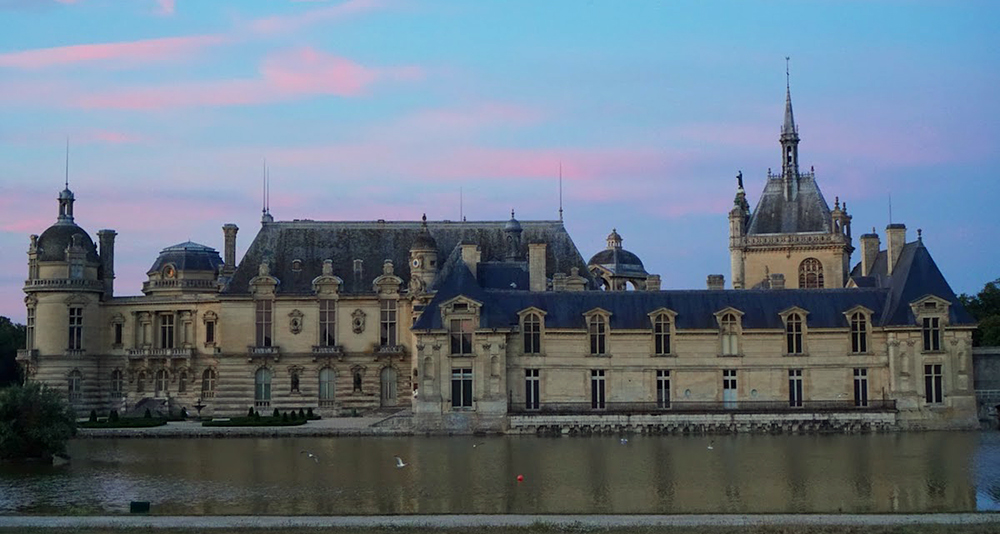 Famous for Chantilly lace, whipped cream, and equestrian history, the Domaine de Chantilly puts on an annual end-of-year celebration in December that adapts a well-known tale.
Here's what's on tap for 2020:
Be entertained by the adventure of "Alice and the Enchanted Carousel." Alice will encounter the Mad Hatter, turned fairground artist, and will help her fairytale heroines — Snow White, Rapunzel, Cinderella, and the Little Mermaid — escape. The show combines equestrian and acrobatic feats to enchant the audience.
For a foodie experience, the château also offers a workshop on Sundays where you can learn how to make the legendary Chantilly cream in the Salon du Roi.
Treat yourself to Christmas desserts.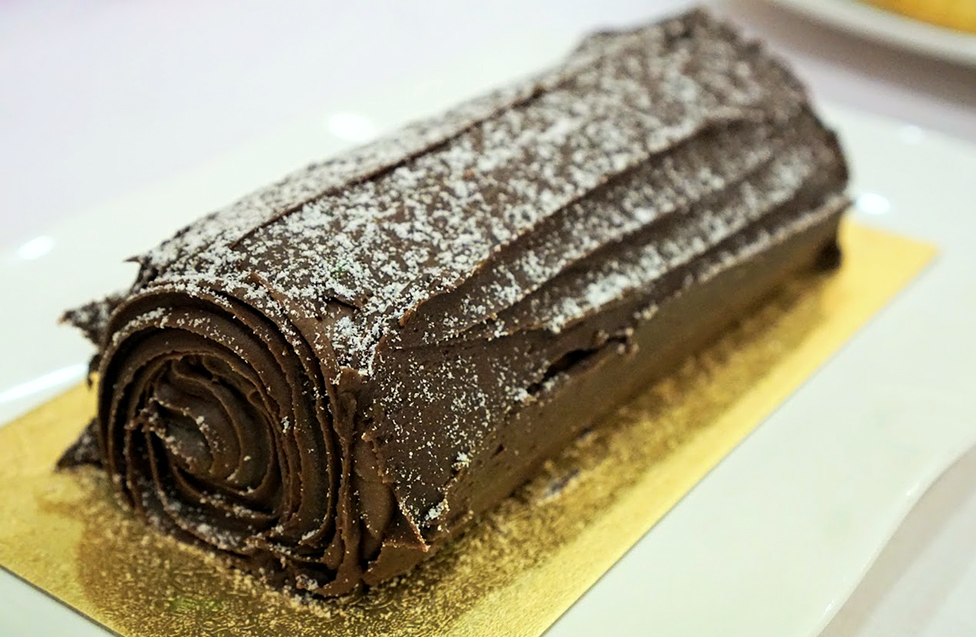 Although the French tradition of 13 Christmas desserts originates from the Provence region, Parisian bakers and chocolatiers outdo themselves in presenting both traditional and artistic holiday desserts in December.
Think of Emily's reaction in Episode 1 to buttery, flaky pastries and chocolate creations. For Paris chocolate lovers, the traditional bûche de Noël or yule log is a must-try. The pastry chefs at the grand palace hotels and other celebrity pâtissiers take the yule log to the next level each year by dreaming up new epicurean versions — from a chocolate Ferris wheel at the Royal Maurice hotel to a coconut passionfruit log at Cyril Lignac.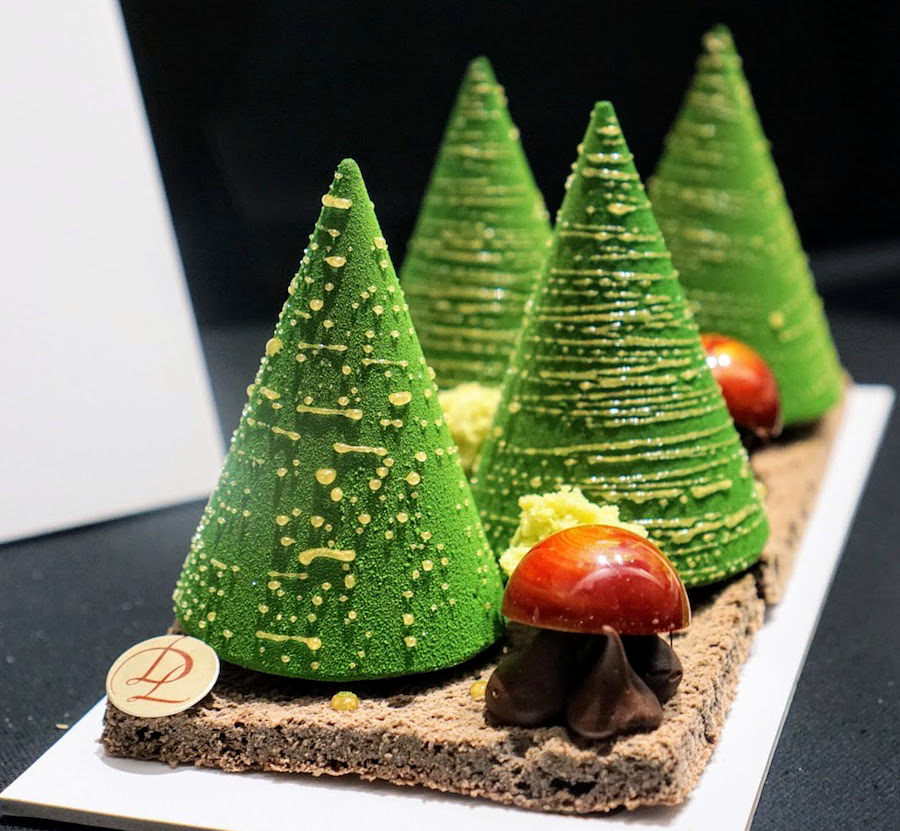 Holiday ginger cookies from La Grande Épicerie de Paris are perfect for spice lovers. The store's holiday boutique also includes gourmet Advent calendars, edible decorations, traditional spice and fruit cakes, and gift baskets.
Ring in the new year with a gourmet meal with a panoramic view.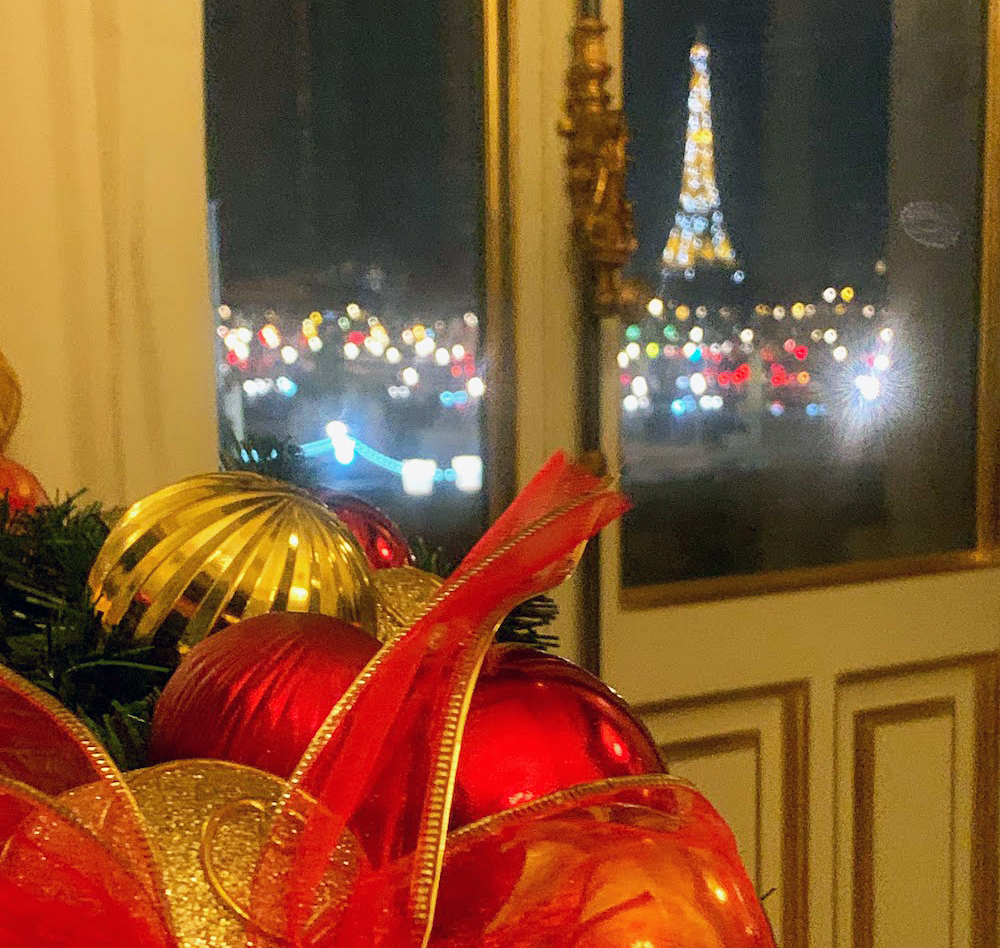 Nothing beats the fireworks at the Champs-Élysées or a special Seine river cruise to end the month of December to ring in the new year.
And, of course, a fabulous Parisian meal is in order. Here are some options, depending on your budget and interests.
Splurge: For a once-in-a-lifetime experience, you can book a special Christmas or New Year's Eve cruise aboard celebrity chef Alain Ducasse's latest venture, Ducasse sur Seine. Prices start at €290 for a six-course holiday cruise and dinner, while a two-course lunch on other days in December starts at €95.
Upscale: Head to the Jules Verne restaurant headed by Michelin-starred chef Frédéric Anton when it reopens in December. The restaurant, located on the second level of the Eiffel Tower, was renovated in 2019 to mark the tower's 130th anniversary.
Budget-friendly: You can also picnic at the foot of the Sacré-Cœur in Montmartre and watch the fireworks without breaking the bank.
Show off your dance moves on the ice.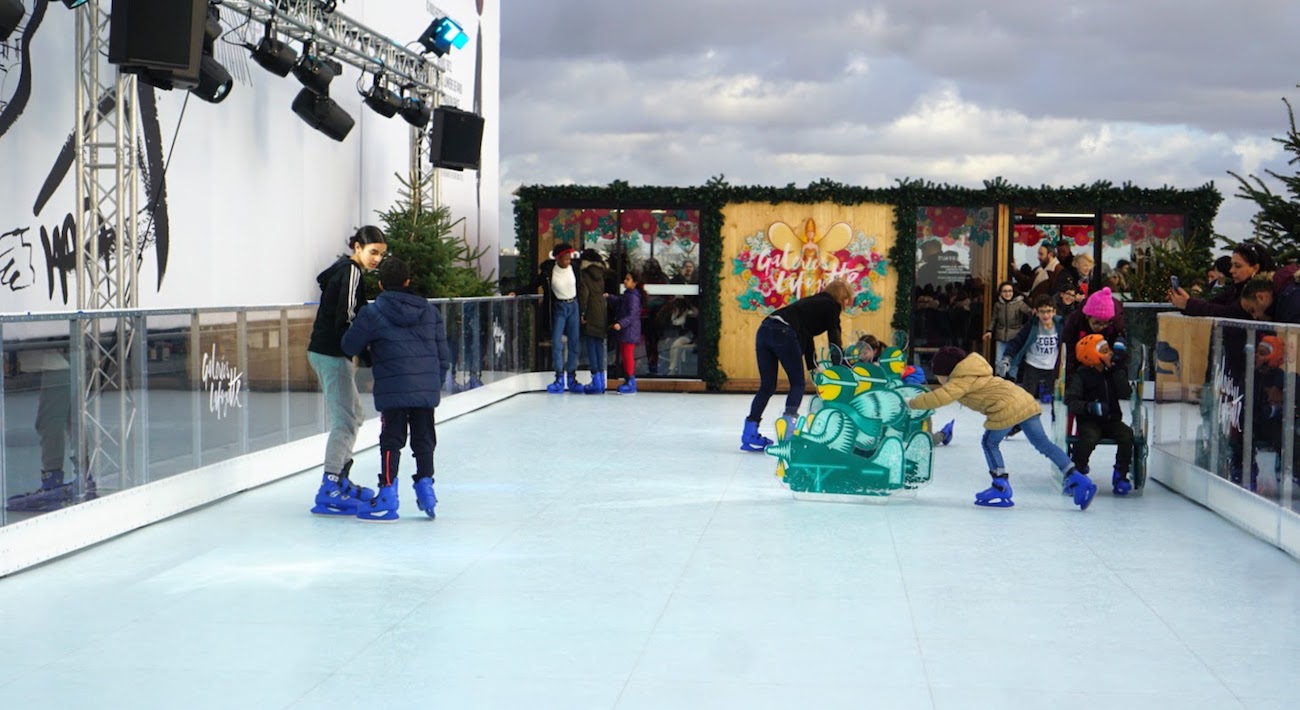 Parisian Christmas markets are usually accompanied by pop-up ice skating rinks, but this activity works well even after the holiday. For true skating enthusiasts, the world's largest ice-skating rink is usually held under the glass roof of the Grand Palais from mid-December to early January.
Dubbed the Great Hall of Ice, the rink puts on a show at nightfall when it turns into a giant dance floor with a DJ and sparkling disco balls to help revelers dance the night away. The ice-skating rink atop the Grand Arch at La Defense is expected to return this year along with photo opportunities with Santa.
Local tip: The ice rink on the rooftop of the Galeries Lafayette is more manageable for novices and overlooks views of the Eiffel Tower. It often includes a pop-up winter bar, too.
Did we miss anything to do in December in Paris?
If we missed a fun event happening in Paris in December, please drop us an email at info@exp1.com or give us a shout on Facebook.
For more inspiration about what to do in Paris in colder months, check out our post for six reasons to visit Paris in winter.