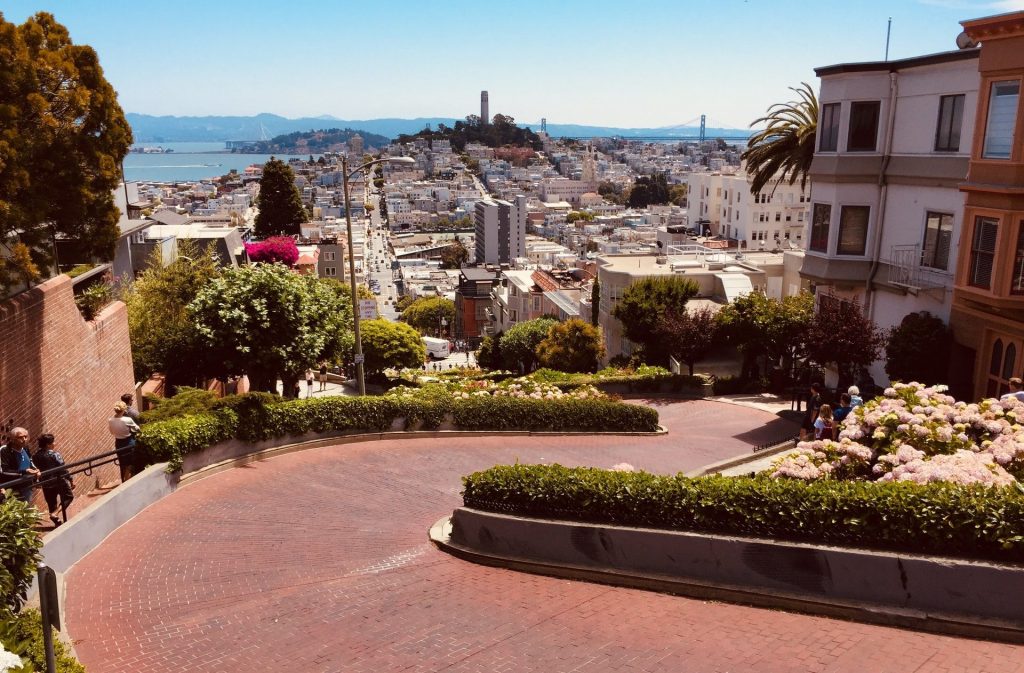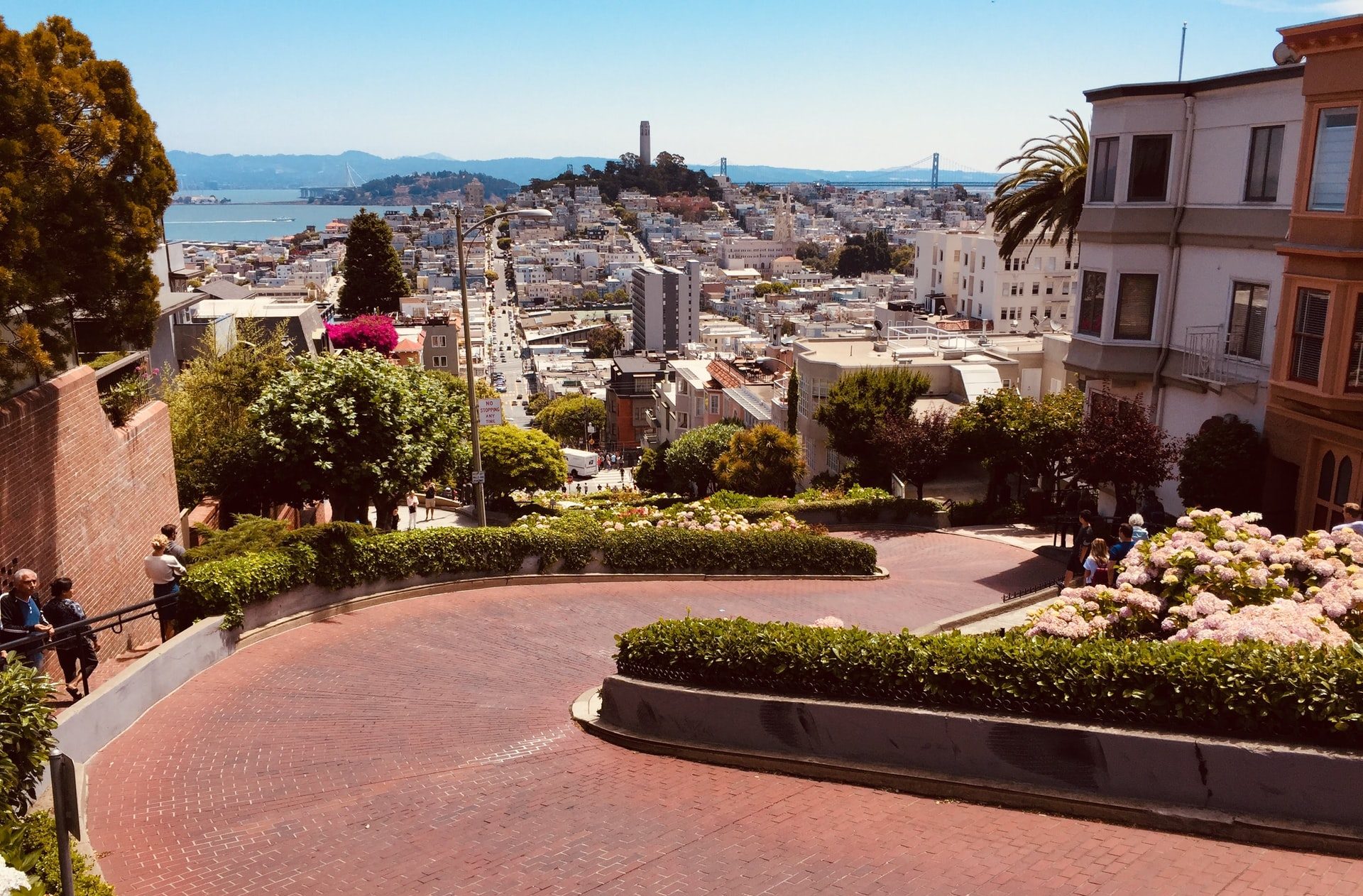 San Francisco is known for a few things: the Golden Gate Bridge, Alcatraz, and its twisty, turny, steep roads. One of the best places to knock out views of all three? Lombard Street, sometimes known as "The Crookedest Street in the World" or "The Crookedest Street in San Francisco."
With eight hairpin turns winding through just one city block, this picturesque section of Lombard Street is a popular spot for millions of tourists a year.
In this guide, I'll tell you everything you need to know about visiting Lombard Street — walking, driving, or riding — and what to do in the area. Buckle up, you're in for a trip!
The crookedest street in San Francisco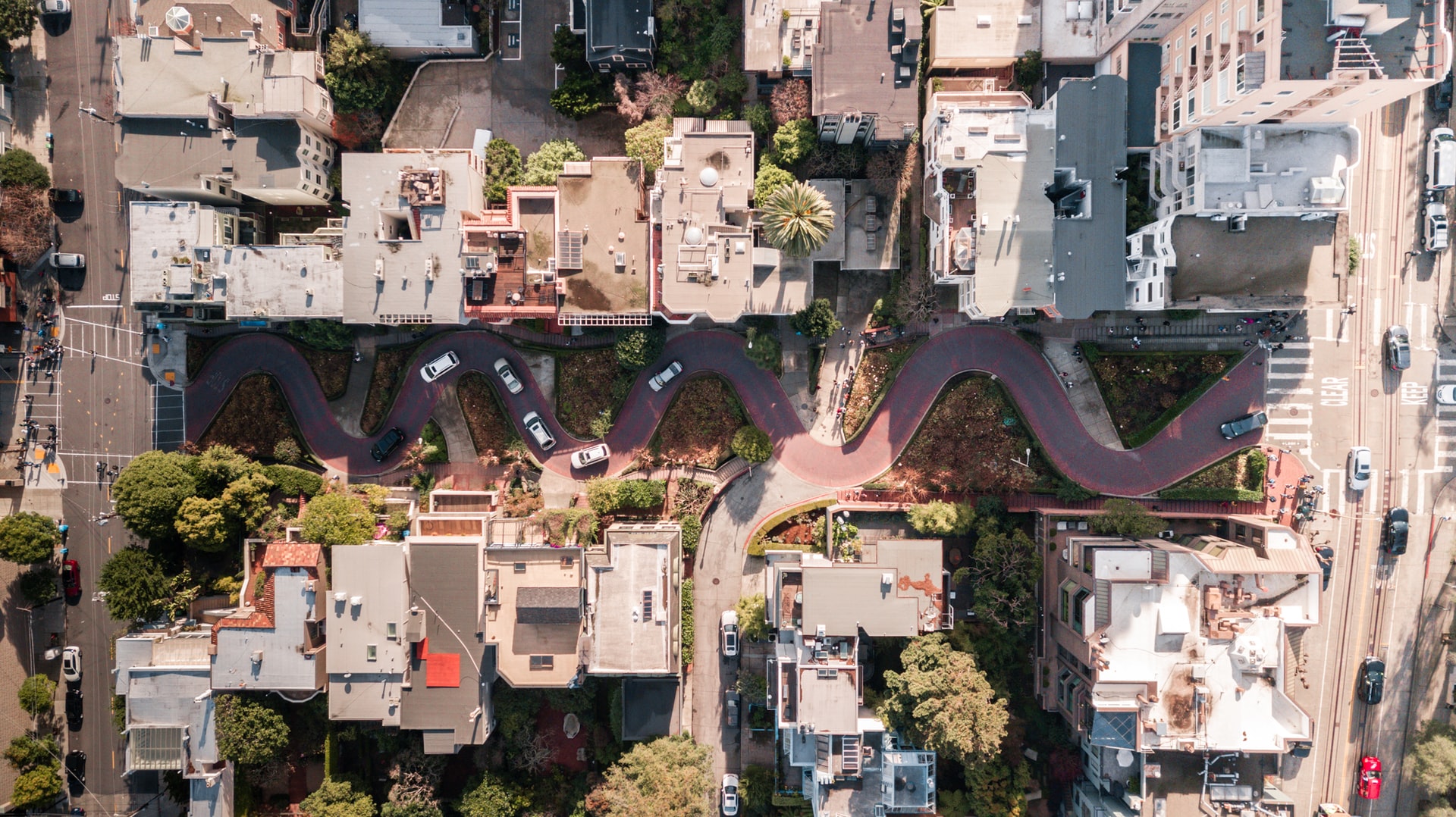 You may have seen Lombard Street billed as "The Crookedest Street in San Francisco," but did you ever wonder why it's designed that way? The road was built in the 1920s, when cars — which had just become popular, keep in mind — couldn't make it up and down the steep hills. So the neighbors banded together and decided eight turns would do the trick!
However, Lombard Street's claim to fame isn't totally accurate.
Our experts say the actual crookedest street in San Francisco should be Vermont Street, between 20th and 22nd Streets in the Potrero Hill neighborhood. It's not quite the show-stopping sight that Lombard Street is, though, so I still recommend passing by Lombard, at least for a bit.
Local tip: If you're itching for more steep spots (that are scenic, too), try a detour by the hidden gardens on 16th Avenue's Tiled Steps.
How to visit Lombard Street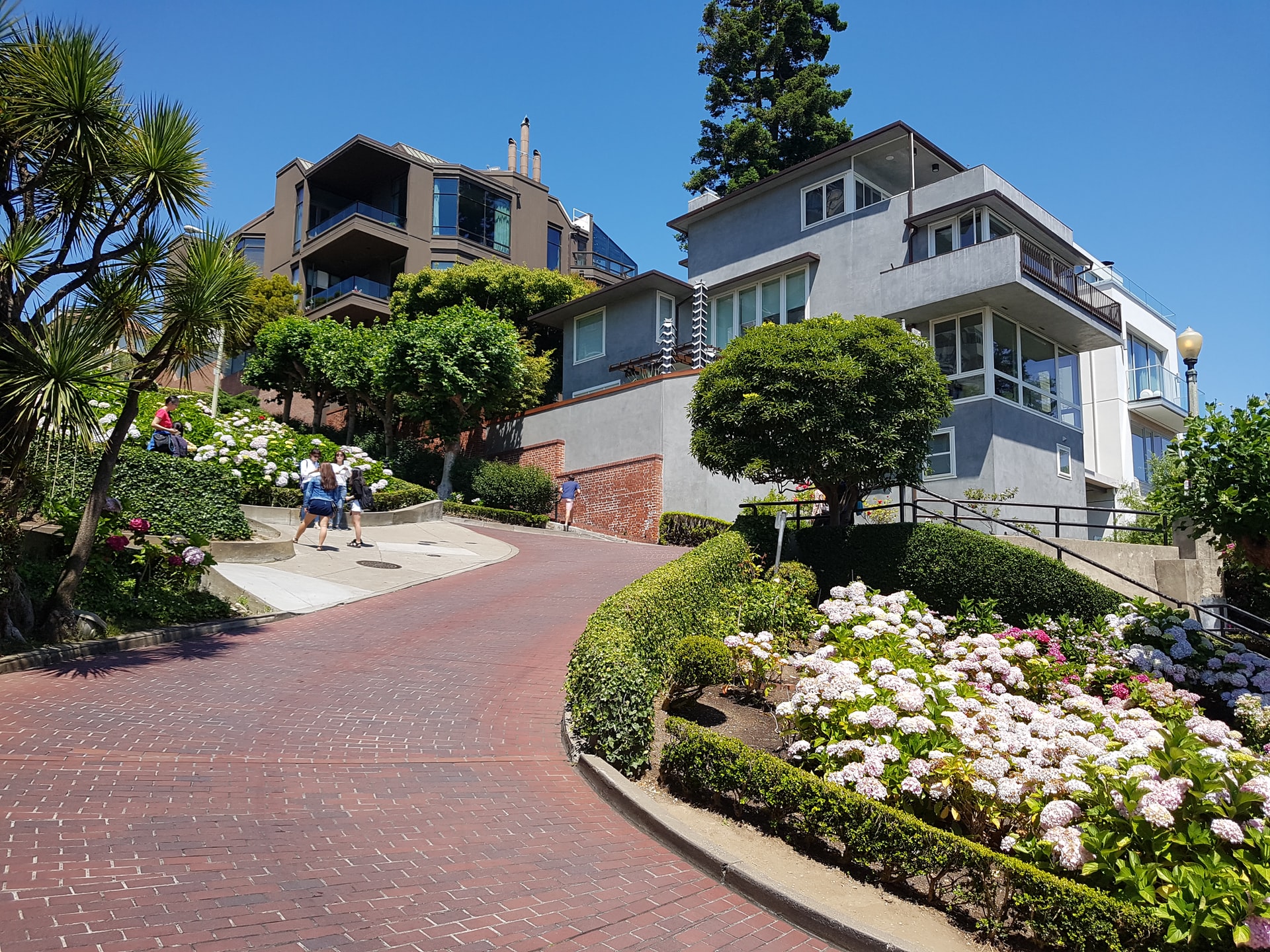 If you're wondering if you should walk or drive down Lombard Street, I can tell you that both are fun experiences, but it's best to come prepared.
Walking down Lombard Street
If you're going to walk down Lombard Street, try parking a short distance away and be sure to take any valuables with you as you get out of the car. As a touristy area, this can be a place for thieves to target.
The road is steep, remember, so even if it's a brisk San Francisco day (we have a lot of those), you might work up a sweat. Wear sunscreen, and carry some water with you. And don't forget your camera to snap photos of the houses, flowers, and vistas along the way.
Driving Lombard Street
If you decide to drive, be mindful of surrounding traffic — this is a residential neighborhood, after all. You may experience a wait to enter the crooked part of Lombard, which is normal in peak tourist season.
Is driving down Lombard Street difficult? Not especially. You won't be going that quickly (just 5 miles an hour), but you will need to stay focused to steer through those hairpin turns. And afterward, you get bragging rights for successfully navigating San Francisco's "crookedest" street.
Local tip: If you're driving and there's a wait, you'll have to enter the downhill turns from the previous block of Lombard, not a cross-street. You won't be able to turn onto Lombard directly, as that could back up traffic.
Riding a cable car on Lombard Street
Experiencing this crooked street by San Francisco cable car is a great way to "do" Lombard Street without the hassle of where to park your car safely or waiting in a line of traffic.
It's such a fun activity that we included riding a cable car down Lombard Street as a must-do on our highlights tour of San Francisco. Consider it a twofer — you can see Lombard Street and ride in a cable car, a SF attraction in its own right.
More on how to catch a ride
Picture perfect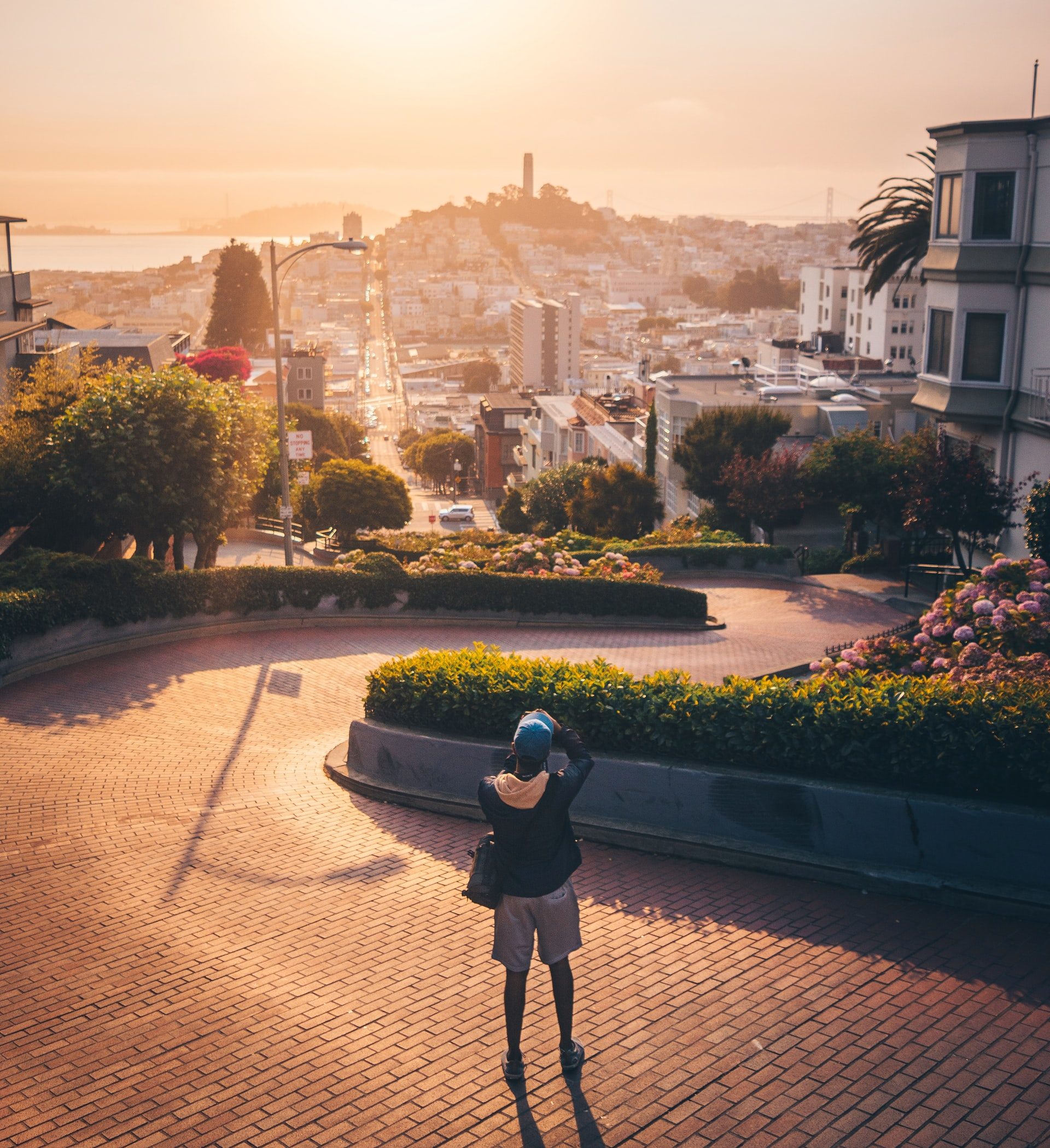 The views up, down, and along Lombard Street, are unbeatable.
If you love photography (or just want some Instagram candy), Lombard Street delivers. Here are a few shots I recommend taking, whether you've packed a fancy DSLR or are snapping a quick pic on your phone.
Looking up Lombard Street after making it to the bottom: You can see all eight switchback turns and the traffic inching down, sandwiched by some of the poshest homes in the area and their impeccably manicured lawns.
SF panoramas on the way down: Snap a picture of what lies before you when you're at the top of Russian Hill. Don't miss iconic sights like the Bay Bridge and Coit Tower. And, of course, you'll have killer views of the bay.
Closeups of the houses: Like many of the homes in San Francisco, the architecture here is Instagram-worthy. If you're visiting in the spring or summer, you'll often see flowers or greenery spilling over walls and roofs, adding a colorful touch.
The best time for photographers to visit Lombard Street varies depending on what you're looking for.
You can go early in the morning or during blue hour in the evening to take advantage of softer lighting and potentially fewer tourists in your photos. However, visiting midday when the sun is directly overhead means you'll get well-lit views of both sides of Lombard Street if you're photographing the street itself. Usually, one side is usually at least partially shaded thanks to those tall houses.
If you're looking more for landscape views rather than the street itself, going right as sunrise can be a good strategy. Shoot east as the sun crests the horizon — shown in the photo above — to capture the city in a soft golden hue.
FAQs about Lombard Street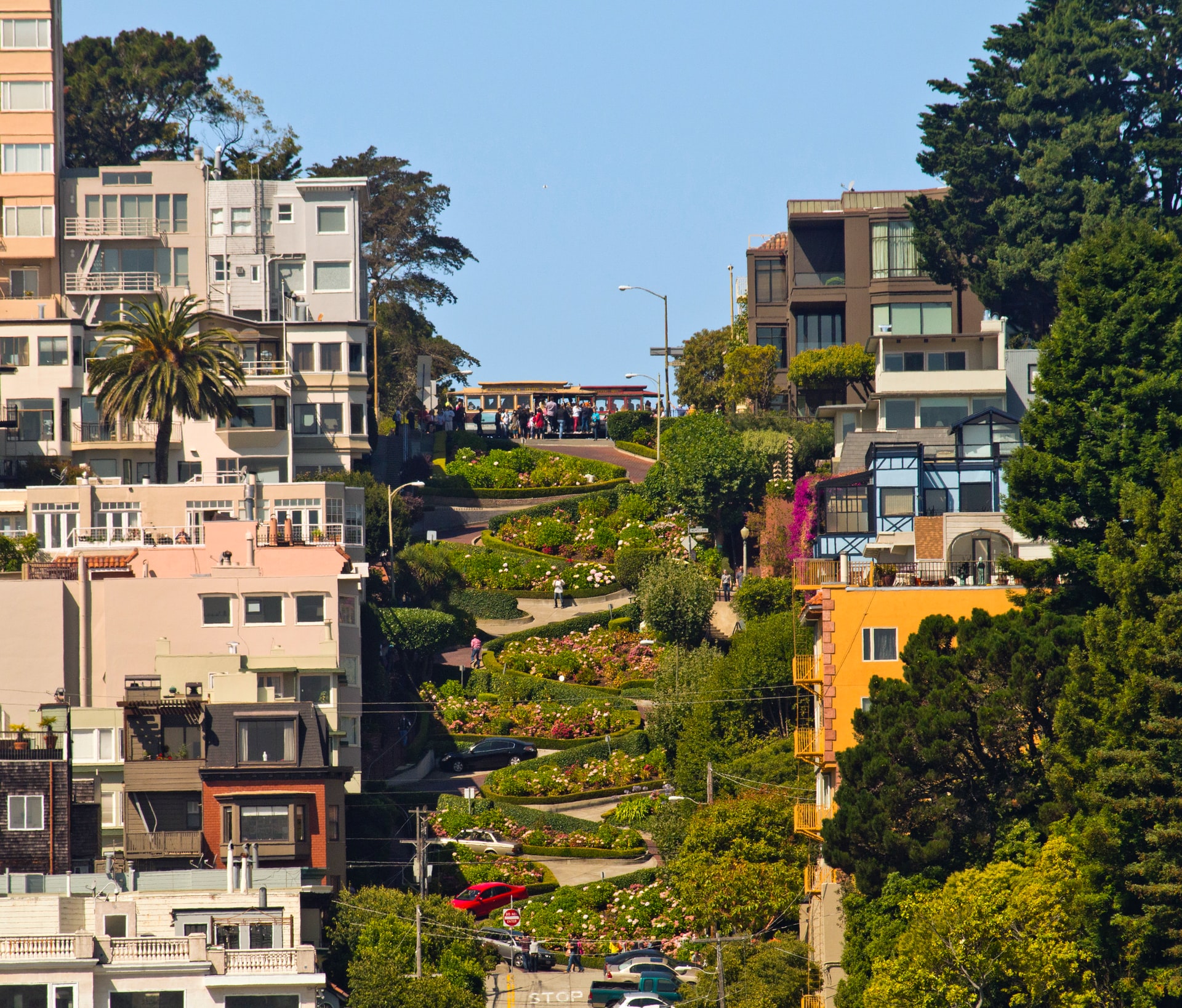 What part of Lombard Street is crooked?
Lombard Street is actually a lot longer than just the single block of photo fame. It stretches all the way from Coit Tower on the east to the Presidio on the west, running mostly parallel to the San Francisco Bay.
The crooked block of Lombard Street, though, is located between Hyde Street and Leavenworth Street on Russian Hill. (Russian Hill is also famously known as one of the "Seven Hills of San Francisco." Others include Telegraph Hill, Nob Hill, and Rincon Hill).
Local tip: If you're looking it up in your GPS, plug in 1070 Lombard Street, San Francisco, CA 94109 to guide you.
How long does it take to visit Lombard Street?
This depends on if you're walking or riding. If you're walking, plan around half an hour to head down and take all the pictures you want. You can allow a bit longer if you're driving and there's a wait to get onto the street.
Can you walk from Fisherman's Wharf to Lombard Street?
Fisherman's Wharf is about five blocks away from Lombard Street.
If you're visiting both, I suggest parking near Fisherman's Wharf and walking over to Lombard Street. On your way back to the car, make a quick detour for some chocolate treats at Ghirardelli Square.
How do I get to the cable car on Lombard Street?
One line stops by the top of Lombard Street, and another a few blocks away from the bottom. The Hyde Street line will drop you off at the top, at the corner of Lombard and Hyde. Just a few streets over, the Powell-Mason line stops at Lombard and Columbus.
Take the Hyde Street line if you're actually looking to walk down the Lombard Street steps. Or you can look out your cable car as you're passing by on the Powell-Mason line for a quick peek as you head to your next destination.
Lombard Street: Not your average SF attraction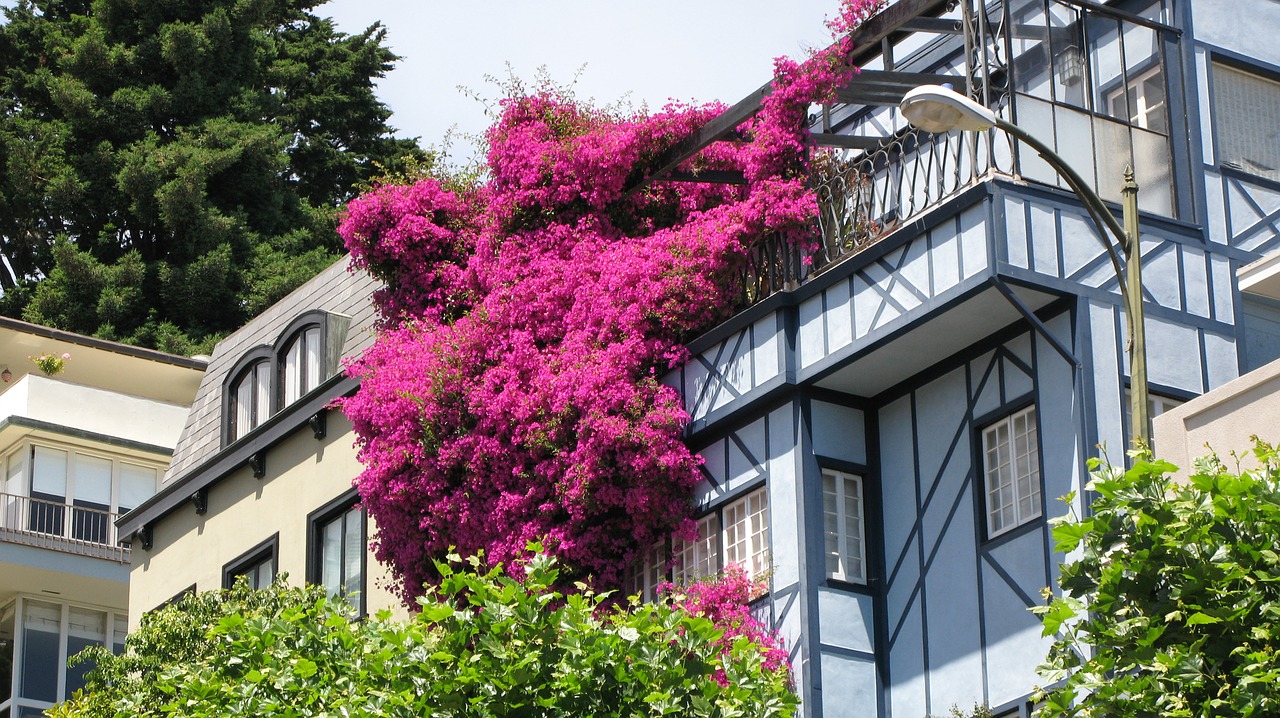 Visiting Lombard Street's famous turns shouldn't take you too long, but is definitely a worthwhile sight in San Francisco. Plus, you'll be near other famous San Francisco spots, like Fisherman's Wharf, Chinatown, and North Beach. But you'll want to plan your route ahead of time to avoid unnecessary hiking up and down San Francisco's steep streets.
Even if you don't have time for a ride or walk down Lombard Street, just taking a quick look as you're heading to another stop is worth it. As tourist attractions go, it's pretty unusual — and something only available in a city like San Francisco.