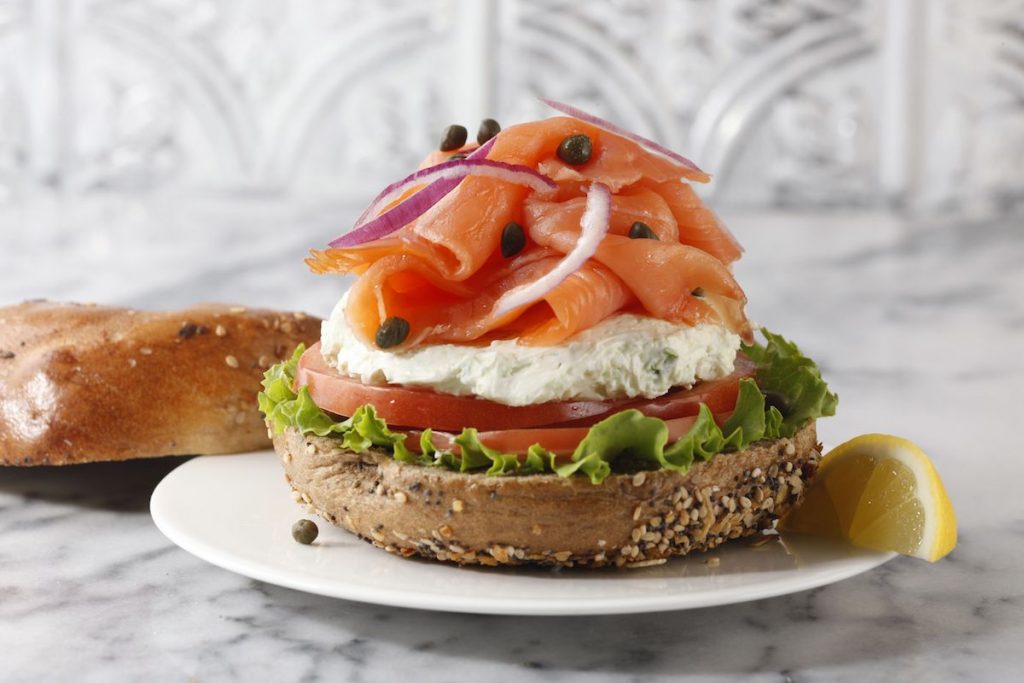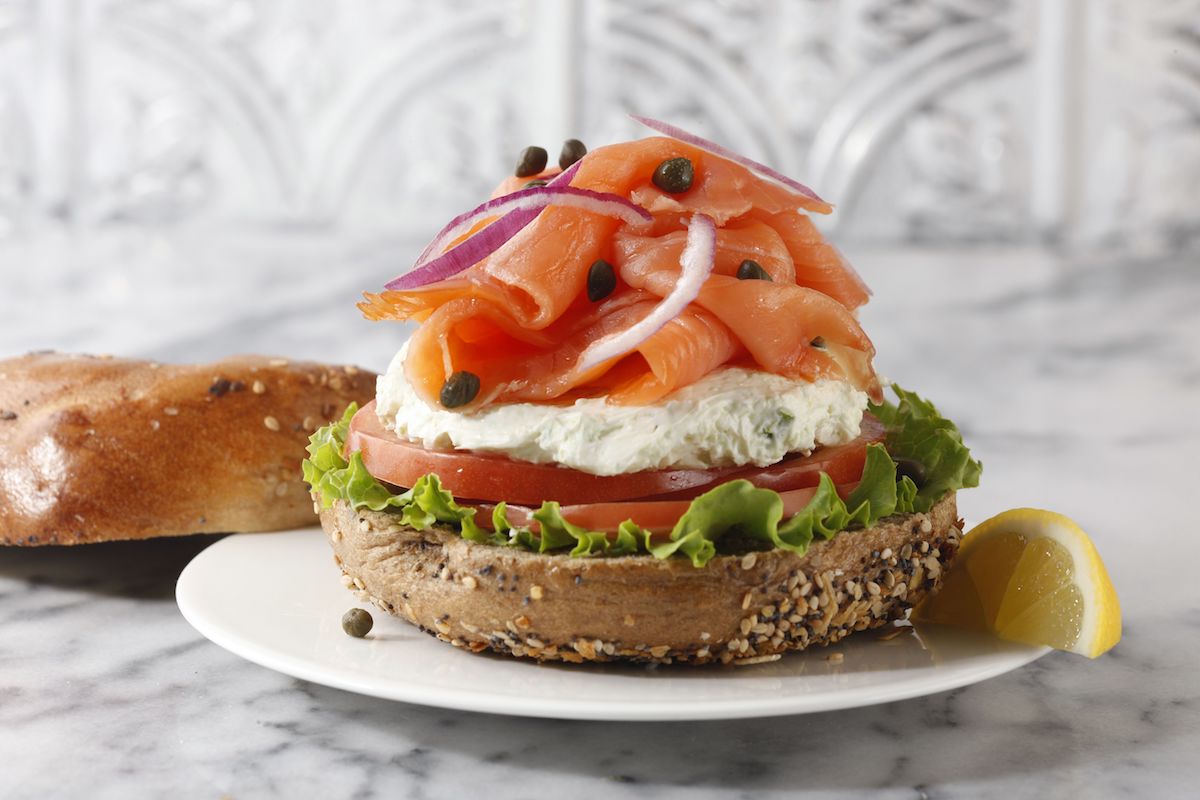 When it comes to good food, New York City has a lot on its plate. Culinary trends ranging from the cronut — a croissant-donut hybrid by Dominique Ansel — to tried-and-true dishes like hot dogs, bagels, pizza, and pastrami.
To truly get a taste for what this metropolis has to offer, there are certain foods you have to sample when you visit. But what you should you order and which restaurants should you try? There are so many dining choices in NYC. I'm here to help. In this article, I'll share where to go and what to order for the most iconic meals in New York City.
1) Pastrami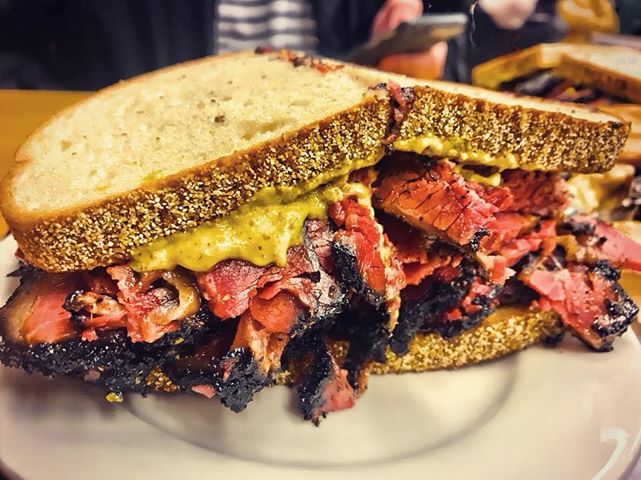 Pastrami is a true NYC classic. This brined, spiced, and sliced beef pairs well between two pieces of rye bread and a spicy brown mustard, and you'll find it at a New York City institution — the deli.
Starting with the arrival of German immigrants and then later on Eastern European Jews, delis are now everywhere around the city. There are two types of delis: ones that maintain kosher food preparations and ones that don't. Along with other delicacies, including cured meats, whitefish, and salmon, an NYC deli is the perfect place to introduce yourself to a pastrami on rye.
Along with your sandwich, I suggest ordering an egg cream, another city creation. The sweet drink is neither egg nor cream. Instead, it's made with seltzer water, milk and syrup that can taste like vanilla or, more commonly, chocolate.
Where to go:
Katz's Delicatessen on Manhattan's Lower East Side (sandwich pictured above) is a well-recognized name. Remember one thing — don't lose the order ticket you get before you approach the counter. Then take on eating a mile-high stacked pastrami on rye.
You can also get great pastrami sandwiches and traditional Jewish delicacies at 2nd Avenue Deli, another popular restaurant with spots on Manhattan's Upper East Side and Midtown East.
Sarge's is open 24/7 at its Murray Hill location. Pair a sandwich with their matzo ball soup.
Or try pastrami as a Reuben at Eisenberg's Sandwich Shop in the Flatiron District or Midtown West.
2) Dim Sum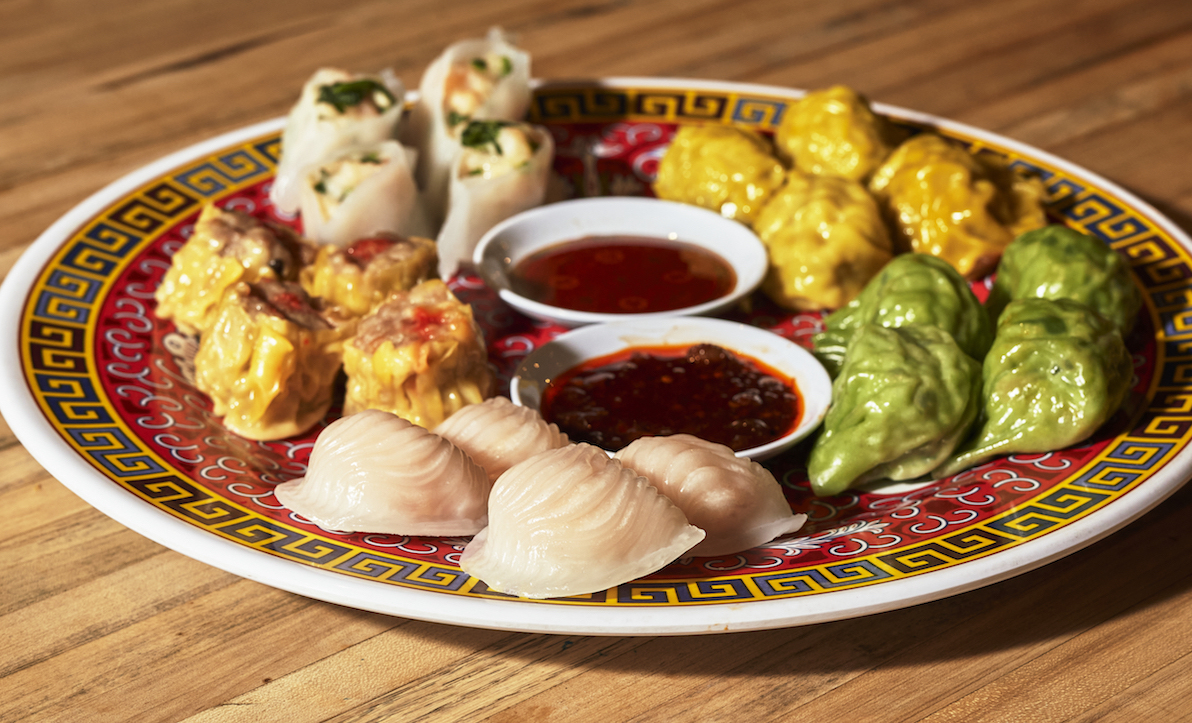 This Chinese meal of small plates usually consists of seafood, meat, and vegetable dumplings paired with other snacks and tea. Dim sum is frequently served at restaurants in Manhattan's Chinatown and Flushing, Queens.
It's a great way to sample a lot of different types of food without the low quality and speed eating that sometimes accompanies a buffet. A quality dim sum meal is a cultural as well as a culinary experience.
Where to go:
Nom Wah Tea Parlor is NYC's oldest dim sum parlor. Here, in Chinatown, you can conveniently check off your order on a menu before you dine.
Also in Chinatown, Jing Fong Restaurant's grand dining hall stays busy with roving dim sum carts passing diners seated at round tables. At its Upper West Side location, you'll find a chef's counter and large patio.
Here's one more for Chinatown. Dim Sum Go Go skips on using carts but instead has you ordering from a top-notch menu.
Head out to Flushing, Queens, where Joe's Shanghai is noted for their soup dumplings.
3) Steak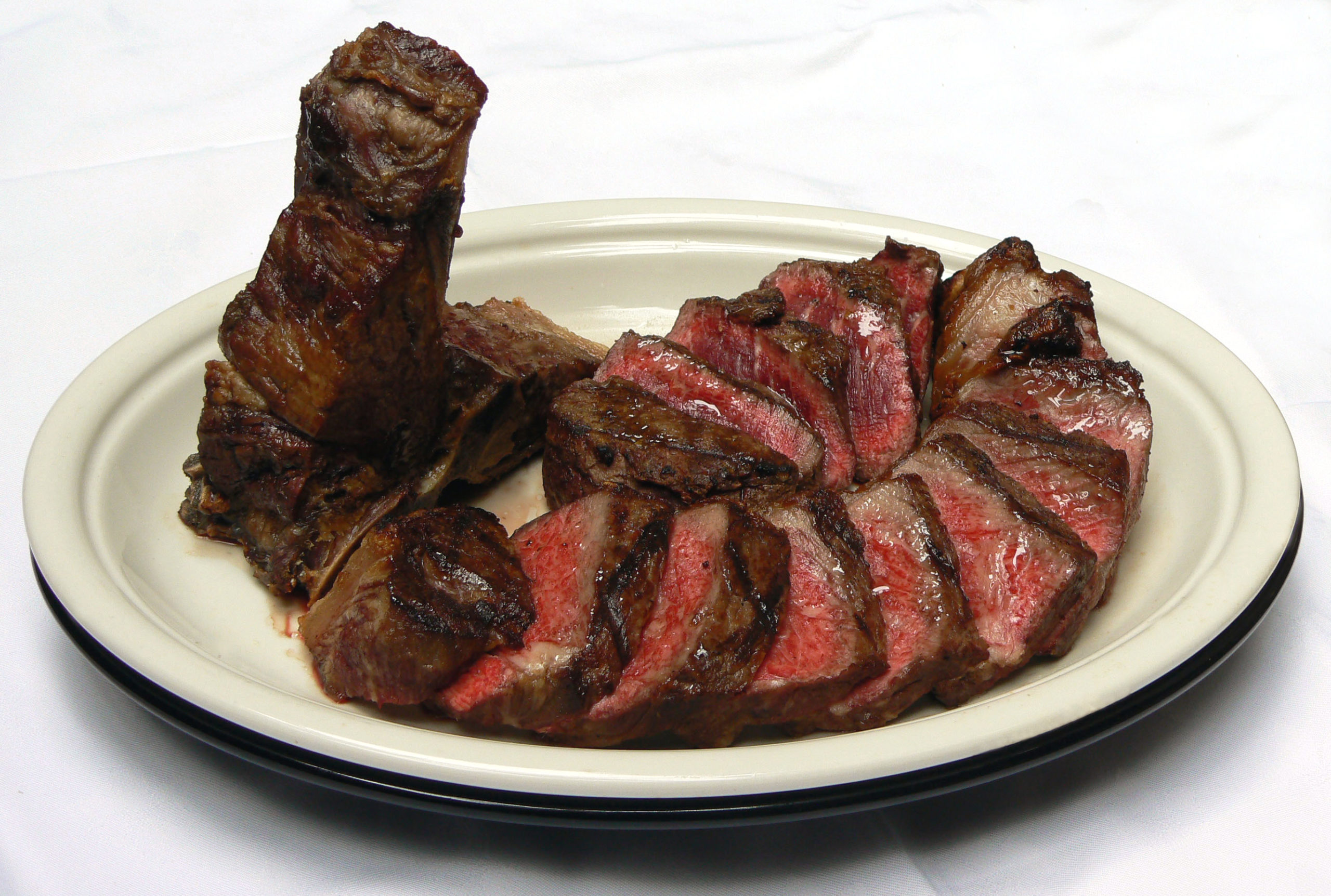 What we now know as the steakhouse in NYC came from two 19th-century predecessors: beef banquets, which were male-only political fundraisers, and the chophouse, an offshoot of an English tavern. The dark wood-paneled interiors of many steakhouses recreate this era, where some venues are still a culinary history lesson.
NYC even has its own cut of the cow: The strip steak or top loin steak is often called a New York strip because it originated from steakhouses here back in the 1900s.
For New York steak, opt for the old-school establishments that have been doing it right for years. You can get great steak wherever you're staying for your New York City tour.
Where to go:
Old Homestead Steakhouse in NYC's Meatpacking District has been in business since 1868, with a Butcher Block side menu listing a "Porterhouse for Two" and other choice cuts of meat.
Another long-timer, Delmonico's in Lower Manhattan has been offering fine dining since 1837, with must-try dishes including their signature boneless ribeye, lobster Newberg, and their dessert, baked Alaska.
It's not just the aged prime porterhouse (shown above) that's eye-catching at Keens Steakhouse in Midtown. Thanks to a 17th-century tradition where travelers kept their favorite long-stemmed pipe at a local tavern, the ceiling is covered with churchwarden pipes that once belonged to club members like Theodore Roosevelt and Babe Ruth.
Open since 1887, Peter Luger in the Williamsburg section of Brooklyn ages their prime beef on premise. Take note: Only cash or debit cards are accepted.
4) Pizza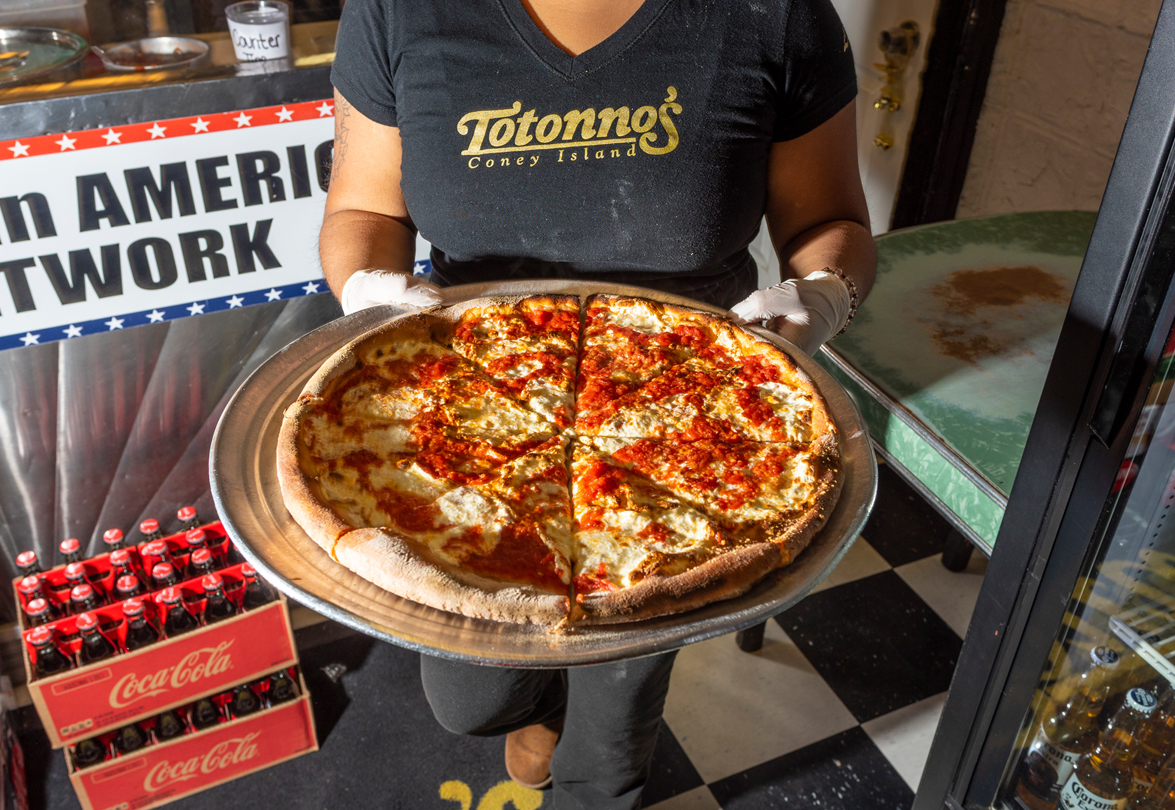 Personal preference for where to go for the best pizza in New York can be up for heavy debate.
This Italian dish evolved in the city first with the wave of Italian immigrants who settled in East Harlem, on the Lower East Side, and in Little Italy. Today, this culinary treat can be found across the city's five boroughs.
It's hard to recommend just one spot for a perfect pizza date night or a quick snack while you're out sightseeing. Your best bet, if you have the time, is to try a few places and figure out what you enjoy. That way you know for next time you visit.
Where to go:
Little Italy: There are plenty of options in Little Italy, but Lombardi's claims to be the first pizzeria in the U.S. and is quite good, so feel free to check that one off your bucket list.
In Brooklyn: Di Fara in Midwood and Williamsburg's North 3rd Street Market has pizza lovers lining up for their slices, while Totonno's in Coney Island is noted for its thin crust, coal-oven pies. L&B Spumoni Gardens in Gravesend is all about square-shaped Sicilian pizza while Lucali in Carroll Gardens can count Beyonce and Jay-Z among their dining guests.
In Queens: Choose Milkflower in Astoria if you want gourmet Neapolitan-style pizza.
Also in Manhattan: John's of Bleecker Street in the West Village is a strictly no-slice, pie-only place. Fans of "Spiderman 2" with Tobey Maguire might recognize Joe's Pizza on Carmine Street. On the Lower East Side, Scarr's Pizza is trendy but still tasty, while Motorino in the East Village and Upper West Side –– and in Williamsburg –– has a creative menu that includes Brussels sprout pizza.
In the Bronx: Cafè al Mercato on Arthur Avenue has unique pizza pairings such as their bruschetta pie. Louie & Ernie's Pizza in Pelham Bay, meanwhile, focuses on thin crust with the option of getting a Sicilian.
5) Cheesy Bodega Sandwiches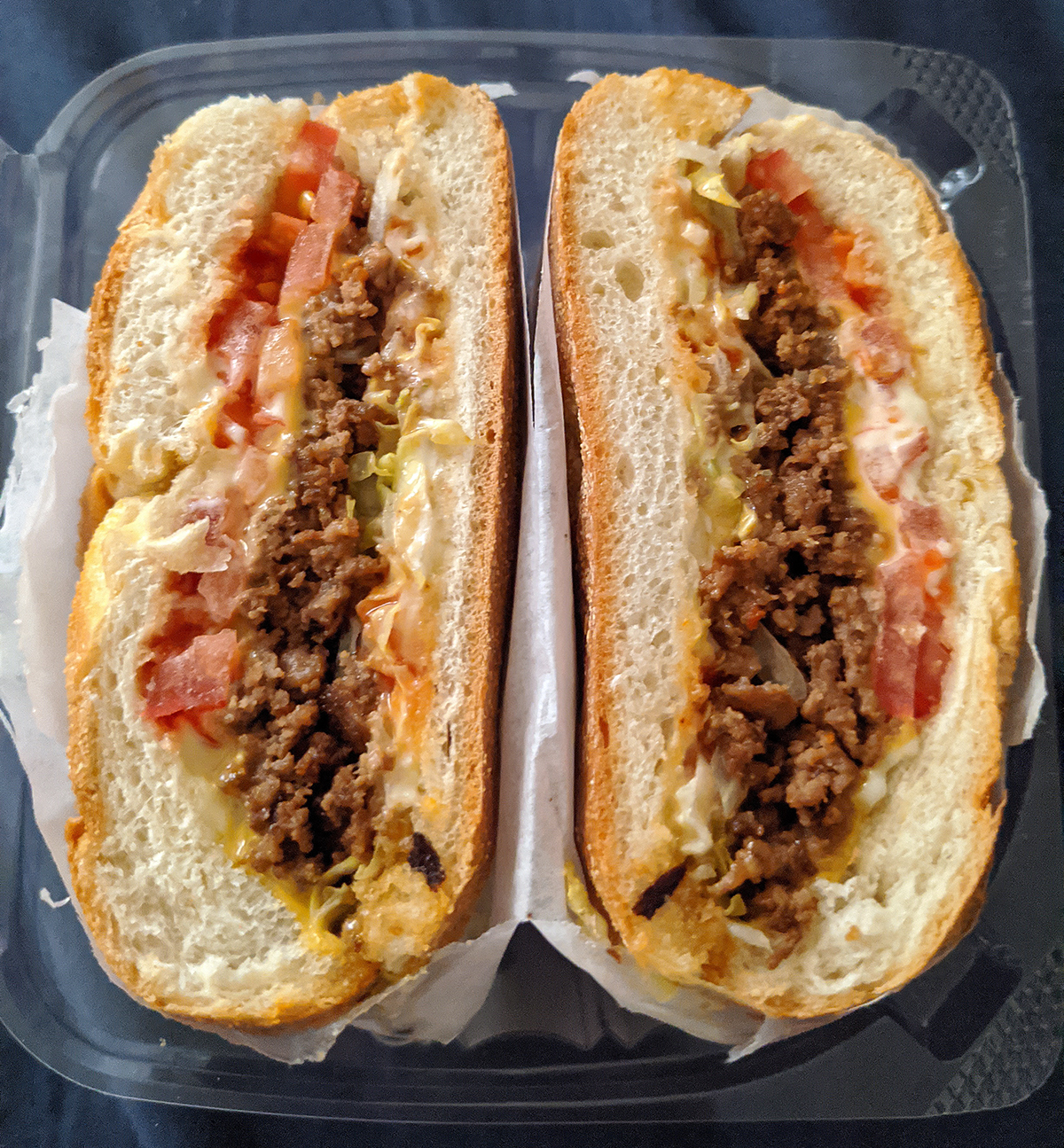 Loosely meaning storefront in Spanish, a bodega is a small neighborhood grocery store that also has a deli counter. Here, you can place an order for a cup of coffee or fill up on lunch. Native New Yorkers often stop by bodegas for one simple, beloved breakfast sandwich: bacon, egg, and cheese on a roll.
Bodegas serve another specialty, this one credited to have started in East Harlem: the chopped cheese sandwich. It's NYC's response to the Philly cheesesteak, with a medley of grilled meat, cheese, tomato, and shredded lettuce. It's easy to find this corner store amidst your walks or wanders, but here are some to consider going directly to.
Where to go:
Legend has it that the chopped cheese sandwich originated at what's now known as Blue Sky Deli in East Harlem (formerly called Hajji's).
For a bacon, egg, and cheese, try Sunny and Annie's Deli on Avenue B in the East Village, which runs into the late hours.
Court Street Grocers in Brooklyn's Carroll Gardens and Red Hook and Greenwich Village is more of a restaurant-deli blend, but locals love this place.
6) Soul Food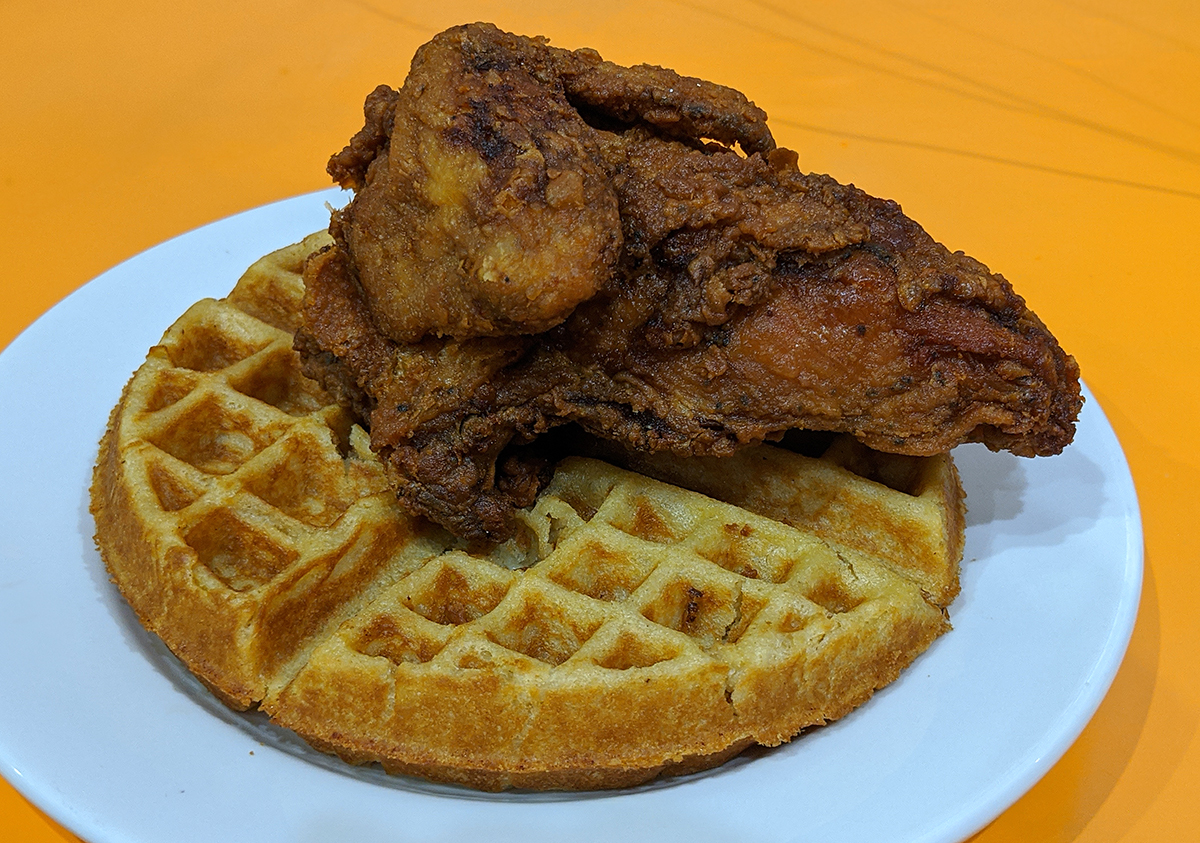 Soul food is rooted in the south, but it came to New York City as many African-Americans relocated to the north in the 20th century. Its dishes were shaped in America's early history by ingredients available to enslaved people and the cooking techniques they passed down through generations. Soul food also has been some influence from southern Native American cuisine.
As for the name, the term for "soul food" became prevalent around the 1960s as the word soul frequently symbolized Black culture. Staples of this cuisine can involve collard greens, okra, grits, fried chicken and catfish, and yams.
In NYC, soul food is often linked to Harlem, a neighborhood rich with Black heritage. And for the best soul food, it's hard to go wrong with any restaurant in this neighborhood.
Where to go:
Sylvia's holds a Gospel Sunday Brunch that's a must if you're there on a weekend. The restaurant attracts quite a number of diners, so be patient and peruse the menu with top picks ranging from chicken and waffles to peach melba for dessert.
Amy Ruth's contains wall murals of beloved Black performers ranging from Whitney Houston to Lionel Richie. Meanwhile, their menu starts with breakfast options ranging from the staples to fried catfish. As for entrees, look at the celebrity-named platters such as The President Barack Obama (fried, smothered, baked or barbecue chicken), or you might try their variation on chicken and waffles.
Melba's offers Southern comfort food with hearty and healthy choices. Their take on fried chicken and waffles incorporates eggnog as a key ingredient.
BLVD Bistro has an all-day menu with modernized soul food classics. I recommend their jumbo shrimp and grits bowl, which incorporates jalapeño and applewood-smoked bacon. There's a solid wine and cocktail list here, too.
7) Bagels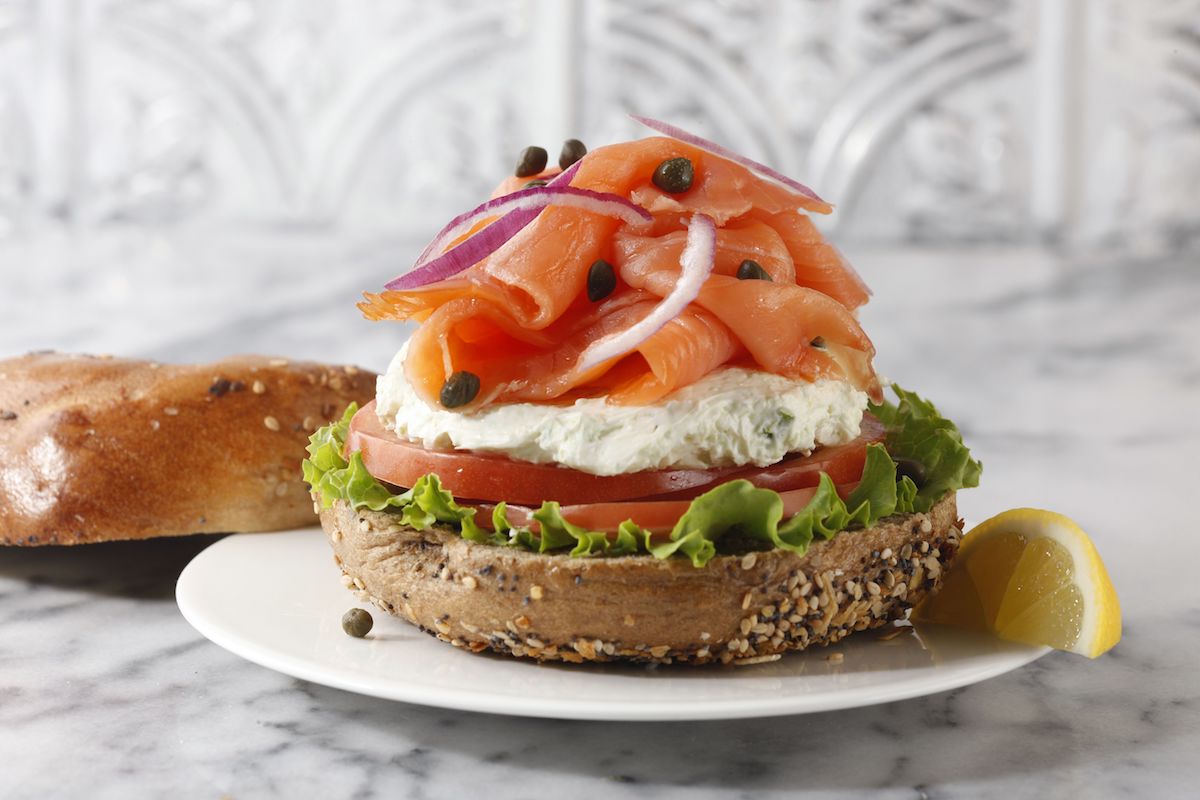 With its crispy crust and chewy inside, what we know as the bagel today is believed to have come from Poland to New York with the Eastern European Jews who immigrated here.
Why are bagels so crispy yet chewy? It's all in the preparation. The dough is primarily boiled then baked. In New York City, it was almost an art form. Bagel production here was historically overseen by a strong bakers' union. That was from about the 1930s to the early 1970s when bagel-making machinery challenged their speed and ended their long-standing authority.
Today, bagels are baked fresh onsite at many shops around the city. Have one with cream cheese (we call it a schmear), or opt for a lox and bagel sandwich.
Where to go:
Get started at Ess-A-Bagel in Midtown Manhattan, but be prepared to wait in line. Here, you can order plain, everything, poppy, salt, and pumpernickel, among other bagel choices.
Don't let the name fool you. Brooklyn Bagel & Coffee Company isn't in the borough it's named after. This chain has locations in the Astoria section of Queens and in the Manhattan neighborhoods of Chelsea and Greenwich Village. They've gotten high marks not only for their bagels but also for their robust selection of flavored cream cheeses. My suggestion? Go for the bacon scallion.
Like things a little weird? Tompkins Square Bagels in East Village is known for its creative seasonal bagels, from French toast to rainbow-colored.
Kossar's Bagels & Bialys is a longtime fixture on Manhattan's Lower East Side, where you can also buy a bialy. What's that, you ask? A bialy is a roll that's baked with an indentation in the middle that then gets filled with garlic or roasted onions. Bonus: Kossar's is also near Russ & Daughters, a longtime Jewish appetizing shop that serves orders ranging from bagels with lox to rugelachs to egg creams.
8) Street Food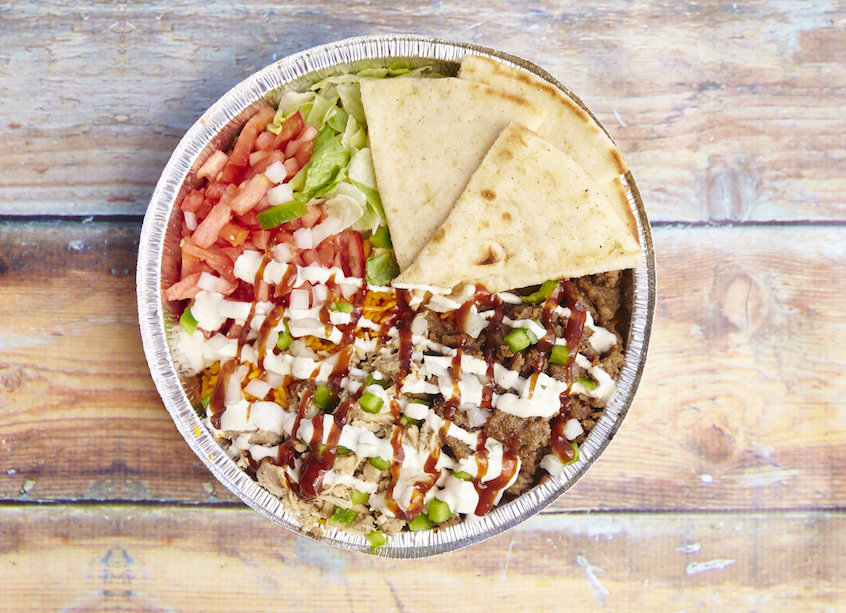 The most famous street foods in New York City are hot dogs and pretzels, so feel free to pick some up while you're here, but there's a lot more to NYC street food.
We've had on-the-go food from the city's early days. Oysters was an original food cart item, thanks to their former abundance in harbor waters. Now, the street food mobile scene consists of food trucks and food carts selling almost every kind of cuisine imaginable. You can try anything from churros to Belgian waffles to halal cuisine (foods associated with Islamic dietary laws).
Where to go:
One of the most recognizable food carts is run by The Halal Guys, adored for their chicken over rice platter. You'll find them in Midtown Manhattan.
NY Dosas is in Greenwich Village's Washington Square Park. Try the Indian crepes, including dosas and pondicherry, plus samosas and other Indian snacks.
El Toro Rojo Truck is primarily a Midtown fixture with a focus on Oaxacan flavors through its fajita bowls, tacos, and burritos.
Uncle Dussy's, a blue Greek food truck that can be also spotted in Midtown, is your go-to choice for a fabulous gyro.
9) Caribbean Food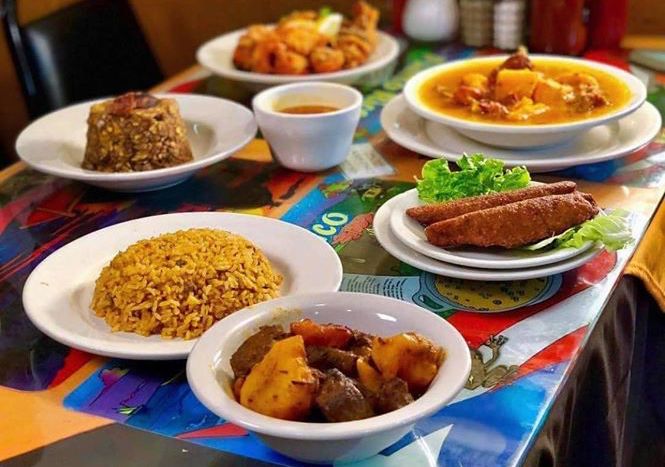 New York's Caribbean-American community is well represented in the local food scene. Chefs with culinary roots in Jamaica, Haiti, Cuba, Guyana, Trinidad and Tobago, Puerto Rico and the Dominican Republic offer a range of delicacies at restaurants and food carts.
It's hard to narrow this down, but here are some options for discerning foodies.
Where to go:
For Puerto Rican cuisine, try the mofongo (a dish of fried plantains that get mashed and seasoned with salt, garlic, broth and olive oil plus and shaped into a ball with pork rinds or bacon inside) at Casa Adela in Manhattan's East Village.
For Jamaican food, Miss Lily's has two convenient locations downtown; a diner, jerk shack and juice bar in Manhattan's SoHo and a lunch-to-late-night spot in the East Village.
If you're in Brooklyn, visit Puerto Viejo Restaurant, a Dominican bistro in Prospect Heights that serves up a killer mangù al puerto (mashed plantains with muenster cheese).
Margon, a budget-friendly eatery off of Times Square in Manhattan, serves a memorable Cubano, the perennial, pork-laden Cuban sandwich.
10) Korean Barbecue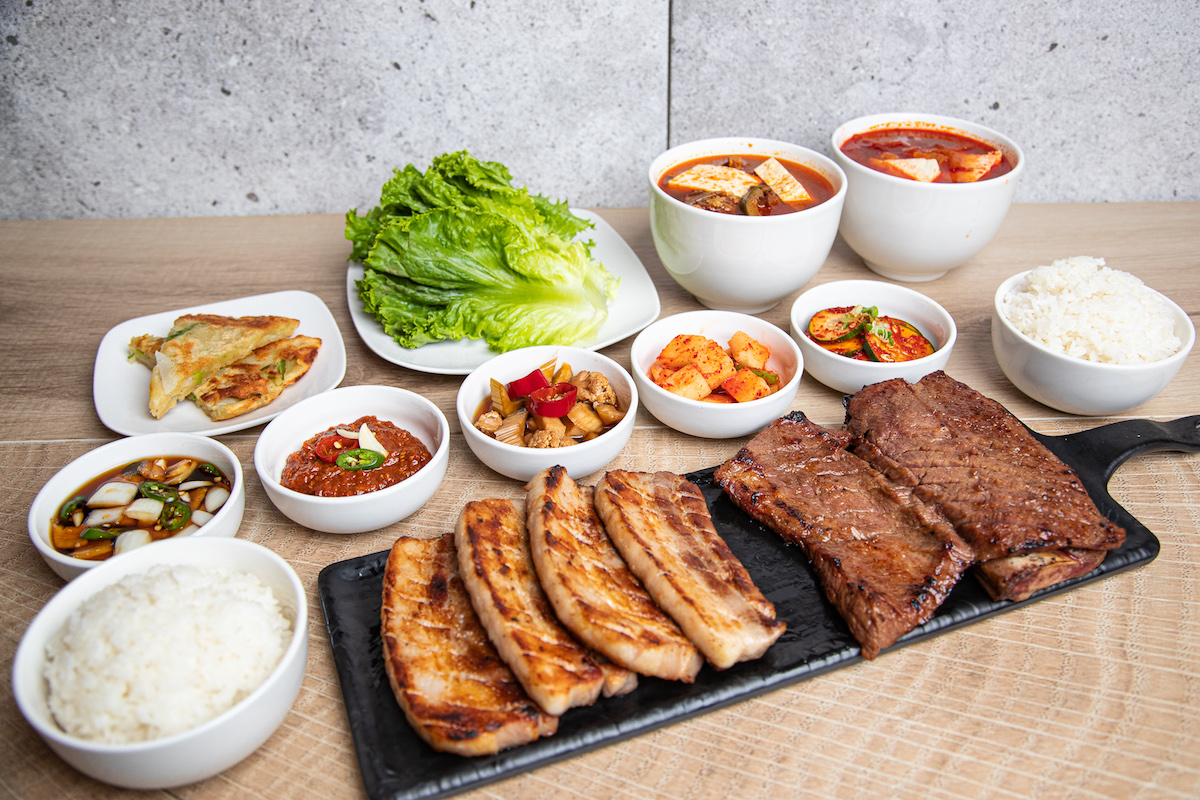 K-Town for short, Midtown Manhattan's Koreatown section comprises various Korean businesses, including many bakeries and restaurants. Its central point is known as "Korea Way," along West 32nd Street between Fifth and Sixth avenues.
While small in size, the area has plentiful selection for those wanting to sample Korean barbecue. This cuisine involves grilling meats on built-in gas or charcoal grills. That's right — you see your food made right before your eyes.
Where to go:
Come hungry to Kang Ho Dong Baekjeong in Koreatown (see the huge spread above, and you can understand why I say this). Order their short ribs, known as kalbi. You won't regret it.
Sam Won Garden, which has been featured in the 2020 Michelin Guide, was first founded in Seoul.
Hyun focuses on high-end Korean barbecue in an elegant setting.
Bonus: New York Cheesecake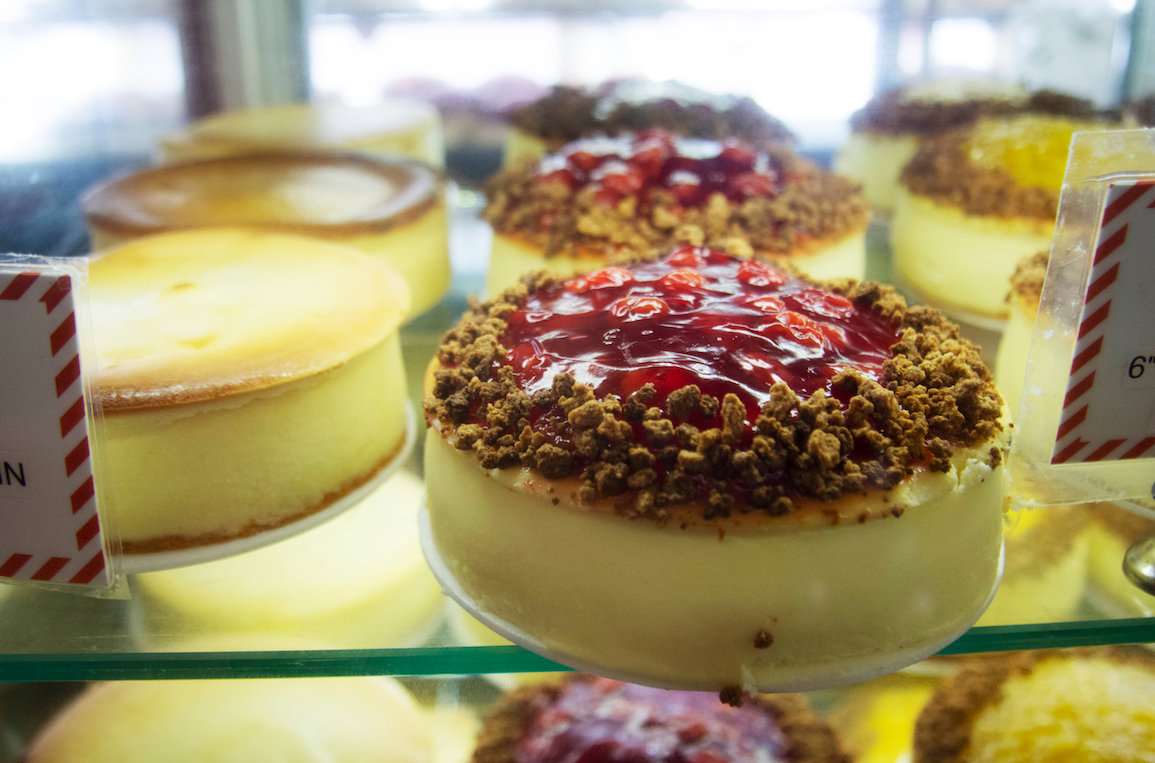 Looking for dessert? I've already mentioned egg creams, rugelach, and cronuts, but the most iconic New York City dessert has to be cheesecake.
NYC cheesecake is rich and smooth with a cream-cheese base. Translation: This is not a calorie-light, airy dessert, but it is decadently delicious. Its recipe is often credited to restauranteur Arnold Reuben and its popularity to the (now gone) Lindy's Restaurant.
Luckily, the creamy cake lives on all around the city.
Where to go:
Junior's has two locations near Times Square, one at the corner of Broadway and 45 Street and the other at Broadway at 49th Street, plus its original place on Flatbush Avenue Ext. in downtown Brooklyn. See the photo above to take a gander at just how amazing their cakes look (and are).
I also recommend checking out Eileen's Special Cheesecake in Nolita. This bakery's cheesecakes are light and creamy and come in multiple flavors including strawberry, cherry, salted caramel, and pumpkin.
Coming to New York? Come Hungry
Believe it or not, this article only scratches the surface of the flavors you can find here in the Big Apple. Looking for some more foodie inspiration? We've got plenty.
In particular, this travel guide to Chelsea Market covers everything to see and savor at this popular destination near High Line park.