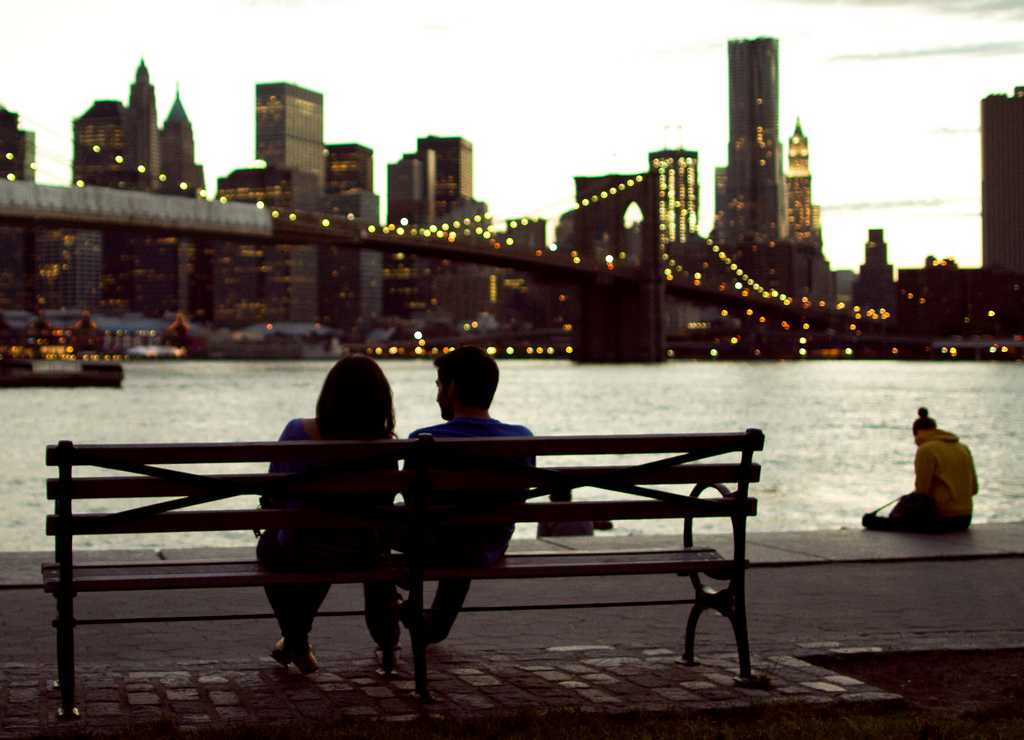 Valentine's Day is just around the corner, and romantic New Yorkers are scrambling to plan the perfect date night.
Here in the Big Apple, of course, we have an advantage. Hollywood has spent years teaching us how to make the most of this enchanting city. Every street corner is the perfect stage for a one act play, every cafe is brimming with potential romance.
But for those of you who are lucky enough to have found your match, you've got a Valentine's Day to plan. Reenact one of these 5 romantic New York Movie Scenes and you can't go wrong this February 14th.
The Romantic New York Meeting
How better to begin your Gotham romance than with a first date at an iconic cafe? Our pick would have to go to Cafe Lalo, the setting for the first encounter between Tom Hanks and Meg Ryan in the classic, You've Got Mail. Following the rom-com rules, these two torture each-other at first sight, but that only makes the ending that much sweeter.
Cafe Lalo features over a hundred different desserts to select from as you trade witty banter with your date. We suggest the Strawberry Napoleon.
Leave it up to Fate
No other city on Earth can match NYC for chance encounters. In Serendipity, sparks fly between Kate Beckinsale and John Cusack over a pair of black cashmere gloves, but fate has other plans for these two. They'll separate and meet again, but not before partaking in a famed, romantic New York dessert at the film's namesake restaurant, Serendipity 3.
Book early to bring your date to this iconic Big Apple sweet spot. Of course, you should try one of the famous Frozen Hot Chocolates. If your tastes run a bit more refined, perhaps you should order New York's most expensive dessert.
(More Than) Just Friends
Maybe not the most romantic moment, but certainly the most well-known, the Katz's Deli scene from when Harry Met Sally put this NYC institution on the world stage. You too can have what she's having when you sit in their famous booth, marked with a brass plaque
Don't skip the pastrami and make sure to have a few pickles. But, for your own sake, don't lose your ticket!
Reunite atop the World
Ok, it's a cliché, but there's a good reason why romantic New York couples have reunited at the Empire State Building. The observation deck is perhaps best known from the final moment of Sleepless in Seattle. This is our second Tom Hanks/Meg Ryan scene on this list, but it plays out a little different. No one understood the romance of New York City quite like Nora Ephron.
The Empire State Building is no stranger to romance. This unique spot is open till 2:00am, so maybe make it your last stop of the evening. Of course, if you want to include this gorgeous building in your sentimental backdrop, we recommend meeting atop Rockefeller Center for the perfect skyline view. Check it out on one of our NYC in a Day Walking Tour.
If you're going to have a broken heart, have it in New York City
When love ends, the awkward encounters that follow are best staged in grand Big Apple style. Perhaps the most classic of these bittersweet moments can be found between Barbra Streisand and Robert Redford in Sydney Pollack's The Way We Were. Reunited years after their separation, the two share a moment outside the Plaza Hotel, reminiscing, obviously, about the way they were.
Tour the iconic space outside the Plaza Hotel, hopefully under better circumstances. Take a cue from the ladies of Sex and The City, and write your own story.
So, what's your favorite romantic New York movie scene? Let us know on Facebook.
Featured image by Guian Bolisay licensed under CC BY-SA 2.0