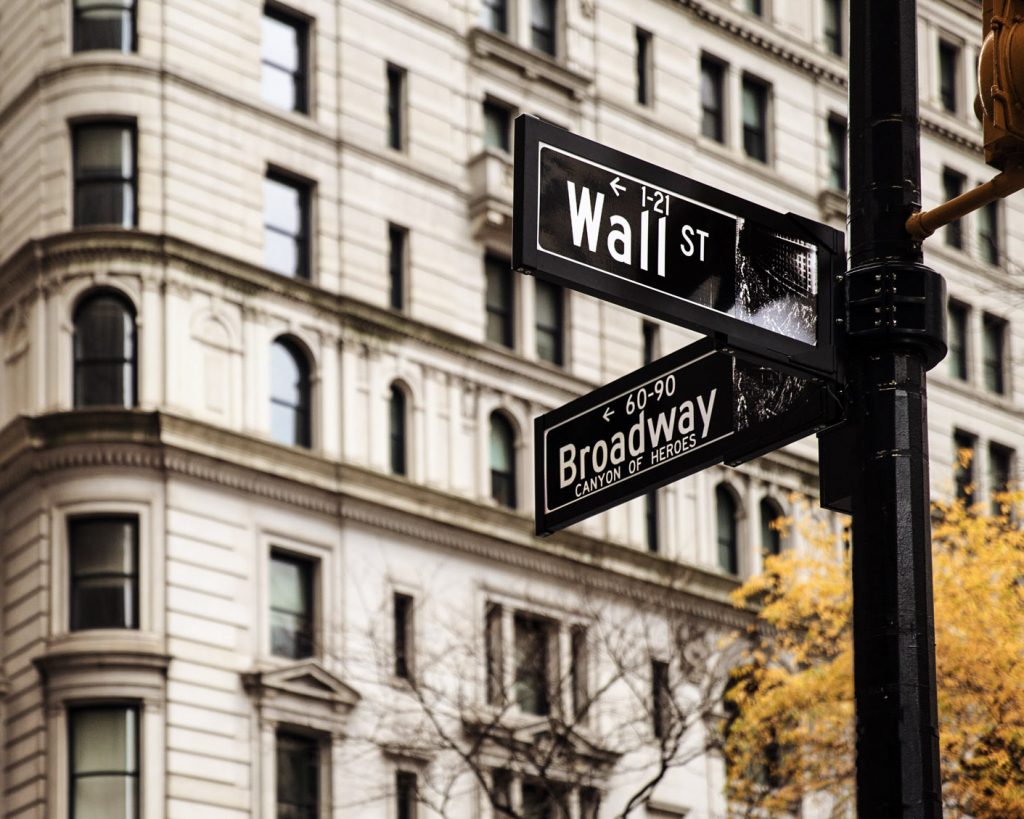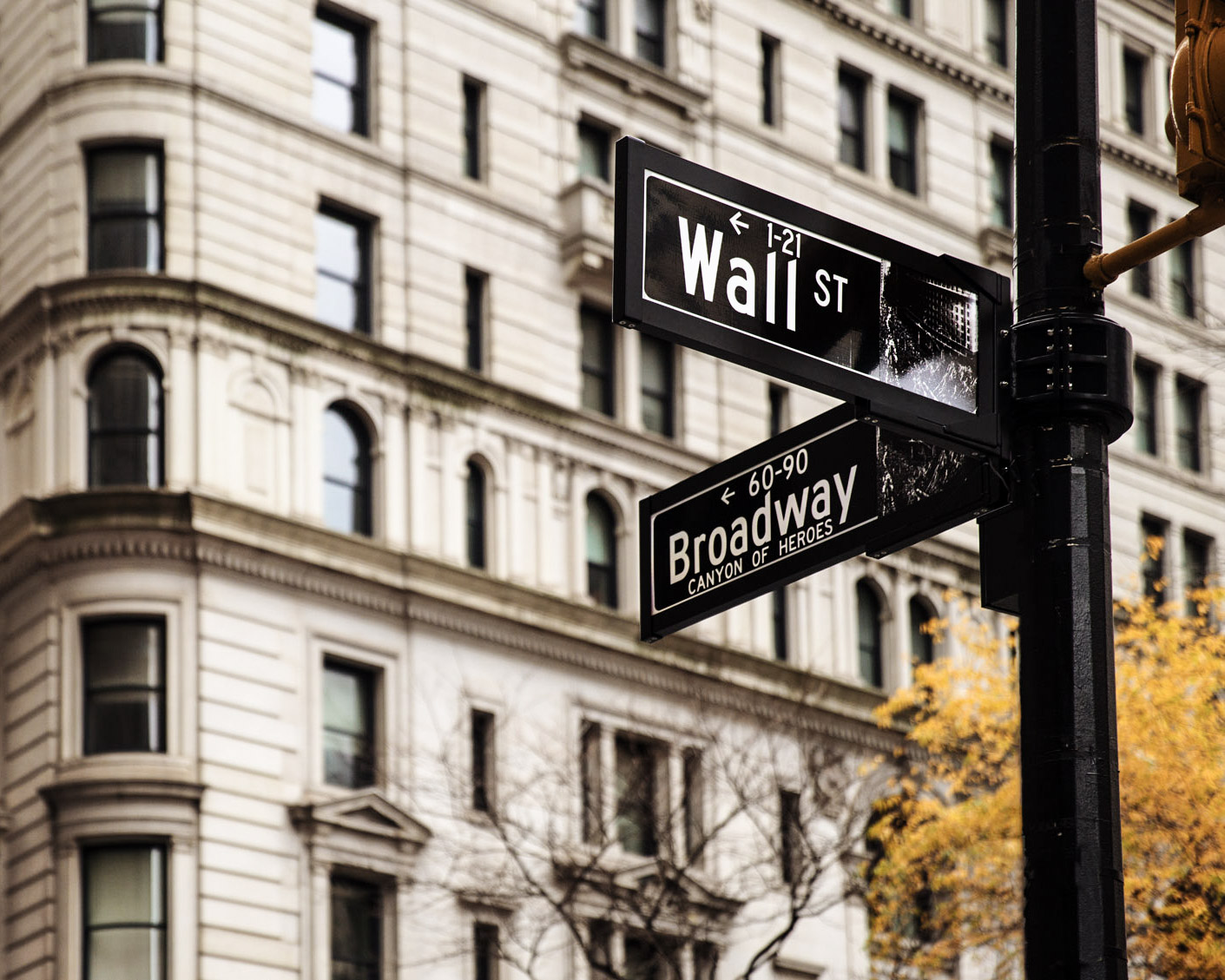 Wall Street is named after an actual wall.
No, really. When the Dutch first colonized the island of Manhattan, they built a wall to separate their colonies from the Native American camps to the north. Believe it or not, 400 years ago most of Manhattan was farmland and countryside — Alexander Hamilton even built a country house in what is now Harlem.
Now Wall Street refers not only to the street, but the district as a whole. You might also hear it described as downtown, the financial district, lower Manhattan, or low-Man (although I wouldn't recommend saying that last one unless you want to receive the biggest eye roll of your life).
When most people picture Wall Street, they probably picture the home for global finance, thanks to the New York Stock Exchange, where the big money is made (and lost) every day. But Wall Street has way more to offer than billions of dollars changing hands on a Thursday. It's actually one of the most historic neighborhoods in New York City — and the entire country.
Here are seven things you have to see when you visit Wall Street, ranging from the New York Stock Exchange to the building that helped birth the United States.
1. Federal Hall National Memorial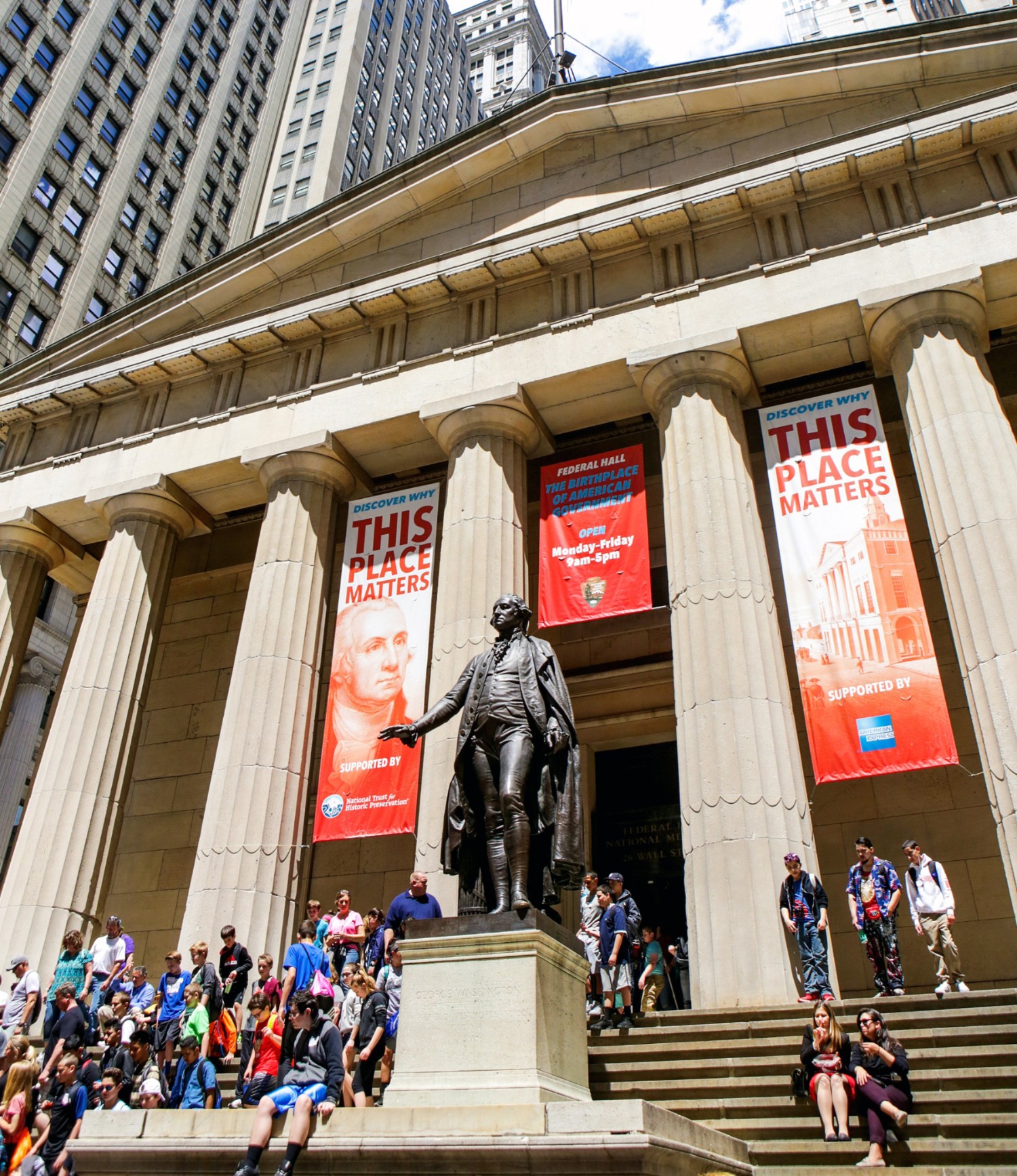 Currently operated by the National Park Service, the Federal Hall National Memorial is one of the most historic buildings in the entire country.
When NYC was the original capital of the United States — before it moved to Philadelphia and then Washington, D.C. — this served as our capitol building and New York's city hall. It's also where the founding fathers accepted the Bill of Rights in our country's First United States Congress. If that's not enough to get this on your bucket list, George Washington was sworn in as president on the front balcony in 1789.
And I have good news: it's free to visit. Venture inside to see the stone Washington stood on to take the oath of office, a 300-year-old Bible used in the inaugurations of half a dozen presidents, and cracks in the building left over from the 9/11 attacks.
There's even more I could tell you about Federal Hall, but it's too much for this blog post. You'll have to learn from a pro when you visit NYC.
2. The New York Stock Exchange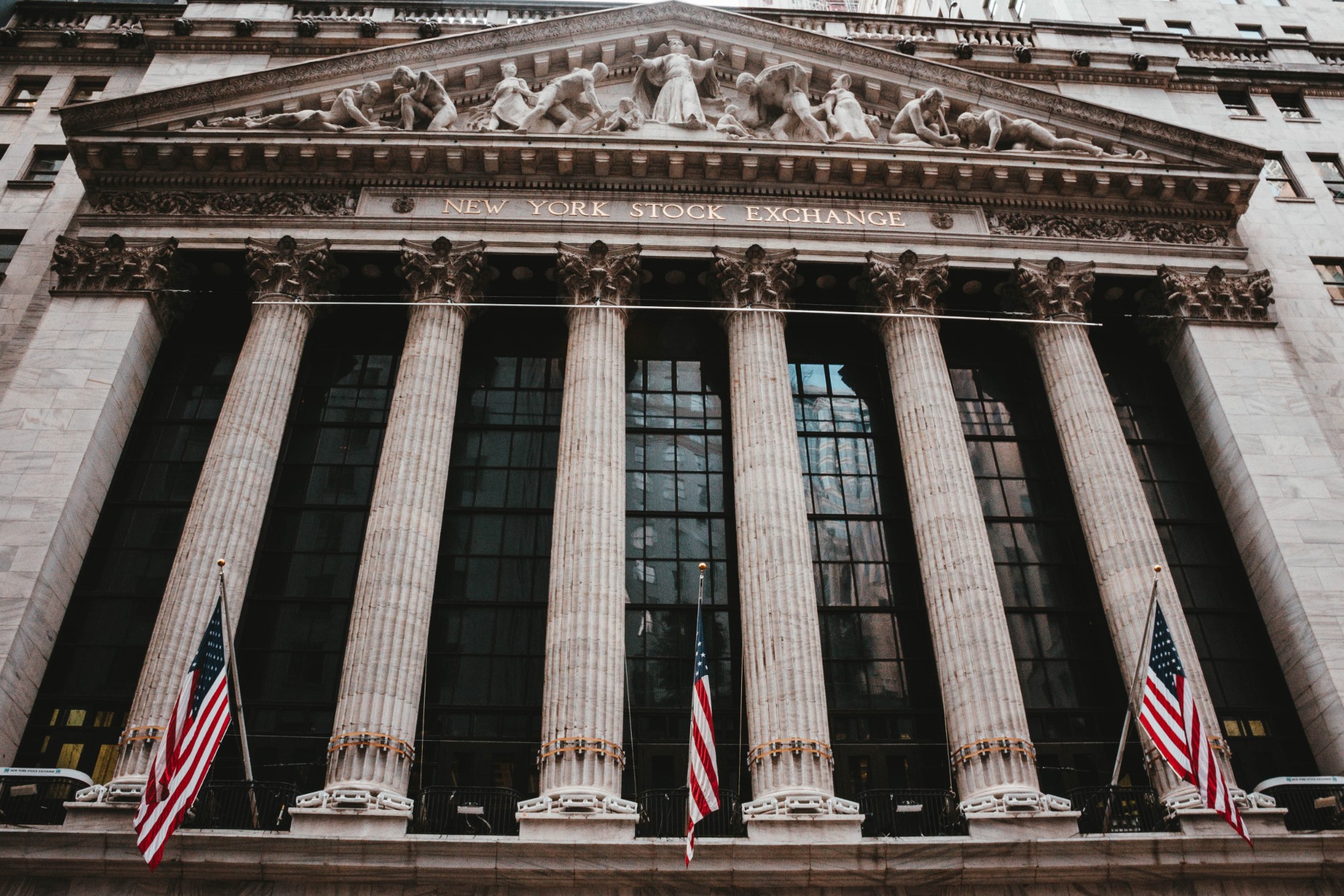 I'm going to bust a myth for you: the New York Stock Exchange (NYSE) isn't on Wall Street — but it's very close. Standing at the intersection of Wall and Broad, its front technically faces Broad Street, which is where you'll see traders scurrying in to work in their signature blue windbreakers. Erected in 1903, it was at one point the largest indoor space in the United States.
I don't mean to disappoint you, but I've heard that because of online trading, the Stock Exchange has been rendered almost obsolete. Most of the trading is done online, and most hedge funds and banks are headquartered near Bryant Park in Midtown.
Despite this, the building that houses the New York Stock Exchange still stands as a symbol for finance and commerce across the world. Considering that the New York Stock Exchange has played host to financial events that have shaped the global economy, it's absolutely worth a visit, especially with a Wall Street financial insider. The building isn't just about the architecture — it's about the million-dollar stories in its history.
3. Fearless Girl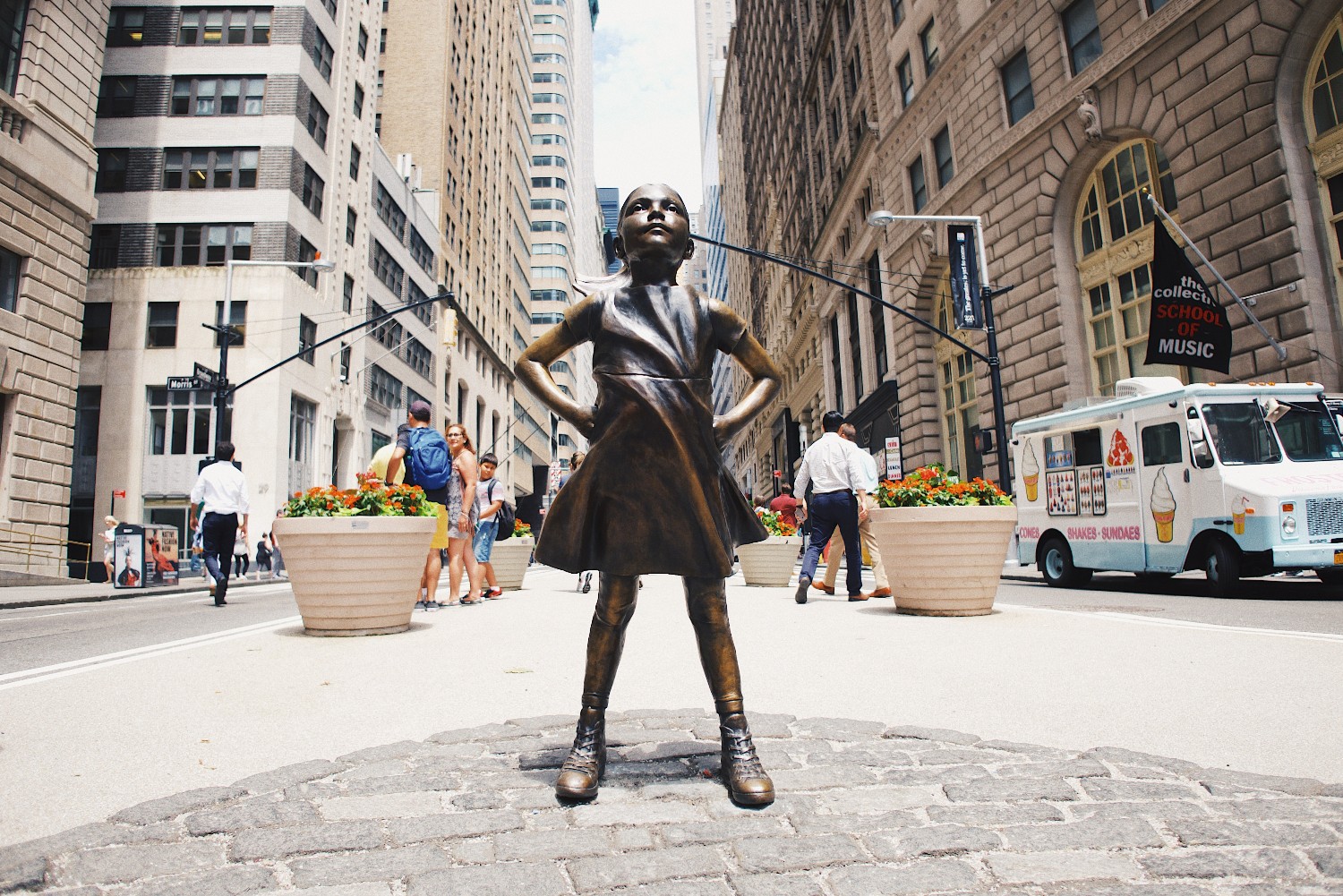 Fearless Girl is a statue that was recently moved from her original location on Broadway in front of the Charging Bull to her new home in front of the New York Stock Exchange.
Commissioned by the investment firm State Street Global Advisors, she debuted on International Women's Day in 2017. Though small in stature, she stands for something much larger: a symbol for women in the United States and across the world who are still fighting for equal rights, safe work environments, and fair treatment in the workplace. Any trip to Wall Street should include an inspirational photo, standing in solidarity with Fearless Girl.
4. Trinity Church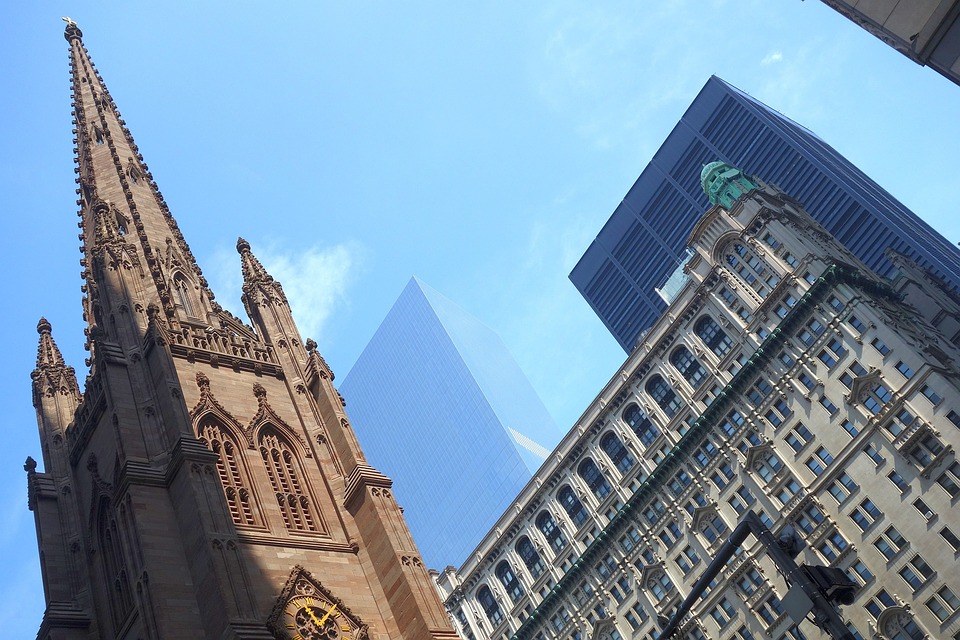 Trinity Church was the first church built in NYC, and at one point was the city's tallest building. The structure you see here isn't the original, though.
The original Trinity Church burned down during the American Revolution, and its replacement had to be replaced because of damage from an 1838 snowstorm. So the third version, built in the early 1840s, is what you'll see at the end of Wall Street when you look to the west.
There are a few prominent New Yorkers buried in the churchyard. Feel free to stroll through to see the resting places of Robert Fulton, who popularized the steamboat as a means of transportation in NYC. You'll also see Trinity Church's most famous resident, Alexander Hamilton, buried alongside his family.
5. The Charging Bull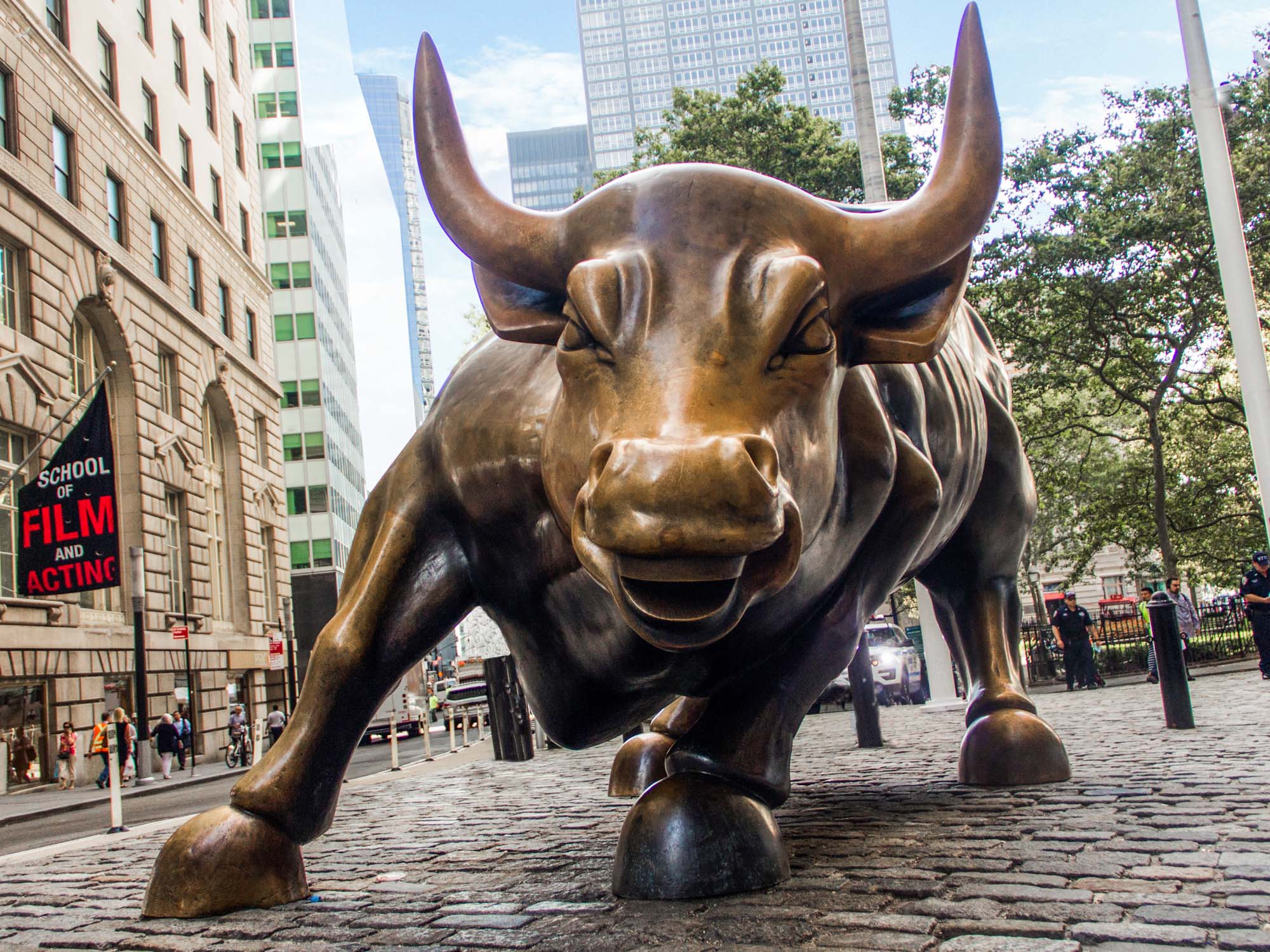 Most people think the Charging Bull statue is on Wall Street, but you actually have to venture back over to Broadway if you want to see this gigantic monument to finance.
Weighing in at a whopping 7,100 pounds of bronze, the Charging Bull was designed by artist Arturo Di Modica in response to the stock market crashes of 1987 and 1988. He chose a bull because they say there are two types of stock markets: bull markets and bear markets. Here's your NYC Wall Street lingo cheat sheet:
Bear markets are when you think prices will go down because bears attack down with their claws.
Bull markets are when you think prices are going up because bulls charge up with their horns.
6. Stone Street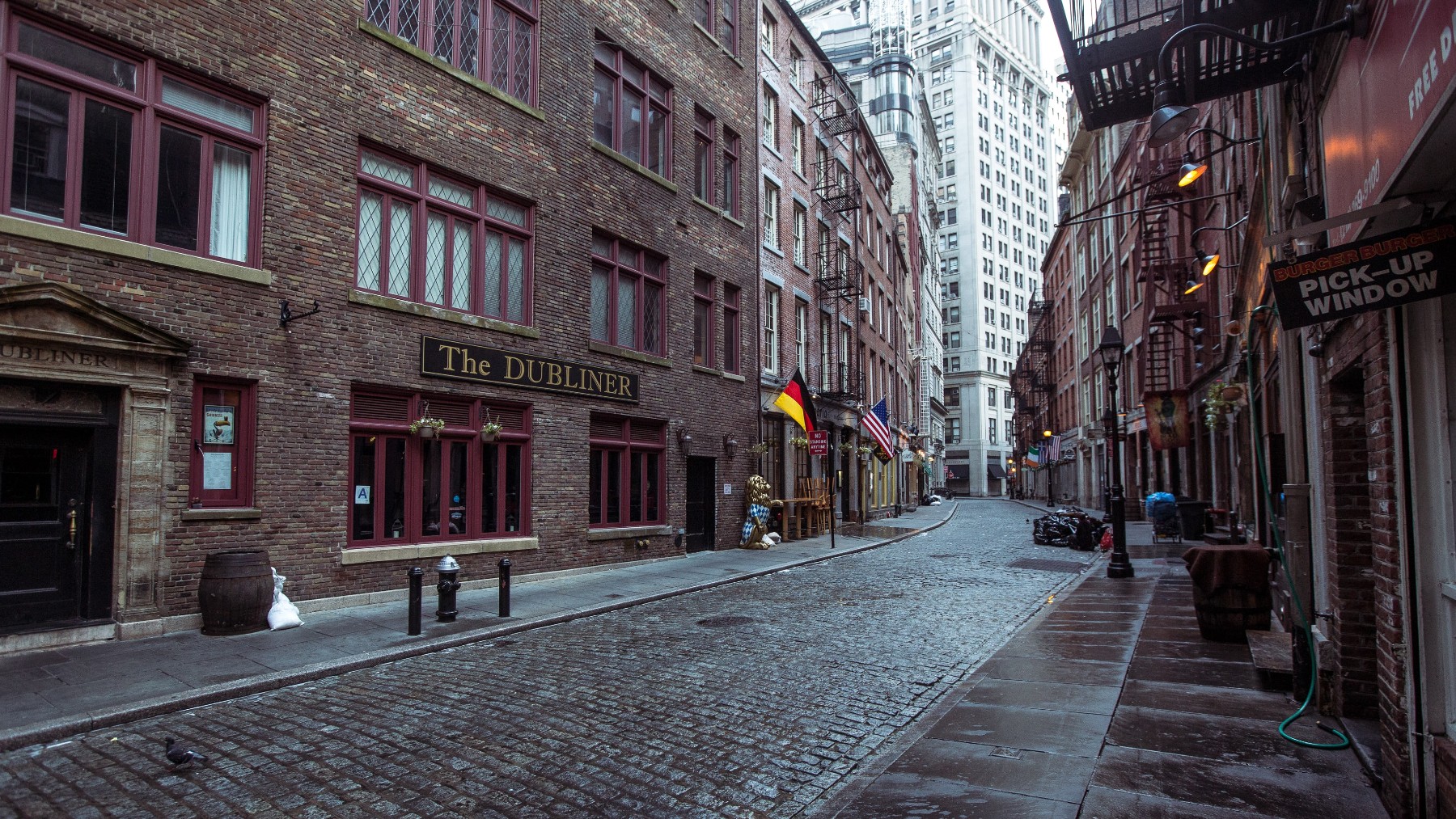 The financial district is one of the oldest areas in Manhattan, and a great place to see that is along the cobblestones of Stone Street.
Besides looking like a movie set, it's lined with plenty of restaurants to satisfy your lunchtime desires. My personal recommendation is Adrienne's Pizza Bar, which I consider to be one of the top five pizza places in New York City. It's a great place to eat after your tour of Wall Street.
7. Bowling Green Park
When you visit the Charging Bull, you will probably notice it sits at the top of a park surrounded by a wrought iron gate. That's Bowling Green Park, and it's the oldest park in New York City. It's perhaps most famous for being the site on which the Native Americans sold the island of Manhattan to the Dutch.
These days, it's typically decorated with vibrant tulips that surround an ornamental fountain. It's a great place to relax, enjoy a cup of coffee, and watch the crowds stroll down Broadway.
Wall Street and Financial District FAQs: Tourist Edition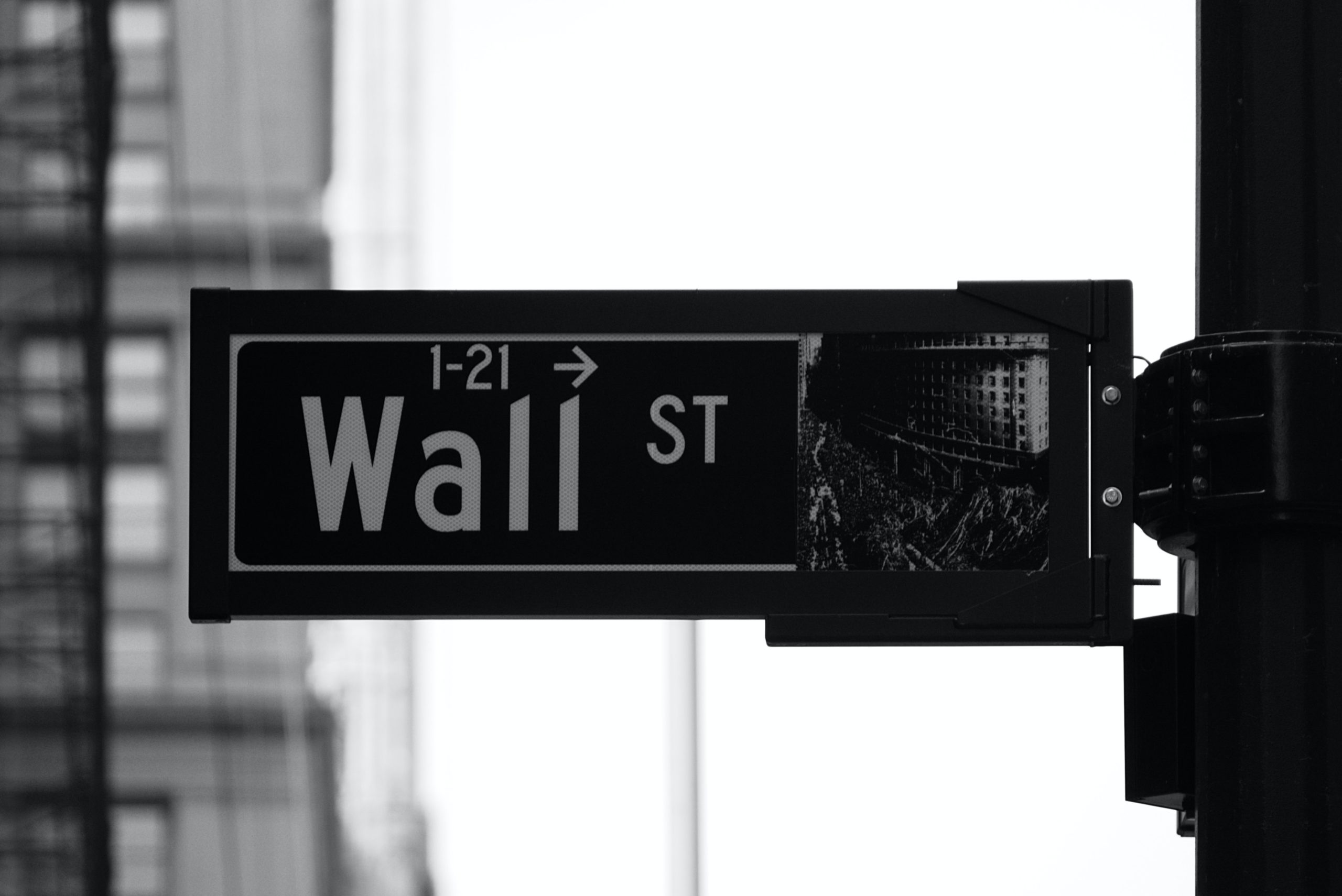 Is the Financial District uptown or downtown?
The Financial District is downtown. Almost as far downtown as you can get. It's only about a five-minute walk to the Staten Island Ferry terminal and Battery Park, which are at the very southern tip of Manhattan.
Is the Financial District a good place to live?
As stock trading has moved more and more online, the Financial District has actually become mostly residential. A few firms, such as Oppenheimer and Goldman Sachs, still have their offices downtown, but most of the buildings down there are apartments. It's a great location because it's close to the water, and it's easy to get anywhere in New York City from the Financial District because most subway lines run through it.
How is the Wall Street stock market doing today?
That depends on when you're reading this, which indexes you want to track, and which stock exchange you're following. If you're in NYC and curious about how the market is doing, you can go to Wall Street with a professional to see the ticker on the outside of the building — and have an expert explain what it all means.
Four Centuries of History on One Street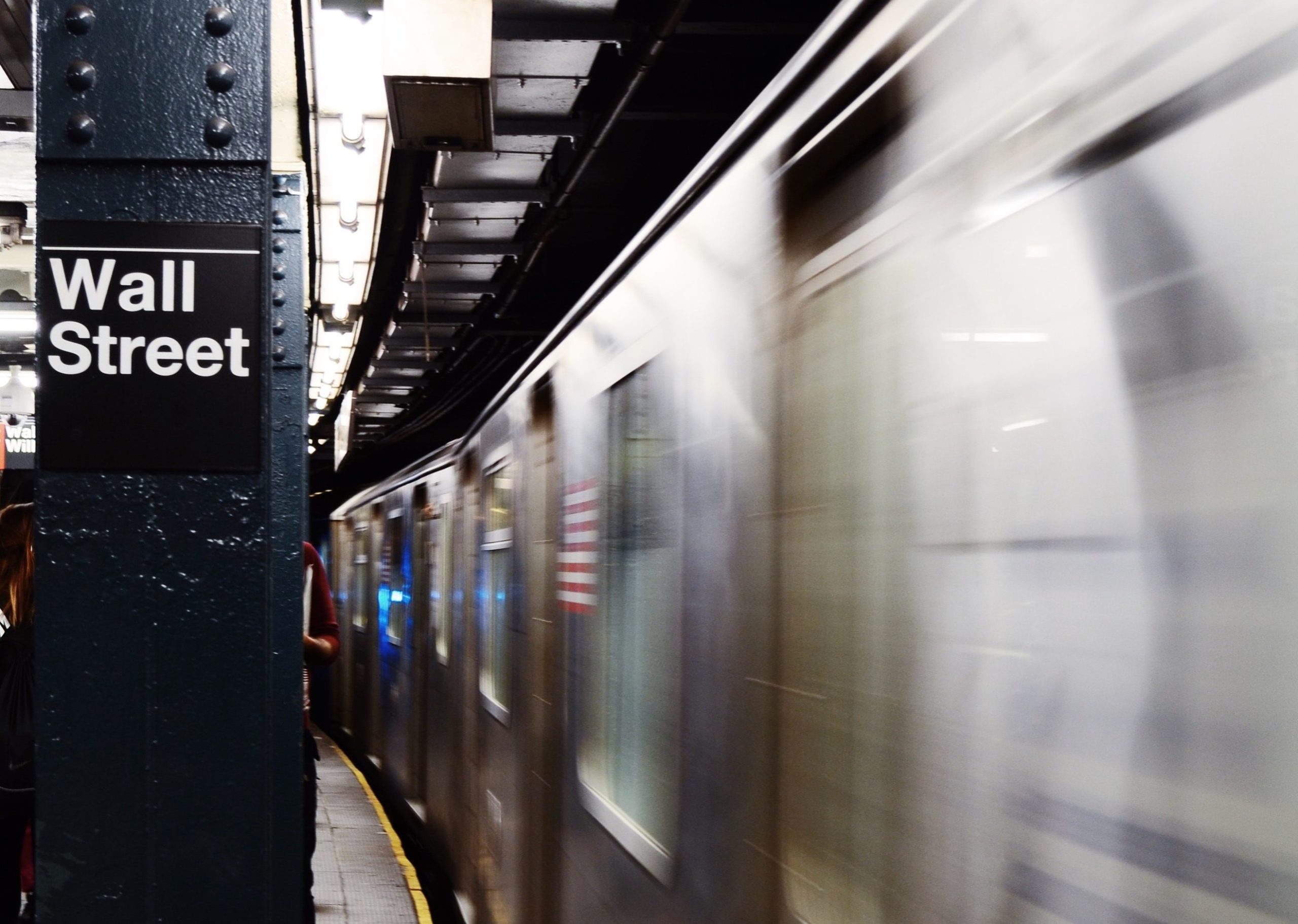 A trip to Wall Street and the Financial District covers almost the entire history of New York City. You can see the Wall Street that began as some of the first Dutch colonies. You can see the Wall Street that hosted the founding fathers as they met in our first Congress and shaped the nation. Or you can see the Wall Street that perpetuates a version of the American dream, where anyone is free to try to make a buck or two (or a billion).
But while Wall Street can seem inspirational, it has also been controversial. Wall Street has been the topic of some serious debates. Events on Wall Street have been responsible for real economic policy, federal regulations, social protests, fortunes made, and fortunes lost. Whichever version of Wall Street you're interested in, if you visit for a tour, you're sure to gain some clues about how it helped make New York City one of the best cities in the world.