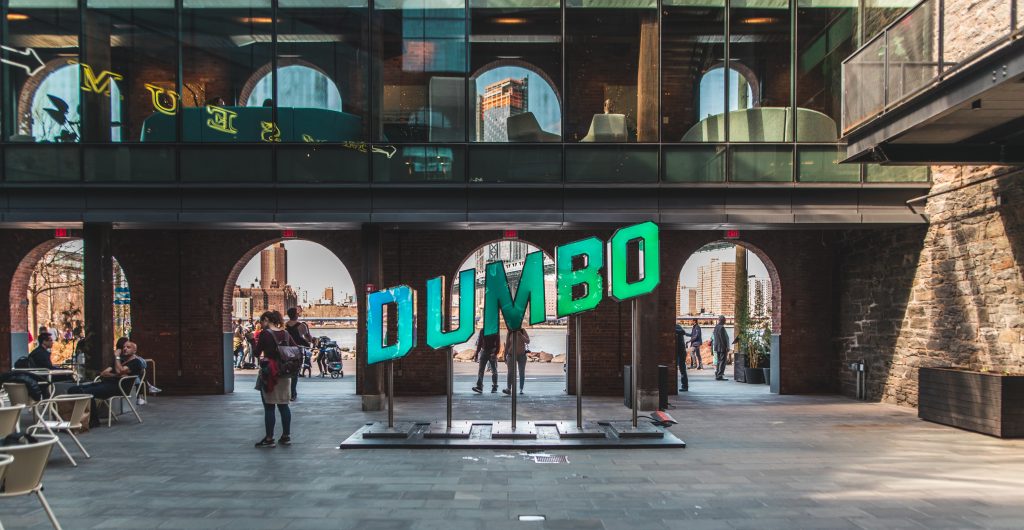 Brooklyn has some of New York's most exciting sites and neighborhoods. One of the most famous, DUMBO, has earned quite the fan base, partially due to its catchy name.
This waterfront neighborhood has a rich and fascinating history, plus a lot of things for visitors to enjoy. In this post, I'll take you on a deep dive into DUMBO and everything the area has to offer — including the picturesque Brooklyn Bridge Park.
Get to know DUMBO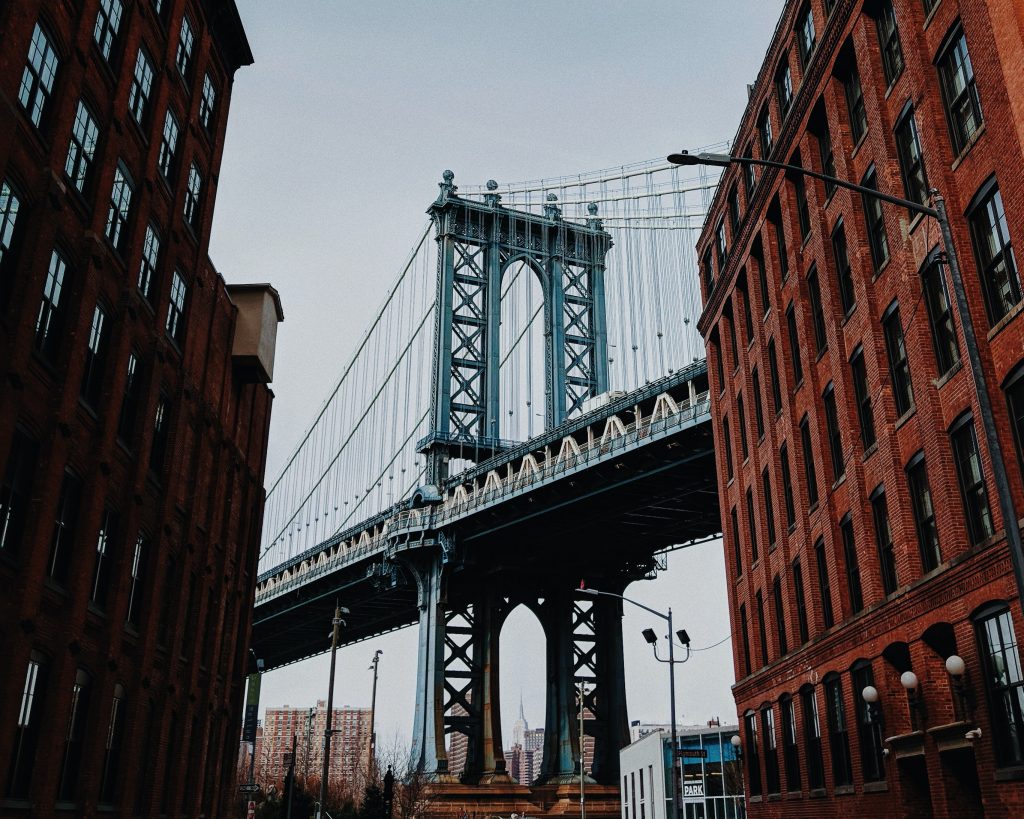 Brooklyn's DUMBO neighborhood might be small in size, but that doesn't take away any of its charm and character. Even the name itself is a kitschy acronym — standing for Down Under Manhattan Bridge Overpass.
The exact boundaries of the area are always up for debate, but most people consider DUMBO to be between the Manhattan Bridge and Brooklyn Bridge and as far east as Vinegar Hill.
History of the DUMBO neighborhood
At first, the neighborhood was actually a very busy ferry landing, full of industrial and warehouse buildings, manufacturing machinery, paper boxes and Brillo soap pads. The Fulton Landing connected passengers to Manhattan via ferry. You can still see remnants of a railroad track that ran through the neighborhood in the early 1900s.
Fun fact: The cardboard box was even invented in DUMBO, by a Scottish immigrant named Robert Gair. His fame resulted in the area commonly being known as Gairville.
Things began to change in the 1970s, after the deindustrialization of New York City brought an influx of artists to the area, many of whom were seeking inexpensive apartments and spaces for studios. The name DUMBO came about in 1978, as a ploy to deter developers with what they considered to be an unattractive name.
This didn't exactly work. At the end of the 20th century, developer David Walentas bought the entire neighborhood and transformed it into an upscale residential and commercial community.
Industrial factories turned into art galleries, tech startups, and spacious luxury lofts. The building where the cardboard box was invented is now home to Etsy. Because of the large number of tech companies (500 in just a 10-block radius), many people refer to DUMBO as "the center of the Brooklyn Tech Triangle."
Today, it's Brooklyn's most expensive neighborhood and home to 25% of NYC-based tech firms.
What to do in DUMBO as a tourist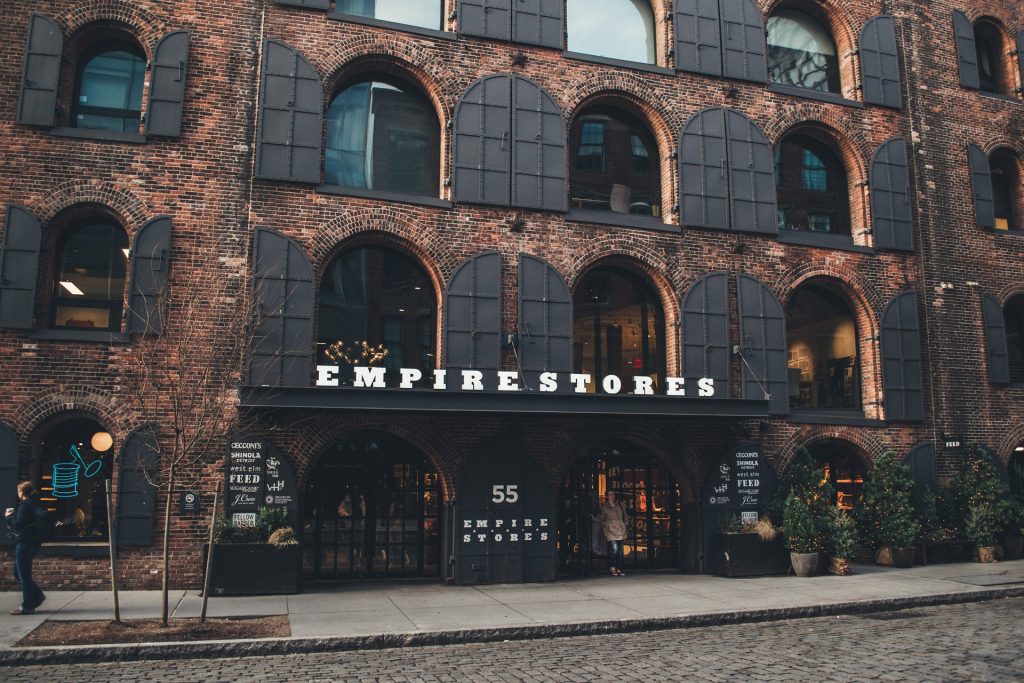 With all this talk of business and technology, you might be fooled into thinking the area isn't a fun place to visit. In reality, it's one of Brooklyn's most fascinating and dynamic neighborhoods.
As mentioned earlier, DUMBO is considered to be one of New York City's premier arts districts. There's a number of art galleries and performance spaces, including the Klompching Gallery and St. Ann's Warehouse.
Along with the fine art, there's plenty of top-of-the-line eateries, including:
Jacques Torres chocolate factory
Grimaldi's pizza
Ample Hills Creamery
The River Cafe
Butler Bakery
Interested in shopping? Check out the recently renovated Empire Stores on Water Street. What used to be a coffee warehouse during the Civil War is now a huge retail space with stores like West Elm, Shinola and a branch of the Brooklyn Historical Society. There's even a new Time Out Market food hall with over 20 local vendors.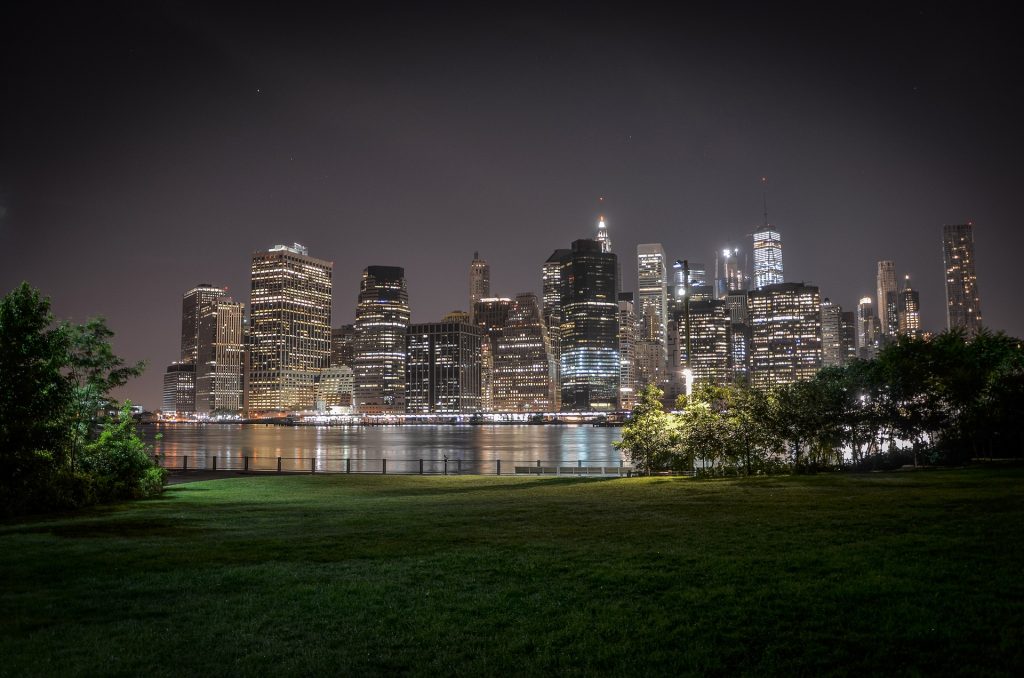 You'll also find a number of public outdoor spaces:
Brooklyn Bridge Park (more on that later)
The Cliffs, an outdoor climbing gym and the largest of its kind in North America
The Archway, which hosts the Brooklyn Flea every Sunday from April to October
Finally, there's Gleason's Gym. This is the oldest boxing gym in New York — in its time training many legends like Muhammad Ali and Mike Tyson.
Brooklyn Bridge Park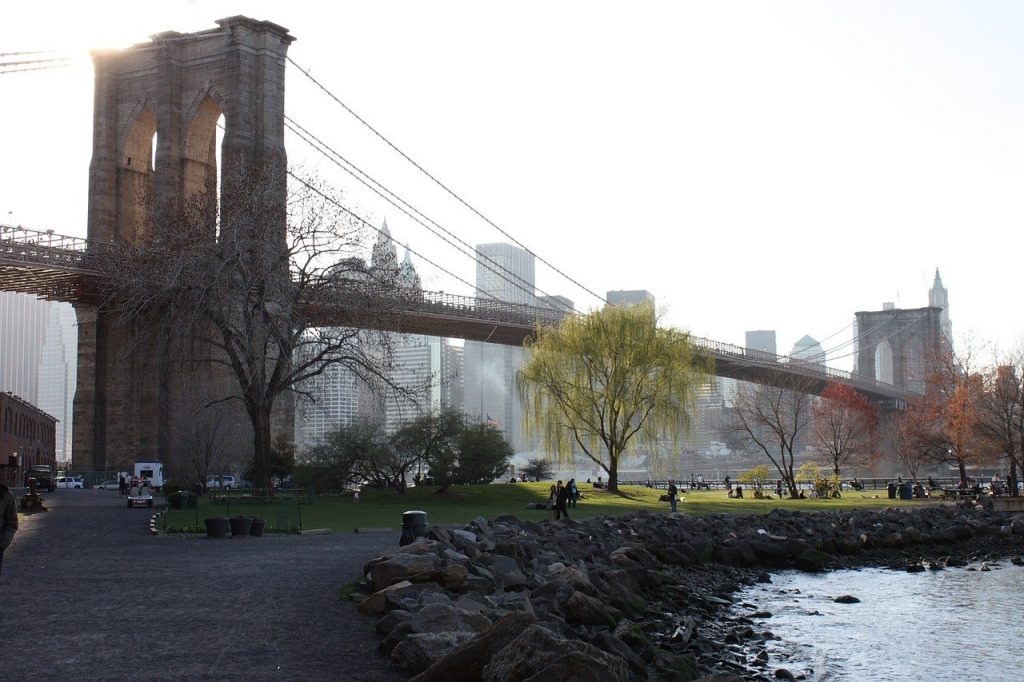 Brooklyn Bridge Park is one of the top attractions in DUMBO and a wonderful place to spend some time when visiting Brooklyn.
The park itself used to be a bustling ferry landing, starting with the introduction of Robert Fulton's steam powered Fulton Ferry Company and the resulting revolution of travel and trade across the East River.
However, after the opening of the Brooklyn and Manhattan bridges and the advancement of trade technology and transportation, the area fell into neglect. By the 1980s, what was once a crowded port, was now barren and debilitated.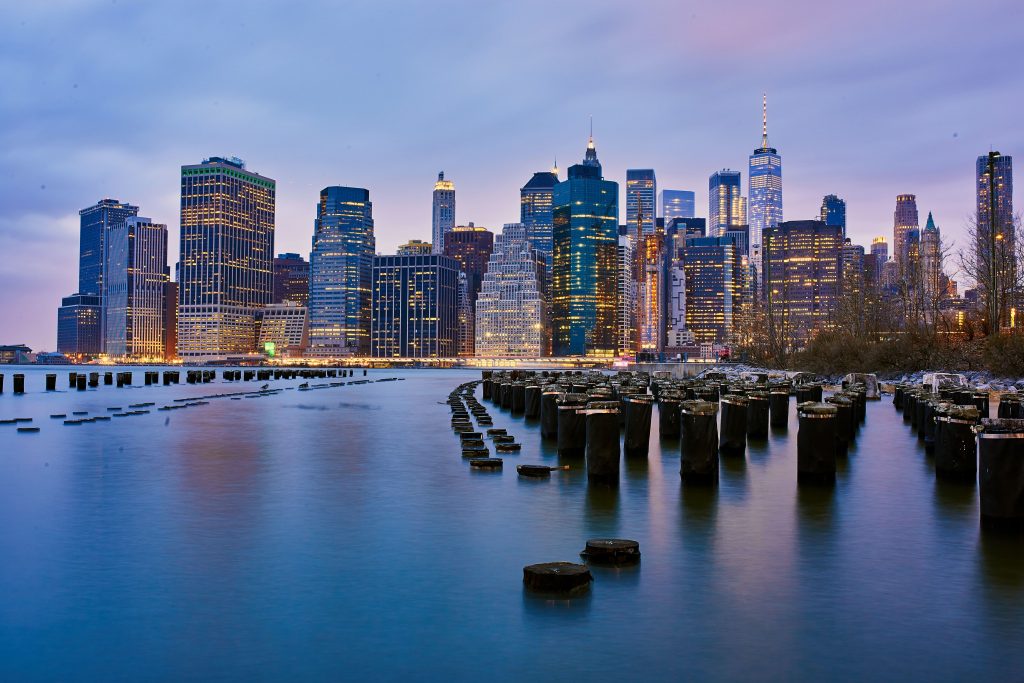 The site was reevaluated after plans were announced to sell it for commercial development. After a long push for a public park, the Downtown Brooklyn Waterfront Local Development Corporation was created in order to take on the planning.
The first section of the park officially opened in 2010. Today, it extends 1.3 miles along the East River, along all the old cargo shipping and storage complexes.
On top of beautiful Lower Manhattan views, visitors to the park can also experience the lush lawns, trees and flowers. Plus, you get the unique experience of actually interacting with the water, with kayaking and beaches built right into the waters edge.
Everything to do in Brooklyn Bridge Park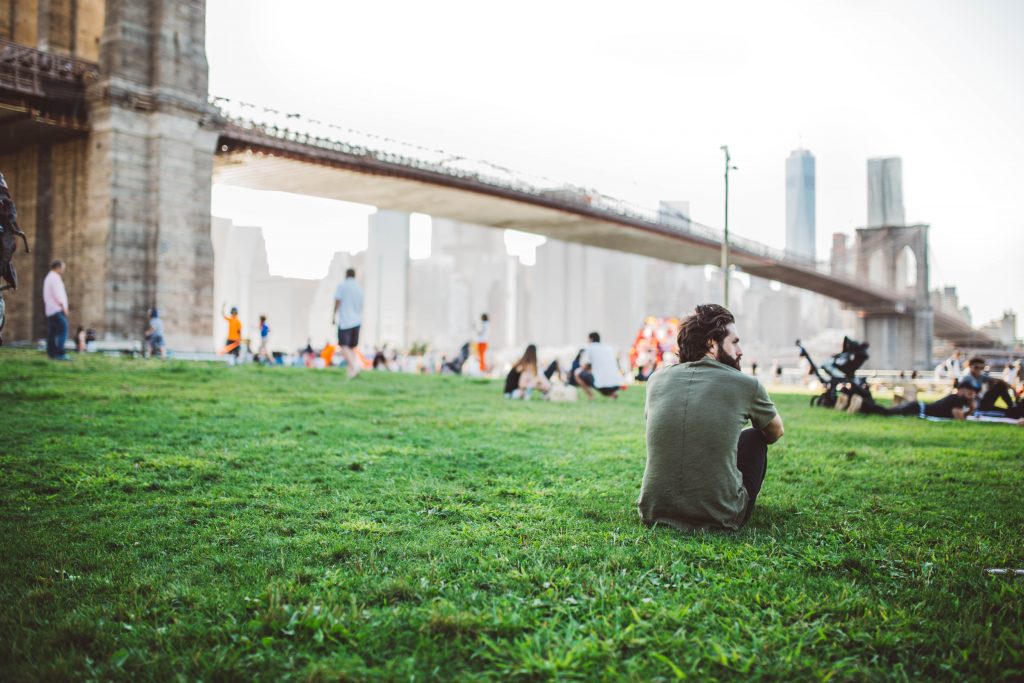 The park offers lots of ways to enjoy nature. If you're interested in sports or enjoying the outdoors, this is the place to be. You can:
Ride your bike
Play basketball
Kayak
Go bouldering or rock climbing
For the kids, there's Jane's Carousel and multiple playgrounds.
Or just relax on one of the many lawns or waterfront beaches and admire some free public art. While you're there, look out for hundreds of bird species that come to enjoy the park as well.
Brooklyn Bridge Park also keeps up a busy events calendar. Check the calendar before you go so you can see what scheduled activities will be going on during your visit. Many of these are free. Here are some of my favorites:
Yoga classes
Stargazing
Seining (catching and releasing water critters to get a closer look)
Scavenger hunts
Outdoor movies with a view
Tips for visiting Brooklyn Bridge Park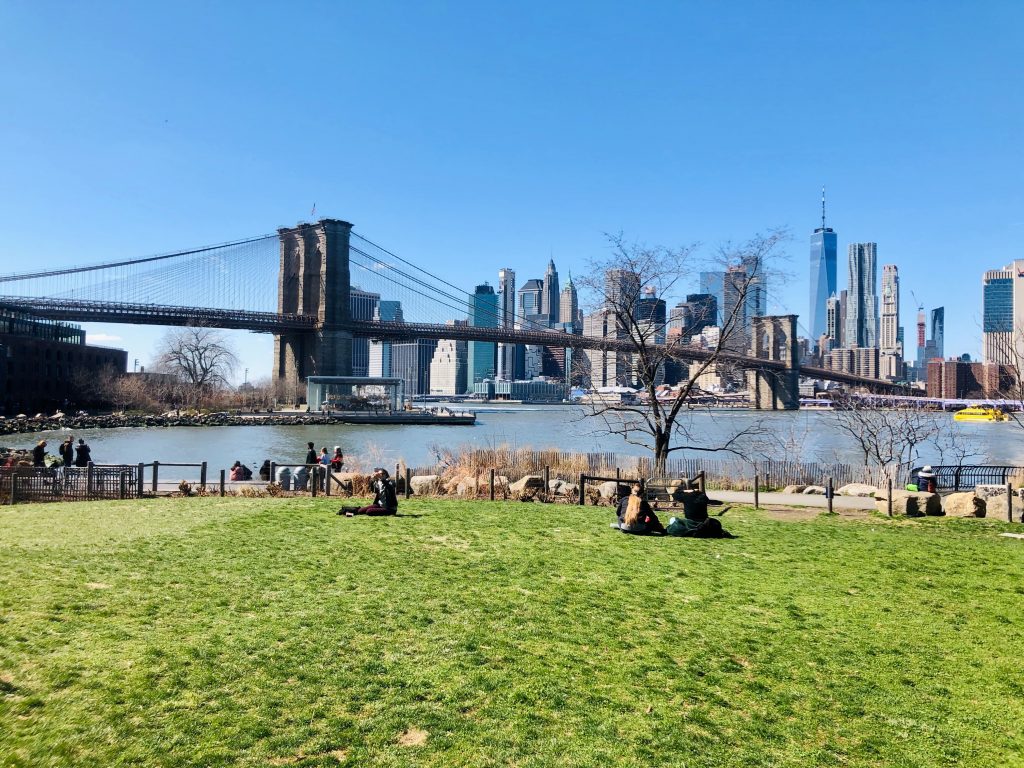 To be even more prepared for your visit, here's some great tips to know before visiting Brooklyn Bridge Park:
Different areas of the park open and close at different times, but the majority of it is open from 6 a.m.-1 a.m.
The park is free to enter.
Restrooms are located at Pier 6, Pier 5 Uplands, Pier 2, in 99 Plymouth and in the Empire Stores shopping center.
There is parking nearby, but it's very limited. There are some metered parking spaces (with a three-hour limit) in a public parking lot on Furman Street near Pier 2. Near Pier 6 and Pier 1, there are two other paid parking lots.
For more helpful information, take a look at the park rules and regulations.
How to get to DUMBO and Brooklyn Bridge Park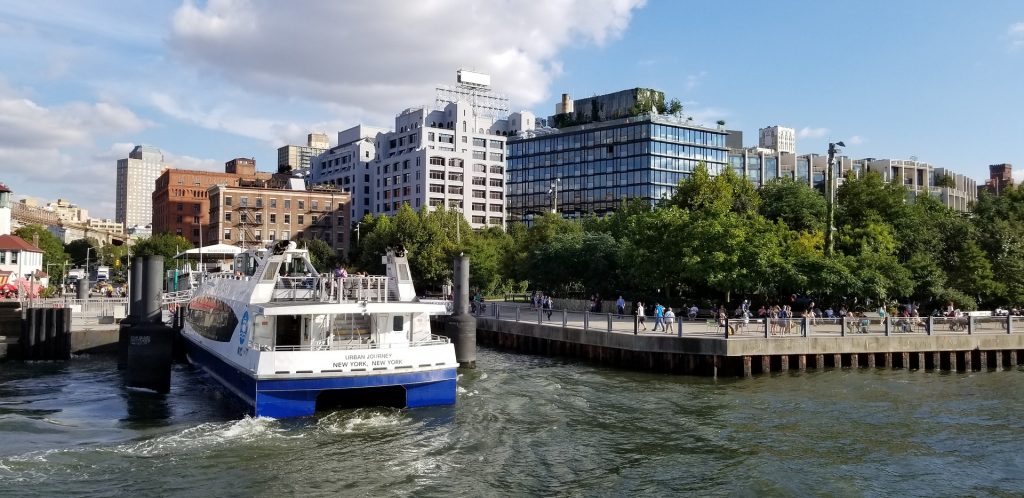 Subway
If you plan to take the train, you have a few options:
A/C Trains to High Street
F Train to York Street
2/3 Trains to Clark Street or Borough Hall
R Train to Court Street
4/5 Trains to Borough Hall
Ferry
There are two ferries that bring you directly to Brooklyn Bridge Park — the NYC Ferry and the Governor's Island Ferry.
The Governor's Island Ferry only operates on weekends, but it brings you back and forth from Governor's Island to Pier 6 at Brooklyn Bridge Park. If you have plans to visit Governor's Island for the day, this is an easy way to add the park and DUMBO to your visit. Tickets can be bought online.
The NYC Ferry is a transportation service that costs only as much as a subway swipe. There are various routes throughout New York Harbor. To get to Brooklyn Bridge Park/DUMBO, you'll want to take the South Brooklyn (or Yellow) route from Pier 11 at Wall Street or the Corlears Hook Ferry terminal in the Lower East Side. From Corlears Hook, the first stop is Pier 1 — DUMBO and the northern end of Brooklyn Bridge Park. From there, the ferry will stop at Wall Street and then at Pier 6, the southern end of the park.
If you're interested in taking the ferry, tickets are $2.75 and can be bought either in the NYC Ferry app or at a ticket vending machine on one of the landings.
Give Brooklyn a try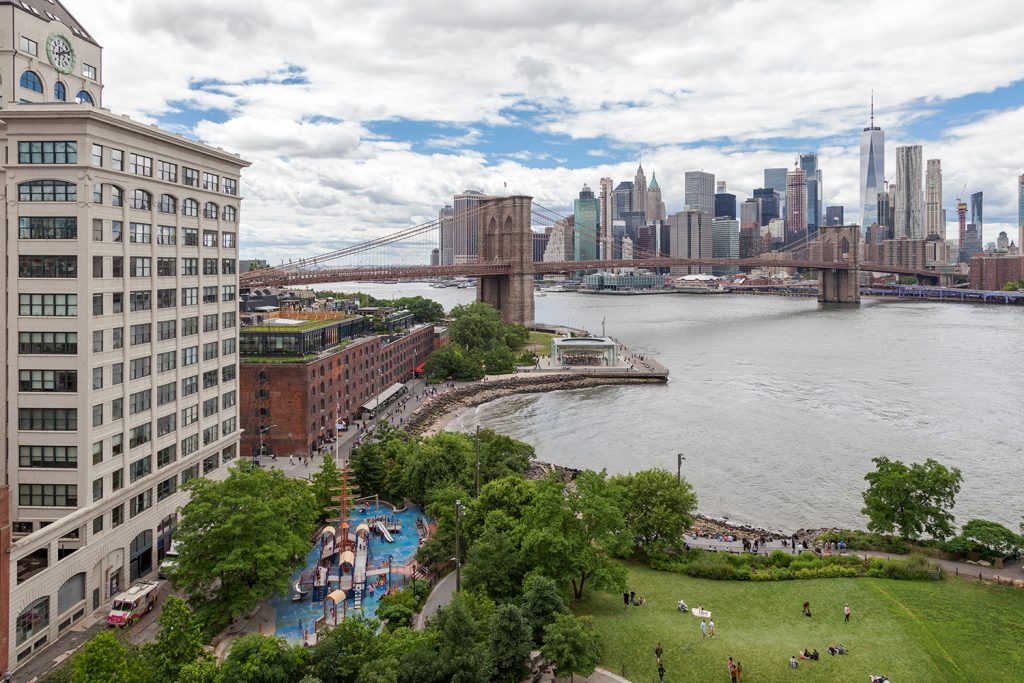 Hopefully by now you've discovered that it's worth exploring other places in NYC besides Manhattan on your visit. If you want a way to sample Brooklyn and more of New York's beautiful boroughs, a bus tour of Brooklyn, Bronx, and Queens — and starting in Manhattan — might be just the ticket. You'll travel with one of our local, expert guides so we can show you all the best sites without any of the hassle of navigating or itinerary-planning.
No matter how you decide to explore, it's definitely worth your time to check out the Brooklyn waterfront and DUMBO neighborhood. As a New Yorker, I can tell you it's a classic NYC experience you don't want to miss.