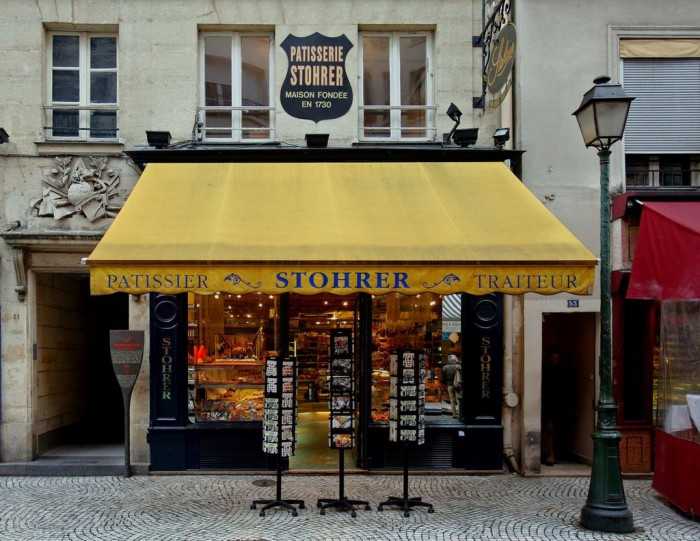 6. The oldest pastry.
Paris is the perfect place to have a treat with your coffee and if you are looking for something sweet why not to visit the oldest bakery in Paris! In 1725, Louis XV married Marie Leszczynska,daughter of King Stanislaus of Poland. And then, in 1730 Nicolas Stohrer king's pastry chef follows her and opended his pastry at 51 rue Montorgueil in Paris' second district.
7. The oldest candy shop.
A la Mère is a true original located at 35 rue du Faubourg-Montmartre in the 9th district for over 250 years. Created in 1761, this big old store, with its tiled floor à l'ancienne and its vintage pendant lights, is just across from the Peletier metro. Take a trip back in time and try one of their 1,200 products featuring candies from every French era and region.
8. The oldest shopping mall
In a city known for specialty shops the concept of a department store was met with some skepticism but ultimately created a sensation. The very first department store in the world is here in Paris built in the second half of the nineteenth century in 1872. Le Bon Marché is located at 24 Rue de Sèvres in Paris' 7th district still enjoys great popularity and attracts fashion lovers. Even if we don't have plans for shopping, it's definitely a "must see" because of the interior of this unusual building.And guess who created the steel wall foundations? None other than Gustave Eiffel!
9. The oldest cinema.
If you want to feel like a local and slow down to visit the cinema this is a perfect place for you! This amazing pre-war building was created in 1920 by architect Henry Zipcy. Le Louxor Palais Du Cinema is the oldest movie palace of Paris and was beautifully restored in 2013. It continues to welcome visitors to enjoy a film and a piece of Parisian history.
10. The oldest restaurant.
Let's finish our Paris time travel at one of it's most romantic places, the oldest restaurant in Paris. La Tour d'Argent (15 Quai de la Tournelle, 75005 Paris) has a storied history of famous guests dating back to 1582. In addition to the beautiful view, we can find here traditional cuisine.Was even immortalized on the pages of Ernest Hemingway's (A Moveable Feast) and Marcel Proust's (In Search of Lost Time) books. Here's also one of the places were icons like Marlene Dietrich or Charlie Chaplin had their dinner.
Created by Joanna and Linda for Paris Tour 1