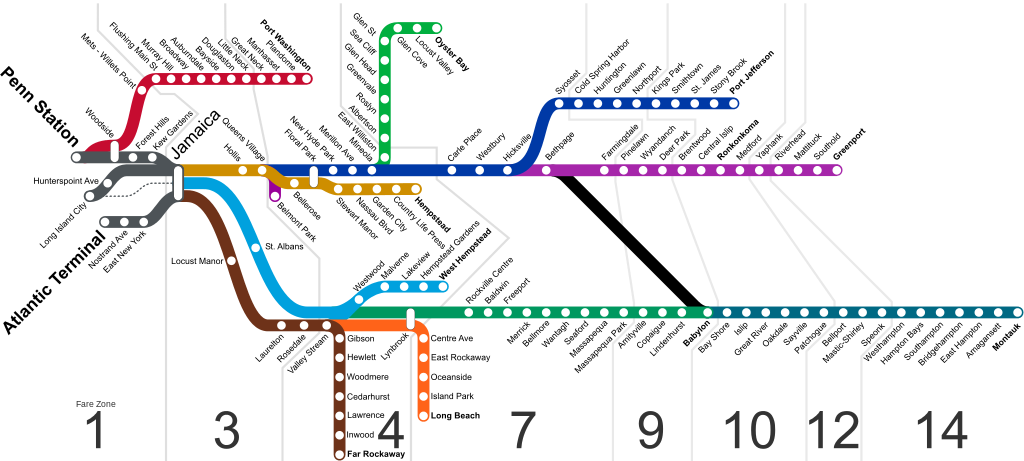 According to the MTA (Metropolitan Transportation Authority), the Long Island Railroad (LIRR) is the busiest commuter railroad in North America and is "the oldest railroad in the U.S. operating under its original name." Since it was originally chartered on April 24, 1834, the LIRR has served millions of New Yorkers.
There are multiple lines of the LIRR that run throughout Queens, Nassau, and Suffolk Counties. You may purchase your tickets from an MTA employee or a kiosk.
Peak tickets cost more money, so check the LIRR schedule to see if you're traveling during Peak or Off-Peak hours. According to the MTA: "Peak Fares are charged during business rush hours, on any weekday train scheduled to arrive in NYC terminals between 6 and 10 AM or depart NYC terminals between 4 and 8 PM. Off-Peak Fares are charged all other times on weekdays, all day on Saturdays and Sundays and holidays."
If you're on Long Island and heading out to New York City, choose Penn Station as your destination. Make sure you wait for the train on the Westbound platform. If, say, you're leaving Penn Station to Long Island, then make sure you input the correct information into the kiosk and wait on the Eastbound platform.
Once you purchase your tickets, make sure you hold on to them! MTA employees will ask for them. Check out the MTA LIRR website for the latest schedules!