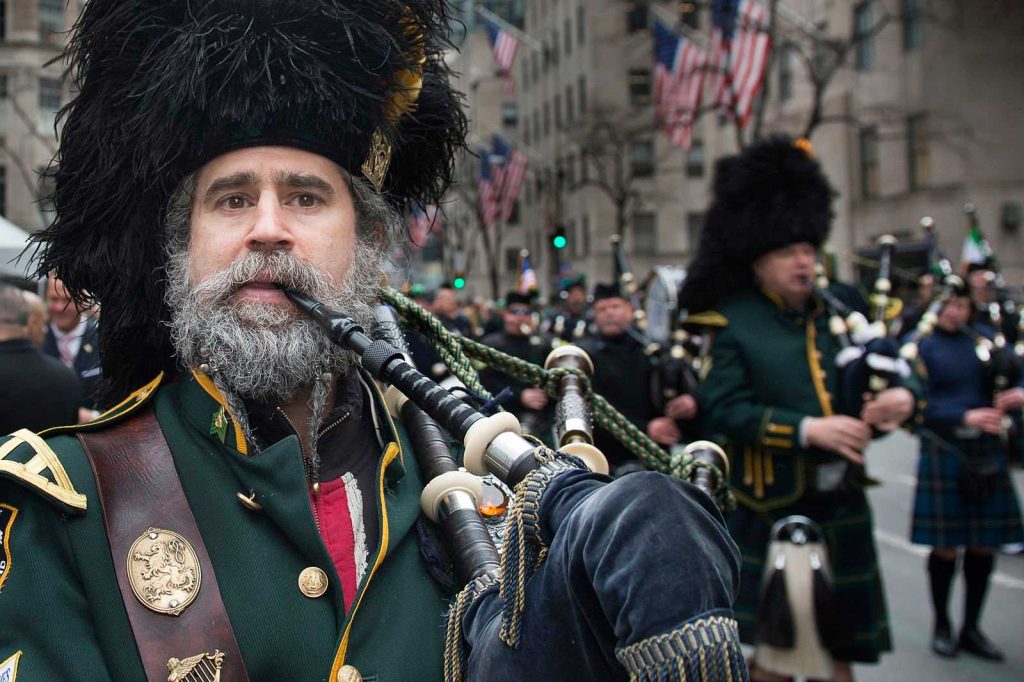 If you happen to be in town for Saint Patrick's Day, get ready for one of the city's wildest, rowdiest and funnest days of the year. There's no other city in America that celebrates the holidays like New York and the same can be said for Saint Paddy's Day. New York is one of the top destinations in the world for all related celebrations. You may think the only way to participate is to wear something green, or maybe you are one who would prefer to forego the drinking. Well, luckily there are so many other fun and festive activities happening around the city that you will surely not want to miss. Check out all the different ways you can celebrate Saint Patrick's Day this year!
1. NYC Saint Patrick's Day Parade
This infamous celebration takes place every year on March 17 in Manhattan. It is one of the world's largest parades, with over 200,000 marchers and 2 million spectators. You can view the parade anytime from 11 am to 5 pm along 5th Avenue. It will begin at 44th Street, marching uptown, past St. Patrick's Cathedral, and terminating near the American Irish Historical Society at 79th Street. Anywhere along the route is an ideal place to stand, but the earlier you arrive, the closer to 5th Avenue you will be, and the better your view will be as well. Rather than displaying floats, onlookers will see bands, dancers, policemen, firemen, military men, etc. Floats, automobiles and commercial aspects are prohibited within the parade march. It is definitely going to be a popular event, but by law no one is allowed to bring alcohol to watch the parade, so it's a comfortable space for families. If you wish to avoid the crowds, the parade can also be viewed live on NBCNewYork.com. For more information, check out the website here.
2. Learn About the Irish Mob
If you're interested in celebrating Saint Patrick's Day by learning a bit more about the Irish in NYC, check out Hidden New York Tours! As a special just for Saint Paddy's Day they are presenting The Irish Mob of Hell's Kitchen: From the Gophers to the Westies. This tour covers the violent history and notorious gangs of one of New York's most famous neighborhoods. See and learn about the places where murder, violence and torture ensued. Meet the members of the Westies, one of New York's biggest threats until the 1980's. Tours are offered at both 6:00 p.m. and 9:00 p.m on Saint Patrick's Day, as well as multiple days throughout the month. It's a great opportunity to celebrate the impact of the Irish in New York and learn more about the overall, colorful and exciting history of the city.
3. Join a Pub Crawl
For a more traditional approach, spend the day drinking away throughout many of the bars in the city. The Official St. Patrick's Day Luck of the Irish Pub Crawl features a large number of deals and events that you can get involved in, at a very reasonable price. This year over 50 bars are participating, meaning you will have a wide selection to choose from once the festivities are in full swing. Participating venues include Madison Square Tavern, Village Pourhouse, PS 450, Blarney Stone and Bar None. Registration is simple. Purchase tickets online and arrive at your chosen bar to begin. Once you arrive you will meet the staff and receive a wristband, a full map of participating venues and the list of drink specials. Your journey will bring you through multiple NYC neighborhoods- the East Village, Chelsea, Murray Hill- meaning you can also take some time to explore these areas as well.
4. Head to a Party
Like any special event in the city, there are multiple venues hosting wild dance parties. For Saint Patrick's day, head to The Late Late on Houston Street for an all day rage. The party starts right at 2:00 pm, allowing you the entire afternoon and evening to dance and drink. What better holiday for a "dayger" than Saint Patrick's? Two floors of partying, drink specials and Irish vinyl records are available to you for only $10 a ticket. Spots go pretty quickly so be sure to get those tickets a.s.a.p. Ivy House Studios is hosting another event in a Bushwick Warehouse. PIXELATED the Party will feature drinks, music, art and a chance to dance the night away, well into the wee hours of the morning. It all kicks of at 10:30 on Saturday the 17th.
5. Visit the Merchant's House Museum
Located on 4th Street in the neighborhood of NoHo, the Merchant's House Museum is the city's one and only preserved 19th-Century home. The exterior is quaint and simple, you would simply walk right by without knowing what you are looking for. Traditionally open as a museum, focused on a wealthy merchant family and their Irish servants, this Saint Patrick's Day will feature a special tour that pays tribute to the servants themselves. By exploring the servants quarters, you will learn about the daily struggles and triumphs of these Irish immigrants who served as staff, as the seaport city of New York was expanding day by day. The tour will occur 3 times throughout the day, at 12:30, 2:00 and 3:30 p.m.
6. Check Out Loreley Beer Garden
Tucked away in the Lower East Side is one of New York's most unique and enjoyable beer gardens. Saint Patrick's Day will feature a Kegs & Eggs, $15 Liter Steins from 10 am- Noon, Brunch, and $7 for all Guinness Pints, Jamesons, Jagermeisters and Green Lager. At 12:00 p.m. the heated, outdoor beer garden will perform the ceremonial keg tapping of the Guinness. The party goes all day and all night long, and admission is absolutely free. That isn't where the fun ends, the entire weekend from Thursday through Sunday will be hosting events, giving you the wonderful opportunity to celebrate the holiday over and over again. Loreley Beer Garden celebrates like no other bar in the city, and their annual traditions help make Saint Patrick's Day complete.
7. Take A Whiskey Factory Tour
Searching for a more sophisticated way to celebrate? Look no further. Kings Country Distillery will be inviting guests for an exclusive 90-minute tour, with a behind-the-scenes look at all the meticulous steps involved in distilling, followed by a delightful whiskey tasting. The tour is done in tribute to the "whiskey wars" of 19th Century Brooklyn, when whiskey distilling was declared illegal and prohibited throughout the borough. Tickets are only $20, but should be bought in advance. There is only one tour offered on Saint Patrick's Day, so be sure to purchase before it's too late!
8. Eat & Drink
Perhaps you are looking to get a good drink, but not interested in the pandemonium that is a pub crawl. All throughout New York, bars and restaurants will be celebrating in their own way as well. If you've never been, definitely stop by McSorley's Old Ale House. This famed Irish Pub has been a New York legend for over 160 years. Named after one of the city's most notorious Irish street gangs, the Dead Rabbit will be serving their renowned Irish coffee, as well a bit more of a comfortable and possibly more subdued atmosphere. The Haven Rooftop will be offering their $5 "special green shot" on March 17 only. Finally, for some traditional Irish grub, grab a table at Molly's Pub & Restaurant Shebeen, one of the most authentic Irish bars in the city. First opened in 1895, they will be serving up some of the best corned beef and cabbage in New York!