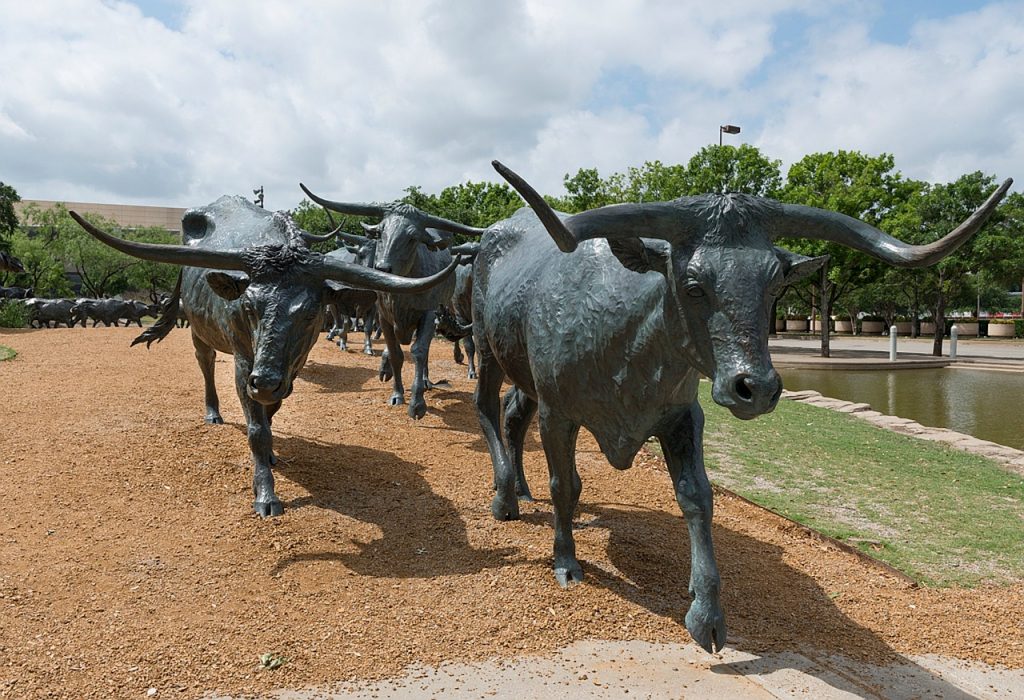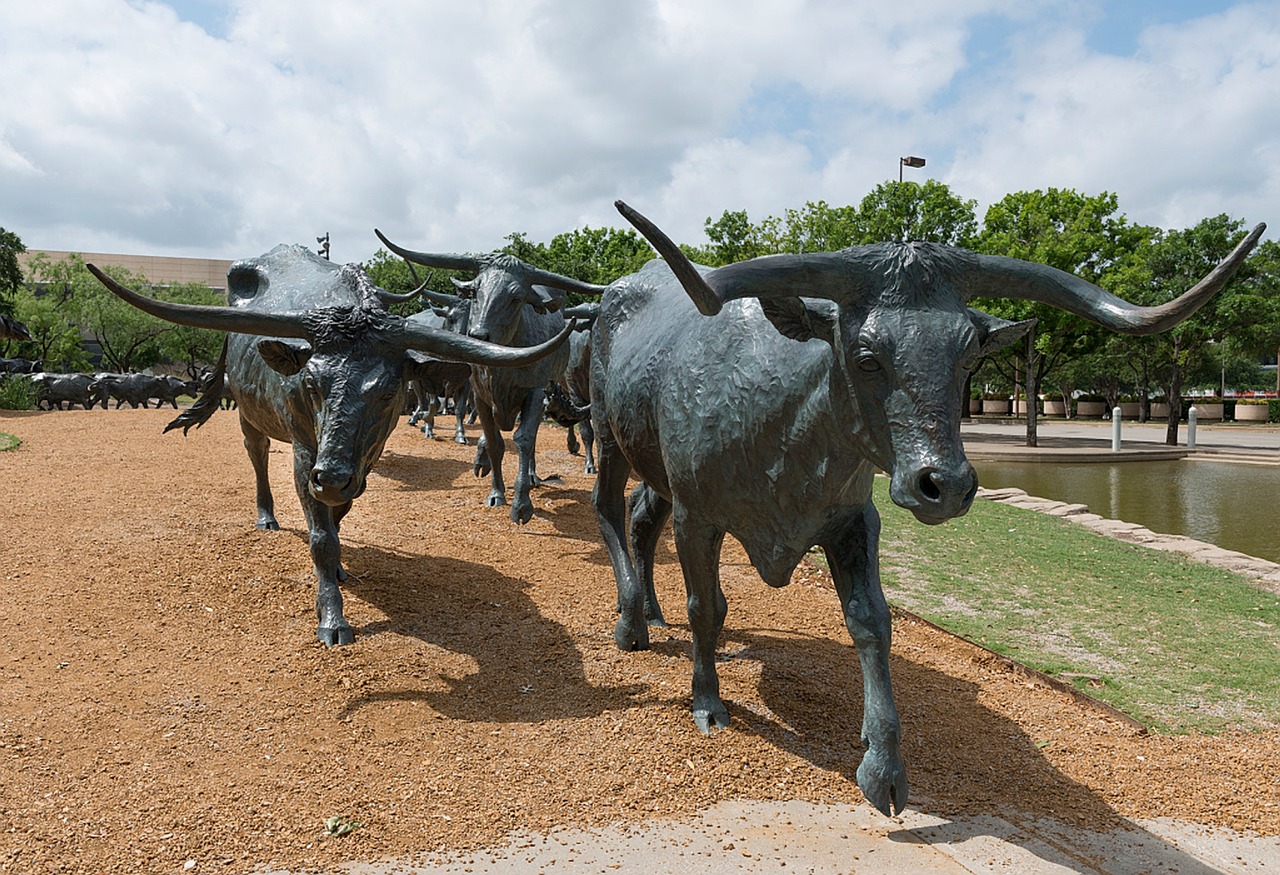 Mooooove on over, there's a new sheriff in town. Or, cowboys, rather, and their herd of cattle — a whopping 49 steers in total — stampeding through Downtown Dallas.
We're in Pioneer Plaza, one of the most famous sights in downtown. Named after the pioneers that founded Dallas in 1841, the plaza, with its bronze sculptures, is one of the most-visited tourist spots in the city.
And with good reason — it's conveniently located in Downtown Dallas, close to a number of other attractions. If you have an event or conference at the Kay Bailey Hutchison Convention Center, which faces the plaza, this is a great place to get out, walk around, and see downtown, all before your lunch break is over. And if you have a whole day to spend downtown, Pioneer Plaza is a nice spot to start your tour.
Sound like a plan? Here, I'll share with you what to do in and around Pioneer Plaza and explain just how dozens of bronze bulls landed in the middle of Downtown Dallas in the first place. Let's take a look.
Dallas: Door to the Wild, Wild West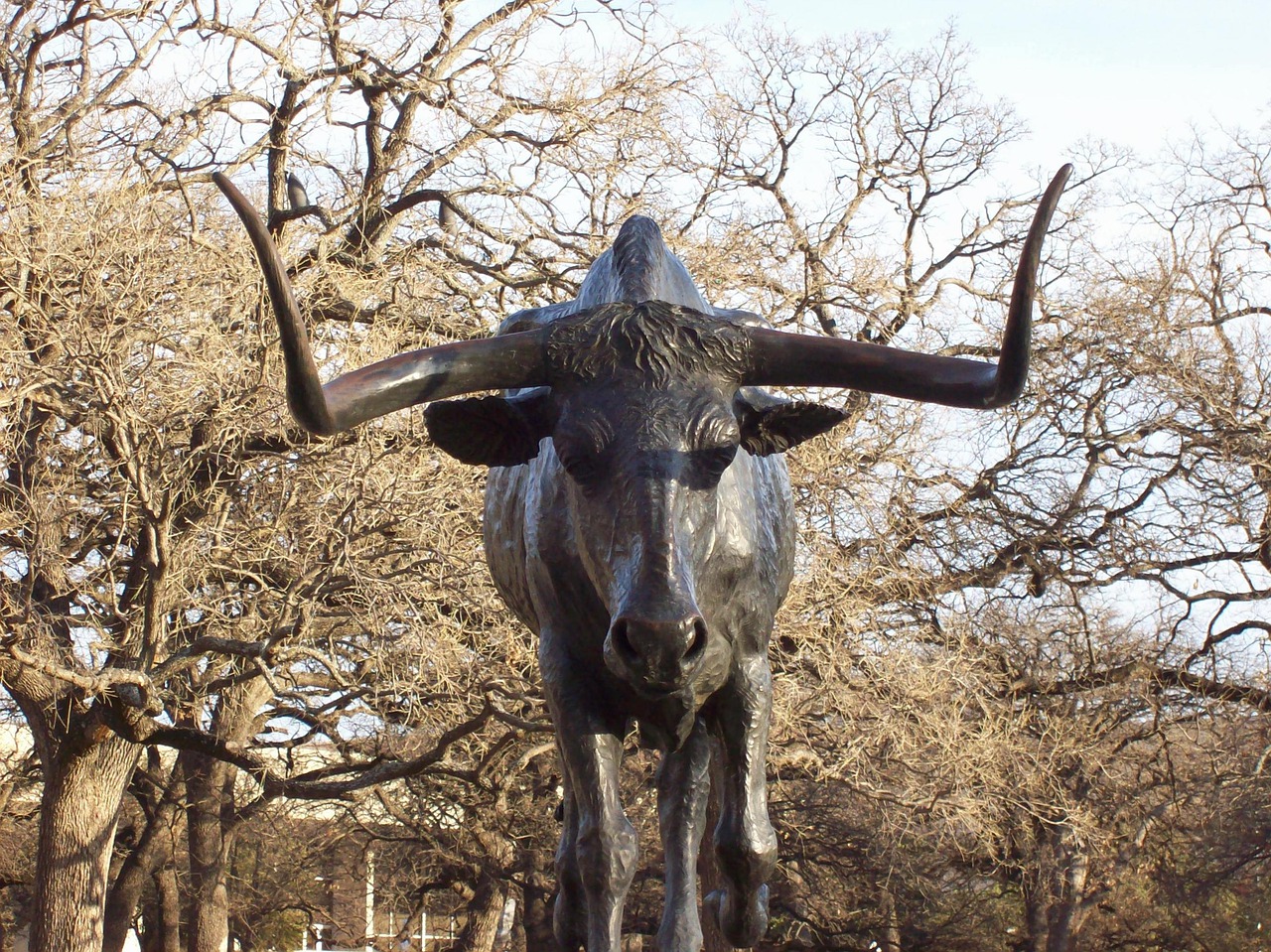 How did Pioneer Plaza get here?
Dallas real estate developer Trammell Crow had the plaza built in the '90s to honor the cattle drivers who passed through Dallas on the Shawnee Trail in the mid-1800s. And while, yes, a few came through town, the much larger Chisholm Trail blazed through neighboring Fort Worth. If you're looking for the real deal, a trip to the Fort Worth Stockyards in Cowtown might be in order.
Despite the questionable historical veracity of the sculptures, they're still a sight to behold. Every one of the bulls has its own individual look, from facial expression down to the hooves. They do all have one thing in common, however — a branded "D" on their sides for Dallas.
Insider tip: Think twice about hopping on the back of one of these wild longhorns. Again, they're pretty tall, and they also have a bronze rod running through the ridge of their spine. Ouch.
Where to Find the Cattle Drive Sculpture and What to See
Pioneer Plaza's sculptures speak to the Texas spirit — they're larger-than-life.
According to Dallas officials, they make up the biggest bronze monument in the world (though that's debatable). These Texas longhorns clock in at 6 feet tall, and they're impressive to see in person. If you can't get out to the range, this may just be the next closest thing.
Pioneer Plaza is right at the intersection of Griffin and Young Street. The group of sculptures also includes three cowboys on horseback, pushing the herd forward. Take a look — some visitors say one of them looks just like John Wayne!
There's also a stream running through the plaza, with native plant life dotted along the dusty trail, not unlike the trail cattle herders would have passed through in the 1800s.
Honoring the Old Guard at the Pioneer Park Cemetery
If you have time after stopping through Pioneer Plaza (which should only take about 30 minutes to walk through), see some real history at Pioneer Park Cemetery, which is connected to the plaza.
The cemetery is actually four older graveyards housing some of the city's earliest inhabitants, including former Dallas mayor John McClannahan Crockett, a relative of Texas' independence hero, Davy Crockett.
What to Do in Dallas Near Pioneer Plaza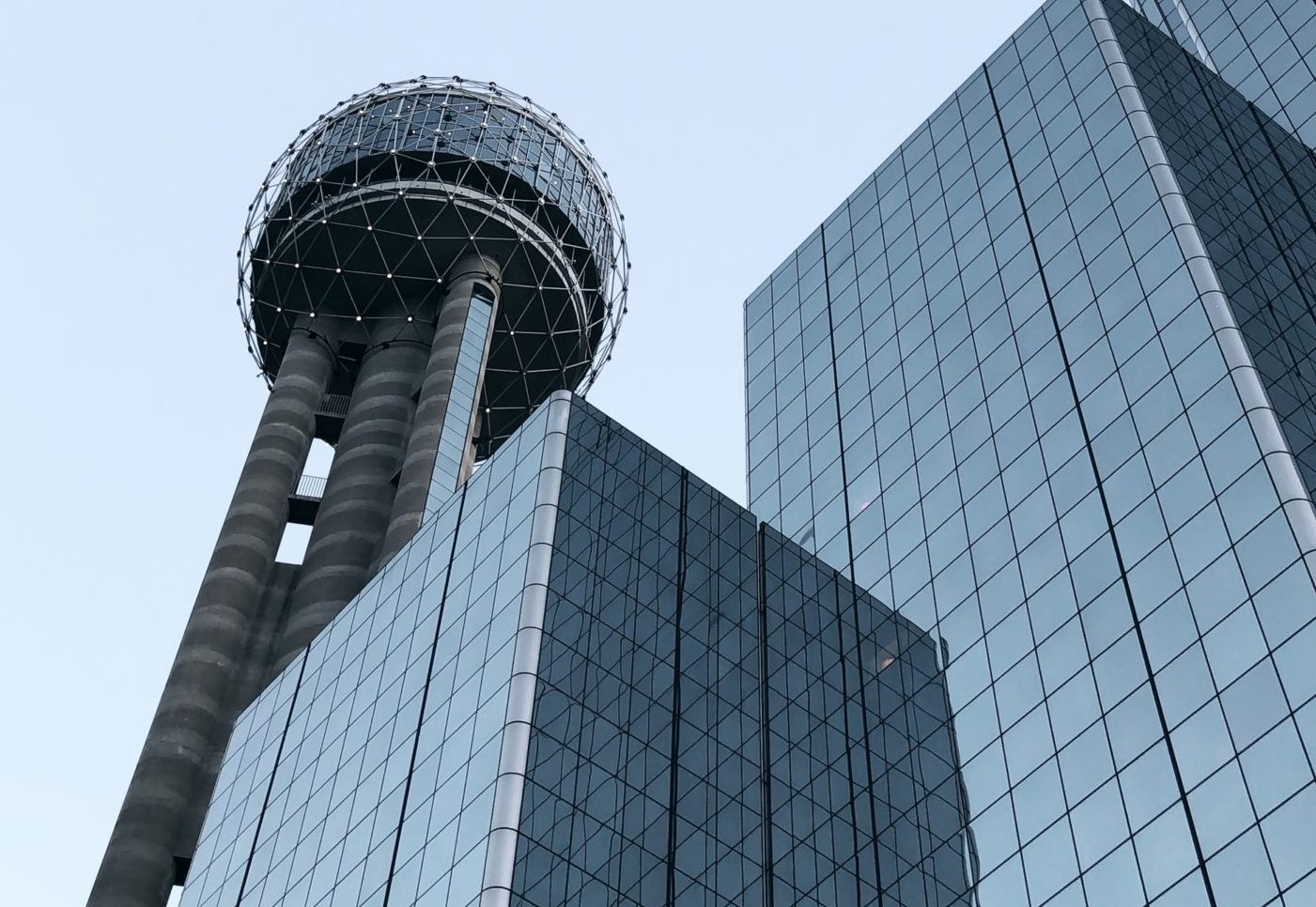 Now, if you're looking to make an afternoon of it, there are plenty of other spots around Downtown Dallas to keep you busy. Here are some options to get you started.
The JFK Connection
The popularity of Pioneer Plaza is topped by just one other spot in Dallas: Dealey Plaza. Even if you aren't a history buff, stopping by the site of President John F. Kennedy's assassination is a must for visitors. You can walk in JFK's footsteps on Nov. 22, 1963, as he made his way through Dallas during a political visit meant to bridge barriers that ultimately turned into a tragedy.
If you're still curious to learn more, head into The Sixth Floor Museum, where you'll see the exact spot Lee Harvey Oswald supposedly took aim at the president and his party.
Perfect Afternoon at the Park
Looking for a more relaxing way to spend the day? Head over to Klyde Warren Park, built on top of Woodall Rodgers Freeway, and sit in the grass, play board games, or grab a snack from any of the food trucks parked along the street.
If you're planning ahead, check online to see if any events are happening that day. The park regularly hosts yoga classes, dance lessons, and movie nights, so there's something for everyone.
Art and Architecture
From Klyde Warren Park, make your way across the street to the Dallas Arts District. The architecture alone is worth seeing: the district has more buildings designed by Pritzker Prize-winning architects than anywhere else in the world.
Insider tip: If you're on a budget, not to worry. Both the Crow Museum of Asian Art and the Dallas Museum of Art are free year-round and worth a visit. The DMA does have rotating special exhibitions that require purchasing tickets to enter. In the past, they've featured world-renowned artists like Frida Kahlo, Jackson Pollock, and Yayoi Kusama.
Ending Your Evening With Views Over Dallas
To finish off the day, head back over to Reunion Tower — colloquially called "The Ball" by many locals — to catch 360-degree city views from hundreds of feet in the air. Depending on when you want to go, you may have to buy tickets ahead of time.
The tower is only a half-mile walk from Pioneer Plaza.
Insider tip: Go just before sunset so you can see downtown by day and lit up at night.
Answers to Your Questions About Pioneer Plaza
Is there parking at Pioneer Plaza?
Yes, there is parking available at Pioneer Plaza. There are a few free spots along both Griffin Street and Young Street for one hour — just enough time to walk around Pioneer Plaza and Pioneer Park Cemetery. If you think you'll stay longer, paid street parking or parking lots are available nearby.
Do I need to buy tickets to Pioneer Plaza?
Absolutely not! Pioneer Plaza, and the cattle drive sculptures, are on public land, though the space is maintained by the Dallas Convention Center. No tickets or admission fee required.
When is Pioneer Plaza open?
Since Pioneer Plaza is an open space, it's technically open 24/7. However, I recommend stopping by during the day — you'll get a much better view, and you'll have time to explore the rest of the city.
So Long, Partner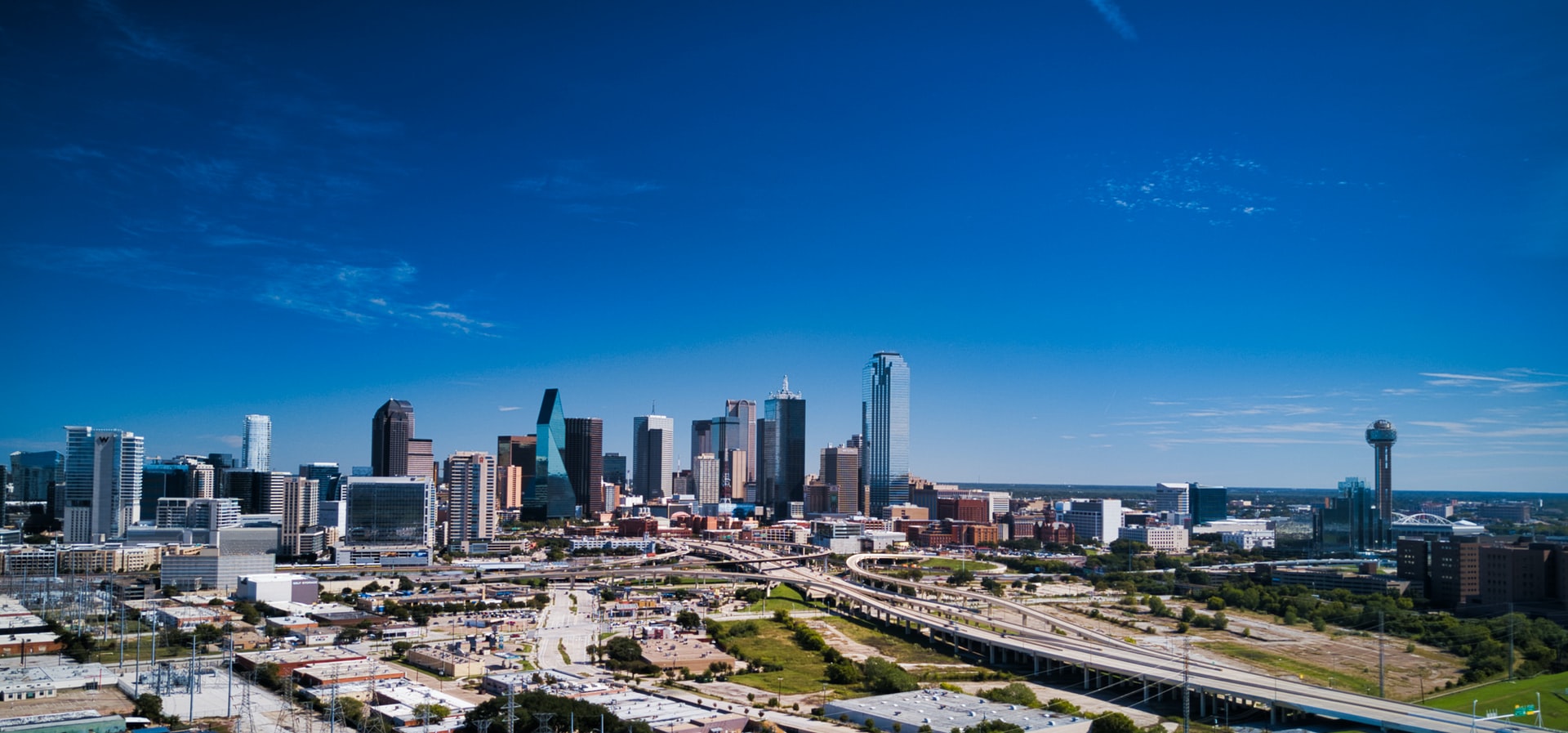 Well, there you have it, folks. While visiting Pioneer Plaza and Pioneer Park Cemetery may be a quick stop on your long itinerary of things to do in Dallas, they're an easy add worth the visit. You can't beat free, and that cattle drive sculpture makes for a classic Texas photo backdrop.
Plus, from Pioneer Plaza, you can launch your tour of downtown. Whether you're looking for a Dallas foodie experience or just want to hit up the museums and admire the outdoor art and architecture, there's a lot within a few walkable blocks. Downtown Dallas is very pedestrian-friendly. There's also plenty of public transport, if you're looking to get around more quickly.
I hope you enjoy seeing these bronze steers thundering through Dallas' Pioneer Plaza, just like the real ones (maybe) did hundreds of years ago.
And remember, everything's bigger in Texas.