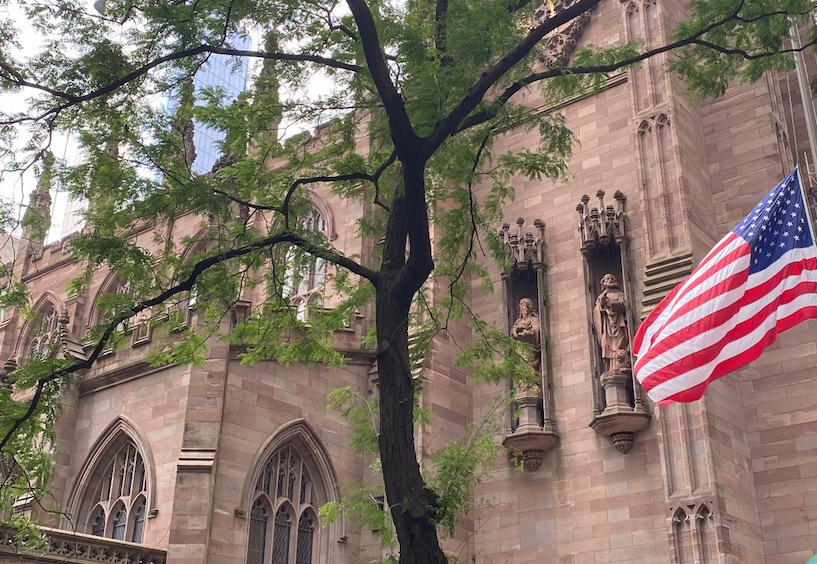 You might have heard that Hamilton hit it big on Broadway, but he's also on Broadway — literally, at 89 Broadway, to be exact, where he's buried.
Trinity Churchyard is just one of the stops in our self-guided walking tour of Hamilton landmarks here in New York. While Alexander Hamilton might have risen in fame more recently, first with the Broadway musical and then again this year with Disney's release of the Hamilton movie, he's been celebrated throughout the Financial District for years.
As a founding father, he left his footprint on America beyond just having his face on the $10 bill. He founded the Federalist Party, set up the U.S. Coast Guard, launched the country's oldest daily newspaper (The New York Post), and created the U.S. Bank while serving as Secretary of the Treasury.
As President Jefferson says in "Hamilton: An American Musical:"
I'll give him this, his financial system is a work of genius.
And that all started here in New York.
So it's no surprise there are a few landmarks, specifically in the Financial District, connected to this famous founding father.
All of these stops are conveniently within walking distance of each other, and we've included an Google Map so you can get directions on the go for your self-guided tour.
Ready?
Let's go.
1. Fraunces Tavern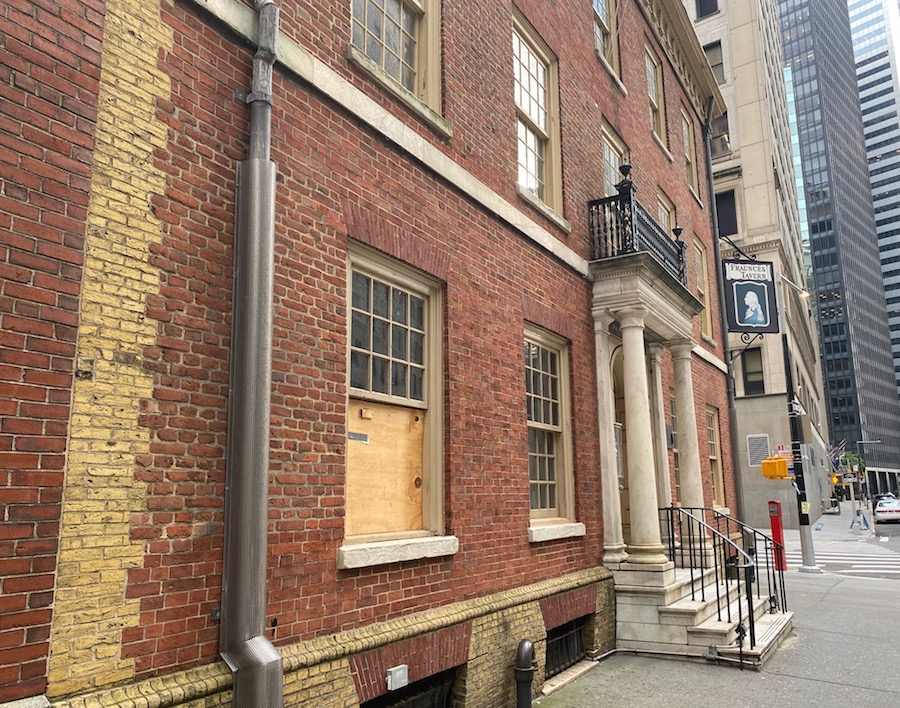 Fraunces Tavern is the oldest restaurant in New York City. It's famous as a place where the Sons of Liberty secret society met during colonial days, and George Washington has dined there, too. But there's also a Hamilton connection — Alexander Hamilton and Aaron Burr met at Fraunces Tavern before their duel on July 11, 1804.
The tavern has carefully preserved its early American history through an on-site museum, worth checking out if you have the time.
2. 57 Wall Street: Hamilton's Home and Office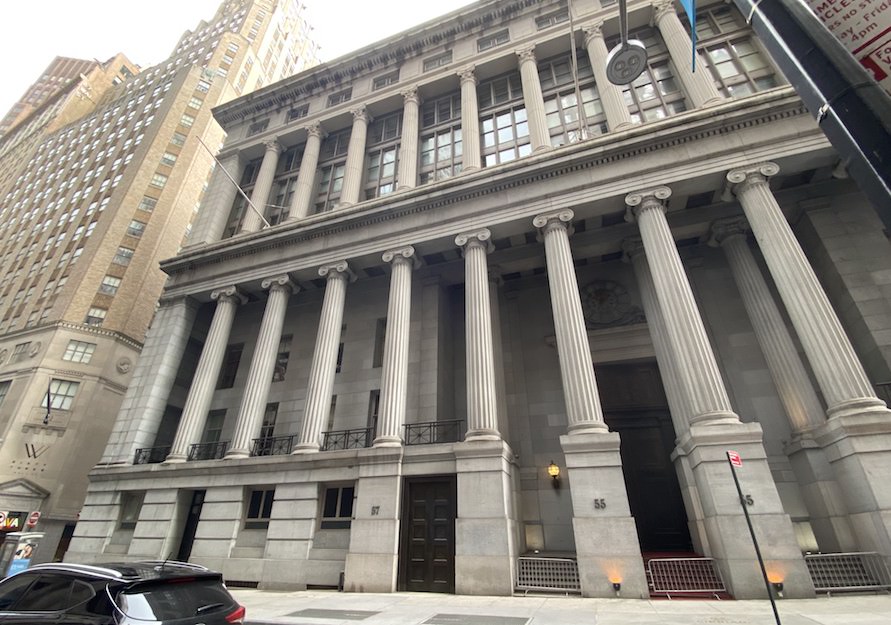 The many-columned building at 57 Wall Street isn't the same building that Hamilton once lived in (that's been torn down — alas!), but it is the place where he practiced law. He worked out of his office here before moving to 69 Stone Street and later to Exchange Place.
Fun fact: When the Hamiltons lived here for 10 years, it was actually 58 Wall Street.
3. 57 Maiden Lane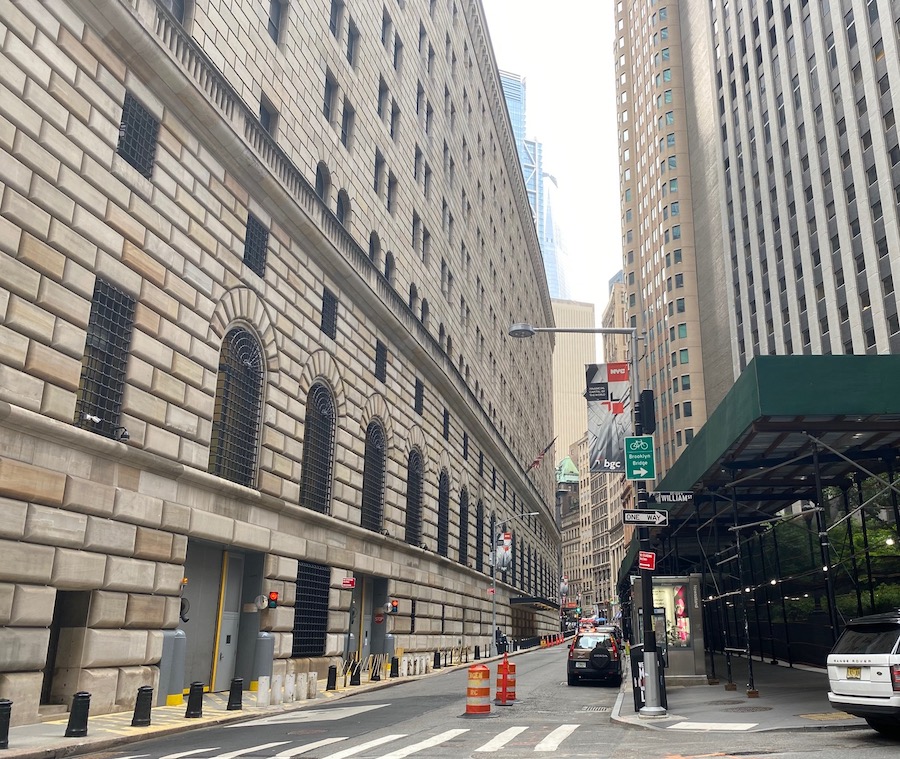 Just a few blocks over, you'll come to 57 Maiden Lane.
There's a story behind this one. One of the biggest political dramas in Hamilton's day was the Compromise of 1790, epically captured in the song, "The Room Where It Happened."
Sometimes called the Dinner Table Bargain, this was a compromise between Thomas Jefferson and James Madison (on one side) and Hamilton (on the other). Hamilton wanted the U.S. government be responsible for state debts, and Madison and Jefferson vehemently disagreed.
But there was something they wanted — to have the U.S capital moved from New York to Washington D.C. The two parties met at Jefferson's New York City home at 57 Maiden Lane and reached an agreement.
Jefferson's house is no longer there, but a plaque stands in its place where you can read all about it.
4. Federal Hall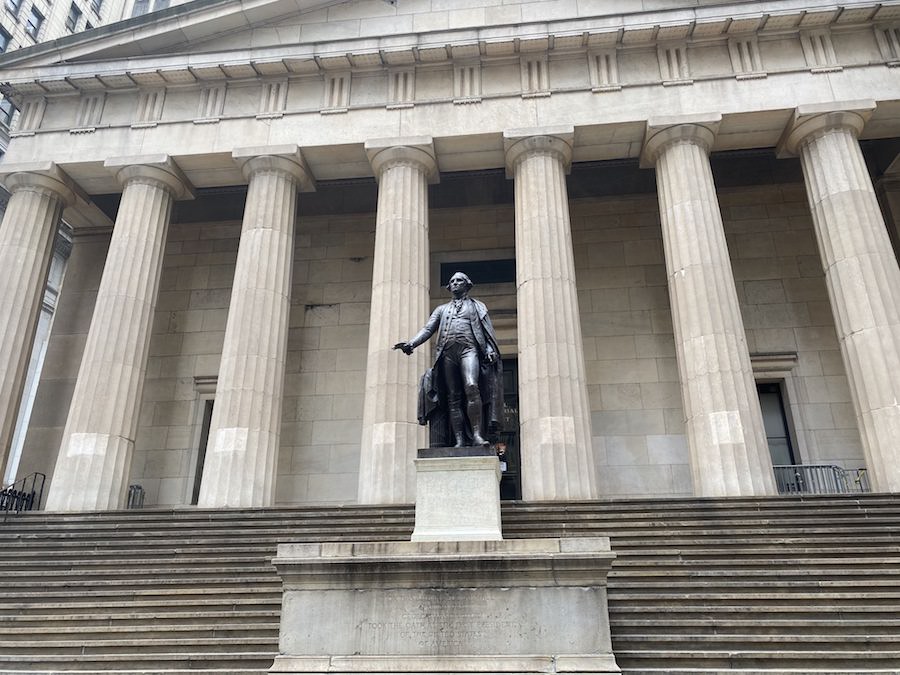 We love Federal Hall. We visit there on our guided tour of Lower Manhattan. We snap awesome pictures of tour groups posing next to the statue of Washington. We even did a whole blog post just on Federal Hall and its history and everything you can do when you visit.
But enough about why we love Federal Hall. What about Hamilton? When he became Secretary of the Treasury in 1789, he attended two Congressional sessions at this building. At the time, Congress met at Federal Hall.
That means this is the place where Hamilton submitted reports that eventually became law, including the Tariff Act of 1790.
Working as a lawyer, he also argued cases at Federal Hall. The "Manhattan Murder Trial" in 1804 — the first murder trial in the young nation's legal history. A Hamilton quote (from "Non-Stop") seems appropriate here:
Gentlemen of the jury, I'm curious,
Bear with me
Are you aware that we're making history?
This is the first murder trial of our brand-new nation
The liberty behind deliberation
5. Trinity Church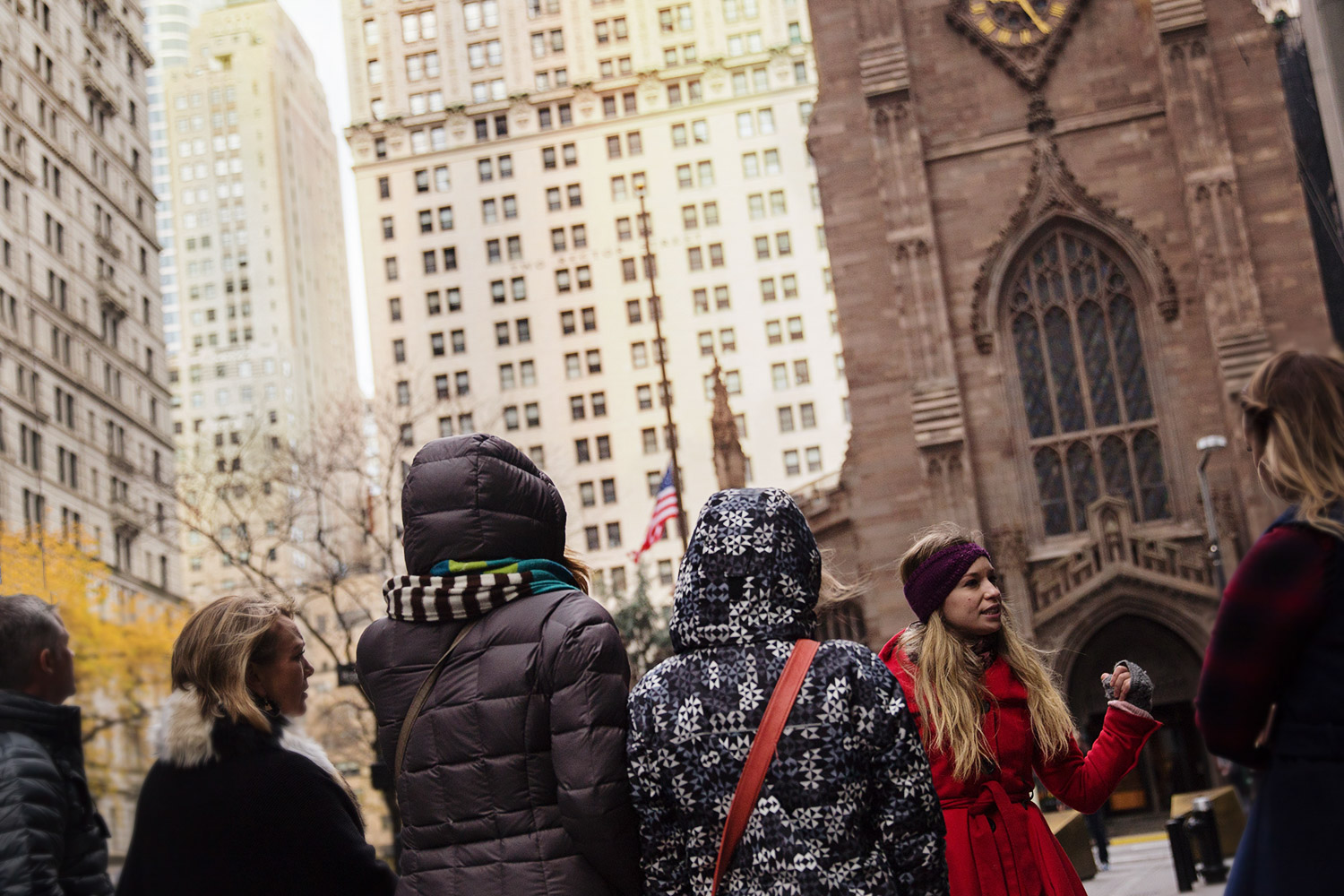 The last stop on our self-guided Hamilton walking tour is — appropriately — Hamilton's last stop as well. His final resting place is in the historic cemetery at Trinity Church.
His funeral was held at the church on July 14, 1804. You can see his tombstone when you visit the churchyard.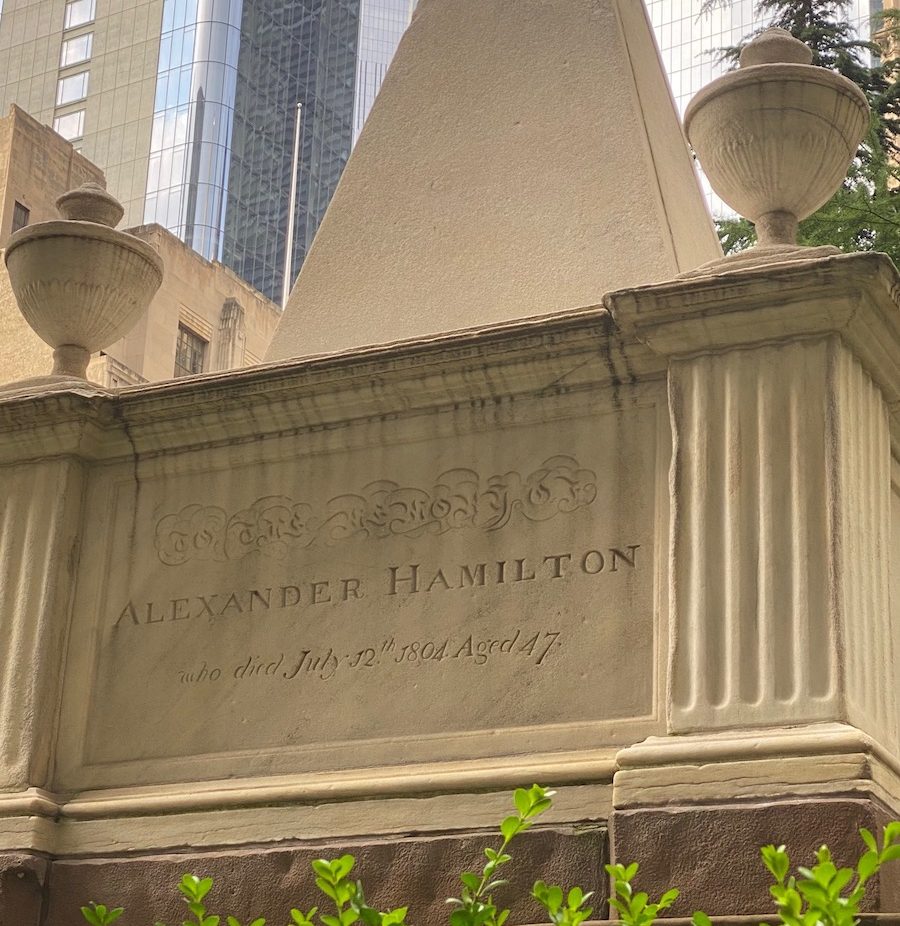 There are a few famous people buried in Trinity Churchyard. These include Hamilton's wife, Eliza, and his eldest son, Philip.
Map for Your Hamilton Walking Tour
Here's a free map that has each of these stops in oder. It won't take more than 20 minutes or so to walk from point to point, though you might take a little longer if you want to explore any of the places more (such as visiting the Fraunces Tavern museum).
If you take this self-guided tour, let us know what you think of it! We'd love to hear your feedback on Facebook and if you'd like more free walking tours. Our local experts have tons of ideas we could share.
Walk Wall Street With a Pro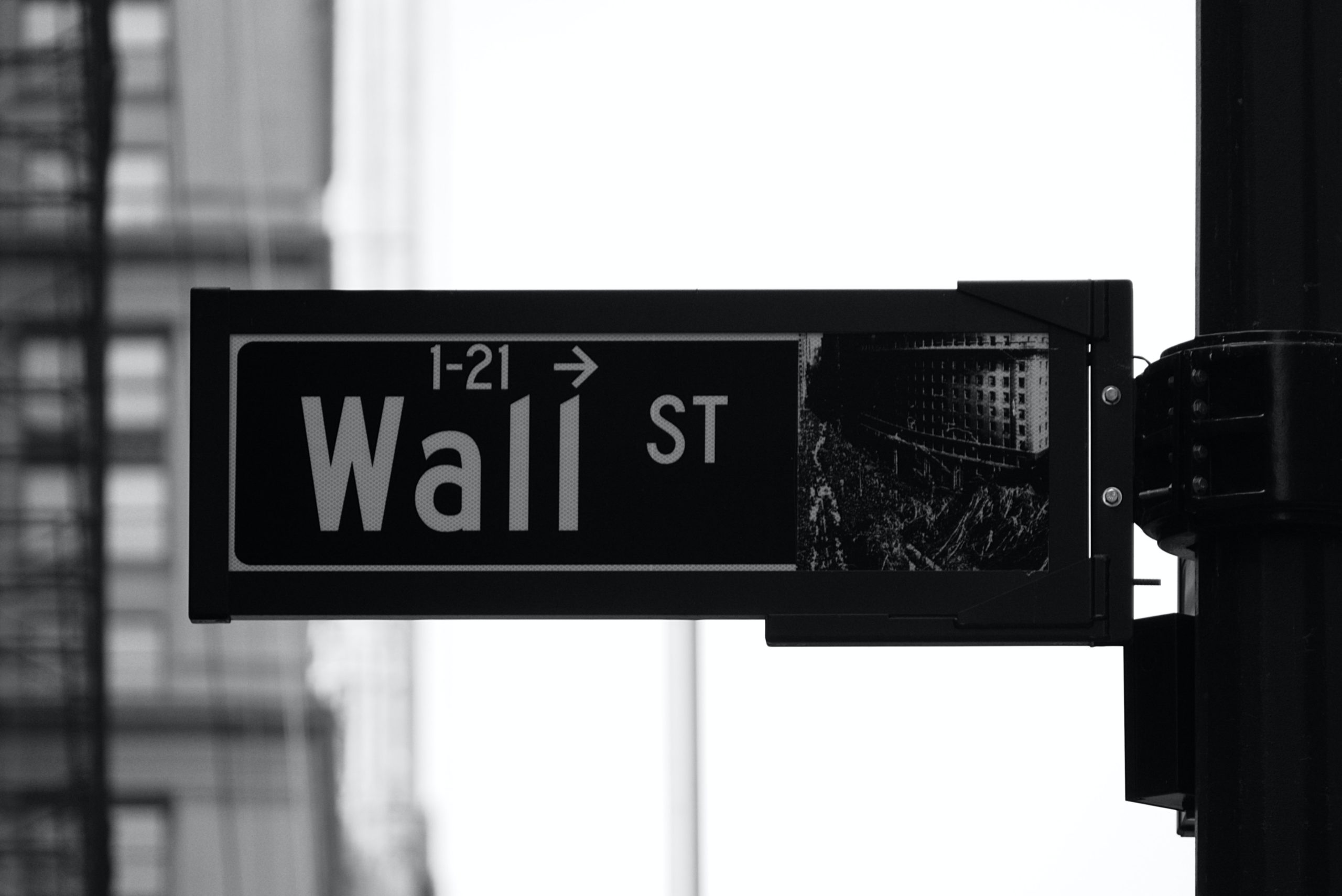 As you can see, there's a wealth of political and financial history in this corner of the city. We'd love to show you around the Financial District and Lower Manhattan as we dig into the stories of the people and places who made New York what it is today.
Depending on your interests, we have a few options: