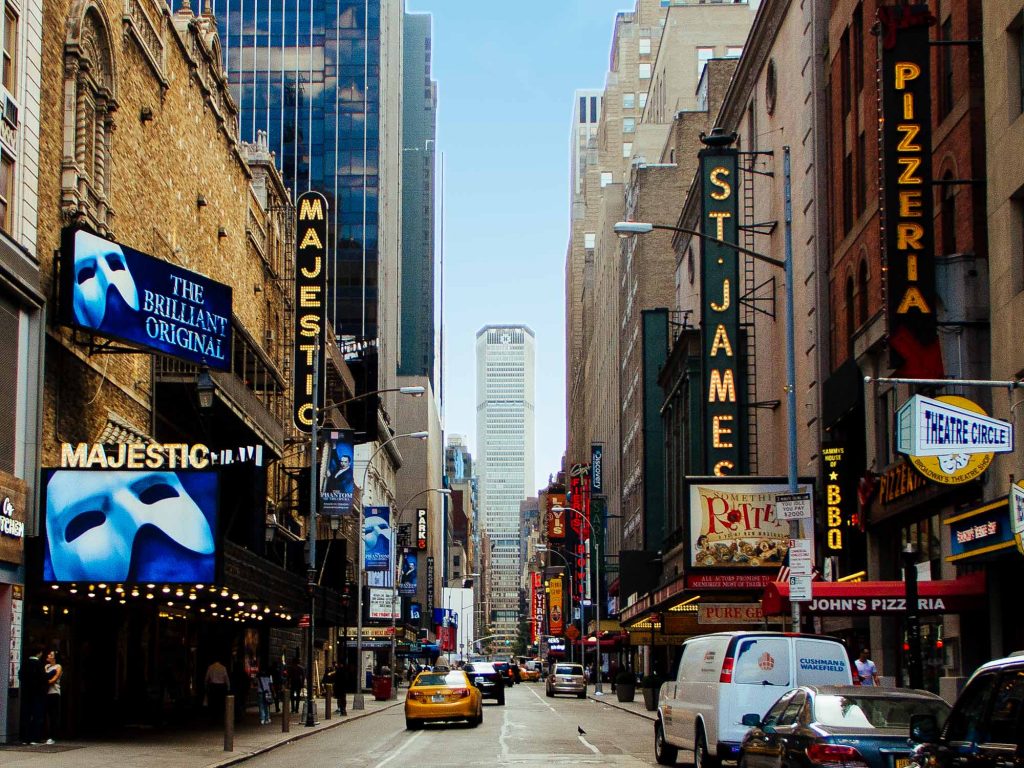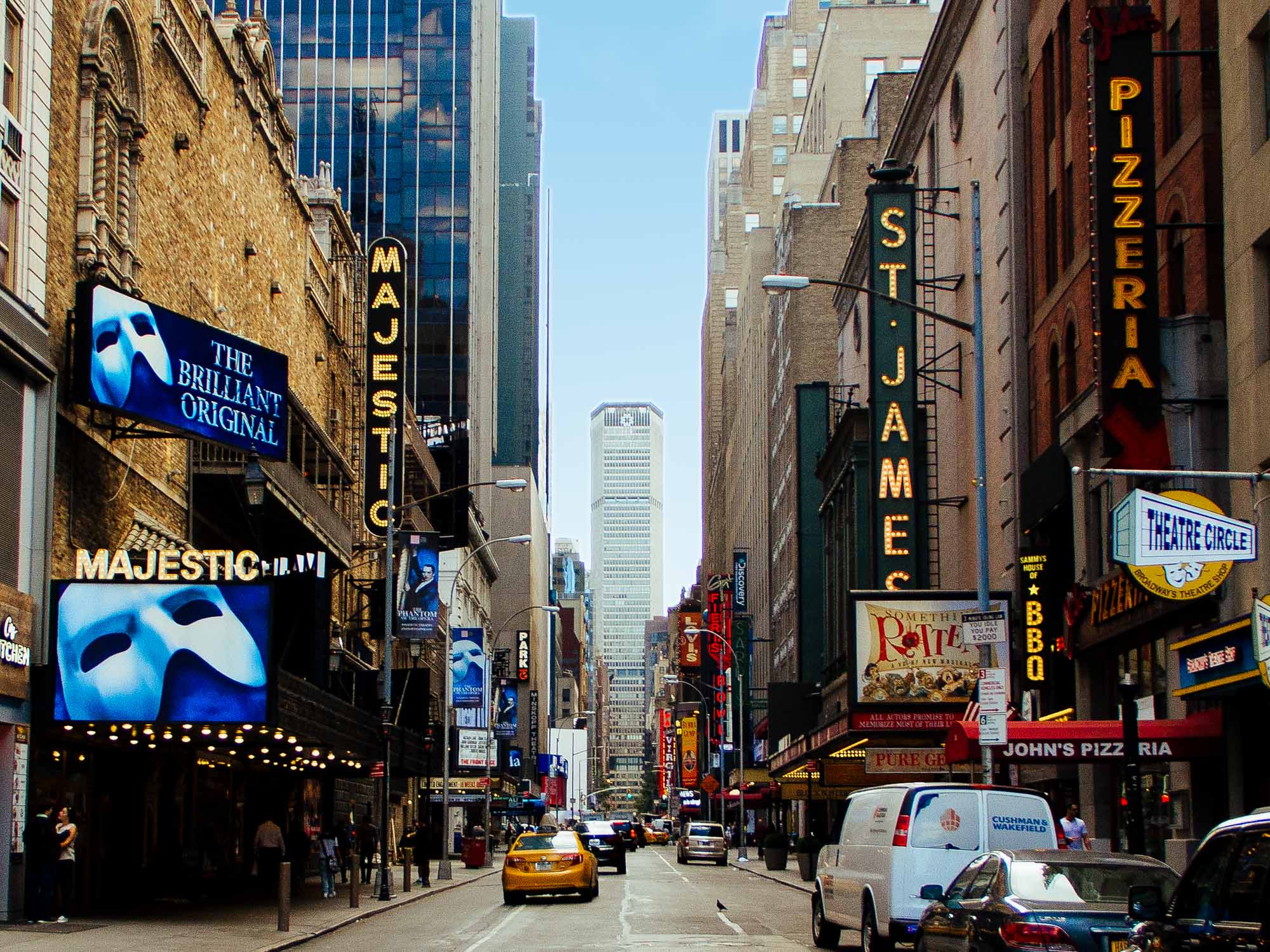 Times Square. The Theater District. The Great White Way. Broadway. All of these names have something in common: the highest level of theater and entertainment in the world, packed into one five-block district in Midtown Manhattan.
All of the sights, the sounds, and the lights of Broadway can be a little intimidating at first — not to mention the weird costumed characters that roam the sidewalks dressed like minions and Ironman. However, with a little bit of research and true New York grit, you'll be able to navigate Broadway shows and the Theater District like a pro.
From Horses to Hamilton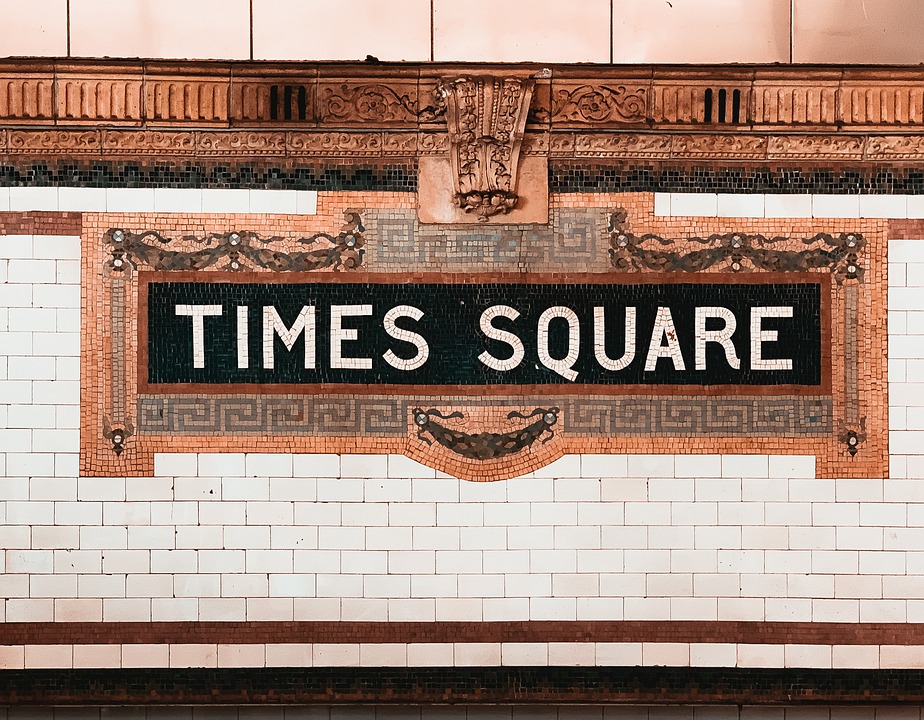 Before you hit the theater, you should know a little bit of history about the neighborhood.
Times Square, believe it or not, used to be the primary horse-trading district in New York City. In the 1890s it was named Longacre Square, which is a direct nod to the horse-trading district of the same name in London. There's even a theater called the Longacre Theater still hanging around on 48th Street.
At the time, downtown was becoming way more commercial (picture warehouses and industrialization), which pushed all of the theaters, restaurants, and hotels farther and farther uptown. This was the seed of what would eventually become Times Square.
Two huge things happened in 1904: The New York City subway opened, and the New York Times opened its headquarters on 42nd Street. More than 10 subway lines converge underneath Times Square, making it one of the most accessible areas in the entire city. Considering all of the activity, city officials decided that a name change was in order.
Times Square, as we more or less know it, was born.
Give Your Regards to Old Broadway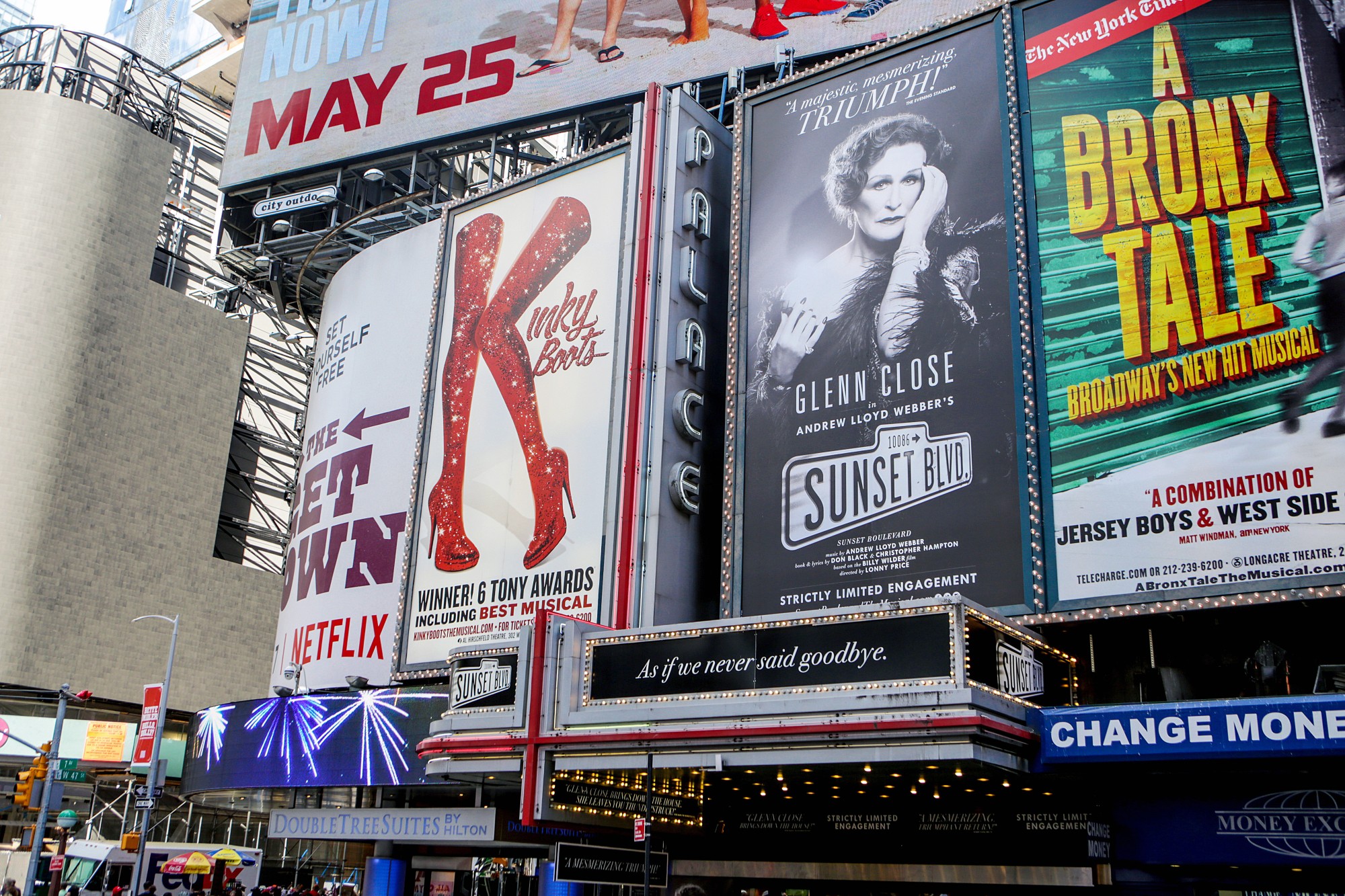 Still Running Strong
There are tons of reasons to visit Times Square — to shop in the stores, to see the glamorous billboards, or even to watch the ball drop on New Year's Eve. But, let's be real, the main attraction is seeing a Broadway show.
The last 100 years have seen the entire development of Broadway theater as an art form and an industry. Starting with Vaudeville and variety revues, Broadway musicals evolved naturally out of those forms, with some stylistic influence from opera as well. Which show was the best? That's a subject of intense debate, and friendships have been ruined over it.
When you're trying to measure the quality of a Broadway show, a good place to start is how long it ran. Critics can have some great insight, but popular opinion is the best review a show can ask for. Take a look at the following partial list of some of the longest running shows and see if you recognize any titles:
"Oklahoma!" (1943, ran for 5 years)
"Fiddler on the Roof" (1964, ran for 8 years)
"A Chorus Line" (1975, ran for 15 years)
"Cats" (opened in 1982, ran for 18 years)
"Chicago" (the second-longest running show in history, revived in 1996 and still going in 2020)
"Phantom of the Opera" (opened in 1988 and still running eight shows a week in the Majestic Theater)
Show Me the Money
There used to be more than 50 theaters in Times Square, but now there are only 41. The oldest were built in 1903, while the newest appeared on the scene in 1998. Not all of the theaters will be open at the same time, but it's pretty common to have about 30 options from which to choose when you're trying to decide on a show to see.
Thirty shows at a time can add up to serious dollars. Smash hits such as "Hamilton" and "The Lion King" typically make about $3 million a week. I'm not kidding.
It adds up to billions of dollars a year, and, as an industry, Broadway makes more money than every professional sports team in New York combined. So the Yankees, as iconic as they may be, always strike out when they're up against a Broadway show.
Things to Do in Times Square Before or After Your Show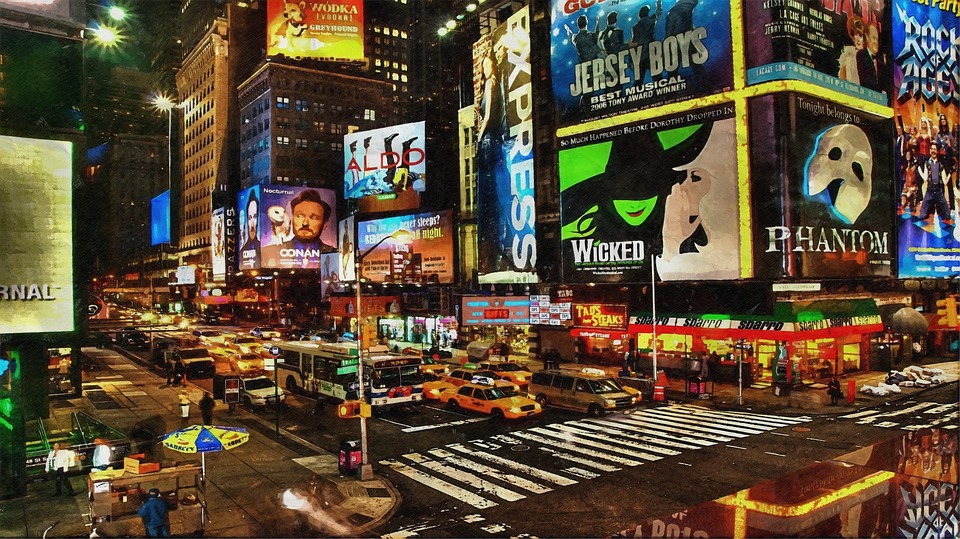 In addition to your show, there's so much more to see and do around Times Square. Foodies can enjoy some of the most historic restaurants in the city, including Gallagher's Steakhouse and Sardi's. Both of these opened in 1927, and Sardi's is known as being a hotspot and after-show hangout for Broadway stars, directors, and producers.
If you're visiting from out of town, go ahead and indulge in being a tourist. Stroll past some of the most interesting experiences in the world, from Madame Tussauds and Ripley's Believe It or Not to the Disney and M&Ms stores.
When you finish up, keep wandering west to explore the neighborhood of Hell's Kitchen, which used to be one of the most dangerous, crime-infested neighborhoods of old New York. Now, it's one of the hippest areas in the city, full of great dining, bars, and bakeries.
Times Square definitely offers some of the best people watching in New York City, maybe even the world. Everywhere you walk, you're also likely to see pop-up attractions or temporary art installations sponsored by the city.
Answers to (Almost) All Your Broadway Questions

Which Broadway show should I see?
If there is one thing I'm qualified to give advice on, it's Broadway. I've been working and auditioning in New York as an actor since 2013, and I've even worked with some Broadway directors. Most importantly, though: I've worked on the front-of-house staff at a Broadway theater since 2014 and have seen literally thousands of performances.
At the time of this writing, in the opinion of this writer, "Hamilton" still reigns supreme as the most popular, most dynamic, and most coveted show on Broadway. It took home 11 Tony Awards at the 2016 Tonys (including Best Musical) and won popular support for breaking down racial boundaries and championing diversity on Broadway. It sells out almost every performance. There is a digital ticket lottery that reserves tickets for a few lucky winners, emphasis on the "few." You can also get last-minute full-price tickets at the cancelation line. (More on this below.)
If you can't see "Hamilton," don't worry. There are still dozens of fantastic shows waiting for you to give them a standing ovation.
Quality and taste obviously depend on the individual, so rather than recommend specific shows, I'll tell you a good starting place: the Tony Awards. Every year the Broadway community gathers to celebrate the best shows of the season at the Tony Awards, and the winners are usually a good indication of quality and entertainment. Current "Best Musical Tony Award" winners that you can see on Broadway right now include "Hadestown," "Dear Evan Hansen," "The Book of Mormon," "The Lion King," and "Phantom of the Opera."
How and where can I find tickets?
I'm just going to be blunt: Broadway is expensive. There's no getting around it. Tickets typically start around $75, and premium tickets for a smash hit can soar past $500 each. Sometimes a show is so popular it will sell out, in which case tickets aren't even available unless you get lucky with the cancelation line at the box office, which is one of your ticket options below.
TodayTix
The simplest way to find tickets to a Broadway show is the app TodayTix, and no, I'm not being paid to say that. The platform is very easy to use and can also offer serious discounts depending on which show you want to see and which day you want to go. One warning, though: The longer you wait, the more the prices tend to go up. So don't wait until the last minute, or any deals you saw earlier in the week may have disappeared.
The app charges a $12.50 concierge fee per ticket, because once you order tickets, a representative from the company meets you under the theater marquee to hand-deliver your tickets. You don't have to worry about printing them at all. As far as buying tickets goes, it doesn't get much easier.
The Box Office
If you don't see the show you want on TodayTix, it's always worth a trip to the box office. While they might not be able to offer you discounts, they'll be the best resource as far as ticket availability and current face value prices. They can also offer invaluable information about preview tickets, cancelation lines, and rush deals (covered next). This is also where you will find the cancelation line, usually 1-2 hours before the show.
Rush Tickets
To "rush" a show means you arrive at the box office before it opens on the day of the show in the hopes of scoring tickets at a steep discount. And I mean a serious discount. I personally have scored orchestra seats near the front for a popular show for as little as $30.
It takes some tenacity — for really popular shows, you might have to get to the box office as early as 8 a.m. or even an hour or two earlier, but you can save literally hundreds of dollars this way.
Guide tip: Bring a camping chair or blanket to sit on if you have one, and go with a friend so that one of you can make periodic runs for coffee or breakfast. Also bring a book to read, or load up a playlist of Broadway showtunes or podcasts to make your three-hour wait fly by.
For a complete list of shows that participate in this amazing deal, check out this handy list compiled by Playbill.
Curtain Call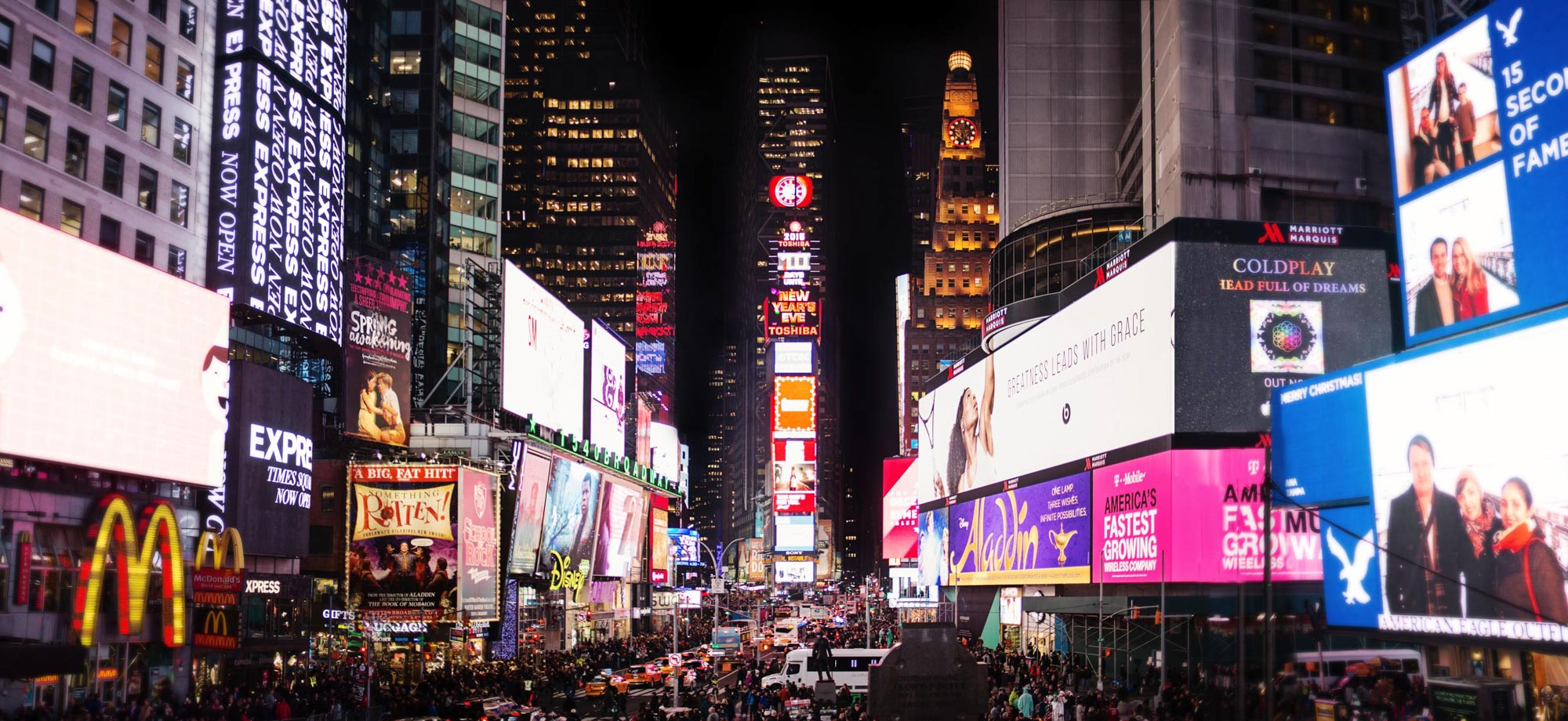 Being the most popular neighborhood in a city like New York is quite a feat. One look around will show you why: the glitz, the glamour, the marquees, and the throngs of people are simply incomparable.
Because Times Square has become so tourist-centered, many locals will tell you that it isn't the "real" New York. I couldn't disagree more. The history encapsulated in those five blocks is crucial to understanding what New York City is all about, from Vanderbilt's horse markets to the crime and seedy activities on 42nd Street in the 70s and 80s. Now, the neighborhood has transformed into one of the most family-friendly areas in the country, where millions of people visit every year to make memories they'll treasure for a lifetime.
Walk down any street and you'll see lines of people, tickets in hand, waiting to enter a Broadway theater for perhaps the first time. Imagine walking inside the theater, receiving your coveted playbill from an usher, and settling into your seat before the show starts. The house lights dim, the music starts, and for two hours you share in a theatrical experience with 1,000 other people, laughing, crying, or collectively holding your breath with real Broadway actors who have worked their entire lives to live out their dreams in front of you. It doesn't get more real, or more New York, than that.