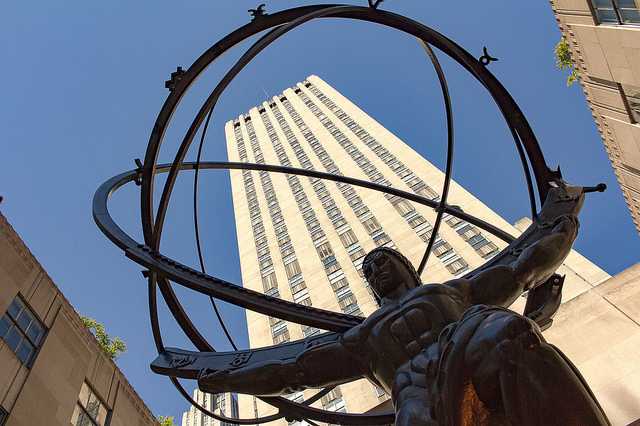 Rockefeller Center during the holidays is without compare. The brightest lights, the most amazing decorations and also the most insane crowds. It's estimated that almost 800,000 people will visit during the holiday season. One of the biggest deterrents for anyone is massive crowds. No one likes waiting in long lines, being squished by strangers or dealing with all that commotion. But it would be such a shame to miss out on all the beauty and celebration just because of the mass amounts of people. So here are some handy tips for visiting Rockefeller without having to deal with all the crazy crowds.
1. Make A Reservation
Ice skating in Rockefeller Center is as classic a tradition as they come in New York City. But of course, due to its popularity, the lines can get outrageously long, leading to ridiculous waiting times. Fortunately, it's been made much easier to avoid that. If you're willing to spend some extra money you can opt for the VIP Skating Experience. What that means is essentially you show up at your allotted time slot and you can get right on the ice, no waiting involved. You'll also get access to the VIP Igloo, which includes refreshments and assorted cookies, and basically becomes your own private, heated lounge area. So no crowds at the skate rental, no fighting for a locker area and no sitting on the floor for lack of bench space. Of course, the price is higher than general admission, but when you factor in what you would pay for access to the rink plus the cost of skate rental, it ends up being only an extra $30. Which isn't too bad when you consider how much time you could save and how much less stress you'll have to deal with.
2. Avoid the Weekends and Mid-Day
For those of you wanting to save as much money as possible, or who just aren't into spending more than necessary, the best bet to avoid lines is to visit at slower times. Unfortunately, that window is pretty narrow, but it is still there! First tip, avoid weekends. If you can manage a visit Monday through Friday you're guaranteed less people. To make the numbers even smaller it's best to visit anytime early in the morning or late at night. The mornings are great because it's usually a bit warmer and (hopefully) nice and sunny. The crowd starts to form as early as lunch time, but if you visit beforehand you'll be much better off. The drawback is, while the lights are still on in the daylight, it's not quite as amazing as it looks after dark. But you can still get some wonderful pictures and great views, plus less people! However, if you're dying to see the lights to their full effect than it's better to come late at night. The crowd starts to thin around 10 p.m., so the following hours allow you to witness the lights without the crazy commotion. The drawback in this case would be staying up rather late. Which isn't a problem for some people, but after a long day in the city you might not feel energized enough for a trek uptown at 11:30 at night. But whatever day/hour you choose, planning within those time frames will guarantee you a lesser crowd.
3. Use the Concourse
If you don't like slowly inching your way down a street, or weaving your way through clusters of people, then you will absolutely be a fan of the concourse. It's definitely not going to be barren down there, but odds are it will be a lot easier and less stressful than trying to lead your group of however many through crowds and commotion and all the nonsense happening above ground. The concourse is a series of underground pathways connecting the many buildings of Rockefeller Center. There are various entrances, but I find the easiest way is by entering 30 Rockefeller Center (right behind the Christmas tree) and going one level down. The pathways can be a bit tricky to navigate, but there are numerous signs, and once you get the hang of it you'll be cutting across crowds like a pro. It's great for a shortcut both into and out of the main square and especially handy if the weather suddenly becomes terrible.