More than a church…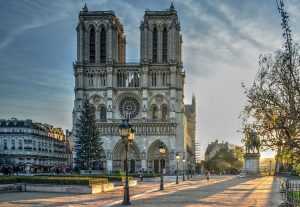 Paris' Cathedral of Notre-Dame, a masterpiece of Gothic architecture, and is one of the most visited monuments in France. Built during the Middle Ages, situated in the heart of Île de la Cité, she is a stunning gem that lights up Paris' city center. Work started in the 13th century and finished in the 15th century.
The history of this monument also seeps out at every turn! Damaged during the French Revolution, the cathedral was restored in the 19th century by the architect Viollet-le-Duc. But they kept the damaged statues at the front doors, known as portals, as a reminder of the devastating effects of the Revolution. Its many visitors come to admire its stained glass and rose windows, the towers, the steeple and the gargoyles. You can also discover the Notre-Dame treasury and have a go at climbing the towers to enjoy a panoramic view of Paris. Nothing beats the view of the Eiffel Tower from this vantage point!
The stained glass windows of Notre-Dame, particularly the three rose windows, are among the most famous features of the cathedral. They are truly stunning and you can not visit Paris without seeing them with your own eyes.
And if you are able to pop in to a mass, the sound of that organ is heart stopping.
Did I mention flying buttresses? Want to know what this is and why it is so significant?
If so, join us on our Full Day Paris Highlights Tour for a fantastic guided experience in and around this dazzling monument.